In the last few years, there has been an explosion of small medium businesses (SMBs) in the Indian ecosystem. Add the rapid digitalization sweeping across verticals to the mix, and you have the perfect recipe for Digital SMBs. Although various aggregator platforms are propelling this digitalization of SMBs, the honeymoon phase between SMBs and aggregators seems to be over, owing to a multitude of factors such as frequent policy changes, broken customer experience, and sub-optimal growth. This is where the 100K+ web professionals (web pros) come into the picture.
Investment in Technology – a Masterstroke by SMBs
Web pros have not only become partners but also trusted advisors for SMBs determined to take the digitalization journey in their own hands. SMBs are increasingly partnering with web pros to build mobile applications and websites to go digital.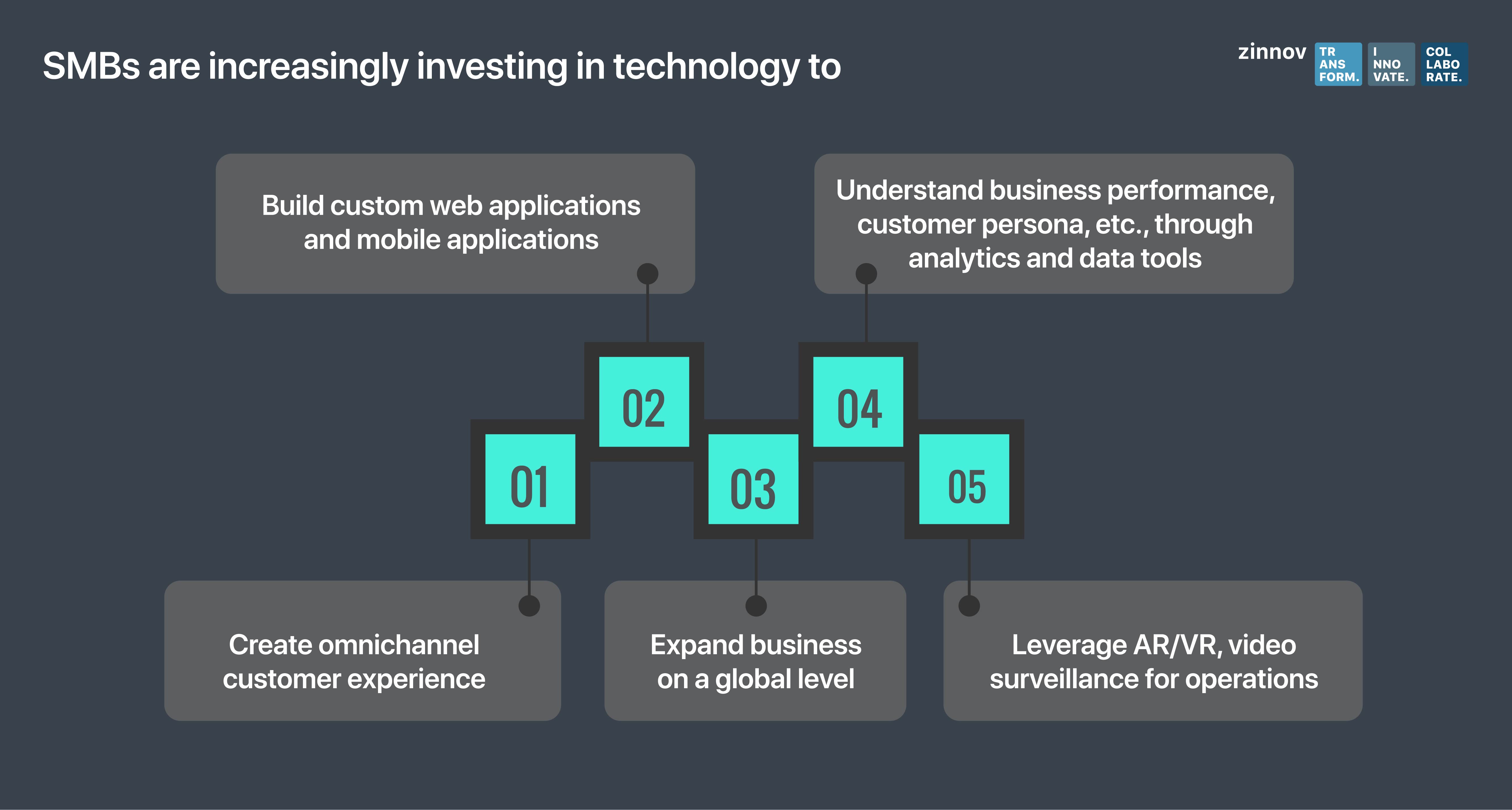 Creating omnichannel customer experience across channels – website, social media, and aggregators;
Increasing revenue sources through custom web and mobile applications;
Expanding business on a global level through websites, digital marketing, and apps;
Understanding business performance, customer persona, and purchasing behaviors through investment in analytics and data tools;
Leveraging Augmented Reality (AR)/Virtual Reality (VR), video surveillance for smoother and seamless operations.
An interesting case in point is a restaurant, Dana Choga, listed on Zomato. However, it has also launched its own mobile app, where it offers additional discounts if customers purchase from their app. This is not only to drive traffic to the app but also a clear indication of digitalization at play, without relying on third-party aggregators. The main intention of the SMBs is to save on commissions paid to aggregators, mitigate risks associated with frequent policy changes by aggregators, and get direct access to customers. Instead, the saved capital is sometimes being invested in building digital assets to have direct access to customers, build a digital brand, expand business, and gain customer loyalty.
SMBs and Web Professionals – a Match Made in Digital Heaven
India continues to be a Do-it-for-me (DIFM) market, where SMBs need applications with simpler workflows that help fulfill their minimum requirements. With today's technological advancements it has become easier to build custom applications rapidly, that suit the specific needs of an SMB. This presents a huge opportunity for web pros to capitalize on, by traversing the path from a pure-play website development to web and mobile app development.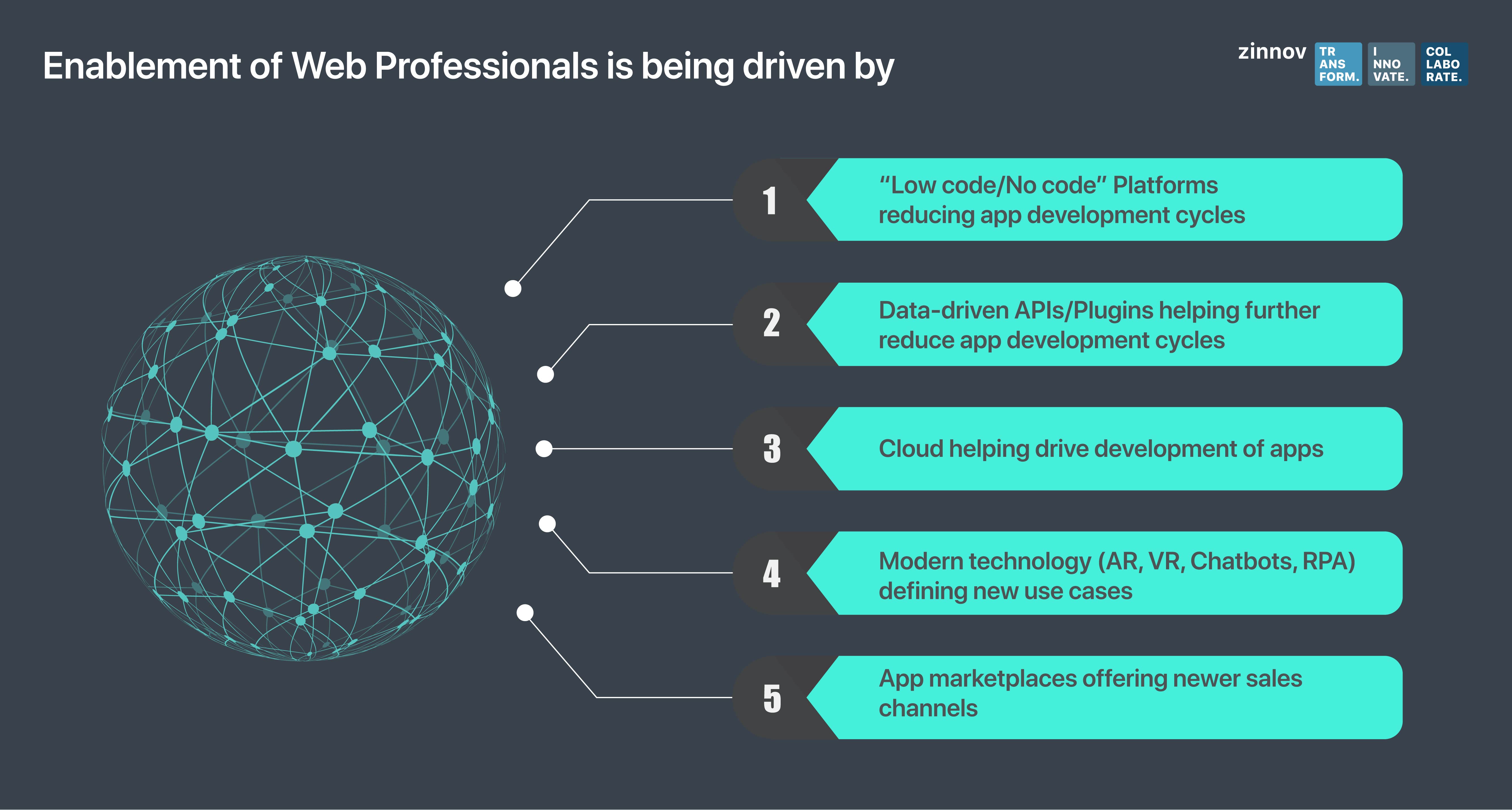 There are several tools available in the market that can accelerate this transition for web professionals –
1) "Low code/No code" platforms have removed the need to know how to code and reduced the overall cycle for application development. In fact, it has simplified app development through a set of visual drag and drop tools. Such platforms don't need skilled engineers, thus reducing the cost and time taken to develop a mobile app. A few examples include Kony, which has pre-built components and templates, AppSheet, which is a vertical-focused 'Low Code No Code' platform, and Scapic, a 'No Code' platform for AR application.
2) Data-driven APIs/Plugins are helping developers to rapidly integrate pre-existing web services into their application, without writing code from scratch. WordPress has over 48,000 plugins, Google provides 50+ APIs including AdSense, Analytics, Maps, YouTube, Translate, etc., to name a few.
The Retail vertical is a case in point. Across various use cases, there are multiple APIs and Plugins that make it easier for web professionals to develop custom applications. WooCommerce provides a GST plugin that can be used to provide a customized invoicing app, while features such as recurring bills tab can be integrated across the workflow by using APIs provided by Chargify. Similarly, Square API can be leveraged for integrating multiple gateways. Twilio's AI voice and chatbots, as well as MonsterInsights plugin to track online visitors, are helpful when building a customized CRM.
3) Cloud has helped remove all the complexity in hosting, configuring, and managing applications both for the web professionals as well as for the SMBs. Cloud is preferred because of the following reasons –
Easy to maintain and is auto-scalable. It is highly efficient in handling unpredictable traffic on a mobile or web application.
Offers a flexible pay-as-you-go option. Additionally, it offers a 45% reduction in hosting costs, per an external survey.
Reduces time in server management, as much as 60%. Reduces development time, making way for faster release time supported by agile development.
Easier to migrate applications across private cloud and multiple public clouds, through Dockers and Kubernetes.
Easily extend the scope and features of the applications through pre-built services provided by hyper-scale cloud service providers like Azure, AWS, GCP, etc.
4) Modern technologies like AR, VR, chatbots, intelligent automation, etc., are enabling new use cases across various industry verticals, though they are still in their nascent stages and their potential not yet fully realized.
AR will be a native capability in the smartphones of the future. AR will make it easy to build an application for a worker in a manufacturing plant to help understand how to operate or repair a machine. In essence, AR/VR will help in product visualization, reduced training time, remote support, and accurate maintenance, thereby greatly improving productivity and quality of service.
Automation is one of the fastest-growing technologies of this era. Automating manual, time-consuming tasks using custom applications or integrating existing automation software will help SMBs in improving the quality and productivity of their employees. Further, automation enables demand and supply planning, product categorization, improved customer service, and data extraction.
5) App marketplaces allow web professionals to monetize the applications they have built, across SMBs in India as well as other global locations. Microsoft Azure, AWS, Google Cloud, etc., are all platforms that want app developers to build on top of their platforms. And with every large technology company transforming into a platform company, they are providing access to millions of customers for the SMBs as well as the web pros through these platforms. Porting/migrating some of the custom applications built for customers into niche applications on these platforms and mobile app stores has the potential to create new revenue streams.
Web Professionals – Capitalizing on the SMB Digital Opportunity
While SMBs and web professionals are a match made in digital heaven, how can web professionals capitalize on the massive digital opportunity created by the SMBs?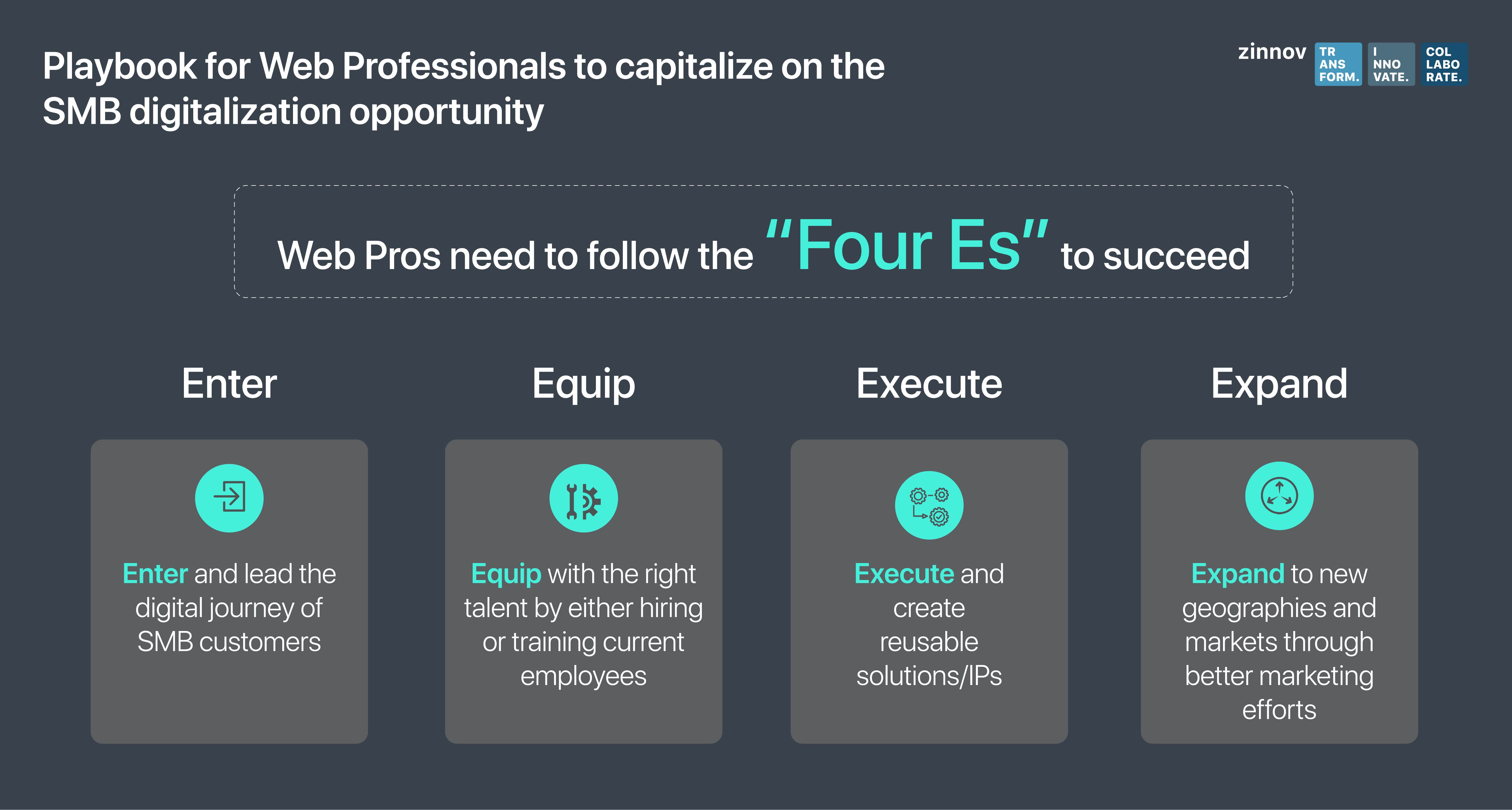 The web pros need to follow the 4E approach as outlined below –
Enter: Web professionals are the first point of entry for SMBs embarking on their digital journeys. Hence, it becomes imperative for web pros to understand the key use cases and digitalization opportunities for their existing customers by studying the best in class SMBs in India and across the globe. Web professionals need to articulate the value in real cost savings or revenue growth to their customers, to raise the odds of success of a customer willing to invest in the new application.
Equip: Web professionals need to hire relevant skilled talent and invest in pertinent training to provide superior customer service. They can learn advanced programming skills for application development, get relevant certifications, etc., to augment their existing skillsets. This investment will help web pros to position themselves as subject matter experts, seem more professional, and thus win more high-margin projects for web and mobile application development.
Execute: Web professionals need to execute projects smartly and efficiently by leveraging the low code/no code platforms, utilizing cloud hosting, and employing APIs/plugins for application development.
Expansion: Once the web professionals have established their credibility, they should build the team and leverage digital marketing skills to acquire new domestic and international clientele.
As evidenced above, web professionals are one of the key enablers of digitalization of Indian SMBs. The growth and scale of Indian SMBs will depend on their ability to rapidly adopt technology and transform into digital SMBs. Partnering with web pros is a step in the right direction for SMBs in their digitalization journey. This partnership will benefit both parties, in that the web pros need to capitalize on this digitalization opportunity by aggressively and smartly executing projects for SMBs and showcase their expertise. As both parties forge partnerships and foster growth, it's the ecosystem that will emerge the winner.
Key findings in this blog post are based on a joint study commissioned by Endurance International Group in Q4 2019
How can SMBs measure their ROI when partnering with web professionals? What niche skillsets do web pros need to acquire to better capture the digital opportunity presented by the SMB digitalization? Drop a note to us at
info@zinnov.com
to know more.