A small mom and pop store. A neighborhood retail clothing store. A graphic designer. A photographer. A housewife reseller. An artist.
What do these distinct business owners who hail from different walks of life have in common? A digital presence. Whether through a dedicated website or a listing on Facebook or with a point of sale (POS) machine, these individuals are businesspeople with a digital presence.
Indian SMBs and their Digitalization Dream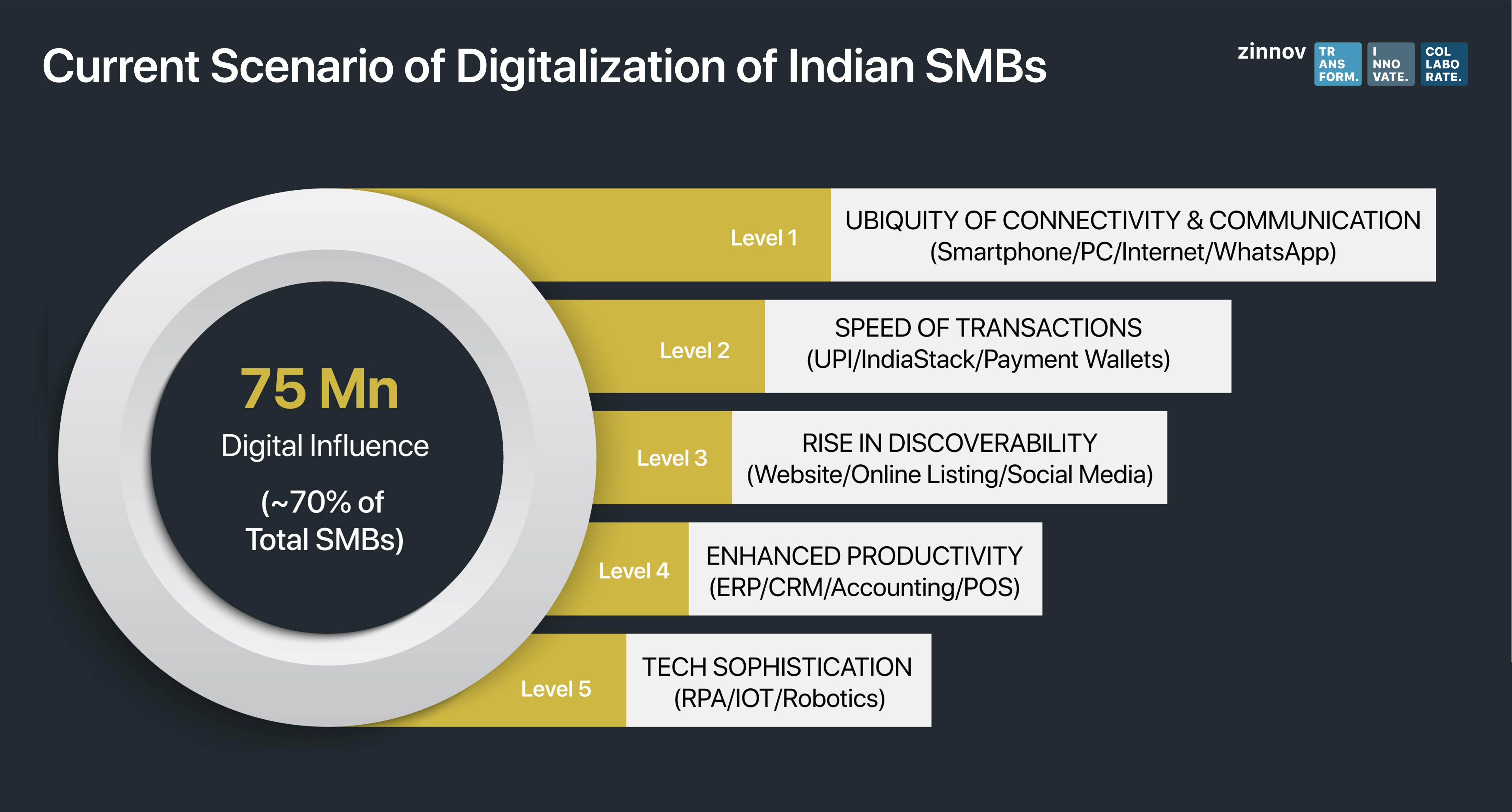 India currently boasts of a massive 75 Mn Small Medium Businesses (SMBs), according to a 2019 Zinnov analysis. Most of these SMBs have embarked on their digitalization journeys, creating a significant USD 80Bn digital opportunity for the various ecosystem players. One such key player is the Web Professional or web pros. The 100K web pros in India have 4 major personas –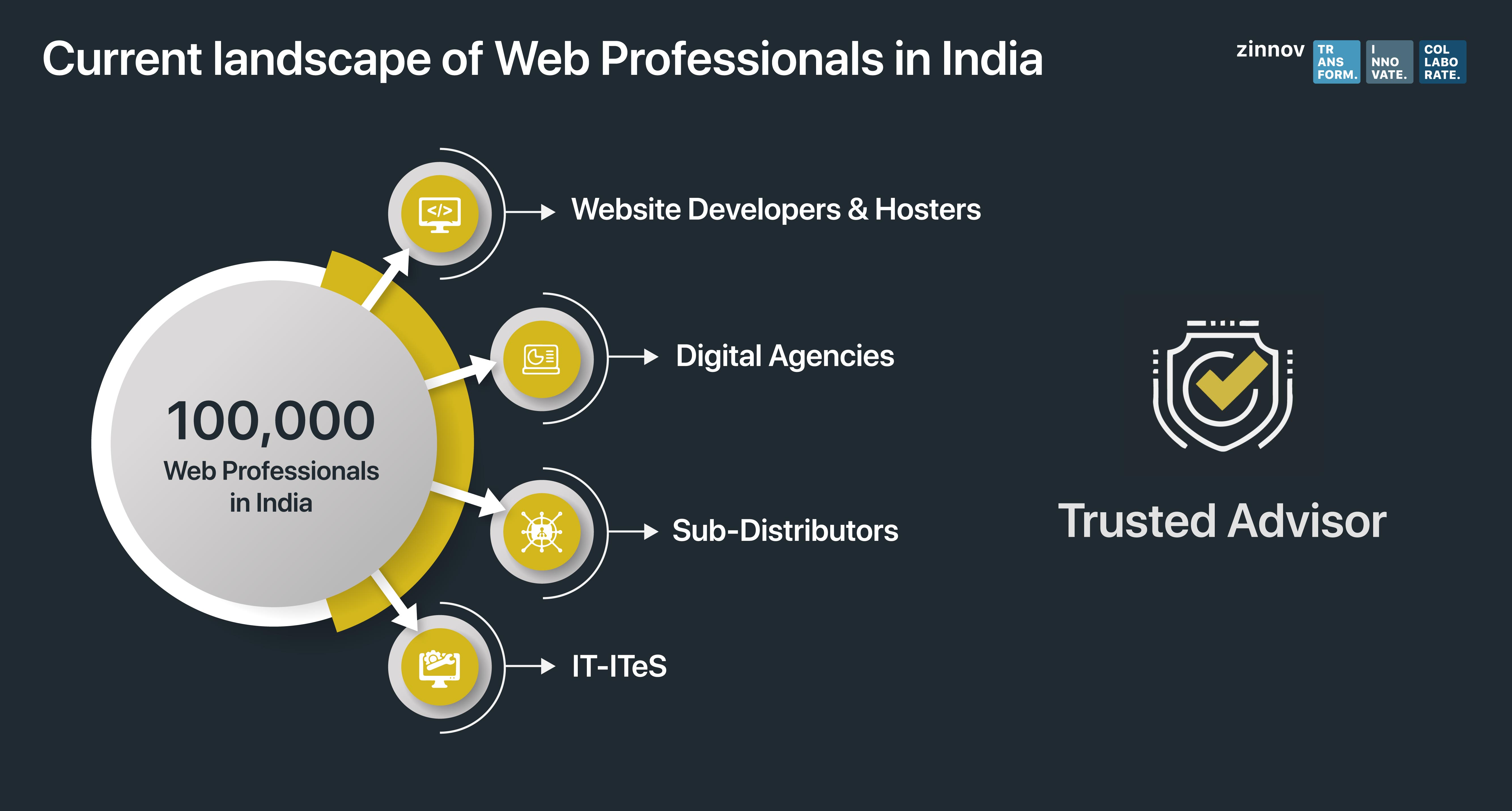 Website developers focused on building websites for their customers and providing attached services such as hosting and email;
Digital agencies that thrive primarily by providing marketing services, along with building websites, improving website performance, and enhancing overall UI/UX of a website;
Sub-distributors who are usually the IT suppliers of PCs, shrink-wrapped products, who mostly outsource the web-pros activities to freelancers because of a lack of internal technical capability; and
Small IT services companies whose key strength is to build custom applications, system integration, and configuration of applications.
These web pros are not mere partners for the digital SMBs, but have increasingly taken on the role of a trusted advisor. These advisors help the SMBs navigate the rough seas on their digitalization journeys. Zinnov's analysis shows that 70% of the SMBs are digitally-influenced with access to at least the basic infrastructure of a smartphone and a communication platform such as WhatsApp to conduct business. Even though a mere 50,000 SMBs have deployed technologies such as Internet of Things (IOT), Robotic Process Automation (RPA), etc., we believe that the technology adoption will increase rapidly over the next few years.
Macro factors impacting Indian SMBs' digital journey
Despite fears and whispers about a slowdown in the economy, the convergence of factors is accelerating the technology adoption amongst SMBs –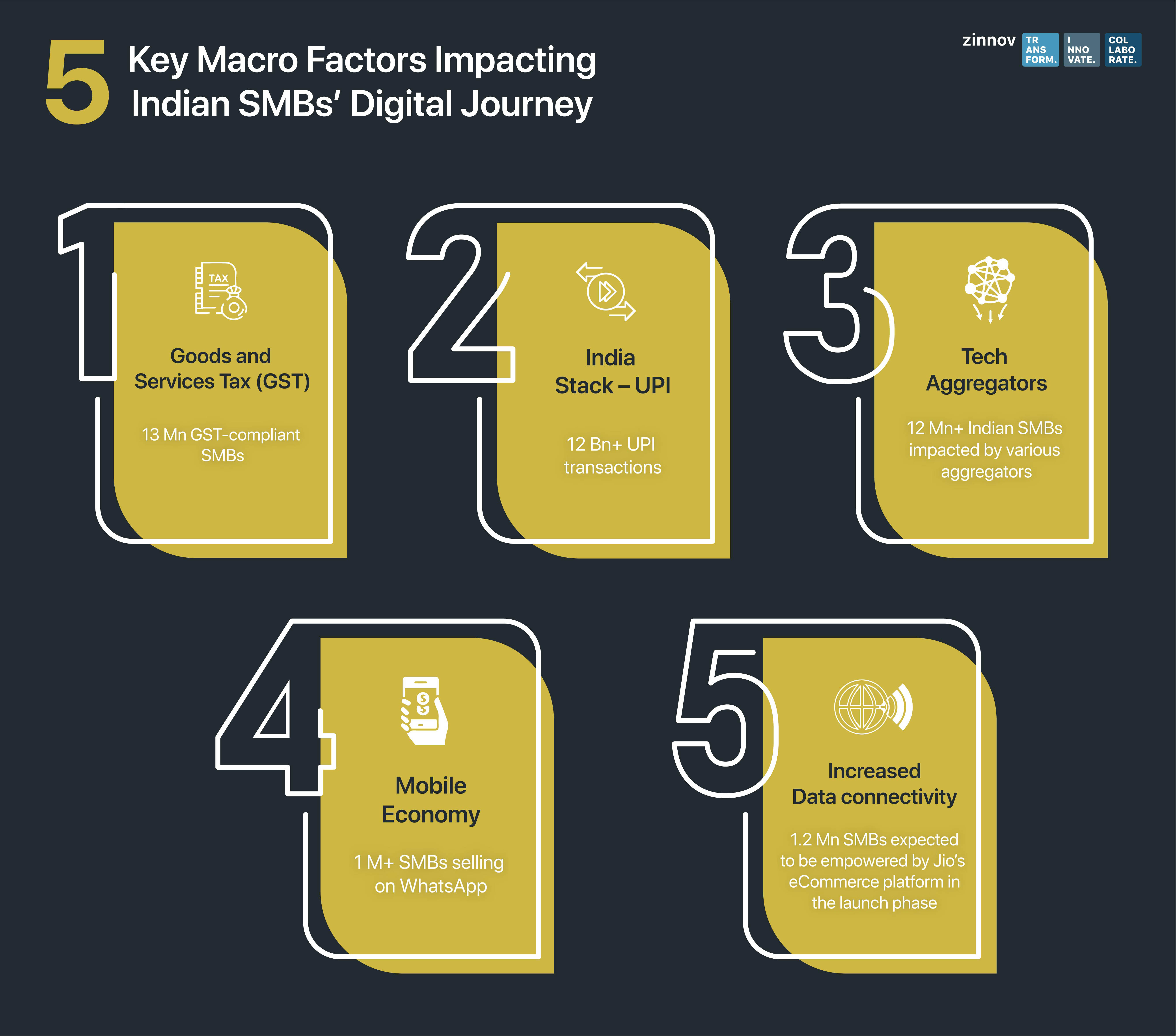 Goods and Services Tax (GST): The GST rollout has unified India into 'One Nation One India' by combining various state and central taxes. It has resulted in over 13Mn SMBs being GST-compliant. This means that their entire supply chain and transaction data are digitized and can be utilized to provide credits. GST has given a major push for payments through the portal, which stood at USD 300Bn+ in FY2019.
India Stack [Unified Payments Interface (UPI)]: UPI has revolutionized payments in India, with just a QR code. Though it started off with direct subsidy transfer by the government, it has moved to become one of the preferred modes of payments. In fact, 12Mn+ SMBs are using UPI to make and/or receive payments, thanks to better security and direct integration with bank accounts. UPI has seen exponential growth in its transaction volume at 12Bn+, crossing even that of debit card transactions.
Aggregators: SMB aggregator platforms have sprung up – both generic ones as well as focused vertical-specific ones – Oyo for hotels, Swiggy for restaurants, Blackbuck for trucks, etc. Such platforms have enabled even micro SMBs to have access to sophisticated technology, including customer discovery, transaction, supply chain integration, and customer feedback. More than 12Mn SMBs are registered with various aggregator platforms and 8Mn+ identified as housewife resellers and delivery partners.
Amazon, the global e-Commerce giant, is not only providing an online channel to brands but also helping SMBs to resell and scale business. Currently, 500K+ resellers are registered on Amazon India, while there are 55,000+ products showcased on Amazon's Karigar store, which includes 270+ arts & crafts products from 20+ Indian states. Local SMBs are gaining access to global customers and recognition since they can sell their products globally through Amazon.
Mobile Economy: The fact that a simple app is becoming a business productivity application that helps the SMB in communication, managing organizational workflow, and enabling transactions. To put things in perspective, 1Mn+ SMBs actively sell products on WhatsApp!
Increased Data Connectivity: Data has become ubiquitous with high bandwidth at lower costs in recent years. JIO is a case in point. Its growth has brought down the cost of data significantly and has made the Indian consumer the largest consumer of data per month. Since 2013, there has been over 90% drop in per GB data cost, which has added to improved consumer as well as SMB connectivity. The low cost of data is making way for companies to build data-intensive applications.
SMBs and Aggregators – Between a rock and a hard place
Though the above-mentioned factors have positively impacted the Indian SMBs' growth and digitalization journey, there are some challenges that still persist. Currently, there are more than 12Mn SMBs registered on various aggregator platforms. Though the initial set of aggregators helped SMBs go digital, scale their business, enter new markets, and acquire customers, there is a visible strain between aggregators and the SMBs. The aggregators also create a layer of separation between the SMBs and their customers. They have become powerful intermediaries who have the power to change the rules and policies that affect the SMBs, without the latter's consent or say.
Frequent policy changes by aggregators as well as policymakers – 500+ restaurants boycotted Swiggy, Zomato over changes to policies, high commissions;
Broken customer experience – over 500 hotels across 100 cities opted out of Oyo since April 2019 due to poor customer experience and hidden costs;
Sub-optimal growth – nearly 15,000 driver partners left Ola/Uber citing declining income levels.
Has the honeymoon phase between aggregators and SMBs come to an end? How can SMBs keep their growth and digitalization momentum positive, with this chasm looming over them? What can SMBs do to scale their growth and become truly digital SMBs?
Key findings in this blog post are based on a joint study commissioned by Endurance International Group in Q4 2019
Indian SMBs are 'high' on their digitalization journey. How can other ecosystem players capitalize on the massive digital opportunity created by this? Write to us at info@zinnov.com to get insights on the Indian SMB landscape and how to get a piece of this massive digitalization pie.