The number of Small Medium Businesses (SMB) in India stands at a whopping ~75 Mn, offering a $30 Bn digital opportunity for companies to tap into. These Small Medium Businesses form a key pillar of the Indian economy, contributing close to 40% to the GDP in 2019. These numbers stand testament to the fact that SMBs in India are witnessing a phenomenal growth and are not just enabling employment and an economic boost but are sending disruptive waves across the ecosystem. Furthermore, Zinnov's analysis of the Small Medium Businesses landscape shows that the SMB sector is expected to continue its hockey stick growth and create a significant $80 Bn digital opportunity for ecosystem players.
What are the key levers behind this growth? What is propelling this sector?
Rapid digitalization is a common denominator in the SMBs' growth story. The ecosystem as a collective is playing a key role in helping SMBs transition to a 'Digital SMB' and thus grow. There are 6 distinct factors that are propelling the SMBs forward on the digital route.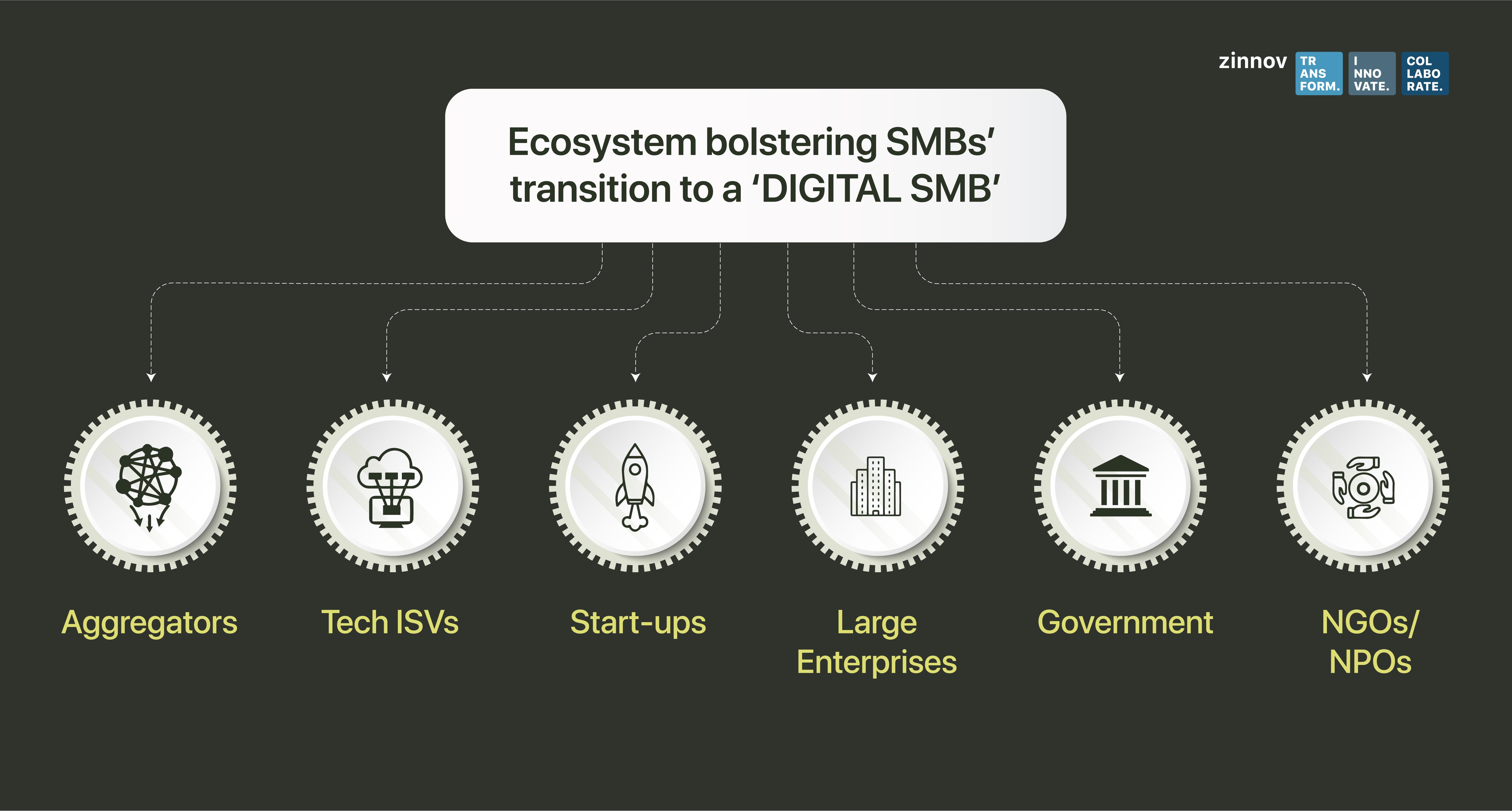 1. Aggregators
Aggregators basically aggregate information on several goods and services, and consolidate them into a single platform – a platform for creators and consumers to interact. Currently, there are more than 600 aggregators who are enabling over 10Mn SMBs to augment their discoverability, customer engagement, and digital transactions. These aggregators provide access to newer markets through online channels. For e.g. Amazon (an aggregator) helps 500K+ SMBs get access to markets in 180+ countries.
Aggregators also help accelerate digital transformation of SMBs across traditional verticals like food and logistics. A case in point is that of Swiggy, a food partner aggregator that has provided restaurant owners access to a larger customer base. It also has its own delivery fleet and business analytics tool, which further encourages SMBs to leverage the platform. Similar aggregators are thus driving the growth of emerging SMB categories such as Housewife Resellers, Driver Partners, Delivery Partners, etc., and will continue to play an important role in SMB digitalization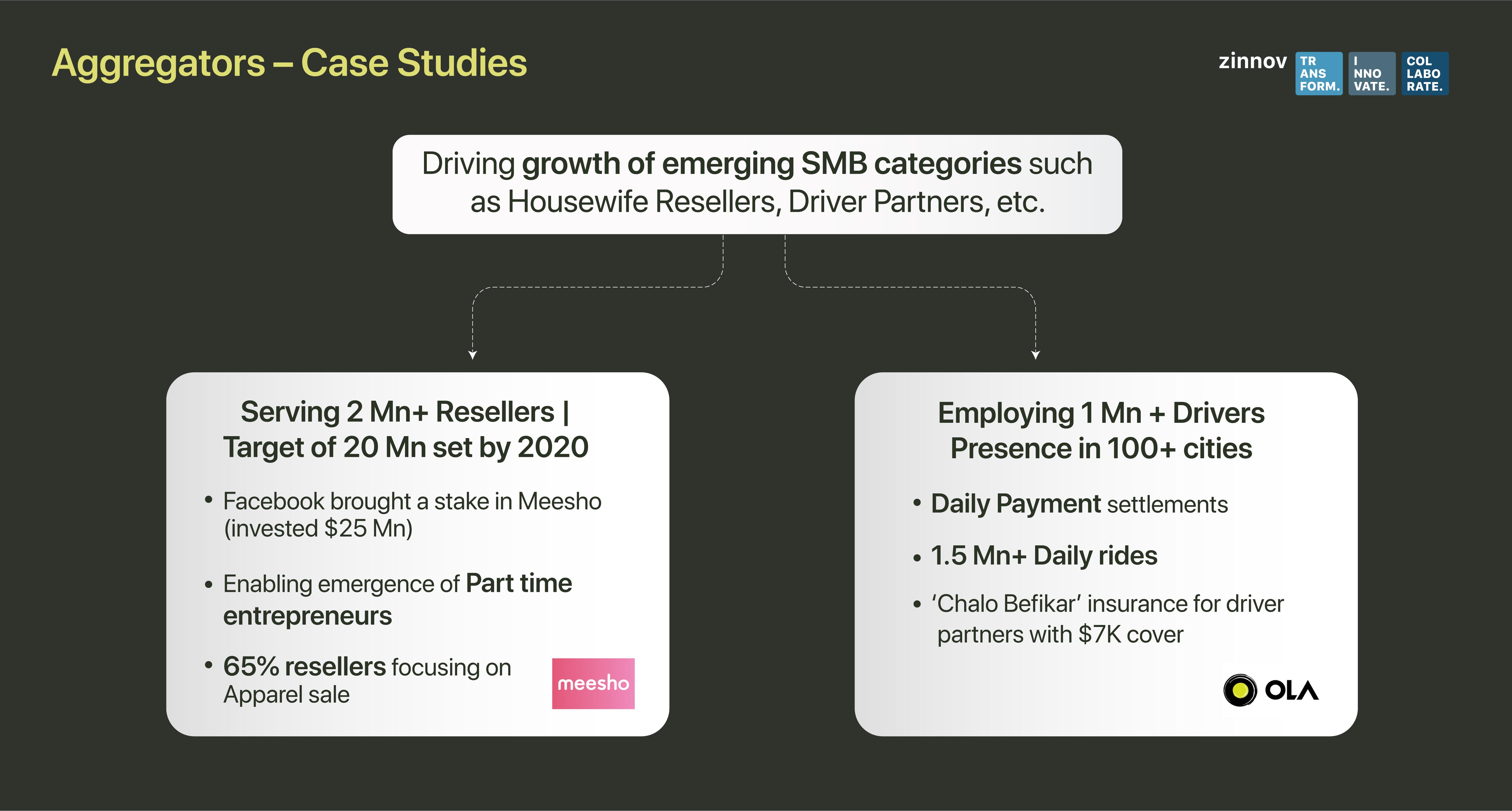 2. Technology ISVs
Technology Independent Software Vendors (ISVs) are bringing SMB-focused offerings to the Indian market to help SMBs digitize and expand their businesses. Several enterprises like Cisco and Google are bringing SMB-first solutions that are secure and enterprise-grade. For instance, Google's 'Navlekha' program is helping offline Indic language publishers go online by helping them set up free websites. The program already has 1000+ publishers onboard.
Additionally, these Technology ISVs are bringing in innovative pricing models to accelerate tech adoption in SMBs and make technology affordable. For e.g., ZOHO is providing free accounting solutions to SMBs with revenues less than $200K. ISVs also improve discoverability and enable SMBs to access global markets. ISVs like GoDaddy and Facebook are home to millions of SMBs, and connect sellers and buyers across the globe.
3. Start-ups
Start-ups are another key lever in the SMBs' sustained growth. Especially when it comes to enabling access to Mobile-first and Cloud-first tech solutions for SMBs, start-ups have played a key role. Udaan is a fitting example of one such start-up that has brought 2 Mn buyers from across 900 cities and 30K sellers from 200 cities on one platform. It is one of India's fastest growing unicorns. Start-ups are also providing frictionless access to capital using digital platforms and algorithms. There are start-ups like Capital Float that are providing low-interest rates, collateral-free loans, and even tailored financial products for SMBs. Further, some start-ups like Pine Labs and ShopX are serving more than 100K SMBs by driving the rapid adoption of digital payment platforms.
THE START-UP ECOSYSTEM IN INDIA
A COMPELLING NARRATIVE
Know More
4. Large Enterprises
Several Large Enterprises have also sensed the potential of the SMB market and are boosting its growth through concerted efforts and initiatives. JIO, Airtel, ICICI, Shell, Walmart, and many such big players from varied verticals are helping SMBs get on the digital bandwagon and propel their growth. Some of the initiatives are:
Becoming a one-stop destination for SMBs by providing affordable platforms and solutions
Bringing digital IPs for the SMB ecosystem by providing easy and frictionless banking and accounting solutions
Skilling SMBs to help them develop an Entrepreneurial mindset and become financially independent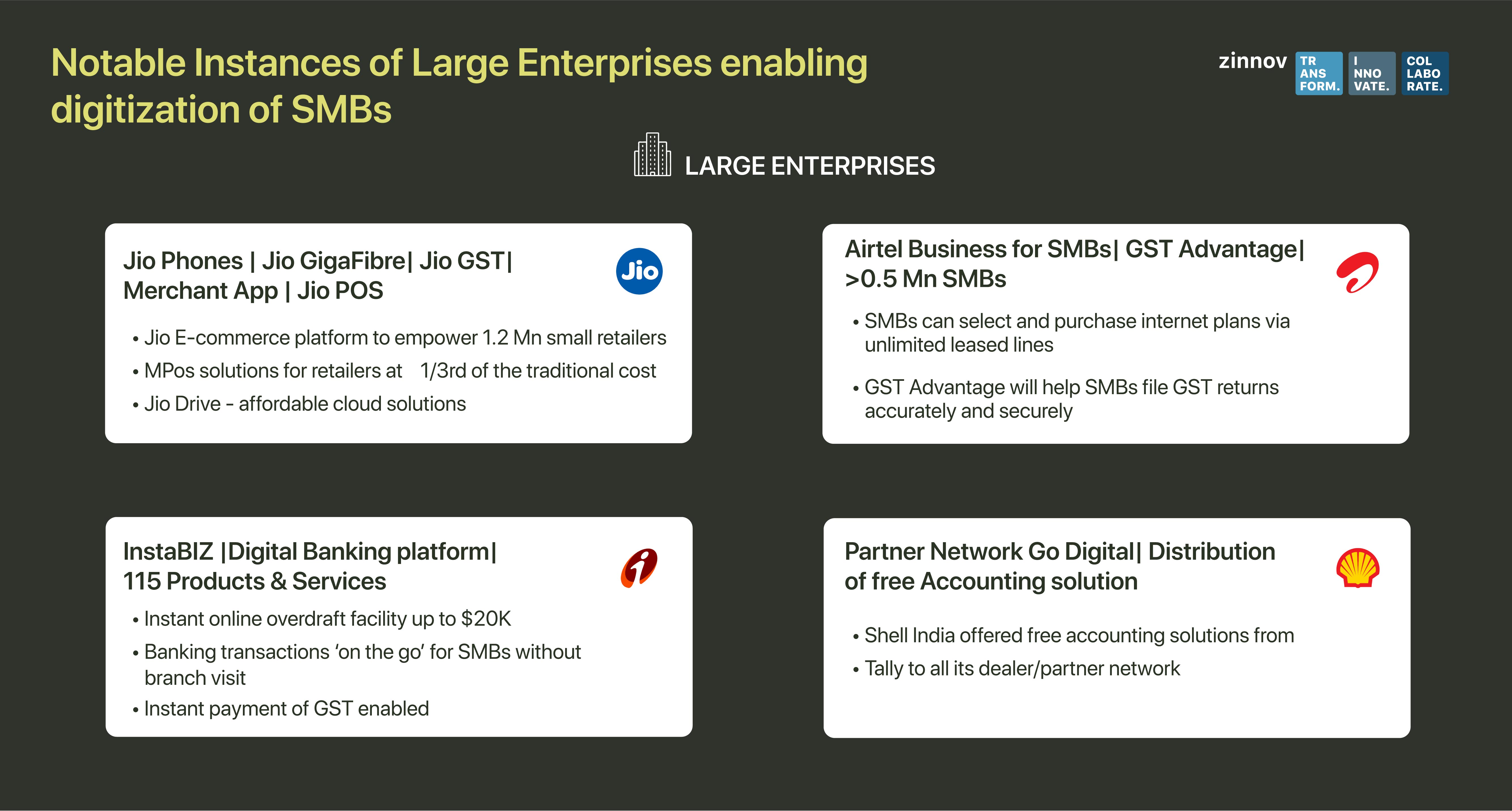 5. Government
The government has played a crucial role in supporting the growth of the SMBs through dedicated initiatives to make technology affordable. For e.g., Digital MSME (Ministry of Micro, Small & Medium Enterprises) provides a 60% subsidy on cloud adoption to promote the adoption of cloud services in SMBs. The maximum subsidy to be disbursed is that of $1.5K/SMB. Another key initiative from the government is making banking secure and fast through Digital Platforms. A case in point is that of Sahamati, a collective of account aggregators that reduces processing time considerably. This platform –
takes a new approach to Data Empowerment and Protection Architecture by transforming the organization-centric system to human-centric system;
will be adopted quickly by the financial sector followed by telecom, healthcare, and others; and
enables sharing of digital financial data with third-party applications.
The government has also taken steps towards making it easier to access capital, with less paperwork. It launched a website that sanctioned ~$150K worth of loan in as little time as 59 minutes. In addition, under Credit Linked Capital Subsidy Scheme, the government is providing an upfront capital subsidy of 15% with the aim of reducing the cost of production of goods and services. With such initiatives, the government is giving the SMBs the necessary push to become financially independent and secure.
6. NGOs/NPOs
NGOs/NPOs are playing an equally important part in helping SMBs with skilling and funding-related issues. NGOs like deAsra are enabling entrepreneurship and creating employment opportunities. It has ~38K registered website users and is supporting 35K+ SMBs by providing expert business advice and resources/tools. As much as $4Mn+ loans have been facilitated to 290+ SMBs through deAsra. Similarly, organizations like the Wadhwani Foundation are accelerating hyper-growth through training and mentoring programs. Some NGOs are also bridging the gap between SMBs and investors by conducting strategic workshops and engagements. Given below is a snapshot of such initiatives.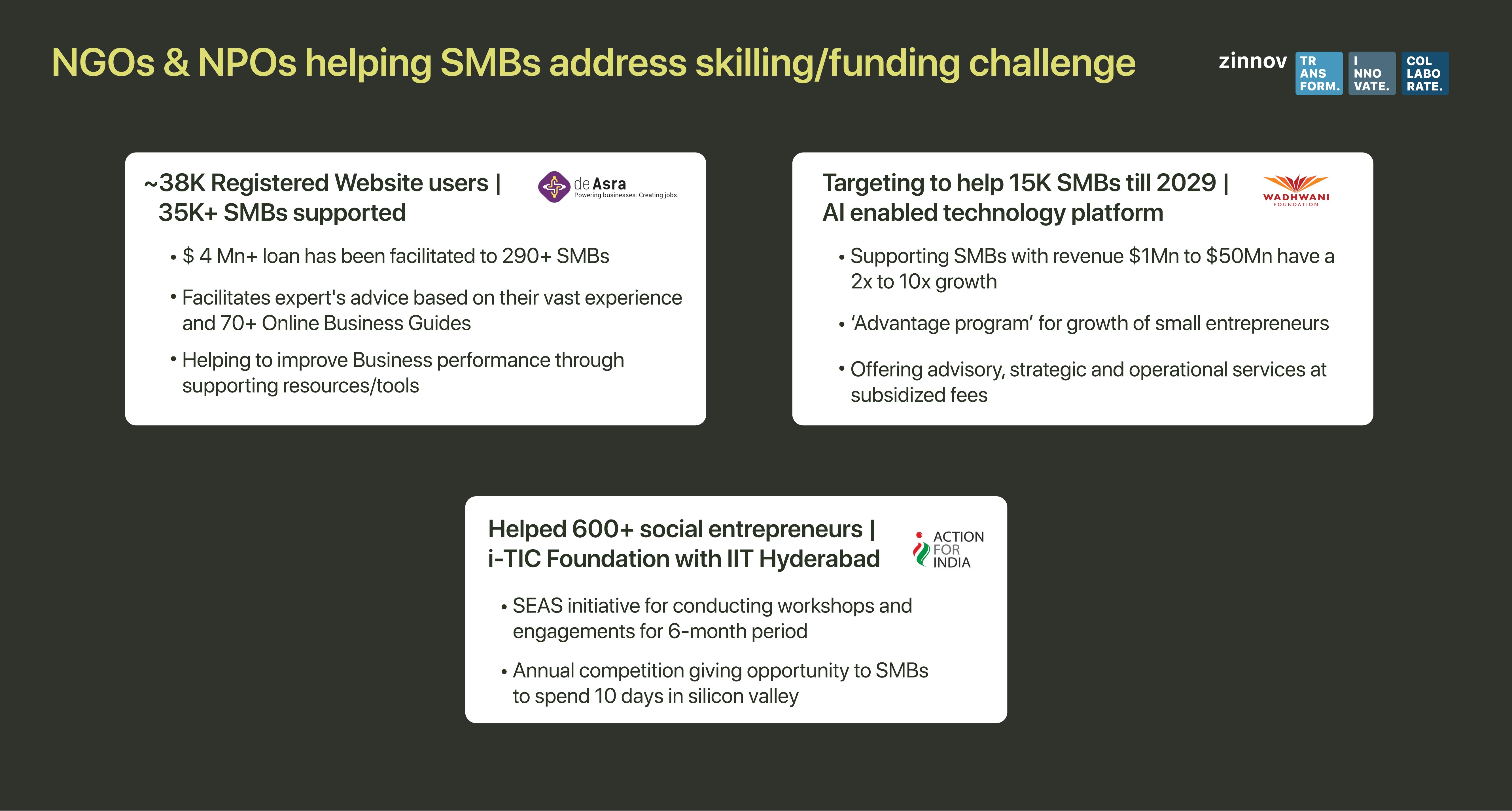 As a collective – The ecosystem has emerged a winner
While all these six factors and ecosystem players, in isolation, have played a crucial role in giving the SMB space the much-needed shot in the arm towards digitalization, as a collective, the ecosystem has pulled off an unbelievable feat. If these distinct ecosystem elements continue to work in harmony, by 2024, 90% of the SMBs will be digitally influenced and 40% of the SMBs will be digitally-discoverable through Websites, Online Listings or Social Media. Several other ecosystem initiatives that are currently in the pipeline will come to fruition and further enable SMBs to expand their businesses.
With the ever-growing digital awareness and dominance of new-age technologies, in the next 5 years, the SMBs will create an $80Bn digital opportunity. There's a huge opportunity that remains untapped, and only those who act quickly will be able to capitalize on this opportunity and take a big slice of this opportunity.
SMBs are clearly creating a multi-billion-dollar opportunity for digital players. To get more insights on how companies, big and small, can tap into this digital opportunity, write to us at
info@zinnov.com
.