Digital Transformation is no longer a buzzword but an integral part of every company's strategy. It has the potential to drive profound business and organizational outcomes that accelerate its impact in a strategic way. Digital transformation revolves around the adoption and integration of disruptive data-driven modern technologies into business that fundamentally changes how business is done and how value is delivered to customers.
Digital transformation enables enterprises to remain competitive in the face of disruptions from peer companies, technology giants as well as start-ups. Enterprises that have been successful so far have increasingly focused on breaking down their digital transformation initiatives into executable components to achieve speed and scale. The following are 6 such components that are getting prioritized:
1. Deep Focus on Digital Engineering
The last 2 years have seen an unprecedented rise in Digital Engineering spend from both traditional enterprises as well as Digital Natives. Digital Engineering is defined as investments in modern digital technologies in building newer products or services or enhancing existing product development processes. The top 1000 companies that spend staggering amounts on Engineering Research & Development (ER&D) are spending close to USD 300Bn on Digital Engineering, and is expected to be more than double in the next 4 years.
Digital is increasingly defining the new core of companies, irrespective of industry vertical. Every large global organization is increasingly transitioning to an engineering organization, with digitalization driving its next wave of growth. As a result of the increased digital engineering spend, enterprises are creating new digital IPs in 4 key segments – technology & compute platforms, data & insights platforms, service platforms, and asset platforms. Banking industry, for example, is heavily focused on building core digital assets and IPs in areas like investment advisory, lending & mortgage, trade execution, etc., Other industries such as Automotive, Media & Entertainment, Healthcare, etc., are also prioritizing customer-centric use cases for digital IP creation in a similar way.
2. Cloud Migrations at Scale
Across industry verticals, cloud adoption is marching beyond trials to large scale deployments, thanks to 4 key demand drivers –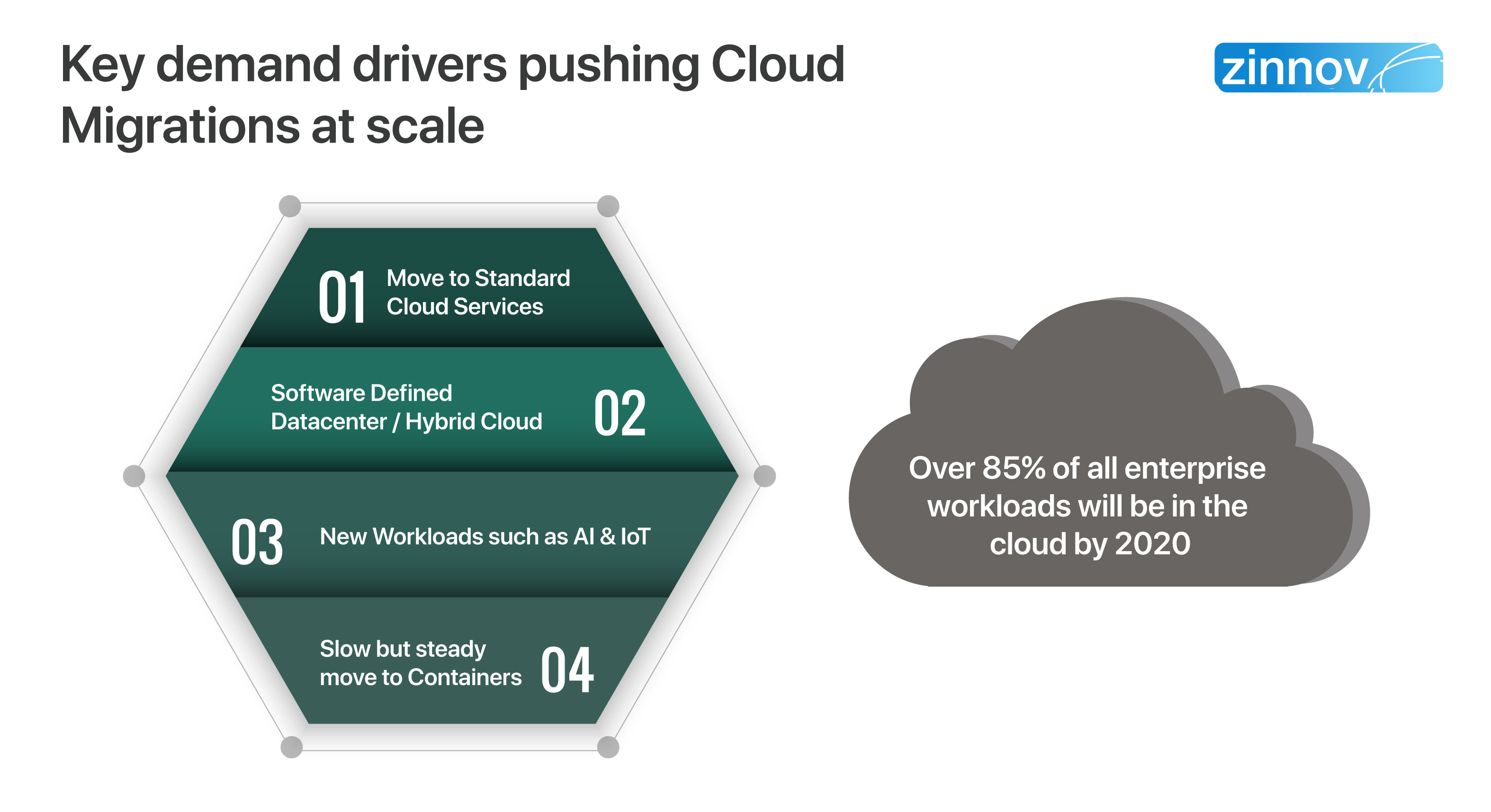 a) There is a massive shift towards standard services to be moved to the cloud. Many enterprises are looking to move to off-the-shelf SaaS products in some way or the other. The public cloud market is expected to reach over USD 400Bn by 2020, which will further fuel this shift to cloud.

b) Software-defined data centers and hybrid cloud adoptions are dramatically increasing. Enterprises are increasingly looking at a multi-cloud strategy to run their mission-critical and peripheral apps. In the next 4-5 years, the market is set to create 500 million applications that traverse on-premise and multi-cloud.
A few prominent examples – IBM paid in excess of USD 34Bn to acquire RedHat in order to have a play in the segment. VMware has been betting big on this area and has made strategic acquisitions of companies such as CloudHealth valued at over USD 500Mn.

c) By 2020, over 30 billion IoT devices will be activated. Workloads like AI, IoT, edge computing will increase by 67% CAGR over the next 3 years, fueling the growth of cloud market.

d) Companies like Google and VMware are betting big on containers, which is the dawn of the virtual machines' era. Currently, these companies are building immense capabilities in containerization.
Tech Giants fueling cloud market growth

The 5 tech giants are catering to a large part of the cloud market growth. Amazon, Microsoft, and Google alone will derive over USD 100Bn in cloud IaaS revenue over the next 3 years. Over two-thirds of enterprises are already running enterprise applications on cloud infrastructure provided by the top technology companies, according to a survey conducted by RightScale. Additionally, a lot of R&D investments and acquisitions are being made to increase the reliability, availability, and security of the cloud workloads.

While the move to cloud is increasing rapidly, enterprises will continue to grapple with a variety of challenges depending on their commitment and maturity towards cloud adoption.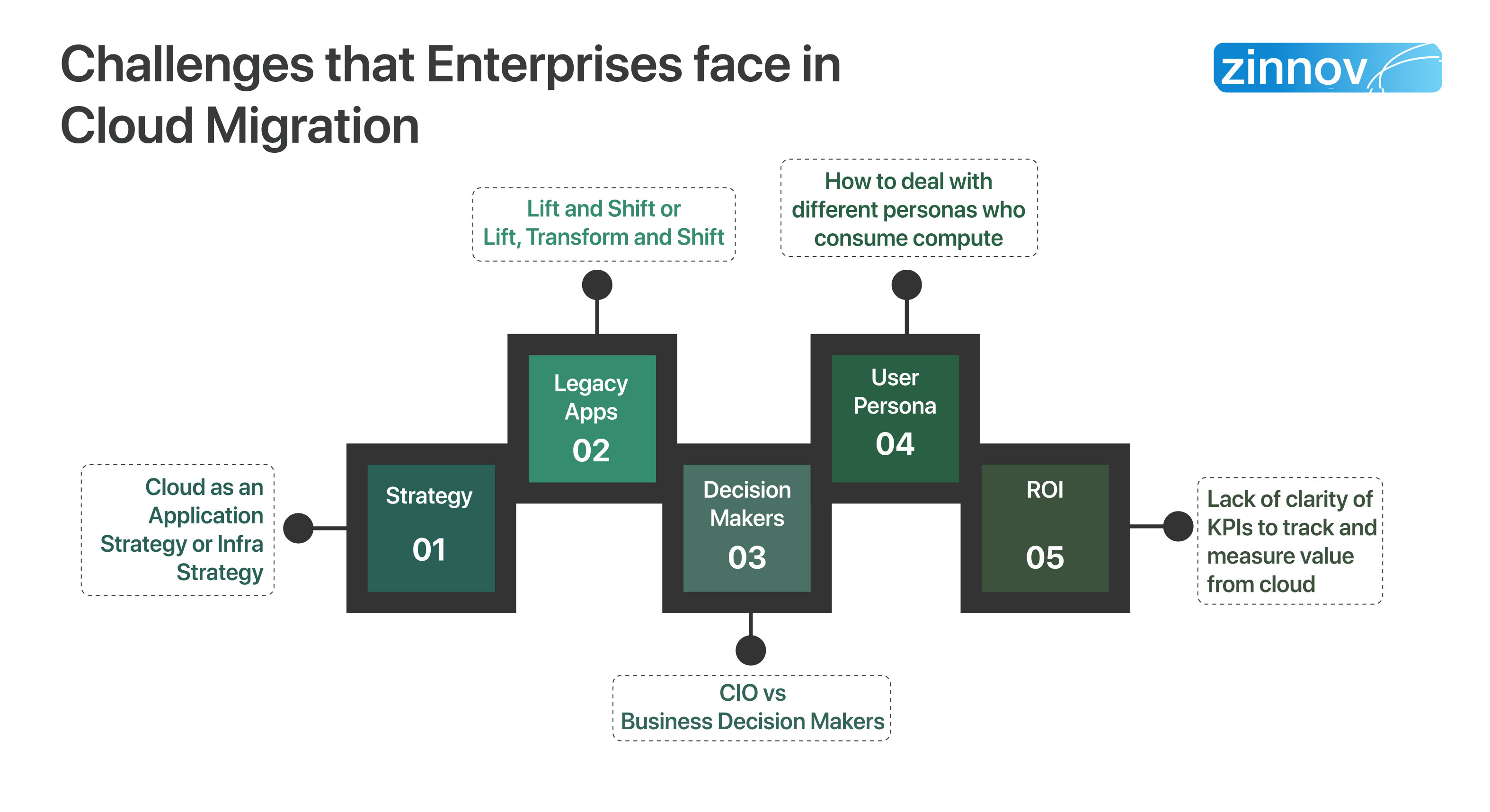 a) Should cloud migration be considered an application strategy or an infrastructure strategy?
b) Since cloud transformation can take two forms – Lift and Shift / Lift, Transform, and Shift, how can traditional enterprises transition to cloud with legacy applications?
c) Is cloud strategy just a CIO agenda or core to business decision makers?
d) When transitioning to cloud, how to effectively deal with the different personas who consume compute?
e) What KPIs to track in order to measure the value from cloud?
3. Legacy Management – Looking Back to Look Forward

Digital-led disruptions are a harsh reality that a number of organizations are facing. They are also faced with challenges in competing with the new age digital natives, adopting digital technologies at scale, and accessing growth markets rapidly. To keep pace with the changing technology ecosystem and the disruptors that are bringing in these rapid changes, enterprises are looking to –
i) build a strong innovation pipeline,
ii) deeply engage with customers to ideate on new business, services, and revenue scenarios, and
iii) create rich ecosystem connects with strategic partners.

However, this requires investments in the unknown without a clear view on the ROI. This is where optimization of the legacy portfolio acts as the cost lever that can be leveraged to fund some of the new initiatives. There are 5 key levers of legacy management and associated cost savings as illustrated below.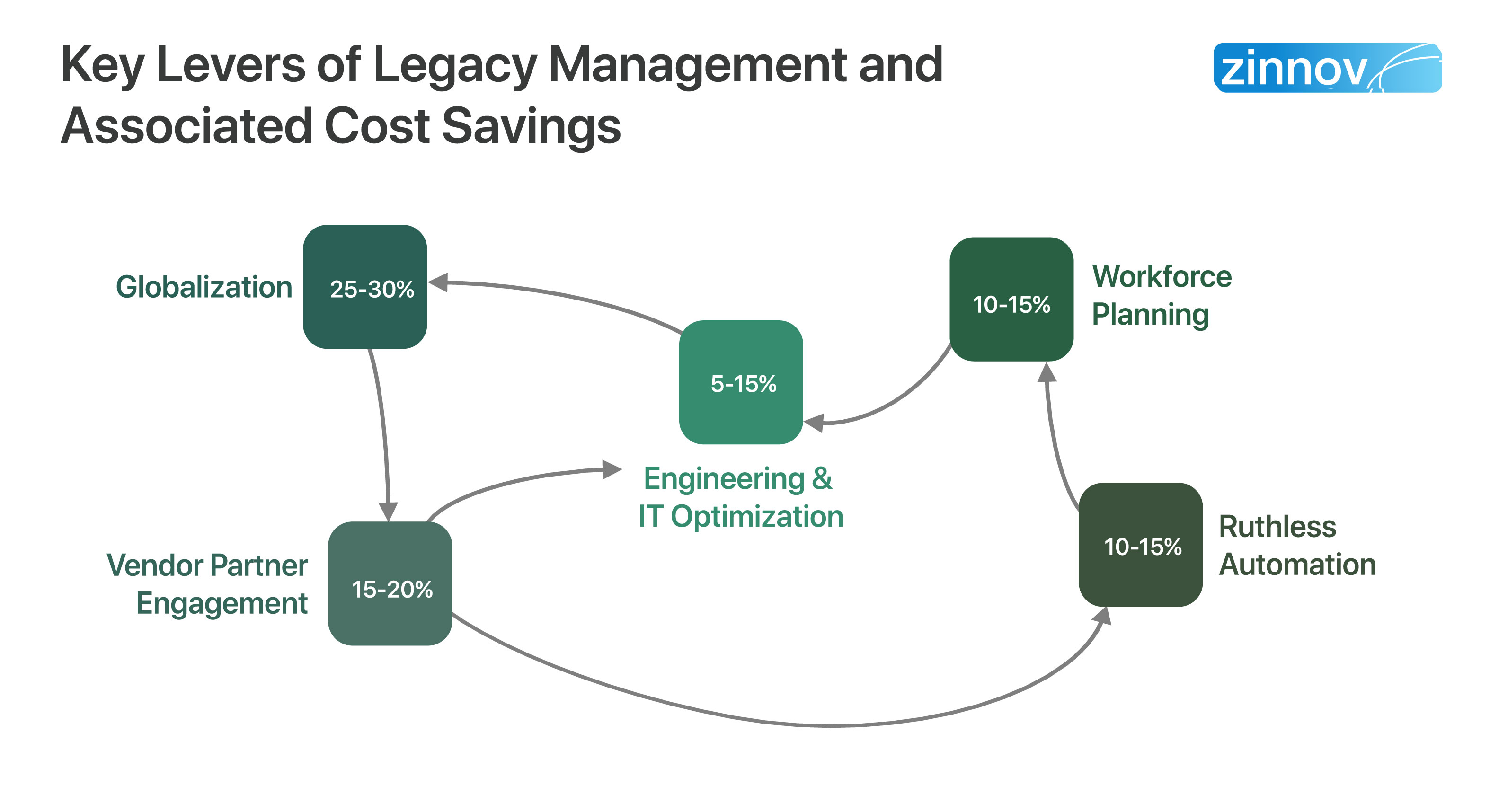 a) Optimize engineering and IT requirements
b) Globalize to a low-cost location
c) Engage with vendor partners
d) Cut down fat in the system
e) Bring in ruthless automation
Depending on the organization and its structure, these levers can individually save close to 25% of the total cost of IT and engineering. However, in reality, many traditional enterprises are fairly inexperienced in operationalizing these levers, which opens up a plethora of opportunities for Service Providers. SPs with niche capabilities can partner with these enterprises to enable them to play one or more of these levers to derive significant cost savings.
4. Accelerating GICs' Digital Agenda

In recent years, Global Innovation Centers (GICs) of large enterprises have accelerated their focus on digital transformation strategies and initiatives. These global centers are transforming themselves from being mere cost arbitrage-oriented centers to owning distinct products and their roadmap end-to-end. More and more GICs are creating their distinct personas and maturing towards possessing Disruptive Leadership, one that encompasses a clear center roadmap, end-to-end product ownership, fostering partnerships with internal and external innovation ecosystems, nurturing future leaders, and leveraging new-age technologies such as IoT, AI/ML, automation, etc.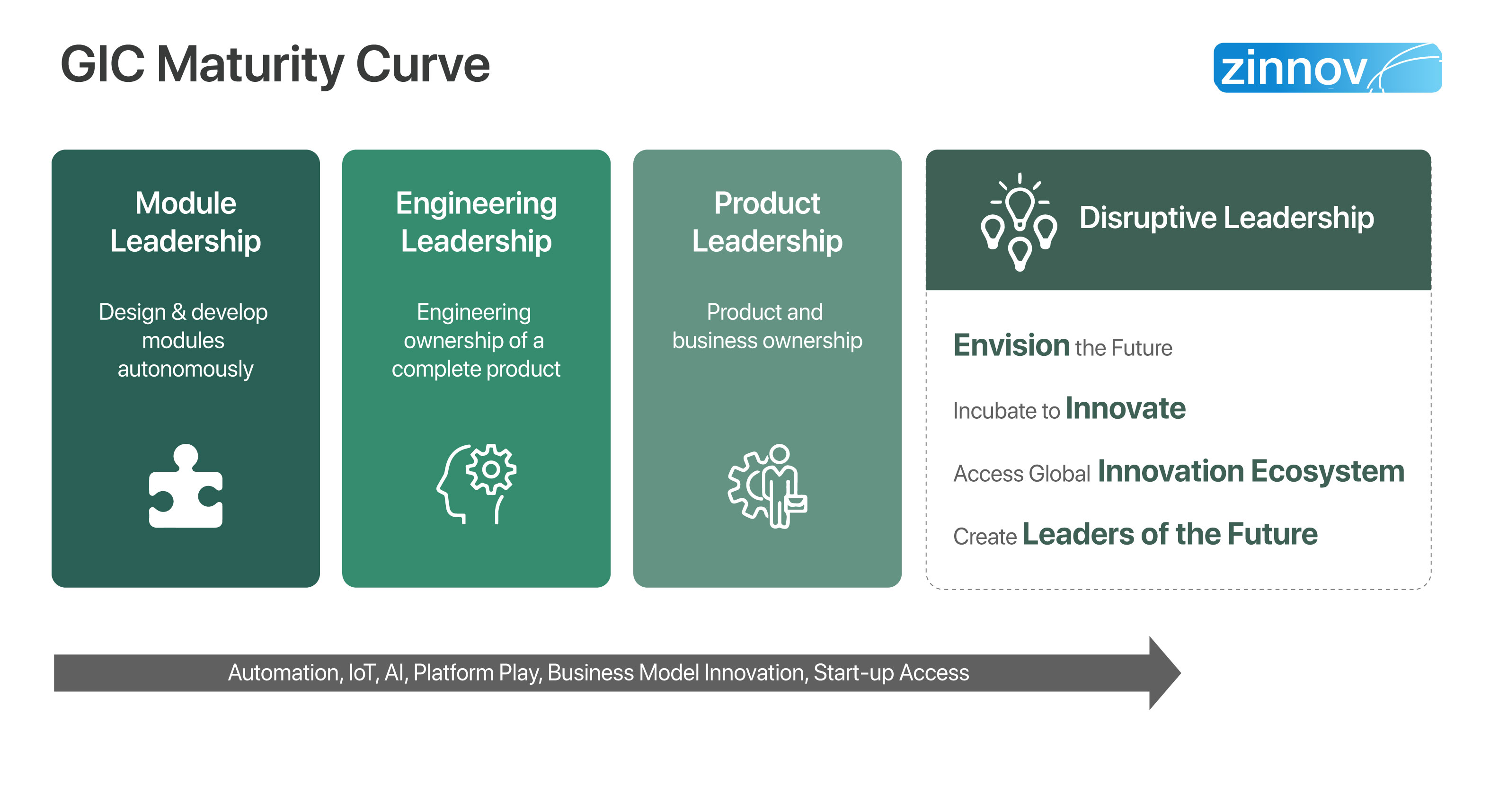 In this transformative journey of GICs, they need a robust partner ecosystem on which they can rely on to accelerate their transition into Disruptive Leadership. GICs are looking for strategic partners for managing traditional services, which opens up a slew of opportunities for Service Providers to tap into. From employee rebadging to support services in domains such as infrastructure management, application development, to content management and product training, there are a plethora of opportunities for Service Providers in managing GICs' RUN services.
5. Empowering the CIO Organization

Over the last several years, there has been a massive transformation and evolution in the persona of the enterprise IT organization in terms of investments and focus. In 2018, more than 60% of technology investments were controlled by IT, with this capital being steered towards digital investments at a global scale, technology standardization, and outlining business and IT policies. The role of the CIO, who manages the enterprise IT organization, has evolved over time.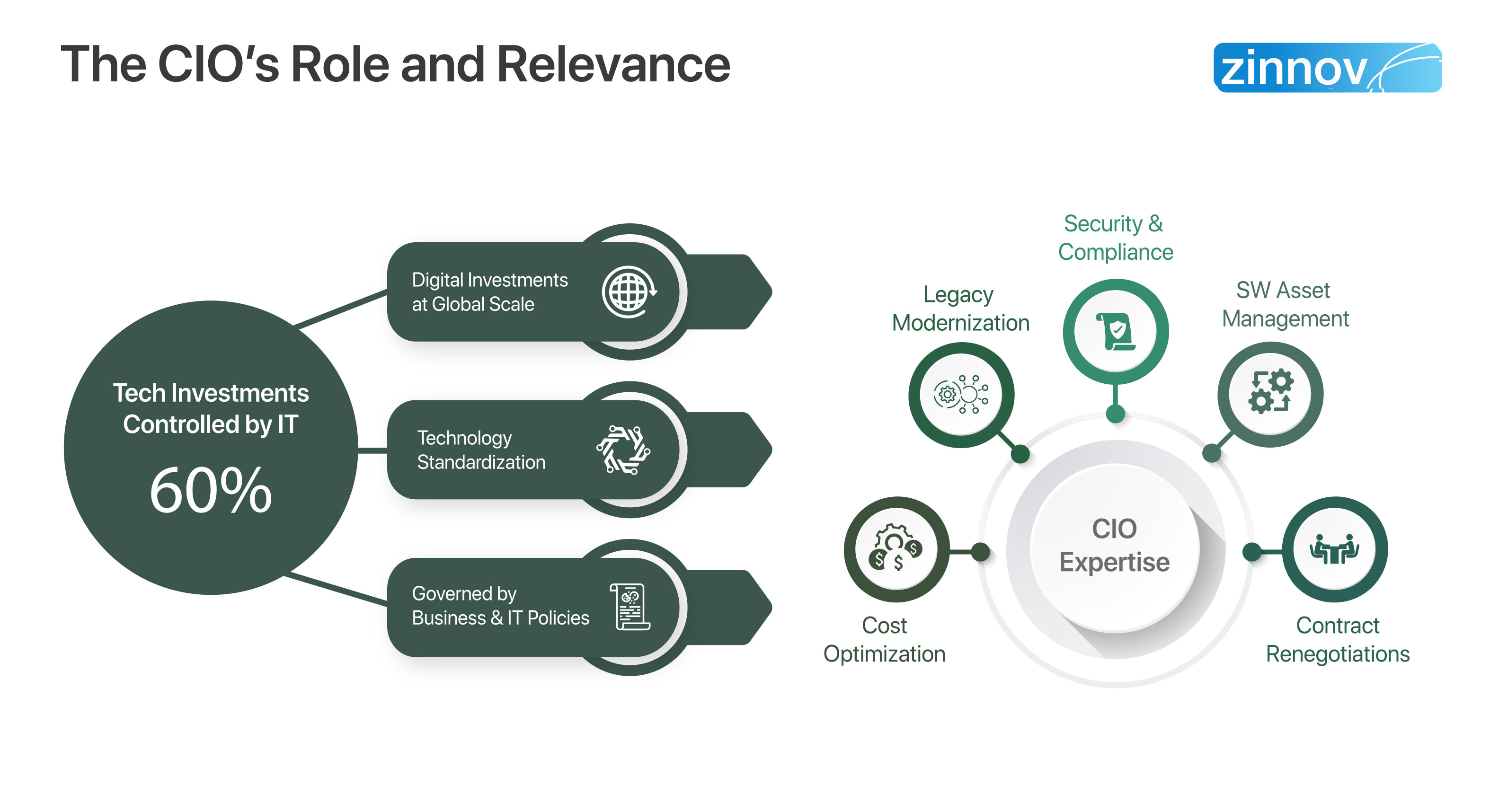 The CIO of today is expected to focus on –
a) Cost Optimization – 25% CEOs consider reducing IT spending among the top 3 priorities for the CIO
b) Legacy Modernization – >50% CIOs plan to replace or adapt existing infrastructure as part of digital transformation
c) Security and Compliance – Data security is paramount to avoid cyberattacks
d) Software Asset Management – Opportunity to reduce costs by 20-30% through optimum software asset management
e) Contract Renegotiations – IT departments own supplier contract negotiations in 54% of enterprises

CIO Persona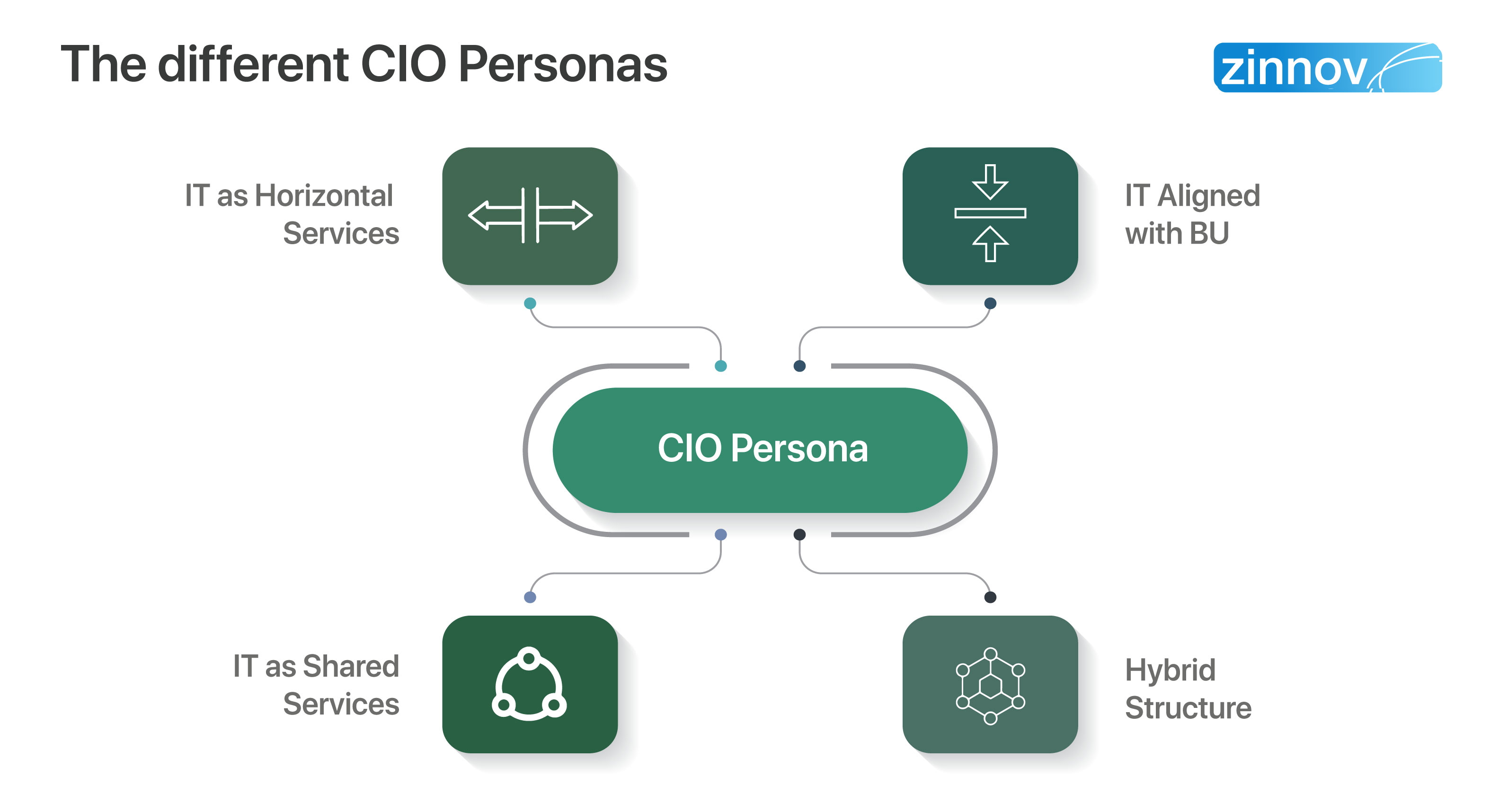 Based on the structure of an IT organization, the CIO persona can be mapped into 4 distinctions –
a) IT as horizontal services: The IT organization serve the needs of different business units.
b) IT as shared services: The CIO is part of the shared services organization.
c) IT aligned with BU: The IT organization mirrors the business units.
d) Hybrid structure: While parts of the CIO organization are aligned to business IT, the core IT functions are structured as horizontal.

As the role of a CIO evolves, so does their relevance. Today's CIOs have started to wear multiple hats to increase their relevance in the organization. A future CIO will be expected to be an intersection of a CFO, a CDO, a CTO, and an entrepreneur, where they not only look to monetize and leverage the IT assets to increase revenue opportunities, but also identify ideas regularly, that will result in long term value for the company.
This evolution of a CIO's role aligns with the changing tenets of what makes a leader in a mature, transformative GIC.
6. Massive Skill Transformation

Classic technology capabilities are increasingly transforming into specialized skillsets. Take the case of skills transformation in DevOps, for example. There are a multitude of skills that are essential for DevOps including Architecture, Technology, and Infrastructure. Some of these skills include Microservices, Containerization, AI/ML, Continuous monitoring tools, Automation, SecOps, and Cloud. Self-learning systems and NoOps will become the future of DevOps, thanks to the evolution and transformation of skills for classic technology services.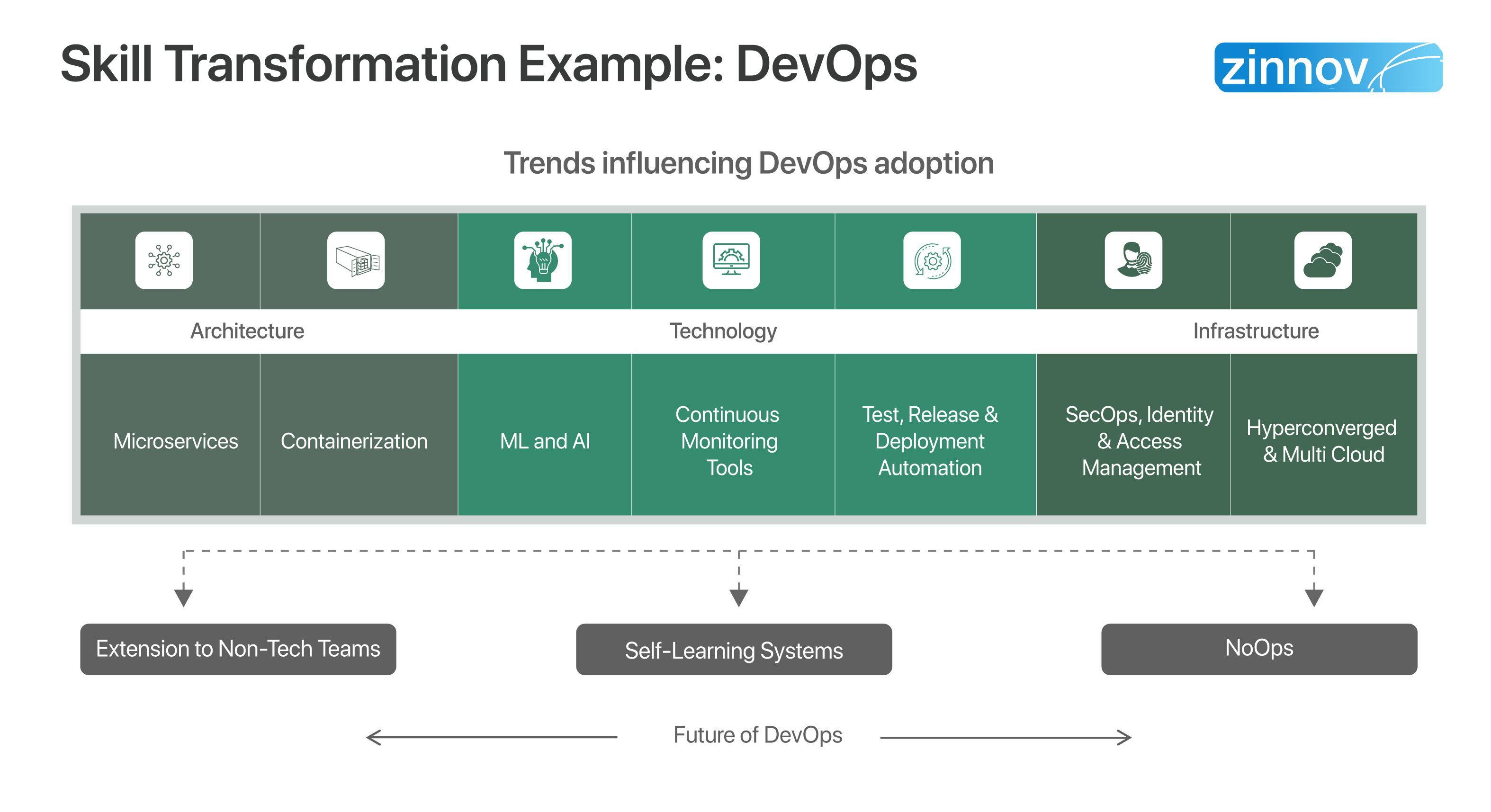 To cater to this emerging need for specialized skillsets, enterprises are taking a multi-pronged approach for skills acquisition through strategic partnerships, mergers & acquisitions, and setting up niche but transformative Global Centers of Excellences (GCoEs).
Not only are the enterprise focus areas outlined above accelerating enterprises' digital transformation journeys, but are also enabling organizational agility and innovation. Data-driven digital technologies such as AI/ML, RPA, cloud, etc., are further driving business outcomes while also helping streamline processes and achieve efficiencies in enterprises. Hence, it is not a question of if but when enterprises embark on digital transformation journeys, they will essentially be building a moat around their business in the era of constant disruptions that they operate in.
Merely increasing your enterprise's digital spend isn't enough to face disruptions by digital natives. SE Drop us a note at
info@zinnov.com
to know how to build a digital moat around your enterprise against disruptions.