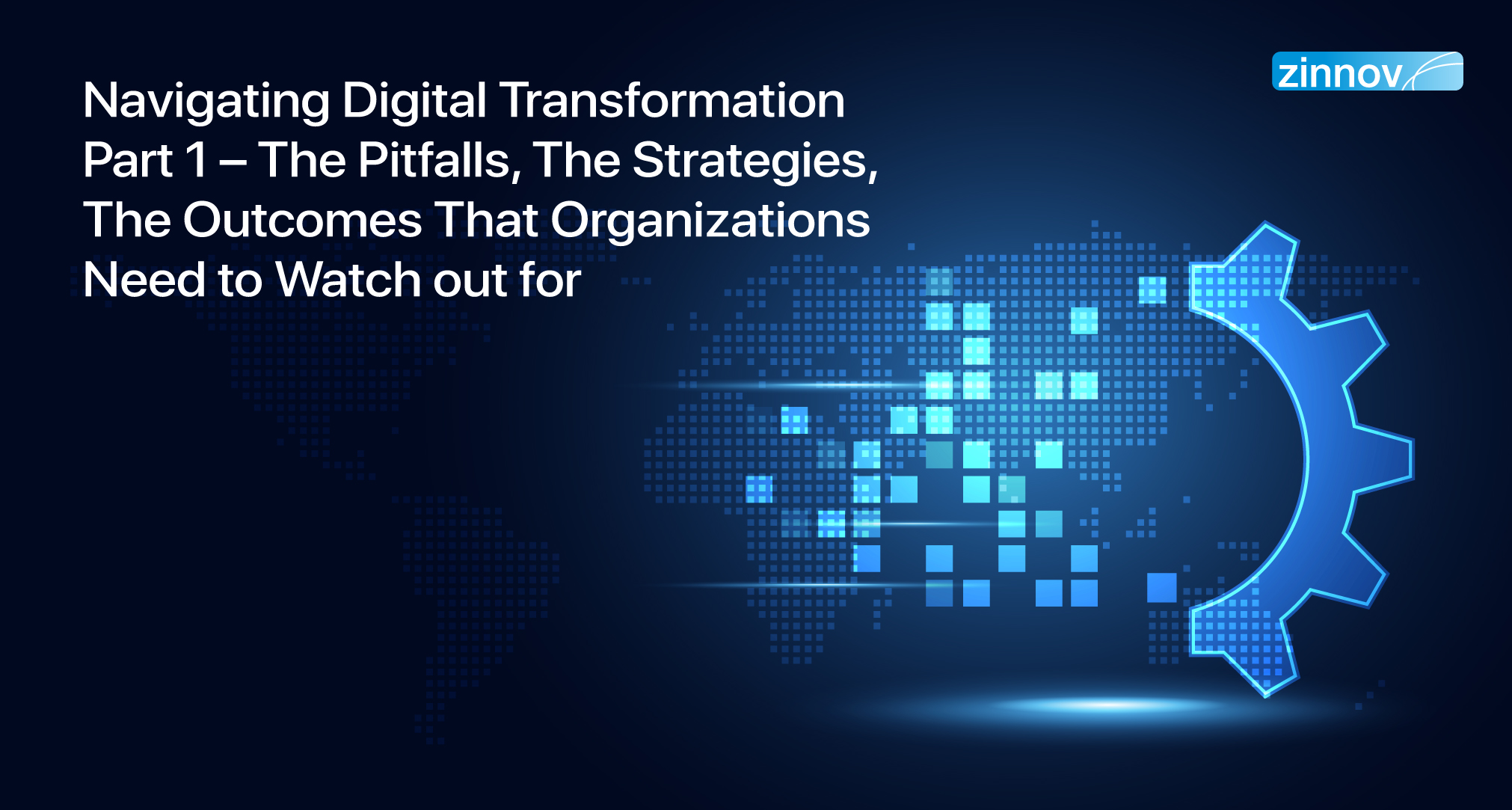 Let me take you back in time to the year 1994. A young man became D.E. Shaw, a hedge fund company's, fourth senior vice president at the age of 30. But soon after, he left his lucrative job on Wall Street, packed his bags in New York and moved to sleepy Seattle. On this trip, he outlined a business plan for his online start-up that he called, Amazon, named after the synonymous meandering river in South America. Three years later, he took his company public. The world knows this man as Jeff Bezos – founder, chairman, and CEO of Amazon, and the wealthiest man in the world, according to Forbes.
Though Amazon started out as an online bookstore, the company had a long-term vision to build a retail enterprise with no stocks, no warehouses, and no shipping. The 'asset-light' philosophy was embraced not only by Amazon, but other early digital companies as well. These companies were largely discovery platforms, services aggregators, or marketplaces. They provided digital services over existing businesses. However, going against the grain, these companies have now become 'asset-heavy.'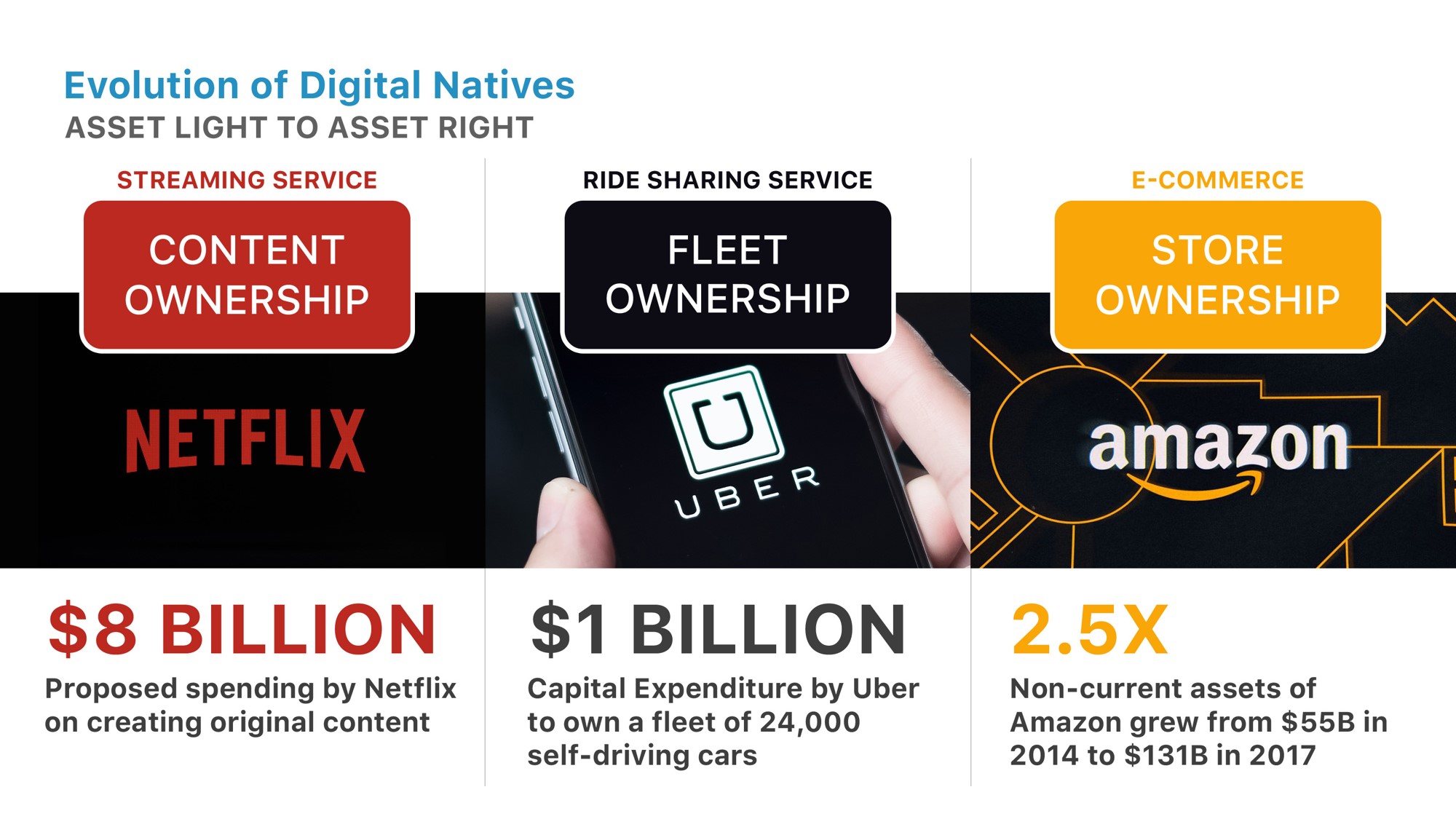 Digital Engineering Spend has skyrocketed…
The asset-heavy businesses have had a cascading effect on the Engineering R&D (ER&D) ecosystem, creating an unprecedented rise in Digital Engineering spend from both digital as well as traditional companies. The top 1000 companies that spend close to USD 1228Bn on ER&D, are spending 24% of this, i.e., USD 293Bn on Digital Engineering. In the next 5 years, this Digital Engineering spend is estimated to double to USD 642Bn. One thing is clear from this – digital is defining the new core of companies, regardless of industry verticals.
Further, this cascading effect is impacting other industry verticals such as automotive, aerospace, medical devices, etc. Huge capital is being pumped into digital engineering, focusing on customer experience, operational efficiency, and building new or enhancing existing products and services. US continues to dominate, accounting for 58% of the Digital Engineering spend, driven by increased R&D spending by Software & Internet firms. Asia, led by China, has surpassed Europe's digital spend and stands at 22%. An impetus that has propelled China to become the fastest growing in digital spend in Asia, is the absence of the same stringent regulatory constraints as US or Europe. Moreover, China has been successful in entering verticals such as financial services and other heavily regulated industries with much ease. This trend will only accelerate further in the next few years.
…but Digital Innovation is nowhere near equal to the Digital Engineering Spend
The market capitalization of the top 5 tech giants – Apple, Amazon, Google, Facebook, and Microsoft – is $4.3 Tn, in contrast to ~$5 Tn of all the other industries. It's no wonder that digital innovation isn't keeping pace with the Digital Engineering spend. To put things into perspective, we plotted the top 10 companies across different industries and compared their change in revenue and market capitalization over the last 10 years. The digital companies have clearly left other industries behind, even though some of the companies in other industries grew rapidly.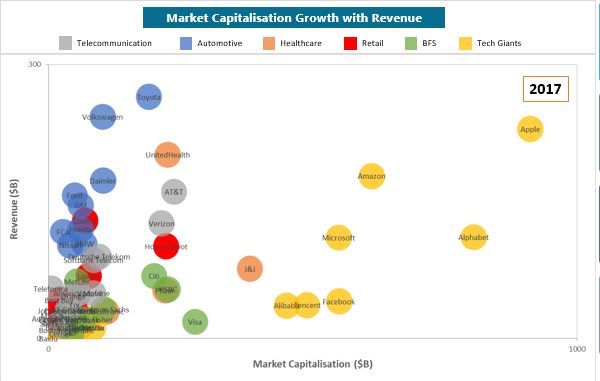 However, China is an outlier, with meteoric growth of Chinese companies – businesses that haven't even globalized yet. Their growth is based on the strength of their domestic market alone. In the next decade, these Chinese companies will grow to become giants, unless trade barriers are created for them to venture into developed markets. Tencent is a case in point, which has uniquely gained a lot of valuation by focusing on the China market alone.
What sets digital companies apart from their peers in other industries is their response to digital disruptions. While it is a fact that digital disruptions are happening at an unprecedented pace, devising newer growth strategies that help navigate the turbulent digital seas is imperative for businesses – digital and traditional – alike. After studying numerous digital companies, we have distilled their success mantra into 5 key strategies that will enable platform- and data-led business models.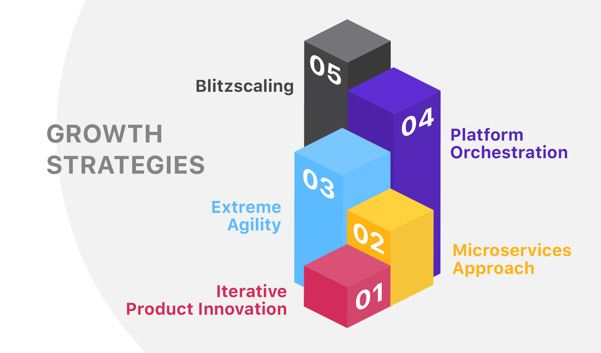 Iterative Product Innovation: New businesses don't arise out of ideas themselves. It is the iteration that makes the idea successful, not the initial idea itself. Build faster, measure faster, and learn faster is the mantra of an iterative product innovation. Digital companies move at an accelerated pace to iterate their products in order to get optimal product-market fit.
Microservices Approach: The companies have been broken down into smaller, more agile, and flexible entrepreneurial micro units. These micro units are independent and can interact with the rest of the company or external entities quite independently. This is a far cry from the traditional companies that are focused on building single-function monolithic organizations. Do one thing, and do it well, is the mantra for this approach.
Organizational Agility: Companies are in a constant state of transformation and change, thus giving them an edge in maneuvering disruptions without getting perturbed. This is extremely important in the current business environment which has become volatile, uncertain, complex, and ambiguous (VUCA tide). Extreme agility equips companies to pick and predict market changes, drive collective decision-making and commitment to decision outcomes, and regroup organizational resources around new strategies.
Platform Orchestration: Platforms are evolving. From being mere marketplaces to having evolved into smart/connected platforms, they have transformed into enabling mechanisms that bring ecosystem players closer. This then enables co-creation to produce results that were never possible before. Companies set themselves as a platform and aggregate additional value through multi-sided networks and partners.
Blitzscaling: Companies follow a set of principles that are biased towards speed rather than efficiency, especially when the results are uncertain and risky. Blitzscaling is what a company follows when it needs to grow at an accelerated pace. The goal is to become first to scale, gaining competitive advantage in the process.
Companies leverage one or a combination of these strategies to achieve growth and scale.
The foundation for these strategies is the razor-sharp focus on talent. As a consequence of this, companies are actively creating new job categories that didn't exist before. For example, talent required to create and curate data sets to train Machine Learning algorithms. Companies are mapping skills internally and externally, mapping their global talent footprint, deciding on the work to be driven internally and that which is to be outsourced to third-party digital service providers. Companies and leaders are continuously pushing the envelope on talent engagement practices to attract, retain, and help employees stay in the zone of innovation and creativity.
Leveraging niche AI/ML talent from low-cost locations, the Gig Economy, niche reskilling and upskilling programs are some of the measures that organizations are employing. Low-cost locations such as Warsaw, Vienna, Milan, Bucharest, Panama City, Beijing, etc. are being leveraged by Tech Giants for niche AI/ML talent. The rise of the Gig Economy is being leveraged by companies across the technology ecosystem. For example, ~20% of Amazon's talent is contract workers during the holiday season; ~20% of Cisco's talent is assigned as contingent labor; in early 2018, Google's contingent labor outnumbered its direct employees.
Difficulty Delivering on Digital Transformation
Despite key growth strategies and focus on talent, delivering on digital transformation has been an uphill climb for several large enterprises. A lot of failed attempts and initiatives come to the fore, if only one digs a little deeper. GE is a case in point. The 125-year-old industrial giant was one of the first companies that embraced digital in its infancy. They set up a separate business unit that reported directly to the CEO, essentially keeping it away from HQ.
GE was successful in identifying the right opportunity of building a digital platform for IoT. However, when it came to executing it, they failed. Two GE CEOs were let go in the last two years. In fact, a few weeks ago, the head of GE's digital business acknowledged that the digital transformation journey is a 10-year one – but unfortunately, the digital companies are trying to deliver this in 6 months. This mismatch in expectations and outcomes from the digital transformation is what has been a major setback for many large enterprises.
We have seen a similar failure in telecom companies as well. It has clearly not been an easy road for companies that have embarked on the digital transformation journey to see intended outcomes.
Is a Digital Organizational Culture the Answer?
Our strong belief is that companies need to make foundational changes in their organization culture to embrace digital engineering and the consequent innovations. The culture needs to encourage employees to –
not be afraid of failure,
embrace a diversity of ideas from across the globe,
be biased towards speed rather than certainty,
collaborate,
build a culture that is comfortable and allows for continuous learning, and
look forward to continuous change.
If companies start transforming their culture, the digital transformation journey will get a lot easier. The second part of this series will cover the key strategies to win at digital transformation.
---
Looking to transform your company digitally and deliver on your digital investments? Reach out to us at info@zinnov.com