The Indian Software-as-a-Service (SaaS) industry has not only shown incredible resilience but emerged stronger amidst the funding constraints and economic downturns, underscoring its exceptional antifragility in the last year. With revenues expected to cross USD 26 Bn by 2026, on the back of an impressive ~2.5X year-on-year growth, Indian SaaS continues to gather momentum and remains an attractive space for founders and investors alike. This momentum is driven by continued founder and investor confidence in the India SaaS ecosystem, and product leadership showcased by SaaS firms – both existing and new ones. Add to this support from investors who are betting big on numerous categories and sub-categories in Indian SaaS across growth stages.
Global Recession is a Concern, but not a Deterrent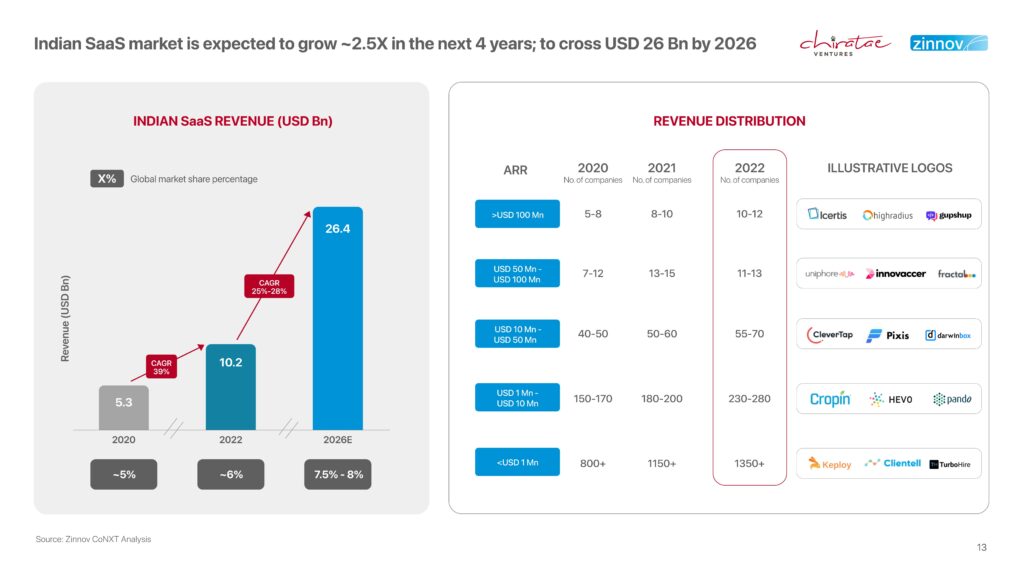 Indian SaaS companies showed no signs of slowing down in 2022, despite macro-economic headwinds. Of the 1,650-1,750 funded Indian SaaS start-ups, there has been a surge in the number of companies surpassing USD 1 Mn+ ARR. In the year 2022, almost 280 SaaS companies achieved revenues ranging from USD 1Mn to USD 10Mn, setting a new record. This is a significant increase from previous years. While the pandemic had accelerated global public valuation multiples, they experienced normalization in 2022. Nevertheless, there has been a gradual recovery since October 2022, with the median valuation multiple currently standing at 6.6X. Although this figure is slightly lower than the pre-pandemic median, it suggests that Indian SaaS valuation multiples have displayed greater resilience compared to their global counterparts, as they have withstood macro-economic variability.
Download the latest 2023 SaaS report
India SaaSonomics: Navigating Growth and Efficiency
Download the Report
Interestingly, despite a widely acknowledged funding winter, investments in Indian SaaS were 3X more in 2022 than in 2019. However, 2022 has been a year of ups and downs. While the deal volume across both seed-stage and early-stage SaaS start-ups increased, there was a 32% decline in late-stage funding value in 2022. Many a SaaS start-up was faced with justifying higher valuations, which in turn led to lower investor returns. Also, the drop in SaaS company valuations in public markets greatly affected private markets, which led to an 80% decrease in funding from Q1 2022 to Q1 2023. This drop was primarily driven by a significant decline in late-stage funding valuations, while early and seed funding valuations remained relatively unaffected. In 2022, there was a considerable increase in early-stage funding value, which surged by 1.6X, while seed-stage funding witnessed a 1.5X increase.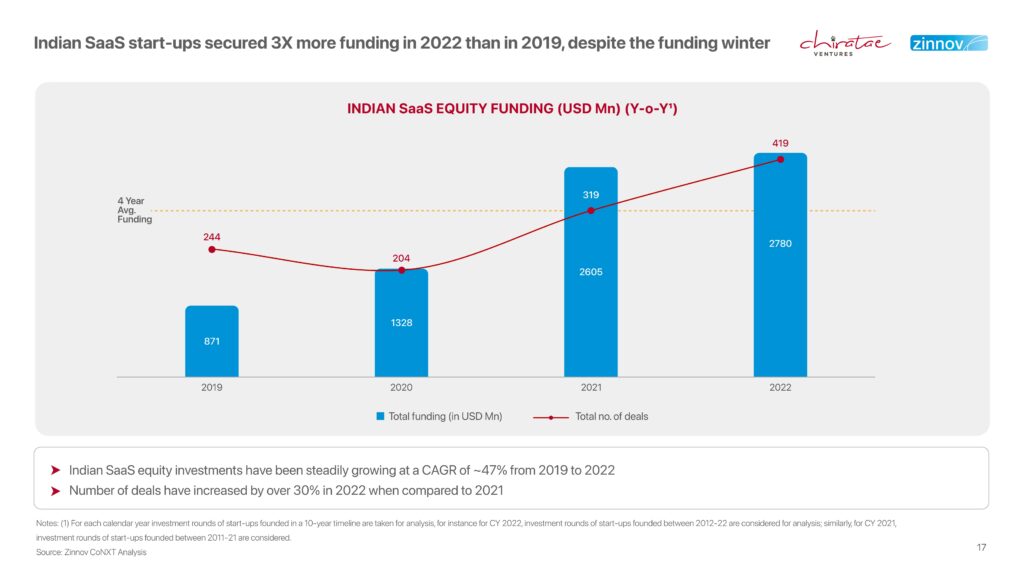 The figures demonstrate that the Indian SaaS industry is more resilient to economic disruptions compared to global markets, highlighting the unwavering confidence of founders and investors in the industry's growth and success.
Read the 2023 India SaaS report
India SaaSonomics: Navigating Growth and Efficiency
Download the Report
Zinnov-Chiratae Survey of Indian SaaS firms
According to a survey by Zinnov and Chiratae Ventures, 93% of founders expect their revenues to rise within the next 12 months. 9 out of 10 investors continue to believe in the India advantage, and are investing in existing and newer SaaS areas. Notably, despite global layoffs in 2022 and the early months of 2023, an impressive 96% of Indian SaaS unicorns and potential unicorns actively hired, experiencing significant growth in their workforce. This is further underscored by the fact that 2022 recorded 1,650-1,750 active funded SaaS start-ups in India – which has clocked in 2X growth in the last 4 years alone. 84% of these start-ups are in the seed-stage, with 13% in early-stage, and the rest in late-stage.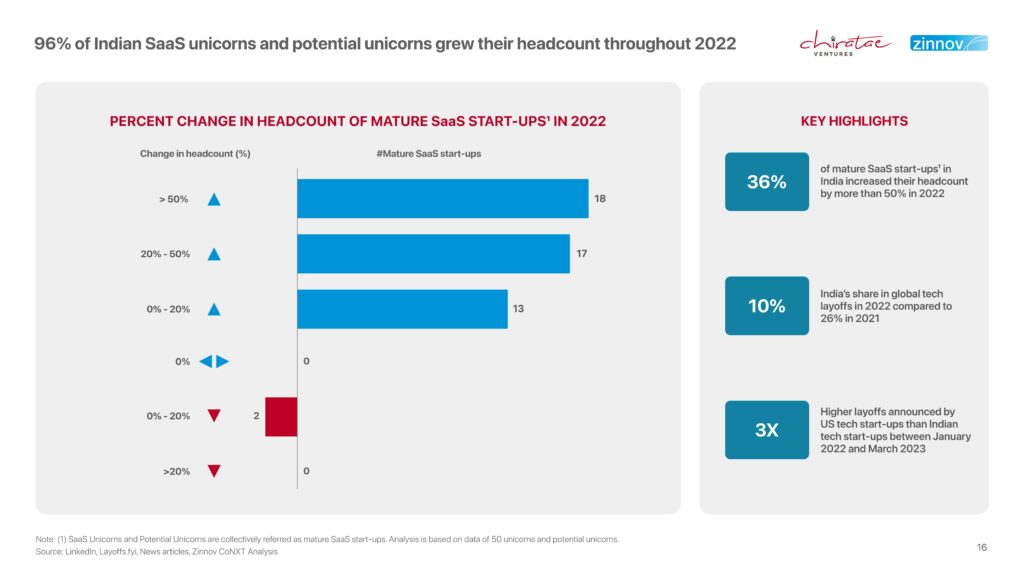 Given the macro-economic outlook, SaaS founders are grappling with delayed sales cycles as customer spending becomes cautious. This in turn will put additional pressure on the start-ups' cash flows due to any gaps in revenue. On the other hand, founders of unfunded start-ups will face funding challenges in the next 12 months, since investors are exercising more caution while investing in times of economic uncertainty. To tackle these challenges, start-ups across stages are doubling down on revenue growth strategies, with a high focus on improving customer experience, reducing churn, and increasing customer retention. A staggering 55% of founders surveyed plan to acquire new customers and expand their geographical footprint, while 20% will focus on upselling and cross-selling to existing customers.
Indian SaaS New Opportunity Areas
The next phase of growth and innovation for Indian SaaS will be driven by DevOps, Cybersecurity, and Vertical SaaS. With India being the number one contributor to global AI-related GitHub repositories, and housing 10% of the global developer base, India will be a key disruptor in the global DevOps market. The increasing global VC funding in the field of Cybersecurity, along with the constantly changing threat scenario, provides Indian SaaS firms an opportunity to develop and provide unique Cybersecurity solutions. With 80% of the investors that Zinnov and Chiratae surveyed more likely to invest in Vertical SaaS in 2023, the category has emerged as a key investment area. In addition to this, Vertical SaaS players have a profitable opportunity to tap into India's 70 Mn+ SMBs.
Generative AI and Web 3 are the other two opportunity areas within SaaS, that will drive growth in the coming years. India is home to 16% of the global AI workforce and is at the forefront of AI product development. Additionally, it is leading the way in the emerging field of Generative AI. This has led to an increased focus on enabling superior customer experience and content generation, which is being catered to by the 800+ Indian start-ups focused on this technology. India has solidified its position in the global Web 3 market by hosting 11% of its talent, which is expanding at a rapid pace. This has made India a significant player in the industry.
What next for Indian SaaS?
Indian SaaS firms are prioritizing revenue growth while ensuring operational and capital efficiency. In fact, 2022 has been a year of normalization. Over the past 18 months, the most frequently asked question has been about the likelihood and timing of a rebound in tech stocks to their all-time highs of 2021. Though it's unlikely that those valuation multiples will return in the near term, there is a steady stabilization with signs of a gradual rebound. There is a clear shift in strengthening revenue growth on the back of strong fundamentals, which is a testament to the future growth and success of the Indian SaaS landscape.
Download our latest Indian SaaS report to get quantified insights, trends, and a playbook for SaaS founders on how they can double down on growth, while ensuring efficiency.
VIEW Report