Driving away the Monday blues, Microsoft acquired Nuance Communications, a pioneer in Artificial Intelligence-based speech technologies, for an all-cash deal of USD 16 Bn on 12th April 2021. The deal sums up to a staggering USD 19.7 Bn including the net debt, making it Microsoft's second biggest acquisition in terms of dollar value, next to LinkedIn in 2016. Nuance, which drives more than 70% of its revenue by serving the Healthcare sector, helps doctors spend 45% less time on patient documentation. Nuance's AI-enabled transcription is used by more than 80% of radiologists in the US. Keeping in mind the inverse relationship between efficient transcription and time saved, makes this use case even more crucial as countries across the globe experience subsequent waves of COVID-19 infections and the resultant pressure on frontline healthcare workers.
Given Nuance's leadership in the space, what does this acquisition mean for Microsoft's industry-specific focus in the near and long-term, and for the Healthcare sector as a whole.
Healthcare in the Spotlight
Healthcare is an interesting whitespace to explore because of the digitalization wave sweeping through it, and technology players are aware of this. A massive 3000% rise in telehealth1 is a manifestation of how fast Healthcare is digitalizing and how much potential the industry has. The global digital health market2 was valued at a massive USD 96.5 Bn in 2020, which is expected to grow at a compound annual growth rate of ~15% over the next 7-8 years. Realizing this potential, Microsoft has been extremely busy over the last few months or so, ramping up capabilities within healthcare.
The tech giant launched its first industry-specific cloud in May 2020 called Microsoft Cloud for Healthcare to enhance patient engagement, empower health team collaboration, and improve clinical and operational data insights. As part of the Microsoft Cloud for Healthcare, the company has formed a robust partner network to build world-class digital health infrastructure with category leaders such as GE Healthcare, Nuance, UnitedHealth Group, Philips, Allscripts, to name a few.
Over the last few years, Microsoft has built several vertical-specific products such as Microsoft Healthcare Bot, Text Analytics for Healthcare, etc., further highlighting its focus to carve out a niche for itself in Healthcare. Microsoft was also recognized as the "undisputed leader" in global Artificial Intelligence platforms for the Healthcare IT sector on the Frost Radar, by Frost & Sullivan in 2020.
Rome was not built in a day and neither were great Partnerships
Microsoft and Nuance's relationship began in 2019 when they announced a strategic partnership to deploy Nuance's software to digitize health records for Microsoft's healthcare clients. Shortly after, the tech giant integrated Nuance's Dragon Ambient Experience Programme into Microsoft Teams in 2020, to enable remote transcription of medical conversations. Nuance has been a Microsoft Consulting Services (MCS) customer for a long time now, and the companies have worked together to establish a CCoE (Cloud Center of Excellence) to accelerate innovation and bring solutions to market faster with cloud-native or hybrid solutions. Nuance has also been one of the initial adopters of Azure Kubernetes Services (AKS) for increased flexibility in managing its CDE One solution. Additionally, Nuance is a big consumer of Azure DevOps, Azure Cloud, and Cognitive Services. So, this acquisition is a significant milestone in their partnership to drive Voice AI's adoption across the world.
Microsoft-Nuance Acquisition – Combining the Best of Both Worlds
Nuance's acquisition by Microsoft is a strategic and transformative deal for both companies. For Microsoft, the acquisition will ultimately tie Nuance's healthcare customers more strongly into Microsoft's Azure Cloud and intelligent services, thus driving future sales of Microsoft cloud services. With its advanced capabilities across Interactive Voice Response (IVR), virtual assistants, and digital and biometric solutions, Nuance will strengthen Microsoft's position in the enterprise segment and call center offerings which have been core areas of focus for the tech giant in recent times. However, their relationship goes much deeper, wider, and stronger than these.
Microsoft Teams + Nuance Speech AI – A disruptor in Digital Collaboration
COVID-19 has accelerated the adoption and implementation of digital technologies. It has accelerated and underscored the role of technology in our daily lives including the way we interact with and get medical care from providers. Zinnov believes that Nuance's industry-leading speech recognition offerings, together with Microsoft Teams, will be a breakthrough offering for the Healthcare space. Microsoft witnessed as many as 115 Mn daily active users (DAU) in October 2020. Nuance on the other hand, works with 150+ mobile, web-based, and desktop Electronic Health Records (EHRs).
One can only imagine the disruption that can be caused by combining the two entities' extensive capabilities in the entire remote collaboration space, let alone in healthcare. With Microsoft Teams EHR connector, Microsoft has already made it easy for clinicians to launch a virtual patient visit with another provider in Teams directly from the EHR system. Together with Nuance's AI capabilities, "Teams for Healthcare" will drive the maximum near-term synergies for Microsoft'-Nuance acquisition deal.
MSFT Infrastructure + Nuance AI – A resilient AI Stack
"Nuance provides the AI layer at the healthcare point of delivery and is a pioneer in the real-world application of enterprise AI."

– Satya Nadella, CEO, Microsoft, when announcing Nuance's acquisition
From this standpoint, Nuance's acquisition completes the AI stack for both companies, with Nuance providing the AI layer and Microsoft laying down the robust foundational infrastructure. Additionally, Microsoft has ~1100 AppSource members, including 300+ related to consulting services across Healthcare.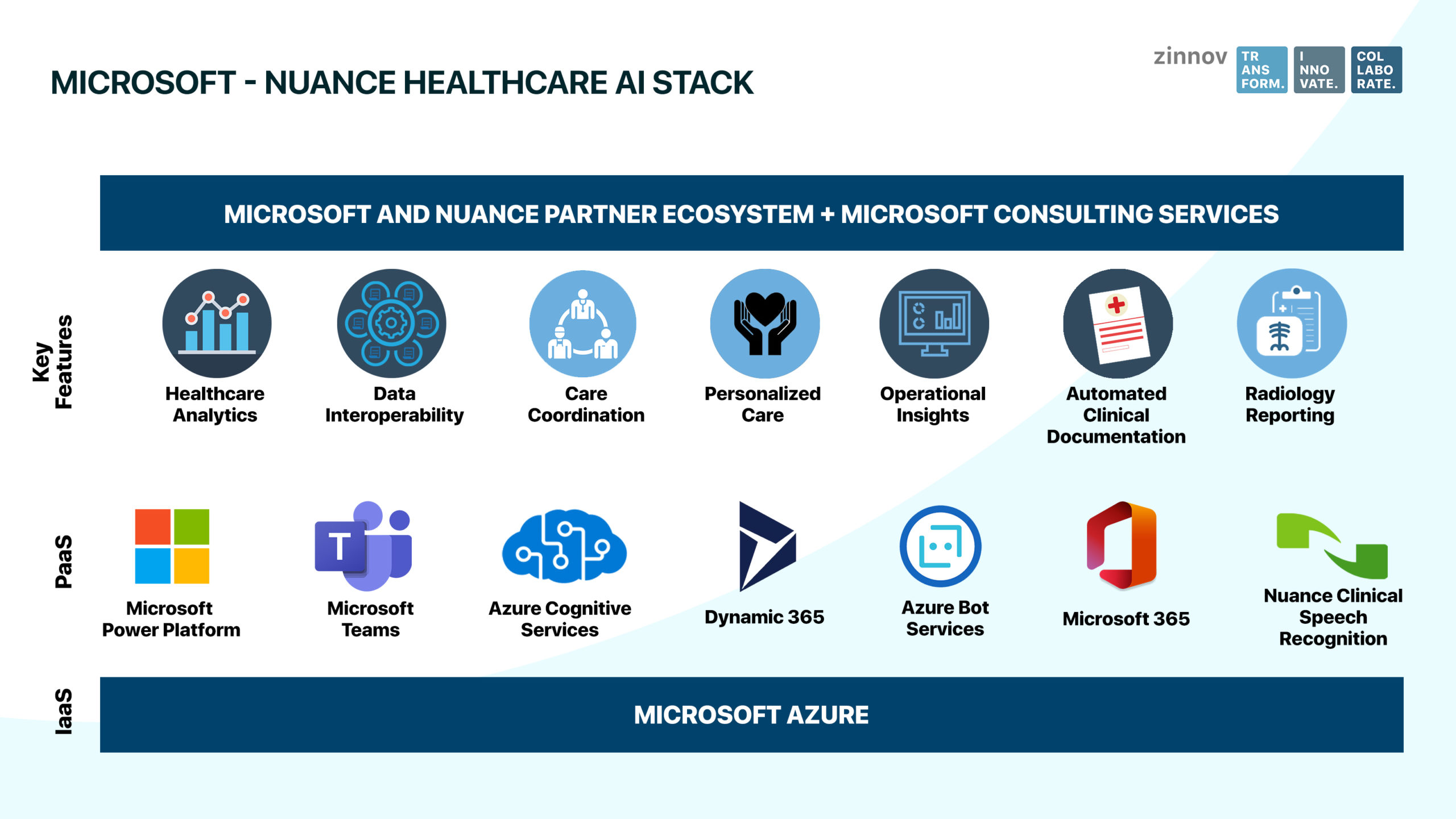 Combining the length and breadth of Microsoft's partner network to the MSFT Nuance Healthcare AI stack will create one of the best Go-to-Market pipelines the industry has ever witnessed. Nuance Clinical Speech Recognition products, combined with the current components of "Microsoft Cloud for Healthcare," will deliver end-to-end healthcare intelligence, enable automated decision-making, and reduce operational inefficiencies.
Wealth in Health
'Health is wealth,' is a common axiom that comes up in conversations. However, COVID has turned the tables by opening up massive opportunities of creating wealth across Healthcare by leveraging digital technologies. This is evident by the fact that there are 40+ global Unicorns across Healthcare globally, whose combined valuation is upwards of USD 100+Bn, with ~45% of them entering the Unicorn club in 2020 and beyond. With Nuance's acquisition, the companies are eyeing a big chunk of the booming healthcare tech market. Microsoft's CEO, Mr. Nadella, said that the Nuance deal will increase the company's total addressable market in Healthcare to nearly USD 500 Bn.
Currently, Nuance works with 10,000 healthcare organizations worldwide, and already has 85% of Fortune 100 enterprises as its customers. These exceptional figures will only become even more so in the near future, with the two companies' combined solutions reaching out to more global healthcare organizations outside North America.
Was there another way?
If we closely observe the AI-based transcription space, the cloud giants like AWS, Google, etc., tend to rely on niche partners to develop solutions for this market. AWS launched Amazon Transcribe Medical, a medical transcription solution in December 2019, which was developed in partnership with AWS' clients, including EHR giants like Cerner and speech start-ups like voice-enabled clinical assistant company, Suki. Suki also partnered with Google Cloud to strengthen its business and make its product smarter with the help of the cloud giant's tech capabilities.
The reason for this behavior is that launching/developing AI-based transcription tech for Healthcare has a lot of complications – partnerships with EHR players, training AI on Healthcare-based data – all these require years to accomplish. This acquisition opens up the path for Microsoft to leverage Nuance's partnerships with 150+ EHR systems and 30+ years' experience Clinical Documentation Improvement.
A Word of Caution and the Way Forward
The Microsoft-Nuance acquisition should make the other players in the market to sit and take note, including those who provide transcription services, specially to Healthcare companies. And now, with Nuance coming under Microsoft's Intelligent Cloud segment, the duo can turn into a monopoly in the niche market of AI-based Speech Services in Healthcare.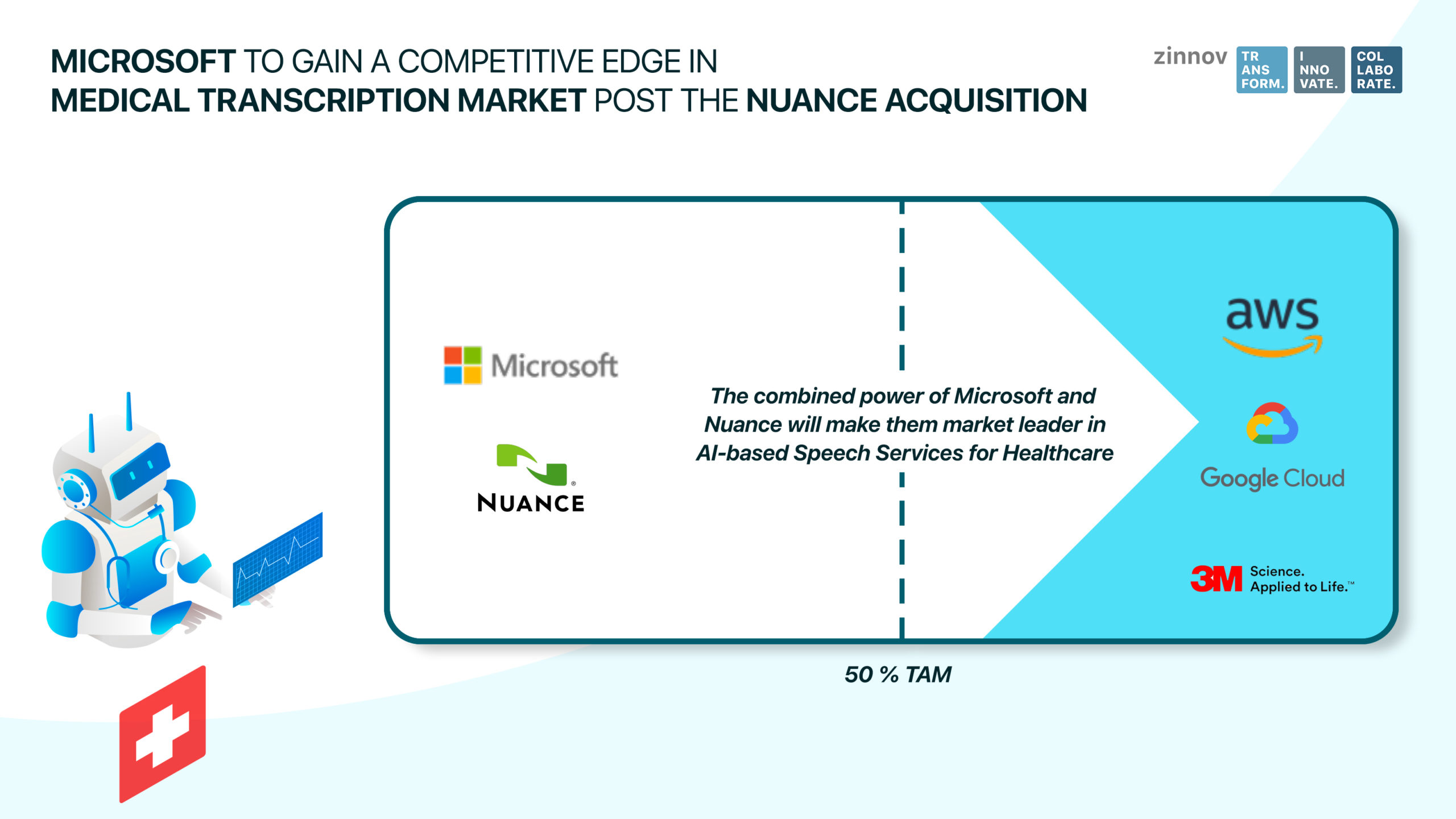 The above illustration clearly outlines how this acquisition will put Microsoft-Nuance in a position of power differentiation between the duo and other players.
Parting Thoughts
Zinnov believes that the Voice AI industry will gain increased prominence this year.
While the majority of the tech giants have come under fire for their unsecured, and often bordering on unethical, data practices, Microsoft has, by far managed to stay out of such affairs. The company has a great reputation for its safe and secure data practices, which is one of the core strengths of Microsoft Cloud for Healthcare. We believe that together with Nuance's industry-best AI speech services, the company is bound to win enterprise trust, especially across regulatory-heavy verticals such as Healthcare, Banking, Financial Services, and Insurance (BFSI), and Government which are also Nuance's core focus areas. The acquisition provides a clear win for both Nuance and Microsoft with as much as 10X growth opportunity in the voice AI market.
The competition has stiffened by manifold, especially in the healthcare transcription market, which will require players to augment their transcription services with intelligent decision-making and analytical capabilities over and above vanilla transcription solutions.
The acquisition has underlined the fact that it is difficult to build up the medical transcription technology stack, given the stringent regulatory requirements and domain expertise needed. Hence, we expect more M&A deals around this area, where other technology giants will also look to establish themselves.
With Nuance's powerful hold in Healthcare, BFSI, and Government sectors, and Microsoft's access to staggering industry data, we expect to see more intelligent and integrated use cases for the Healthcare space and beyond.
For more such in-depth analyses and insights on M&A deals, or if you're looking to outline your M&A strategy, write to us at
info@zinnov.com
.