Digital Transformation in Healthcare
COVID-19 has hit the Healthcare industry hard. Estimated losses for the US Healthcare industry is set to surpass USD 250 Bn by the end of 2020, with an unprecedented decline of ~50% in healthcare services-related expenditure. Despite stifling financial pressures, the Healthcare industry has battled hard and held the fort at the frontlines in the war against the pandemic. One of the many things that rallied around the Healthcare industry is technology-led innovation. So three years from now, when we look back on how millions of healthcare professionals around the world rose to the occasion to combat the pandemic and deliberate over the role of technology in aiding their efforts, will we view today's crisis as a turning point for digital transformation in healthcare? The answer is an unequivocal and a resounding yes.
The Healthcare industry has historically lagged behind other industries in Digital Transformation, with less than 10% of all healthcare and pharmaceutical firms having a well-defined Digital Transformation strategy. Despite massive scientific progress across the industry, driven by the constant experiments with several digital technologies such as Artificial Intelligence (AI), Internet of Things (IOT), Robotics, etc., fully reimagining Healthcare for the modern digital age has remained an elusive long-term goal. That is until COVID-19 struck.
5 Key Trends that are shaping Healthcare
The extent of accelerated digital adoption and the associated impact across the Healthcare value chain can be gauged by assessing five key trends that also lay down the contours of the future of Healthcare.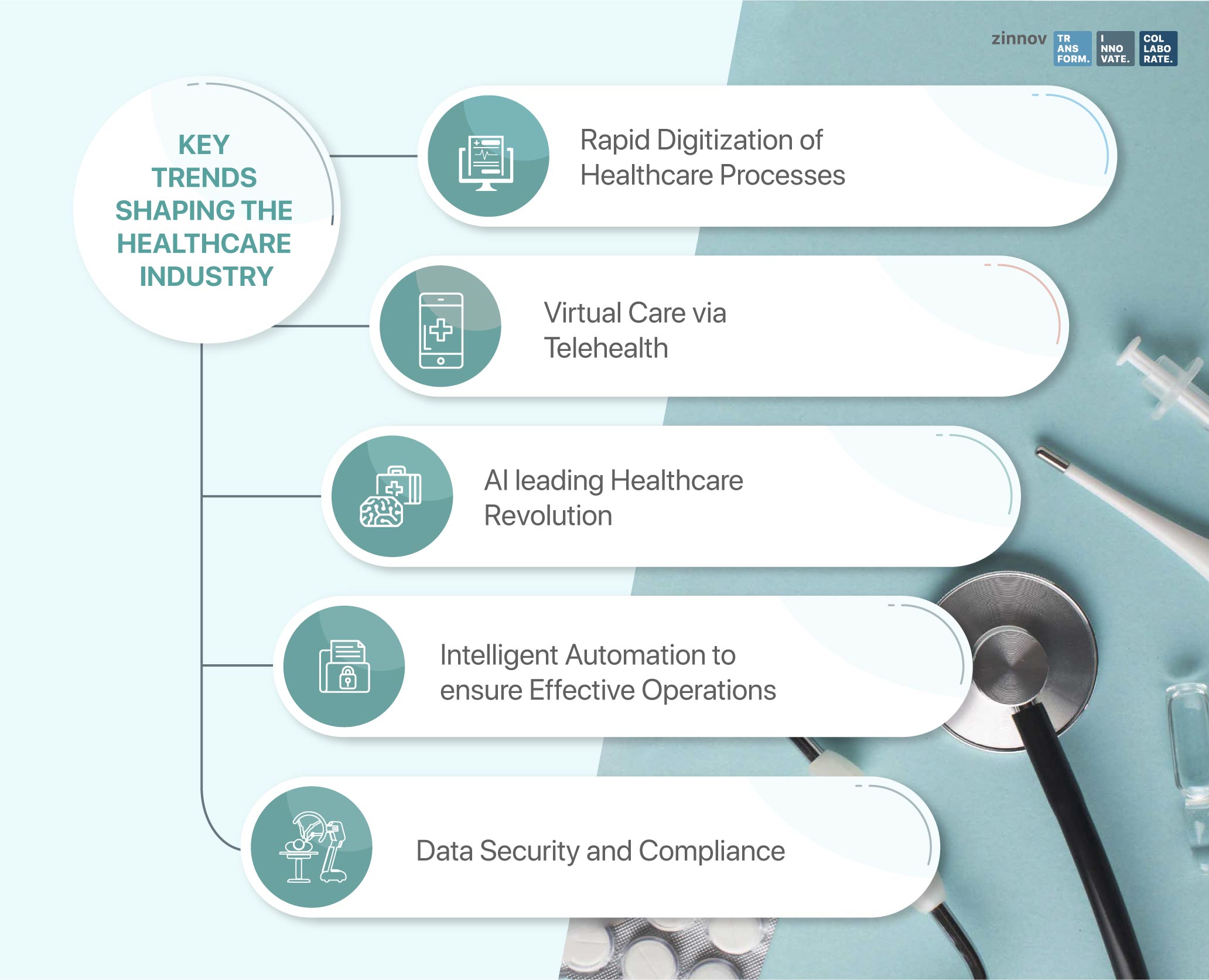 1. Rapid Digitization of Healthcare Processes across organizations of different players within Healthcare – providers, payers, pharmaceuticals, etc. The Healthcare industry was quick to react to the social distancing measures and rush into a digitally-driven setup from a traditionally paper-reliant structure. An increasing number of healthcare organizations have taken steps to deploy consistent and secure solutions to digitize a wide range of processes. The extensive use of secured messaging apps, compatible document-sharing platforms, and verified digital signatures have played a significant role in ensuring faster and better patient experience.
A key focus area for digitization has been medical communication as more than 65% of all communication still occurs over paper-based channels such as fax. However, with severe disruptions of care delivery and increased anxiety among patients in the wake COVID-19, effective communication between healthcare organizations and patients has never been more important. Remote Patient Engagement has emerged as the ultimate solution in these circumstances with several prominent organizations resorting to it. Boston Medical Center (BMC) is effectively using personalized, automated text messages, emails, and voice calls in four different languages to deliver targeted educational and instructional messages to over 400,000 BMC patients. Such digitized communication and Remote Patient Engagement methodologies will continue to stay relevant even after things return to normal, as automated reminders have been known to lead to a 42% reduction in patient no-shows and a 67% reduction in poor patient preparation.
Another inherent and long-standing obstacle facing the Healthcare industry is interoperability between systems as several disparate, siloed IT systems run within the matrix structures of healthcare organizations. This obstacle has also played a key role in severely impeding the extent of the impact that Electronic Health Records (EHRs) were meant to have. Clunky interfaces and time-consuming data entry activities unfortunately ensure that physicians spend more time with patients' files than the actual patient. The need to create a central network between providers and payers that facilitates the seamless flow of patient data to achieve connected care has never been felt this strongly. Machine Learning (ML) algorithms, advanced security protocols, and Intelligent Automation are some digital solutions that have become prominent in aiding the Healthcare industry to circumvent these challenges.
2. Virtual Care via Telehealth: There has been a radical transformation from in-person care to Telehealth since the pandemic struck. The numbers speak for themselves, as only 11% of the US consumers were using Telehealth till last year, which, as of June 2020, had skyrocketed to almost 50%. Leading hospitals such as Cleveland Clinic witnessed not more than 1-2% virtual patients in January 2020. This catapulted to 50% virtual consultations by February 2020, which further rose to 70% in March and 80% in April 2020. The Federal Government's role in fueling the rapid adoption cannot be underplayed as more than 20 US states have relaxed regulations and approved 80+ new telehealth services since March.
Such positive movements have acted as enablers to foster rapid adoption and lead to a thriving healthcare technology ecosystem. There has been a 5X increase in the VC funding for innovative telehealth start-ups since January 2020, which is being deployed in deeper technology-related innovation. Amwell, one of the biggest telehealth start-ups globally, raised USD 200 Mn recently to expand its AI focus and serve the growing user base which had surged by 3000% between March-May 2020. Earlier, it had announced a partnership with Cleveland Clinic to launch a digital company, and as recent as mid-August, Amwell joined forces with Google Cloud to ensure that Healthcare organizations are equipped with telehealth solutions that support HIPAA (Health Insurance Portability and Accountability Act) compliance and are fully-integrated to enable cohesive patient-centric journeys.
3. AI leading Healthcare Revolution: On New Year's Eve 2019, BlueDot, an AI platform from Canada, registered a cluster of unusual pneumonia cases in Wuhan, China. It had spotted early signals of an impending pandemic 9 days before WHO declared the emergence of the novel coronavirus. BlueDot's role in spotting the outbreak was an early example of successful AI intervention. Across Healthcare players of providers, payers, medical device manufacturers, and more, AI is leading by example in speeding up diagnosis, tracking COVID-19 cases, analyzing patient scans, and delivering greater patient experiences.
Among the plethora of ways AI is helping Healthcare organizations in the US, is AI-powered Medical Imaging which is enabling faster and more accurate diagnosis of patients. The scale at which AI is being leveraged can be realized from the fact that the National Institute of Health (NIH) has launched the Medical Imaging and Data Resource Center (MIDRC), focused on harnessing the power of AI. Enabled by AWS, UC San Diego's radiologists and physicians are leveraging AI to augment lung imaging analysis. Besides this, AI-powered chatbots are also playing a crucial role in easing patient anxiety. For instance, at UCLA Mattel Children's Hospital, Robin, an AI chatbot powered by emotional learning technology, is easing pediatric patients' loneliness while maintaining physical isolation in the hospital. Despite the accelerated adoption of AI, the Healthcare industry still faces some obstacles. First and foremost is FDA approvals for the application of AI in multiple scenarios related to patient care as well as insurance-related matters. The second biggest challenge is the question of liability as organizations that have a direct impact on patient lives are hesitant to integrate AI and ML into their workflows.
4. Intelligent Automation to ensure Effective Operations: As healthcare organizations continue to fight shrinking profits, improve patient outcomes and experience, and ensure business continuity, Intelligent Automation has become a critical technology to be leveraged. Both providers and payers are exploring 20+ Intelligent Automation use cases across key functions of Revenue Cycle Management (RCM), Diagnostics, Patient Data Management, Interoperability, Procurement and Inventory Management, and many more.
Owing to the increased administrative pressures induced by COVID-19, healthcare organizations have accelerated the use of Intelligent Automation within RCM. From patient scheduling and registration, medical coding and billing, claims administration, and final audit, Intelligent Automation has minimized manual intervention across the entire value chain. Furthermore, Intelligent Automation has positively impacted the speed, accuracy, and delivery experience of several critical areas including testing and diagnosis, treatment and cure, and recovery and monitoring.
Some of the innovative ways in which Intelligent Automation has aided healthcare organizations can be studied better through some leading examples such as Cleveland Clinic accelerating patient diagnosis through an attended bot, deployed within 48 hours, which takes patient data, checks data against the database, registers them, and sends the patient-specific test label to the testing line. While humans took 2-3 minutes to complete this task, the bot executes it within 14-16 seconds. Similarly, NHS in the UK is leveraging Intelligent Automation to extract critical patient information to process COVID-19 cases with speed and accuracy for WHO. Besides providers, even payers need to ensure Intelligent Automation is an integral part of their digital strategy, especially with the new Centers for Medicare & Medicaid Services (CMS) data interoperability rule that focuses on driving seamless data exchange between providers and payers as well as provides patients access to their health information.
5. Data Security and Compliance: It has been 24 years since HIPAA was signed into law and it took a pandemic to catalyze major disruptions in data management and security, directly affecting healthcare privacy and HIPAA compliance. Healthcare organizations find themselves in uncharted territory to strike the right balance between transparency and security. Several waivers and exemptions have been introduced as regulatory oversight is relaxed to accommodate new norms associated with trends such as Telehealth, but it is crucial that Healthcare organizations keep privacy in focus.
USD 7.13 Mn, the estimated average cost per Healthcare data breach cost in 2020, is ~85% higher than the average data breach cost for any other industry. The pace of healthcare data breaches in 2020 continues to highlight the industry's biggest vulnerabilities. Florida Orthopedic Institute suffered from a ransomware attack on 1st July 2020, which breached the data of 640,000 patients. With increasing relaxations in regulatory oversight and push for data sharing between payers, providers, and governments, the Healthcare industry needs to brace itself for the impending cyber threats.
The next normal for the Healthcare industry has arrived, with digital technologies playing a prominent role in shaping the future of Healthcare. Be it AI, RPA/ Intelligent Automation, AR/VR, IOT, or Robotic surgeries, many such technologies are coming together to not only alleviate the challenges faced by the Healthcare industry but also to prepare it for its next phase of patient-centric growth. For a modern-day healthcare organization, it is imperative to embrace digital as an integral part of its business model and rethink IT structures, innovation cultures, and organization-wide practices. This process of sustained reform will continue to evolve as the Healthcare industry becomes more resilient and better prepared for unforeseen challenges. However, this transformation and resiliency will have the power of digital at its core.
If your healthcare organization is grappling with outlining a robust digital transformation strategy, drop us a note at
info@zinnov.com
and speak to our experts for more details.