After weeks of speculation, Microsoft finally confirmed the acquisition of the RPA platform Softomotive on May 19th, 2020. Satya Nadella, during his Build keynote, formally announced the acquisition, and that Softomotive would become a part of its Power Automate platform. "We're bringing RPA — or Robotic Process Automation to legacy apps and services with our acquisition of Softomotive," Satya said.
This is a major move by Microsoft and shows that it is serious about RPA/automation. The tech giant had made a few key announcements last year with its Power Automate platform, and the possibility of an acquisition to bolster their RPA capabilities was always in the offing. There had been rumors and theories earlier, on how Microsoft would end up acquiring one among the Big 3 RPA platforms (with the UiPath layoffs of last year even being seen as the path to ready itself for a Microsoft acquisition!). However, given the inflated valuations of the Big 3 platforms – UiPath and Automation Anywhere for instance are valued at more than USD 7 Bn each – there was always a slim chance that even a company with deep pockets like Microsoft would end up burning so much. And acquiring a smaller RPA vendor sounded far more logical. Hence, the Softomotive acquisition is indeed a smart move by Microsoft.
Softomotive is a Europe-based RPA platform that was founded in 2005 in Greece by co-founders Marios Stavropoulos and Argyris Kaninis. They have a solid offering that is flexible and easy to use but targeted at simple use cases, preferred by smaller work groups or single users. These are normally not deployed for very complex use cases and is one of the distinguishing points when compared to other larger RPA vendors, including the Big 3 platforms.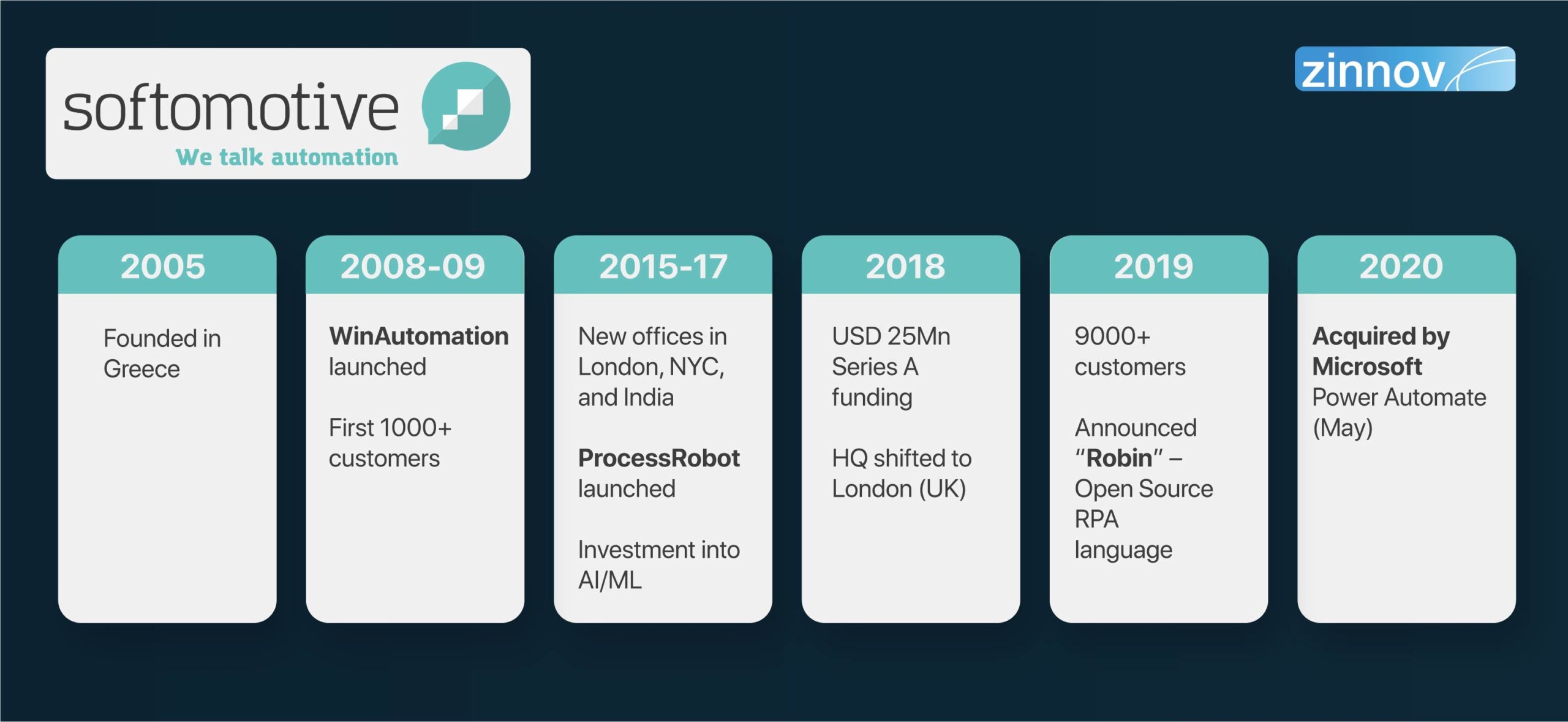 Softomotive started off largely as an Attended Automation player (or Robotic Desktop Automation – RDA) with its WinAutomation product, which was launched in 2008. The company scaled fast and reached its first 1000 customers in 2009, which majorly included small and medium-sized enterprises with smaller teams. It boasts of 9000+ customers today! In 2015, Softomotive started expanding geographically when it opened new offices in London and NYC, and announced its presence in India in 2017. It launched the Unattended Automation product – ProcessRobot in 2016, and also started investing into building AI/ML capabilities. While Softomotive had been a founder-owned company till now, that changed in September 2018 when it raised a USD 25Mn in funding from Grafton Capital and shifted base to London as the new headquarters.
Softomotive sure has been on an exciting journey so far, and the Microsoft acquisition further lends credibility to its story. Interestingly, they announced the first-ever Open Source RPA language – Robin, in September last year. This is the company's attempt at democratizing the RPA space (Robin will be analyzed in detail in later sections).
What's even more interesting is the timing of the acquisition. The deal comes in the midst of COVID-19 pandemic hitting the peak across the globe. And with enterprises across industries reeling from the impact of the pandemic, automation/RPA is in great demand to drive operational efficiencies, cost savings, and to ensure business continuity. Automation has even greater applicability in Attended RPA scenarios (to assist the contact center agents who are under pressure) and also to support the remote workforce which is the new norm. Attended RPA is extremely critical in aiding the large proportion of workforce that is working remotely for the first time. This is where the addition of Softomotive brings in much-needed capabilities to Microsoft Power Automate. Hence, the timing of the announcement is just perfect and provides a great impetus for Microsoft in Automation.

Microsoft – the Automation journey so far
While Microsoft made the first big bang announcement in the Automation space last week with its acquisition of Softomotive, the tech giant has been pretty active in ramping up its automation focus over the past few years. It has slowly, albeit steadily, bolstered end-to-end capabilities across the Hyper Intelligent Automation (HIA) value chain.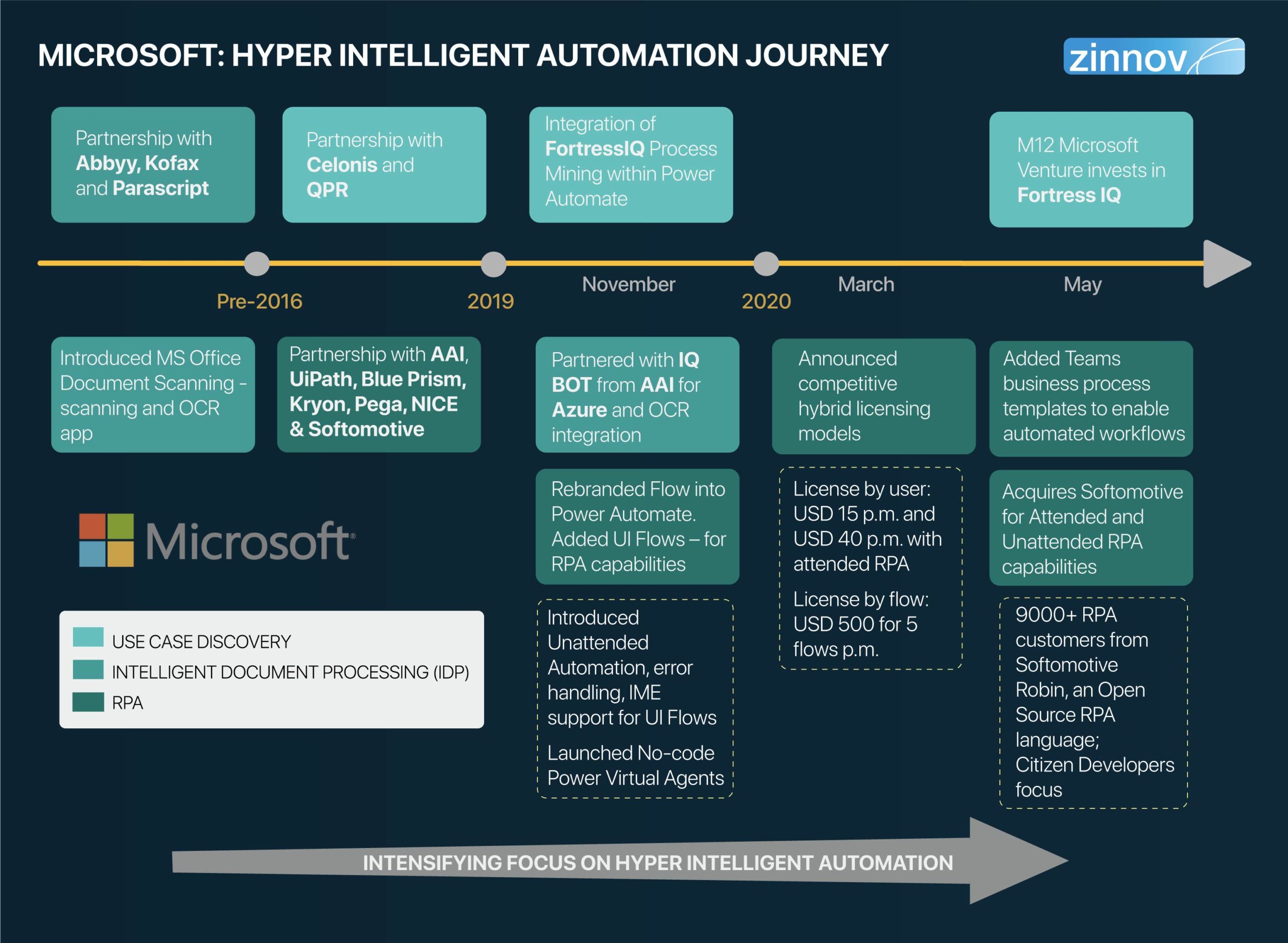 Microsoft is well-known to possess deep native capabilities within the Optical Character Recognition (OCR) and Intelligent Document Processing (IDP) domains. Its Computer Vision OCR product within Cognitive Services is able to detect and extract printed or handwritten text that appears in images. In fact, Microsoft is also partnering with multiple RPA vendors such as UiPath, Automation Anywhere, and Blue Prism – to provide these OCR capabilities to its RPA platforms. In addition, Microsoft is also partnering with specialist IDP players such as Abbyy, Kofax, and Parascript. Clearly, Microsoft already has industry-leading capabilities in IDP.
In terms of Use Case Discovery (UCD), Microsoft partnered with specialists such as Celonis, QPR, and PAFnow for process mining capabilities. This allows for analyzing the event logs of enterprise applications (such as SAP, Oracle, etc.) to gauge the processes that are running sub-optimally, and hence, ripe for automation. In addition, Microsoft also partnered with FortressIQ last year – a task mining specialist player which leverages deep AI/ML and computer vision capabilities – to record user screens and clicks, and analyzes how users are completing their tasks to identify the best candidates for automation. Microsoft further pumped in money into FortressIQ earlier this month (as a lead investor in the USD 30Mn round funding raised).
Finally, in terms of RPA/Automation, Microsoft already had GTM partnerships with the leading RPA platforms – right from the Big 3 platforms to other prominent players such as Kryon, NICE Systems, Pegasystems, and Softomotive. Given its deep focus on AI/ML capabilities and Azure, it was also providing both AI/ML and Azure capabilities to these vendors. In addition, Microsoft was already partnering with Low-Code No-Code vendors such as Nintex (No-Code workflow automation platform) and Appian (Low-Code platform with iBPMS capabilities). Nintex is helping bring workflow and content automation capabilities to Microsoft's Office 365 and SharePoint, and recently, workflow automation within MS Teams is also being explored. Similarly, Appian is building microbusiness apps on top of Microsoft enterprise productivity tools such as Office 365, MS Outlook, etc.
In terms of native capabilities, the tech giant made its first big announcement during the Ignite event in November of last year, when it rebranded its MS Flow to Power Automate. Further, UI Flows was introduced as a specific module for RPA capabilities, and Power Virtual Agents – a No-Code, no AI training required intelligent bot was also announced. To make things even more interesting, it announced new strategic pricing for Power Automate in March 2020, with two packages. First, "per user plan," that priced Attended RPA at USD 40 per user per month for unlimited flows, and spans both legacy and modern applications. Second, "per flow plan" priced at USD 500 per month per flow, for unlimited users. Both plans have options for add-ons including both the AI Builder capabilities and also for Unattended RPA bots for additional dollars.
Over the years, Microsoft has clearly followed a conscious path to bolster its capabilities holistically across the major building blocks of the Hyper Intelligent Automation framework. However, these capabilities appear siloed at the moment, lacking an integrated approach to Automation.
Zooming out and taking a bird's eye view level, Microsoft's acquisition of Softomotive, and in turn their deep focus on Hyper Intelligent Automation, is with the ultimate objective of driving Azure consumption. Microsoft has realized that Pro-Code (technical) Developers form less than 2% of the world's population, which would only allow them to scale to a certain point. The larger opportunity clearly lies with the 98% of the Citizen Developers (or business users); hence, getting Low-Code tech into the hands of more and more Citizen Developers to automate processes is a smart way for Microsoft to scale its Azure consumption much faster!
Let's look at how Softomotive adds to Microsoft's automation capabilities.
What the Softomotive acquisition means for Microsoft
It is apparent that the acquisition was made by Microsoft with the intent of ramping up its Attended Automation play (especially Desktop-based automation). The detailed illustration below analyzes how Microsoft maps to Zinnov's Hyper Intelligent Automation framework, and what capabilities Softomotive now brings to the table.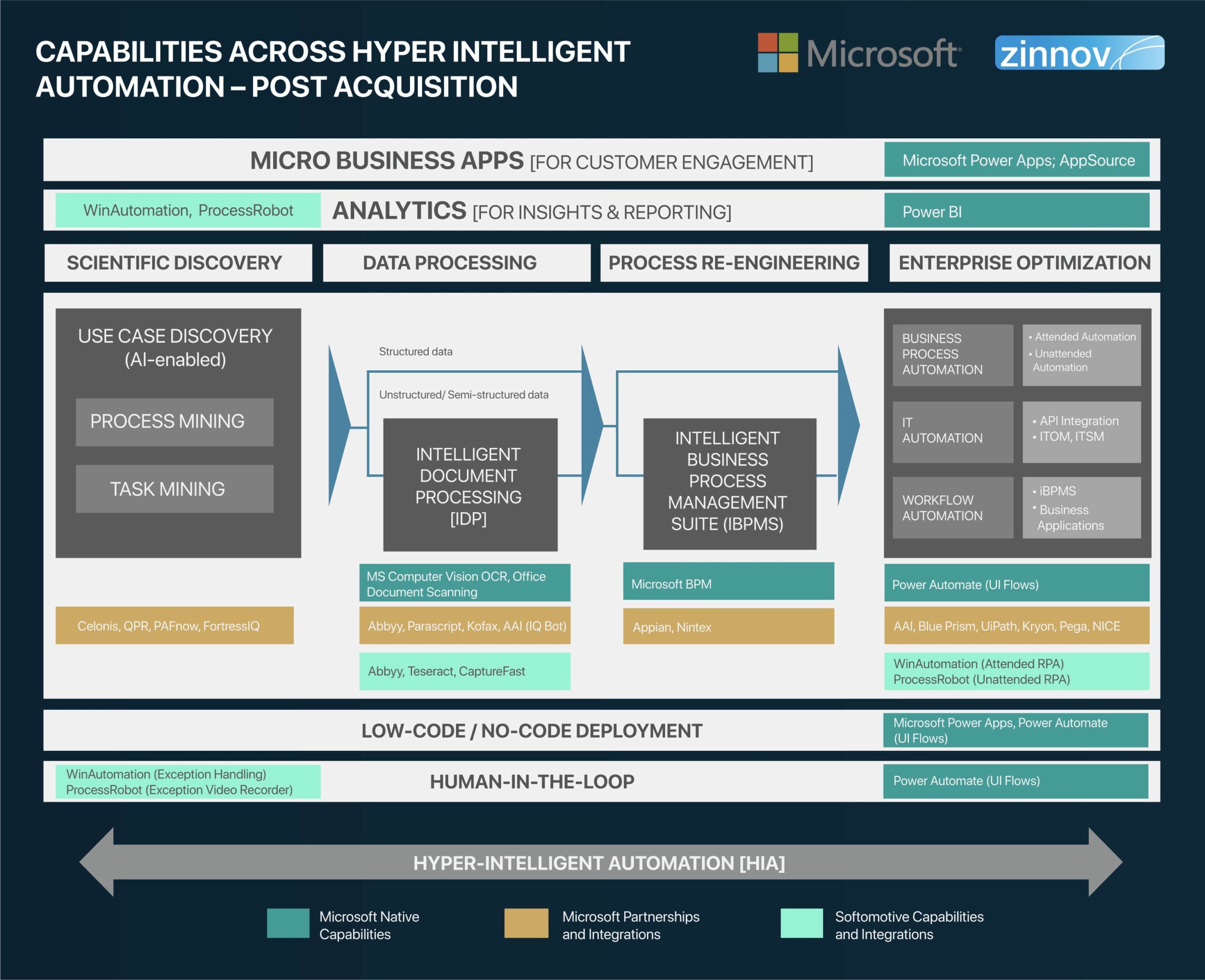 We can clearly see an end-to-end, holistic coverage across the entire automation framework above. So what are the key features that Microsoft was looking to embed from this acquisition?
Below are five key features that Softomotive brings to the table, which were critical for Microsoft.
Cloud v/s Desktop Deployment: UI Flows was built with a Cloud-first approach, meaning the bots could be built with browser-based authoring app, and only run on the Cloud. The bots could be deployed on desktops but with restrictions; the major one requiring persistent Internet connectivity (hence, seriously limiting its appeal for many customers and many use cases). Softomotive helps Microsoft overcome this handicap since WinAutomation bots can be deployed both in Cloud and Desktop environments (which can be run offline).
UI Surface Automation Features: Softomotive also brings important surface automation capabilities such as application control, UI surface automation for Citrix, green screens, etc., which would have proven extremely hard for Microsoft to build from scratch. In addition, Microsoft also gains access to Softomotive's R&D and engineering teams, built over the years with deep RPA capabilities and people knowledgeable with legacy Windows automation.
Bot Design Builder: UI Flows has a web browser-based design support with limited features and usability. This now gets bolstered by the Softomotive Design Studio, which has a richer set of design features with higher ease of usability. Microsoft would have again taken a long time to build design studios with feature sets comparable to RPA vendors that have been built over the past 10+ years by Softomotive.
Integrations with Commonly Used Applications: Softomotive brings more than 300 integrations with apps and services such as SAP, Java, Citrix, legacy terminal screens, etc., which can now also be connected to MS/Windows applications.
Robin OS RPA Language: Softomotive also launched a very interesting initiative last year with Robin, dubbed as the first-ever Open Source RPA language designed specifically for building RPA bots.
Robin is a Microsoft .NET-based Domain Specific Language (DSL), and an initiative of Marios Stavropoulos, Softomotive's Co-founder and CEO. We had the pleasure of talking to Marios earlier this year in January, on his pet project Robin, and he said that the entire Automation industry would gradually move towards Open Source – a sign of maturity. He opined that Open Source normally fosters greater innovation and hinted that all future Softomotive RPA products would be built using Robin. While they would continue to commercialize bot development and management tools, the core runtime would be Open Source. Marios' vision is to have Robin implemented as a standard language across the market, with all major RPA vendors ultimately coming on-board, so that there are no vendor lock-ins and customers have the flexibility of vendor portability (without disrupting existing RPA deployments). This is a new revolutionary concept and takes the democratization of RPA one step further. We already see all the major RPA vendors dishing out Freemium version and free developer trainings etc., in order to drive adoption of their platforms.
But the big question is, will Robin get traction in the industry from bigger players such as UiPath, Automation Anywhere, Blue Prism and the like? Until now, Softomotive had lesser muscle in the Automation industry; but the Microsoft backing adds on new muscle power. Robin might be a fruitful area for Microsoft to invest into and evangelize as it has the upside of giving the tech giant access to a greater set of Citizen Developers! You would remember Microsoft acquiring GitHub back in 2018 for a whopping USD 7.5Bn, to show its commitment to developers and the Open Source philosophy. Satya Nadella recently announced that GitHub now has 50Mn developers globally, up from 30Mn previously. Imagine if Microsoft were to evangelize Robin as an Open Source RPA language to these 50Mn developers – we may witness a mass adoption. And with the developers latching onto Robin as the preferred coding language, the ecosystem, including the Big 3 platforms would be forced to follow suit! That is the influence that Microsoft can potentially wield on Robin via the GitHub platform. This will definitely be an interesting space to track over the next 6-12 months and see how Microsoft builds upon this Open Source language as the new standard.
Power Automate already has more than 350,000 customers, and the WinAutomation capabilities can now be extended to Power Automate's existing customer base. WinAutomation's Attended RPA bots are immediately available to Power Automate licensed users, free of cost.
While the acquisition is helping Microsoft with the above features and advantages, there are still several gap areas that it needs to address to realize the full potential of Automation.
Key Recommendations for Microsoft
A holistic approach to Hyper Intelligent Automation: Microsoft has most capabilities across the building blocks of Hyper Intelligent Automation; however, it currently lacks an integrated approach to Automation and these capabilities all appear to be siloed at the moment. For instance, its IDP/OCR capabilities currently sit outside of Power Automate (and similar is the case for Use Case Discovery). In addition, Microsoft does not currently have a go-to-market motion or a holistic positioning around Hyper Intelligent Automation (while the other RPA incumbents and Big 3 platforms are already investing majorly into this aspect).
Focus on Complex Use Cases: While Softomotive brings Attended Automation capabilities to Microsoft with WinAutomation, these are mostly relevant for simple use cases. As enterprises scale and mature their automation deployments, they typically look towards more complex use cases, and currently, this is a limitation with Softomotive. Industry incumbents including the Big 3 platforms are already deploying complex use cases with conversational AI, multi-modality, self-service, etc., in their customer service scenarios. Hence, Microsoft would still require capabilities to automate more complex use cases either from a third party, or bringing their own deep AI capabilities to WinAutomation and UI Flows.
Enterprise Scale: The 9000+ customers that Softomotive brings would be a minimal value add, looking at the massive 350,000+ customers that Power Automate already has in its kitty. In addition, the bulk of these 9000 customers are SMB-style logos with small teams and single-user licenses, which would not be as attractive to Microsoft, looking for enterprise scale.
Unattended Automation Capabilities: In addition, Softomotive doesn't have the best Unattended Automation capabilities, especially when compared to market leaders such as UiPath, Automation Anywhere, etc. This is clearly an area that needs to be bolstered for a hybrid automation play of providing enterprise customers with both Attended and Unattended Automation.
Ramp up IT Automation Capabilities: The Microsoft-Softomotive combination is good for both workflow automation and business process automation. However, if you look at IT automation, with scenarios such as automation of IT Service Management (ITSM), IT Operations Management (ITOM), application development, etc., then this is another gap area for the tech giant. Even the industry has only a nascent focus on IT automation as of now, and this has emerged as one of the whitespace areas. Given Microsoft's deep focus on infrastructure, Cloud, and legacy app modernization, this can definitely turn out to be a lucrative area and a sweet spot for Microsoft.
Use Case Discovery: This is another area in which Microsoft can potentially strengthen its capabilities. Softomotive does not have any native capabilities in Use Case Discovery, and it doesn't have any partnerships either with any specialist vendors. Microsoft has some partnerships in place – with Celonis and FortressIQ – but there needs to be tighter integration with UI Flows (and now with WinAutomation). Since this is a key block of Hyper Intelligent Automation, it might be worthwhile for Microsoft to make a small acquisition in this area to ramp up its process mining and task mining capabilities.
COVID-19 Use Case focus: Finally, given the current COVID-19 scenario, we see all the major RPA/HIA vendors actively focusing on newer use cases to help their enterprise customers in maintaining business continuity in the face of uncertainties. In fact, we have built a comprehensive repository of more than 50 such COVID-relevant automation use cases. There aren't COVID-relevant use cases that Softomotive is actively promoting, and this is an immediate opportunity area that Microsoft can potentially explore.
These are some of the key initiatives that Microsoft needs to focus on in order to have a more compelling stake within Hyper Intelligent Automation.
What Lies Ahead?
Microsoft had been patiently sitting on the fence about automation, over the past several years. After much speculation, the tech giant has finally entered the RPA/Automation space, but in a meaningful way. And looking at the company's aggressive focus on Automation in the last 6 months, it clearly means business.
With the technology behemoth formally entering the Automation arena, the incumbent RPA vendors including the Big 3 platforms should be extremely worried right now. Before going for larger opportunities, Microsoft would start by carving out market share from vendors such as UiPath and Automation Anywhere that are implementing smaller automation use cases on top of Microsoft tools (such as MS Teams, Office, etc.). Competing with Microsoft may be an uphill climb for the existing RPA vendors, but this is surely expected to push these players into investing more in their R&D and product capabilities.
On the other hand, the incumbent vendors and especially the Big 3 platforms, have the first-mover advantage along with the deep expertise they have built within RPA/Automation over the last 10+ years, while Microsoft is somewhat late to the party. Additionally, leading vendors such as UiPath and Automation Anywhere are extremely well-positioned in the overall Hyper Intelligent Automation philosophy, and they are taking a cohesive platform offering to their customers today. This is expected to be a key advantage over Microsoft (and even Softomotive, which is lacking in the HIA framework). By the time Microsoft overcomes its shortcomings within Automation and plugs in the gaps, the incumbent vendors would have gained more and more muscle power – potentially even launched their IPOs (UiPath had earlier announced its intent to go for an IPO somewhere in early 2021). Hence, looking at both Microsoft and automation incumbents, this is a level playing field as of now. And it would ultimately depend on how swiftly Microsoft builds capabilities, and at the same time, how proactive the incumbents are in protecting their core market.
More importantly, Microsoft entering the RPA/Automation space has further validated this technology and its potential (there were articles last year that claimed that RPA was dead!). Historically, whenever Microsoft has made an investment, it works as a strong indicator that the technology is being taken seriously and has much larger potential. The tech behemoth has also paved the way for other technology giants such as Google, IBM, SAP, etc., who themselves have been sitting on the Automation fence, to soon consider entering the fray for a share of the action. Given the fact that there are more than 250 small RPA vendors in the industry right now, we may see more acquisitions by tech giants to significantly shorten the time to market.
Microsoft has truly shaken up the entire industry, with everyone sitting up and taking notice… We are surely in for exciting times ahead!
For more such insights and in-depth analyses, reach out to us at
info@zinnov.com
.