Last updated on May 15, 2020 
The exponential spread of the new Coronavirus (or COVID-19) has become one of the biggest threats to the global economy and financial markets. WHO declared COVID-19 as a global Pandemic on March 11, with the virus spreading to more than 170 countries. There are now more than 35,79,478 total confirmed cases of COVID-19 globally (as of May 4), with 240,000+ confirmed deaths. US, Italy, Spain, Russia, and France have witnessed the maximum surge in COVID-19 cases over the past few weeks, overtaking China in terms of the number of confirmed cases. The US has now become the epicenter of the crisis with 11,80,000+ cases and more than 65,000 deaths. This number is expected to rise to 200,000 deaths as per the White House. The number of known cases in the US is almost doubling every four days. New York has taken the worst hit accounting for 30%+ of all US confirmed cases with 18,000+ deaths (as of May 4). More than 6.5 million people in the US have registered to claim jobless benefits because of losing their jobs in the last couple of weeks.
The potential economic fallout of COVID-19 could include recessions in the US, Euro-area, and Japan, the slowest growth on record in China, and a total of USD 2.7 trillion in lost output (as per Bloomberg Economics). In a March report, the OECD also downgraded its 2020 growth forecasts for almost all economies. The global economy is now expected to grow by 2.4% in 2020 — down from the 2.9% projected earlier. Fears of the COVID-19 impact on the global economy have rocked markets worldwide, plunging stock prices, bond yields, and oil prices. The FTSE, Dow Jones Industrial Average and the Nikkei have all seen huge falls since the outbreak began on 31st December 2019. FTSE has declined by 26.6%, followed by Dow Jones at 21.9% and Nikkei at 16.4%. Oil prices plunged 24% on both U.S. West Texas Intermediate (WTI) crude and international benchmark Brent crude on March 9, 2020, posting their worst day since 1991.
With Coronavirus wreaking havoc on global economies and forcing them into recession, there are few industries that seem to be holding steady in the crisis. While industries such as Travel & Hospitality, Aerospace, and Consumer Electronics are expected to be impacted adversely due to the prevailing conditions, there are other sectors such as Healthcare, Essential Retail, and Public Sector which are expected to not only be less affected but also face increased demand. We also see modern technologies – led by Automation/RPA – helping enterprises drive process efficiencies and reduce their Costs/OPEX in order to maintain their bottom lines. There are several new use cases that are now possible with RPA and are helping lead the battle against COVID-19.
Role of RPA in the COVID-19 Battle
As industries get impacted due to widespread lockdowns, physical branches and stores are being increasingly shut down. Consequently, there is a greater reliance on the Digital medium. This has in turn led to a fundamental shift in focus on how we can automate both front-end processes (or customer-facing scenarios) and back-end processes to reduce reliance on manual labor. This is where technologies such as RPA is playing a major role in automating a bulk of these processes for business continuity.
Take, for instance, a typical bank that was earlier relying on physical banking and walk-ins for Account Opening including submission of forms in person. Such a bank is now forced to shut down its bank branches and ensure that the business still continues with a combination of mobile banking and/or digital banking.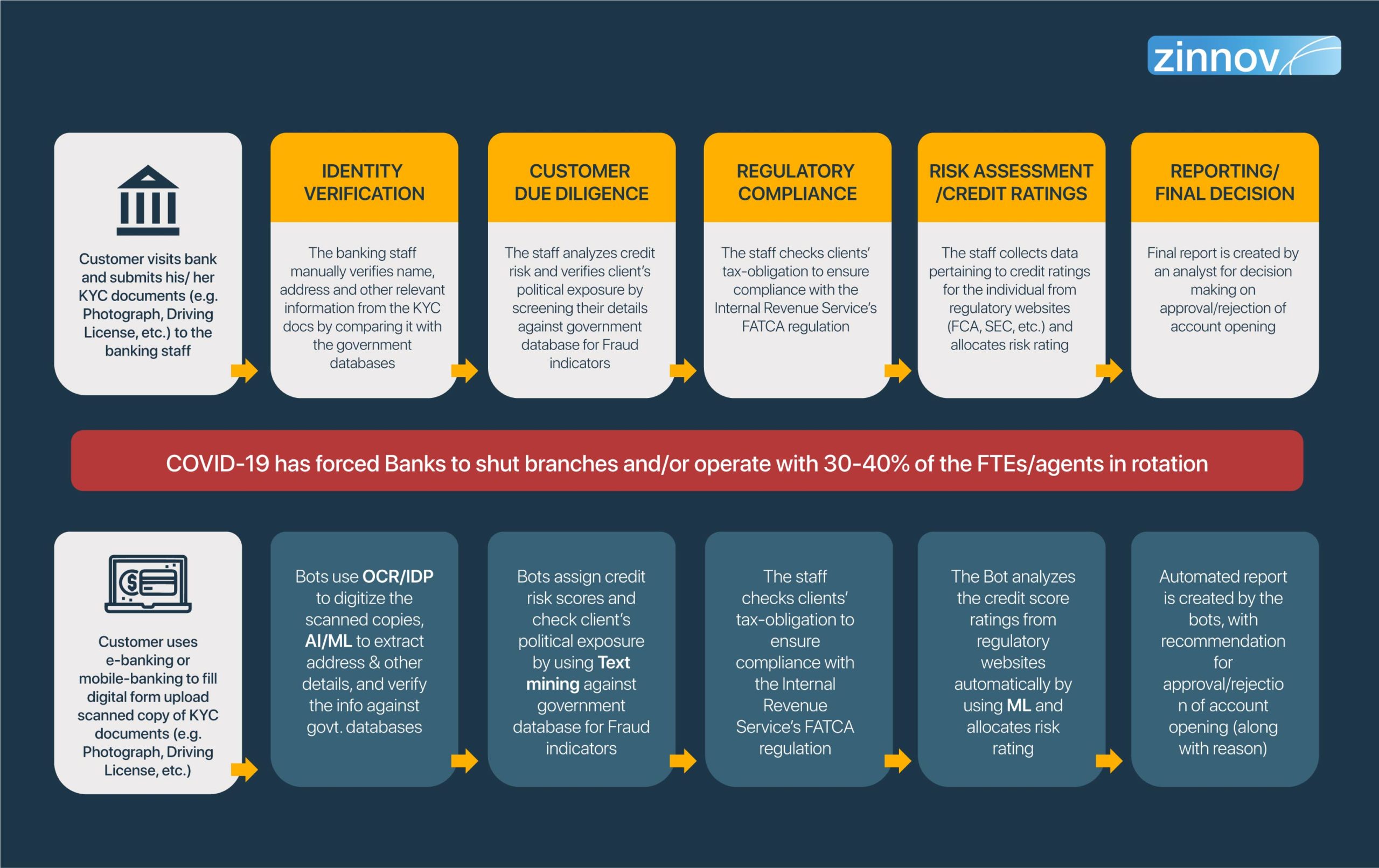 This scenario also increases the load on mobile banking and customer service agents because the call volume amplifies and makes it difficult to meet customer expectations. Hence, Digital Banking and Self Service become extremely critical for Business Continuity. The banks are now deploying customer-facing bots – including Voice Bots and/or Chat Bots – that are able to assist customers in their request for account opening. Customers can fill forms and upload all the required documents online, which can then be verified, processed, and approved/rejected automatically by software bots. This scenario, which automates the account opening process, is able to improve processing speed by 80-90%, reduce reliance on FTEs/agents by 50-60%, and thereby reduce the costs by more than 60-70%.
Besides reducing the reliance on manual agents and physical presence, this scenario also ensures business continuity. Similarly, companies from across industry verticals can leverage a combination of attended and unattended bots in order to automate processes within Finance & Accounting, Supply Chain, HR, and IT Ops to ensure business continuity with fewer employees and improved process efficiency.
Hence, automation and RPA clearly have a critical role to play in these testing times. Let us analyze the impact of COVID-19 on RPA space (and vice versa) in more depth.
COVID-19 Combat Bots – New Bots that are helping combat coronavirus
RPA has been at the forefront of accelerating the 'flattening of the curve.' All the leading RPA platforms are stepping up and building new innovative use cases to support the fight against COVID-19. Enterprises across industries are looking to adopt RPA in order to drive process efficiencies, enhance customer experience, amplify employee engagement, and drive business continuity.
These newer RPA use cases are percolating across all industries – right from Healthcare which is in the thick of things in the current scenario, to the adversely impacted industries such as Travel & Hospitality, and Banking, Financial Services and Insurance (BFSI) – automation is finding its way across industries. Besides these, the RPA platforms are also actively building newer bots to aid the companies in enabling their remote workforce and be most productive when they are working remotely. There are more than 35 such newer use cases that are already being implemented today! Let's take a detailed look at these use cases below.
Healthcare
RPA has had the most profound impact on the Healthcare sector – across the entire value chain – right from Testing and Diagnosing, to Treatment, Monitoring, and other operational efficiencies. Illustrated below are the top use cases that are being implemented today.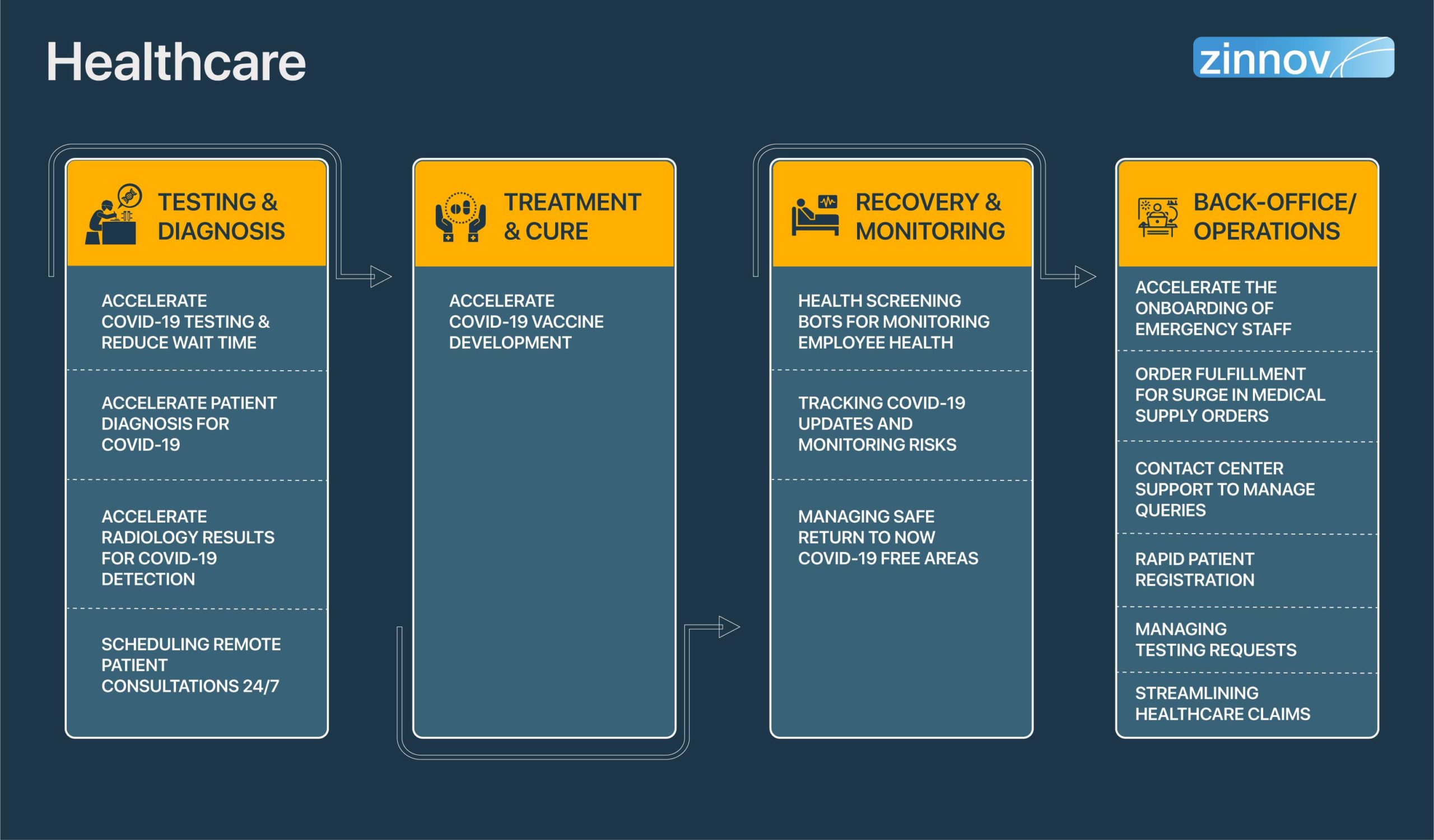 Accelerate COVID-19 Testing & Reduce Wait Times: Attended bot takes patient data, matches it to hospital EMR records, records the C-19 test results, and sends them to Health Departments (such as the CDC). This helps accelerate COVID-19 testing by more than 90%.
Accelerate Patient Diagnosis for COVID-19: Hospitals use a mobile survey to complete the initial diagnosis for patients, which is then entered into multiple core platforms. RPA automates the process to free up data entry specialists and significantly reduces diagnosis time.
Accelerate Radiology Results for COVID-19 Detection: Hospitals using AI and RPA on CT scans (chest X rays) for faster testing, and reducing the patient wait time by more than 70%.
Schedule Remote Patient Consultations 24/7: Bots are helping automatically schedule the patients' requests for appointments via video consultations, thereby ensuring 24/7 availability of booking service for patients.
Accelerate COVID-19 Vaccine Development: Automating movement of critical clinical testing data across multiple applications/teams to reduce the time to design the vaccine.
Health Screening Bots for Monitoring Employee Health: Attended bot tracks/monitors the health status of all employees, and the bot flags off anyone with high body temperatures, which helps companies react quickly to remediate the situation.
Track COVID-19 Updates and Monitor Risks: Bot scans multiple data sources online, compiles localized data into a daily report, and emails the latest count of cases in the vicinity, provides guidance on getting tested, and other fact-based helpful resources.
Manage the Safe Return of People to Now COVID-19 Free Areas: RPA is helping monitor pedestrian traffic flow through public areas. The bot analyzes data and compiles a real-time traffic report, issuing warnings when traffic flow is at risk of being too dense
Contact Center Support to Manage Queries: Attended bots are helping reduce the load off hospitals' contact centers and other communication channels by handling incoming calls and inquiries on COVID-19 symptoms – such as eligible health benefits, closest testing locations, tips on staying healthy, etc.
Order Fulfillment for Surge in Medical Supply Orders: Unattended bots handle the increased volume of orders such as hand sanitizers, medical supplies, etc. to ease the strain on procurement teams and avoid stock-outs/delays in critical supplies.
Accelerate the Onboarding of Emergency Staff: Bots are able to speed up the process of potential new hires by 10X by automating processes such as police vetting and previous employment status for healthcare providers.
Rapid Patient Registration: Bots can check the registration status of patients in the existing database and register new patients. They can further extract patient history and information of already registered patients.
Managing Testing Requests: Automating the check-in and administrative tasks related to queuing and managing testing requests eliminates human error and allows digital paperwork to be processed quickly.
Streamlining Healthcare Claims: Automating increased volume of calls and constant changes in policy helps health and life science organizations to make processing faster and easier by tracing and auditing payments accurately
Besides Healthcare, RPA is also helping other industries – such as Travel & Hospitality, BFSI, Essential Retail, and Public Sector among others – to automate critical use cases and ensure both business continuity and customer experience.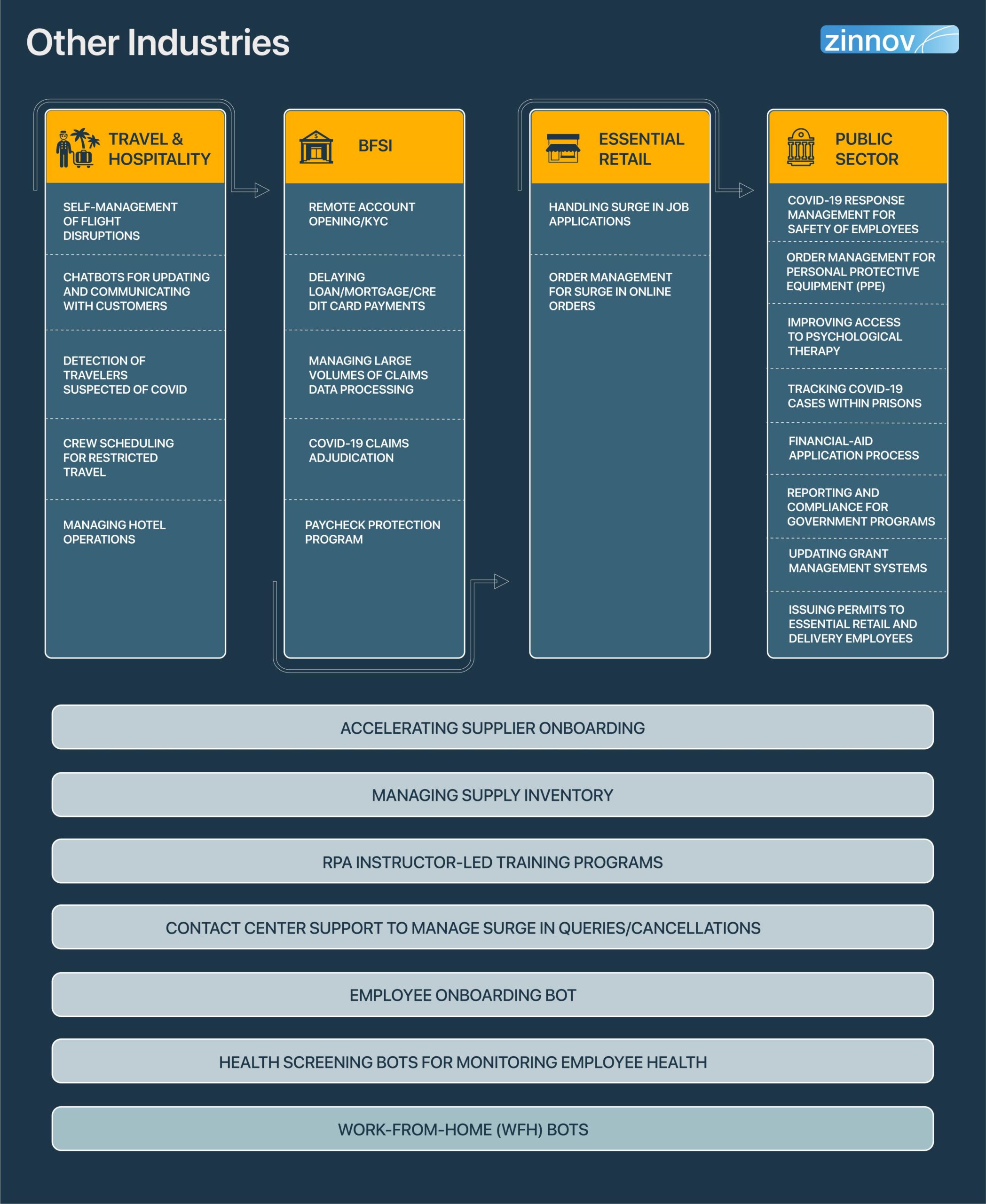 Travel & Hospitality
Self-Management of Flight Disruptions: COVID-19 has led to wide-scale flight cancellations, rescheduling, etc. Flight operators are leveraging RPA to help customers self-manage the same – including rebooking, refund, cancellation, personalized alternatives, etc.
Chatbots for Updating and Communicating with Travelers: Airlines are deploying attended RPA and chatbot solutions to keep the travelers updated and enable them to ask different questions about their health or the virus such as symptoms, treatment, etc.
Detecting Travelers Suspected of COVID-19: Airports are deploying RPA bots to scan travel history of travelers, find if they visited any infected places, and augment that by tracking individuals with fever. This is allowing the staff to flag off any potentially infected traveler.
Crew Scheduling for Restricted Travel: Airlines are using RPA to automatically assign flying crew for the restricted flights which are plying (especially for domestic travel).
Managing Hotel Operations: Bots are helping remote employees working from home manage reservations, monitor occupancy, and administer necessary changes.
Banking, Financial Services, and Insurance
Remote Account Opening/KYC: RPA automates the intake and processing of documents submitted by customers, which are then automatically verified, along with KYC norms and approved/rejected automatically (without the need for a customer to visit the branch).
Delaying Monthly Loan/Mortgage/Credit Card Payments: Customers are struggling with their monthly payments for loans, mortgages, or credit card payments due to COVID-19 and are looking to delay the payments. RPA helps customers raise this delay request, validates all details, matches with credit systems, and automatically recommends approval/rejection.
Managing Large Volumes of Claims Data Processing: Insurance players are struggling with the increase in the volume of claims and documents, which are now being automated through RPA.
COVID-19 Claims Adjudication: Insurance players are automating the handling of claims related to COVID-19, since a majority of them lack the ability to adjudicate COVID-19 claims, and end up denying those claims.
Paycheck Protection Program: Bots are helping banks to process loan applications quickly by extracting data from borrower applications to update the lender's database loan calculators, thus accelerating the process of issuing necessary funds to small business customers.
Essential Retail
Handling Surge in Employee Job Applications: Unattended bots to manage the surge in new applicants for retailers and automate employee selection process including background checks.
Order Management for Surge in Online Orders: Unattended bots deployed to handle the increased volume of essential items such as groceries, medicines, PPE, etc. Bots balance orders and inventory in real-time, avoiding backlogs and delays in delivering critical products
Public Sector
COVID-19 Response Management for Safety of Employees: Government agencies are using RPA for automated response management systems to track the health status, location, travel history, and any COVID-19 incident details for employees. The government can then see the health and work status of all employees, by geography and department.
Order Management for Personal Protective Equipment (PPE): Bots track and log the use of Personal Protective Equipment (PPE) for emergency personnel within police, fire, and disaster services department, and automatically place orders to ensure availability of PPE.
Improving Access to Psychological Therapies: COVID-19 has led to a surge in citizens seeking assistance for mental health and treatment of anxiety and depression. RPA automates data sharing across mental health services systems and enables people to seek assistance easily.
Tracking COVID-19 cases within Military/Prison/Other Departments: RPA is helping update the database of COVID-19 cases across departments (such as Military branches, Prison, etc.), and allows healthcare workers to monitor and attend to the patients.
Financial-aid Application Process: Governments are providing emergency financial aid to self-employed workers, farmers, and SMEs, and bots are automating the application process and administrative tasks to quickly approve the payment.
Reporting and Compliance for Government Programs: Automating the administrative tasks involved in reporting and compliance for new and existing government programs along with built-in case management capabilities.
Updating Grant Management Systems: Bots are able to update critical information regarding recipients, reporting, and reconciliations to ensure timely disbursal of grants.
Issuing Permits to Essential Retail and Delivery Employees: Bots aid government agencies in verifying applications for travel permits and also issue it for companies and employees engaged in essential services.
Cross-industries/Other Industries
Contact Center Support to Manage Queries/Cancellation: Attended bots working in tandem with contact center agents across industries (such as Travel & Hospitality, Public Sector, etc.) to assist in customer queries and/or cancellation requests. Additional capabilities such as Self-service, visual IVRs, chatbots, etc. also reduce the load on customer service agents.
Employee Onboarding Bot: With a combination of attended and unattended bots, companies are able to significantly reduce the employee onboarding process time.
Accelerating Supplier Onboarding: Automating procurement processes such as extracting and sorting supplier's information and quotation, contract management, and request-for-quotation packages resulting in accelerated supplier onboarding.
Managing supply inventory: Bots can be deployed to scan the systems and collect available inventory details across all the products and map it against the production volume, and automatically generate a report for inventory management.
Bot-Led Training Programs: Attended bots can help trainees throughout their course duration and also help employees with their day-to-day tasks on an as-needed basis.
Work-From-Home (WFH) Bots – New Bots enabling the Remote Workforce
Besides the above new set of use cases, there is a new category of use cases which have now become relevant with remote working and Work-from-Home (WFH) as the new norms. It is fascinating to see how RPA/Automation has percolated across multiple dimensions of these WFH scenarios.
Order Fulfillment Bots Ordering WFH Kits: Bots can order RSA kits, Remote Access Services (RAS), and Enterprise Mobility Services (EMS) to enable remote working for employees.
Setting Up Remote Working Stations for Employees: Companies are using bots to automate processes that allow the setup for working remotely. They facilitate an easier, error-free registration of the new equipment, set up users for VPNs, and associate the employee ID with the registration number of the recently bought equipment.
Checking and Monitoring Employees' Internet Bandwidth: Bots automatically ingest employee postcodes, check the home broadband and 4G connectivity in their local area, and ask the employee to provide details on their home package. This allows companies to evaluate the current situation of each employee and set priorities on where to invest. This allows companies to evaluate the current situation, pinpoint issues, and resolve them faster.
Remote Employees Getting Visibility to Secure Monitoring Tools: Federal agencies are using bots that regularly take a screenshot of important monitoring tools and sends them to remote employees and provides much-needed visibility into the monitoring tools that they cannot access otherwise.
IT Operations and Incident Response for Remote Work: Automation of IT Operations include automation of Incident Response processes, daily IT tasks, and auto-remediation while working remotely.
Attendance Bots: Bots to help define the work schedule for each employee and ensure adherence by sending automated reminders to employees. The bot also ensures the attendance and logging of work hours for each employee.
Tasks Tracking Bot: The bot enables people to track their progress, manage events in a built-in calendar, attach files, and share items with colleagues.
Meeting Scheduler Bot: The bot creates meetings for each row of the Excel file. This bot will save the user hours in the day by automating the scheduling process for an employee.
Leave Tracker Bot: Employees send a message asking for leave for a specified set of days. The bot sends a message to the employee's assigned manager and once approved, the leave is recorded in the backend systems and the employee is notified.
Expense Management Bot: The bot approves/rejects expense reports based on the submitted proofs and allowance.
RPA is building Digital Defensibility for organizations
These are exceptional times, unprecedented times and the promise that RPA/Automation holds for companies across industries is undeniable. Today, several new use cases have emerged and as the situation unfolds, where it is expected to worsen before it gets better, RPA/Automation adoption will further intensify and more such disruptive use cases will come to the fore.
We will continue to bring you updates on these emerging and innovative use cases. Watch this space for more!
To understand how your organization can create tangible value from RPA/Automation contact us at
info@zinnov.com