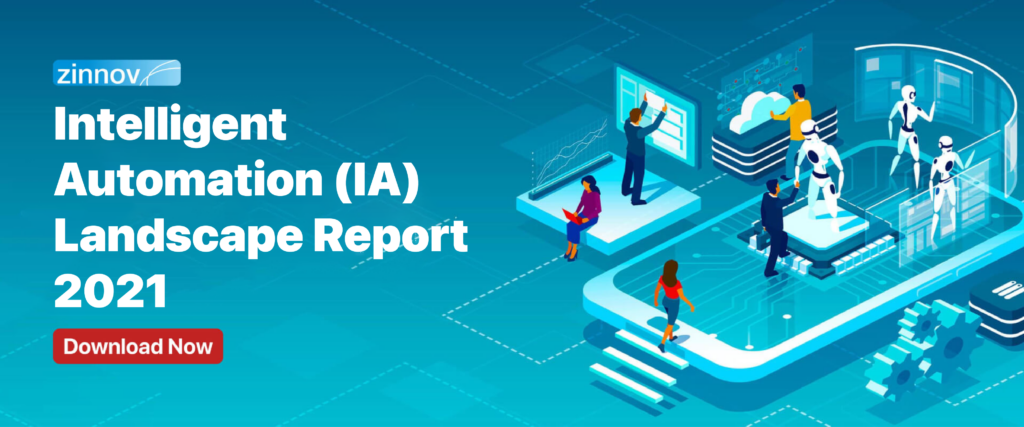 RPA was never dead. In fact, it was on a rapid reinvention journey – one that would take it closer to the ultimate destination of driving frictionless experiences and compelling outcomes. Today, RPA has donned a new avatar called Intelligent Automation (IA) – a holistic end-to-end automation philosophy.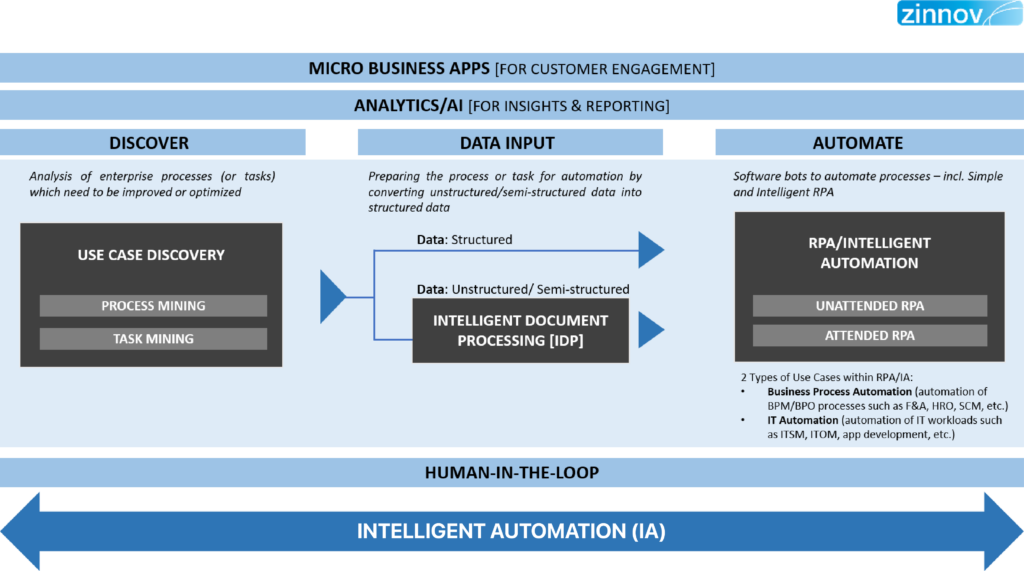 Here's what the Intelligent Automation (IA) narrative entails.
Value-conscious enterprises start their automation programs with Use Case Discovery, including both process mining and task mining. The use cases are then prepared for automation by leveraging Intelligent Document Processing (IDP) to convert unstructured/semi-structured data into structured data. These use cases are then fed into the RPA algorithms – including both Unattended RPA (or automation of back-office processes) and Attended RPA (or automation of front-end processes). Human-in-the-Loop feedback runs across in order to take care of exception handlings and inconsistencies. The final step is leveraging Analytics/AI for Reporting and Dashboarding to derive business insights. The micro apps-led engagement layer makes it extremely simple and frictionless for users from both business and IT functions to extract maximum value from their enterprise automation initiatives.
In order to gauge the platforms' focus on Intelligent Automation (IA), we recently conducted our Zinnov Zones Ratings for Hyper Intelligent Automation – 2020, industry's first comprehensive assessment of 35+ RPA/HIA platforms and specialist players, to determine the movers & shakers of this market. The study rated the players on their overall capabilities and scale across the HIA lifecycle including Use Case Discovery, IDP, RPA/Intelligent Automation, and Analytics/Insights. Automation Anywhere and UiPath emerged as the overall 'Leaders' in the Intelligent Automation Zones, showcasing immense focus on building integrated platforms and positioning themselves as one-stop shops for all automation needs.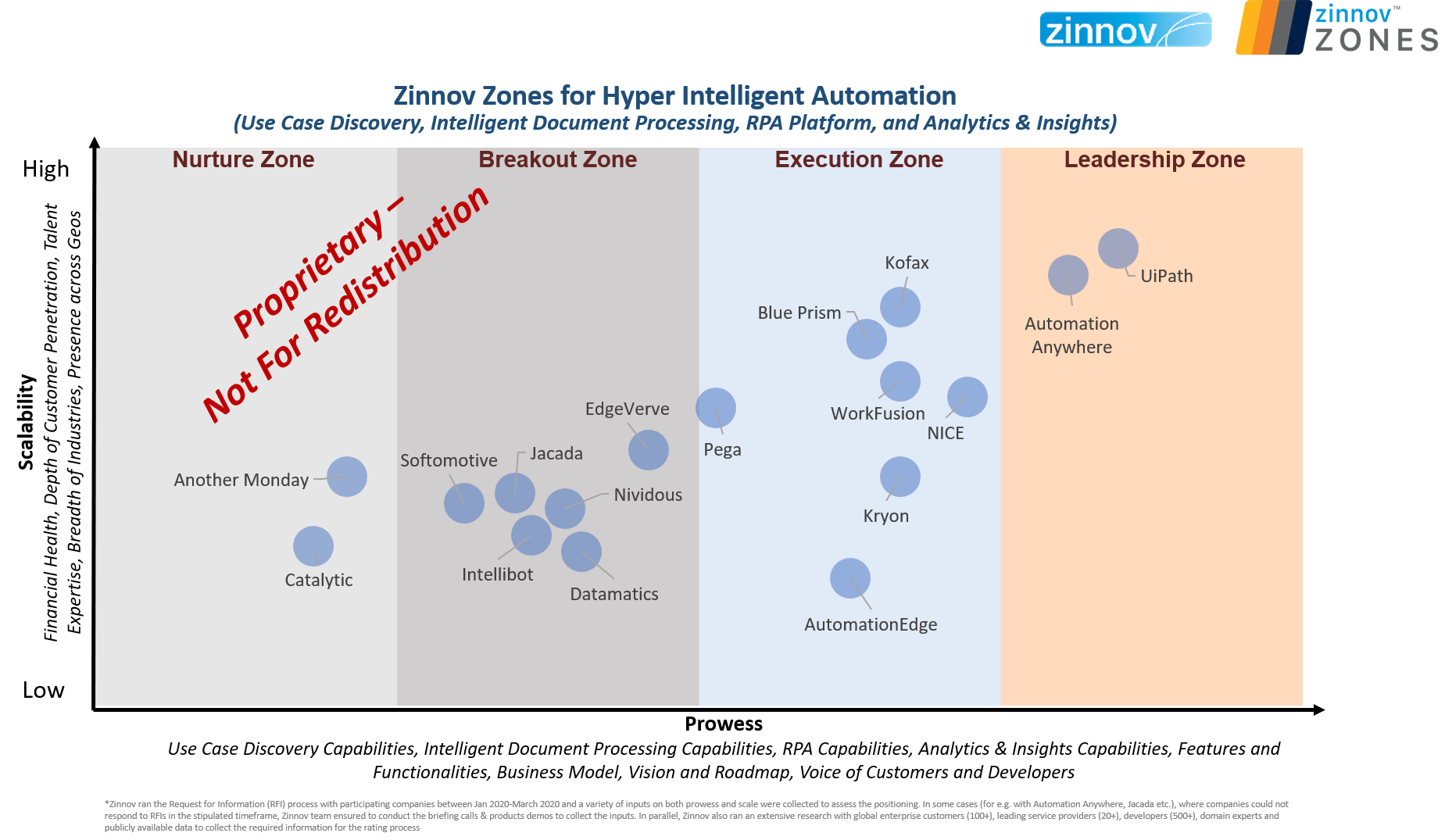 The IA journey is far from being complete and the reinvention cycle will keep repeating itself as enterprises get more value-conscious and technology evolution continues to present more possibilities. For now, what is encouraging is the IA acceleration that is already visible in a relatively short period of time. Listed below are some of the forward-looking insights and trends that we observed while evaluating the IA/ RPA platform providers, further augmented by the deep perspectives received from 100+ global enterprises, 20+ leading service providers, 500+ experienced developers and a number of subject matter experts from the industry.
Large enterprises continue to dominate adoption (account for >70% of all IA investments) and 75% of Fortune 250 customers have already made significant early-stage commitments to it. Interestingly, even Federal institutions and Small & Medium Businesses (SMBs) are starting to express latent demands, which are likely to account for more than 40% market share in the next 12-18 months.
RPA space continues to be mired by scaling-related challenges, with less than 15% Fortune 250 enterprises having more than 100 bots in production. The inability to achieve the proposed ROI, extremely long implementation cycles, low focus on mission-critical use cases, and the evolving AI capabilities of RPA vendors emerge as key bottlenecks. This is also reflected in the fact that a majority of RPA platform subscriptions are seeing investments of less than USD 100,000 per enterprise on an annual basis.
Currently, 40% of the Fortune 250 enterprise operate an RPA Center of Excellence (CoE) using either a centralized or federated structure. As HIA becomes the enterprise priority, we anticipate that a greater number of CoEs will be set up in the next 12-18 months. These CoEs will act as accelerators in the automation journey of enterprises and will also enable companies to experiment with RPA more efficiently.
Enterprises continue to rely on their global teams or Global Capability Centers (such as those based out of India, a global RPA talent hotbed) to expand their IA capabilities. These GCCs function as focal points for cutting-edge automation initiatives and are responsible for running the automation CoEs and are starting to manage mission-critical workloads at a global scale. There are already more than 1400 such GCCs of large global enterprises in India, and more than 450 of these are already investing in HIA.
Enterprises who started their automation journey with Process Mining (to identify a use case that is sub-optimal), and then followed it up with Task Mining (to point to a specific sub-process for actual automation) achieved better ROI. This is proving to be a key differentiator in the HIA space and specialist Use Case Discovery vendors such as Celonis, Software AG are increasingly gaining traction. Leading RPA platforms are trying to build these capabilities natively or by partnering with specialist firms in a bid to increase their relevance in the automation world.
RPA interspersed with Optical Character Recognition (OCR) has existed for a long time now, but it always lacked the intelligence to handle complex and unstructured data. With advanced AI/ML capabilities, Intelligent Document Processing can now enable automation that was once not possible. RPA vendors are increasingly leveraging IDP to automate extremely complex use cases – such as analysis of complex financial statements, understanding engineering drawings, handwriting recognition (including constrained and unconstrained), etc. Accuracy is often a challenge, which warrants the need for confidence scores and ensures human-in-the-loop.
Enterprise RPA is slowly starting to break the on-premise boundaries to get into the public clouds (˜10% of all deployments). We expect public cloud deployments to double over the next 12 months as enterprises feel the lack of internal infrastructure readiness and SMBs increase their demand for digital infrastructure. Leading RPA/ HIA platform vendors show promising signs of commitment to public cloud and will continue to do so in a bid to unlock the latent demands across their customer base.
The first wave of RPA was led by horizontal business processes such as Finance & Accounting, Human Resources, Marketing, Supply Chain Management, etc. which eventually percolated into industry-specific use cases, albeit slowly. As the industry matures, we anticipate a growing demand for IT & ER&D Automation use cases – aligned to IT Operations Management (ITOM), IT Service Management (ITSM), and Application Development & Maintenance (ADM) to name a few. This category is likely to contribute to 15-20% of the total platform investments by enterprises in the next 24 months. Given this potential, a number of specialist vendors such as Ayehu, IPSoft, and Arago are upping their game and forging partnerships at all levels
Newer breeds of alternative players are slowly – but steadily – becoming relevant. Technology behemoths, such as Microsoft, have made multiple announcements already with their Power Automate and UI Flows, and they continue to focus on price competitiveness to stand out. Open Source RPA platforms – such as Robocorp and Automagica – are focusing on exploiting the whitespace opportunities within IT process automation and are providing cost-effective solutions to SMBs. Low-Code/No-Code players are also becoming active, led by Appian's recent acquisition of Jidoka to position itself as an end-to-end iBPMS, Low-Code/No-Code, and RPA platform.
The Intelligent Automation (IA) space is clearly on the trajectory to explode in the foreseeable future. RPA/HIA vendors are aggressively building native capabilities on both Use Case Discovery and IDP. Will this result in their specialist partners turning from friends to foes by the end of 2020? That is yet to be seen.
Use Case Discovery itself would embed deeper AI/ML algorithms to ensure the discovery of more complex use cases (such as IT and ER&D automation, which is absent today). Similarly, IDP would focus on greater reliance on pre-trained bots for use cases (as compared to built-from-scratch bots) to ensure truly frictionless deployments. RPA/IA vendors would finally plunge into the automaton of IT and ER&D workloads, to ensure a more end-to-end automation play and we could see some consolidation in this space. It will be interesting to see the product, pricing, and GTM innovations that RPA/IA vendors bring in to focus on the SMB and Federal/Government customer base, which would propel a significant proportion of the IA growth!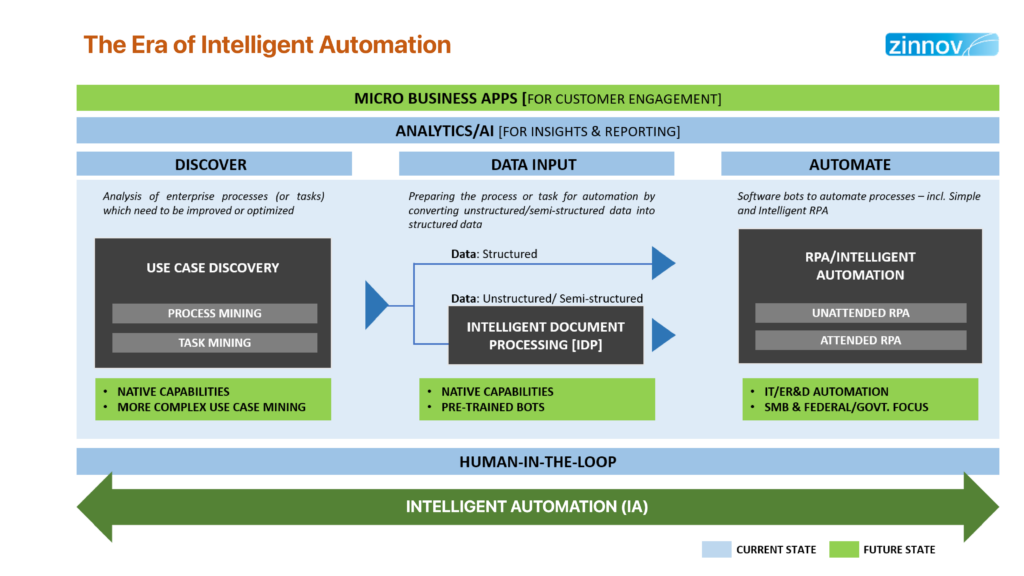 We are placing our bets on visionary HIA platforms from today to evolve into truly integrated platforms – or Platform of Platforms – in order to allow integrations with multiple enterprise applications/platforms. We hope that the market is in for the exciting times that lie ahead!
To get your organization rated in the Zinnov Zones HIA rating, drop us a note at info@zinnov.com