Circa 1931. America found itself in the grips of 'The Great Depression'. The country was in turmoil and its economy was eroding. It was then when Bing Crosby, recorded a ballad with the words, "I found a million dollar baby in a five-and-ten-cent store." The song was a hit, as it gave people some hope, that they are worth more than their economic circumstance – and circumstances are temporary. Its namesake movie, Million Dollar Baby, is also one that talks of grit, resilience, and victory. An aspiring boxer wanting to make a name for herself in the ring and ultimately succeeding with the help of a gruff, but a well-meaning and skillful coach.
Drawing an analogy here, Small Medium Businesses in India are pretty much a million-dollar – rather a billion-dollar baby. With digital technologies as the coach, Small and Medium Businesses (SMBs) are on a meteoric rise. SMBs could very well be the silver lining in the cloud of the economic crisis that is looming on the horizon. With digital technology helming this growth, the entire technology ecosystem stands to benefit – but only if they act NOW!
The Rise of Small and Medium Businesses in India
Small and Medium Businesses in India are flourishing. They form the cornerstone of India's economy contributing ~30% to the overall GDP in India. Especially with the increasing proliferation of digital, SMBs are becoming ubiquitous. Currently, the Small and Medium Business base in India stands at a whopping 75 Mn, and this number is expected to grow to 105 Mn in the next five years.
Digitalization will continue to play a key role in this growth, and in fact, it will rewrite the Small and Medium Business story. Here's why – Out of the 75 Mn SMB base in India, only 8 Mn are digital SMBs since their inception, leaving a huge window of opportunity for technology companies to help the rest of the 67 Mn SMBs make their way into Digital. In 2019 alone, SMBs offered a massive USD 30 BN digital opportunity, only 53% of which was tapped by various players of the ecosystem. This opportunity is set to grow even further over the next five years and offers a digital opportunity of USD 80-85 Bn.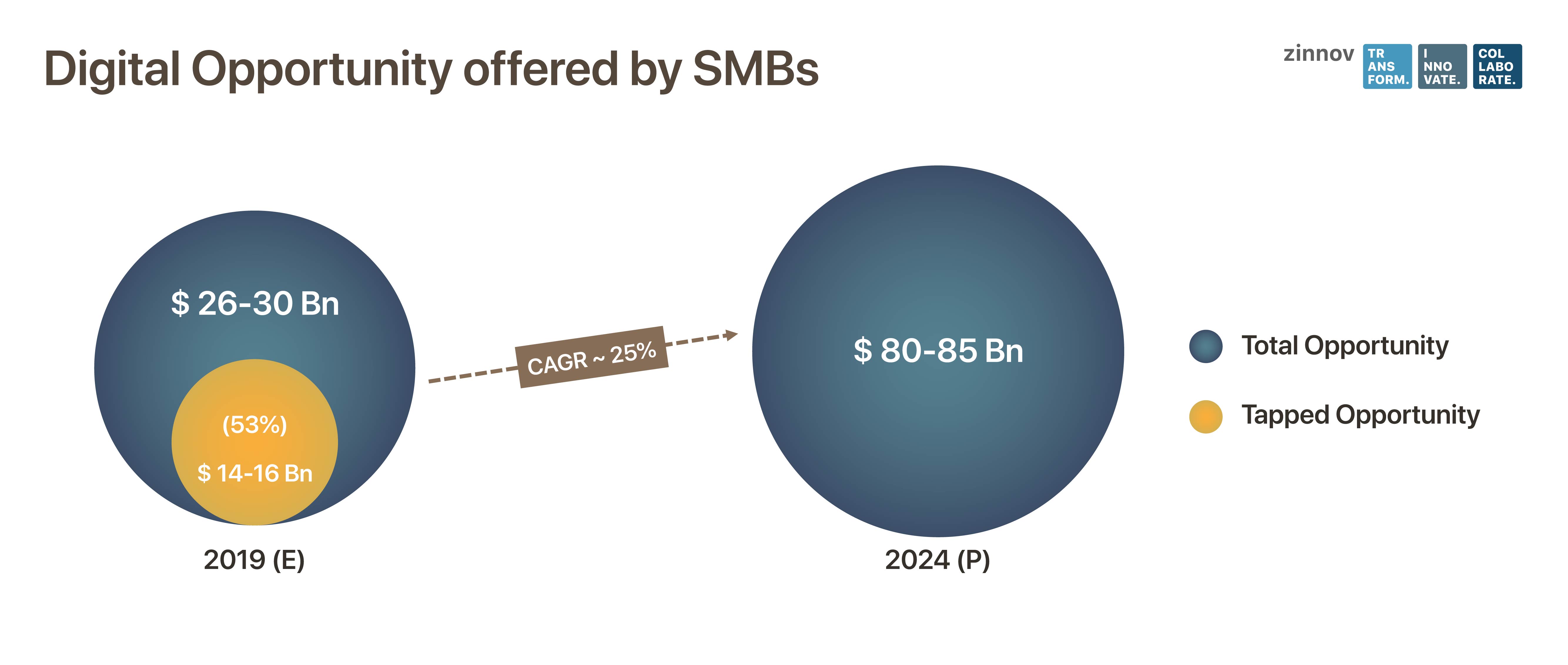 Parsing the Untapped Digital Opportunities
Although digitalization is making inroads into most verticals, over 30% of the overall SMBs in India still remain untouched or barely touched by digital and most of these SMBs are in traditional segments like Manufacturing, Retail, NGOs, etc. Many of these segments are witnessing certain forms of digitization, however, they are far from digital-native SMBs. This clearly is a huge opportunity for technology ISVs, start-ups, and other ecosystem players. However, the remaining 70% of the SMB base who have digital influence can be split across 5 different levels as illustrated below: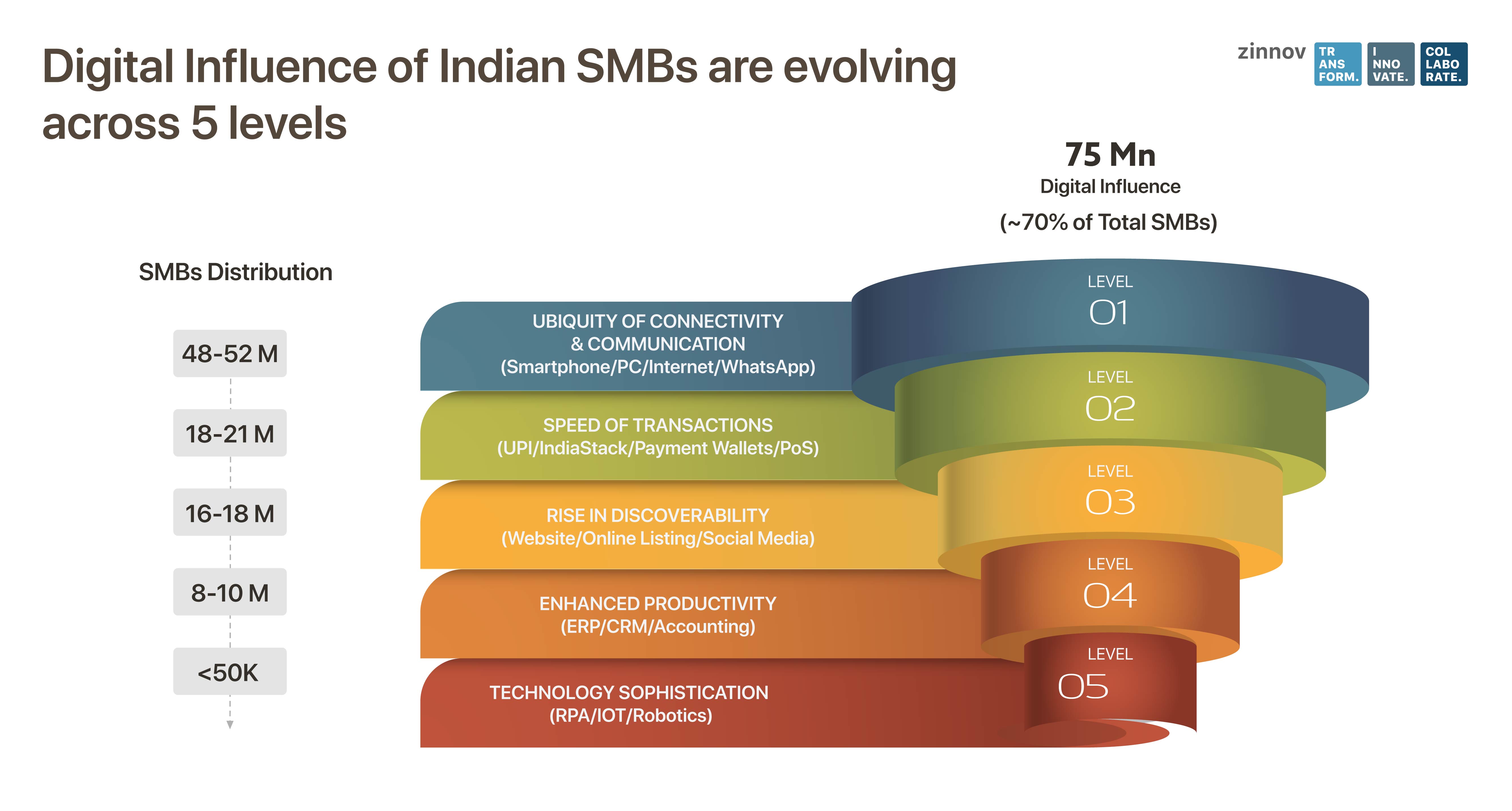 As shown in the illustration above, less than 50K SMBs are at level 5 and have technology sophistication where they leverage IOT, AI, RPA, and other deep-tech solutions creating opportunities for start-ups. The densest section is the level 1 bucket where most SMBs have just begun their digital journey. A small and medium business at this level is a mobile-first business and has the basic digital infrastructure in place. However, as these SMBs evolve and up their level, it will create more opportunities for tech ISVs and other ecosystem players.
The Geography of Opportunities
Digitalization has blurred geographical boundaries for SMBs. A housewife reseller in Nagpur, Maharashtra can sell to a customer sitting in Madurai, Tamil Nadu. Or a content creator sitting out of Rajkot, Gujarat can distribute their content across the country – in fact, the world. Digital is connecting the world. In our latest SMB report, we did a geography-wise analysis of which state is offering maximum digital opportunity in India. Given below is the illustration of the top five states, the key cities and key verticals where the opportunities lie: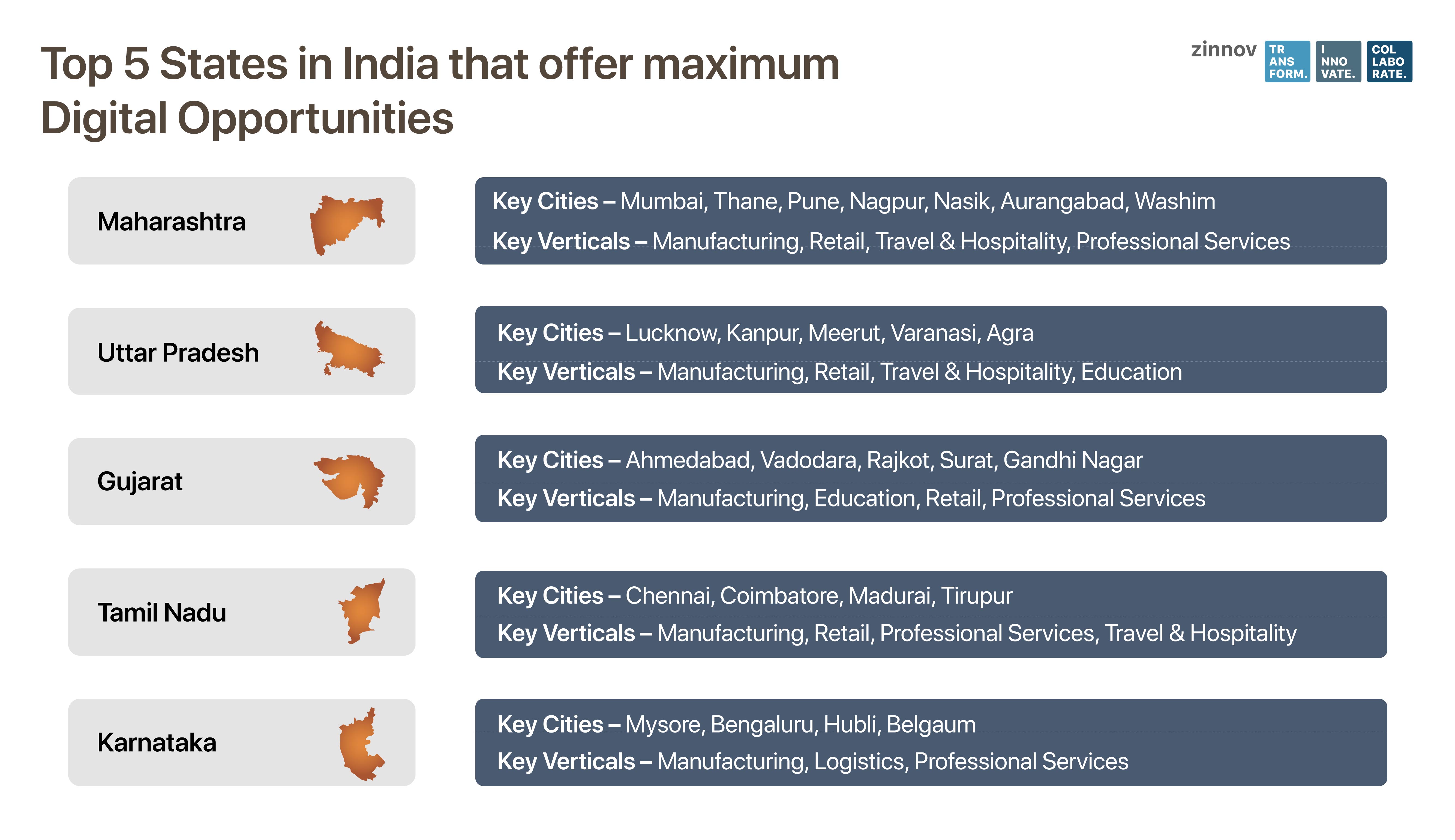 Vertical-wise Split of Opportunities
SMBs across verticals have taken the digital route, however key traditional verticals like Retail, Manufacturing, Education, Travel & Hospitality are offering huge digital opportunities to technology players. For instance, Retail offers a USD 6.2 BN digital opportunity. With most of the retail SMBs being enabled by aggregators like Flipkart, Amazon, Grofers, Netmeds, etc. technology companies who provide Platform as a service can tap into this market. Similarly, Manufacturing as a vertical is offering a plethora of digital opportunities to technology companies in the B2B space.
See the illustration below for further details of the vertical-wise distribution of digital opportunity: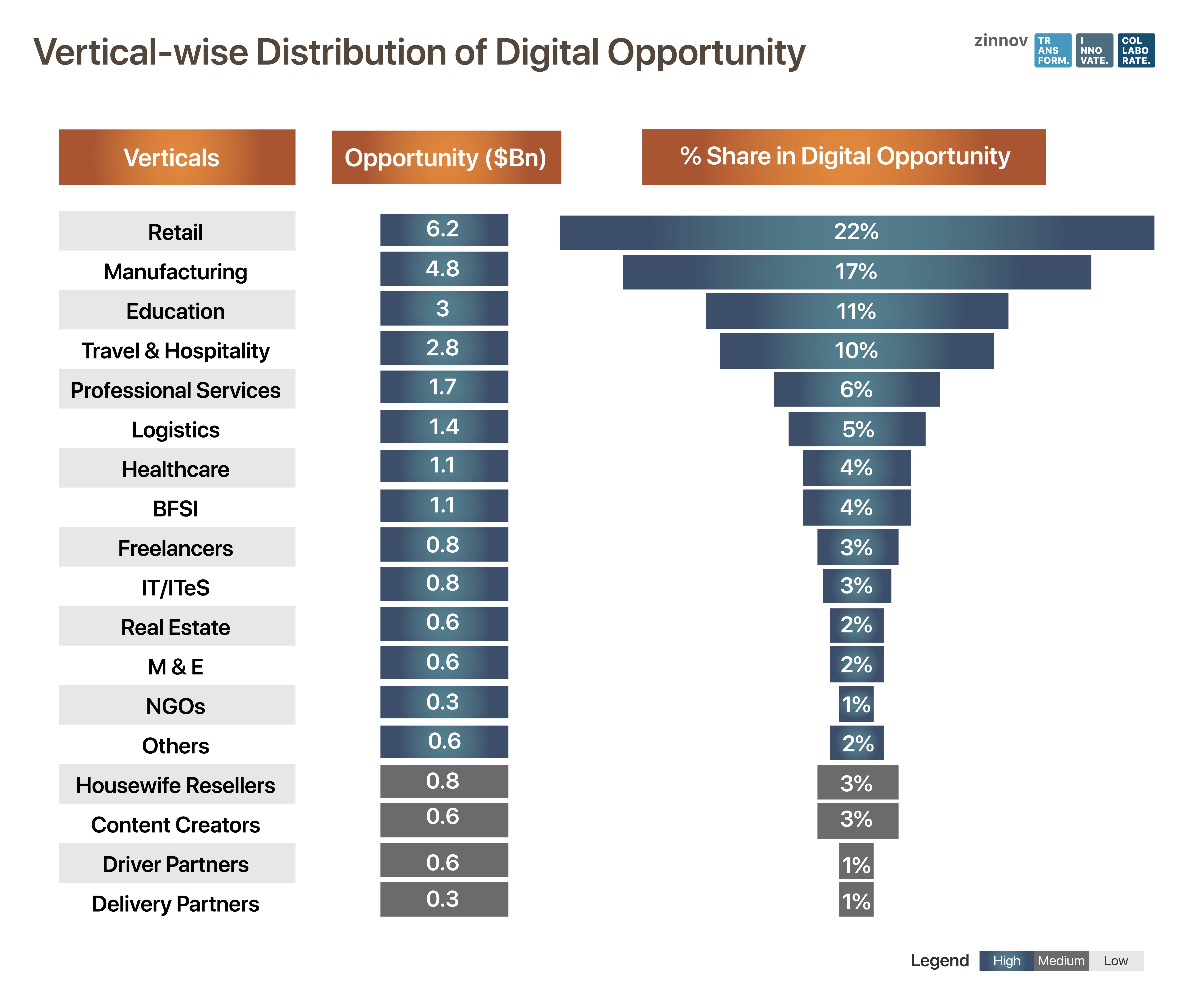 The writing is on the wall, technology players have in front of them a vast array of opportunities across the country, across verticals. They need focused strategies to be able to tap into these opportunities. Even companies who don't have SMBs on their radar, for now, must put them on their list and leverage the prospects. Here's why!
Why the Small and Medium Business Market is so hot?
Most SMBs have a fewer number of stakeholders/decision-makers, which makes it easier for companies to pitch their product/services
SMBs are looking for quick and smart solutions. They don't have complex problems nor are they looking for complex solutions. Most tech companies can cater to their problems.
An SMB today, could be a Unicorn tomorrow and hence partnering with them early is a big win-win for tech companies.
Suggest Read
How Web Professionals Are Propelling The Digitalization Of Indian SMBs
Know More
Ecosystem Players who are enabling SMBs to go Digital
Following ecosystem players are playing a key role in enabling SMBs to go digital and in turn can mutually benefit from the rise of the SMBs:
Aggregators: Aggregators like Amazon, Flipkart, Big Basket, etc., have played a key role in accelerating the digital transformation of SMBs. In the future, they will continue to help SMBs access newer markets and in turn, expand their own market.
Tech ISVs: ISVs are building SMB-first solutions that come with Enterprise-grade features. A case in point is that of Intuit offering Quickbook Online and Zoho offering Zoho One/ CRM
Large Enterprises: Large Enterprises like Walmart, ICICI, Shell, etc. can tap into these opportunities by building accelerators and by partnering with SMBs. For instance, Reliance is planning to digitize 5 million Kirana stores by 2023 by offering Point of Sale devices at 1/10th of the market rate
Start-ups: Start-ups that have the capability and solutions for niche SMB problem statements will also benefit from this increasing pool of opportunity. Udaan is a good example here. It has brought 2 Mn buyers from across 900 cities and 30K sellers from 200 cities on one platform and in the process, has become one of the fastest-growing start-ups in India. Another example is that of Khatabook, a start-up that is emerging as the world's fastest-growing SaaS player and has more than 7 million users.
Government and NGO/ NPOs: Government and NGOs/NPOs are also enabling the growth of SMBs through concerted initiatives and policies.
Small Business. Big Dreams.
Giving the concerted efforts by different ecosystem players, evolving customer behavior and rising digital literacy, the overall digital opportunity is expected to continue to grow to a massive USD 80 Bn. Ecosystem initiatives, like government policies and support from NGOs, are also bolstering SMBs. As the world continues to move online and more people become active on social media, the discoverability of SMBs will also increase and help them grow even more rapidly. To be able to make the most of this billion-dollar opportunity, companies need to be Argus-eyed and build more SMB-first solutions.
To gain market insights on SMBs, the impending opportunities, and actionable strategies on tapping into them, write to us at
info@zinnov.com