OutSystems is the latest Low Code application platform that recently garnered a USD 150 Mn in funding, led by Abdiel Capital and Tiger Global, which pegged them at a whopping USD 9.5 Bn in valuation! Till date, OutSystems has raised USD 570 Mn in funding, and their last major round was for USD 360 Mn in 2018. This new round seemed to be a pre-IPO one, triggering rumors of a potential IPO in the offing. Unqork is the other No Code platform that has recently secured a major USD 200 Mn funding in October 2020, with a USD 2 Bn in valuation.
Low Code/No Code Platforms
Why are Low Code/No Code (LC/NC) platforms suddenly gaining prominence? Why have they amassed immense popularity as well as funding in the last 12 months or so?
LC/NC platforms come armed with the promise of making app development extremely simple through visual drag and drop interfaces, and almost 10 times faster compared to hand coding. This greatly reduces the burden on current professional app developers, while providing a way to enable more and more citizen developers. As per industry statistics, more than 65% of users for LC/NC platforms are professional developers. However, more than 40% of citizen developers are also leveraging LC/NC platforms. Microsoft (PowerApps), Appian, Pegasystems, Nintex, OutSystems, Mendix, ServiceNow, and Salesforce are the prominent LC/NC platforms.
Both Pegasystems and Appian recently announced their Q4 2020 as well as FY2020 financial results. Pegasystems' 2020 revenue exceeded USD 1 Bn for the first time, growing 12% year-on-year. Pegasystems further provided a revenue guidance of USD 1.25 Bn for 2021, estimating an accelerated growth of 23% year-on-year. Similarly, Appian announced a total revenue of USD 300+ Mn, which was 17% growth over FY2019. It is projecting a total revenue of USD 350 Mn+ in 2021, which is a modest 16-17% increase year-on-year.
We have recently witnessed a lot of these LC/NC platforms make acquisitions within RPA to enter the Intelligent Automation (IA) space in a meaningful way. Pegasystems led the way with its OpenSpan acquisition back in 2016, for its attended automation capabilities. Post that, the No Code platform Nintex acquired Enablesoft in 2019 for the latter's Foxtrot RPA platform. More recently, Appian acquired Jidoka RPA platform at the beginning of 2020, which was followed up by Microsoft bolstering its Power Platform with the Softomotive acquisition later in the year. Clearly, the LC/NC platforms have shown increasing gravitation towards the RPA/IA space, and there are complementarities that have emerged.
Our analysis reveals that LC/NC presents a sizeable market opportunity today – in excess of USD 10 Bn. And this is expected to rise exponentially to exceed USD 45 Bn by 2025.
OutSystems' Journey and Focus on Intelligent Automation
OutSystems was founded back in 2001 in Portugal, and over the years, it has made significant investments both in its product as well market expansion. Here's a snapshot of OutSystems' journey over the last two decades.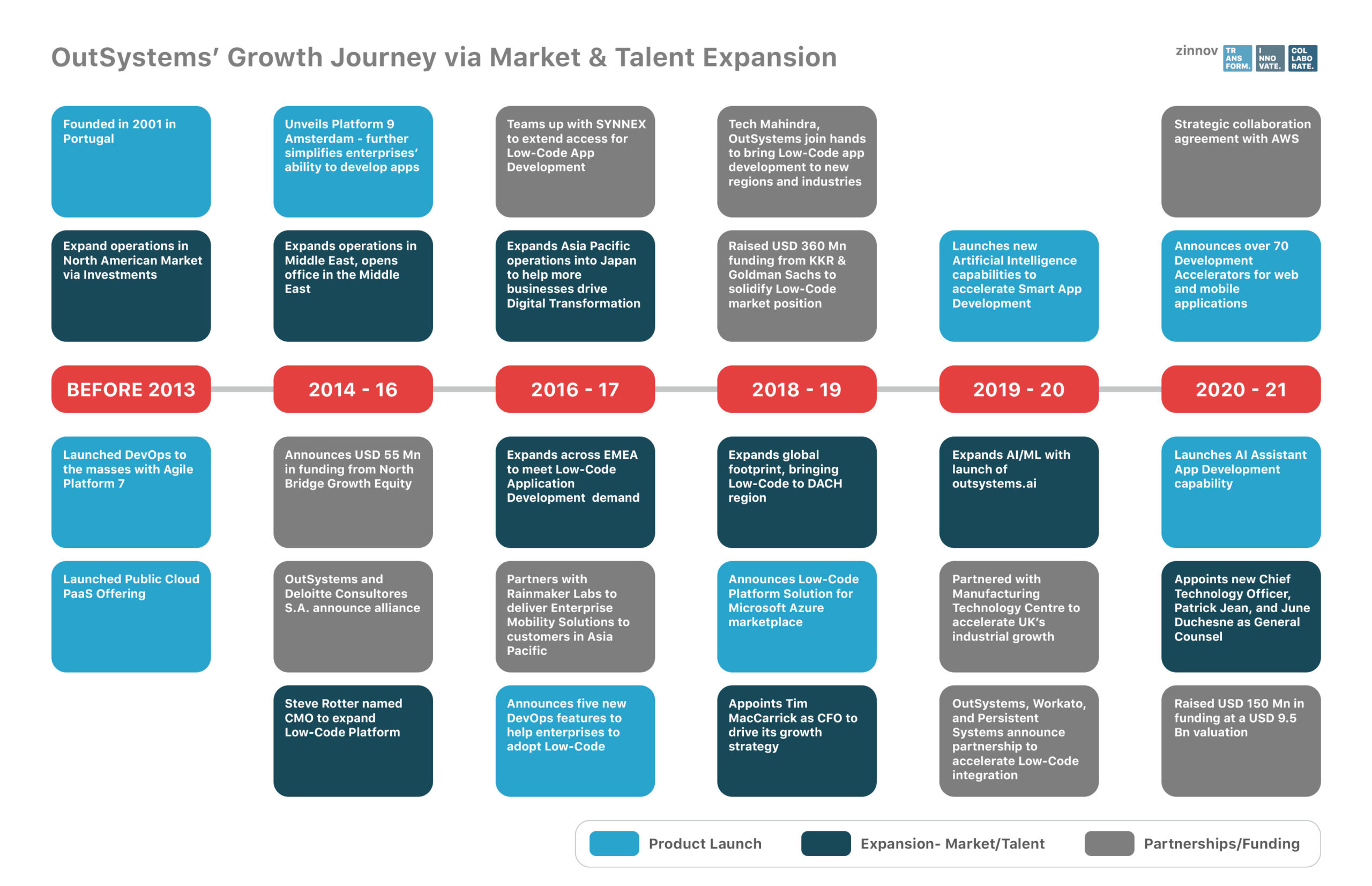 2018 was the year when it rose to prominence, announcing an annual recurring revenue (ARR) of more than USD 100 Mn, growing by more than 66% year-on-year. It announced new enterprise logos it onboarded, including Toyota, Logitech, Deloitte, Ricoh, Schneider Electric, and General Motors. The same year, it also raised its biggest funding round of USD 360 Mn from prominent investors such as KKR and Goldman Sachs, which propelled it to a unicorn status. Later in 2019, OutSystems also announced the release of Outsystems.ai with added Artificial Intelligence (AI)/Machine Learning (ML) capabilities for a smart app development. Over the years, the company has consistently focused on increasing investments on both product R&D and geographical expansion. Today, it has 1200 customers across 60 countries around the world. Its latest funding round is also positioned towards adding more muscle in its R&D, plus bolstering market presence in some of the emerging markets such as India.

Here's a view of how OutSystems fares on our Intelligent Automation (IA) framework.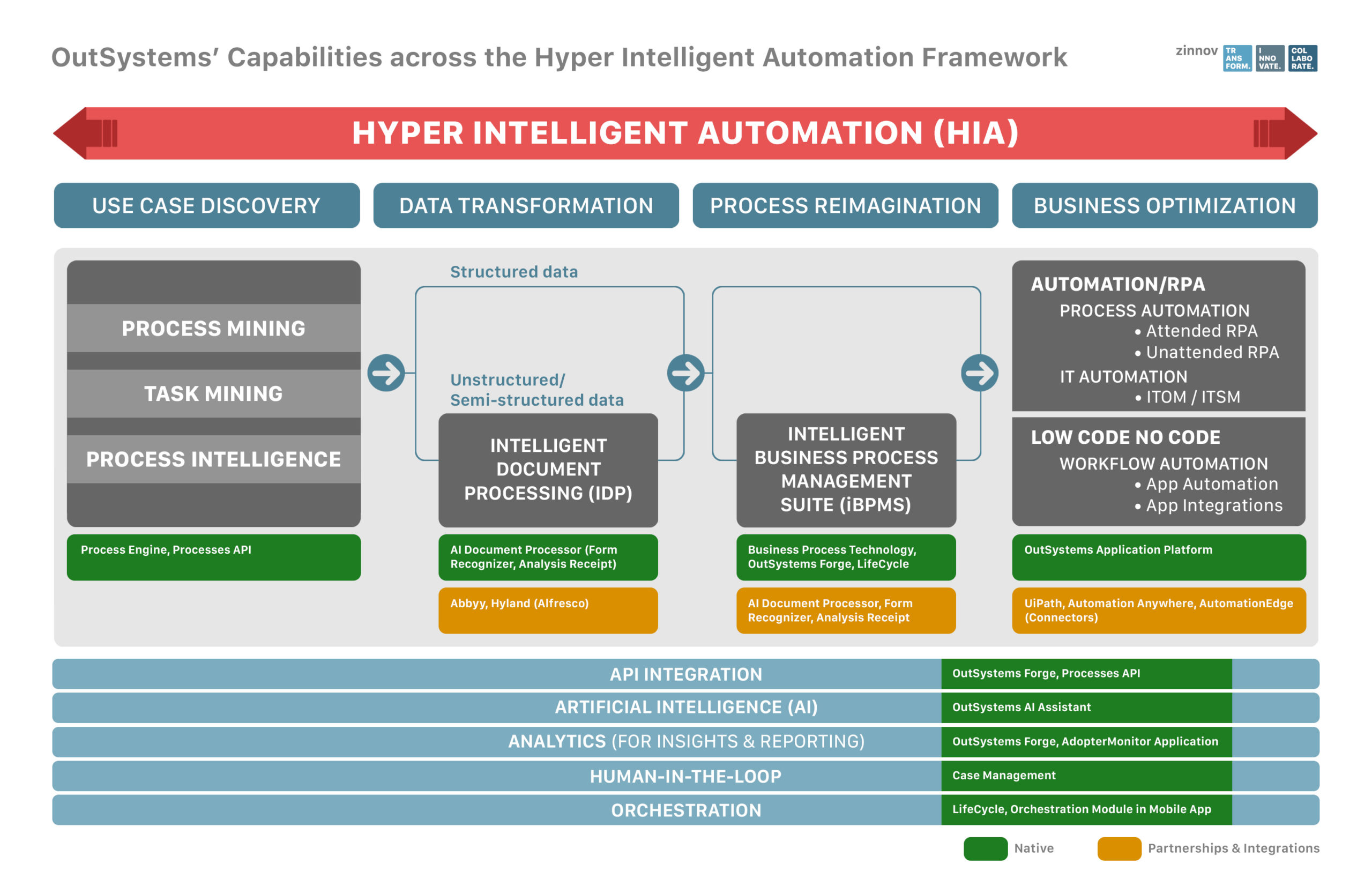 Though OutSystems doesn't explicitly position itself as an automation platform, it has good coverage across most building blocks of the IA platform. OutSystems already has a strong play within the BPM and Low Code application platform side of things. It also announced connectors for RPA support with leading players such as UiPath and Automation Anywhere to support API calls for RPA use cases downstream. In addition, it also announced its AI Document Processor last year, which aligns to IDP and allows to extract key information from physical documents and digitize them. The AI Document Processor has 2 components – Form Recognizer, which identifies and extracts text, key/value pairs, and table data form documents; and Analysis Receipt, which is a pre-built receipt API that identifies and extracts key information on sales receipts, such as the time and date of the transaction, merchant information, amount of taxes, totals, etc. (with no training required). In addition, OutSystems also has industry partnerships with players such as Abbyy and Hyland on the IDP side. Use Case Discovery is the only capability that OutSystems seems to be missing as of now. It has Process Engine and Process API which helps extract process information and feeds into Process Intelligence. However, process mining and task mining capabilities are currently missing from its portfolio.
What Lies Ahead?
OutSystems has clearly carved its own niche within the LC/NC space, and is also well positioned within the Intelligent Automation space. We strongly predict that it would eventually end up buying a small RPA platform to bolster its IA capabilities – like its other LC/NC peers such as Appian, Nintex, Pegasystems, etc. In addition, OutSystems can easily augment its lack of process mining/task mining capabilities through industry partnerships with leading players such as Celonis. This puts them in an extremely strong position to disrupt the IA space, and become a formidable player going ahead.
Will OutSystems go ahead and acquire an RPA vendor? Will OutSystems change its positioning from a Low Code/No Code platform, and formally pivot towards Intelligent Automation?
For more in-depth analyses of IA players and how your enterprise maps in the IA lifecycle, speak to our consultants at
info@zinnov.com
.