Process Intelligence: A crucial piece in the Automation Puzzle
Process Intelligence is a revolutionary modern solution for improving day-to-day business operations within enterprises. Despite years of experience and understanding, businesses frequently fail to control highly complex and dynamic processes. Process Intelligence tools aid business analysts in understanding how the processes are carried out and help them evaluate process effectiveness, identify bottlenecks, and identify potential opportunities for automation. Analysts can optimize their operations based on these insights, which will ultimately improve operational efficiency, reduce operating costs and improve customer experience. Process Intelligence is often viewed as a one-time investment by many enterprises. However, by using real-time Process Intelligence at scale within an organization, the value of benefits can increase exponentially.
Key Drivers of Process Intelligence within enterprises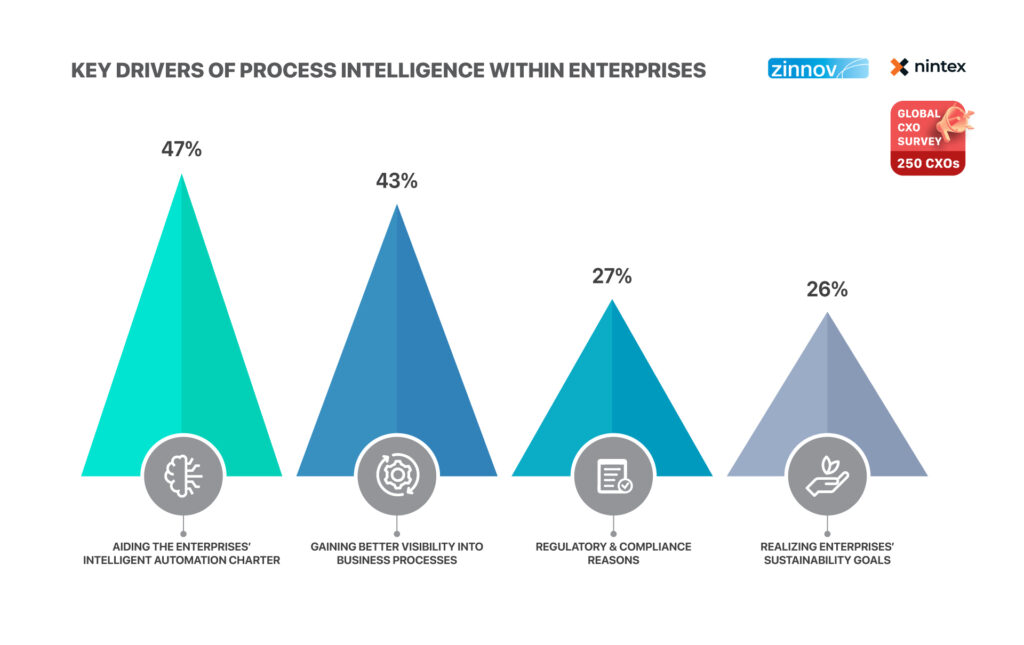 According to one of Zinnov's recent surveys, we asked 250+ Intelligent Automation CXOs, about the key drivers of why enterprises were adopting Process Intelligence solutions. 45% of the CXOs responded that they use Process Intelligence tools to aid their enterprises' automation programs by discovering newer processes to automate and measuring the efficacy of the automation already deployed within the enterprise.
Value Unlock For Enterprises: Aiding An Enterprises' Intelligent Automation Charter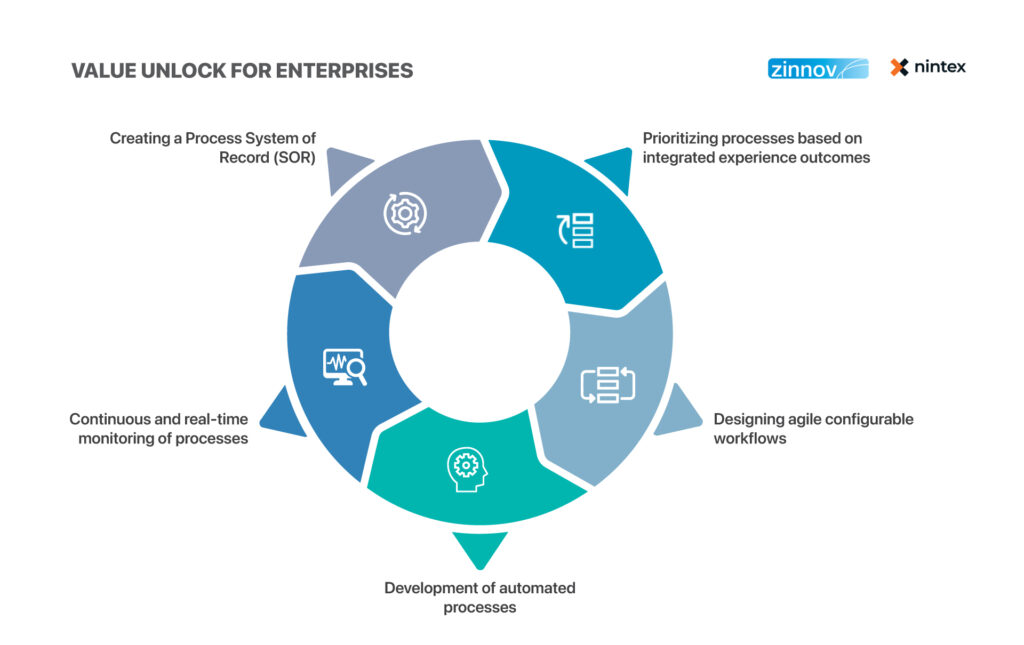 1. Creating a process System of Records (SOR):
Recreating a key business process with the intention of raising output, quality, and cutting costs is easier and faster with process intelligence. It entails critically examining the process workflows to identify inefficiencies and areas of improvement along with sequentially documenting the steps involved in executing the process end-to-end.
Case Study: McDonald's adopted Nintex Promapp to document the HR processes and streamline them for 152 restaurants across Auckland. This helped decrease reliance on HR teams and consistency across locations.
2. Prioritizing processes based on integrated experience outcomes:
Process Intelligence solutions, along with accurately documenting business processes, can also help business analysts rank the processes in order of efficacy of automation. The processes are ranked in descending order of being suited for automation based on the enhancement of customer, employee, and partner experience, thus generating a pipeline of processes to be automated backed by data & insights.
Case Study: Auswide Bank leveraged the Nintex Process Manager to visualize and improve 900+ core banking processes such as loan origination, customer onboarding, account opening, etc. They then prioritized the processes on the basis of customer and employee experience enhancement to be automated by RPA.
3. Designing agile configurable workflows:
Businesses need to be agile with their business processes to quickly adapt to regulatory changes, seasonal demands, and macroeconomic factors. Thus, the workflows designed need to be easily configurable to changing business environments and Process Intelligence empowers business analysts to do that.
Case Study: Wizz Air successfully mapped out 1,100+ processes and used the documentation to understand and redesign the processes delivering a great flying experience at the lowest cost to customers.
4. Development of Automated Processes:
After mapping out the business processes and optimizing them by reducing process redundancies, Process Intelligence tools can help build and design automated processes. Process Intelligence tools can integrate with RPA platforms to design integrated workflows for bots to follow and optimize and automate the business process.
Case Study: Soar Print leveraged Nintex Process Manager to revamp their business processes and workflows resulting in reduced quality issues, improved turnaround times, and real-time updates of the performance of new processes.
5. Continuous & real time monitoring of processes
85% of enterprises believe that Process Intelligence is an ongoing activity and is central to improving business operations and instilling an organization-wide culture of continuous improvement. It assists enterprises in navigating uncertain business environments, enhancing their resilience, and developing long-term sustainable business practices.
Case Study: ClearView implemented Nintex Promapp for process standardization to increase efficiency and productivity which helped drive continuous improvement within the organization.
Process Intelligence tools are further pushing the envelope for Intelligent Automation
Currently, 54% of enterprises have already adopted Process Intelligence tools as a part of their Intelligent Automation strategy spending USD 400Mn annually. This spending is expected to increase at a steep CAGR of 75% and more than 80% of enterprises are expected to be using Process Intelligence solutions by 2024.
As enterprises are maturing in their Intelligent Automation journeys and are looking to automate more complex processes and use cases, Process Intelligence tools will significantly aid business analysts to help them prioritize the next set of use cases to be automated based on the cost savings delivered, ease & feasibility of automation, and the extent of integrated outcomes delivered to the stakeholders. Process Intelligence will be a more integral part of enterprise automation charters going forward.
While we can comfortably predict a rise in the adoption of Process Intelligence by enterprises, we also expect the value that enterprises can derive to grow exponentially when more and more enterprises start leveraging the technology in a meaningful manner.
If you are looking to explore Process Intelligence further or create an Automation strategy for your organization, contact our experts at
info@zinnov.com