As the world increasingly values and strives for an Experience Economy, technology enterprises are also taking steps to ensure they're in sync. Enterprises are moving beyond just looking for efficiency and productivity from their technology investments to offering superior experiences for all stakeholders – customers, employees, and even partners. To empower businesses and to drive integrated experience outcomes, enterprises are leveraging the current avatar of Automation – Hyper Intelligent Automation or HIA – which is powered by agile configurable workflows. It is a powerful confluence of Process Intelligence, Intelligent Document Processing, RPA, Low Code/No Code application development, and Intelligent Virtual Agents, built on a stack of Advanced Intelligence capabilities and Next-gen Infrastructure.
Intelligent Automation 2022
Powering The Enterprise Systems Of Experience (Sox)
Download here
Why IT Automation?
Automation efforts of companies continue to be centered around horizontal functions, and IT is one of the largest focus areas. Zinnov's annual Global CXO Survey of 250+ CXOs leading Automation programs revealed that ~55% of enterprises are focusing on the IT function.
IT Automation (ITA) is not a new concept; it has been around for a long time in the form of discrete automation tools. Early monitoring tools like top, vmstat, fuser, syslog became available with the inception of UNIX. We have witnessed the early 90s, which was prominently dominated by some very popular network management tools such as Systems and Network Monitor (SNM), Nigel's Monitor (nmon) that continue to be widely used to this day. Today, IT Automation has donned a new avatar which is a confluence of multiple advanced technologies Under the HIA ambit. These technologies together, enable processes to execute faster, with higher efficiency and accuracy, enabling greater experience for the stakeholders involved.
IT Automation is a powerful tool that can help scale a business, given the criticality of technology for all business processes, and allow IT staff to focus on strategic tasks instead of administrative ones. The ITA arena is centered across three fundamental segments – IT Operations Management (ITOM), IT Service Management (ITSM), Application Development, and Maintenance (ADM).
IT Automation Value Chain and Key Use Cases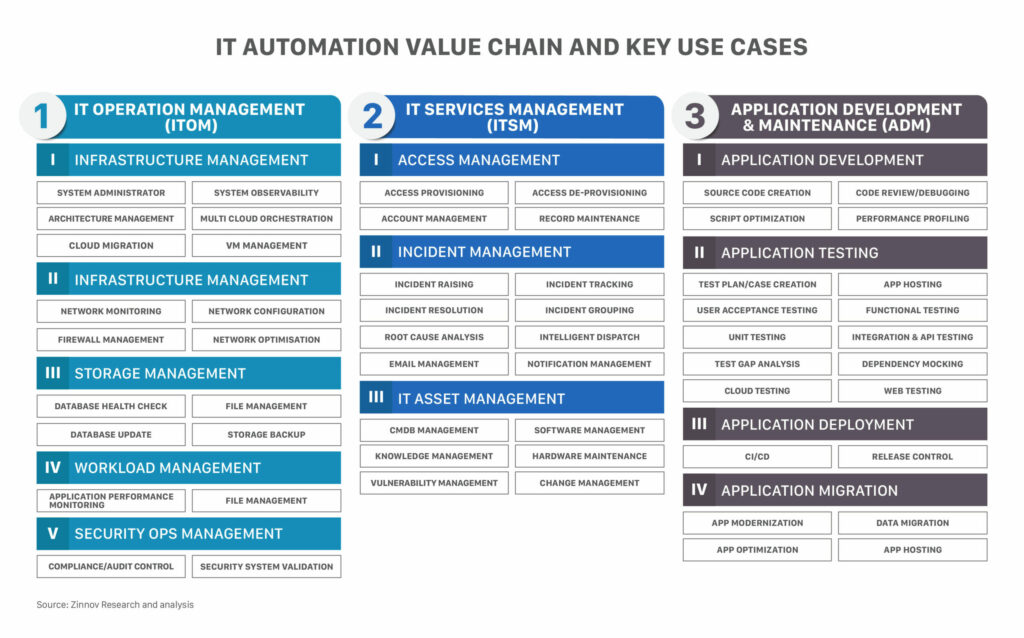 The enterprise spend on IT Automation is USD 3-4 Bn in 2022 and is expected to reach USD 25-30 Bn by 2027, growing at a CAGR of 50-55%. While the focus on experience-related outcomes for enterprise stakeholders is pushing the demand for Automation, there are multiple factors that are leading to the growing significance of IT Automation. One of the top factors is the increasing complexity of the IT landscape in global organizations. To put matters in perspective, there are more than 350 apps on an average within large global companies!
Zinnov is tracking over 300 platforms that are targeting the IT Automation segment including technology giants, specialist IT Automation vendors, traditional ITSM/ITOM players, horizontal Automation platforms, and even Open Source platforms. ~USD 8 Bn of capital has been poured into the space cumulatively in the last 10 years, thanks to the growing interest from venture and PE funds. Given the evolving nature of the segment and a growing market opportunity, there are new platforms being launched in the market. There have been close to 30 companies offering IT Automation platforms that have been founded in 2022 alone.
Who is leading the ITA race?
Zinnov Zones for IT Automation – H2 2022 – the industry's first, most comprehensive, and best-in-class assessment exercise for IT Automation platforms is aimed at gauging how equipped these vendors are to cater to the rising demand for Automation of processes across the ITA value chain. As part of this assessment, we evaluated 30+ IT Automation platform vendors on their prowess and scale of operations to identify the kingpins and visionaries. The study rates the players based on overall capabilities across the IT Automation value chain, comprising the 3 segments – IT Operations Management IT Service Management, Application Development, and Maintenance.
In line with the changing paradigm of the Automation space and the evolving narrative on how Automation will be an imperative part of the growth strategies for companies in the future, eight platforms have emerged as leaders in the IT Automation category – Amelia, ServiceNow, Resolve.io, IBM, Microsoft, UiPath, SAP, and Arago. These platforms have showcased immense focus across the IT Automation stack to enable enterprise-wide deployment through consistent product innovation, strategic investments to expand market footprint, and building ecosystems around their platforms.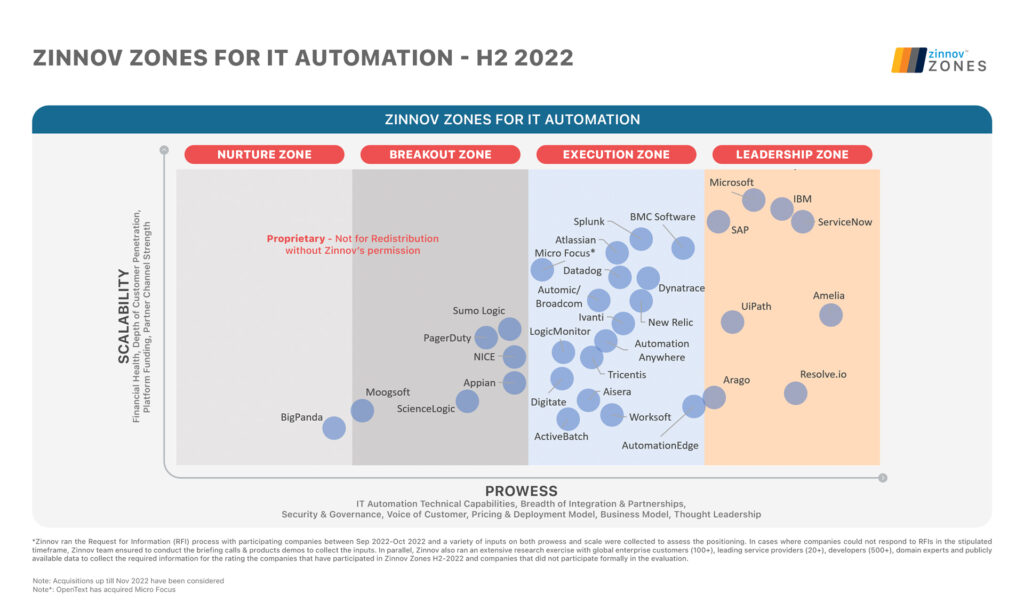 A detailed view of the ratings for IT Automation segment can be accessed on the Zinnov Zones website.
Based on our in-depth interactions with CXOs of Automation platforms and Service Providers, enterprise Automation decision-makers, and industry SMEs, we have identified five key trends that are shaping the IT Automation ecosystem.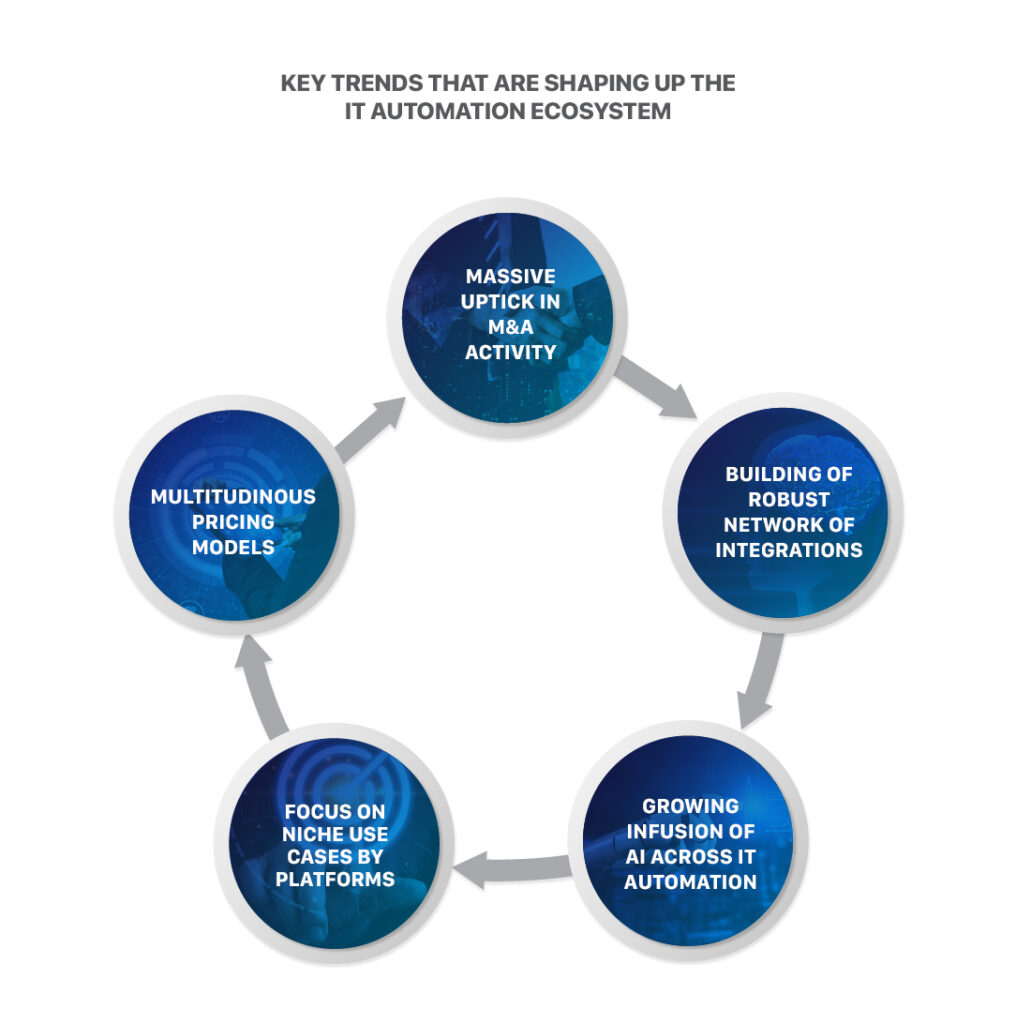 1. Massive Uptick in M&A Activity
Platforms have been opting for acquisitions to build end-to-end IT Automation capabilities across the value chain. The IT Automation ecosystem witnessed 140+ acquisitions with Cybersecurity, Cloud Management, and Monitoring/Observability being the major focus areas. Most recently, ServiceNow's acquisition of Era Software was focused on strengthening the company's position in the observability market.

2. Building a robust Network of Integrations
Integration with various enterprise systems is critical for the success of IT Automation platforms. According to Zinnov's analysis of 30+ leading players in the IT Automation space, platforms have 165+ integrations on average. Leading companies like ServiceNow have built an enormous network of 230+ integrations.

3. Growing Infusion of AI across IT Automation
Artificial Intelligence (AI) is one of the keys to unlocking newer avenues for IT Automation, helping enterprises execute newer use cases as well as improve the quality of outcomes. IT Automation vendors are adding capabilities around AIOps, Conversational AI, and Predictive Insights to strengthen their platforms. For instance, Resolve's AI-Powered Insights is enabling full-stack infrastructure visibility, supporting multi-layer relationships between applications, and hybrid infrastructure.

4. Focus on Niche Use Cases by Platforms
More than two-thirds of the platforms in the IT Automation ecosystem are specialists, focused on serving niche use cases to customers. The top 3 areas of specialization include Infrastructure Monitoring, Security Automation, and Test Automation. For example, leading platforms such as LogicMonitor and Datadog are specialists focused on infrastructure monitoring.

5. Multitudinous Pricing Models
IT Automation platforms have universally adopted the subscription-based pricing plans, with only a handful (<20%) still offering perpetual licensing option. Within subscription-based plans, there are 5 types of models being offered and adopted by platforms – User-based (57%), Consumption-based (53%), Feature-based (37%), Process-based (20%), and Outcome-based (4%). Further, most platforms are leveraging free trials (56%) and freemium offerings (24%) to push their platforms to customers.
The race to emerge as the best platform for IT Automation is fueling the continued excitement and innovation in the space. There is an ever-increasing reliance on technology – and consequently, the growing complexity of enterprise IT environments, which in turn lead to greater demand for IT Automation. With rapidly increasing demand, a dynamic platform ecosystem, and constant technological innovation, IT Automation is truly turning into the next frontier for Hyper Intelligent Automation.  
If you are looking to get a detailed perspective around enterprise IT Automation or looking to formulate a comprehensive strategy for your organization in the space, we can help you out! Get in touch with us at
info@zinnov.com
.