Continuing its bullish run, automation major UiPath announced its latest Series F round of funding to the tune of USD 750 Mn, at a staggering valuation of USD 35 Bn! This takes its valuation multiple to a whopping 87X! This funding round comes close on the heels of a planned IPO; UiPath confidentially filed for an IPO earlier in December 2020. Coincidentally, about the same time, Databricks – the Data and AI unicorn – also announced a funding round of USD 1 Bn, which takes its valuation to USD 28 Bn. Interestingly, both UiPath and Databricks have now become two of the most valuable privately-held tech companies in the US and are being touted as the most anticipated tech public offerings of 2021. The latest funding rounds and astronomical valuations have triggered debates on whether they should rather go the direct listing (or DPO) route, than the traditional IPO.
We, at Zinnov, have been tracking UiPath closely over the past several years and have also engaged with their senior leaders across multiple initiatives. Given our working relationship with the automation vendor, we have delved deeper into their exciting journey so far, how this Romania-incepted company was able to disrupt the Intelligent Automation (IA) space, and how they have successfully mastered the numbers game over the years with never-before-seen valuation multiples.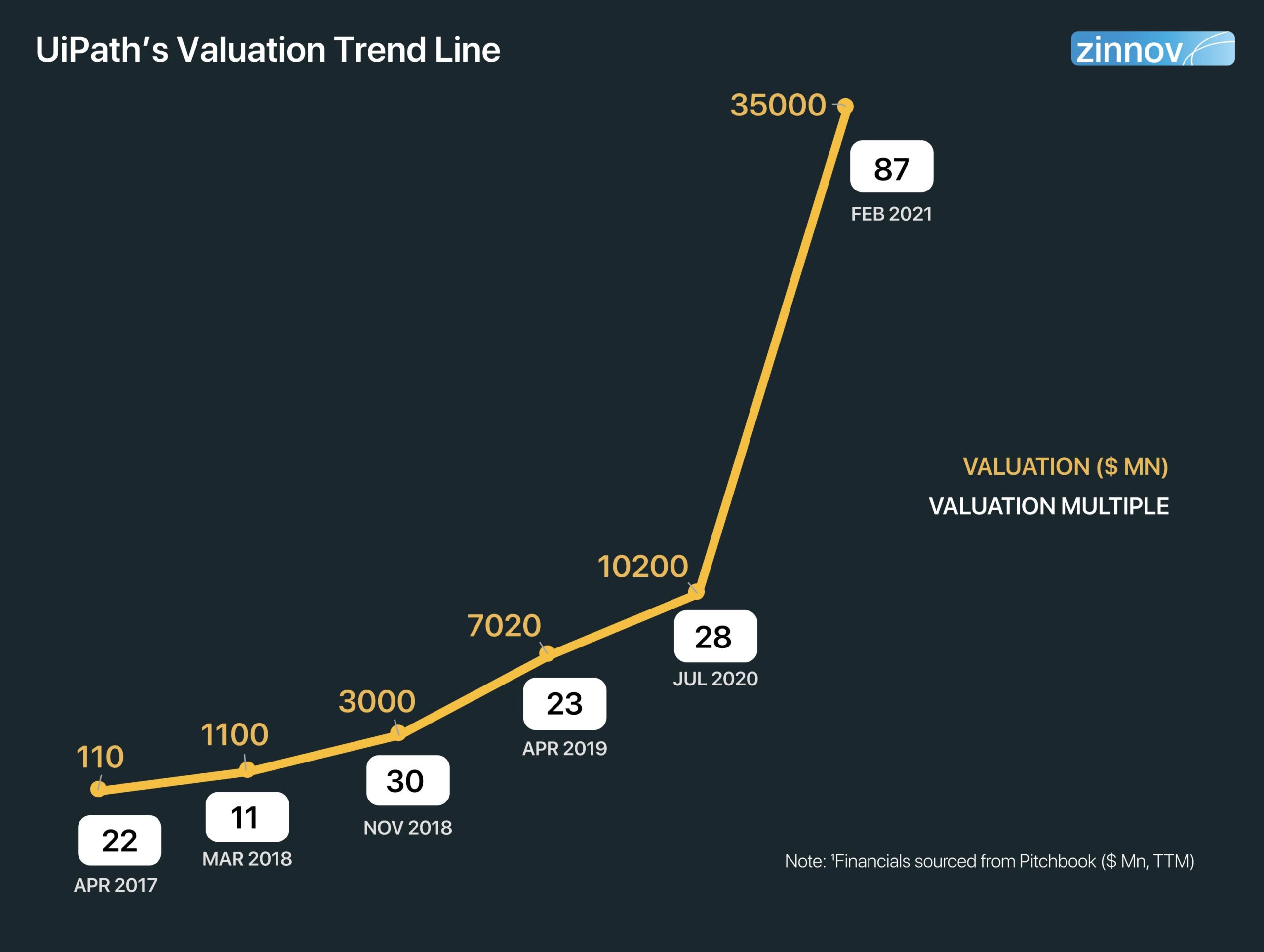 UiPath's Automation Journey so far
UiPath was founded in Bucharest, Romania in 2005 as DeskOver, focusing on screen scraping for surface-level (or UI) automation. The company pivoted to the RPA space during the 2012-13 timeframe and launched a more business-friendly product. The first major inflection point came when it bagged its first major RPA implementation with a BPO major who used UiPath's solution to automate 50 processes for a key IT customer. Over the next couple of years, it focused on BPO customers and to add more capabilities around Citrix automation. DeskOver was formally renamed to UiPath in 2015, and got incorporated in New York, USA. The same year, its enterprise-grade automation platform was launched, as well as first partnerships with BPO/Consulting firms were struck. During this time, the company also raised its first seed funding of USD 1.6 Mn. Additionally, it continued to build momentum on its unattended RPA product, focusing primarily on the automation of back-office processes in 2016. Quickly ramping up to around 100 enterprise customers, UiPath opened offices in London and India, and also increased its headcount to 100.
The next four years marked the beginning of its meteoric growth. 2017 was the year when it changed its positioning to become a "hybrid" automation player – ramping up focus on attended RPA (or automation of front-office, customer-facing processes), along with unattended RPA. The company's master narrative changed to how RPA can also help enhance employee experience, and Daniel Dines, CEO of UiPath, began popularizing the "one bot for every employee" vision. It then embarked on a major expansion spree, opening 10 global offices and reaching 500 enterprise customers. This is also when it secured its Series A funding of USD 30 Mn, led by Accel.
"Bill Gates used to talk at Microsoft about a computer in every home. I want a robot for every person."

– Daniel Dines, CEO, UiPath

In 2018, the master narrative for UiPath (and for the RPA space in general) changed to "Intelligent Automation," with aggressive positioning around how RPA, interspersed with Artificial Intelligence (AI)/Machine Learning (ML), can cater to more complex use cases and unlock greater opportunities. This is when the company struck industry-leading partnerships across the board – with AI/ML start-ups such as Datarobot, to Intelligent Document Processing (IDP) specialists such as Evolution.AI and Ephesoft for OCR capabilities. Its Series B funding finally catapulted them to "Unicorn" status with a valuation of USD 1.1 Bn. In addition, it also announced collaborations with process mining vendors from Europe such as Celonis, Minit, and myInvenio showing focus towards a scientific approach for discovering automation use cases. Additionally, UiPath also showed intent to partner with Low Code platforms such as Agilepoint, for its iBPMS and orchestration capabilities. In the same year, another round of funding – Series C – later in the year, took their valuation to USD 3 Bn.
While the seeds for (what we now refer to as) Hyper Intelligent Automation (or Intelligent Automation) were sown in 2018, this was amplified to a great extent in 2019 and 2020. UiPath announced native capabilities with its AI Fabric and ML Extractor toolkit, focusing on Computer Vision and OCR for document processing. Also introduced was the Test Suite to reinvent test automation scenarios. In addition, it continued to strike industry partnerships with leading players such as H2O.ai, Arria, Abbyy, Hyperscience, Rossum, etc. On the iBPMS side, the company expanded its partnership with Low Code platforms such as Appian, IBM Bizagi, Bonitasoft, among others.
The highlight of 2019 was its acquisition of two European players – ProcessGold and StepShot – to bolster its process mining and process documentation capabilities, showing intent to target the process discovery space seriously. This was followed by its native Explorer suite of products launched in 2020 for process discovery. In addition, UiPath continued to enhance native capabilities on AI/ML, along with forging ecosystem partnerships. This was also the time around when UiPath formally started positioning itself as an Intelligent Automation player. During its flagship Reboot Work Festival, the company made several product announcements including its new product 20.10, Low Code tool (UiPath Apps), and put forth its vision for a Fully Automated Enterprise. And evidently, during the 2019-20 timeframe, UiPath's Series D and E rounds catapulted its valuation to USD 7 Bn and USD 10 Bn respectively. Today, the company's enterprise customer list boasts of more than 6300 names including flagship logos such as Bank of America, Amazon, Verizon, the CIA, the US Navy, McDonald's, Duracell, and Swiss Re.
UiPath has always displayed a knack for staying ahead of the curve with respect to product innovation and has consistently added vital new components to its platform. What started out as a simple RPA product, has today transformed into a full-blown platform with end-to-end focus on Intelligent Automation, adding critical building blocks such as process mining, task mining, AI/ML, Intelligent Document Processing (IDP), OCR, iBPMS, and Low Code / No Code.
In our recently released comprehensive annual ratings – Zinnov Zones for Hyper Intelligent Automation – H1 2021 – UiPath has emerged as a clear leader, both in terms of technical prowess and scale. Below is UiPath's mapping on our proprietary Intelligent Automation framework.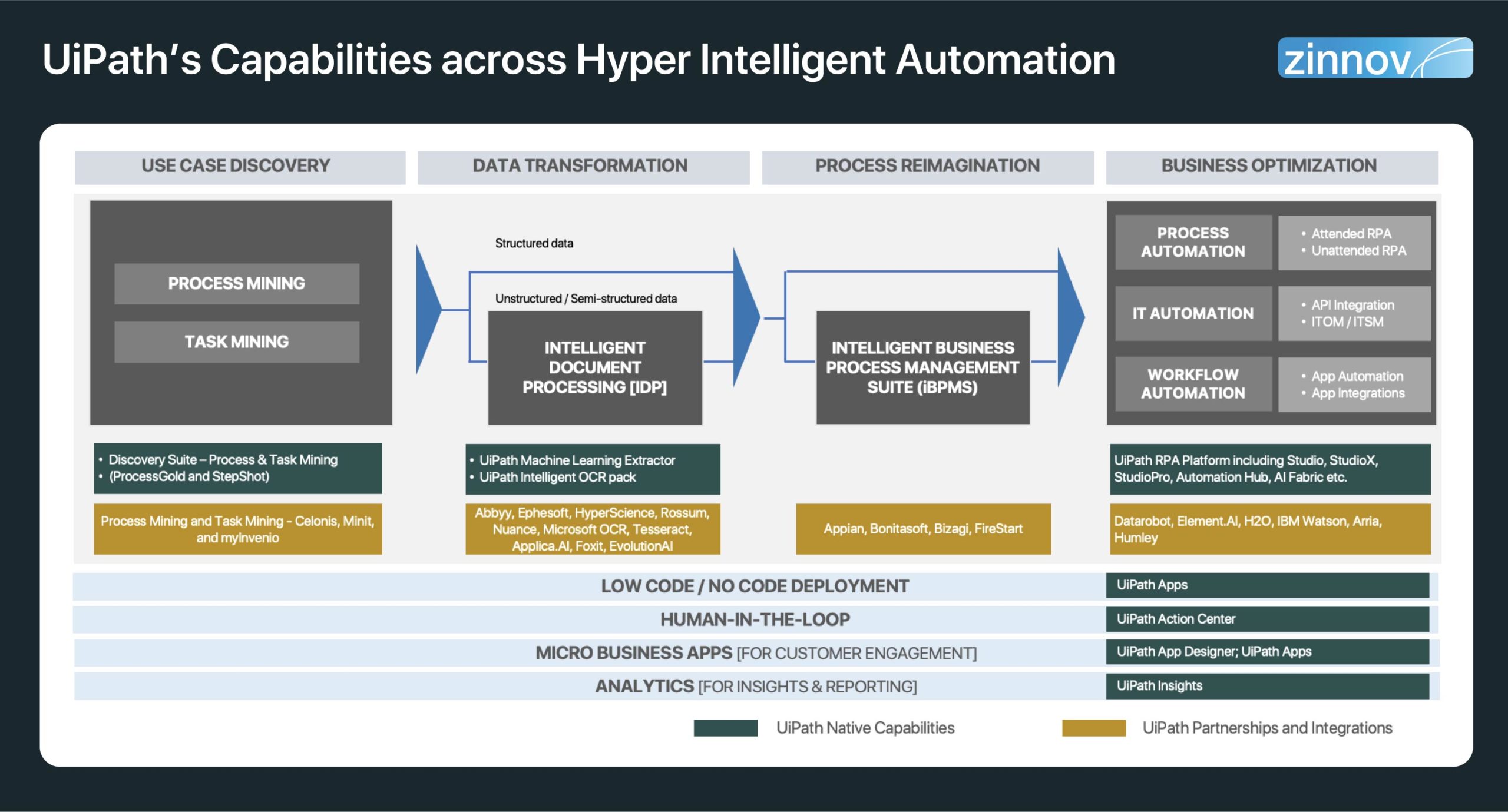 While UiPath's focus on product innovation, expanding the Intelligent Automation value chain, and striking industry-leading partnerships over the years have been critical factors to its success, there are several other factors that make the decacorn's strategy stand out. These include its EBITDA improvement and innovation through globalization, diverse geographical footprint, and investments in world-class talent.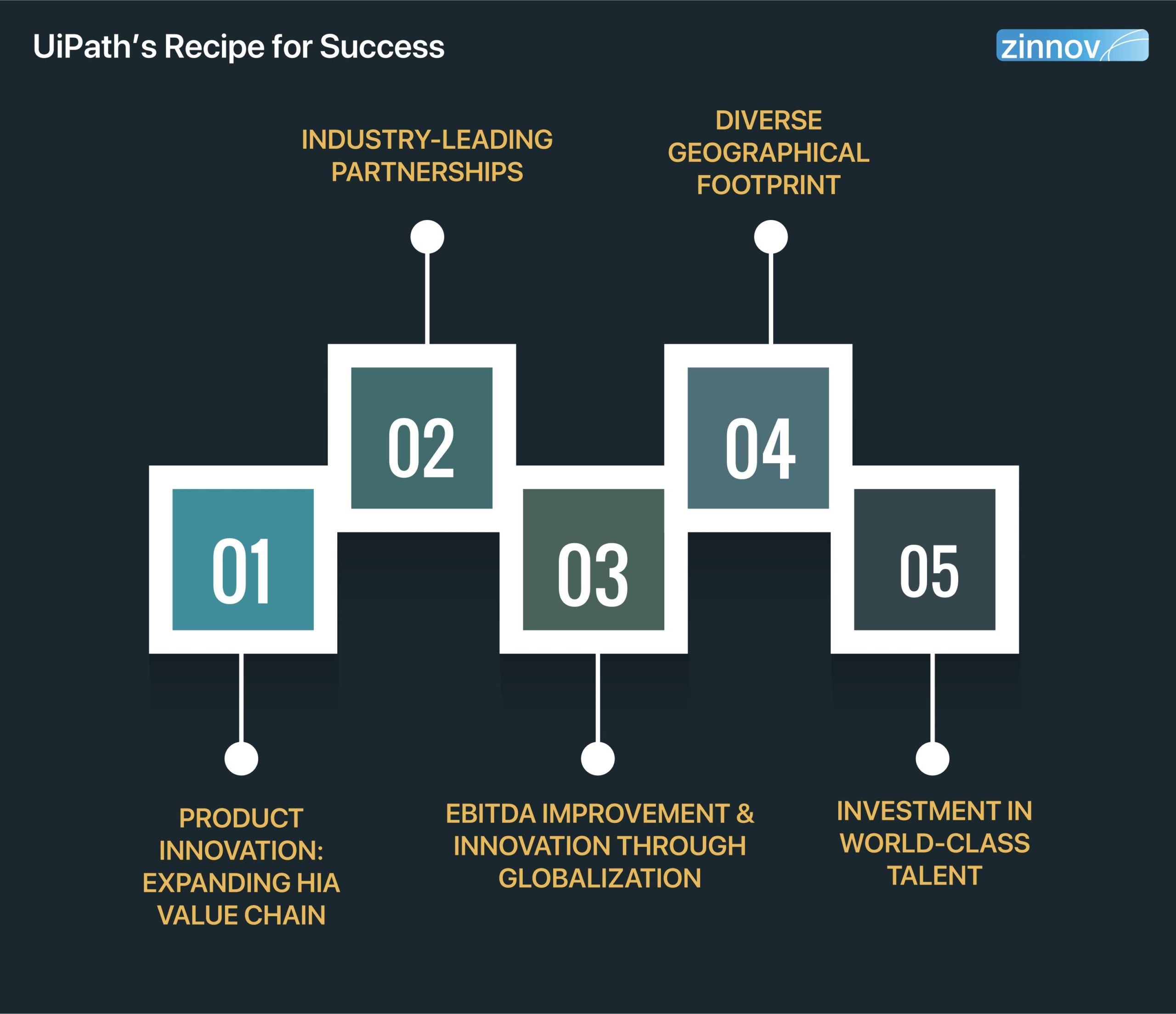 EBITDA Improvement & Accelerated Innovation through Globalization
Globalization is a critical consideration to reap the benefits of cost-effective locations and their innovation ecosystem. UiPath has more than 60% of its Engineering R&D workforce present in affordable cost locations such as Bucharest in Romania and Bangalore in India. While Romania continues to remain its top R&D center, India has also shaped up to become a major R&D hub for the company, accounting for almost 1/4th of its total R&D talent. And there are aggressive plans to ramp this up further. This has been a key differentiator for UiPath vis-à-vis its competitors, since there are an increasing number of platform companies that continue to have large R&D centers and innovation teams present in high-cost locations such as in the US, which is sub-optimal.
Diverse Geographical Footprint
UiPath has built itself into a truly global company with a broad footprint across major geographies. While the bulk of its revenue still comes from North America, the company does have a sizable revenue footprint from other regions such as EMEA (Europe, Middle East, and Africa) and APJ (Asia Pacific and Japan). On the other hand, other players in the automation space have struggled to spread their wings outside North America, and some were even forced to shut shop or deprioritize their focus from Europe or APAC during COVID.
Investments in World-class Talent
Talent has been the other major differentiator for UiPath. The company has always focused on attracting top-notch talent across the hierarchy. For instance, Bobby Patrick was onboarded as the Chief Marketing Officer back in 2017 (he was earlier the CMO for HPE Cloud). He quickly became the voice of UiPath and has been instrumental in consistently elevating its positioning. Post that, Param Kahlon was bought onboard as the Chief Product Officer, who came in with a rich experience of working with players such as Microsoft and SAP on their product side. He played a significant role in building a robust product team and crafting an industry-leading product.
There have been other similar high-profile leaders over the years who have been brought into the fold. Daniel Dines has ensured that he has stars at the top echelons to steer the company to success. In fact, in the recent past, UiPath has been on a hiring spree, having onboarded multiple high-profile leaders. Rick Harshman was brought onboard as the SVP and MD for APJ, who was earlier with Google Cloud as the MD for APAC region. Another recent appointee is Renzo Taal as the SVP and MD for EMEA region; he was hired from Salesforce, where he was the SVP for Asia region. This also ties in closely with the company's deep focus on APJ and EMEA as key geographies. UiPath has also onboarded several key leaders to its Board of Directors – including Jennifer Tejada (Chairperson & CEO – PagerDuty), Michael Gordon (COO & CFO – MongoDB), Kim Hammonds (ex-COO – Deutsche Bank), among others.
Clearly, UiPath has followed this playbook of sorts, made the right investments, and displayed maniacal focus across these 5 parameters to truly differentiate itself and emerge on top. Consequently, we have also seen its valuation and multiples soar higher than anyone ever imagined.
The Billion-dollar Numbers Game
Though UiPath was founded in 2005, it started raising institutional capital only in 2015. Till date, the company has raised USD 1.95 Bn in funding through VCs, venture arms of technology companies, PE firms, and a few other investment vehicles. Alkeon Capital, Coatue, Altimeter Capital, Dragoneer, IVP, Sequoia, CapitalG, and Tiger Global are among the prominent investors.
When the valuations are analyzed against their revenue numbers, several interesting facts surface. Below is a summarized view of UiPath's journey over the years, including its evolution of market positioning and the hybrid approach of building in-house, acquiring capabilities, and/or partnering with specialists in order to possess end-to-end holistic play across the HIA framework. The "HIA Intensity Score Card" also rates UiPath's intensity of focus on HIA, depending on its capabilities and investments at that point in time. The HIA intensity ties in closely with its subsequent valuations and multiples.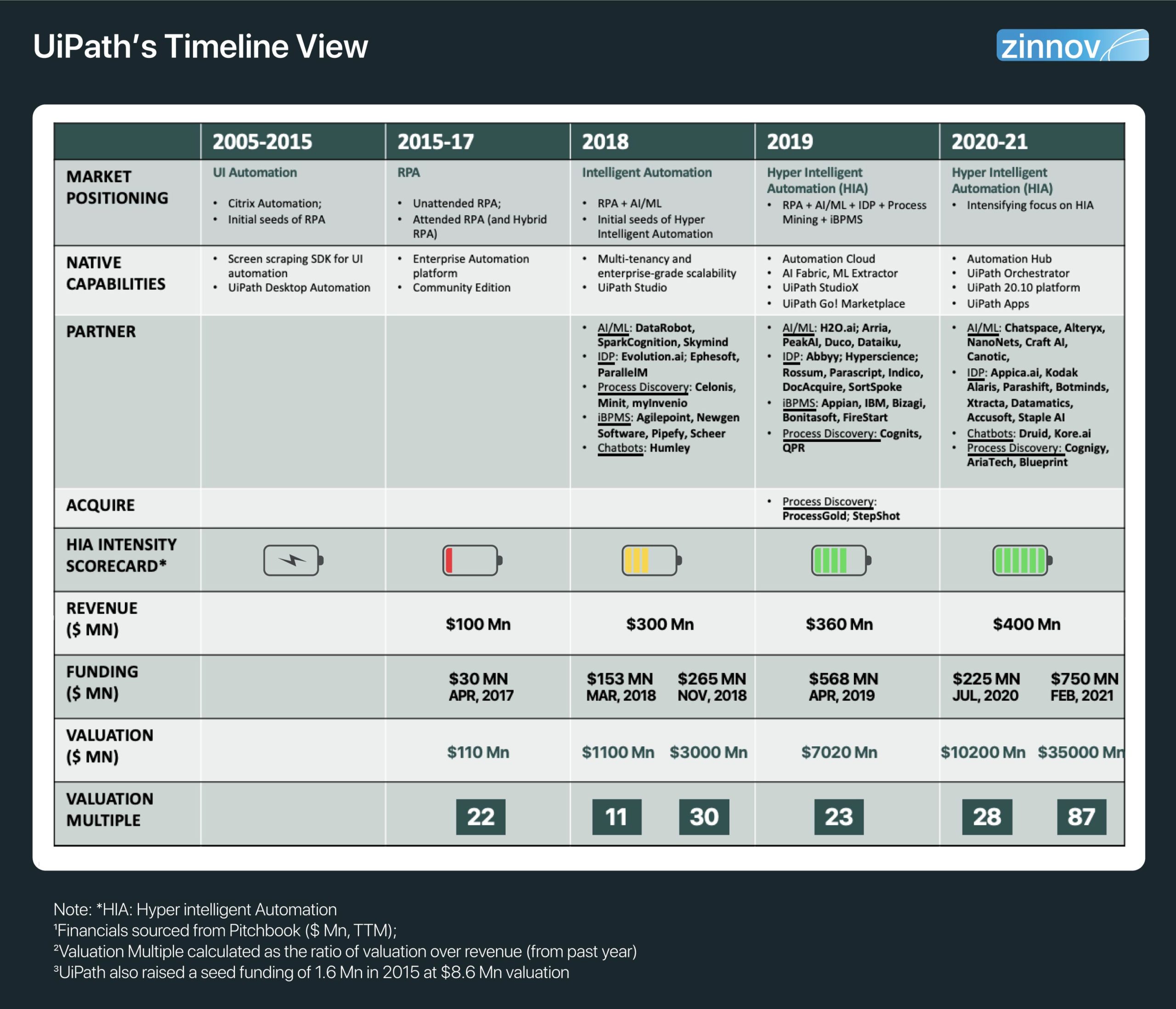 The strong correlation between UiPath's intensity of focus on HIA and the subsequent amplification of its valuation is clear. The moment the company started pivoting towards Intelligent Automation and HIA in early 2018, it saw its valuation soar and catapulted it to unicorn status. As it strengthened its focus on HIA, with change in positioning and making deep investments and industry-leading partnerships across HIA, UiPath witnessed a rapid amplification in its valuation in 2019 and 2020; in fact, it became the first automation platform to achieve the decacorn status with its Series E funding round in 2020.
Clearly, UiPath has turned into an amazing success story of how a Romania-incepted start-up, steadily marched toward the top and ended up disrupting the automation space altogether. With its latest funding round and the astronomical valuation of USD 35 Bn, UiPath has leapt miles ahead compared to its competition. In fact, the second largest player, Automation Anywhere, is currently lagging at a valuation of USD 6.8 Bn (as per its last funding round back in November 2019). Automation Anywhere has a similar revenue profile to UiPath and was also rumored to go the IPO route in 2021! We will have to wait and watch as to the veracity of these rumors.
What Lies Ahead for the Automation Space
Even though UiPath has taken a massive lead in the automation space, we strongly believe that the Intelligent Automation space is not yet saturated and is still evolving at a rapid pace. The other players constituting the Big 3 vendors – Automation Anywhere and Blue Prism – are hungry for growth and will aggressively make greater investments within the automation space. Even traditional IDP players such as Kofax has done extremely well to reinvent themselves with end-to-end automation capabilities and positioning as an orchestration platform to function seamlessly in a multi-vendor environment. Intelligent Automation presents a sizable USD 65 Bn addressable opportunity today, and only ~USD 5 Bn has been realized so far. Hence, all the leading automation vendors – including UiPath – have only scratched the surface of the massive automation surface as of now. And this market is expected to ramp up to more than USD 40 Bn in the next 5 years.
Competition is already intensifying in this space with newer entrants coming in with newer capabilities. Technology majors such as Microsoft, IBM, and SAP are all behemoths who have made serious investments within the automation space with big bang acquisitions last year. Given the fact that these tech giants come with deep capabilities in AI/ML and established industry-leading partnerships, coupled with their deep pockets, make them formidable competitors in this space. Even other players such as ServiceNow, Google, and Adobe are already making significant investments within workflow automation and Low Code/No Code capabilities. In addition, even the Low Code/No Code vendors such as Appian, Nintex, Pega, etc., are eying this space with a laser-sharp focus. Appian and Nintex both recently made acquisitions to ramp up capabilities within RPA, and these players now provide holistic capabilities on Intelligent Automation including Low Code, No Code app development, and iBPMS, which are now being augmented with RPA capabilities.
Clearly, there is enough and more scope for disruption within the Intelligent Automation space. The race to the top is still on, and in fact, this will be more of a marathon, and not a sprint!
For all things Intelligent Automation, get in touch with us at info@zinnov.com.