The latest technology giant to join the Intelligent Automation (IA) bandwagon through a big bang acquisition is SAP. SAP recently acquired Apax-backed Signavio, and though the financials were not disclosed, the deal is being pegged at a whopping USD 1.2 Bn! Signavio was setup in 2009 in Berlin and had raised more than USD 230 Mn in funding till date. Their last funding of USD 177 Mn in Series C estimated their valuation at USD 400 Mn.
This SAP buy is a clear signal that it is bolstering its focus on the entire IA value chain. Earlier in December 2020, during SAP's TechEd Developer event, the version 2 of the iRPA product – the SAP Intelligent Robotic Process Automation 2.0 – was announced. The tech giant's plan was to embed a limited version with every SAP S4/HANA Cloud subscription this year onwards. Version 1 of its iRPA product was launched back in 2018, with a small acquisition of the France headquartered RPA vendor, Contextor. SAP's all-in approach is evident where, in addition to iRPA 2.0, it also announced two new Low Code / No Code products – SAP Cloud Platform Workflow Management for low code automation of enterprise workflows, and SAP Ruum for business users with no coding skills to automate departmental processes. This marked the tech major's entry into the big leagues, and this latest acquisition makes it a worthy contender in the IA space.

Low Code / No Code, without a doubt, has emerged as a critical capability in the arsenal of any heavyweight in the space. Microsoft already has its Power Apps, which is being augmented with Power Automate and RPA capabilities. Google announced its AppSheet acquisition early last year, and even AWS has launched Amazon Honeycode – its Low Code / No Code app development platform. Not to be left behind with a ringside seat, Salesforce also launched its Einstein Automate last year – its AI-powered workflow orchestration tool.
What the Signavio Acquisition means for SAP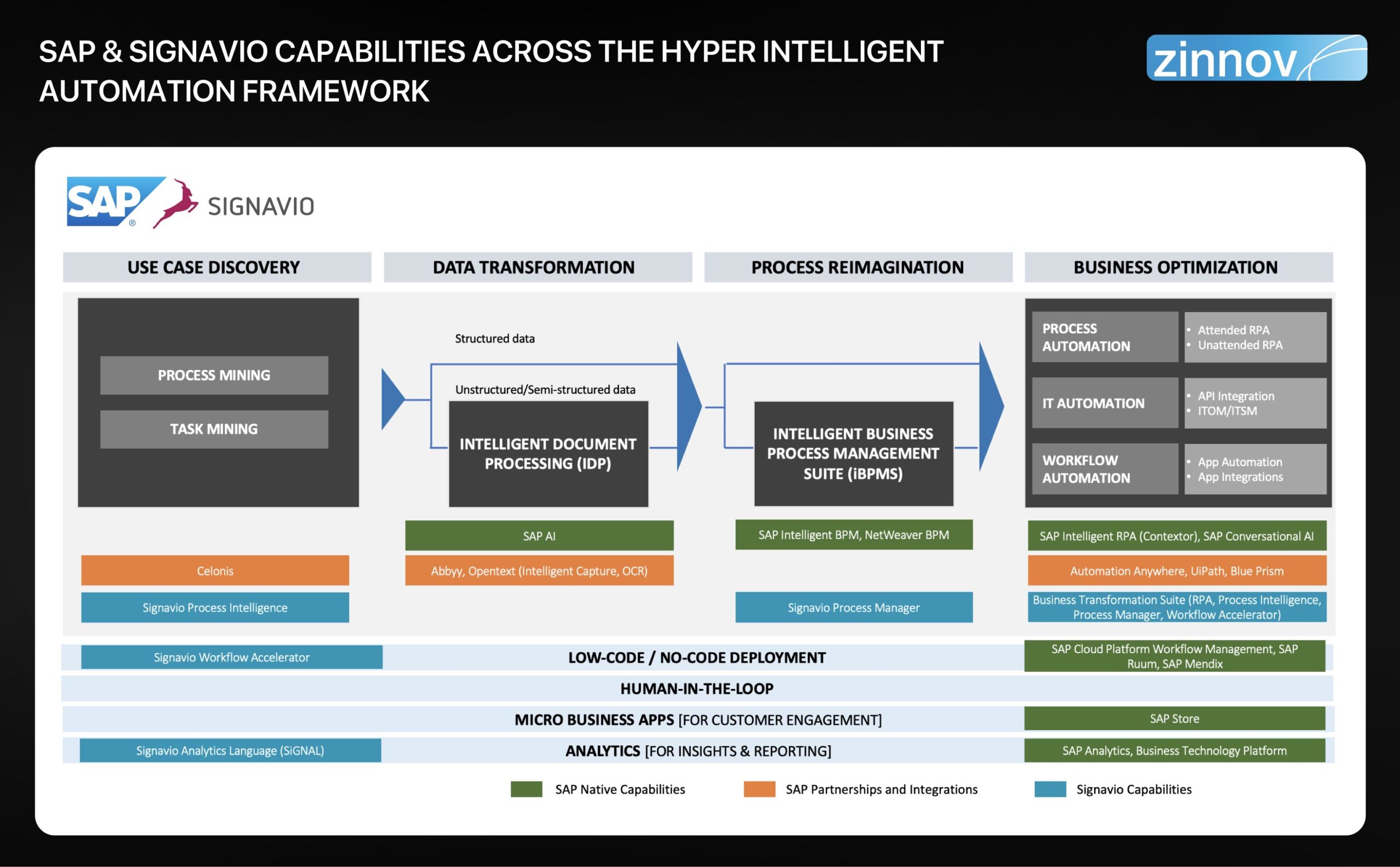 SAP has truly thrown its hat in the IA ring, as its latest acquisition and releases demonstrate its coverage across all elements of the IA framework. The one area which was missing from SAP's arsenal was around the iBPMS and Process Mining side, and its latest Signavio acquisition provides this capability. Signavio provides deep BPM capabilities to SAP, critical in today's multi-platform environment and also provides native process mining and process intelligence capabilities, making the coverage complete. In addition, the fact that Siganavio has a cloud-native platform, adds muscle to SAP's cloud strategy.
When we evaluated SAP's positioning in the current automation/IA space, the tech giant is in for a tough fight. It will be pound for pound as it will face intense competition from multiple categories of players – RPA incumbent vendors (such as UiPath, Automation Anywhere, Blue Prism, etc.), Low Code / No Code vendors (such as Appian, Nintex, Pega, etc.), and even other Tech Giants (such as Microsoft-Softomotive, IBM-WDG, etc.), among others. Their entry at this point may have them punching above their weight, as every enterprise account it intends to target, will in all probability have two or more automation vendors already present. Hence, the entry point for SAP with its automation offering would be quite a difficult fight. This is where its recent Signavio acquisition will come in very handy. BPM capabilities from Signavio will allow SAP to function seamlessly in a multi-vendor environment, and in fact, provide an orchestration layer for all other platforms as well. In addition, it can also enter enterprise accounts with its (newly acquired) process mining capabilities to discover newer use cases for automation. More importantly, SAP is expected to provide a decisive blow to the automation incumbents by targeting the enterprise accounts that are highly reliant on its ERP platform, and cross-sell the automation/IA offerings. In fact, SAP has been boxing clever, and has already been embedding a limited edition of its iRPA 2.0 within the SAP S4/HANA cloud subscriptions from the beginning of this month. The Signavio acquisition signals that SAP's gloves are off, and that the tech giant is here for the win.
What lies ahead?
Intelligent Automation is now a battle of the heavyweights, with developments happening at breakneck speed. SAP has undoubtedly taken a big bet in automation, and with its recent acquisition, the tech giant has gone all-in. 2021 will be a critical year for SAP as well as other automation players, as the match unravels to see if there will be a definitive winner, who takes all.
For more comprehensive analyses and research on all things Automation, write to us at
info@zinnov.com
.