The Automation space has suddenly become hotter than ever before. While Microsoft paved the way for Tech Giants' increasing interest in the Automation space with their Softomotive acquisition earlier in May, IBM announced its acquisition of WDG Automation last week (8th July 2020). There were speculations on an RPA-focused acquisition in the offing since Arvind Krishna came to the helm as the new CEO in April 2020. This is in fact the second acquisition since Arvind took over the reins, and comes on the heels of their acquisition of Spanugo (Cloud compliance player) in June. The IBM-WDG deal is expected to close by Q3 of 2020.
So post the Microsoft and IBM acquisitions, one thing is certain – the Technology Giants that were hitherto only flirting with Automation, are now eyeing the Automation space seriously, and in a big way!
It's interesting to see that IBM too went ahead to acquire a smaller vendor within Automation, and similar in size to other acquisitions in this space. Think about Softomotive (acquired by Microsoft in May 2020), or Jidoka (acquired by Appian in Jan 2020), or Foxtrot (acquired by Nintex in Mar 2019), or even Contextor (acquired by SAP earlier in 2018). There have been a lot of theories writing off consolidation in Automation/RPA space due to crazy valuations of the top platforms (the Big 3 platforms are now USD 18 Bn+ in combined valuation!), but clearly there are enough and more smaller vendors out there with valuations more conducive for acquisitions. And larger companies continue to take this route to plug in the gaps with respect to their Automation capabilities.
WDG is a small, niche vendor founded in 2014 in Sao Paulo, Brazil. While they were under the radar in North America and Europe, they are a relatively well-known RPA vendor in Brazil/LATAM region. WDG is focused primarily on attended RPA and customer experience Automation, and claims to provide chatbots, Interactive Voice Response (IVR), and other AI tools along with RPA. Interestingly, the company also has Click-Mining, which seems to provide Task Mining capabilities by helping prioritize RPA deployments with their pre-built scripts. Its list of logos points towards a focus on more mid-sized customer base (majorly in LATAM), and lesser focus on large enterprise-style logos.
The IBM Automation Journey so far
IBM made its first big bang announcement in Automation with its WDG acquisition, but Automation has been a focus for the company over the last several years.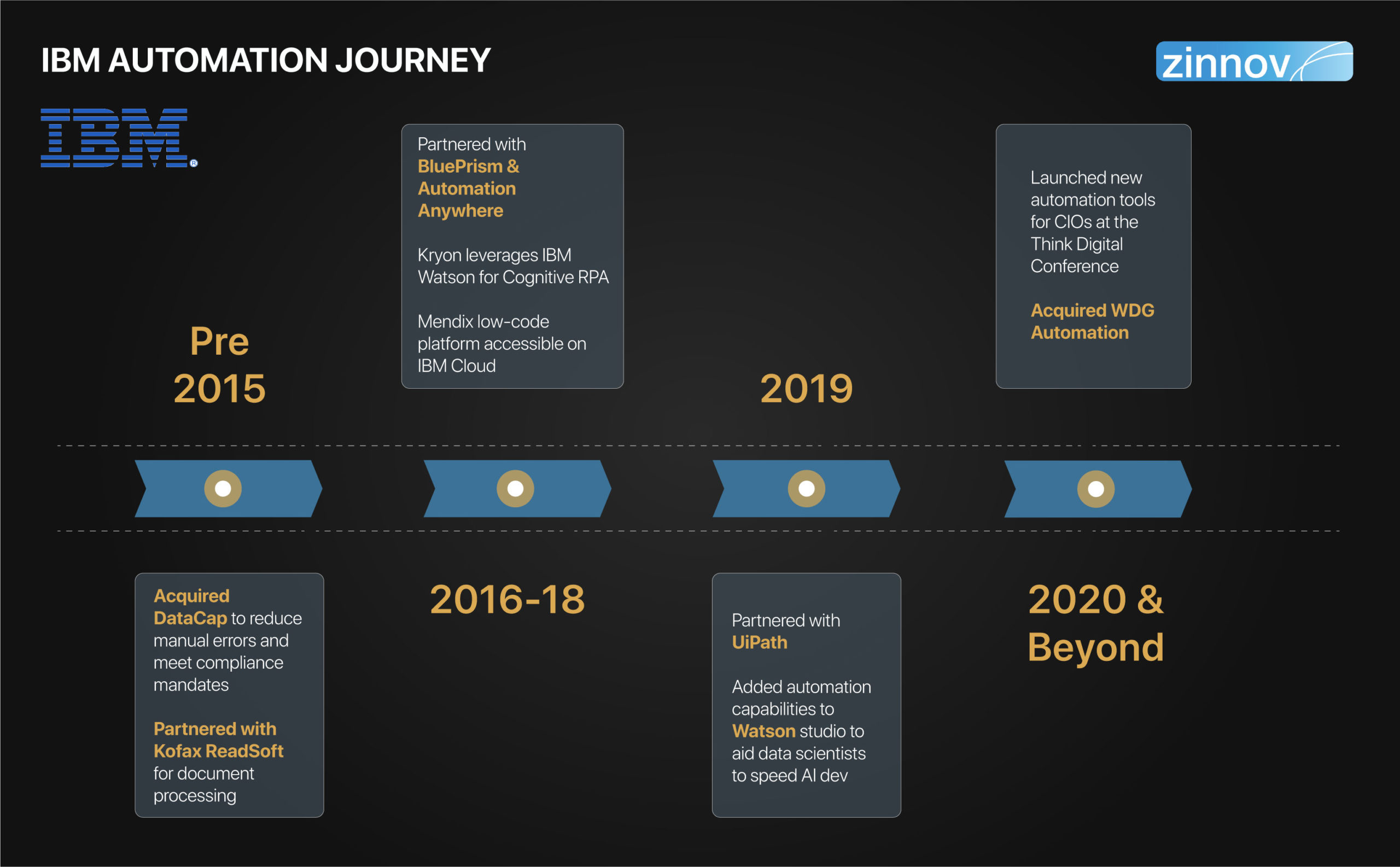 IBM has been strong in the Intelligent Document Processing (IDP) space with the Datacap offering, and Watson Discovery capabilities. The company further augmented it with industry partnerships – such as with Kofax ReadSoft. In terms of RPA capabilities, IBM had been partnering with other RPA vendors – including the Big 3 firms (UiPath, Automation Anywhere, and BluePrism) and also other players such as NICE Systems, Kryon, Softomotive, etc.
We also analyzed IBM on our Hyper Intelligent Automation (HIA) framework to gauge how holistic their Automation focus has been so far.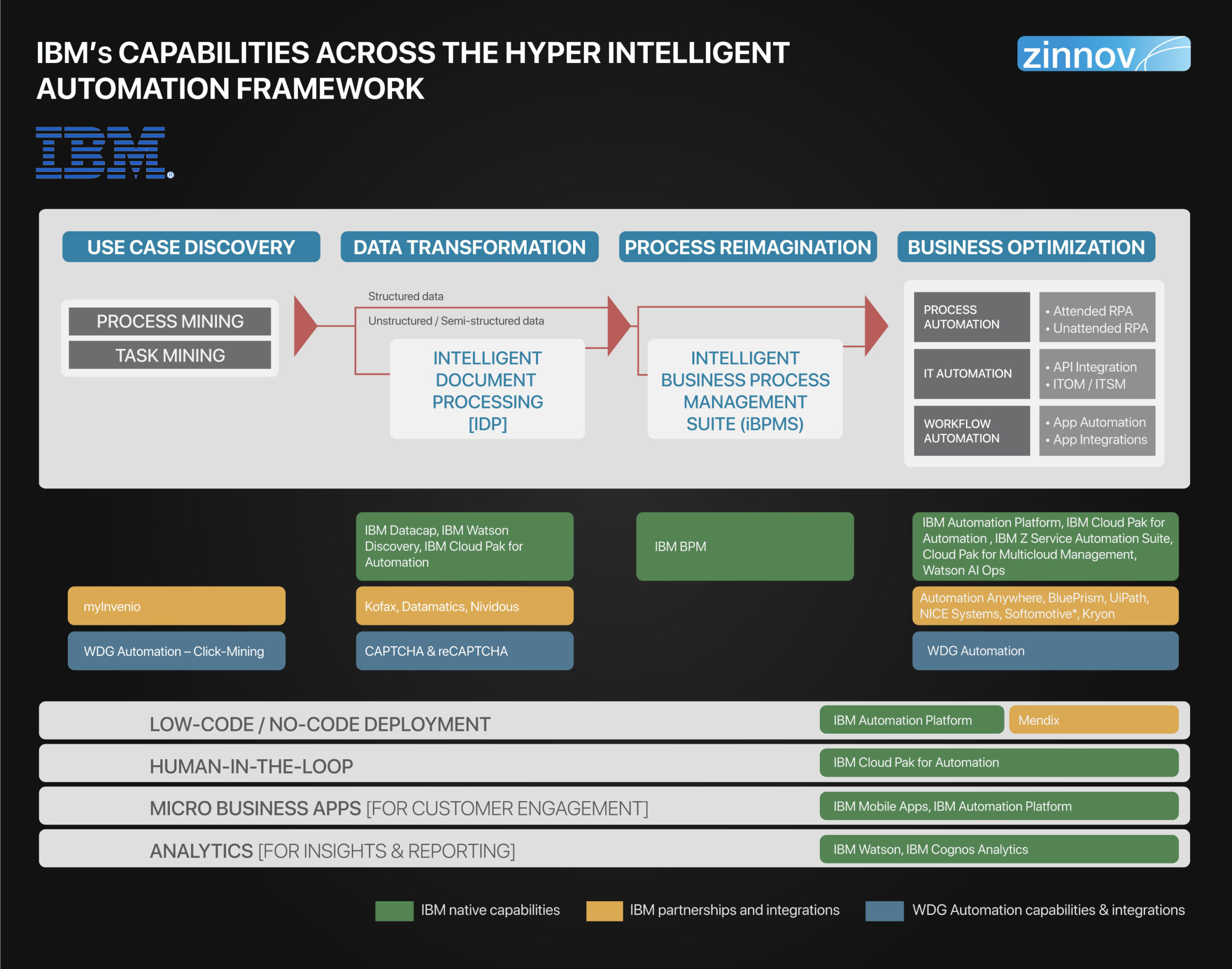 Besides partnerships with RPA vendors, IBM also has native RPA capabilities with its Automation Platform and Cloud Pak for Automation which focuses on Automation of business processes. It also focuses on Automation of IT operations through their Cloud Pak for Multicloud Management and Watson AI Ops.
Till now, IBM had primarily relied on partnerships with other firms to provide RPA to its customers. And while it would continue to do so, it also has its own RPA/Automation platform now. WDG will add to the existing attended RPA capabilities, along with providing AI capabilities to IBM's Automation platform. The broader plan for IBM is to integrate WDG within its IBM Cloud Integration organization, and make it available through IBM Cloud Pak for Automation on-premises, and in public or private Cloud environments.
While we touched upon IDP focus earlier, Use Case Discovery is one area where IBM appears weak with only transactional partnerships with players such as myInvenio. Even WDG provides Click-Mining but this is limited to Task Mining, and their capabilities and strengths are not known as yet. So this remains a gap in IBM's portfolio as of now, especially Process Mining.
But what does this acquisition mean for IBM? What are the positives and shortcomings that we foresee?
Why the Acquisition is good for IBM
The WDG acquisition certainly provides the jumpstart to IBM within the Automation space, and helps shorten the cycle of capability building from scratch. Here are the key positives for IBM from this acquisition.
The IBM-WDG combined entity ensures Automation of business processes, IT operations, and AI-led use cases
WDG adds the critical capability of attended RPA and customer service RPA to the IBM portfolio along with integrations with chatbots, digital assistants, and IVR, all of which are important features in contact centers. These customer-facing processes have emerged as an imperative in the COVID era
As part of the acquisition, IBM will integrate over 600 pre-built RPA functions from WDG Automation into Cloud Pak for Automation to help businesses turn insights from AI into automated actions
IBM is focusing heavily on ensuring Cloud-based deployments, including both public and private Cloud. This is another area that has become critical in COVID times to ensure remote deployments and POCs
IBM is no longer dependent on the whims and fancies of other RPA vendors such as Automation Anywhere, BluePrism, and UiPath. The company now has its very own platform offering and can leverage internal IT services delivery to give rise to an end-to-end, "one-stop shop for Platform and Services" for enterprises
On the other hand, the other RPA vendors would still be dependent on IBM Services, and everyone would still operate in a "Co-opetition" arrangement.
Why IBM may be late to the Party
While IBM has managed to plug the big RPA/Automation gap in their portfolio, they still have wide cracks left open in their armor, however.
Inadequate focus on Unattended RPA: WDG is primarily focused on attended Automation use cases, and has minimal focus on unattended Automation of back-office processes. This is similar to the Microsoft-Softomotive acquisition where even Softomotive had strengths majorly within attended RPA. Compared to the Big 3 platforms, this is a major shortcoming for IBM-WDG. Unattended and attended RPA in tandem play an important role in order to cater to the end-to-end Automation needs of an enterprise, and for scale.
Lack of Focus on Complex Use Cases: As enterprises scale and attain maturity in their Automation deployments, they typically look towards more complex use cases, and currently, this is a limitation with IBM-WDG. This is again similar to Microsoft-Softomotive combination, where the focus was mostly on solving for simple Automation use cases. On the other hand, industry incumbents including the Big 3 platforms are already able to cater to extremely complex use cases with conversational AI, multi-modality, self-service, etc., in their customer service scenarios. In addition, they are already coming up with advanced digital workers that are able to mimic human actions with decision-making capabilities. Hence, IBM will still require capabilities to automate more complex use cases either from a third-party specialist, or bring their own deep AI/Watson capabilities to WDG.
Myopic Approach to Automation: Our analysis reveals that IBM-WDG clearly lacks in terms of an integrated and holistic focus on all the building blocks of the Hyper Intelligent Automation (HIA) framework. Even though there are capabilities within IDP, these are currently siloed and not being leveraged in tandem with their Automation offerings. Our analysis of Microsoft capabilities revealed a better coverage on all the building blocks of HIA, though they also had siloes between the different building blocks (such as between Power Automate and IDP). But Microsoft did have a more active focus on other areas such as Use Case Discovery. On the other hand, leading Automation players such as UiPath, Automation Anywhere, and BluePrism have extremely strong positioning across the value chain – right from Use Case Discovery, to IDP and RPA at the core. The Big 3 are providing end-to-end capabilities across the spectrum through a Hybrid approach of Build, Acquire, and/or Partner for capabilities.
Gap in Use Case Discovery: This has emerged as a critical area in the Automation space, with all the leading vendors ramping up focus on both Process Mining and Task Mining in order to discover the next best, low hanging fruits of Automation. Players like UiPath have made multiple acquisitions (of ProcessGold and Process Shot) last year to build capabilities, while having built task mining capabilities in-house. Automation Anywhere also announced its native Discovery Bots offering earlier in January 2020. However, when we look at IBM-WDG, Use Case Discovery has emerged as a big gap in their offering with minimal focus on Task Mining (with WDG's click-mining). Process Mining is clearly not being catered to by IBM, and can be best attributed only to a loosely coupled partnership with myInvenio. IBM needs to quickly plug this gap with a small acquisition in this space. Even Microsoft, since their Softomotive acquisition, has announced a tightly integrated partnership with Fortress IQ to ramp up its Use Case Discovery capabilities.
Customer Acquisition: IBM Cloud Pak for Automation includes few logos currently, including the likes of Banco Galicia (Argentina), ENN Group (China), PNC Bank (U.S.), NHS (UK), several Qatar government entities, among others. WDG is heavily focused on customers within LATAM region. This means that IBM-WDG is almost starting afresh in terms of large enterprise customers (especially in the North American and European regions). Given the fact that more than 75% of the F250 enterprises have already started their Automation (or HIA) journeys, and there are incumbent heavyweights such as UiPath, Automation Anywhere, and BluePrism. In fact, UiPath recently announced its Series E funding of USD225 Mn (on 13th July 2020) which propels it to become the first decacorn in the Automation world with a valuation of USD 10.2 Bn! Hence, IBM will have a tough task to either displace existing vendors, and/or acquire net new customers. However, there is still immense opportunity for IBM to cross-sell Automation to its existing IBM Services enterprise customers.
Lack of Enterprise Scale: WDG's customer base majorly includes logos in Brazil/LATAM, which are more mid-sized enterprises (with only a handful of large enterprises that are scaled customers). This will be minimal value add to IBM since it would aggressively focus on acquiring large enterprise logos, and achieve scaled Automation deployments. We noticed a similar scenario with Softomotive as well, with its 9000+ customers mostly being SMB style logos with small teams and single-user licenses.
As outlined above, there are clear gaps in the IBM-WDG portfolio, majorly in terms of Hyper Intelligent Automation capabilities. In fact, IBM currently seems to be lacking a few capabilities which are table stakes in the industry. On the other hand, when compared to the other technology giants active in the space, Microsoft has been able to stitch its Hyper Intelligent Automation story much better. It has been slowly ramping up focus on Automation – first with multiple announcements around their Power Automate platform, and then following it up with the Softomotive acquisition.
Now Microsoft is focusing heavily on integrating the other building blocks of the HIA framework – such as its own IDP capabilities and the FortressIQ integration for Use Case Discovery. Hence, Microsoft, is well-poised to scale its platform story much faster as compared. Finally, the industry itself – led by the Big 3 heavyweights – has clearly raced ahead and has a comprehensive HIA story. The Big 3 are looking at an integrated platformization play in order to provide end-to-end capabilities to help enterprise scale. The Big 3 platforms alone are today valued at more than USD 18 Bn, which lends credibility to their capabilities and growth story.
Key Recommendations for IBM
Below are the key recommendations for IBM to be relevant in the Automation space.
Make a sizeable Automation Acquisition: IBM needs to either acquire a sizeable asset that can help plug the multiple gaps such as unattended RPA, complex use cases, and Use Case Discovery. Or, it can look at a hybrid approach of acquiring 1-2 smaller assets and partnering with 1-2 specialists in order to plug all the gaps. Whatever approach is chosen, IBM needs to make the move right away.
Build relevant Partnerships: There are some areas such as Process Mining, where it is tougher to build in-house, or find capabilities within existing RPA vendors. Hence, it becomes imperative to strike partnerships with industry specialists in this case (such as with someone like Celonis) in order to quickly go-to-market with a holistic portfolio of Automation.
Cross-sell Opportunities with IBM Services: IBM needs to aggressively target existing enterprise customers in its Services business, and cross-sell Automation to these customers. This will be a great starting point, and would be an easier bet compared to compete displacement scenarios.
Aggressive focus on IT and ER&D Automation: IBM should aggressively leverage strengths in its IT and infrastructure play to target IT Automation use cases, which are aligned to use cases within IT Operations Management (ITOM), IT Service Management (ITSM), and Application Development & Maintenance (ADM) to name a few. This is currently a whitespace opportunity with minimal focus from the leading vendors and is likely to contribute ~15-20% of the total Automation investments by enterprises in the next 24 months. IBM already has its Watson AI Ops and Cloud Pak for Multicloud Management focusing on the IT Ops Automation.
Tap into the immediate COVID opportunities: Automation has played a critical role in the battle against COVID, and in fact, emerged as the #1 technology area for several enterprise CIOs across industries. In fact, there are more than 50 such COVID-relevant Automation use cases that we have been tracking, both to fight against COVID, and also ensuring business continuity and resiliency for enterprises. WDG is not actively focusing on such COVID relevant use cases, and it is imperative for IBM to add Automation/RPA use cases in its existing portfolio of COVID use cases and offerings (such as within Watson Works, Watson Assistant, etc., which are initiatives working towards the IBM response to COVID-19).
Target Federal/Public Sector: We have all heard about how active the Federal government and public sector agencies were in their adoption of Automation use cases, especially In the wake of COVID-19 – both to enable citizen services and also to enable employee efficiency internally. This trend is expected to continue and amplify going forward. This sector is another whitespace opportunity that accounted for a meager ~5% of the current platform revenue and is expected to grow threefold in the next 12-18 months' timeframe.
IBM needs to move very swiftly to augment the table stake capabilities and ramp up additional capabilities in order to match up to the incumbent heavyweights in the industry. This is clearly an uphill task at the moment for IBM, and it needs to play its cards very carefully so that it is able to carve out its own niche in this already crowded Automation space.
For more such insights and in-depth analyses, reach out to us at
info@zinnov.com
.