Intelligent Automation (IA) has been on an explosive growth trajectory. Over the last year, the HIA space has evolved significantly, and through numerous conversations with leading automation platforms and global enterprises with an automation focus, we have successfully enhanced the Intelligent Automation framework to reflect the pulse of the market. The convergence of critical segments including Use Case Discovery, Intelligent Document Processing, iBPMS, and RPA is a testament to the elevation in automation's status as a strategic lever in the digital transformation journey of enterprises. Today, HIA is being leveraged to build resilient, pandemic-proof, and efficiency-focused businesses, and not merely on myopic short-term benefits such as cost savings. While 75% of Fortune 250 enterprises have already launched their HIA journeys, several more are exploring the advantages of an automation-first growth strategy.
"Zinnov Zones for Hyper Intelligent Automation – H1 2021" – the industry first, most comprehensive, and best-in-class platform assessment exercise, is aimed at gauging how equipped platforms are to cater to the rising demand for automation by enterprises. We have exhaustively analyzed 70+ IA platforms and specialist vendors on their technical prowess and scale of operations to identify the kingpins and visionaries. The one-of-a-kind study rates the players based on overall capabilities across the automation lifecycle, with the players evaluated across 8 categories including Intelligent Automation, Use Case Discovery, Intelligent Document Processing, IT Automation, Intelligent Virtual Agents, F&A Automation, Customer Success Automation, and Talent Management Automation. In our previous blog, Intelligent Automation – The New Avatar of RPA, released last year during the launch of Zinnov Zones for Hyper Intelligent Automation – 2020, we placed our bets on integrated automation platforms driving the next wave of innovation. We can safely say that the odds have favored the venturer.
In line with the changing paradigm of the automation space, five platforms have emerged as leaders in the Intelligent Automation category – UiPath, Automation Anywhere, Kofax, Appian, and Nintex. These integrated platforms have showcased immense focus on building end-to-end capabilities across Intelligent Automation lifecycle to enable enterprise-wide deployment through consistent product innovation and strategic investments.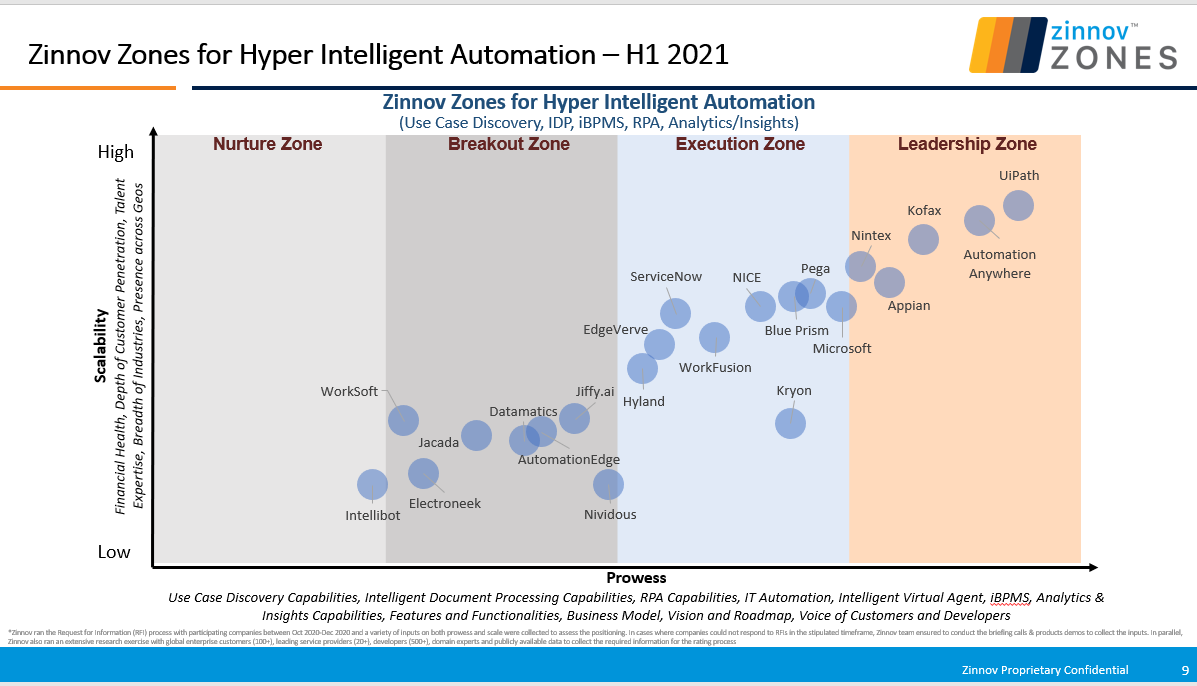 The Dawn of a New Era
Automation has cemented its number one spot on the CIO agenda for enterprise transformation, and automation platforms are correspondingly responding with innovative strategies to promote a more strategic and long-term view on automation. The year 2020 was dominated by the overarching theme of platform orchestration and open ecosystem which enabled customers to build bespoke solutions. This phenomenon has heralded a new era of automation as enterprises explore novel means of achieving strategic objectives.

Listed below are some of the forward-looking insights that we have gleaned in our evaluation of HIA platforms, further augmented by the deep perspectives received from 100+ global enterprises, 20+ leading Service Providers, 500+ experienced developers, and several subject matter experts from the industry.
1. The competitive landscape within automation has changed drastically in the last few years. Today, more than 500 platforms are vying to capture the automation market, and this includes a mix of RPA incumbents (such as Automation Anywhere, Blue Prism, and UiPath), Specialist/Niche platforms (such as Celonis for Use Case Discovery, Amelia for Intelligent Virtual Agents, or Ayehu for IT Automation), Workflow/iBPMS platforms (such as Appian, Pega, Nintex), and finally, Technology Giants (such as Microsoft, IBM, SAP, etc.). The presence of these four major players has led to rapid technology innovation, massive investments, and accelerated talent upskilling.
2. Platforms are doubling down on investing in new capabilities, with the inorganic route of acquisitions being widely adopted throughout 2020. The year began with Appian's acquisition of Jidoka RPA, and then went on to witness tremendous movements through Microsoft-Softomotive, IBM-WDG, Hyland-Another Monday, Nintex-K2, and Celonis-Integromat acquisitions, which were some of the most significant ones. A majority of these acquisitions are focused on enhancing automation use case coverage, gaining market access, and augmenting existing platforms with Low Code/No Code features.
3. AI is now an integral cog in the automation machine with a critical role to play across the automation lifecycle at each step. AI is no longer an ancillary feature being pulled in by platforms on per use case basis, and is instead being infused profusely to augment insights, provide the necessary intelligence, and tap into erstwhile inaccessible workflows. Be it the AI-powered Convolutional Network Tagging of Kryon Process Discovery, field-level classification of extracted data from documents by Parascript, robust role-based access controls provided by Appian, or the highly intuitive customer service automation scenarios supported by Jacada, AI is now all-pervasive.
4. A three-tiered focus – enhanced user experience, seamless integration, and end-to-end workflow orchestration – defines the product innovation efforts of automation platforms. Hence, platforms are making deliberate efforts to effectively leverage API-based integration with enterprise systems. Be it UiPath's robust coverage across all pivotal enterprise workflows, Nintex's ability to integrate with existing enterprise applications and systems, or Kofax's revamped positioning on Digital Workflow Transformation, the end objective is to provide a one-stop shop to all automation needs of enterprises.
5. 50-60% revenue of HIA platforms can be attributed to the three core workflows of Finance & Accounting, Customer Success, and Talent Management, as these continue to be the most sought-after automation use cases by enterprises. This is helping several automation vendors to strategically capture demand for niche yet extremely critical capabilities. Amelia, an IPSoft company, is one such example that is successfully leading the new wave of AI-powered customer and agent support. Similarly, procure-to-pay and order-to-cash focused incumbents such as Esker and Blackline are making heavy bets on automation to deliver enhanced experiences across Finance & Accounting workflows.
Will the automation space witness an unprecedented era of consolidation and concentrated powers or will we see increased democratization with several contenders? Whatever the future holds, one thing is certain – the era of Intelligent Automation is truly here, and the space is poised to set the wheels of disruption rolling across enterprise transformation efforts.
To access the full version of the Zinnov Zones for Intelligent Automation – H1 2021 report, write to us at
info@zinnov.com
.