Intelligent Automation (IA) has clearly emerged as the most talked-about technology area in the recent past, and things are heating up further. The space has witnessed immense action, especially in the past few months. We saw technology majors such as Microsoft and IBM announcing big bang acquisitions to enter the automation space, we saw other players such as Nintex acquiring K2 Software, Celonis acquiring Integromat, and we have seen major VC funding rounds led by UiPath's USD 225 Mn which elevated it to a decacorn status, the more recent USD 80 Mn Series D funding by Hyperscience, and the list goes on!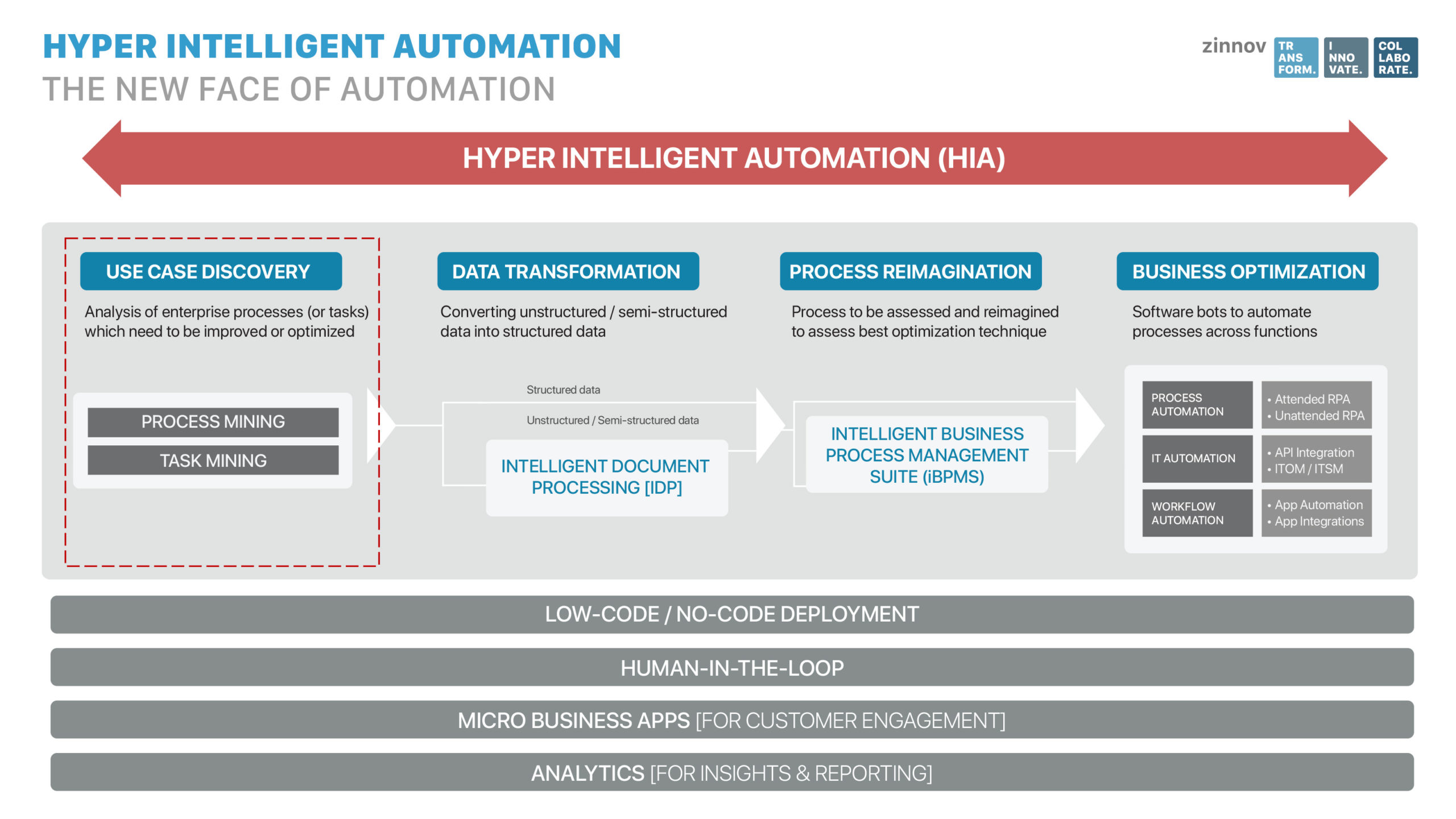 What is interesting is that we are increasingly witnessing an increased focus from vendors – both the larger incumbents and the specialist players – on ramping up their focus on the HIA building blocks. While the larger vendors are following a hybrid approach of Build-Buy-Partner to augment their capabilities across the entire HIA framework, we are also seeing specialist players trying to augment capabilities across one or two building blocks in order to make themselves more relevant for their enterprise customers.
Use Case Discovery is one area that has witnessed the maximum traction in the last twelve months. UiPath made multiple acquisitions in 2019 in order to bolster its discovery capabilities – StepShot was acquired to gain Task Mining (and Recorder) capabilities, while ProcessGold was acquired to bolster Process Mining capabilities. It also launched the Explorer Suite with integrated Process Mining and Task Mining capabilities. Similarly, Automation Anywhere announced its native Discovery Bots in January this year, which provides its customers with Task Mining capabilities. At the same time, both UiPath and Automation Anywhere continue to partner with specialist vendors such as Celonis, Minit, and MyInvenio for Process Mining capabilities. Interestingly, the latest announcement from Celonis on its Integromat acquisition is focused on ramping up its capabilities in the Workflow Automation space. While Celonis continues to partner with the leading players in the industry, this shows a clear intent to carve out a greater portion of the HIA pie for itself.
What does the Celonis-Integromat deal mean for the HIA industry?
Celonis – the Journey so Far
Celonis was founded in 2011 in Munich, Germany, as a Process Mining start-up. It leveraged the process expertise of Wil van der Aalst, regarded as the "father of Process Mining," and partnered with enterprise applications such as SAP, Oracle, and ServiceNow in order to analyze their event logs. Celonis soon gained prominence in the industry and is often regarded as the category creator for process mining. Today, it is a unicorn with more than USD 360 Mn in VC funding, with USD 2.5 Bn in valuation.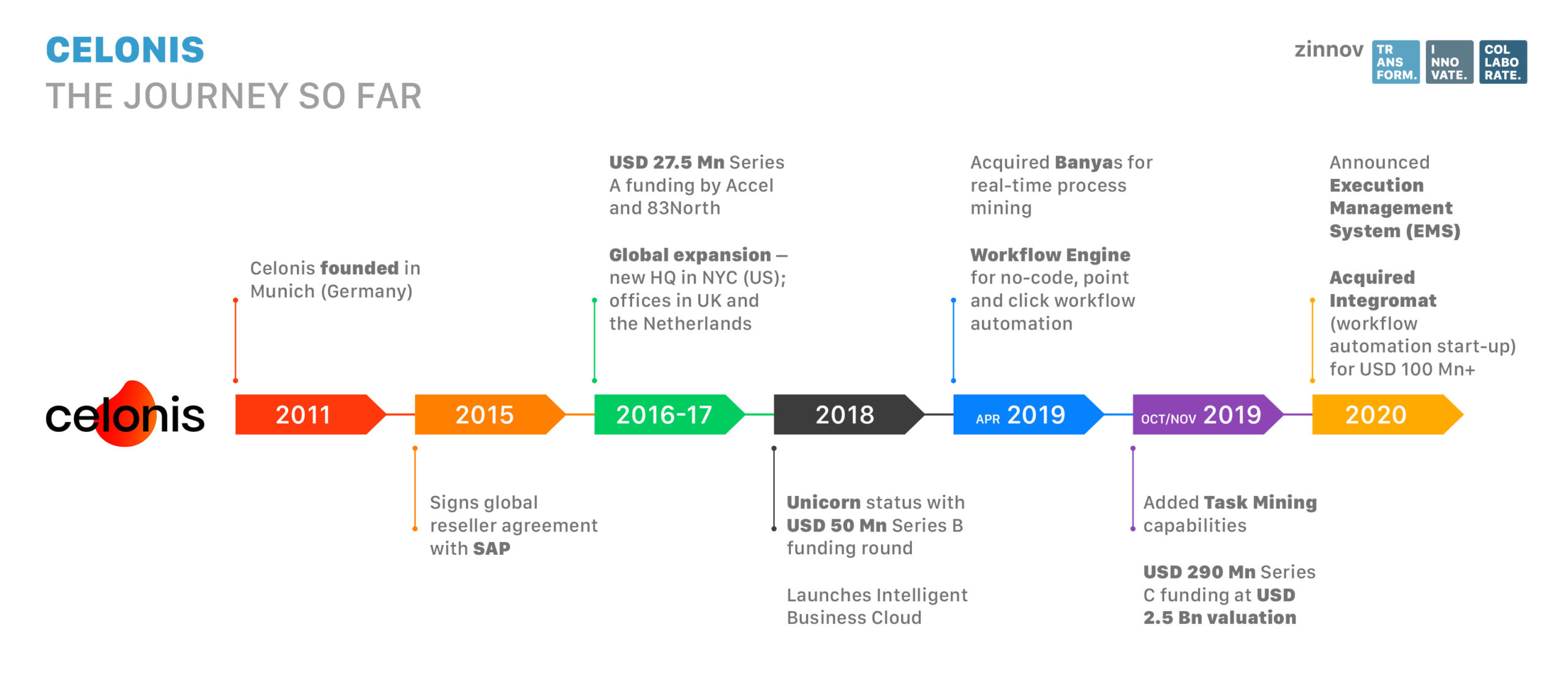 The bulk of Celonis' journey has been limited to its strengths in Process Mining, and helping its enterprise customers understand the way data flows through their systems, and hence expose inefficiencies and identify those processes that are running sub-optimally. However, Celonis left it to other players and vendors to actually solve for those problems and bottlenecks.
Early last year, in April 2019, Celonis acquired Belgian start-up Banyas to acquire capabilities in real-time Process Discovery. Banyas helps identify instances in case of high-volume or high-frequency processes, and communicates the process knowledge data to the Celonis Process Mining tool, thereby allowing enterprises to kick-off actions to prevent downstream issues or take advantage of opportunities.
At the same time, Celonis also announced its Superfluid vision to help enterprises achieve frictionless operations and leverage super-fluid processes. Towards this vision, Celonis announced the beta version of its Workflow Engine – a no-code, point and click workflow automation tool to help enterprises improve their operational flows. It had out of the box connectors for common enterprise apps such as SAP, Oracle, ServiceNow, Salesforce, Jira, etc. These were the first steps taken by Celonis towards workflow automation.
They recently pivoted towards an Execution Management System (EMS) which is their approach to build no-code applications on top of the business processes and enterprise systems, and unlock capacity in real-time. It leverages the Celonis process mining core to draw data from the underlying systems and identify and measure capacity barriers. The new Celonis EMS then provides the knowledge, actions, and automations to systematically remove these constraints. EMS currently focuses on three applications – F&A, Supply Chain, and Customer Service, and Celonis already has plans to build more such applications.
The recent acquisition of Integromat (deal size of more than USD 100 Mn) furthers this focus on workflow automation and EMS.
The Combined forces of Celonis-Integromat
Integromat is a USD 10 Mn Czech-based start-up with 10,000+ customers and 60 employees. It provides a no-code, visual integration platform that lets an enterprise connect any number of enterprise applications or APIs to optimize and automate their workflows. It currently provides integrations with more than 100 enterprise applications such as Microsoft Office apps, Google apps, Salesforce, DropBox, LinkedIn, Jira, etc., and boasts of 500+ pre-built, out of the box connectors and templates for different business functions (such as data transfer between applications, etc.). While they boast of several large customers, the bulk of their customers are actually small and mid-sized businesses, and they focus on competitive pricing as their go-to-market strategy to compete in the space, with the likes of Zapier, Microsoft Flows, etc. Integromat is expected to continue to operate independently, and its technology will also become part of the Celonis EMS, handling the automation part.
According to Celonis' co-founder and co-CEO, Alexander Rinke, "We are looking to expand our product from being primarily a process mining tool that is focused on surfacing the insights as to how processes are executed today, and evolve that into what we call an execution management system, which is on an ongoing basis, really helping you to optimize the execution of your key processes."
Here is how the combined Celonis-Integromat appears on the Intelligent Automation framework.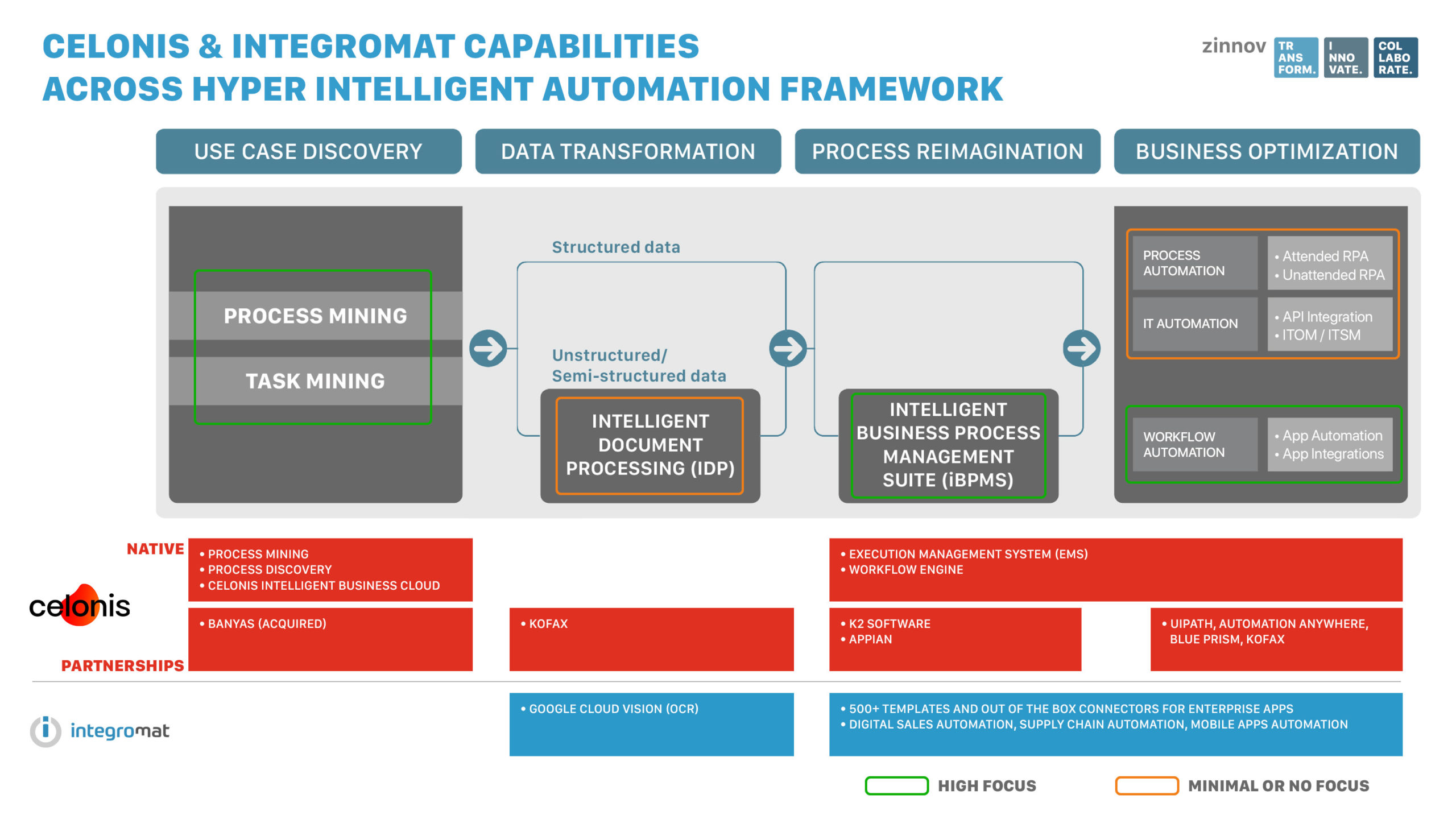 It is clear from the above image that the combined entity has decent coverage across the building blocks of the HIA framework. They appear strong on Use Case Discovery, on the back of industry-leading capabilities that Celonis brings to the table. The Intelligent Document Processing (IDP) block currently has minimal coverage with a Kofax partnership that Celonis has, which is more from a Kofax standpoint to provide them access to the Celonis process mining capabilities. Integromat also has a Google OCR partnership that would get added to this block. But there is a clear need to bolster the IDP capabilities since the discovery part does bubble up a lot of use cases with unstructured data, thereby warranting the need for IDP technology.
iBPMS also shows good coverage with Celonis ramping up capabilities with its Workflow Engine (announced early last year), and the more recent announcement of its EMS offering with 3 pre-built applications aligned to F&A, supply chain, and customer service. Integromat also adds further to the iBPMS capabilities by providing more than 500 pre-built out of the box connectors to the most common enterprise apps, which adds robust iBPMS capabilities to Celonis. Finally, on the automation side, Celonis has beefed up its focus on the Workflow Automation side through its EMS announcement and the Integromat acquisition. However, on process automation and IT automation, Celonis-Integromat combined entity continues to rely on industry-leading partnerships with the likes of the big three automation platforms.
Overall, we see that there is a clear focus from Celonis to go beyond the discovery phase and also help their customers in the critical part of solving for those bottlenecks discovered, to close the loop. Celonis' focus is to ramp up capabilities in integrating closely with the most common enterprise apps, provide seamless workflow automation between multiple apps, and build deep capabilities for a few processes at first. They have identified F&A, supply chain, and customer service as the three big bets they would start off with, and ultimately ramp up focus on other use cases as well. And the strategy would be to lean on other industry partnerships – such as with the likes of UiPath, Automation Anywhere, and Blue Prism – to provide them coverage and breadth across other use cases.
Given the current traction and hyper-growth that Celonis is witnessing in the automation space, we foresee that Celonis would eventually end up acquiring a niche RPA platform player in order to gain capabilities in process automation (and even IDP), and start providing these RPA capabilities in order to cater to the entire HIA value chain end-to-end. That would enable Celonis to address broader needs for its enterprise customers, and command a much larger share of the HIA market size.
Today, we see a healthy co-opetition in the automation space, with Celonis relying on RPA/HIA vendors such as UiPath and Automation Anywhere for automation capabilities, and the RPA/HIA vendors, in turn, relying on Celonis for its process mining prowess. However, we clearly see both parties encroaching on each other's territory and building native capabilities through strategic acquisitions. As they mature in their focus and capabilities, it is a matter of time where we witness this co-opetition evolve into a more intense competition of sorts.
Want to know how to adopt and implement HIA? Drop us a note at
info@zinnov.com
.