In the current macroeconomic scenario riddled with uncertainty, rising inflation, crashing valuations, and the highest-ever interest rates, most companies are wary of taking up debt or raising any fresh capital. Celonis is one of the companies which has ventured to swim against the tide and has secured a massive additional USD 1 Bn in funding to accelerate its expansion plans and help its customers thrive in this challenging macroeconomic environment. This round of fundraising has valued the company at a massive USD 13 Bn post-money valuation, with the additional capital coming in a mix of equity (USD 400 Mn) and debt (a 5-year USD 500 Mn credit line that is expandable to USD 600 Mn), taking the start-up's total capital raised to USD 2.4 Bn.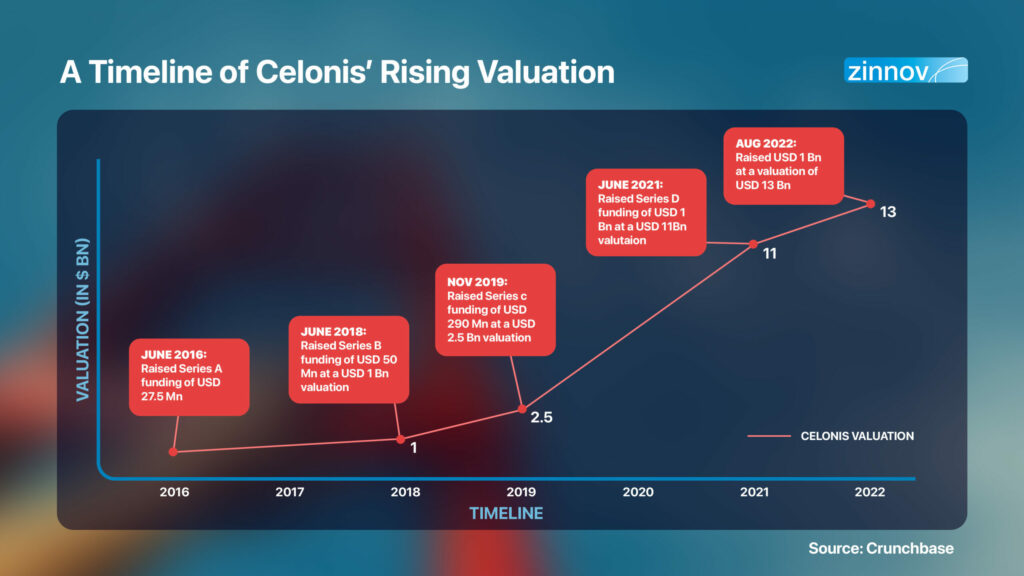 In the last 18 months, we have seen that Process Intelligence has emerged as the hottest Automation capability to invest in. With massive funding rounds, acquisitions by all major tech companies such as IBM, Microsoft, UiPath, Automation Anywhere, SAP, etc.) Process Intelligence is finally getting the attention it deserves. Celonis is evidently benefitting a lot from this acute interest in this field – given that it just raised USD 1 Bn in June 2021 as well.
Celonis has been using that money to make acquisitions (they acquired PAFNow in March 2022 for around USD 100 Mn), build partnerships with ecosystems, and build a stronger leadership team. Today, Celonis boasts of over 2,500 enterprise deployments worldwide; works with 10,000 consultants, 2,000 consulting firms and tech partners (among them are IBM, Accenture, PWC, KPMG, and ServiceNow); and has graduated over 100,000 "practitioners" from its certification program.
Launching into the Stratosphere: The Celonis Story
In 2011, Alexander Rinke, Bastian Nominacher, and Martin Klenk discovered a massive problem in the way companies were executing their core business processes. This ah-ha moment happened when the three founders realized that the primary problem in business execution did not lie in fixing the process problems that companies knew they had, but it was in finding and fixing the problems that they did not know they had. And that's how Celonis came into being!
Over the years, Celonis has strategically focused on forging meaningful partnerships with ecosystem players such as TCS, Genpact, Appian, Automation Anywhere, IBM, Accenture, and more. In April 2021, Celonis partnered with IBM's Global Business Services consulting arm to weave the Celonis Execution Management System (EMS) into its offering, adding the ability to analyze data thrown off by processes like Supply Chain Management, Finance, or Procurement to identify weaknesses and recommend fixes. Later, Celonis partnered with ServiceNow to combine ServiceNow's leading Low Code workflow platform with the real-time process execution capabilities of Celonis.
Being cognizant of the tides in the industry and adapting to the changing customer landscape, Celonis has made multiple acquisitions catering to the evolving needs of its customers. Its most recent acquisition of PAFNow was to enable millions of Microsoft Power Platform users to utilize Celonis' EMS for Process Mining and Process Automation within their enterprises.
Lighting up the Rocket Boosters: How Celonis is Investing its Money
Raising more than USD 2 Bn in a span of 15 months is bound to raise some eyebrows. Let's have a look at where Celonis is investing all of this acquired capital –
1. Increasing Headcount: Celonis has been hiring aggressively in the last two years across its Engineering and IT teams to focus on enhancing its product capabilities. It has also been expanding its business development and sales teams which have doubled in size in the last 2 years alone, to capture a larger customer base and work better with the existing accounts. The company's overall headcount has grown by 188% in the last 2 years, setting it on the right growth trajectory.
2. Senior Leadership Hiring: Even within senior leadership, Celonis has shown similar vigor in the last 2 years with 5 new hires at the C-suite level. Jon Dack became the company's new Chief Information Officer, Ariel Bardin became the new Chief Product Officer, Dave Peterson was appointed as the new Chief Marketing Officer, Carlos Kirjner was hired as the new Chief Financial Officer, while Christian Flaccus joined the Celonis team as its new Chief Design Officer. Apart from this, Celonis also hired two Senior VPs, Ardan Arac and Dustin Jackson, for Product Management and Engineering, both of whom came armed with rich experiences of having worked with Google for around 15 years.
3. Geo Expansion: Out of the 2000+ customers Celonis has globally, roughly 45% of them are from the European market, while 35% belong to the North American market. Celonis is looking to enter and establish itself into the growing USD 2.8Bn opportunity that is the APAC market, and build a strong customer base there. IBM became Celonis' preferred partner for the APAC region for Cloud-based solutions to support their customers in the region. Masashi Murase joined Celonis as the Managing Director for the Japan Business, while Abhijith Roy joined the team as the Director for APAC Sales to boost customer penetration in the region.
4. Acquisitions: Celonis has made 4 acquisitions to date – with the latest one being PAFNow. The company will continue with its acquisition playbook with its fresh capital to enhance its IT integrations and data ingestion capabilities to deliver a better experience to customers in identifying the most pressing process bottlenecks within their enterprises.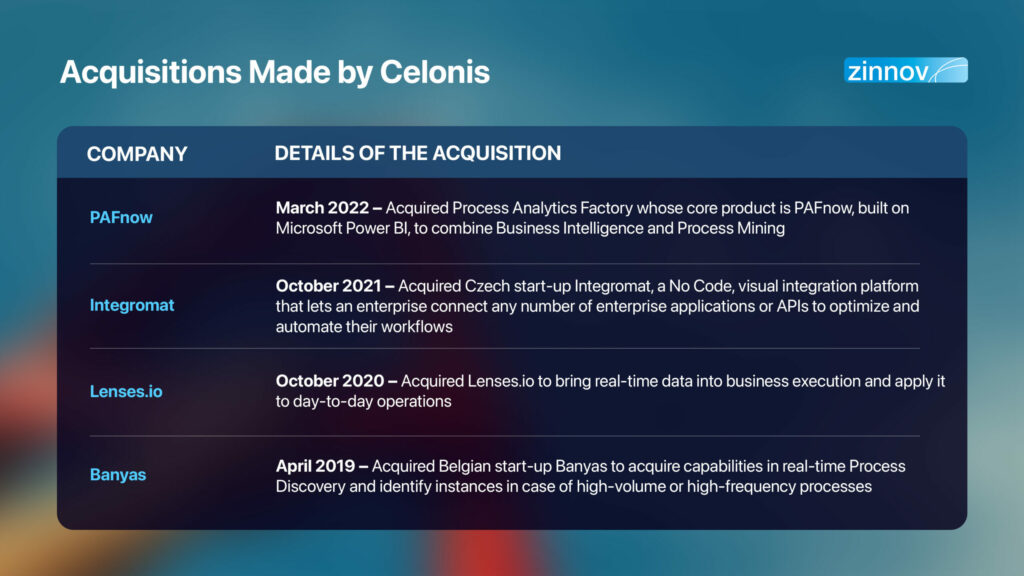 5. Ecosystem Mobilization Events: 50% of Fortune 250 Enterprises have not started their Process Intelligence journeys owing to a variety of reasons. Some lack a proper understanding of Process Intelligence capabilities, others hold apprehensions around data security and privacy, while the rest fear its cost. To make the enterprise ecosystem more aware of Process Intelligence and generate excitement about the technology, Celonis conducts multiple events in a year to mobilize the ecosystem – from its 1st Global Ecosystem hackathon in June 2022, to the annual World Tours it hosts. Besides virtual events, Celonis also holds large-scale in-person events such as the Celosphere, at least once a year. Celonis considers the spending on these events as investments in attracting more customers.
6. Strong Partner Motion: Celonis boasts of over 2000 technology and consulting partners worldwide to resell its platforms and augment its offerings with its services. On May 25th 2022, it launched its Partner Enablement Program that brings together over 50 partners and also promotes Celonis' Execution Management System (EMS).
Snags in the Rocketship
Despite the heavy investments, acquisitions, frequent events, there are definitely some snags in Celonis' plan for growth that must be highlighted for a true picture of its journey –
1. Expensive Debt – In this round of fundraise of USD 1Bn, USD 600 Mn of it is coming from a 5-year credit line and is the largest syndicated bank recurring revenue revolving credit facility of its kind. This debt facility was led by KeyBanc Capital Markets, with Goldman Sachs, HSBC Ventures, J.P. Morgan, Morgan Stanley Senior Funding, Inc., Citibank, and Deutsche Bank acting as joint lead arrangers. Lenders in the syndicate also included RBC Capital Markets, Silicon Valley Bank, SMBC, Citizens, MUFG, and Bank of America. The debt-interest rates in the US are at an all-time high currently, and this massive debt comes at a huge cost to Celonis.
2. Derailed IPO Plans – Around its last fundraise in May 2021, Celonis hired its new CFO from Google, Carlos Kirjner, with anticipated plans for an IPO. However, the IPO plans did not materialize due to the economic downturn, and with its current fundraise arrangement, we don't anticipate it happening anytime soon either.
3. Relationship with Tech Giants – There have been signals of Celonis trying to cozy up with the Tech Giants in the ecosystem on multiple occasions, but its efforts haven't been reciprocated yet. With its acquisition of PAFNow, Celonis plans to enable millions of Microsoft Power Platform users to utilize Celonis' Execution Management System for Process Mining and Workflow Automation. But, around the same time, Microsoft went ahead and acquired a Process Mining platform – Minit, which augments its process advisor, allowing Power Platform users to natively discover process bottlenecks and run downstream automation. Microsoft users now have more choice for Process Intelligence, and it would be far more strategic for MS to push customers towards its native Process Advisor, i.e., Minit. Celonis also has strong partnerships with SAP and IBM, but even they have made acquisitions in the space (SAP acquired Signavio and IBM acquired myInvenio) which leaves them with little incentive to promote Celonis' offerings over their own.
4. Growing Competition – Today, there are 50+ specialized Process Intelligence companies in the market with unique value propositions and more advanced, AI-infused Process Intelligence solutions. All RPA incumbents have also either built or acquired Process Intelligence solutions – UiPath acquired ProcessGold, Automation Anywhere acquired FortressIQ, Nintex acquired Kryon, and Appian acquired Lana Labs. Process Intelligence is an extremely lucrative space right now, attracting more and more tech-oriented founders who are looking to grab a slice of this pie.
5. Lower Enterprise Uptake – There is a lot of reluctance from enterprises to adopt Process Intelligence for multiple reasons. The IT teams and business users have major concerns around the data privacy and data security features of these solutions. Process experts are satisfied with the results of the manual Process Intelligence methods like hackathons and ideation sessions, and don't want to experiment with newer tools. The leadership teams of enterprises see Process Intelligence tools as an expensive alternative to the current manual methods and don't want to incur that extra expense.
How Celonis can keep up its Growth Trajectory
In order to ensure that Celonis continues its upward growth trajectory, it needs to continue to bridge the missing capabilities from its Intelligent Automation stack and reinvent itself to outperform its rivals in this extremely competitive space. This can happen through the four levers which we believe should define Celonis' strategy over the next few years.
a. Targeting the Emerging Market – More than 75% of Celonis' revenue comes from Large Enterprises. As the demand from that segment plateaus, Celonis should establish a strong GTM motion with dedicated sales and partner teams to target the emerging enterprise market for its next phase of growth.
b. Entering Underserved Geographies – While Western Europe and the US are hot markets for Process Intelligence, there is an increasing demand for it from Eastern European and the APAC markets as well. A large number of Automation Centers of Excellence (COEs) are being set up in countries like Poland, Romania, and India that are driving the demand from these regions. Celonis should expand its presence in these emerging markets to quickly establish its presence.
c. Bolster Platform Capabilities – Celonis needs to continue with its momentum on strategic acquisitions to bridge the gaps in its current solutions portfolio, specifically RPA and Low Code application development, to get downstream Automation capabilities and reduce its reliance on incumbent RPA platforms such as UiPath, Blue Prism, Nintex among others. Enterprises will start consolidating Automation vendors very soon and Celonis will be in an advantageous position with capabilities across the full stack of Intelligent Automation.
d. Customer Success Program – Celonis already has a base of 2000+ customers globally. Along with acquiring newer customers, Celonis should have dedicated focus on penetrating the existing accounts with a strong customer success toolkit. The company can increase the wallet share further by building or acquiring capabilities that can solve its enterprise Automation needs.
As the competition in the Automation space heats up, Celonis will have to adopt innovative ways to scale its revenue, penetrate its existing customer accounts, and remain an industry leader in Process Intelligence.
Where will the next big Automation M&A happen? Which company is poised to strengthen its existing capabilities through buy/build/partner to offer full stack Automation services to enterprises? Get more in-depth analyses of the global Automation space by dropping a note to
info@zinnov.com
.