Following closely on the heels of the Super Bowl excitement, comes the big news of Nintex acquiring Kryon Systems for a rumored price of ~USD 100 Mn – an exciting development that is expected to send ripples within the Automation space. Leading automation platforms, including the technology majors and incumbent RPA vendors should definitely watch out for the gradual, albeit sure-footed emergence of this new powerhouse. This seems to be another strategic step towards the bold vision that the CEO of Nintex, Eric Johnson has of reaching a USD 20 Bn valuation in the next 4 years.
Nintex is a leading Low Code/No Code platform with positioning around Process Intelligence and Workflow Automation. They have been at the top of their game over the last 5-7 years with a hybrid approach of organic and inorganic strategies to bolster their Automation narrative. Thoma Bravo acquired Nintex back in 2018 and drove a very strong acquisition playbook. Nintex has acquired 4 players in 35 months alone – starting with Promapp, followed by Enablesoft RPA, K2, and AssureSign. TPG Capital acquired a majority stake in Nintex in Oct 2021, for a staggering USD 2 Bn+. This is the sixth acquisition overall for Nintex, and the first one under TPG. And we think it safe to say that we can surely expect more acquisitions to follow through the rest of the year! Nintex has done extremely well to augment their native Low Code capabilities with multiple acquisitions to provide a more holistic end to end automation portfolio.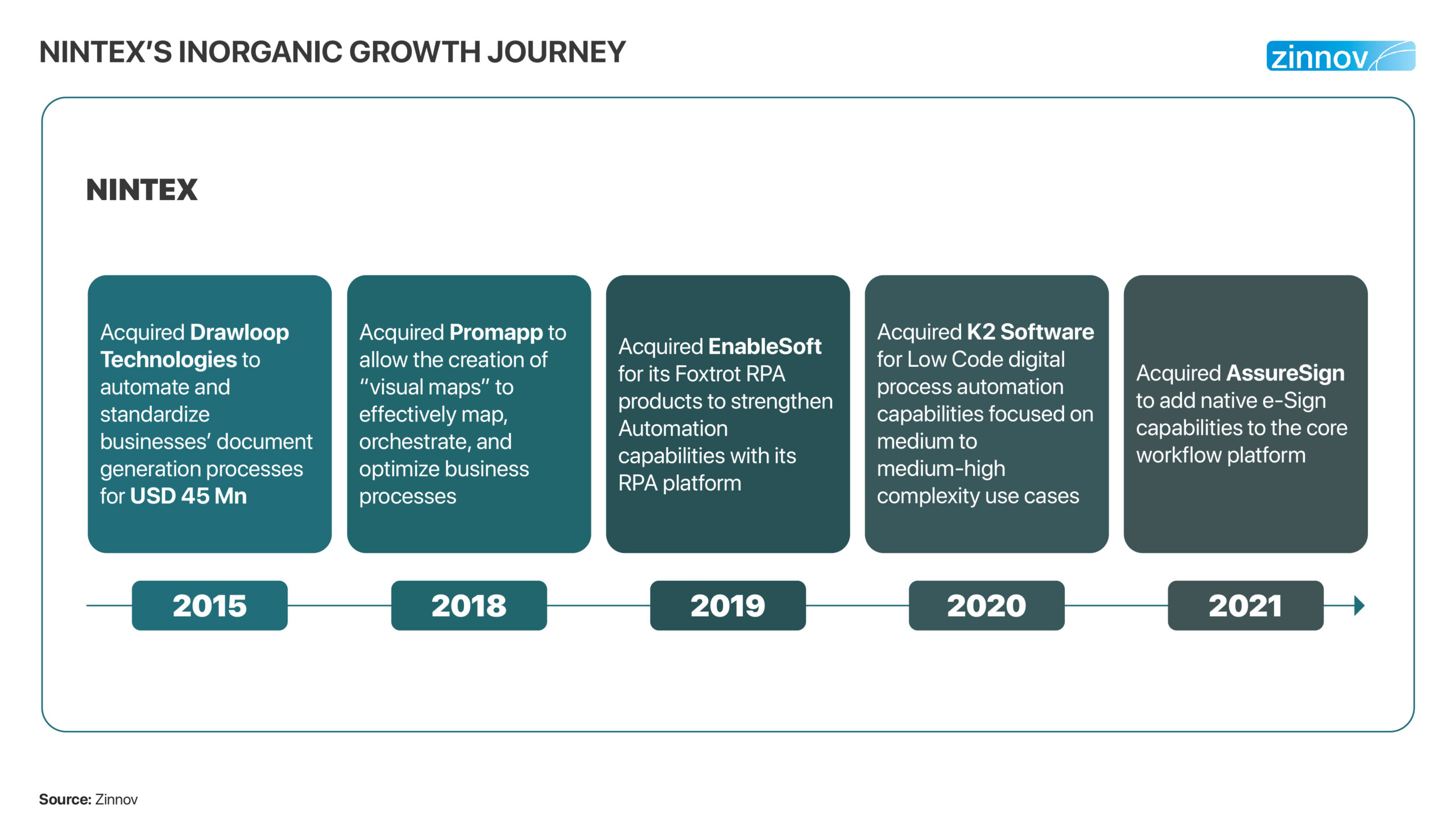 The addition of Israeli technology from Kryon is a strategic advantage since this provides the much-needed process discovery capabilities, along with a robust RPA platform. Nintex had already acquired Promapp back in 2018 in order to focus on process mapping and documentation. Kryon now adds deep AI-led capabilities around Task Mining to the portfolio.
Kryon has consistently featured as a leader in our Zinnov Zones for Platform ratings for Process Discovery.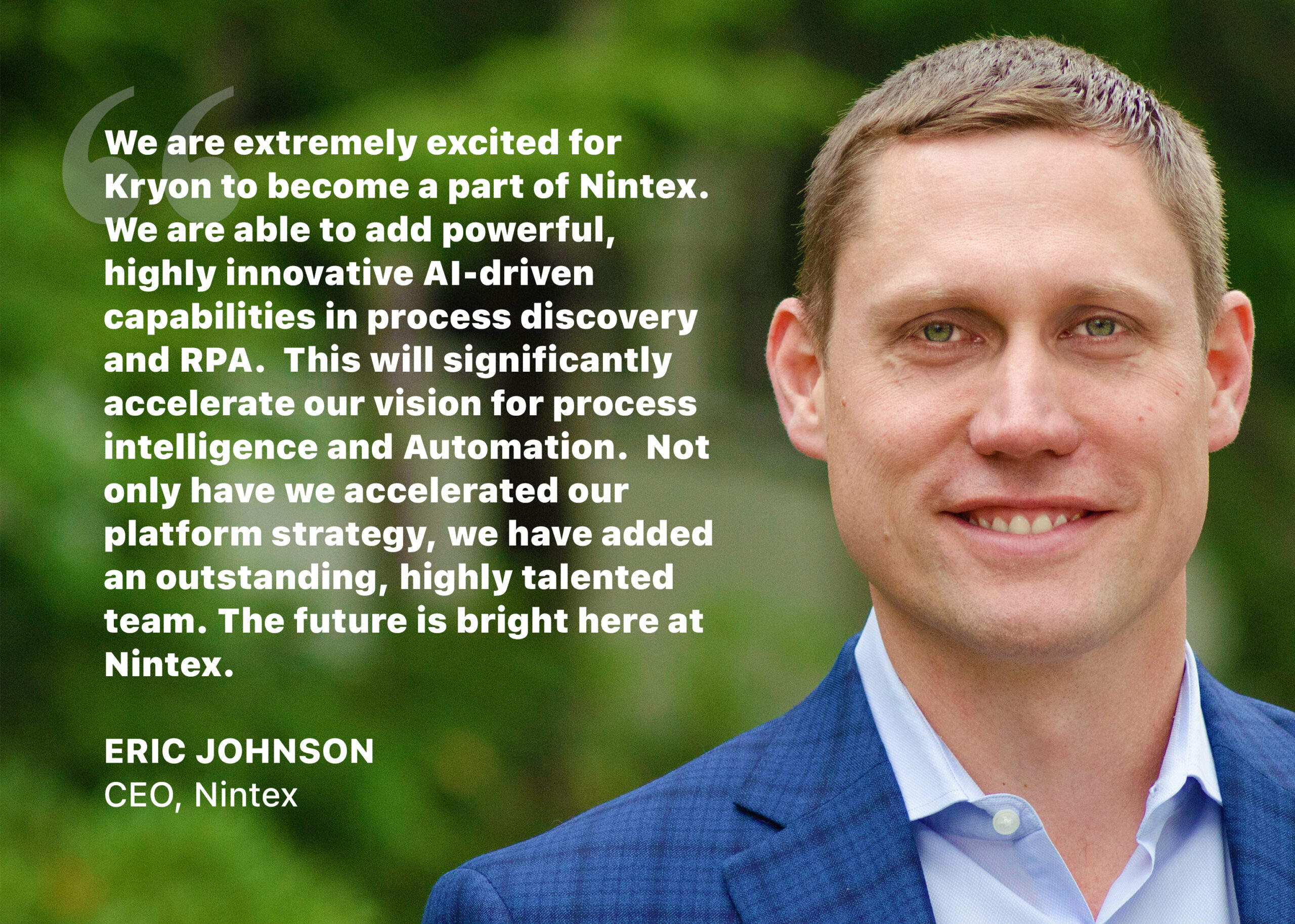 In addition, it has also been focusing on next-gen Real Time Process Discovery which uses superior AI algorithms in order to parse through huge volumes of user data and provide analysis in real time. Along with Task Mining, Kryon brings in its extended ecosystem such as Software AG from a Process Mining stand point. Given the pace at which Nintex is evolving its platform, we expect further bolstering of the platform with a small tuck-in acquisition around process mining as well. Besides adding superior technology, Kryon also adds cutting-edge Israeli R&D talent to Nintex. Currently, Nintex has globally dispersed R&D talent, with major share being taken up by Australia, New Zealand, and the US. Kryon has more than 80% of its R&D talent based in Israel – which will be a great addition to the Nintex R&D muscle.
Given the momentum of development in the Automation space, we at Zinnov estimate the field to have a total addressable market (TAM) of more than USD 300 Bn today. Enterprises currently have only scratched the surface of this opportunity with a little over USD 20 Bn being spent on automation initiatives today. However, as the enterprise C-suite evolve their thinking and pivot their strategy from being opportunistic and desperate towards a more deliberate strategy, we expect more sizeable investments in Automation over the next five years. Out of the 1400+ platforms that we are tracking on the supply side, there are only a handful players who are positioned well to reach the USD 20 Bn valuation. Nintex is definitely a top contender for this, and is poised very well to reach this target in the next 4 years. Here's why we think so:
Narrative of System of Intelligence: Nintex has a unique philosophy of becoming a platform that will allow enterprises to discover and streamline their most critical 'system of record' workflows as well as power up their 'system of engagement' workflows to deliver effortless customer and employee experiences. In addition, Nintex is extending this vision further to become the 'system of intelligence' for its enterprise customers and provide a more seamless and frictionless UI and thus become indispensable within enterprises.
Healthy Profitability and EBITDA margins: Besides growing its annual revenue steadily year on year, Nintex has done extremely well to maintain a very healthy profitability and have best in industry EBITDA margins. This allows the company to pump in more money in strategic acquisitions, while in contrast, a lot of their competitors are not profitable, and hence struggle with their investments in meaningful areas that matter (such as acquisitions). With the impeding rise in Fed interest rates from 0% to 1.25% by 2023, the cost of borrowing will increase and even the investors will become risk averse – choosing to put money only in profitable businesses. This would put extreme pressure on non-profitable platforms to raise money. However, Nintex is in a comfortable spot since it planned way ahead and has robust financials and TPG on its side.
Persona based Customer Targeting: The unique differentiator for Nintex has been its focus on the user persona of the Operations professionals or "Ops Pros" – such as IT ops, business ops, sales ops, and so on. All of its product capabilities have been focused in this direction – and Nintex has gradually, albeit steadily, ramped up its product. capabilities around Ops Pros – giving it a key differentiation vis-à-vis other players.
Robust Product Arsenal: Nintex has a robust product with all the right building blocks: Low Code/No Code, RPA, Document Processing, Process Discovery, API, AI/ML, among others. It provides a holistic platform, with end-to-end capabilities to solve for all the automation needs of enterprise customers.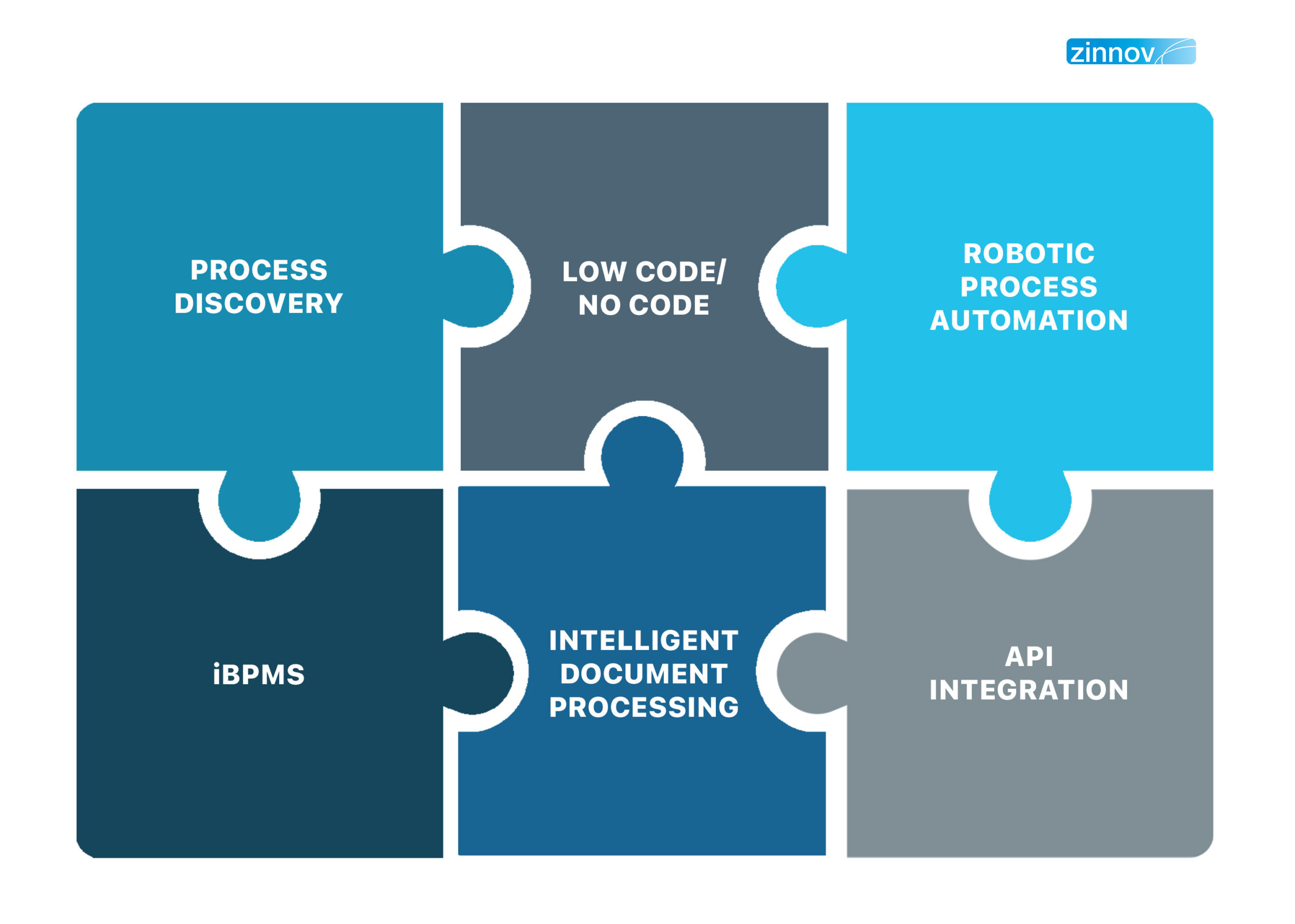 Focus on a Wide Array of Complexities: While the initial version of Nintex was more aligned towards low complexity use cases (esp. around Microsoft SharePoint), it has since evolved to focus more on medium complexity, and medium to high complexity workloads. This was also done on the back of its K2 acquisition back in 2020. This provides Nintex a wide array of workloads to target for its go to market.
Ensuring Customer-Wow Experience: Nintex has more than 10,000 customers across 90+ countries, with a wide market access through 800+ implementation and consulting partners. The company already serves over 50% of the Fortune 500 enterprises with flagship logos such as ANZ, Coca Cola, Zoom, GM Financial, Exxon Mobil, Walmart, and AstraZeneca among others. Even at this scale, Nintex has been able to maintain an average customer retention rate of 93%+ and an industry best customer NPS score of 75%+!
Acute Focus on Employee Experience: Last but not the least, Eric (Nintex CEO) is extremely proud of his employees and leaves no stone unturned to create a workplace that enhances the experience for his employees. And happy employees in turn ensure a customer-wow experience! Eric himself is extremely humble and down-to-earth, and the same reflects even in the company. These softer aspects are healthy ingredients for the recipe of success for a platform player.
The concoction of all of these factors elevates Nintex to a very strong positioning within the Automation space, and puts the company in a sweet spot to become the platform of choice for serious enterprise buyers. What makes this even more interesting is the fact that Nintex has a more compelling story unfolding vis-à-vis some of the incumbent RPA vendors and technology majors in the Automation space.
This next wave of growth for Nintex is truly exciting, and we are looking forward to the heights that Nintex will achieve over the next few years. Upwards and onwards!
Drop a note to
info@zinnov.com
to know what we can do to help your company make the right acquisitions!