Intelligent Automation (IA) marks the dawn of a new era within the automation landscape. IA is built on the four key technology pillars of Use Case Discovery, Data Transformation, Process Reimagination, and Business Optimization, supported by several other underlying infrastructure layers. The amalgamation of these technologies represents the end-to-end integrated Intelligent Automation philosophy that is disrupting the automation landscape.
Our analysis reveals that 75% of Fortune 250 enterprises have already begun their IA journey and continue to make strategic investments in it. However, the journey towards scalable automation continues to be hindered with several obstacles. One of the biggest challenges is the enterprises' inability to identify the right processes for automation and create a robust pipeline of use cases to chase after. Enter Use Case Discovery – the art of unearthing automation-ready processes via Process Mining and Task Mining. As the first pillar of the IA framework, Use Case Discovery holds an extremely significant position within the automation lifecycle.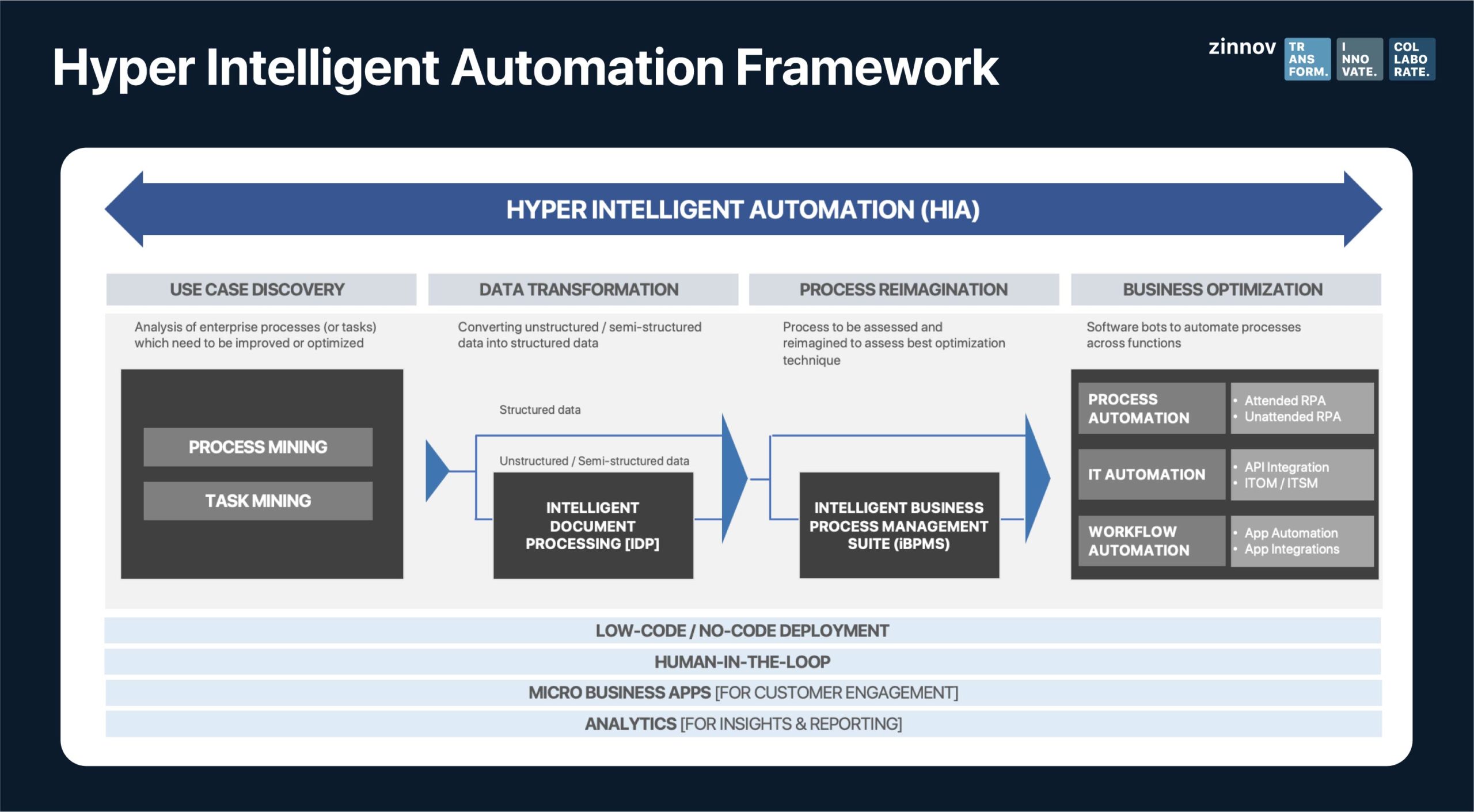 In recent years, Use Case Discovery has gained prominence due to the critical role it plays in the automation lifecycle, and enterprises are increasingly exploring its benefits. The sophisticated disciplines of Process Mining and Task Mining are responsible for automatically identifying processes, creating intuitive visual process maps, recording exceptions, and evaluating the suitability of the process for automation. While Process Mining relies on the analytical interpretation of event logs from information systems and enterprise applications to map the processes and understand the workflow at an overall enterprise level, Task Mining takes Use Case Discovery a step further to provide user- or department-level insights. It leverages user interaction data such as mouse clicks, scrolls, keystrokes, etc., to capture processes accurately.
The Evolution of Use Case Discovery – Rising Significance of Task Mining
The Use Case Discovery landscape has undergone massive transformation since the conception of Process Mining in 2011. Professor Wil van der Aalst, hailed as the "father of Process Mining," advocated the scientific use of event data and process models through Process Mining, which led to the genesis of Celonis, a leading Process Mining specialist. Identifying the natural synergies between Process Mining and automation, traditional RPA platforms began forming partnerships with several Process Mining providers around the 2017-18 timeframe. The ability to source erstwhile inaccessible hidden information from multiple disparate systems opened up new possibilities of finding use cases to automate.
While Process Mining is a powerful tool for gaining enterprise-level insights, that alone is not enough. Around the time Process Mining was becoming mainstream, Task Mining also began to gain traction as the next obvious step in the process intelligence exercise. Kryon, with its Task Mining-based tool – Process Discovery, released in mid-2018 – was one of the first-to-market and propagated the many benefits of Task Mining as it triggered a series of exploration efforts into the field of Task Mining . Soon, other prominent automation vendors followed suit with their own versions of the solutions. Microsoft, for instance, has made strategic investments in Fortress IQ, a leading Task Mining platform.
Traditionally, tasks were captured through highly structured yet vastly complex Process Design Documents (PDDs) that entail a detailed series of manual activities to be conducted to capture the process flow and other intricacies. But the whole effort has been upended as Task Mining is able to automatically discover and analyze the tasks being performed by users. Besides recording user interaction through keystrokes, screen changes, mouse clicks, etc., another crucial element within Task Mining is the ability to recognize context which helps in understanding the identified task's execution journey. Captured at a user-level, Task Mining helps in bringing out department/function-level details quite accurately, and in turn, influences the associated automation decision-making process.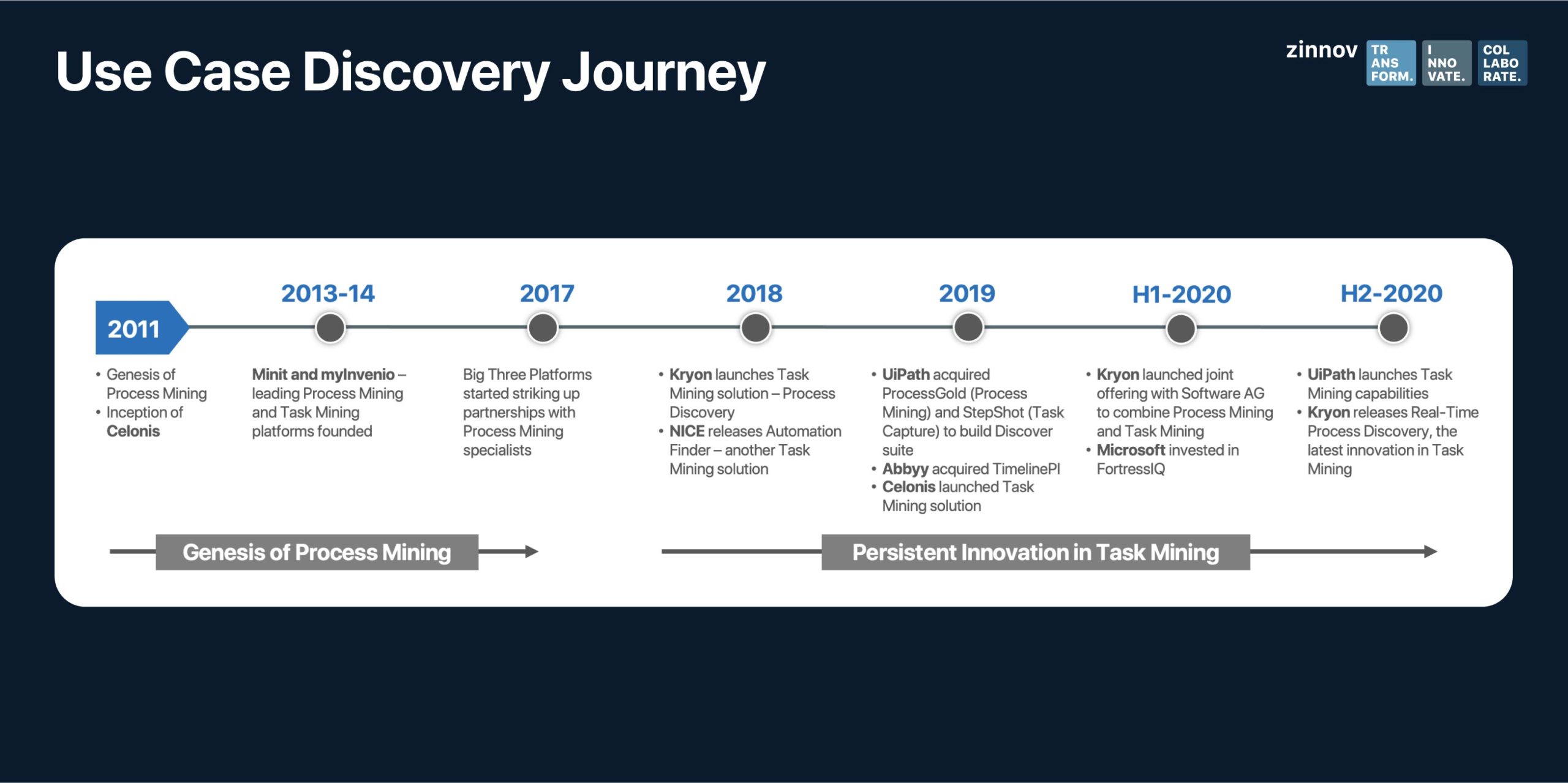 Use Case Discovery has emerged as one of the top priorities within the automation space, and several platforms are striving to combine the capabilities of Process Mining and Task Mining to deliver a more holistic solution. A case in point is Kryon extending its strategic partnership with Software AG and leveraging the synergies between Process Mining (by ARIS) and Process Discovery. Similarly, UiPath has made two critical acquisitions in 2019, of specialist Process Mining and Task Capture platforms – ProcessGold and StepShot, respectively.
Task Mining continues to be a major area of focus within Use Case Discovery, and the space continues to witness innovation. The latest in line is the Real-Time Process Discovery solution released by Kryon in September 2020.
Real-Time Process Discovery – A New Revolution in Task Mining
Real-Time Process Discovery is the most evolved version of Task Mining available in the industry, as it combines all the inherent capabilities of Process Discovery with the ability to provide real-time actionable insights to customers.
Need for Real-Time Process Discovery
Typically, Task Mining involves an extended cycle of capture, recording, synthesis, and analysis of huge volumes of desktop-level user data spread over days or weeks. Due to the extended time and effort involved, process analysis through Task Mining has enjoyed limited adoption across enterprises. An added challenged is the presence of several thousand distinct and highly complex business processes. This is where Real-Time Process Discovery steps in with its vastly enhanced algorithms that boast of the ability to quickly identify processes to be automated within a matter of minutes. Cutting short the discovery cycle of use cases, Real-Time Process Discovery is the next step in Use Case Discovery's evolution.
There are three key technical considerations of Task Mining – data collection, data processing, and data analysis. Data Collection includes several challenges related to sourcing data from multiple users, resulting in scores of actions. Data Processing relates to the management of heavy AI algorithms that require higher computation powers. Finally, Data Analysis entails challenges related to the reduction and removal of anomalies, presenting key insights, and managing sensitive data safely.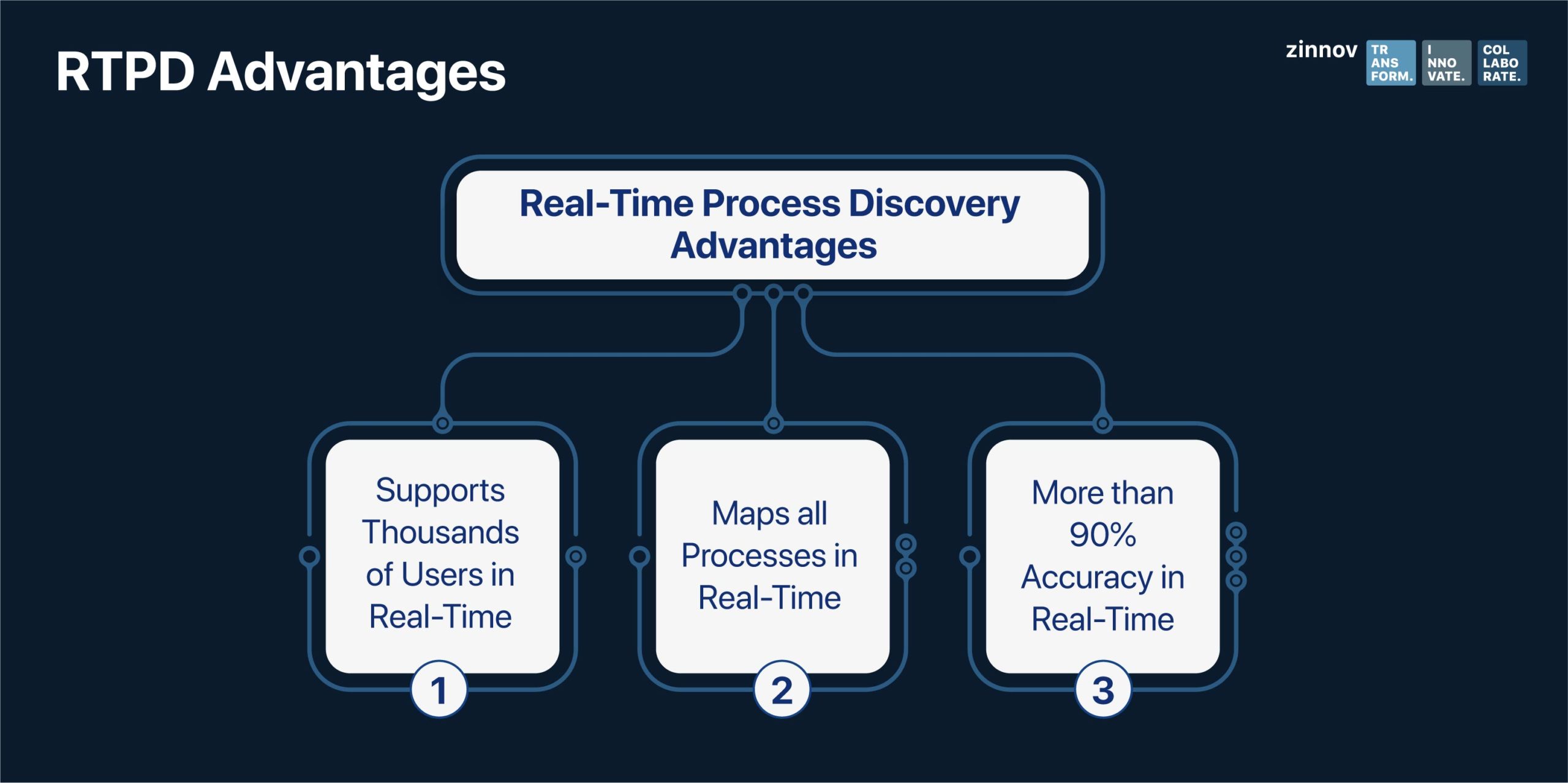 Real-Time Process Discovery is adept at addressing all the challenges posed by the three aspects of Task Mining through its superior underlying AI algorithms. Real-Time Process Discovery is a role-based unified platform capable of processing huge volumes of data collected from thousands of users. To ensure data accuracy and coverage, the solution seamlessly generates Google WebP format images with enhanced resolution that also allow faster processing. In response to the hurdles associated with data processing, the RTPD solution relies on cloud computational powers and leverages integrations with several applications and systems. This is further supported by a resolute microservices architecture including Convolutional Neural Network tagging, visual clustering, raw data services that ensure a frictionless deployment on cloud or on-premise. The last obstacle in line is data analysis, where challenges are alleviated via a series of multi-layered AI and ML algorithms that ensure efficient pre-processing and noise reduction.
Real-Time Process Discovery Integration for Full-Cycle Automation
Seamlessly integrated within the Kryon Full-Cycle Automation platform, the Real-Time Process Discovery solution provides multiple customization options including the selection of the team or users to be recorded and the applications to be monitored across the web and desktop. Further, the analysis progress can be tracked live through intuitive dashboards. After the collected data is processed, video simulations can be run on user actions which can be further segmented by the type of user action – mouse click or keystroke.
In addition to these, there is a string of actionable outputs that the Real-Time Process Discovery solution creates. These include a downloadable automation file to guide RPA development and implementation, PDD for more granular inputs on the design of the discovered process, event logs that enable seamless integration with process mining tools, and finally, a Business Process Model and Notation (BPMN) diagram to provide a graphical representation of the discovered process. All this happens in a matter of minutes.
Another key highlight of the solution is its inherent ability to handle variations. As thousands of different users are being analyzed in real-time, the solution is bound to encounter slightly or vastly different process flows. In this case, the unique mining capabilities of the solution help in creating individual instances and distinct process maps relevant to each variation. This allows the business analysts or process SMEs (Subject Matter Experts) to select the most optimal flows and identify the points of deviation.
Case in point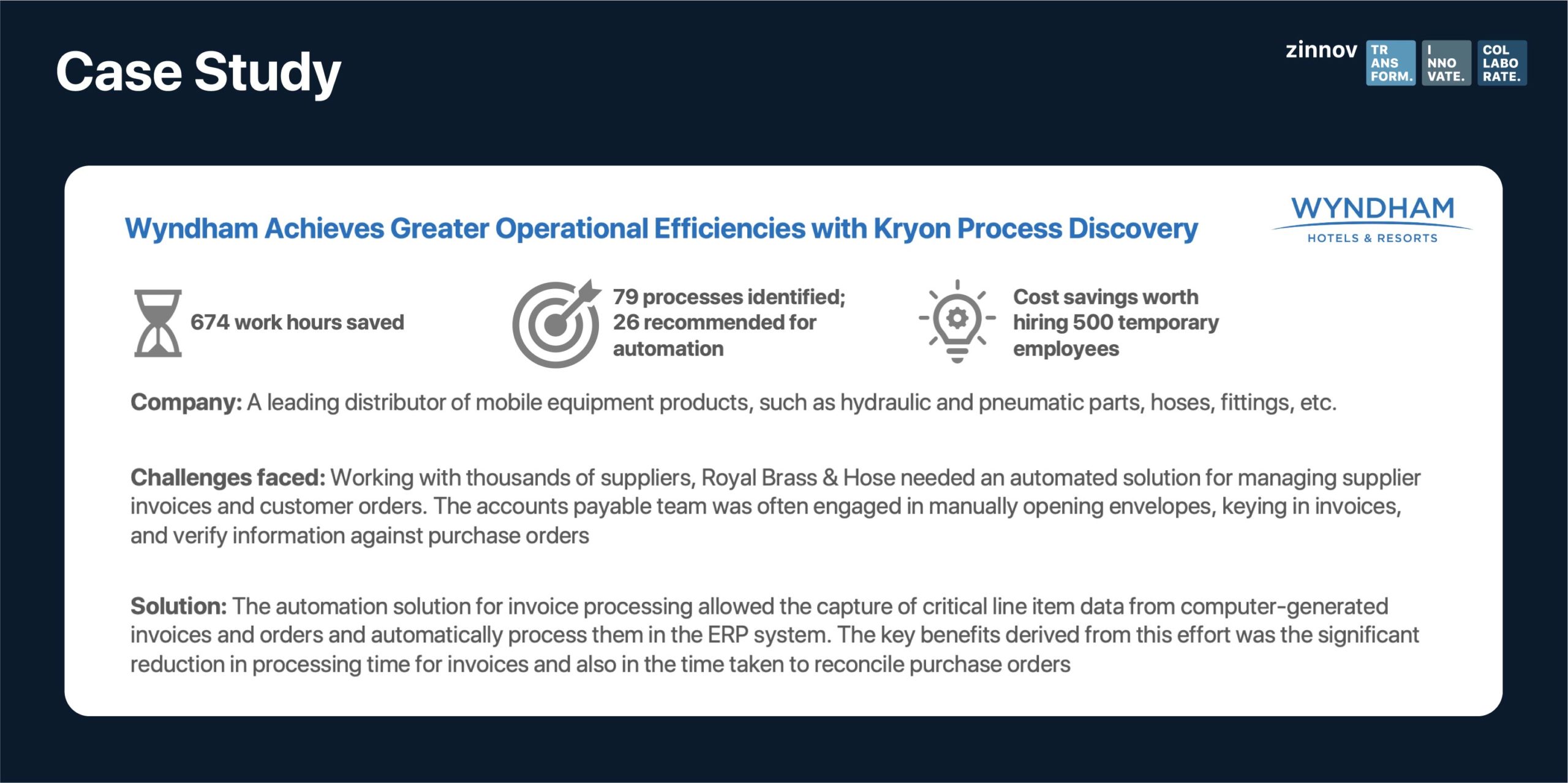 Real-Time Process Discovery is exploring a new realm of process discovery and intelligence by providing actionable insights to enterprises that speed up the creation of a pipeline of automation use cases. This provides greater visibility on the enterprise automation efforts and ensures accurate maintenance of the audit trails. Additionally, it also accelerates the automation projects of enterprises and helps progress towards scalable enterprise-wide automation with confident strides.
Know more about the end-to-end Intelligent Automation philosophy and how it can add strategic value to your organization by dropping us a note at
info@zinnov.com
.