In one of the most significant developments in the Automation space this year, TPG Capital announced that it will be acquiring a majority investment in Nintex for a staggering USD 2 Bn+! This comes right at the heels of Vista's USD 1.5 Bn acquisition of Blue Prism just last week. While the two deals are significantly different – with the former just changing PE hands from Thoma Bravo to TPG, and the other focused on the "going private" route for Blue Prism – Private Equity (PE) investors are decidedly ramping up focus within the red hot Automation space.
Thoma Bravo has its general value creation cycle of 3-5 years with respect to its portfolio companies, while the average holding period for its past 5 exits within the Software sector has been just 2.4 years. Nintex was acquired almost 3.5 years ago (in March 2018) and, Thoma Bravo has, in fact, decided to retain a significant minority stake in Nintex which a testament to the growth prospects of the company. Even TPG has been evaluating Nintex over the past two years, and after a comprehensive due diligence process, finally went in for the acquisition. This is definitely a great move by TPG and a win-win for both companies.
Nintex's Growth Journey So Far
To better understand why Nintex is an unmissable asset for any PE player, here's a look at Nintex's journey – from its inception in Australia back in the mid-2000s to how it has pivoted towards Automation with an aggressive organic as well as inorganic strategy, and how it has forged a path to become a force to reckon with within Hyper Intelligent Automation.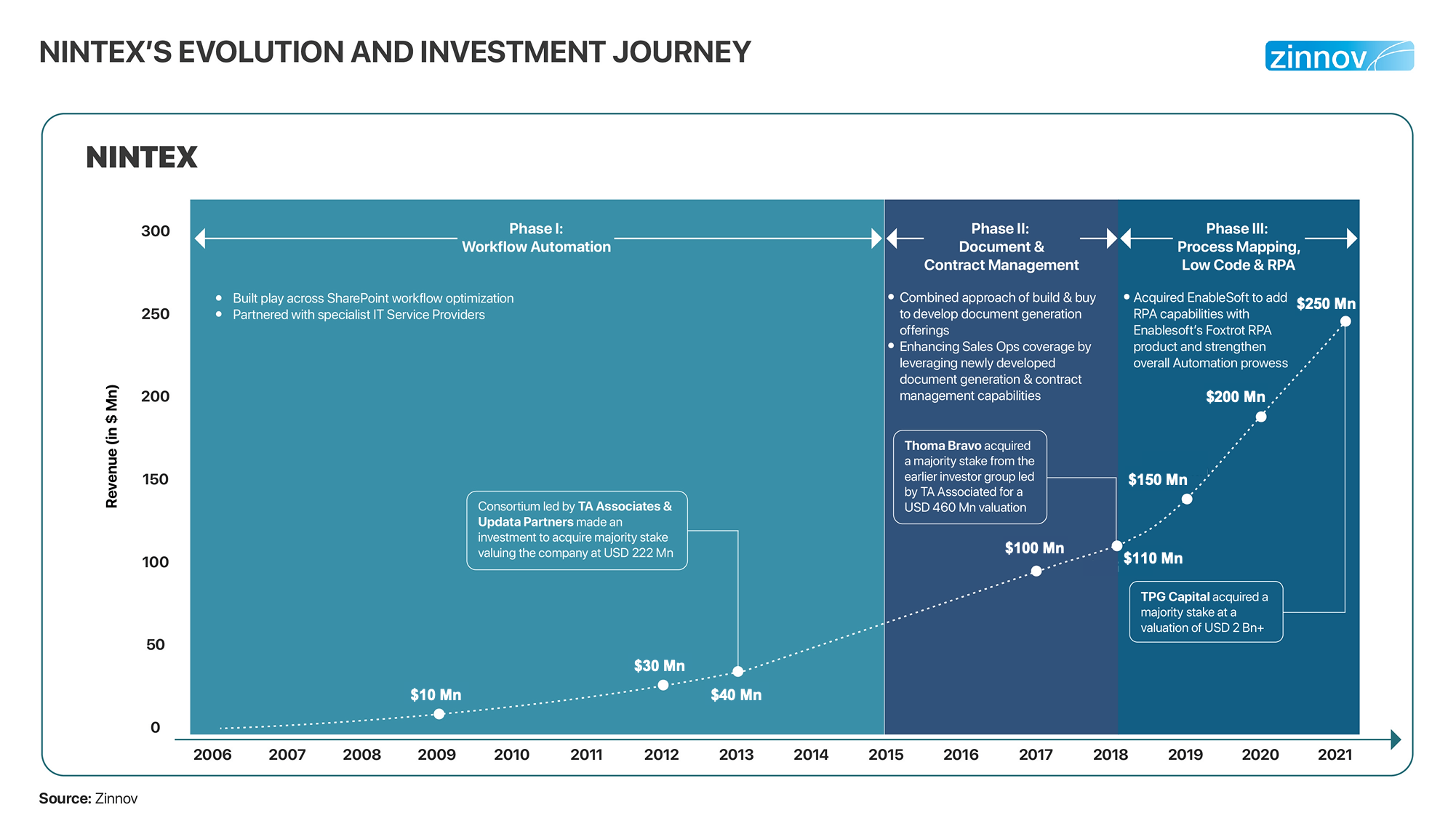 The company was founded in 2006 by two entrepreneurs in Melbourne, Australia, who had a system consulting and integration business. They used to help customers build custom-coded applications, and soon developed a workflow designer for themselves so they could quickly build these applications. They quickly realized they had a software company, and this led to the birth of Nintex in 2006, with a mission statement to improve the way people work. The initial software that they built as a workflow automation tool, provided capabilities on creation and streamlining of workflows based in Microsoft SharePoint.
The first decade of Nintex was all about organically building from the grounds up, with the launch of Nintex Forms in 2010 and partner-led sales through alliances such as HighPoint and RDA Corp. In 2013, Nintex also received an investment of USD 135 Mn from TA Associates and Updata Partners at a valuation of USD 222 Mn. The unique differentiator for Nintex was its focus on the user persona of the "Ops professional" – such as IT ops, business ops, sales ops, and so on. All of its product capabilities have been focused in this direction, and Nintex has gradually, albeit steadily, ramped up its product capabilities around Ops professionals.
Nintex's Strong Inorganic Playbook
Although Nintex was steadily strengthening its capabilities, it doubled down on its inorganic growth soon enough.
In 2015, Nintex made its first acquisition – Drawloop Technologies, a leading document generation player, for USD 45 Mn, to expand its portfolio. Drawloop was one of the top 10 paid apps on the Salesforce AppExchange focusing on sales and services documents, and with this acquisition, Nintex deepened its focus on sales ops as a use case. Along with the inorganic capability acquisition, Nintex also stepped on the gas on its R&D, launching Nintex Workflow for Box to ease automation of processes for Box customers and making Nintex Workflow available on the Salesforce AppExchange in 2017.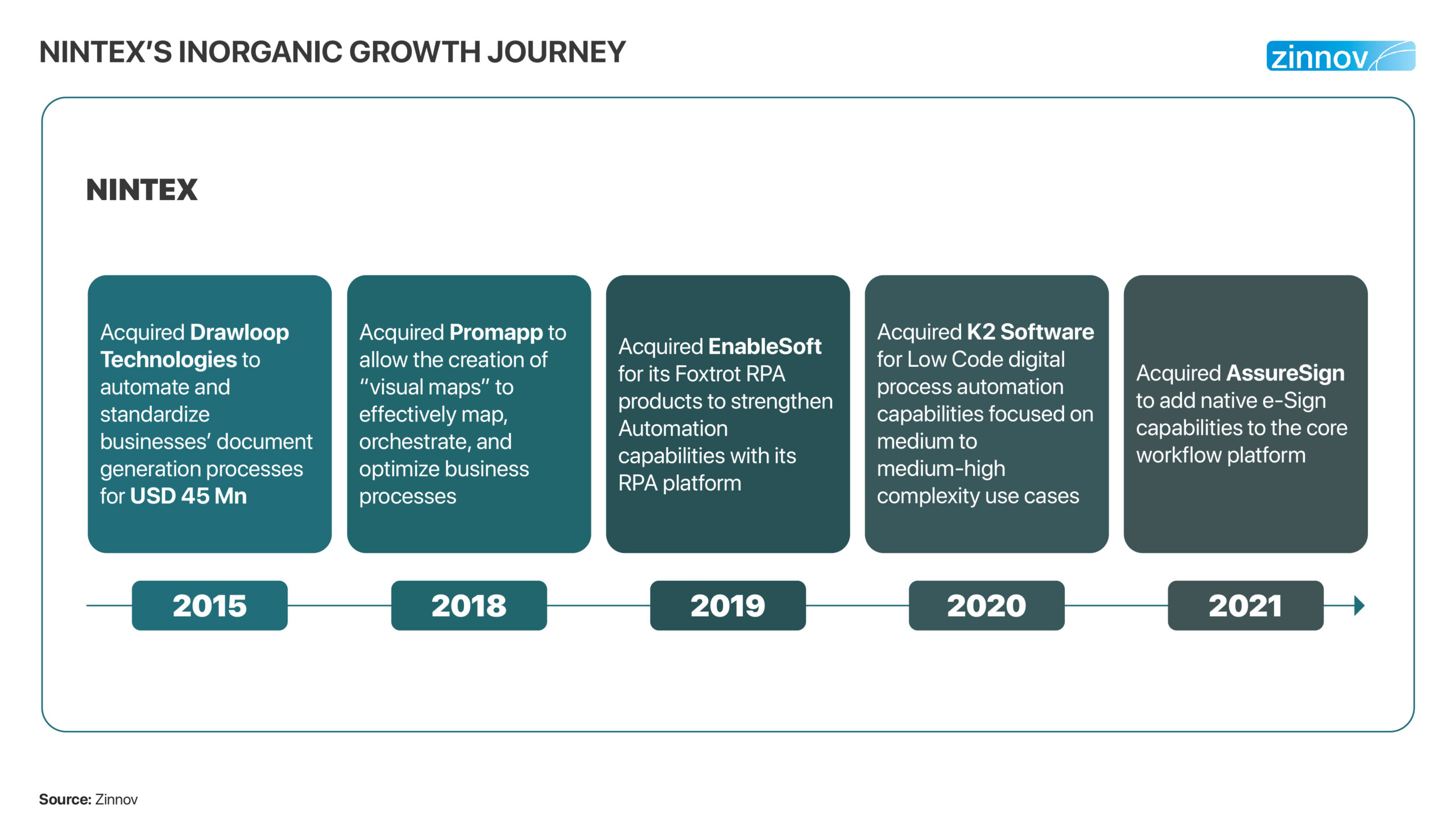 2018 was a pivotal year for Nintex with Thoma Bravo acquiring a majority stake for USD 460 Mn from an earlier investor group led by TA Associates. Nintex was clocking in ~USD 115 Mn in revenue at that point. The next 3 years marked the evolution of Nintex as a more holistic process automation platform, making 4 acquisitions in a period of 35 months. The first of these acquisitions came just 3 months after Thoma Bravo's entry, when Nintex acquired Promapp to enable customers to create "visual maps" to get a bird's eye view of various complicated business processes within a company.
In 2019, Nintex acquired Enablesoft for its Foxtrot RPA platform to strengthen its capabilities around management, automation, and optimization of business processes across functions and industries. In the following year, Nintex acquired K2 Software, to allow its customers to create modern apps and automated workflows, enhancing its ability to handle medium complexity processes. Finally, in 2021, it acquired AssureSign to get native e-Sign capabilities within the Nintex platform. Even the e-Sign space is a sizeable addressable opportunity and we believe that Nintex has sown the seeds in all the high growth market segments.
Nintex, the Dark Horse of Automation
In these 3 years, Nintex has emerged as a dark horse in the Automation ecosystem, emerging as a prominent Hyper Intelligent Automation (HIA) player. Much of this credit goes to its current CEO, Eric Johnson, who transitioned into this role as part of the Thoma Bravo takeover. Eric joined Nintex in 2014 as the Chief Financial Officer, with prior experience from various large and mid-sized software companies such as Jive Software, Serena Software (acquired by Micro Focus), and IBM. Eric himself has had a great journey on the personal front, having been brought up in the humble town of Vancouver (Washington), and growing from strength to strength over the years, to becoming the CEO of this fast growing company within Automation – this has truly been an incredible ride, and at the same time, an emotional one personally for Eric. He is particularly proud of the team at Nintex, having great strength and depth at every level.
Since Eric came to the helm as the CFO, Nintex has grown its sales at a phenomenal rate of almost 6X – from about USD 40 Mn in 2013-14 to around ~USD 250 Mn today. This growth has not come at the cost of profits, and Eric has managed to operate the company, sticking to the PE playbook of following the "Rule of 40," which translates to making sure that the sum of the YoY revenue growth and EBITDA margin for the company for any given year is more than 40%. His heads-down rigor, creativity, and humility have been instrumental in Nintex's success. In an episode of the Zinnov Podcast in May this year, he said, "We have three core tenets in the business, and they guide us each and every day. Number one is – deliver on our commitments. Number two is – don't wait, and number three – operate with respect and consideration." Eric and his team's maniacal focus on providing a wow customer experience and doing what's right for his partners and employees have been among the fundamental pillars of success for the company.
With an extremely strong revenue profile, Nintex is among the top companies in HIA. Its coverage extends to more than 10,000 customers across 90+ countries, with wide market access through 800+ implementation and consulting partners. The company already serves over 50% of the Fortune 500 enterprises with flagship logos such as ANZ, Coca Cola, Zoom, GM Financial, Exxon Mobil, Walmart, and AstraZeneca, among others. Even at this scale, Nintex has been able to maintain an average customer retention rate of 93%+ and an industry best customer NPS score of 75%+. As another testament to its success, Nintex was rated as a leader in the Zinnov Zones – HIA Platforms 2021 ratings.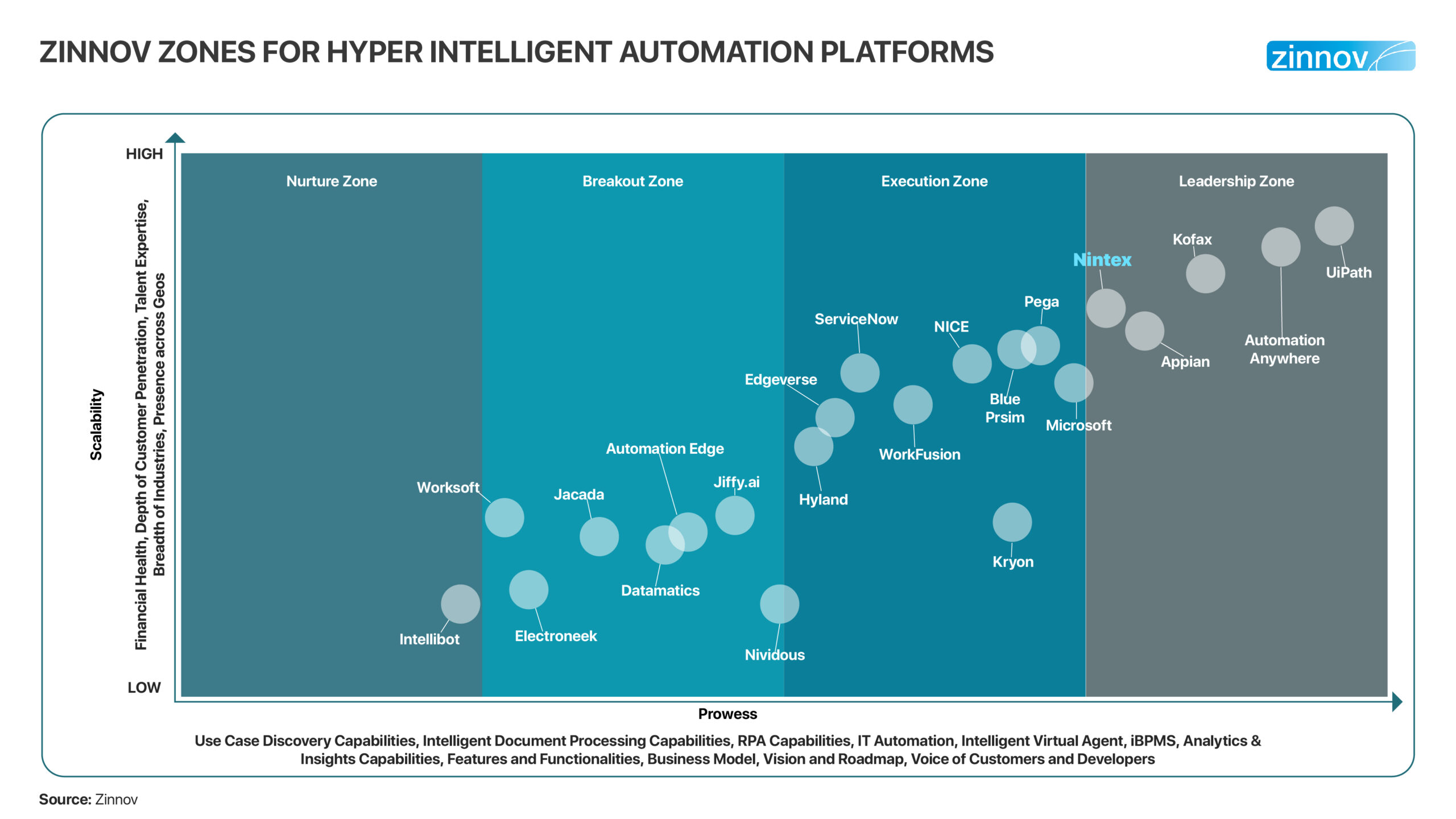 Today, there are over 30 unicorns active in the HIA segment, many of which will soon turn decacorns. It has been reported that TPG is planning for an IPO for Nintex that will value it at USD 10 Bn. Drawing parallels from UiPath which is trading at a 35X revenue multiple, Nintex would be valued at USD 8.5 Bn+ if it were to file for an IPO even today!
Nintex's Bold and Bullish Vision
Eric has aggressive plans and is extremely bullish on Nintex. He is calling out a vision to become a USD 20 Bn valuation company within the next 4 years, which is bold vision. Eric also has this philosophy for Nintex to become the foundational system of record for enterprise processes, and once this foundation has been set, the platform will be indispensable for any enterprise customer! Hence, with this future vision in place, and with the kind of product innovation that Nintex has undertaken, coupled with the strategic acquistions over the years, this bold vision of USD 20 Bn valuation within 4 years is definitely in the cards.
However, in order to make sure that Nintex continues its great run, it needs to continue to build muscle and reinvent itself, as it has done in the last 15 years to stay relevant and successful.
TPG has an opportunity to derive exponential returns from its investment into the company. This can happen through the five levers which we believe should define the Nintex-TPG Capital playbook over the next few years:
Augmentation of Promapp with robust Process Discovery capability through the addition of Process Mining and Task Mining capabilities
Targeted acquisitions to natively offer IVA (intelligent virtual assistant) and further enhance play in the attended automation segment
Catering to the needs of professional developers bydelivering on the ability to address highly complex workflows and build mission critical apps
Unlocking value through focus on growth markets in APAC and the Middle East
Focused investments on market visibility and brand building to increase mindshare and recall
Nintex is definitely a strong addition to the TPG portfolio, and we expect the company to only scale further from here. With Eric at the helm and a strong team to back him up, along with the organizational DNA that has enabled Nintex to thrive, we only see an upward trajectory for the company. We are truly excited by what Nintex can achieve in the next 3-5 years. Good luck, and Godspeed!
For more such in-depth analyses on how the Automation space is evolving, write to us at
info@zinnov.com
.