Conversations around technologies for remote consent and electronic signatures (e-Sign) started in the late 1970s, subsequently gaining vast momentum in the 90s. With the advent and global acceptance of the PDF format, and the formation of multiple regulatory frameworks in the 2000s, the field has only flourished over the past two decades. In fact, over the past couple of years, e-Sign has turned into a critical enterprise technology with the pandemic paving way for and accelerating a digital working environment. Interestingly, the past decade witnessed acquisitions in the e-Sign space to the tune of a total deal value of a staggering USD 2 Bn.
Fresh off the oven is the case of Nintex's acquisition of AssureSign, which was announced recently on June 2. Along with that, acquisitions of HelloSign and DocSend by DropBox, SignRequest by Box, besides the USD 220 Mn spent by DocuSign in 2020 alone in acquiring the likes of Seal Software and LiveOak Technologies, stand testament to the growing interest in this space. To keep up with this rising demand, e-Sign platform vendors have been ramping up their capabilities and making significant investments.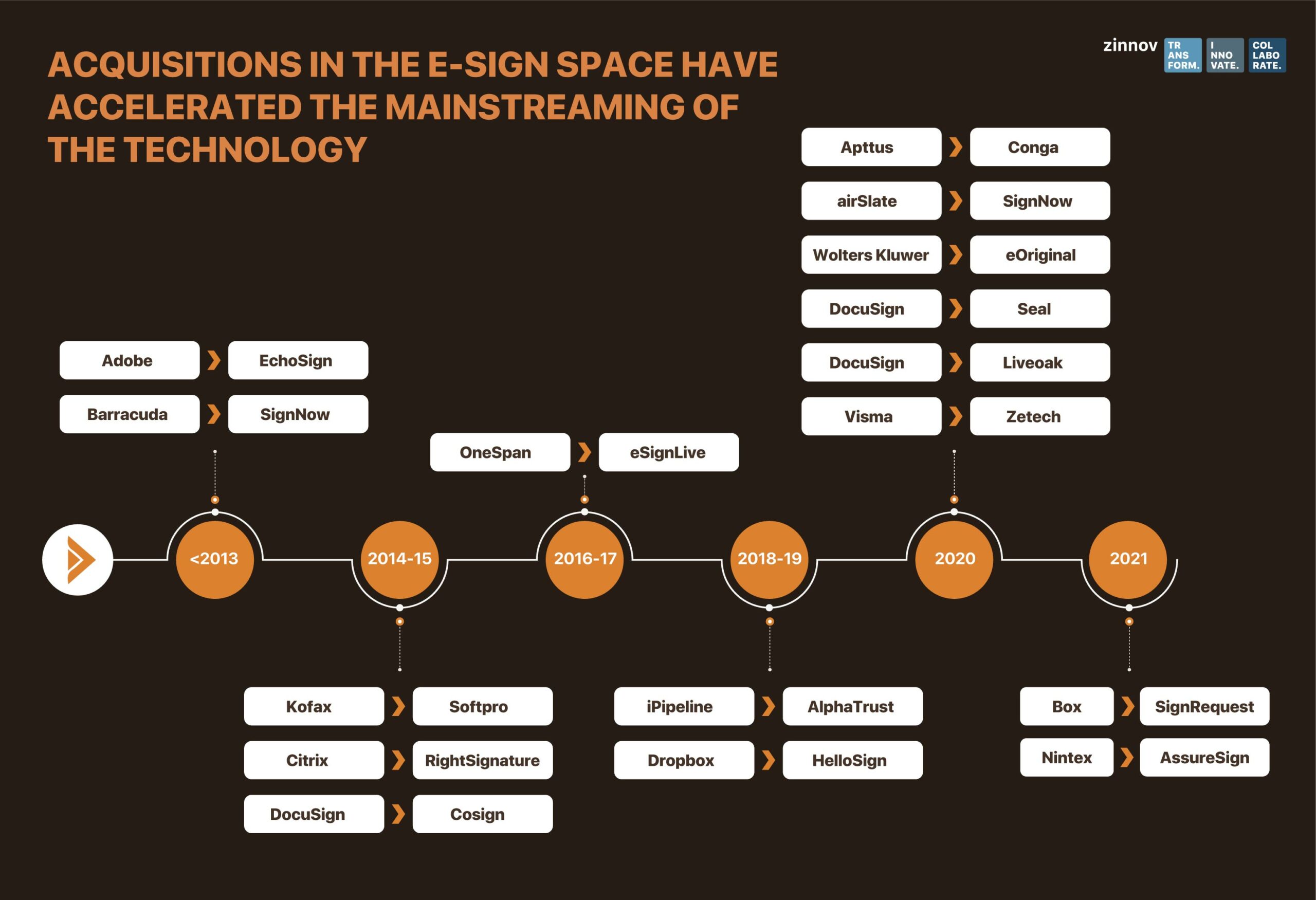 With advancements in Automation technologies over the years, e-Sign offerings have gone from being standalone remote consent tools to end-to-end signature workflow automation solutions. A 2021 Zinnov research underscores this trend, indicating that ~90% of the major players in the e-Sign space offer end-to-end workflow automation solutions. Further, of these, ~80% offer fully customizable workflows. The pandemic-induced remote working construct has set the stage for a major boom in the e-Sign space, with the vast majority of the working population having signed at least one document digitally. But what are the major trends driving adoption of e-Sign and how are some of the major platforms been innovating?
e-Sign Solutions Revolutionizing Contract Management
Over the years, e-Sign solutions have evolved into their current avatar, while also ensuring coverage across each step of the value chain. Solutions now offer a wide variety of customizable templates, enabling seamless creation, storage, and management of a document. Looking at things from a workflow automation perspective, most platforms in the market enable the creation of signature workflows – predefined order of signatures towards a function.
Features like Roles and Routing eliminate the need to add recipient info each time a document is to be sent out for signatures; instead, roles can be assigned within a workflow which saves time and effort. Platform vendors also understand the clients' need for dashboarding while tracking multiple, complex signature workflows, and hence offer detailed dashboards and notifications at each step. Additionally, custom branding features allow users to modify the entire document with company insignia, while many platforms offer the complete removal of the e-Sign platform name and logos, known as white-labelling, offering another layer of customization. What makes an e-Sign offering truly powerful is how it can go beyond signature workflows with contract management capabilities.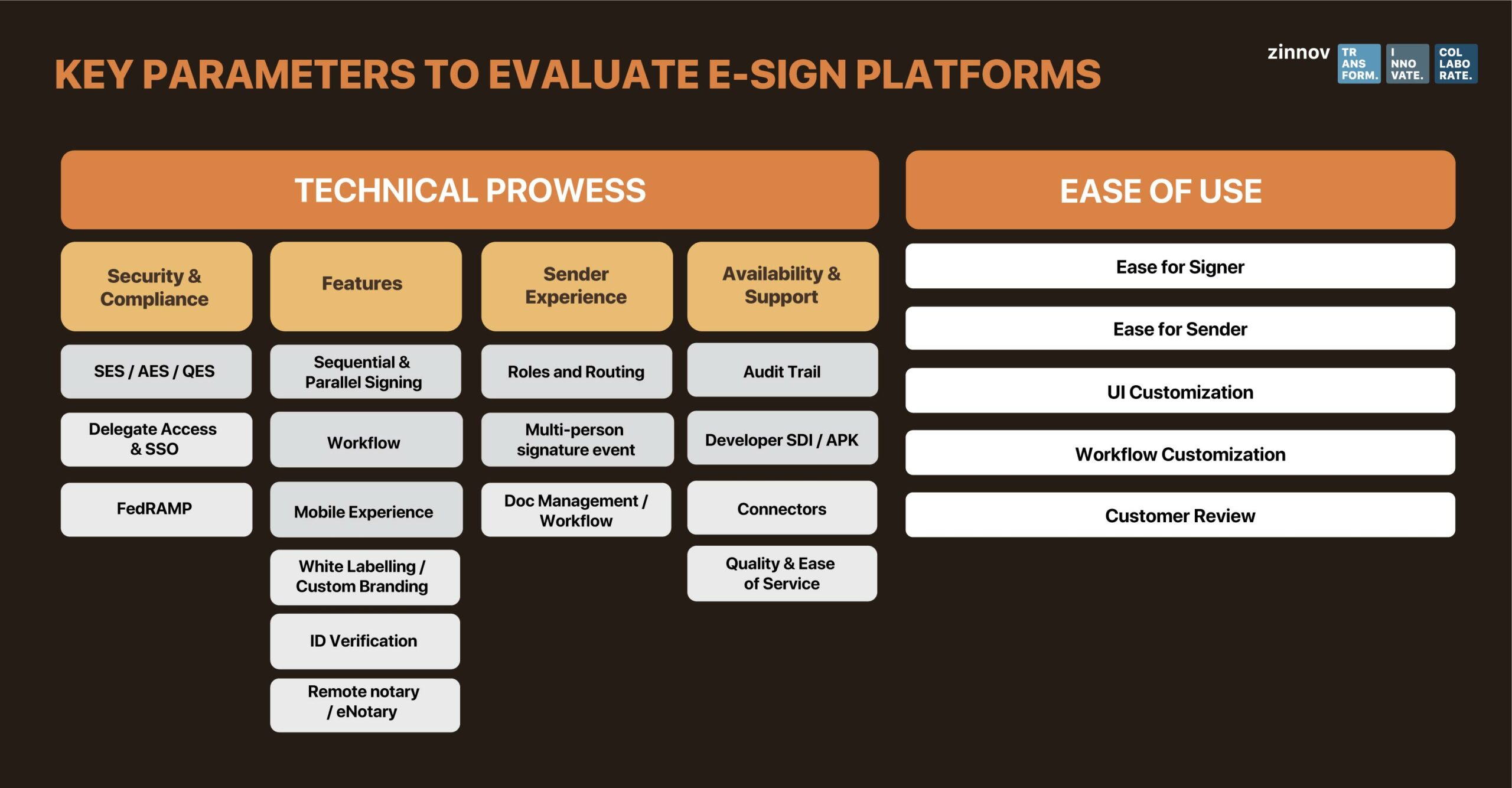 Contract Lifecycle Management takes care of the contract process, right from the creation of the document, managing all the auxiliary documents, ensuring that compliance requirements are satisfied, to notifications and single-click contract renewals for all parties involved. While document/contract creation, signatures, and renewals are capabilities offered by most e-Sign platforms, some niche players are increasingly capturing the negotiation and execution dashboarding aspects as well, with varying maturities. This, when strengthened by a broad set of utility and customization features, lets e-Sign go from being a standalone offering to more of an enterprise solution.
The breadth of features is set upon a strong frame of security & compliance requirements. Starting with the e-Sign Act of 2000, the legality of electronic signatures is subject to various regulations – like eIDAS (Europe), Uniform Electronic Transactions Act (US), Digital Signature Standard (US), etc., as well as other standards like ISO SOC2 Type II, along with HIPAA and GDPR guidelines. While providing the much-needed data and privacy protection, high compliance ratings add credibility to the platforms – and the increased credibility of some of the leading platforms has been instrumental in the growth and interest in this space over the past decade.
The Expansive e-Sign Vendor Landscape
Adobe Sign and DocuSign, two of the oldest and biggest e-Sign platforms, are largely regarded as the titans of the e-Sign market. Since the PDF format has been integral to the field of e-Sign since its inception, Adobe's acquisition of EchoSign in 2011 was received by SMBs and enterprises with enthusiasm. DocuSign has also been flexing its muscle, especially post the pandemic – gaining document management and eNotary capabilities via acquisitions.
The Low Code/No Code (LC/NC) platforms have also been making a steady foray into the world of e-Sign. Nintex, the LC/NC-based process management, and automation company offered Nintex Sign® powered by Adobe Sign via a partnership. Nintex's June 2020 acquisition of e-Signature company, AssureSign, is a display of its commitment towards expansion in the e-Sign space and to bring native e-Sign within the Nintex Process platform, as well as a sign of larger LC/NC investments in the e-Sign category.
Big platforms like OneSpan have a very competitive offering OneSpan Sign, which ranks high on both feature breadth as well as ease of use. OneSpan is also one of the only players to have the Federal Risk and Authorization Management Program (FedRAMP) compliant certificate, which is considered to be the gold standard for security in cloud products. Platforms like PandaDoc and FormStack are also part of this category of trailblazers that boast robust back-end capabilities.
While bigger players have the larger share of enterprise clients, especially in the Banking, Financial Services and Insurance (BFSI) industry, smaller players like SignEasy and Connective.eu stand out to SMBs and enterprise clients alike, due to the simplicity and intuitiveness of their platforms. Interestingly, some nifty e-Sign platforms have combined the best of both worlds with a unique combination of technical prowess and platform simplicity. They have also gone a long way in terms of product innovation. OneFlow stood out for having made a departure from the traditional PDF-based approach to an HTML-based philosophy. While helping document editing and negotiations in real-time, HTML-based e-signatures are arguably a more secure form.
Looking to the Future – e-Sign Offerings for the New Normal
Given that the majority of signers might not be direct users of the e-Sign platform, the holy grail of an effective e-Sign platform is combining technical prowess as discussed above, with ease of use, and finally tie it up with a pricing strategy that appeals to the client groups. Ease of use of an e-Sign platform goes beyond just platform simplicity and seamless navigation – it includes elements of UI and workflow customization dictating the overall signer, as well as sender experience. This, according to experts, is the reason why e-Sign is gaining traction amongst LC/NC players.
In fact, LC/NC platforms are increasingly adding e-Sign capabilities to their list of offerings – through partnerships as well as by building in-house capabilities. This is especially true for the leaders in the LC/NC segment. While the likes of airSlate already have a full-fledged e-Sign offering, Appian for instance, has partnered with DocuSign to add e-Sign capabilities to its suite.
These LC/NC platforms are rapidly adding to their technical capabilities and feature sets, and building on the ease of use of their offerings. Nintex Sign®, for example, combines sought-after features like process visibility, automated compliance, and multi-device usability into its signature workflow automation platform, with the added convenience of a drag-and-drop based builder. With the acquisition of AssureSign, Nintex has acquired rich customization features and compatibility across a wide range of devices, along with expertise in serving Legal, Insurance, and Healthcare industries. With smaller, nifty e-Sign platforms like Zomentum, Fluix.io, and Revv coming up in the LC/NC segment, the e-Sign has garnered much interest, and we can expect more activity in the way of partnerships and acquisitions.
e-Sign and the Added Capabilities Imperative
While there are e-Sign players dramatically trying to improve user experience, there are a slew of indicators on what added capabilities we can expect to see from them. Detailed dashboarding is now a ubiquitous feature. This is why some market leaders are leveraging Artificial Intelligence (AI)-based technologies to not just provide dashboard analytics, but also to generate critical document insights. These incremental value-adds go a long way in enhancing user experience and making enterprise adoption seamless, which is what makes AI-driven document analysis one of the key innovations in the near term.
Plenty of forward strides have already been made in the way of Mobile Features like Mobile Capture, Snap-and-Sign, and Mobile Workflow Customization. We have also seen platforms like AssureSign and OneSpan making progress on improving their mobile features. With the pandemic necessitating a larger proportion of the workforce to turn digital, enabling mobile devices to be full-fledged signing and sending devices has become crucial. In line with this demand, we will see much product development towards Device Agnosticism.
Last but not least, security is the bedrock of electronic signature technologies. Easy and effective authentication significantly enhances user experience by saving time and effort. The e-Sign market has seen developments from 2-step OTP-based authentication – real-time document verification, face recognition, etc. Building on this, leading platforms are innovating Virtual SignRooms or Virtual Signing, where the signers can watch each other sign over videoconferencing. This facilitates a real-time live signing experience, in addition to enhanced security.
The e-Sign market, along with the quantum of enterprises and product innovation within them, is at an all-time high. At the same time, Low Code/No Code-based companies' foray into the e-Sign space is putting a lot of emphasis on the ease of use and degree of customization offered by these platforms. Taking cues from the market leaders, the smaller, more boutique players are upping their game in e-Sign, and with the upturn in technology adoption over the past couple of years, we can be sure that the e-Sign space is set for interesting innovations. How do you think the world of e-Sign would evolve in the near term? And what are some major potential disruptors in this space?
Are you a Low Code/No Code platform looking to foray into the rising e-Sign space? Drop us a note at info@zinnov.com to know how we can help you achieve that.