Last week was truly an action-packed week for Process Intelligence, with massive investments and big bets being taken by both platform players and investors. While we saw two interesting acquisitions – with Celonis acquiring PAFNow and then Microsoft announcing its acquisition of Minit, we also saw smaller Task Mining player Skan.ai raking in USD 40 Mn of Venture Capital (VC) money in a Series B fundraise.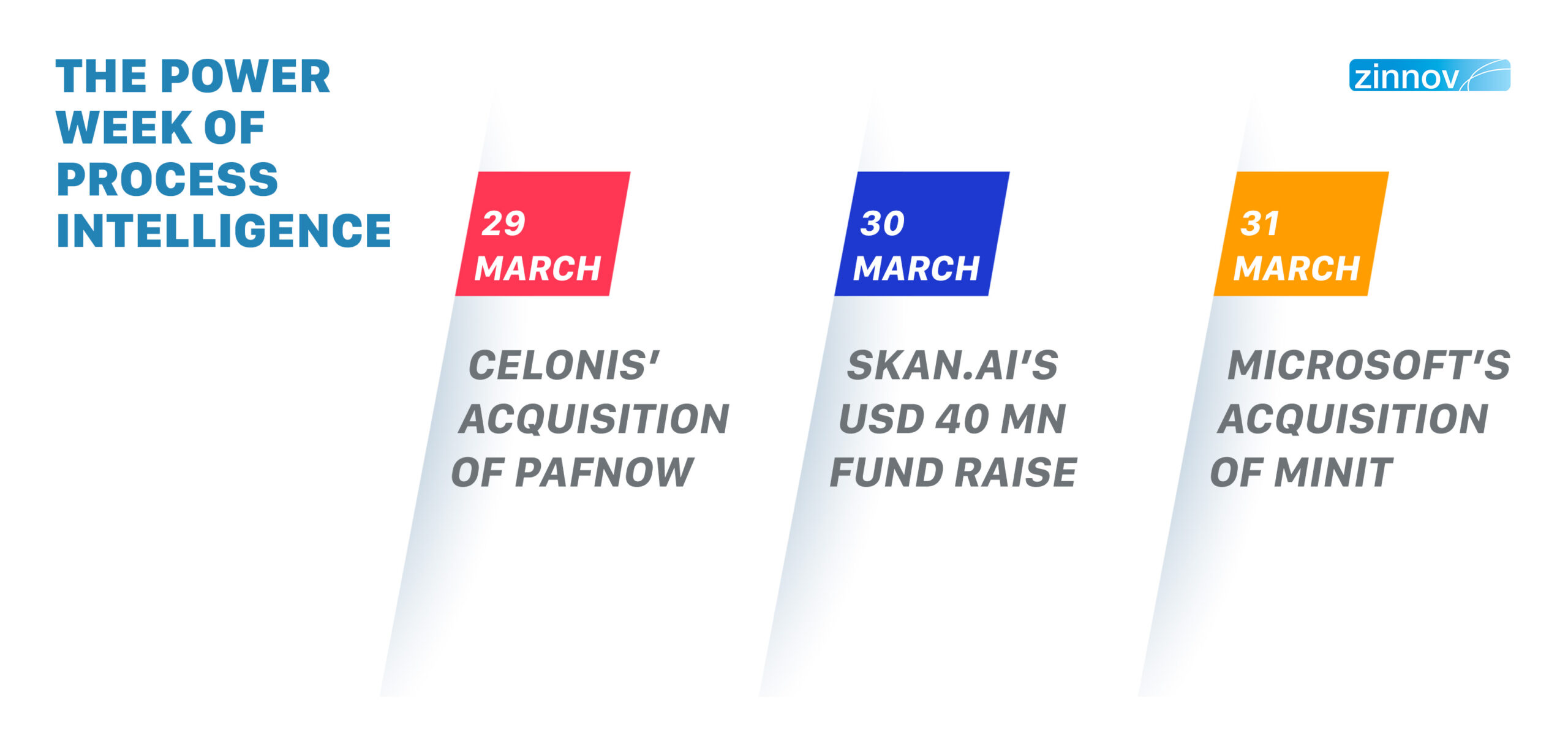 Why Process Intelligence
Process Intelligence has emerged as a sexy area to invest in, for VC investors and larger Automation platforms alike, in the last 12+ months now! We have seen Process Mining assets being gobbled up by larger players – including IBM-myInvenio, SAP-Signavio, Appian-Lana Labs, and more recently, Nintex-Kryon, AA-FortressIQ, among others. The acquisitions have all been made to position as a more holistic Automation platform, by adding missing puzzle pieces of the Automation technology stack (what Zinnov refers to as Hyper Intelligent Automation) with end-to-end capabilities.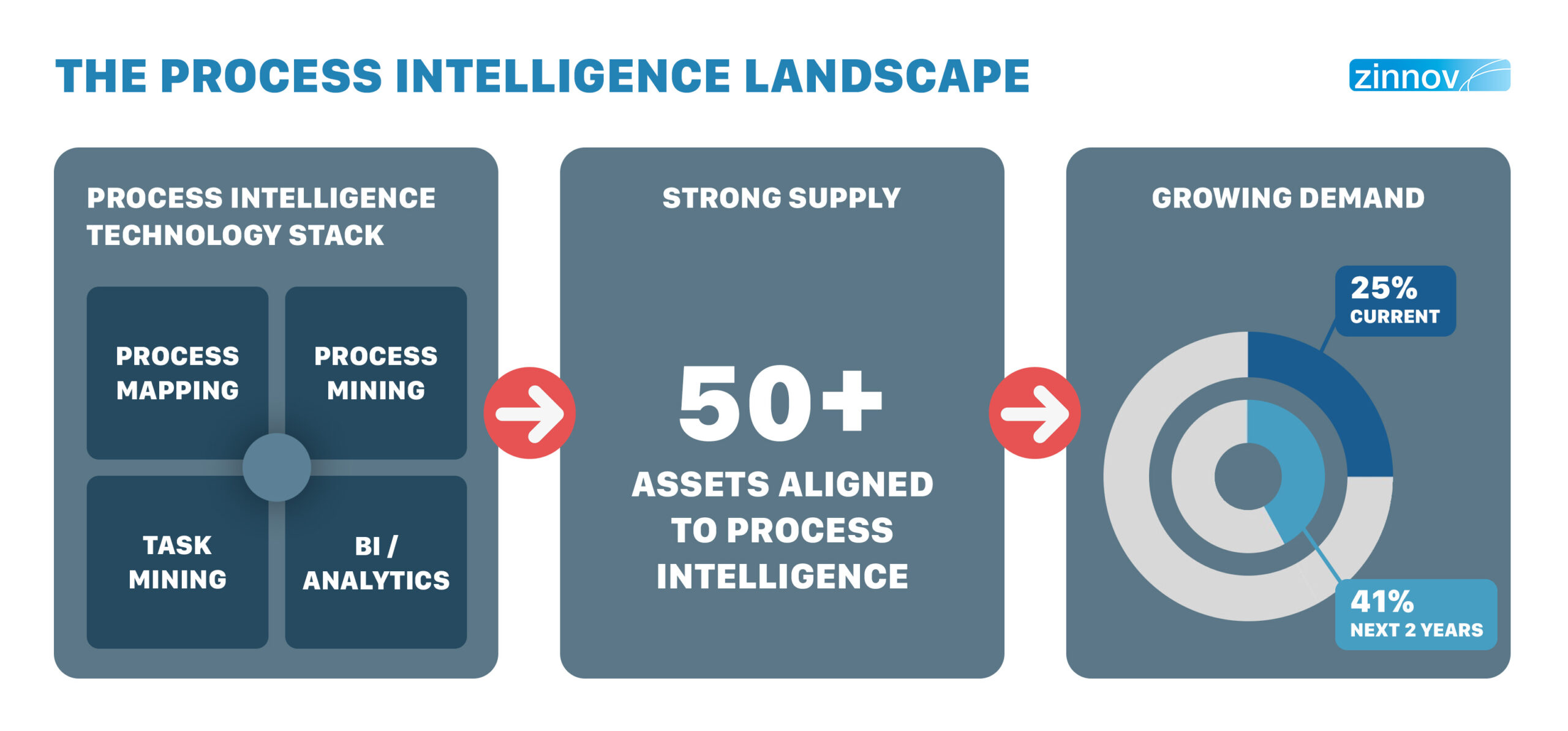 Process Intelligence includes multiple sub-areas of Process Mapping, Process Mining, Task Mining, and BI/Analytics. While the first three capture detailed processes/Process Design Documents (PDDs), the BI/Analytics layer is equally critical to visually provide actionable insights on top of the plethora of data being captured and point toward the bottlenecks and inefficiencies. There are more than 50 such Process Intelligence players, which we are tracking at the moment. While there is a lot of noise being created within Process Intelligence, the actual traction from enterprise customers is still low. As per our global CXO survey, only about 25% of the global enterprises are leveraging tools-based Process Intelligence players for discovering use cases, while the majority of more than 90% of enterprises continue to rely on manual, crowd-sourcing techniques for discovery. However, the interesting part is that 40%+ of enterprises say that they will adopt Process Intelligence tools in the next 12-24 months, which shows a healthy uptick. That's the reason we see all major platforms scampering to acquire niche assets in this space.
Celonis-PAFNow Acquisition – Celonis cozies up to Microsoft
Celonis acquired Process Analytics Factory (PAFNow) in a deal valued at almost USD 100 Mn, which will enable millions of Microsoft Power Platform users to utilize Celonis' Execution Management System (EMS) for Process Mining and Workflow Automation within their enterprises. Given Celonis' launch of EMS, its acquisition of Integromat for Workflow Automation, and acquiring PAFNow majorly to add the BI/actionable insights, Celonis has been aggressively focusing on shifting away from being a mere Process Mining company to position itself as an end-to-end platform with downstream automation capabilities as well. PAF will help add the analytics/BI might of Power BI on top of the existing Celonis EMS. This intelligence and BI layer has been a challenge for most enterprise customers, since Process Intelligence vendors either have their own proprietary BI dashboards (which are often not the most intuitive to work with), or they have partnerships with some third-party players (such as Qlik, Tableau, etc.). In fact, more than 95% of Fortune 500 enterprises use Power BI, making it the leading BI player globally.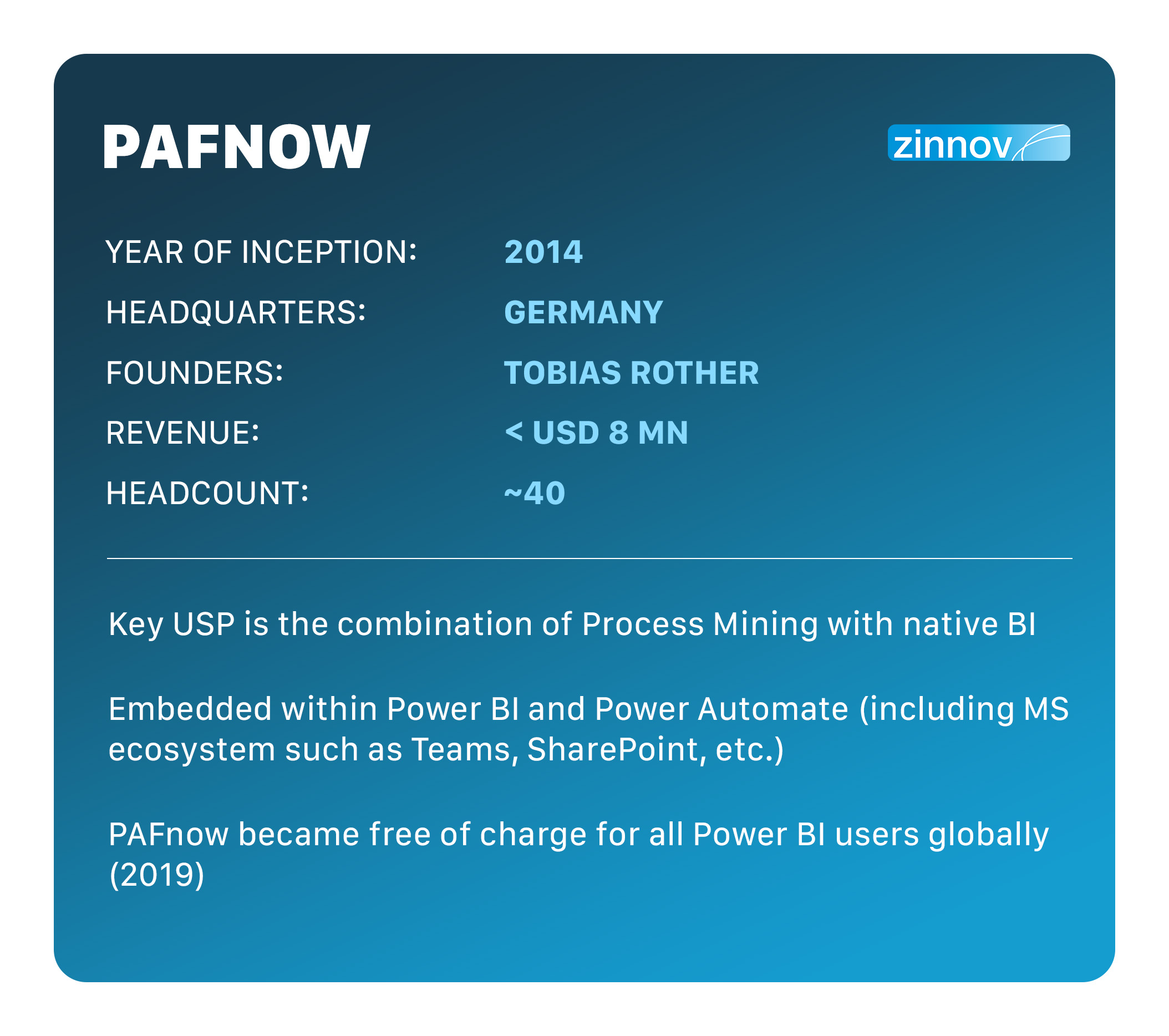 If we zoom out and look at the overall strategy, Celonis has gradually albeit steadily, increased its partnerships with enterprise technology giants. While in the early days, it started working closely with its German brethren SAP, over the years we saw Celonis doubling down on other technology majors such as ServiceNow, Salesforce, and now Microsoft. 'Celonis Experience' as it is called now – is a clear strategy for Celonis to couple both Process Intelligence + BI with EMS to function as a 'System of Experience' for the enterprise customers. This provides it a strong competitive advantage vis-à-vis pureplay Process Intelligence vendors, and also a larger share of the Automation pie.
But was this a good move? Perhaps not, because barely a day later, Microsoft went ahead and acquired a Process Mining platform – Minit, which augments its Process Advisor, allowing Power Platform users to natively discover process bottlenecks and run downstream automation. Microsoft users now have more choice for Process Intelligence, and it would be far more strategic for MS to push customers towards its native Process Advisor/Minit platform. The Celonis acquisition, though a good move, did not come at the right time! In fact, it would be way better if Celonis were to acquire an RPA platform to grab a larger share of the Automation market and reduce its reliance on incumbent RPA platforms such as UiPath, AA, Blue Prism, among others.
Microsoft-Minit acquisition – MS looks the other way to Celonis
Microsoft has been slowly building and strengthening its Automation platform over the last 2 years, putting together all the puzzle pieces through a hybrid approach of Build-Buy-Partner. The tech giant has also had a serious focus on the Process Intelligence play and was seen flirting with FortressIQ in early 2020. Its venture arm (M10) invested in FortressIQ and had a partnership with it for Task Mining, and there were serious rumors of MS possibly acquiring FortressIQ back then. But this didn't happen, and MS announced its native Process Advisor platform instead, which comes with deep Task Mining capabilities! While FortressIQ went to another suitor [Automation Anywhere (AA)], MS continued its quest for adding Process Mining capabilities, and this finally came to fruition with the Minit acquisition.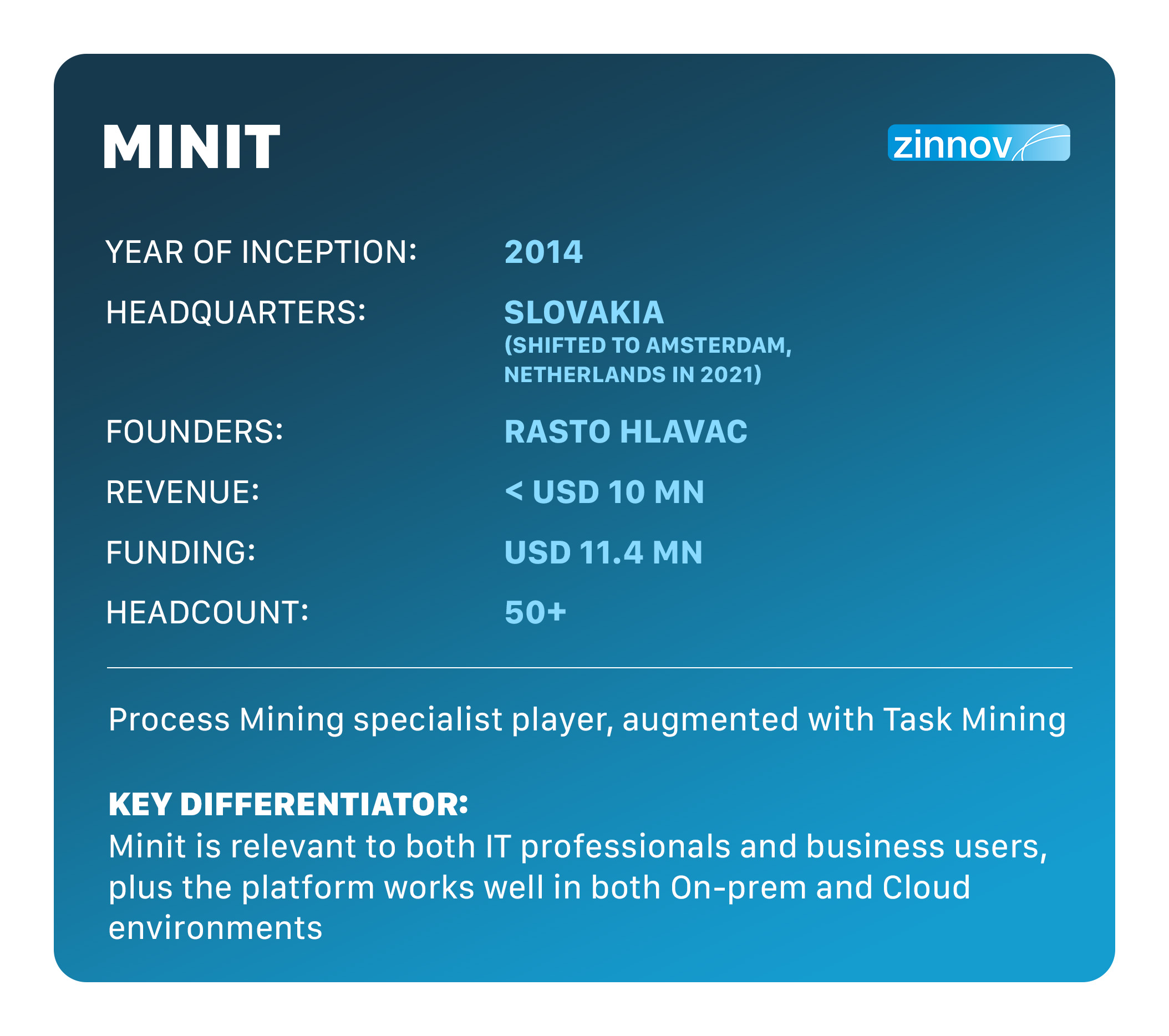 We connected with Rasto Hlavac, the Founder and Chief Strategy Officer at Minit, and he shared with us that the platform has had rapid growth (more than 4X) in the last 12 months. He said that the vision with which he founded Minit was that it should not only be relevant to IT professionals, but also for business users. On being asked about their biggest competitor Celonis, Rasto quipped that Celonis while a great product, is expensive and doesn't work as well on-premise, and a lot of enterprise customers are still reluctant to shift to Cloud. And this is where Minit scores, since it works very well on both on-prem and Cloud.
Minit will bolster Power Automate's Process Advisor with added Process Mining capabilities (especially on-prem). This will help position Microsoft as a more holistic end-to-end Automation platform and reduce reliance on third-party platforms (such as Celonis) for Process Mining. With this capability, MS Power Automate users will be able to identify the inefficient processes from within the tool itself.
One clear trend that is emerging is that Automation players who have tried to build Process Intelligence natively, have eventually made acquisitions to augment capabilities across the four blocks of the technology stack. AA tried with its DisoveryBots back in 2020 for Task Mining, and later, it had to acquire FortressIQ to further bolster its Task Mining capabilities. (Interestingly, AA still doesn't have native Process Mining capabilities). On the other hand, Nintex has had a strong acquisition playbook – it acquired Promapp a few years back for Process Mapping, and then Kryon recently, for Task Mining. However, Nintex would eventually need to explore another acquisition for Process Mining capabilities. And MS launched its own Process Advisor platform for Task Mining, and now it has acquired Minit to augment this with Process Mining. Process Mining is clearly a complex capability that is tough to be developed ground up for Automation players, and hence they are looking to acquire this capability to short circuit the time to market. Interestingly, all other acquisitions have similarly been to augment Process Mining capabilities.
Skan.ai Series B funding of USD 40 Mn
Task Mining player Skan.ai announced a Series B funding of USD 40 Mn, led by Dell Technologies Capital. It had earlier raised USD 14 Mn in Series A round of funding, back in 2020.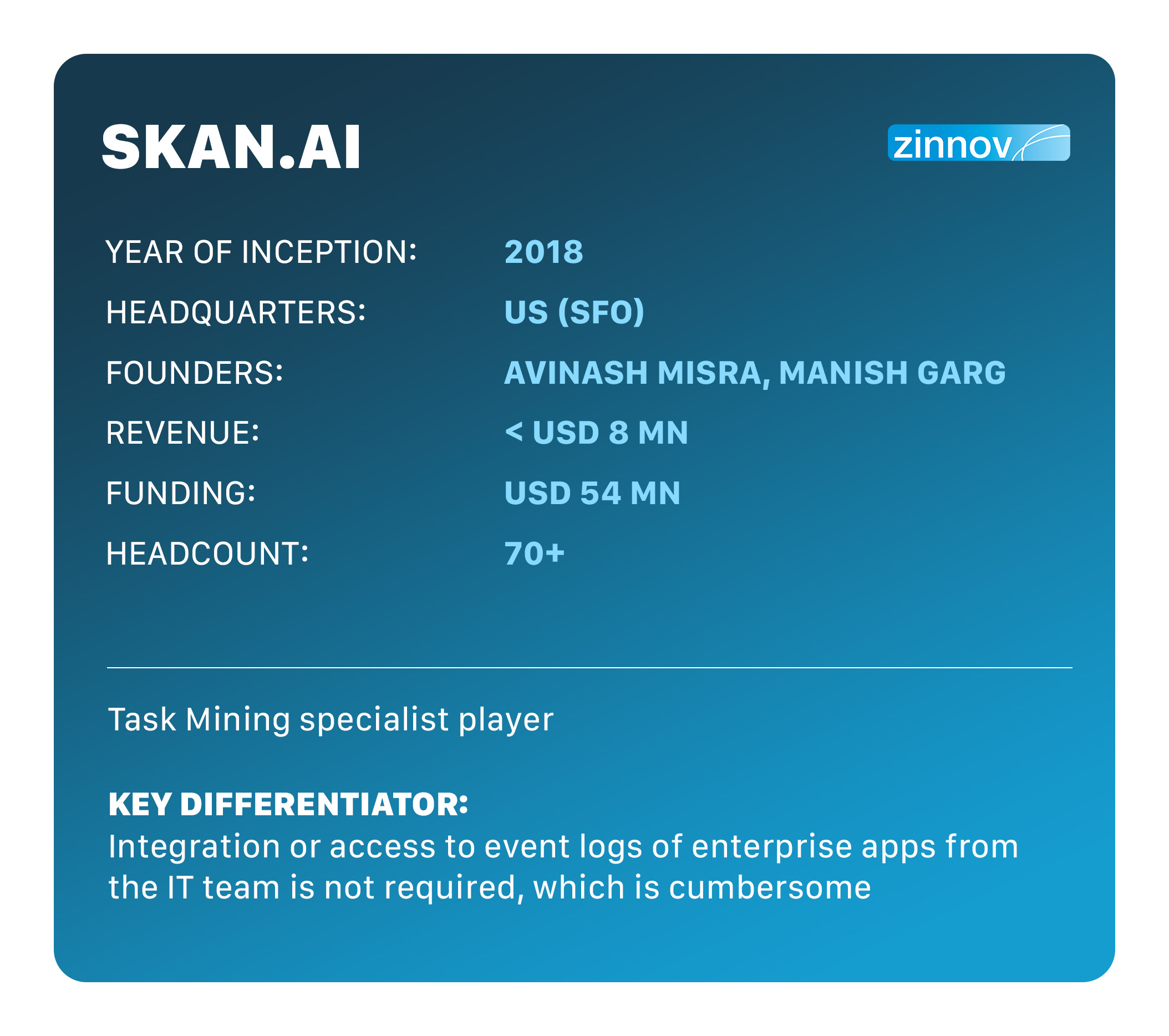 Skan.ai is a Task Mining platform that captures the user screens and clicks using Computer Vision, to gauge the path and time taken by each user to complete a particular task. It seeks to distinguish itself from Process Mining players by eliminating the need for integrations, and thereby access to event logs of enterprise applications. Skan also boasts of an advanced partnership with UiPath to augment its Process Mining with Task Mining capabilities.
The company was founded in 2018 by Avinash Misra and Manish Garg, headquartered in San Francisco. Both Avinash and Manish grew up in India and are IIT alumni. This is a classic example of VC investors giving a thumbs up to the Process Intelligence space and continuing to invest in the industry.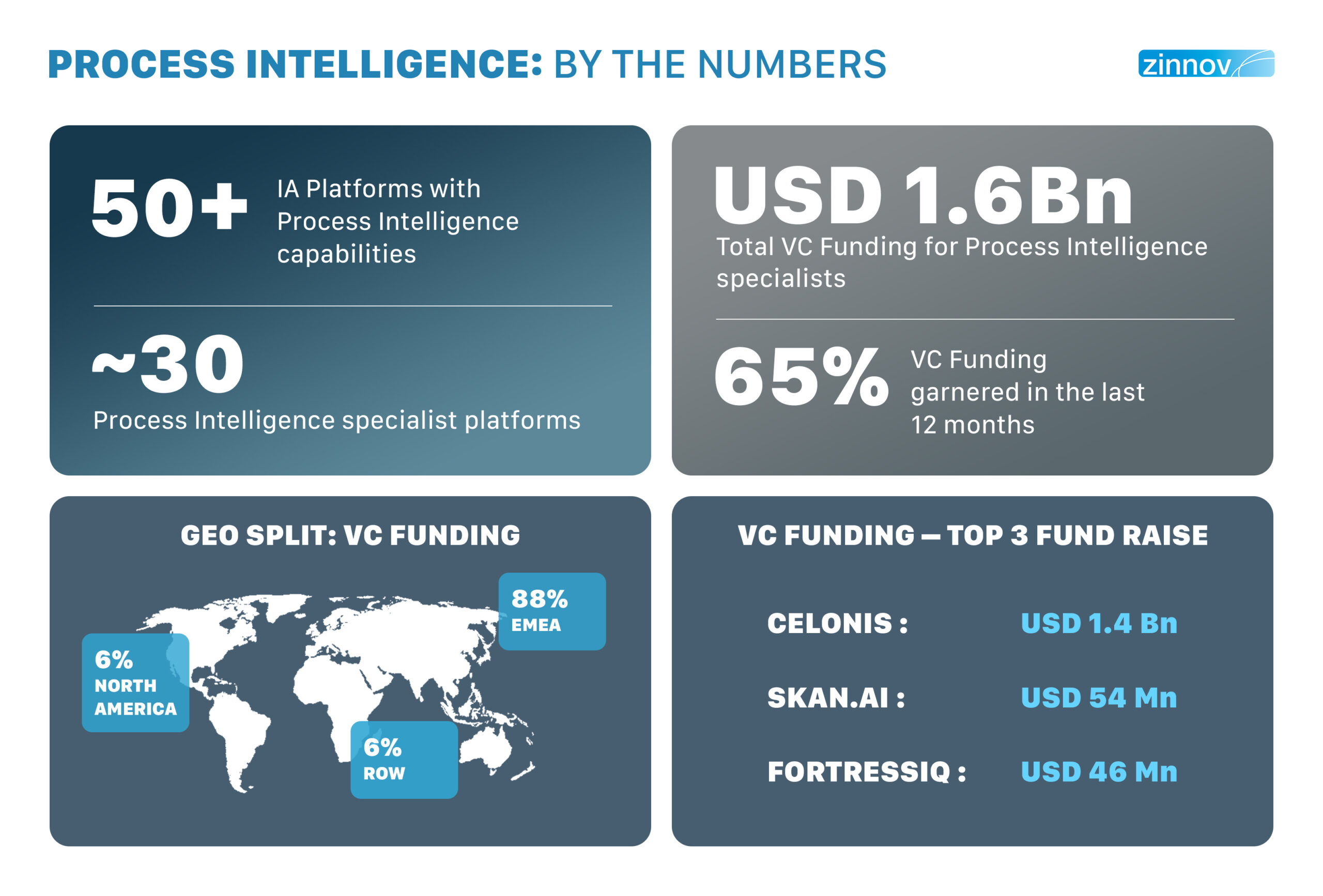 Overall, the Process Intelligence space has garnered more than USD 1.6 Bn in funding, with Celonis accounting for the lion's share with USD 1.4 Bn. Skan.ai has now managed to become the Process Intelligence platform with the second biggest fundraise at USD 56 Mn, followed by FortressIQ at USD 46 Mn. Interestingly, close to 90% share of the USD 1.6 Bn is taken up by Europe-headquartered Process Intelligence players, and the remainder is accounted for by the US and the Rest of the World. Skan.ai has become the only other company besides FortressIQ to bring in VC investment. It is also the only US company besides FortressIQ to bubble up among the more than 30 specialist platforms that we are tracking in the Process Intelligence space.
What next for the brimming Process Intelligence Space
Given the fact that there are enough and more assets aligned to Process Intelligence, we believe that both acquisition activity and VC funding will continue and go into hyper-drive over the next 12 months. In addition, Private Equity (PE) players will also gradually ramp up focus on the Process Intelligence action, especially the bigger ones such as Thoma Bravo, TPG, Vista, Marlin Equity, among others, to bolster their portfolio of Automation companies with this emerging capability. Though we have witnessed a lot of action, we strongly believe that the action is just getting started and there is far more excitement on the cards!
What will be the next big Automation investment opportunity? To get more in-depth analyses and trendspotting, write to us at
info@zinnov.com
.