Automation Anywhere (AA) has jumped onto the acquisition bandwagon with their recent acquisition of FortressIQ to bolster its process intelligence capabilities. A pioneer in task mining, FortressIQ has been acquired to supercharge AA's end-to-end Intelligent Automation platform pivot. This is definitely a great testament to FortressIQ's product capabilities, underpinned by technologies such as Computer Vision (CV), Machine Learning (ML), and Natural Language Processing (NLP).
There have always been speculations that FortressIQ would be lapped up by Microsoft Power Automate, especially when one considers the funding by Microsoft's venture capital fund M12 earlier in 2020, and closely knit partnerships. However, given that MS built their native Process Advisor product, this came as no surprise that FortressIQ went looking for other suitors and eventually landed up with a Big 3 player. We have seen multiple acquisitions aligned to Process Mining and Task Mining in 2021, which adds on to the fact that Process Discovery is poised to play a key role going ahead.
However, is AA too late in making this acquisition? Is this a desperate attempt by AA to plug in the gaps in their product arsenal in a bid to prep itself for a potential acquisition? Let's unravel what this acquisition has in store for the Automation ecosystem and understand if there is any real potential in this acquisition.
AA's Initial Foray into Process Discovery and the Pitfalls
Back in February 2020, Automation Anywhere was already late to the Process Intelligence market with the launch of Discovery Bot. Granted, there were substantial hiccups in the development cycle of the product. But even when the product was eventually launched in 2020, its value proposition was two-fold – native capabilities built into the AA platform and integration with IQBot and other AA components. Built to last and create true differentiation for AA, Discovery Bot was eventually offered as a complimentary solution for existing AA clients. The product also proved to be a testimony to AA's diminished focus to catch-up with the ever-evolving Process Intelligence market.
Cut to the recent acquisition of FortressIQ, the move seems to be an afterthought rather than a carefully planned progression to bridge the same gap from three years ago which Discovery Bot struggled to fill. As Automation Anywhere couldn't turn many heads with their Discovery Bot in the Process Discovery space, which has been growing at a rampant pace, they decided to turn to the acquisition route with FortressIQ. However, this is extremely delayed as compared to other automation platforms. Consider UiPath for instance – which had acquired players such as Process Gold and StepShot way back in 2019.
In addition, while this acquisition adds great task mining capabilities, it does not add Process Mining capabilities which are also equally critical for automation platforms. Even critical capabilities such as Digital Twin of Organization (DTO) which is being offered by leading process discovery platforms such as Celonis etc. are not included with FortressIQ acquisition.
Hence, while we feel this is a welcome move to expand AA's offering and bridge the gaps, it might be coming in a tad bit late. And of course, this does not plug in all the gaps in the AA's automation arsenal.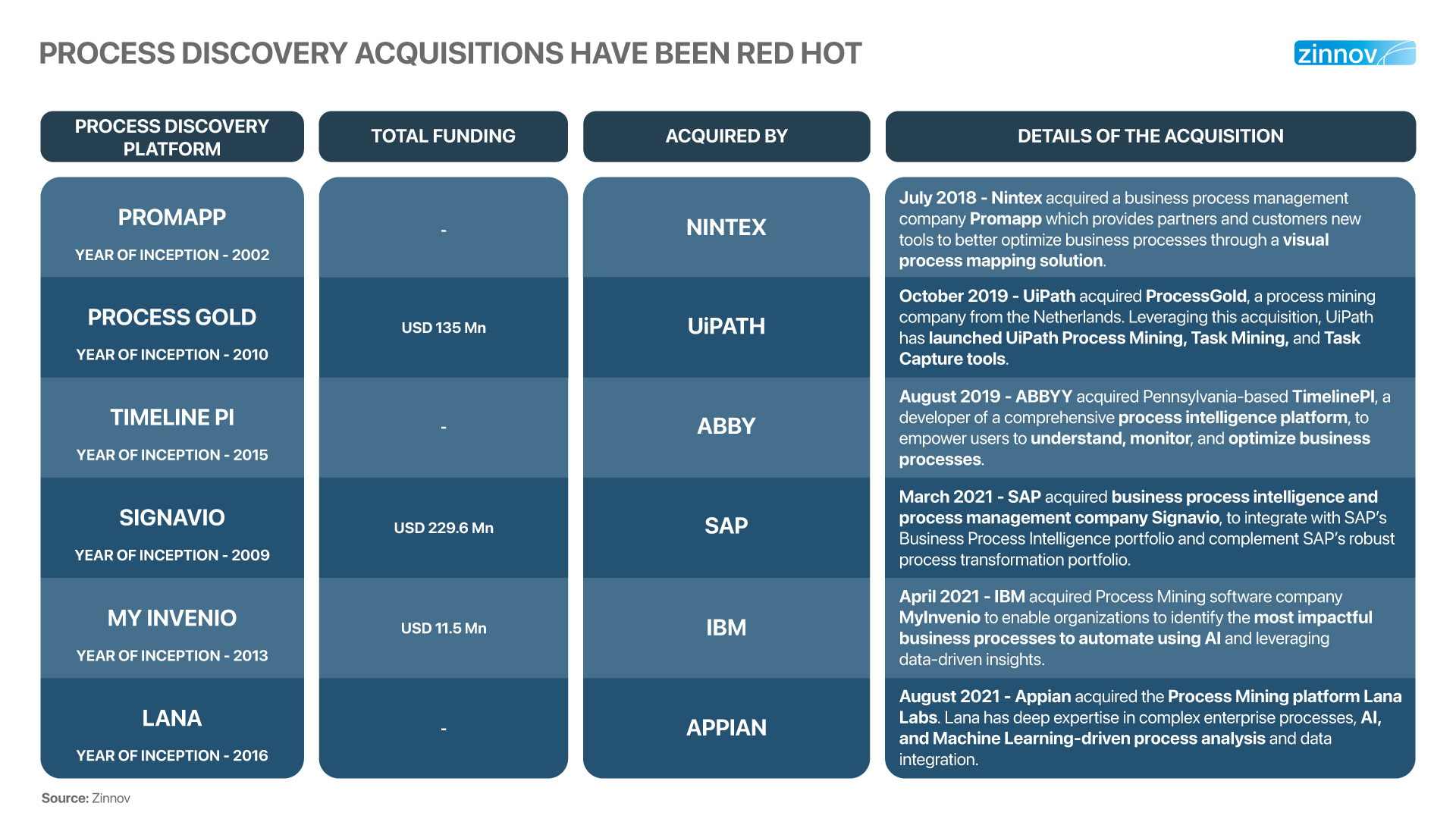 Before we get into what AA stands to gain through this acquisition, let's deep-dive into FortressIQ's history.
FortressIQ was founded in 2017 by current CEO Pankaj Chowdhry. The firm is headquartered in San Francisco and is currently at Series B funding, having raised USD 46 Mn. FortressIQ, with an employee strength of over 70 is backed by some well-known investors – M12, Comcast Ventures, and Tiger Global among others. FortressIQ is known for its Process Intelligence capabilities, underpinned by computer vision, AI, ML, and NLP.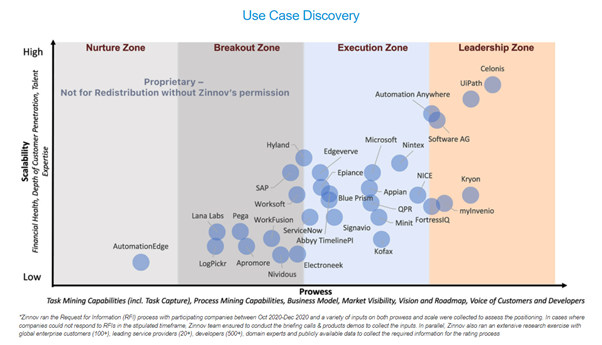 The true value proposition lies in its novel data-collection and data-cleaning process that provides accurate insights to business analysts on real functioning of business applications and processes. It had made it to the Leadership Zone during the Zinnov Zones rating 2021 under "Use Case Discovery" category. While FortressIQ is one of the leading Task Mining players, it lacks mature process mining capabilities.
AA's dream to be crowned the "end-to-end Automation player" will have to wait
Automation Anywhere, a veteran in the RPA space, is on the journey of repositioning itself as an end-to-end Intelligent Automation company, and be the one-stop solution for Enterprise Intelligent Automation needs. Over time, AA has built native capabilities across the Hyper Intelligent Automation (HIA) stack spanning Process Intelligence, data-led transformation, and workflow/process/task automation. It has also formulated strategic alliances with market makers from each HIA category – Celonis (Process Discovery), ABBYY (Intelligent Document Processing), Appian (Low-Code/No-Code-led automation), and Avamo (Intelligent Virtual Assistant) to strengthen its end-to-end play in HIA stack.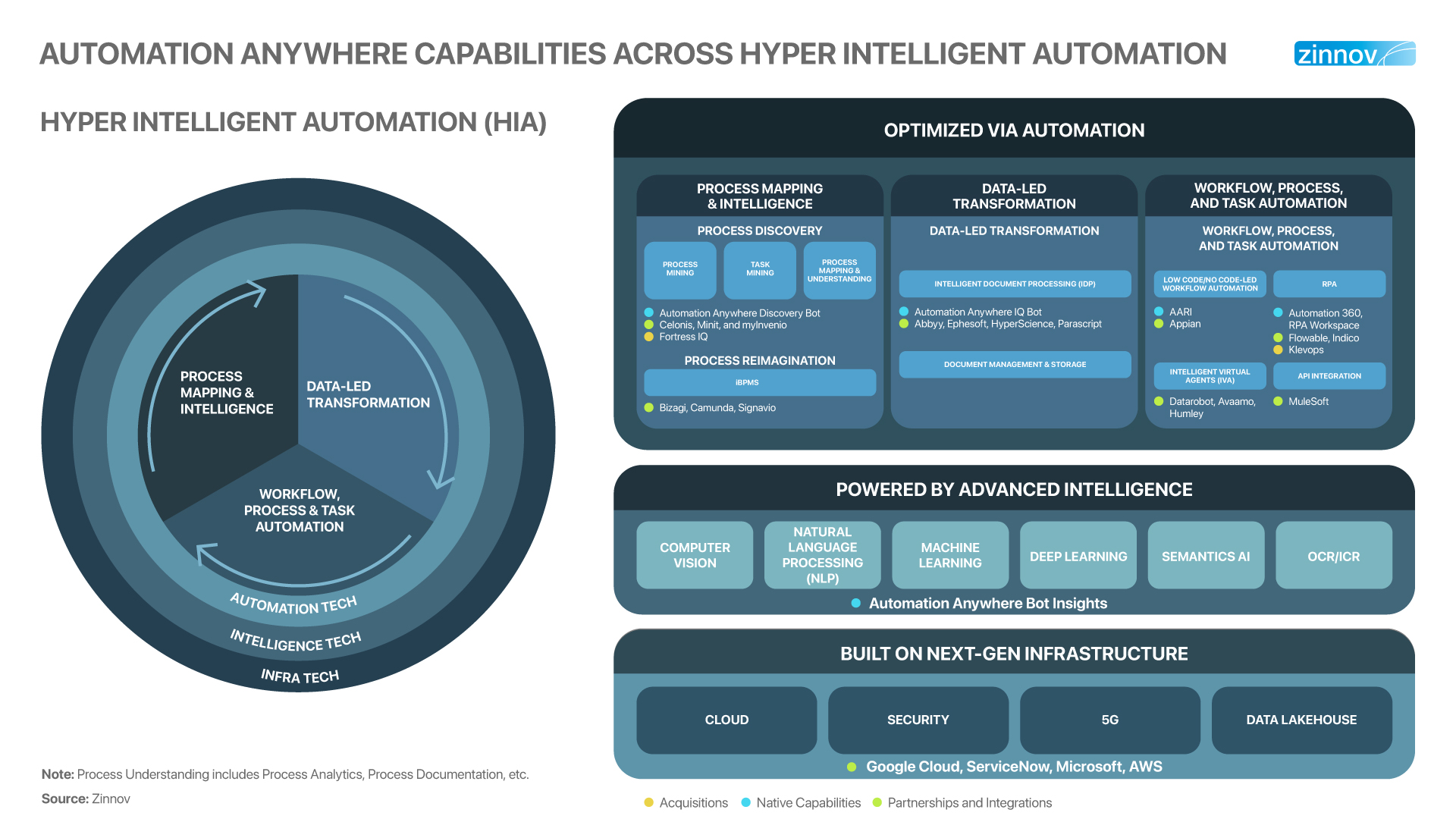 However, there are glaring gaps that still exist in its portfolio that will keep the crown of "end-to-end automation player" out of reach for some time. AA still needs to finetune its offerings portfolio in Document Management space to deliver on the promise of scalable and agile transformation. Moreover, AA also needs to accelerate its journey towards making automation both easier and faster to deploy by baking in UI and API-based automation capabilities that will help clients truly scale their automation programs across the enterprise.
Silver Lining in the cloud for AA – increasing Enterprise Uptake of Process Intelligence technology
Given its huge upside in terms of efficiency and cost optimization, and very limited drawbacks, the Process Discovery space has been abuzz, courtesy of enterprise need for scaled automation programs. Combining macro-level business process data with micro-level user transactional data instantly brings to the forefront how individual actions within a process are actually executed. Owing to enterprise demand, the number of Process Discovery platforms have doubled over the last six years. Acquisitions in the Process Discovery space have picked up pace too – contributing over USD 3.3 Bn in deal value over the last four years. At Zinnov, we are currently tracking over 1400 HIA platforms, wherein we have over 40 Process Discovery Platforms. These platforms have garnered an overall funding of over USD 1.6 Bn since their inception.
While the supply side Process Discovery is making rapid technological progress, enterprises are gradually incorporating the technology as part of their broader intelligent automation programs on the demand side. Zinnov's Hyper Intelligent Automation Annual Global CXO survey captured responses of 457 CXOs. While most of them traditionally relied on manual crowd-sourced Process Discovery techniques, over 62% of them were satisfied with the results from tool-based Process Discovery.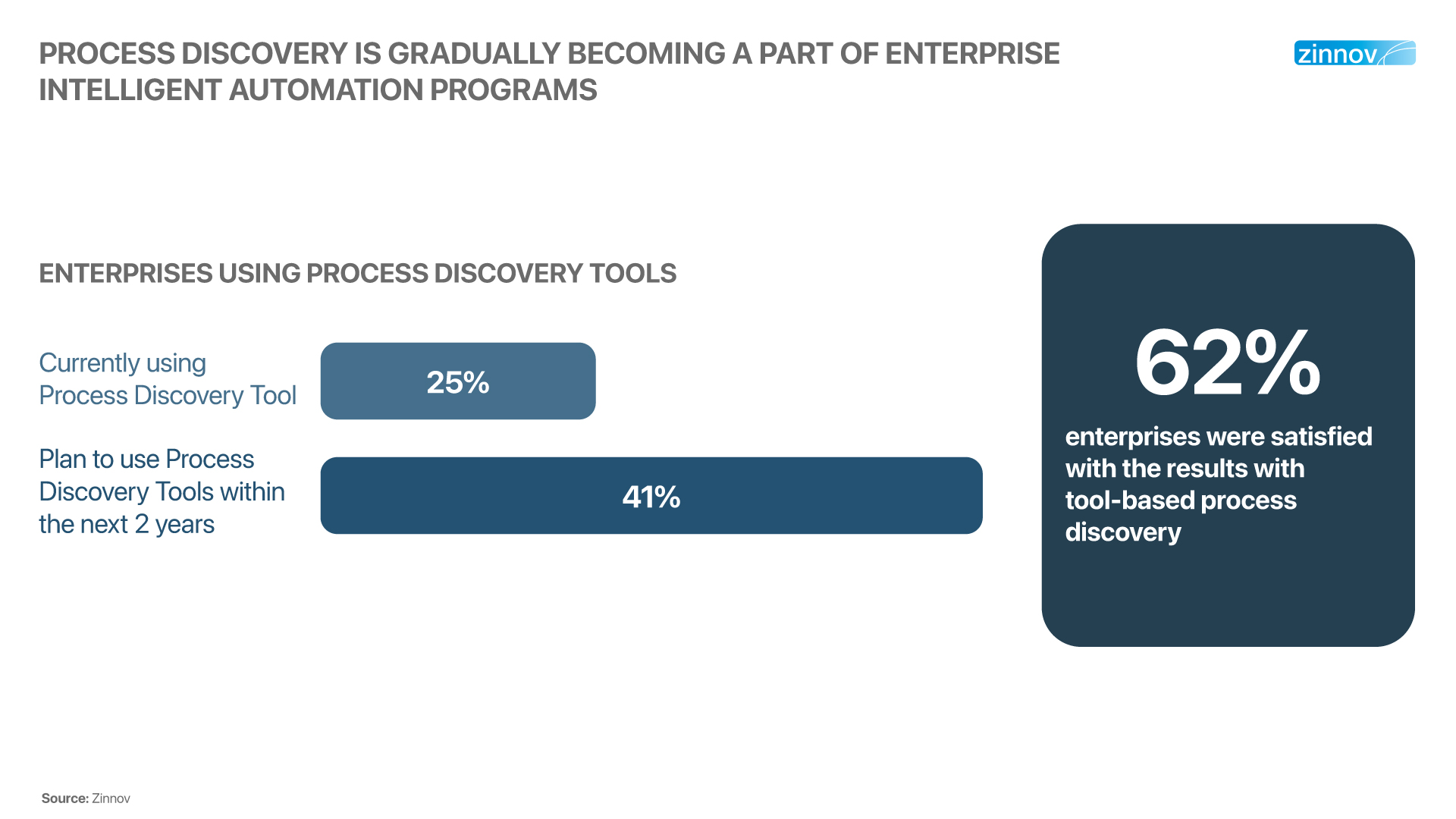 While there is definitive enterprise interest in the Process Intelligence technology, Automation Anywhere needs to be wary of its own value articulation amidst increasing threat from players such as Celonis and Minit. With sophisticated technology stacks pertaining to operationalized data science, these specialists are striking the right chords with enterprises buying centers at the executive level.
The Final Twist – we bet you heard it first from us!
While the speculations are rife that AA is preparing to go public in 2022 now (while earlier they had dubbed 2021 as the year for IPO), the past few months have been an unpleasant roller coaster ride due to leadership exits at AA. The Automation Anywhere rocket ship seems to have had some internal upheaval with multiple notable exits in 2021 itself such as Riadh Dridi – Chief Marketing Officer, Peter Meechan – Chief Corporate Development Officer, Shunichi Komeda – Director Partner, Marketing, and Brendan Foley – Vice President of Product Marketing among few others.
Moreover, we are picking up a strong pulse that Automation Anywhere may be prepping itself for a potential acquisition – possibly by Google, rather than going for an IPO. Earlier this year, Automation Anywhere and Google had announced a multi-year collaboration to accelerate Intelligent Automation adoption. The partnership aims to combine Google Cloud's AI solution portfolio with the cloud-native Automation 360 platform to build automation with AI tools and/or adopt business process workflows in the cloud to scale digital transformations. Earlier this year, AA also announced early access to its flagship Automation 360 platform on Google Cloud.
No matter which path Automation Anywhere takes, the AA + FortressIQ machinery needs to be in the constant pursuit of having a truly differentiated value proposition. While contextualization of offerings based on stakeholder persona will hold key for the next phase of growth, AA needs to think through the market positioning of its recently acquired product – a product with wider applicability than AA's preferred business scope.
To know how our consultants can help in drawing out M&A strategies for your organization, drop us a note at
info@zinnov.com
.