Process Mining has transitioned into the most popular and fastest growing technology area within Hyper Intelligent Automation (HIA), with a market size of USD 450-500 Mn, Zinnov research reveals. This space has been rife with multiple acquisitions over the last two years. And Appian became the latest entrant into the Automation space – it announced its acquisition of Germany-based start-up Lana Labs (with a major focus on the manufacturing industry) to augment Appian's Process Mining capabilities.
The Critical Acquisitions Trajectory
Appian joins several other players in the race to expand Process Mining capabilities – starting with Nintex acquiring ProMapp (for Process Mapping), UiPath's acquisition of StepShot and ProcessGold, SAP-Signavio, and IBM-myInvenio among others. Even IDP (Intelligent Document Processing) major Abbyy, acquired TimelinePI earlier last year, to increase its share of the Automation pie. Celonis, a Data Processing platform – the current market leader within Process Mining – acquired Integromat last year to enter the workflow Automation space. Celonis raised a massive USD 1 Bn funding earlier this year to reach a staggering USD 11 Bn valuation. There is immense ongoing traction within the Process Mining space, with more major players trying to enter complementary areas to increase their addressable market.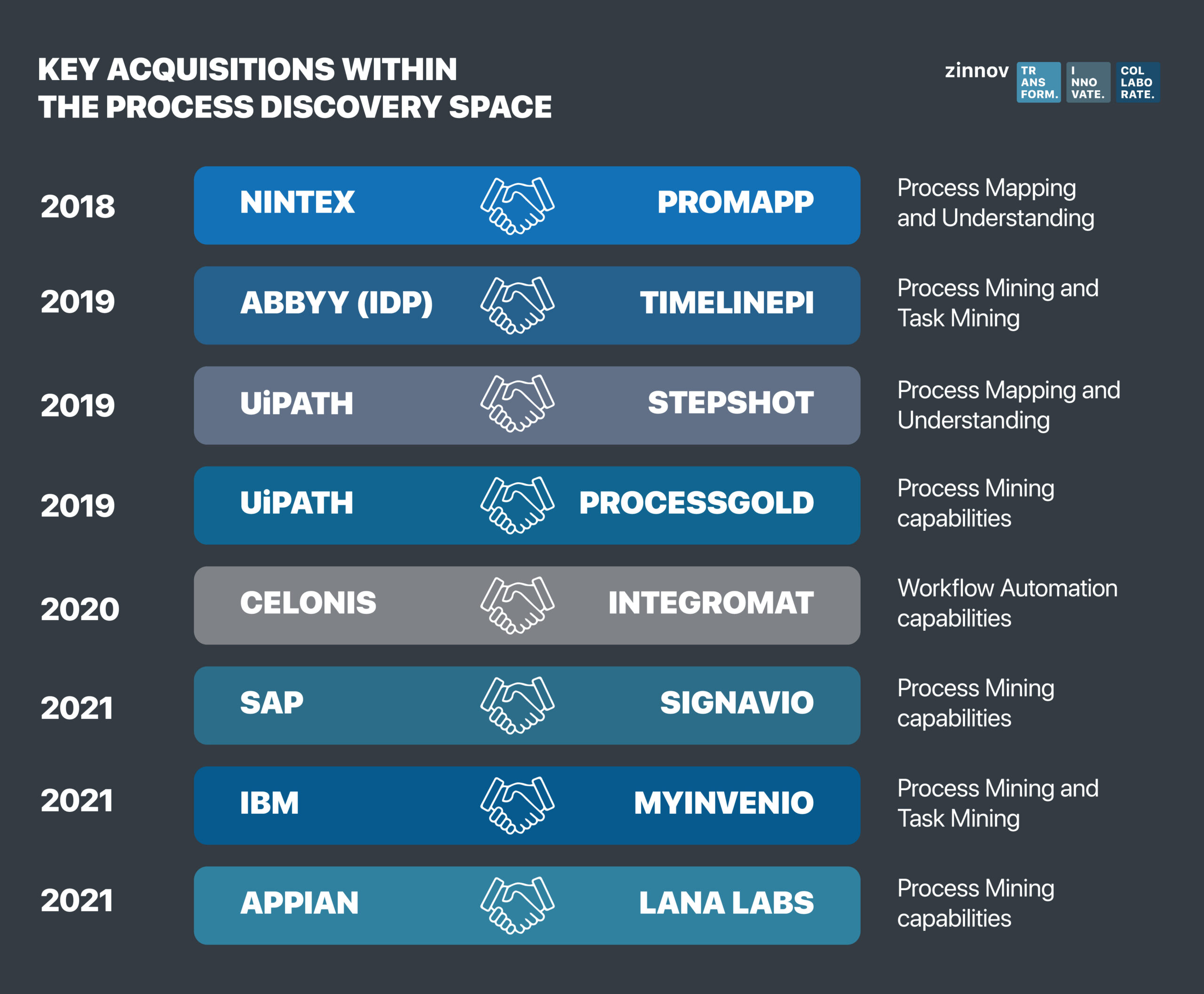 What is brewing in the Process Discovery space?
Zinnov's recent global survey of 257 CXOs shows that a significant number of enterprises continue to face challenges in identifying Automation-ready use cases, thus hampering their ability to scale. In fact, 90% of the leading enterprises continue to rely on manual, crowdsourcing-based techniques for discovery of Automation use cases. This can be extremely time-consuming and non-scalable. Hence, there is a rise in the number of enterprises switching to a tools-based approach, including Process Mining and Task Mining for a scaled and more scientific way of Process Discovery. Almost 25% of enterprises are already on their journey to adopt Process Mining and Task Mining tools, and 40% of enterprises are heavily inclined to invest in Process Mining and Task Mining over the next 12-24 months.
Given the amplified uptake of Process Mining, Appian's move to acquire Lana Labs is a worthy one. We believe that platforms should have an integrated, end-to-end coverage with native capabilities aligned to the key building blocks of the HIA framework. While adding Lana Labs brings critical capabilities around Process Mining, Appian can augment this further to bolster its discovery portfolio. Process discovery is normally a three-pronged approach – starting with Process Mapping & understanding, Process Mining, and Task Mining. While Lana brings the first two capabilities, it lacks in Task Mining capabilities, critical to augment Process Mining in order to get the actual use cases for Automation.
Prominent vendors such as Celonis, myInvenio, and TimelinePI have augmented their Process Mining with native Task Mining capabilities. Other pure-play vendors such as Automation Anywhere have built native Task Mining capabilities (Discovery Bots). Even Microsoft launched its Process Advisor earlier, which includes capabilities around Task Mining. Hence, Process Mining alone is not sufficient and needs to be augmented by Task Mining.
In addition, there is an interesting concept around Digital Twin of Organization (DTO) in the process Automation world (while hitherto, the Digital Twin concept was limited to Industry 4.0 and Industrial Automation). Enterprises are leveraging DTO to create a dynamic virtual replica of their actual processes, to compare the as-is processes with the ideal (or to be ideal) state, uncover bottlenecks, run simulations, and then in turn, apply this to the actual process. This is a pathbreaking technique, and already seeing significant traction within the leading Fortune enterprises. Major vendors such as Celonis and myInvenio are already talking about DTO, and we believe that Appian should explore adding this capability to its arsenal.
It's safe to conclude that the Lana Labs acquisition is for sure a move in the right direction. However, Appian should consider bolstering this further with capabilities around Task Mining and DTO to have an even more powerful narrative on the discovery side. In terms of the Automation industry, we expect the focus on Process Mining to intensify further and witness more action in the next few months. More than 60 platforms already have Process Mining and Task Mining capabilities across the globe today, and we expect a lot more acquisitions to happen, led by the larger vendors to add to this critical capability gamut.
How has this drive for Process Discovery redefined the Hyper Intelligent Automation spectrum? How are enterprises being impacted by this revolutionary wave? Drop us a note at
info@zinnov.com
to know more.