The global Automation space is abuzz with new rounds of funding being raised, strategic mergers and acquisitions, as well as an undercurrent of consolidation that is creating stronger players – welcome to the post-pandemic era of heightened focus and investments in Automation!
Laiye is one such Automation player that is making waves. It is a leading global Conversation-led Intelligent Automation solutions provider, headquartered in Beijing, China. Founded in 2015 by Baidu veterans Guanchun Wang and Hu Yichuan, Laiye has already established itself as the leading Intelligent Automation solutions provider in China, working with marquee customers like Nike, Porsche, LVMH, Walmart, etc. Often dubbed as 'China's UiPath,' Laiye is now giving UiPath and other Automation leaders a run for their money in global markets.
Laiye has a robust platform solution which combines the power of Artificial Intelligence (AI) with Robotic Process Automation (RPA) to drive Intelligent Automation (IA). Its self-learning bots, conversational agents, and Intelligent Document Processing (IDP) capabilities, underpinned with native AI capabilities, help enterprises automate customer-facing conversations with ease and accuracy. Laiye is mindfully augmenting its platforms with deep AI/NLP (Natural Language Processing) capability and onboarding of top talent through its recent acquisitions.
How is a company that has been in existence for less than a decade, developed the capability to go head-to-head with the biggest players in the Automation space? How are its strategic acquisitions helping it build this expertise? And how can it further become a disruptor in the space?
Technology & Services
Mergers & Acquisitions Quarterly Update Q4 2022
Download here
An Underdog that Turned into a Wolf
In order to expand into international markets, Laiye hired veteran WorkFusion leader, Ronen Lamdan in 2021, as the CEO of Laiye International. The global market for Intelligent Automation is indeed a competitive one, with 1,400+ players eyeing to grab a slice of the USD 300 Bn addressable market. With 90% of the Fortune 250 enterprises having already embarked on their Intelligent Automation journeys, Laiye had to adopt an innovative and unorthodox way of doing business. Hence, it chose to target the underserved geographies and industry verticals to fill in the existing demand-supply gaps.
Laiye identified that the key markets for its expansion would be Europe, LATAM, and Southeast Asia, which were underserved by leading Automation players, and had high growth potential. Further, Laiye also announced an investment of USD 50 Mn in EMEA over the next 3 years to partner with local players and establish its presence.
Seeing the increased enterprise spending in digital transformation initiatives in the last 2 years, Laiye began to operationalize its ambitious plans to expand its presence globally. Following its USD 160 Mn Series C funding round in April 2022 led by top investors like Lightspeed China Partners, Lightspeed Venture Partners, and Sequoia Capital China, Laiye has had a razor-sharp focus on aligning itself as a formidable player in the Intelligent Automation arena. It has been making massive strides towards this goal by hiring the top talent from the ecosystem, acquiring companies to enhance its solutions offerings, and forging partnerships with strategic System Integrators like Accenture, to deliver Automation solutions at scale.
Laiye's Acquisitions of Intelligence Qubic and Mindsay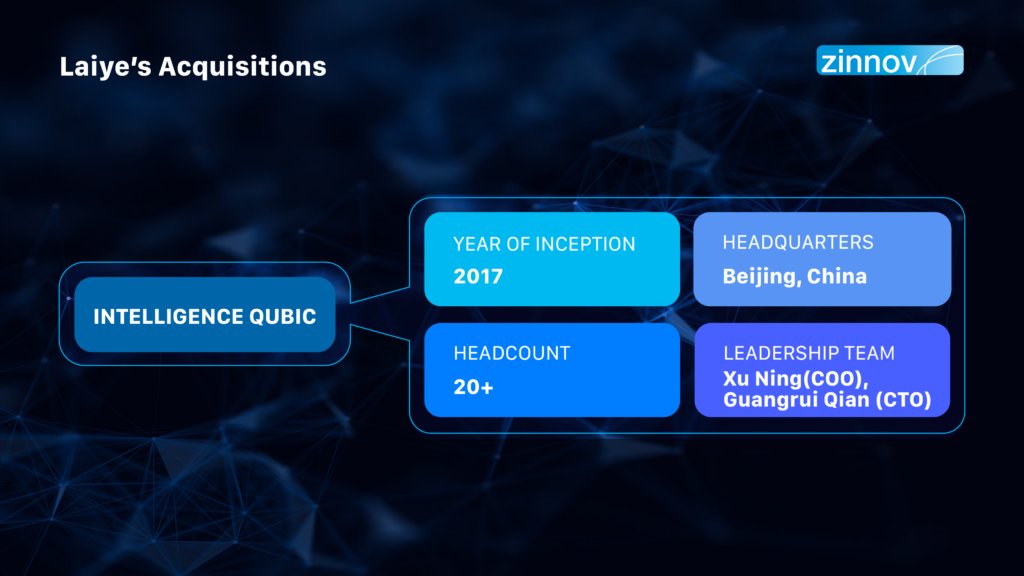 It is extremely difficult and resource-intensive for Automation platforms to build cutting-edge AI/NLP capabilities from the grounds-up, and hence, many platforms choose to acquire such capabilities; case in point – UiPath's recent acquisition of Re:infer for its Machine Learning (ML) and NLP capabilities.
Similarly, the acquisition of Automatic Machine Learning (AutoML) company, Intelligence Qubic was the second in a string of acquisitions for Laiye, as it expands its global reach and technology leadership, following its Mindsay acquisition, an enterprise chatbot and voice bot platform.
With Intelligence Qubic, Laiye continues its quest to deepen NLP capabilities and enhance its IDP product offering. Intelligence Qubic's AutoML offering supplements Laiye's leading IA software to improve the accuracy of AI models, further developing the business value transformation brought by the Intelligent Automation platform to customers.
This acquisition has also enabled Laiye to bring in top talent with extensive experience in the industry and deep AI knowledge into its existing fold. Qian Guangrui, the former CTO of Intelligence Qubic, is set to take on the role of the Head of Innovative Products and Solutions at Laiye, while Xu Ning, the former COO of Intelligence Qubic, will serve as the Head of Product Solutions and Delivery at Laiye.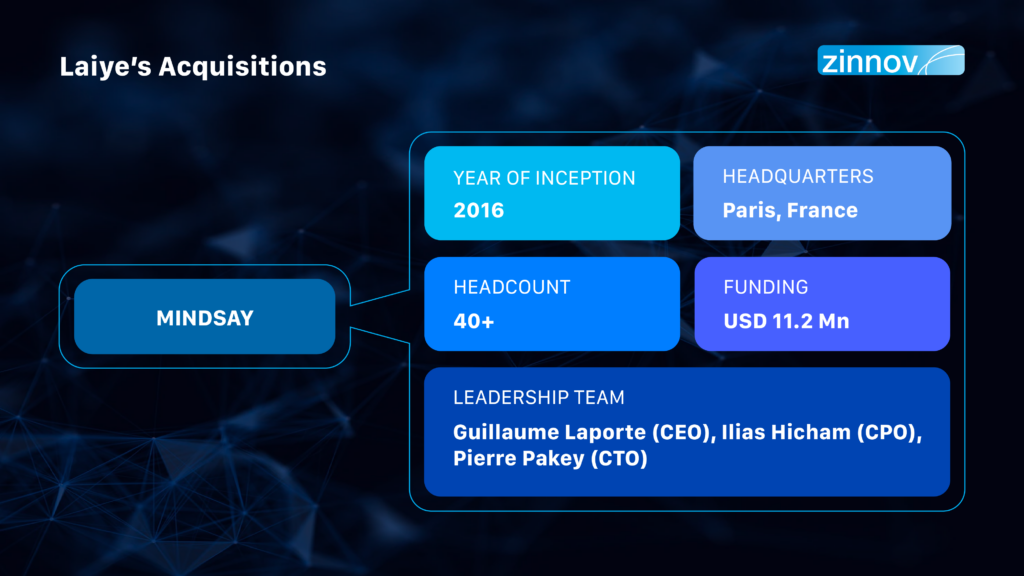 Mindsay's acquisition, which is a European enterprise chatbot and voice bot platform in April 2022, helped Laiye give its customers a powerful, Low Code/No Code technology offering to automate customer service and back-office processes. This acquisition will also help Laiye gain access to European customers, acquire top talent trained in chatbots and conversational AI, and help it augment its capabilities in European languages.
Key Milestones in Laiye's Growth Journey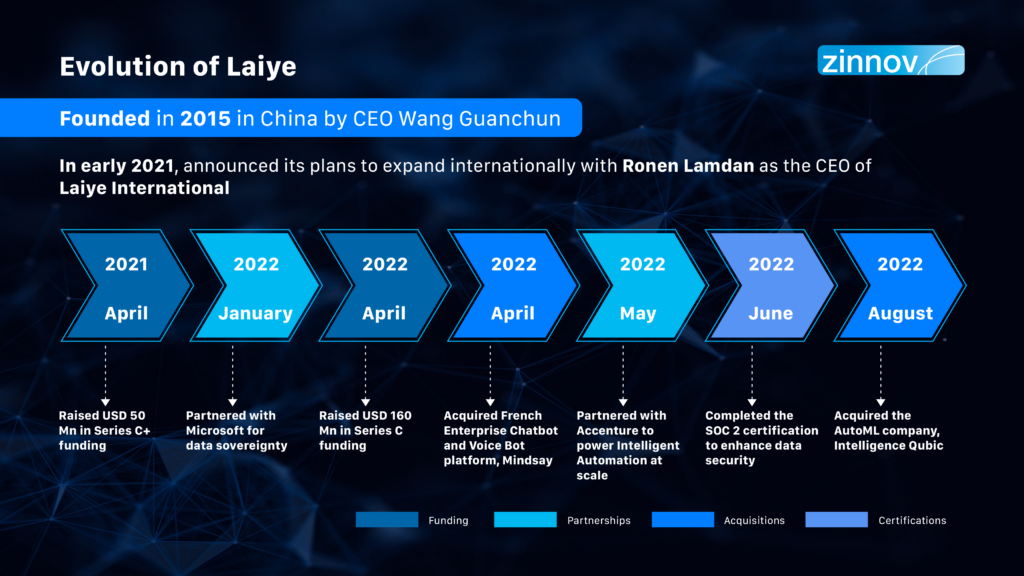 Key Strategic Differentiators for Laiye
In the last 18 months, Laiye has taken multiple steps in strengthening its positioning and differentiating itself in an already crowded market with 1,400+ players.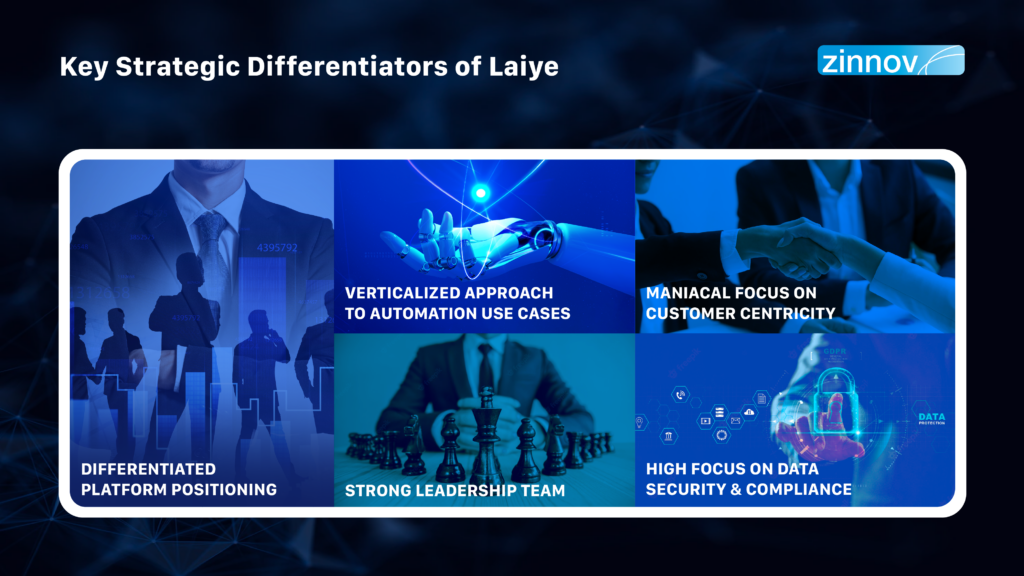 Differentiated Platform Positioning
The Laiye Conversational AI Platform, embedded with Deep Learning and NLP capabilities, and augmented with RPA, allows building of enterprise-grade chatbots with minimal coding requirements. The platform allows enterprises to build applications end-to-end for various business scenarios such as employee service, AI-based marketing, intelligent customer service, etc., across diverse industries. This positioning in unique in the Intelligent Automation market, and a key differentiator for Laiye.
Verticalized Approach to Automation Use Cases
As enterprises are maturing in their Automation journeys and are moving beyond the simple use cases, the demand for vertical-specific use cases is on the rise. Laiye was quick to understand this paradigm shift and is adopting a verticalized approach to its solution offering. Interestingly, Laiye is picking the verticals underserved by other Automation providers such as Healthcare, Retail & Logistics, and is picking the top, high value use cases of each industry to target.
Maniacal Focus on Customer Centricity
Laiye realized early on that to fuel its ambitious growth plans, it had to innovate on its offerings and reduce the anxieties enterprises have with regards to Automation. To solve for this, Laiye eliminated the business risks associated with Automation with its offer to ensure businesses make the leap to Intelligent Automation by committing to refunding 100% of the licence cost if its solutions do not achieve the company's business goals.
To address the talent shortage faced by enterprises while building Automation solutions, Laiye has launched Laiye Community to evangelize the global developer community. It has been able to onboard more than 600,000 developers on its platforms already, which is growing by the day.
Strong Leadership Team
Laiye has assembled a strong leadership team to deliver on its ambitious globalization plans.
The CEO of Laiye International, Ronen Lamdan, comes with a strong GTM focus after working for companies like WorkFusion and Microsoft in the past.
Laiye has also recently onboarded Braham Shnider as the Chief Strategy & Ecosystem Officer to lead the Global Strategy, M&A, Developer and Partner Strategy, and strengthening Laiye's presence in the ecosystem in the global market.
Its GM for EMEA Operations, Neil Parker, comes with 30+ years of experience in rapid business expansion for emerging enterprises and will use his expertise to fulfil its ambitious EMEA expansion plans.
Laiye is currently hiring aggressively across EMEA, Americas, and APAC to build a strong team.
High Focus on Data Security & Compliance
Data Security & Compliance is a major focus area for Laiye, given its heritage of being a Chinese technology company going global. Its recent partnership with Microsoft and its Service Organization Control (SOC) 2 Type 1 compliance certification are a testament to that. Laiye's partnership with Microsoft was designed to provide the UK and EU customers with high compliance with the strict data privacy regulations such as the GDPR. The SOC 2 certification is globally recognized as the most authoritative and stringent data security audit standard, and affirms Laiye's standing as a pioneer in Automation security.
The Way Forward for Laiye
In order to ensure that Laiye continues its upward growth trajectory, it needs to continue to bridge the missing capabilities from the Intelligent Automation stack and reinvent itself to outperform its rivals in this extremely competitive space. This can happen through the four levers which we believe should define Laiye's strategy over the next few years.
Strategic GTM Motion for the US market
US is the frontrunner in Automation adoption within enterprises, with more than 55% of the market share. Laiye needs to realign on the geographic needs and chart out an unorthodox GTM strategy for the highly competitive US market to establish itself as a differentiated player.
Bolster Platform Capabilities
Laiye needs to continue with its momentum on strategic acquisitions to bridge the gaps in its current solution portfolio (e.g., Process Intelligence, Low Code Application Development) to become an end-to-end Intelligent Automation player.
Strong Partner Motion
As Laiye scales and looks to enter newer markets, it is imperative to have a robust partner motion – partnering with vertical-specific and Automation-specific Service Providers can help them establish themselves locally.
Higher Customer Mindshare
Focused investments on market visibility, addressing customer pain points, and getting its brand story out in the market to increase mindshare and recall, will hold Laiye in good stead as it goes toe-to-toe with the bigwigs in the Automation space.
Laiye has added its own flavor and style to doing business in the already crowded Intelligent Automation space. With strong leadership, a robust acquisition playbook, and continuous innovation mindset, Laiye is poised to succeed and lead.
Where will the next big Automation M&A happen? Which company is poised to strengthen its existing capabilities through buy/build/partner to offer full stack Automation services to enterprises? Get more in-depth analyses of the global Automation space by dropping a note to
info@zinnov.com.