UiPath has acquired UK-based Natural Language Processing (NLP) start-up, Re:infer, bolstering its presence in the communications space. Founded in 2015 at the same UCL Lab that produced DeepMind, Re:infer has received close to USD 11 Mn in Seed and Venture Capital funding so far.
It has developed advanced frameworks to derive contextual intelligence from unstructured communications such as emails, chat logs, CRM databases, and content management systems. Its No Code training interface, together with its unsupervised learning capabilities, enables rapid Machine Learning (ML) model development and faster time-to-value.
UiPath's Bet on Re:infer amidst Plummeting Stocks
UiPath's acquisition of Re:infer comes against the backdrop of sustained pessimism in the Enterprise Software space, along with recessionary trends in the global economy. Rising interest rates and geopolitical unrest in key geographies have driven investors towards more conservative stocks, exacerbating the painful sell-off in the sector. UiPath's stocks have plummeted by more than 65% in the last twelve months (as of August 01), amid concerns about its decelerating growth, widening losses, and non-sustainable valuation. UiPath has seen its market capitalization plummet from USD 38 Bn in April 2021, when it raised a record USD 1.34 Bn via an IPO, to less than USD 10 Bn by August 2022. Its operating losses have ballooned to USD 501 Mn in fiscal 2022 (GAAP basis). In fact, UiPath recently announced laying off its workforce by 5% (by the end of June 2023) in order to rein in its operating losses.
However, it is not all doom and gloom for UiPath. It exceeded analyst expectations with an ARR of USD 977 Mn, growing 50% year-on-year, in its June quarterly results, and is well on its way to becoming a billion-dollar revenue firm! It has made several strategic C-suite changes, bringing in Rob Enslin, former president of sales at Google Cloud and an SAP veteran, to share CEO duties with founder and current CEO, Daniel Dines. They also brought onboard, Microsoft veteran, Chris Weber as the Chief Business Officer to lead the company's GTM strategies.
Technology & Services
Mergers & Acquisitions Quarterly Update Q4 2022
Download here
UiPath's Inorganic Growth Trajectory
UiPath has positioned itself well across the Automation spectrum with multiple technology capabilities catering to the diverse Automation demands of enterprises, and building a Fully Autonomous Enterprise. Re:infer is UiPath's fourth acquisition in the last 3 years, and it had earlier acquired Process Gold and StepShot in the Process/Task Mining space, and Cloud Elements to add API integration capabilities to its product mix. The NLP capability from Re:infer will enable UiPath to expand its presence in the Customer Support function, adding auto-triage, email to case, and voice of the customer use cases to its repertoire.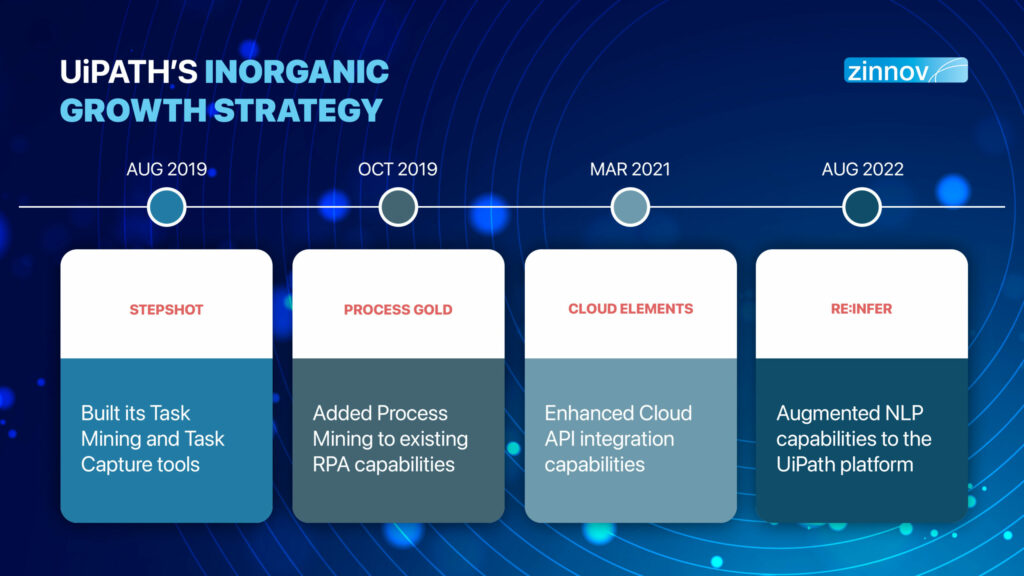 Globally, help desk interactions have increased across all channels with a 16% rise in average ticket volumes since the pandemic (according to Zendesk). A significant portion of the time needed to process these service requests goes into triaging. The strength of Re:infer lies in its NLP solution providing the underlying logic necessary to understand the context in order to categorize tasks by priority. UiPath's RPA solution would then close the loop – allocating the task to the right agent, or in case of transactional activities such as password reset, automated the downstream activity altogether.
The Upside of acquiring Re:infer
Increase in Wallet Share: UiPath will augment its share of wallet in customer accounts, bolstering the email automaton use cases with more NLP/AI capabilities.
Revenue Growth: UiPath can deploy end-to-end solutions in the helpdesk automation space for customers who either do not have these solutions or are using an ad-hoc keyword-based approach.
Intelligent Virtual Assistant (IVA) Partnerships: UiPath can strengthen its current IVA partnerships with NLP capability from Re:infer, and thereby provide increased value to its customers.
R&D presence in the UK: This acquisition will bolster UiPath's R&D talent in the United Kingdom.
While the acquisition adds critical NLP capabilities to UiPath, Re:infer's major strength lies in text-based NLP (such as email, chat logs, content management systems, among others). However, the ecosystem is increasingly shifting towards more and more voice or chat-based communication. In fact, 60% of all customer issues and ~90% of all urgent issues use voice or chat for customer support and resolution (based on an e-Commerce Customer Service Experience Study on 750 B2C customers). At the same time, email communications, at 15%, is tapering off, while live chat and online self-service continue to witness aggressive growth.
Hence, it would have been far more strategic for UiPath to consider an acquisition in the IVA space. While UiPath has multiple IVA partnerships to cater to this ever-expanding market segment, having native capabilities would soon become a differentiator to help enterprise customers enhance their customer and employee experience. An IVA acquisition will bring in a new product mix to the UiPath platform, and significantly increase its chances of upselling and cross-selling to both new and existing customers – not to mention, providing end-to-end Automation capabilities in the front office.
Out of the 130+ deals that have happened in the broader Automation space since January 2021, more than 35% have been to acquire IVA capability! For instance, RPA player Laiye acquiring Mindsay was a recent deal in this space. So clearly, there is immense focus by other Automation players to acquire IVA tech capabilities, which will increase further in the coming months.
As UiPath looks to scale its revenue beyond USD 1 Bn, further adding capabilities in Low Code/No Code App Dev is critical for which UiPath can take the inorganic route as well. UiPath does have existing capability in the form of UiPath Apps; however, there is significant scope to up-level capabilities, specifically, to cater to complex use cases across different verticals. It will provide immense value-add to customers, by enabling them to build newer applications and help them traverse the journey from legacy systems to modern apps.
This will reinforce UiPath's philosophy toward a Fully Autonomous Enterprise and elevate them to become natural allies in their clients' journeys to transform employee, partner, and customer experience, in addition to delivering on the ROI front.
For more in-depth analyses and insights on the Automation space, reach out to us at
info@zinnov.com
.