Zinnov has been on a mission to actively promote the huge potential within Hyper Intelligent Automation (HIA), underscored by enterprise demand, which is set to surpass USD 90 Bn in the next five years. Emphasizing the rising interest and demand for HIA adoption further, are the series of astoundingly astronomical funding rounds of automation start-ups, just within the last 12 months. Be it UiPath's latest funding of USD 750 Mn in February 2021 or Outsystems' funding of USD 150 Mn in the same month, the space is afire with promise. The latest to join this league is WorkFusion, a leading Hyper Intelligent Automation platform, with the announcement of its Series F round of a staggering USD 220 Mn. This takes the total capital raised by WorkFusion to more than USD 340 Mn over seven rounds of funding, since it was incepted in 2011. Although WorkFusion has been competing in the rapidly growing HIA space for almost a decade now, is this capital-backed validation its inflection point?
WorkFusion's Rise to the Top
Over the last decade, WorkFusion has managed to fly under the radar of the hype surrounding the HIA space. This fresh capital infusion is a booster shot in the arm for WorkFusion and will help it accelerate its revival from the minor slump it faced towards the end of 2019 and the beginning of 2020. Despite facing operational and strategic setbacks such as curtailing operations across APAC and reorganizing the workforce composition, the platform has been successful in wriggling out of the situation through visionary thinking and recalibration of its market positioning.
WorkFusion has found its niche in being the best-in-class automation platform for the Banking and Financial Services (BFS) industry. While it has a wider set of 1200+ unique automation use cases, its expertise lies in tackling highly complex and regulated, document-heavy processes through its advanced Intelligent Document Processing (IDP) capabilities. The increasing trend of verticalization within automation platforms as a key differentiating strategy is one among the many key trends that Zinnov predicted will dictate the automation landscape. While the likes of giants such as Microsoft and Appian are also exploring it intently, it is good to see significant movements from traditional automation players as well.
Owing to Zinnov's long standing association with the senior leadership at WorkFusion, we have enjoyed a front row seat of WorkFusion's growth journey. Theirs is a story of how a horizontally-focused automation platform that was trying to solve all of types of use cases could adeptly adapt to an industry-focused approach, striving for depth instead of breadth. This, again, brings back the debate on the path to Hyper Intelligent Automation nirvana – while some platforms continue to hedge their bets across multiple automation scenarios (such as the Big 3 RPA vendors), others are pivoting towards specialization in either technology segments or industry-specific use cases, or both. Such a story of strategic and tactful repositioning is not new within the automation landscape, as platforms such as Kofax has also let go of its decades-old OCR-based legacy and is now targeting to go deeper into an identified set of workflows through its Digital Workflow transformation strategy. This polarization of strategies between depth within a few or breadth across many, will become even more prominent going forward.

WorkFusion – Straight Out of a Lab to Challenge Status quo
The genesis of WorkFusion is based on the experiences of Max Yankelevich, its Founder and Chief Strategy Officer. While studying Artificial Intelligence (AI) at the MIT Computer Science and Artificial Intelligence Laboratory (CSAIL), Max came up with a Machine Learning (ML) driven solution capable of watching knowledge work performed by humans and logically mimicking it while learning to get better all along. This was followed by a fateful visit to India which exposed Max to the laborious and mundane tasks being delivered by knowledge workers of BPOs such as Wipro, Infosys, Cognizant and more. This was the eureka moment for Max to bring the research out of the MIT lab and apply it to real-time enterprise problems.
The initial rounds of funding between 2014-15 were channeled towards building and enhancing its intelligent automation platform capabilities to be able to cater to a wide range of automation use cases, especially focused on back-office functions. The time between 2016-17 turned out to be pivotal for WorkFusion as it began establishing itself as a prominent contender in the automation space. It was one of the first automation platforms to trigger the wave of democratization within RPA, with its free edition – RPA Express. Also, among the industry firsts, was its online automation training portal, Automation Academy.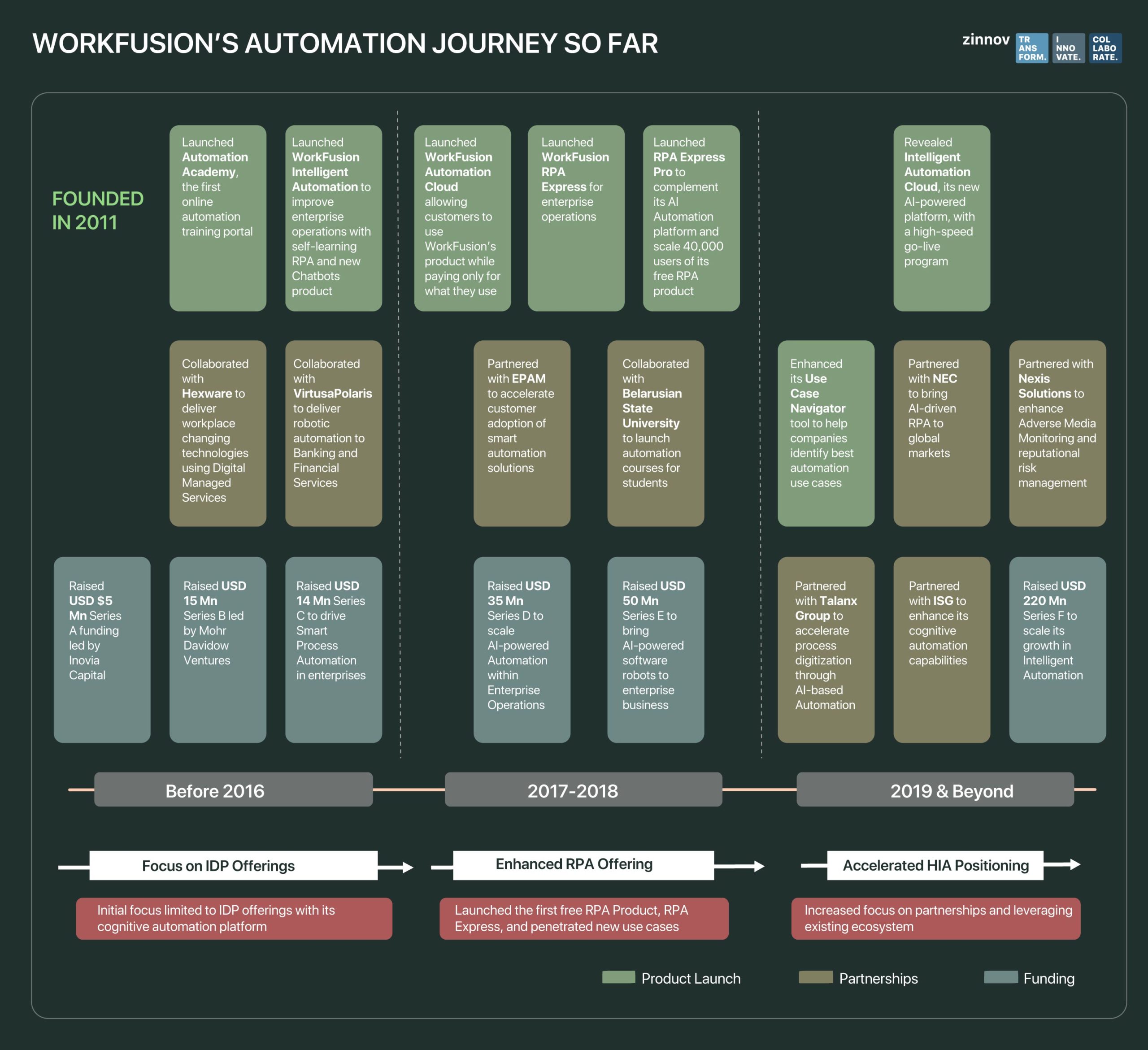 Early signs of the drive for product innovation and leadership related efforts came to the fore with the launch of WorkFusion Automation Cloud in 2017. While other automation platforms, including the Big 3 and a few other rising stars, were struggling to address enterprise demand for economical automation solutions that can be deployed at scale, WorkFusion Automation Cloud proved to be a game changer with a unique proposition of allowing users to pay for what they use. By 2018, WorkFusion was proactively infusing AI and ML into automation workloads and began to identify its strengths in automating complex, document-heavy processes. This helped WorkFusion emerge as a prominent IDP player within the HIA landscape. This new positioning was driven on the back of cloud-federated learning, wherein a WorkFusion bot would learn how to perform a task effectively and make those insights available to other bots, in turn enhancing their capabilities.
Over the years, WorkFusion has made significant movements in augmenting its capabilities, and has progressed towards creating an integrated HIA platform. Along with its Smart Process Automation (AI-powered RPA), WorkFusion has a wide array of tools within its automation arsenal, including the Use Case Navigator aimed at finding the right automation-ready use cases, strategic partnerships with specialists such as Abbyy for Optical Character Recognition (OCR), BPM-D for Business Process Management (BPM) capabilities, and much more.
WorkFusion's Path to Leadership – Key Differentiators
WorkFusion's platform story is slowly emerging as a successful playbook for how a technology platform must constantly re-evaluate its go-to-market strategy to be able to find the right positioning for itself. There are three core aspects through which WorkFusion is attempting to differentiate itself in the automation market today:
1. Carving out a Niche via Verticalization and Specialized Solutions: Over the last few years, WorkFusion has successfully changed gears by dedicatedly focusing on the automation use cases present across regulatory services and scenarios within BFS. Be it Anti-Money Laundering (AML), Know Your Customer (KYC), or background verification for customer account opening, WorkFusion has redefined its core around these specific set of capabilities and dived deep into them. It also recently partnered with Nexis Solutions to enhance its capabilities to automate Adverse Media Monitoring and reputational risk management.
2. Rapid Deployment through Out-of-the-box Solutions: WorkFusion leverages a huge set of pre-trained bots and packaged automation solutions to cater to more than 1200 use cases. While the bots are trained on large sets of data and documents, enterprises can further customize the solution based on their data type and requirements. This ready-to-deploy model facilitates implementation of complex automation solutions under 12 weeks, as claimed by WorkFusion.
3. Purposeful Drive for Continuous Innovation: In 2020 alone, WorkFusion acquired 5 patents for its workflow automation capabilities. Majority of these are focused on the application of advanced ML-driven algorithms around task similarity clusters, workflow alterations, etc. This highlights its focus on building comprehensive native capabilities. WorkFusion has also had a progressive approach towards its R&D, with majority of its R&D talent being sourced from Eastern Europe (Belarus), the new hotbed for automation talent.
Way Forward for WorkFusion – Circumventing the Obstacles
The new round of funding does propel WorkFusion into the mainstream and allows it to expand its operations more strategically. However, there are several obstacles that can potentially hinder WorkFusion's leadership position within HIA. Some of the major challenges and threats that WorkFusion will face include –
a) Lack of Native OCR/IDP Capabilities: Despite the push for product innovation, WorkFusion continues to rely on a few technology partners such as Abbyy for OCR, to process documents. Competing IDP specialists such as Kofax, Hyperscience, and Parascript are taking big strides towards going deeper into specific processes, and their plans are complemented by advanced in-house IDP capabilities. While WorkFusion is adept at tackling BFS-specific use cases, other IDP specialists are catering to a wider set of use cases both horizontally and across industries.
b) Need to Augment Low Code/No Code Capabilities: WorkFusion has focused intently on the more sophisticated workforce to lead automation initiatives, but given the huge push for democratization and Citizen Developers, there is scope in revisiting its technology stack to seep in Low Code/No Code capabilities. Leading Low Code/No Code platforms such as Appian are increasingly ramping up their document processing and management capabilities as well to cater to a wider set of use cases.
c) Scope to Expand Coverage across other Regulation-heavy Industries: Like how WorkFusion has successfully built its base within BFS, it is time for it to make a foray into other industries that have a heavy focus on regulatory compliances. Be it helping Consumer Packaged Goods (CPG) or Pharmaceutical enterprises with US FDA (Food & Drug Administration) norms, or Manufacturing enterprises vying to procure the right EPA (Environment Protection Agency) licenses, there is ample scope for automation within such document-heavy processes.
d) Intensifying Competitive Pressures: Not only is WorkFusion's position challenged by IDP specialists and Low Code/No Code platforms, but even Tech Giants such as Microsoft, SAP, and IBM are swiftly ramping up HIA capabilities through strategic acquisitions. WorkFusion must expand its network of partners within the ecosystem and dig deep into the roots of its product to be able to hold its position successfully.
e) Enhance Coverage across HIA: By bridging the current gap in its automation portfolio across segments such as Use Case Discovery, iBPMS (Intelligent Business Process Management System) or orchestration, WorkFusion can amplify recall as a true HIA platform among partners and customers.
WorkFusion's latest round of massive funding is yet another critical development in the repositioning of automation as a key priority for enterprises within their digital transformation programs. We're not even a quarter into the new year, and 2021 has already witnessed a wide range of movements across the HIA landscape with strategic acquisitions, revamped product propositions, and accelerated capital raising. Only time will tell where the next wave of disruption comes from. But for now, we are in for a roller coaster ride in this exciting world of Hyper Intelligent Automation. All we can do is buckle up and gear up for an exciting ride ahead!
Automation, automation, automation. It seems that automation has captured the collective imagination of enterprises and their leaders. To know more about where this technology will lead enterprises and how it will upend business as usual, speak to our consultants by dropping a note at
info@zinnov.com
.