Continuing its great momentum within the automation space, Microsoft made several key announcements for its Power Automate platform during the recently concluded Microsoft Ignite conference. The most disruptive announcement was the bundling of its new Power Automate Desktop product with Windows 10, making workflow automations available to all Windows 10 users, at no additional cost. This is, by far, the most noteworthy example of Democratization of Automation that has emerged in the automation space. As per official statistics, today, there are more than 1 Bn devices running Windows 10 globally. Even if a fraction of these billion users were to start adopting Power Automate Desktop, you can imagine the hyper-scale of adoption this would result in!
Microsoft has slowly, albeit steadily, built itself into a formidable automation powerhouse. Since its Power Automate rebranding back in 2019, the tech giant has ramped up capabilities across the IA spectrum – both organically and even through inorganic routes. Microsoft made ripples within the automation space with its big-bang acquisition of Softomotive in mid-2020 (at the height of the pandemic), and made its intentions and ambitions crystal clear – to be a formidable player in the space.
In his keynote speech, Satya Nadella laid emphasis on the next generation of Cloud, Edge Computing, and 'Intelligence at the Edge.' The automation-related announcements that followed also echoed Satya's vision – with Power Automate Desktop focusing on 'Intelligence at the Desktop.' Some of the vision statements that emerged from the announcements include – How do we empower all the frontline employees with intelligence so they become more productive? How do we make attended automation so easy that it becomes ubiquitous and pervasive?
Here's a glimpse into MS's automation journey so far, and what the latest announcements mean for the automation space, as well as the incumbents.
Microsoft's Automation Journey
Microsoft has been extremely busy over the last 18 months or so, ramping up capabilities within the automation space. During the Ignite conference in November 2019, Microsoft rebranded its erstwhile MS Flow product to Power Automate, in order to align it with its Power Platform suite. Additionally, UI Flows was introduced as a specific module for RPA capabilities, and it also launched Power Virtual Agents to enable anyone to create powerful chatbots using an intuitive, No Code graphical interface without the need for data scientists or developers. The tech giant followed this up with new strategic pricing announcements for Power Automate, with two packages – the "per user plan" at USD 40 per user, per month for unlimited flows, and "per flow plan" priced at USD 500 per month, per flow for unlimited users. This move was its first indication at a very competitive pricing strategy in order to drive adoption. Microsoft also made its Power Automate generally available soon after, in April 2020.
The most noteworthy and clear sign of intent from Microsoft came in May 2020 with its Softomotive acquisition to bolster its Power Automate platform with Softomotive's popular WinAutomation platform that possesses deep capabilities in Attended RPA (or desktop automation). In addition, Microsoft also gained the ability to augment cloud deployments with on-prem/desktop environments, UI automation, Design Studio (its bot design builder), and Robin – the open-source RPA Language.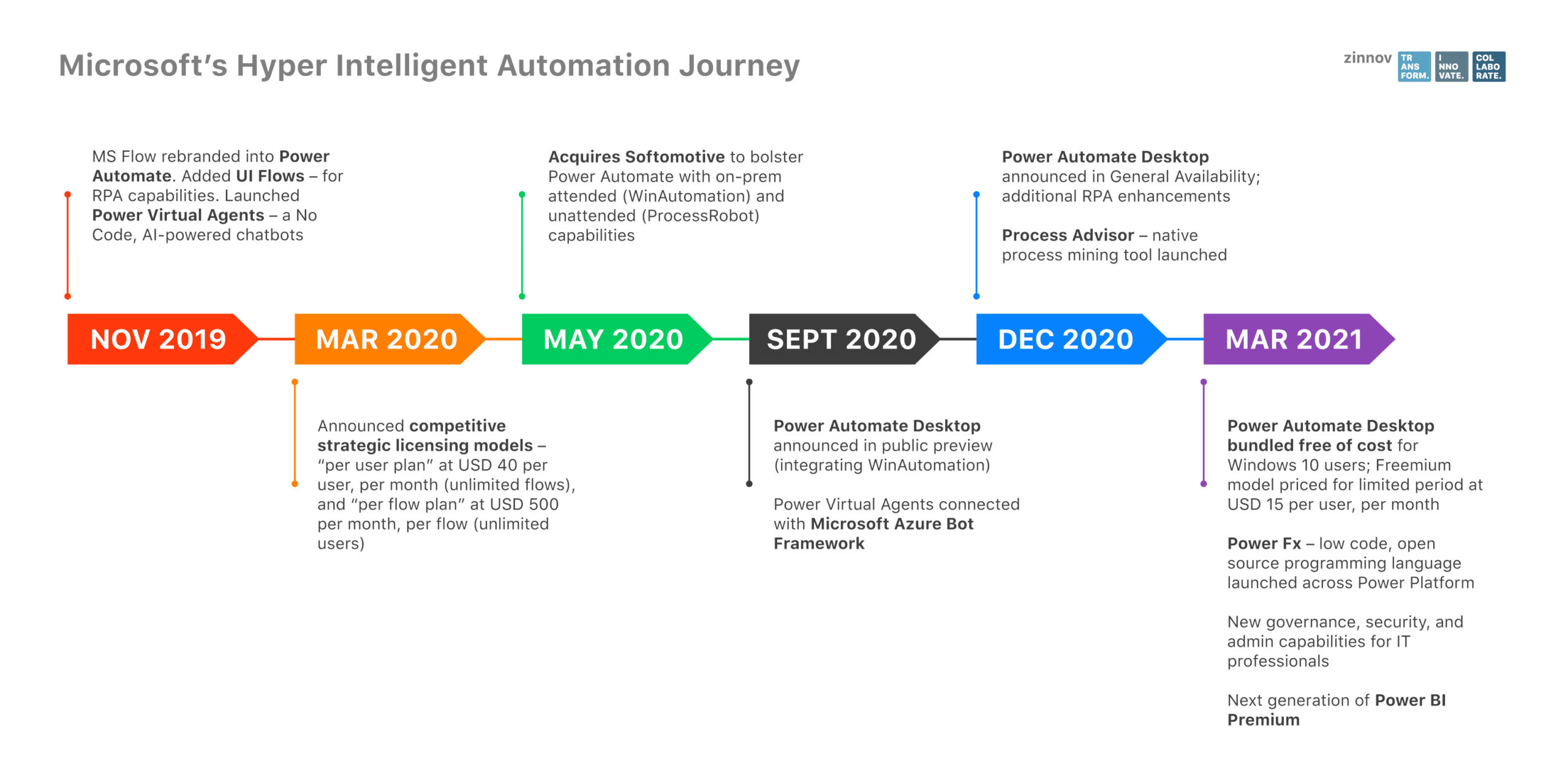 Later in September 2020, Microsoft finally completed its integration of Softomotive's WinAutomation within Power Automate and formally announced Power Automate Desktop (in public preview). This enabled the automation of on-prem processes and tasks, making it possible to automate any desktop or web-based application. Power Automate Desktop unified API-based automation with cloud flows and UI-based automation with desktop flows (previously called "UI flows"). Additionally, it also announced the integration of Power Platform into GitHub, the pro-developer platform which enables developer teams to collaborate on projects. Finally, Microsoft also connected its Power Virtual Agents with Azure Bot Framework to allow both developers and business users to build bots together by using Azure development tools like Bot Framework Composer to create custom dialogs and directly add them to Power Virtual Agents bots.
Jump to December 2020, and Microsoft made Power Automate Desktop generally available. The tech giant also went on to add four RPA enhancements to Power Automate: role-based sharing, lifecycle management, setting execution priorities, and real-time run and queue monitoring. Further, Microsoft formally launched its (much awaited) native process mining platform – Process Advisor. We had alluded to this in our recommendations when Microsoft's Softomotive acquisition announcement was made last year, and it is good to see Microsoft making progress on that front.
"Power Automate Desktop and Process Advisor further democratize automation and empower everyone to optimize how they work by automating automation."

– Stephen Siciliano, Partner PM Director, Power Automate

Key Microsoft Ignite 2021 Announcements
In the recently concluded Microsoft Ignite conference (March 2-4), several critical announcements were made pertaining to the tech giant's automation focus.
Power Automate Desktop was made available free of cost to Windows 10 users. This means that Windows 10 users can download Power Automate Desktop on their desktops right away and start building simple low code, workflow automation scenarios at no additional costs. Going ahead, Microsoft would pre-bundle Power Automate Desktop in the subsequent Windows 10 versions. Power Automate Desktop for Windows 10 automates tasks across applications such as SharePoint, Excel, Outlook, OneNote, and additional third-party business apps as well. And all this is coupled with a simple authoring interface, making it easy for anyone to get started. In addition to this "freemium" option, users can extend this to include its "Power Automate per user with Attended RPA plan." This plan has been introduced as a limited period offer of USD 15 per user, per month (valid from April to September 2021 and applicable for a minimum of 5000 licenses).
Interestingly, Microsoft also announced Power Fx – a Low Code, open source programming language across the Power Platform, based on Microsoft Excel. The vision for Power Fx is to bring the familiarity of Microsoft Excel functions to Low Code app development and workflow automation. Power Fx is already being used for Power Apps and will now also be extended across Power Automate and Power Virtual Agents. Microsoft envisions to make Power Fx a mainstream Low Code language, similar to its other, widely adopted languages such as Visual Basic, C#, and TypeScript. Power Fx, coupled with its GitHub platform, is expected to drive rapid adoption within the developer community and make Low Code app development ubiquitous.
In addition to the Power Automate Desktop updates, Microsoft also announced new and enhanced governance, security, and administration capabilities to enable IT professionals to safely manage and scale the growth of low code solutions within the organization.
Even the Power Virtual Agents have been enhanced with newer AI capabilities and Natural Language Processing (NLP), which enables bots to automatically learn from user conversations and improve over time. Specific features include a new topic suggestion feature to help bot authors discover new topics based on the conversations, and AI-driven topic tuning capabilities to help bot authors to improve topic triggering and ask fewer clarifying questions.
Given all these enhancements, Microsoft today has extremely strong capabilities across the building blocks of the Intelligent Automation (IA) framework. When we analyzed the tech giant last year, there were a few capabilities that were missing natively (which have now been plugged in), and there was a need for tighter integration between the different building blocks, which has also now been solved to a large extent. Below is an illustration of how Microsoft's capabilities fare across the IA framework.
Microsoft on Intelligent Automation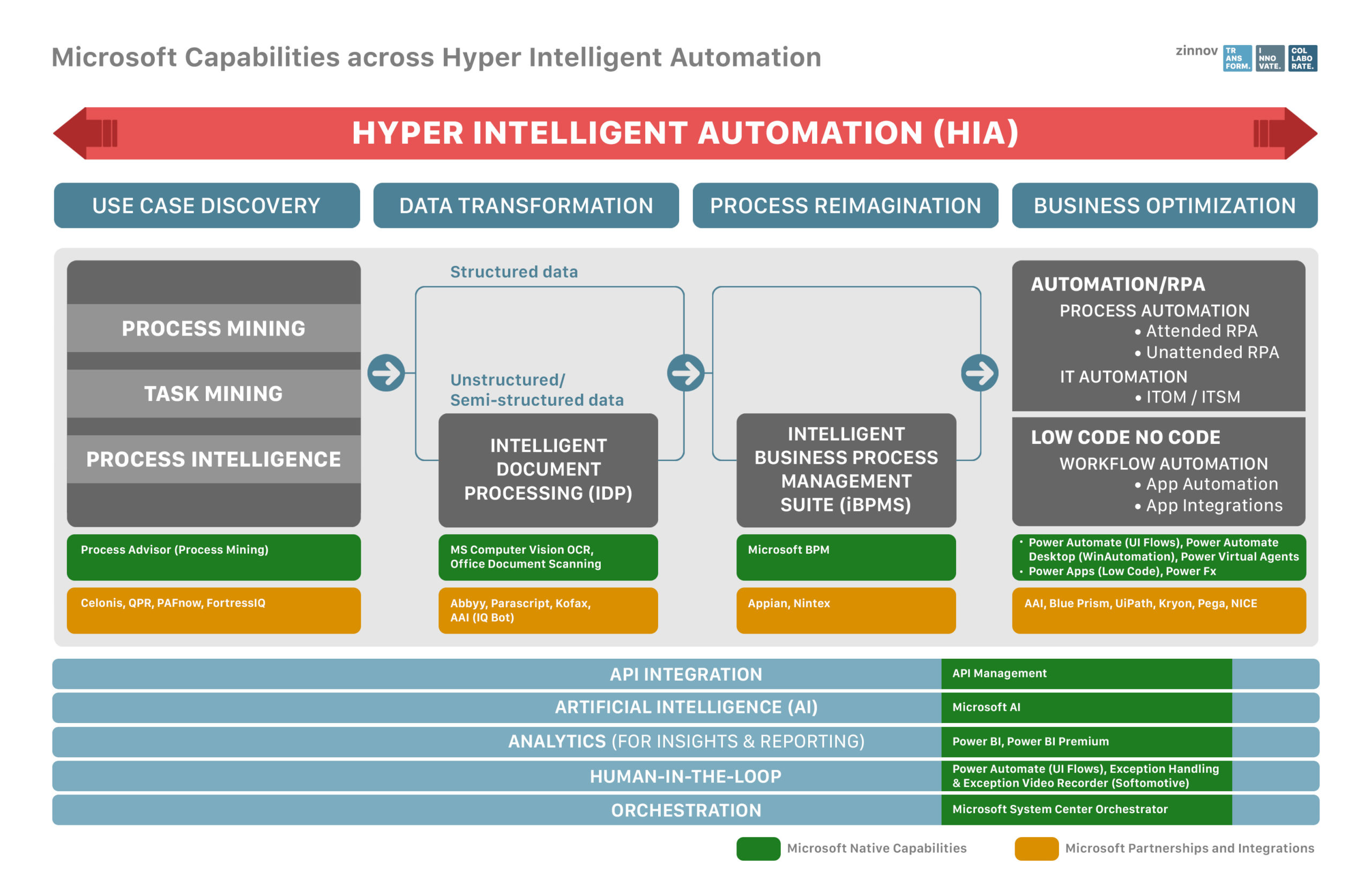 Microsoft clearly has coverage across the entire IA framework through its hybrid strategy of build, buy or partner. However, what makes Microsoft stand out is its deep focus on iBPMS and Low Code/No Code technologies. It has historically been extremely strong on the iBPMS side, and has far greater capabilities with orchestration, which is still a grey area for the other Big 3 platforms (who largely continue to partner for iBPMS and orchestration capabilities). As the automation space matures, we are bound to encounter more and more multi-platform environments. In fact, Zinnov analysis of Fortune 250 enterprises reveals that more than 30% of them are investing in automation already, working with 2 or more automation vendors today. This warrants the need for orchestration capabilities in order to work in such a multi-vendor environment. It is likely that the enterprise customers that Microsoft looks to tap into with Power Automate, may already have the Big 3 (or other automation vendors) incumbents there. Hence, orchestration becomes extremely critical to enter such accounts.
In addition, Microsoft has its Power Apps for Low Code app development, which is another technology area growing in prominence in the IA space. We are increasingly witnessing Low Code/No Code being leveraged as standalone technologies for business process optimization, or being used in tandem with RPA. We also see a lot of other Low Code/No Code platforms such as Appian, Pega, Nintex, etc., already entering the IA space with RPA-focused acquisitions. Even SAP announced its acquisition of Signavio for iBPMS capabilities, which was followed up recently with its acquisition of AppGyver for No Code app development.
We recently spoke to Charles Lamanna (CVP, Microsoft) on the overall vision and way ahead for Power Automate, and he emphasized that they envision Power Automate to be Low Code in nature, and also be seamlessly relevant across the spectrum of developers – including both pro-code (or professional) developers and the Low Code/No Code developers.
"My vision is for Power Automate to go beyond UI and workflow automation, and focus on what I call 'True' Automation, including low code app construction, low code data exploration and modeling, case management and routing, among others."

– Charles Lamanna, CVP, Low Code Application Platform, Microsoft
Charles further laid out an exciting roadmap for the product in 2021. There is immense focus on powering the tool with deep AI capabilities, and he had postulated advanced AI models that would remove the manual authoring of bots and more automatic bot authoring scenarios. In addition, he also called out increased collaboration and teamwork, given the current work-from-anywhere environment, and how they are looking at Low Code collaborative environment which would allow co-authoring of bots, i.e., 2 or more users located remotely can build a bot at the same time. We saw glimpses of these in the recent updates during Ignite, and it would surely be exciting to see this roadmap develop further during the course of this year.
While Microsoft has made strides in product innovation, there are several gap areas that still remain and need to be plugged. The biggest challenge we see is that Microsoft has an immense focus on enabling simple workflow automation, and low complexity use cases. But the focus on medium or even high complexity use cases is minimal. As enterprises mature in their automation journeys, they typically gravitate more and more towards these medium/high complexity use cases. Though Microsoft is equipped to address these higher complexity use cases, its narrative and positioning currently is still more aligned to simpler use cases. Take for instance, IT automation use cases such as automation IT Service Management (ITSM), IT Operations Management (ITOM), application development, etc., which are high in complexity but are expected to drive the next wave of growth for enterprises. Microsoft currently is not calling out such use cases, while historically it has focused deeply on infrastructure, Cloud, and legacy app modernization.
The other area of concern is the fact Microsoft is heavily focusing on attended (or desktop) automation. Even the Power Automate Desktop is aligned solely to attended automation (in fact, Softomotive is also known primarily for its attended RPA focus; it came up with its unattended RPA very late in the game). While attended automation is an important area, Microsoft needs to ramp up its focus on unattended automation (or automation of back office processes) as well. This will allow Microsoft to cater to the entire spectrum of use cases within an enterprise.
Finally, we feel that though Microsoft has Power Apps for Low Code app development, it is more siloed and not being leveraged in tandem with Power Automate as yet. As the tech giant progresses in its automation journey, we believe that it is extremely critical for Microsoft to start baking in both Power Apps (for Low Code) and Power Automate (for RPA) in its narrative. There are enough and more use cases that can be modernized using Low Code apps (Power Apps), and then Power Automate can manage the downstream workflow automation. This cohesive narrative is currently missing in its go-to-market strategy.
What do the Microsoft Ignite announcements mean for the Automation/IA space?
It is ironical that Daniel Dines, the CEO of UiPath had this grand vision for empowering every person with an automation bot, which was tailored on Bill Gates' earlier vision for a computer in every home. Today, however, Microsoft has very smartly outmaneuvered UiPath by going ahead and bundling its attended RPA product within Windows 10 itself. This will undoubtedly usher in a new breed of citizen developers (and home users) who would start tinkering with simple workflow automations.
"Bill Gates used to talk at Microsoft about a computer in every home. I want a robot for every person."

– Daniel Dines, CEO, UiPath
Even SAP earlier announced a limited edition of its iRPA 2.0 suite to be embedded for free within the SAP S4/HANA cloud subscriptions from the beginning of 2021. SAP is clearly trying to monetize those enterprise accounts that are highly reliant on its ERP platform and cross-sell its iRPA offerings. SAP has bolstered its positioning within IA with its Signavio and AppGyver acquisitions and is seriously eyeing the automation space. Google and AWS are the other tech giants that are targeting the automation space, but more from the Low Code/No Code standpoint. Earlier, Google announced its acquisition of AppSheet to bolster its No Code app development, while AWS launched its Honeycode No Code tool in 2020. Interestingly, both Google and AWS' No Code tools are based on spreadsheet interfaces, similar to Power Fx.
Hence, it is apparent that these Big 4 Tech Giants – Microsoft, SAP, Google, and AWS – are making serious moves within the automation space, and they will pose serious competition to the incumbent Big 3 RPA vendors. This battle of Big 4 Tech Giants vs the Big 3 RPA vendors will be interesting, leading to a maniacal focus on rapid product innovation, while triggering off price wars at the same time. Players will rush to add more and more value to their customers, and we will witness even greater democratization within the automation space. This would eventually lead to enterprises benefitting from such intense competition!
Additionally, though the major USP for automation/IA has always been its simplicity and ease of use for business users (or "Citizen developers"), the actual adoption by business users had always been a question mark. We invariably saw enterprises leaning towards their IT organizations for more complex implementations and scaling their automation deployments. Those who did not bring in IT, found it extremely difficult to scale their automation deployments. Microsoft's latest move would remove this barrier and make it easy for the business users also to build their own automation use cases.
In fact, as the enterprises scale their automation deployments, we expect that the buy centers for automation would increasingly shift from LOBs (which is where the RPA action started with the Big 3 platforms targeting the BU Heads) to more central functions or the CIO organization (which is where the likes of Microsoft has extremely strong connects). Hence, going forward, as CIOs become the custodians of the automation charter, the tides might turn in favor of tech giants such as Microsoft, who would then have a strong opportunity to cross-sell and up-sell Power Automate along with the myriad other Microsoft products already in use within enterprises.
The recent Ignite announcements anchor Microsoft's clear positioning within the IA space. What is even more interesting is that the tech giant has consistently made product and technology innovations pertaining to automation, and at the same time also focused on how it can enhance user experience and drive adoption at scale with its strategic moves. Technology and product innovation are increasingly becoming table-stakes in the automation world, and the differentiation now clearly lies in user experience and enabling seamless automation!
What Microsoft has done is that it has smartly removed the barrier to entry for business users (and even enterprises) to get started with automation. This move will truly revolutionize the automation space, and strongly reinforce the "Hyper Intelligent" aspect within automation. Microsoft has truly emerged as the biggest "democracy" in this race to democratize the Intelligent Automation space.
Interested in more in-depth and comprehensive analyses on all things Intelligent Automation? Write to us at
info@zinnov.com
.