While the initial phase of RPA revolution was driven by pure-play vendors such as UiPath, Automation Anywhere, Blue Prism and the like, the last 12 months have been game changing for the Automation space. Enterprise software giants such as Microsoft, SAP, IBM, and Google have all made significant strides within the automation space, making serious acquisition- or partnership-led bets. ServiceNow, not willing to be left far behind, recently announced its acquisition of India-based RPA start-up Intellibot, to enable end-to-end automation across a mix of legacy and modern enterprise applications.
ServiceNow's initial growth in the first decade, since its founding in 2004, was propelled by its prowess in ITSM (IT Service Management) and ITOM (IT Operations Management). ServiceNow even achieved the Leadership position in Zinnov Zones for Hyper Intelligent Automation H1 2021 – IT Automation category, owing to its strong capabilities across IT Automation. Leveraging its service management capabilities, ServiceNow was able to expand to other enterprise functions such as HR, Customer Service, and GRC (Governance, Risk and Compliance).
This phenomenon of convergence between Process Automation and IT Automation is not new, but has certainly gained significant momentum in the last 12 months or so, with several incumbent automation players enhancing capabilities on both fronts. Be it Automation Anywhere's partnership with Ayehu, an IT Automation specialist, Blue Prism's tighter integration with Red Hat, or UiPath's growing focus on augmenting native capabilities to cater to a wider set of use cases across ITOM and ITSM, there will be a higher degree of cross-leverage between the two fields. This clearly corroborates Zinnov's claim from early 2020, highlighting the prominence of IT Automation as a defining trend that would prompt automation platforms to reimagine their growth strategies.
As ServiceNow approached USD 1 Bn in revenue in 2015, it set its target to get to 4x revenue in the next 5 years. In 2020, it comfortably reached that milestone, closing the year at USD 4.3 Bn in revenue. ServiceNow CEO, Bill McDermott, who was onboarded in October 2019 from SAP, has already announced his plans to navigate the company in the direction of its next milestone of USD 10 Bn. Bill has been aggressively bolstering the platform with AI and automation capabilities, both natively and through inorganic routes. He has spearheaded more than 5 strategic acquisitions since he took over – all aligned to ramping up AI and automation capabilities of ServiceNow's platform and acquiring skilled talent along the way. The company's pivot to the NOW platform is central to its strategy, with a focus on enabling "Creator Workflows" to define custom workflows, automating processes and tasks beyond functions such as IT, HR, and Customer Service.
"Technology is no longer supporting the business, technology is the business."

– Bill McDermott, CEO, ServiceNow

ServiceNow's Focus on Automation
ServiceNow's idea is to establish itself as a holistic Intelligent Automation (IA) platform, enabling end-to-end digital transformation across enterprises. To this effect, since 2020, ServiceNow has been building a robust toolkit to holistically cover all the requisite automation technology areas, including Low Code/No Code, Workflow Automation, IT Automation, Conversational AI, etc.
ServiceNow has continued to further bolster its strength across IT workflows through deeper leverage of AI (Artificial Intelligence) and ML (Machine Learning) across ITSM, ITOM, and ITBM (IT Business Management). At the same time, the company has added capabilities across relatively newer use case segments of Customer Service Management (CSM) and Field Service Management (FSM) as well, with integrated mobile experiences, virtual agents, knowledge management capabilities and much more.
Below are the key building blocks of ServiceNow's platform, aligned to strengthening its HIA capability.
1. IT Automation: ServiceNow is already a formidable player within the ITSM/ITOM space. It further acquired an Israeli start-up, Loom Systems in January 2020, to bolster its capabilities with AIOps and automation. With the latest Quebec1 release, Loom Systems capabilities have been completely integrated in the NOW platform with Predictive AIOps. ServiceNow's acquisition of Sweagle in June 2020 further added AI/ML-based IT configuration management capabilities, along with DevOps.
2. Customer Self-Service and Chatbot: ServiceNow has immense focus on enabling customer self-service and eliminating reliance on L1 support. It acquired Attivio back in 2019, to use its conversational AI and NLP-powered enterprise search platform to provide personalized search results to customers. The company further acquired another conversational AI start-up, Passage AI in January 2020, that helps enterprises build multilingual chatbots.
3. Workflow Automation and Low Code App Development: The latest Quebec1 release, expanded the NOW platform's Low Code development capabilities. One of Quebec's features, App Engine Studio, allows developers to build apps in a Low Code environment with drag and drop functionalities. The company also announced the inclusion of several pre-built templates for common use cases.
4. Process Mining: ServiceNow has partnerships with leading process mining players such as Celonis and QPR. Celonis Snap for ServiceNow provides visibility into the ServiceNow Incident Management Process. Celonis also has certified applications now available on the ServiceNow Store.
Besides larger enterprise software platforms such as ServiceNow, there are several specialist platforms focusing on the IT Automation space that hold the potential to spur a new wave of disruption, either through strategic acquisitions (both as targets and acquirers) or via more targeted partnerships. As part of Zinnov Zones for HIA H1 2021 for the IT Automation category, Zinnov analyzed several such IT Automation specialists including the likes of Amelia (erstwhile IPSoft), that has cutting-edge capabilities across both ITOM and ITSM use cases. Along with IT Automation, Amelia is also a leader within the Intelligent Virtual Agent category through its AI-powered solutions catering to automation at both the agent and customer's end.
Another interesting player is Ayehu, a sub-USD 5 Mn IT Automation specialist, that prides itself on its No Code, AI-driven capabilities aimed at democratizing IT operations within enterprises. Similarly, there are several specialist platforms such as Arago, Tricentis, Active Batch, WorkSoft, etc., that can be looked at as prospective acquisition targets by the larger HIA platforms.
ServiceNow Acquisition Playbook
Intellibot is ServiceNow's fifth acquisition since Bill McDermott took over as CEO in November 2019. And AI has been central to ServiceNow's aim of driving the "workflow revolution" for enterprises. In March 2020, Vijay Narayanan joined ServiceNow as its Chief AI Officer with the vision of helping companies not just leverage AI for getting insights, but also acting upon those insights.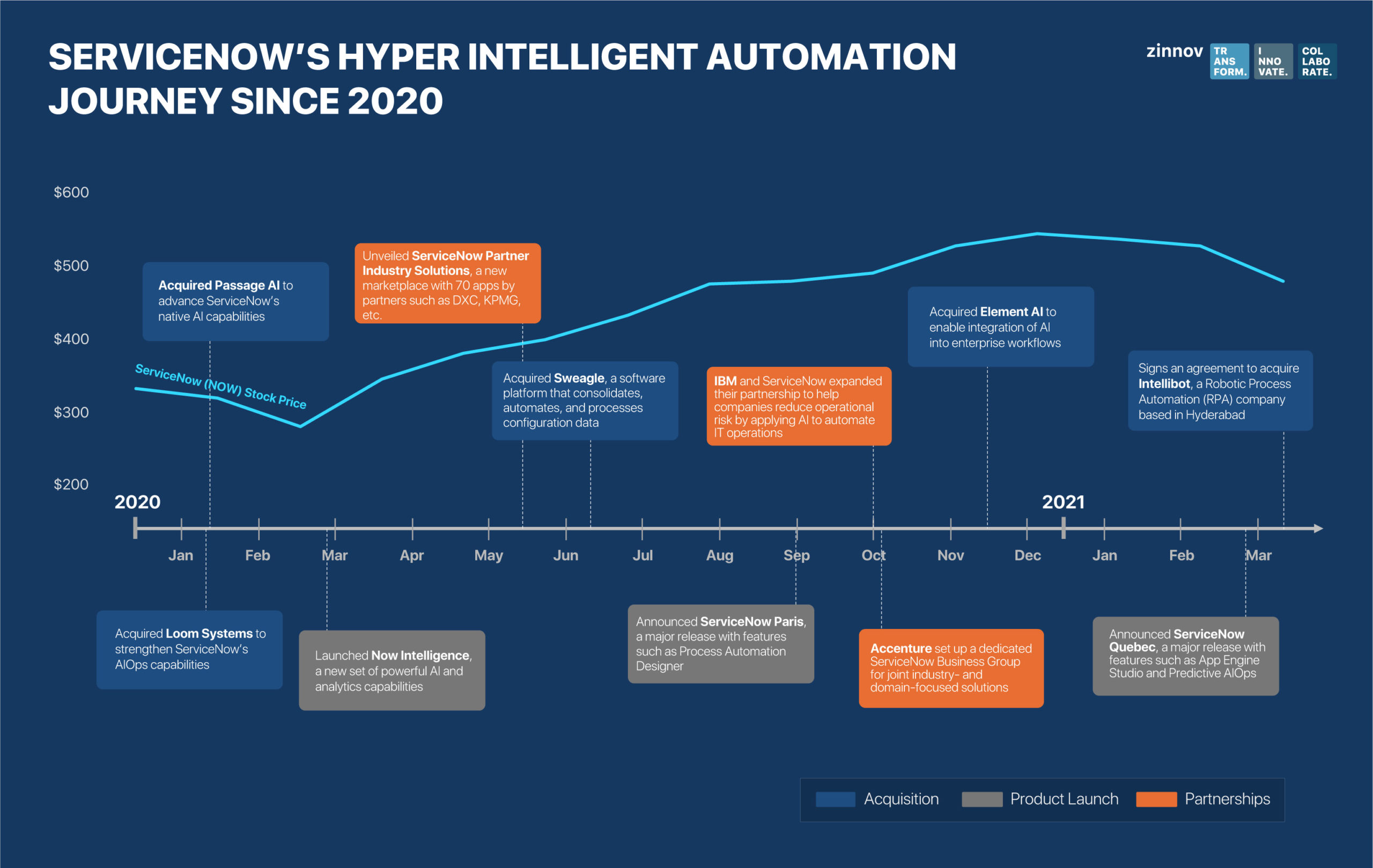 "You can't solve 21st century problems with 20th century technology."

– Bill McDermott, CEO, ServiceNow
Bill, who executed several mergers and acquisitions at SAP, is now deploying a similar playbook at ServiceNow as well. These acquisitions, focused on deepening ServiceNow's AI capabilities, point to a strategy that is quite similar to what other Tech Giants including Salesforce, Intel, and Apple have employed.
The acquired companies have all been early-stage start-ups founded in 2015 or later. ServiceNow has been leveraging these relatively smaller acquisitions to embed additional capabilities into the NOW platform. These acquisitions have almost immediately been integrated into ServiceNow's core offering to avoid any confusion across the customer base regarding product positioning and letting go of any redundant capabilities. The goal is not just limited to product enhancement, but also talent augmentation. Through these acquisitions, ServiceNow has acquired AI/ML talent which is typically quite difficult to onboard organically. The acquisition announcement of Element AI for instance, also informed of setting up of a new AI Innovation Hub in Canada. Intellibot's acquisition aligns with this overall M&A thesis that ServiceNow has been channeling.
ServiceNow Intellibot Acquisition: Joining the RPA Bandwagon with Intellibot
Intellibot, based in Hyderabad in India, was founded in 2015 by Alekh Barli, Kushang Moorthy, and Srikanth Vemulapally. The company has since then steadily grown, with an automation platform that has been adding capabilities across select HIA building blocks. Intellibot's focus has been on select segments in India and the larger APAC region, namely Healthcare, Telecom, and Banking & Finance industries from a vertical perspective, and IT and HR from a horizontal standpoint. With Intellibot, ServiceNow is looking to plug in gaps in its platform and add automation capabilities across multiple dimensions.
1. RPA: Intellibot will add some basic (and much overdue) native RPA capabilities to the NOW platform, but ServiceNow will continue to support customers who leverage third-party platforms through partnerships with the Big 3 vendors (UiPath, Automation Anywhere, Blue Prism) and other platform vendors such as Automation Edge.
2. Virtual Agent: Chatbot capabilities get further strengthened with Intellibot, given its capabilities around chat as well as voice agents.
3. Intelligent Document Processing: Intellibot's acquisition adds robust capabilities around handling of unstructured data with various proprietary data extractors including XML modeler, PDF modeler, and image processors. It also provides out-of-the-box integrations with third-party cognitive services provided by IBM Watson, Google Cognitive Services, Microsoft Azure, and AWS.
4. App Integrations: ServiceNow established IntegrationHub to enable connectivity to various business systems; Intellibot's acquisition will expand ServiceNow's play with 150 out-of-the-box connectors.
Despite the capabilities mentioned above, compared to several more established HIA platforms in the market today, Intellibot's prowess in automation can only be termed nascent. This was also noted during the recently released Zinnov Zones for HIA Platforms 2021 ratings, where Intellibot featured in the Nurture Zone. The company's proficiency in use case discovery is limited with minimal process mining capabilities. Even across intelligent document processing, Intellibot lacked advanced OCR capabilities to process handwritten documents and signatures.
However, ServiceNow's gains from the Intellibot acquisition are not limited to just technology and product capabilities that will enhance its NOW platform, but also feed into its broader talent, market, and ecosystem agenda.
Technology Team: Intellibot has over 40 employees, majority of whom are based in Hyderabad. Coincidentally, Hyderabad is also home to ServiceNow's India Development Center, set up in 2019, which is currently the second largest global R&D center for the company. ServiceNow's plan is to double their overall presence in India within the next 3 years.
Market Access: Intellibot's teams bring in a deep understanding of the automation landscape in India, one of the fastest growing markets for ServiceNow. In fact, ServiceNow is committed to scale up in India, with plans to set up two new data centers in the subcontinent by Q1 2022.
Ease in Building Partner Solutions: ServiceNow partners who are building horizontal and vertical-specific solutions (and listing solutions on the ServiceNow Store) will be able to leverage RPA capabilities from Intellibot to develop solutions with further ease.
An exciting trend to emerge is the resurgence of India within the automation landscape as a lucrative hotbed for innovation. Intellibot's acquisition will help resurface the Indian start-up story at a global scale wherein India has long been revered as the technology talent capital of the world. India has also been contributing to more than 10% revenue of leading product companies. Given this positioning, the Indian automation landscape is gaining significance.
Including the likes of Automation Anywhere, which was originally set up in India, there are 30+ such as automation platforms that are competing globally, across multiple technology segments such as RPA, IDP, Low Code/No Code, etc. Cumulatively, over USD 1 Bn has been raised by these platforms in the last 10 years, and we will witness a series of several more pivotal investments in this space. The Intellibot acquisition is set to open the gateways for global automation behemoths to look more intently at India's automation landscape as a lucrative investment zone. Be it Keka HR for HR Automation, Yellow Messenger or Bayestree for Customer Service Automation, or Kissflow as a workflow automation specialist, there is no dearth of niche automation platforms with superior product capabilities, which can fit perfectly well into the portfolios of several larger platforms.
The Way Ahead for ServiceNow
It remains to be seen whether ServiceNow's latest acquisition will help it emerge as a laudable contender in the HIA space. While Intellibot provides some acceleration to its automation ambitions, it might be too little, too late. A lot will depend on its ability to effectively leverage the acquired talent to integrate and further build the required elements into its existing platform. It would be an uphill task for ServiceNow to stay competitive, given the dynamic nature of this space and the break-neck speed at which the leading platforms are innovating.
ServiceNow has immense opportunity for scaling the business across its base of almost 7000 customers, specifically the top-tier of its client base that consists of approximately 80% of the Fortune 500 enterprises. More than 1000 of those customers have USD 1 Mn+ in annual revenue. Given that ServiceNow is already hitting the ceiling in terms of the new customers it can acquire in the large enterprise segment, much of the growth to hit the USD 10 Bn milestone will have to come from expansion within current accounts. Robust HIA capabilities will be crucial to these ambitions as it looks to establish itself as a credible platform enabling workflow automation across functions.
ServiceNow might want to take a leaf out of Microsoft's playbook. MS has significantly accelerated its automation focus over the last few quarters with rapid product innovation, talent and leadership realignment, strategic GTM initiatives, and a captivating narrative for its customers, complementing its earlier acquisition of Softomotive. The most recent development is the announcement of its Power Automate Desktop product, which can possibly drive universal adoption of automation across both pro and citizen developers. ServiceNow will have to quickly ramp up its automation play or risk being left behind. This could well mean that there is another acquisition soon to come for ServiceNow which has only dipped its toes into the HIA space with Intellibot; something that Bill McDermott's former employer SAP did when it acquired Contextor and followed it up with Signavio. SAP certainly doesn't want to go the IBM way, which is yet to have a compelling story even post its acquisition of WDG.
1. ServiceNow has two major releases each year, named on cities in alphabetical order; previous release announced in September 2020 was named 'Paris'
For a comprehensive view of the Intelligent Automation space and where impending opportunities lie, write to us at
info@zinnov.com
.