Large R&D spenders are increasingly facing disruption from digital natives like Uber and Airbnb. This disruption has forced these large companies to rethink their product strategy, thanks to digital having gone beyond being a mere buzzword to permeate into every vertical. Digital products, digital services, digital solutions have become the new normal, with digital increasingly defining the core of companies. It has become imperative for every company to have a digital strategy to survive in this increasingly disruptive era. Further, increasing maturity of digital technologies such as AI/ML, IoT, RPA, blockchain is enabling newer products and services across verticals.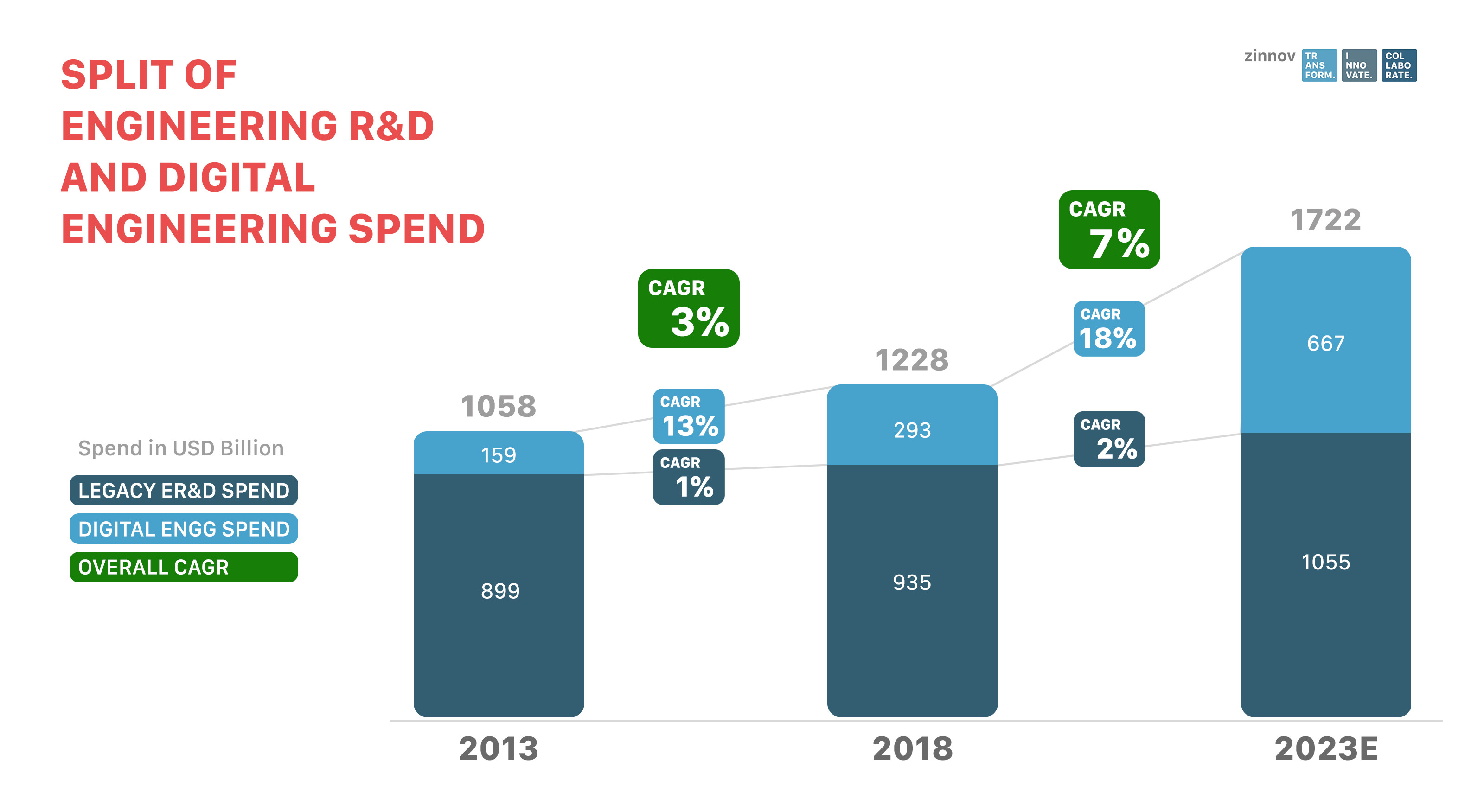 Massive investments that are being made towards digital engineering by companies across the globe, including the top global 1000 companies (Z1000) are a testament to this change. Currently, the global spend towards digital engineering stands at USD 293Bn, which is expected to more than double to a whopping USD 667Bn by 2023. In the next 5 years, this staggering amount will drive the future growth in Engineering R&D and is expected to account for 39% of the overall spend.
Top ER&D spenders are investing in digital engineering themes to drive velocity in manufacturing processes and new product development, while also enabling alternative revenue streams. Zinnov defines Digital Engineering spend as the investments made in
building digital infrastructure to digitally modernize the product launch and development process as well as building capabilities in new digital technologies such as AR/VR, AI/ML, etc.
building new, smart, and connected products as well as providing new services such as predictive asset maintenance, remote diagnostics, etc.
Investing in digital engineering capabilities ensures –
velocity in product development
enhanced product ownership experience
enhanced new product portfolio to stay relevant
alternative revenue streams
Factors driving increased Digital Engineering spend
The increased focus on building digital products and solutions to drive differentiation, irrespective of vertical, has propelled the rise in digital engineering spend. Further, the growth in digital engineering is being driven by three distinct factors –
a) the convergence of technology and business model innovations;
b) the growth of tech giants and start-ups, thus creating a vibrant global digital ecosystem; and
c) the digital disruptions currently happening in the technology ecosystem.
Although there is a rise in digital engineering spend across verticals, Software & Internet vertical will account for nearly half the global digital engineering spend, to touch USD 322Bn by 2023.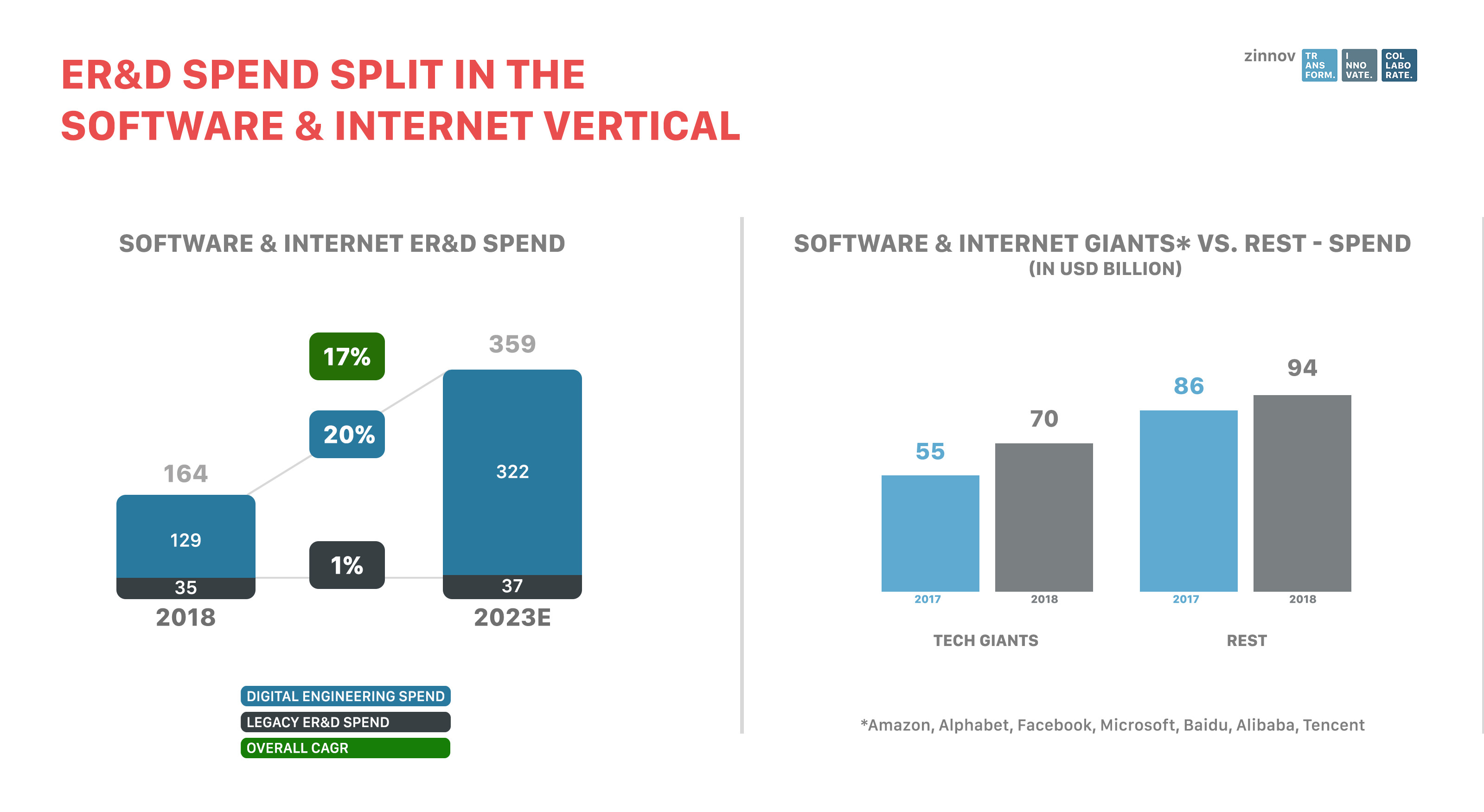 Some of the key factors driving this spend in software & Internet vertical include –
(i) Increasing consolidation of ER&D spend by Software & Internet giants
• The tech giants – Amazon, Google, Microsoft, Facebook, Baidu, Alibaba, Tencent – spent close to USD 70Bn on R&D in 2018 alone. This dominance in spend is expected to continue as these giants expand into newer technologies and markets.
• Chinese tech giants are increasing their R&D spend at a much higher rate of 41% as compared to other tech giants at 18%.
(ii) Market leaders foraying into non-core areas
• Market leaders, along with Chinese giants, are increasing their spend across non-core areas such as healthcare, media, automotive, and telecom, and are posing serious challenges to traditional incumbents. Large scale investment announcements can be expected in these areas as leaders look to diversify and increase their presence across industries.
(iii) Increasing dominance across the digital engineering stack
• Software companies will continue to play a pivotal role in driving the digital engineering revolution through investments across the stack:
i. Digital Engineering Infrastructure
ii. Digital Platforms
iii. Digital Applications
(iv) Focus on new-age technologies
• Software & Internet companies will continue to be the drivers and adopters of technological disruptions. Four key areas are expected to drive investments in the near term:
i. Artificial Intelligence/Machine Learning
ii. Augmented Reality/Virtual Reality
iii. Big Data Analytics
iv. Blockchain
Vertical-wise view of Digital Engineering spend
An increasing trend that has been evident in the last few years is that across verticals, digital engineering is outpacing legacy ER&D spend and will further drive growth for the future. Automotive is one of the biggest spenders on ER&D. The digital engineering spend which forms a mere ~15% of the total ER&D spend in the Automotive vertical, is expected to grow at a CAGR of 14% to touch USD 41Bn by 2023. Automotive companies are investing this spend in building autonomous vehicles, connected cars, ADAS, and Factory 4.0, with Volkswagen leading the pack with a cumulative ER&D spend of USD 16.5Bn.
Consumer Electronics companies are spending on connected and smart devices, platform-based launches by leveraging existing open source systems, and reducing time to market. While Apple is the biggest spender in Consumer Electronics at USD 15.7Bn, Samsung is a close second at USD 15.6Bn.
Compared to the above industries, the digital engineering spend in verticals such as Industrial, Semiconductor, Aerospace & Defense, Medical Devices, and Peripherals & Storage is negligible, growing at a CAGR of 10%+. However, one common theme across these verticals is the investments in newer technologies such as IOT, RPA, Robotics, AI/ML, Hyper Converged Infrastructure, etc., indicating the determined march of companies towards embracing digital.
Increased Digital Engineering Spend in verticals hitherto non-core to Engineering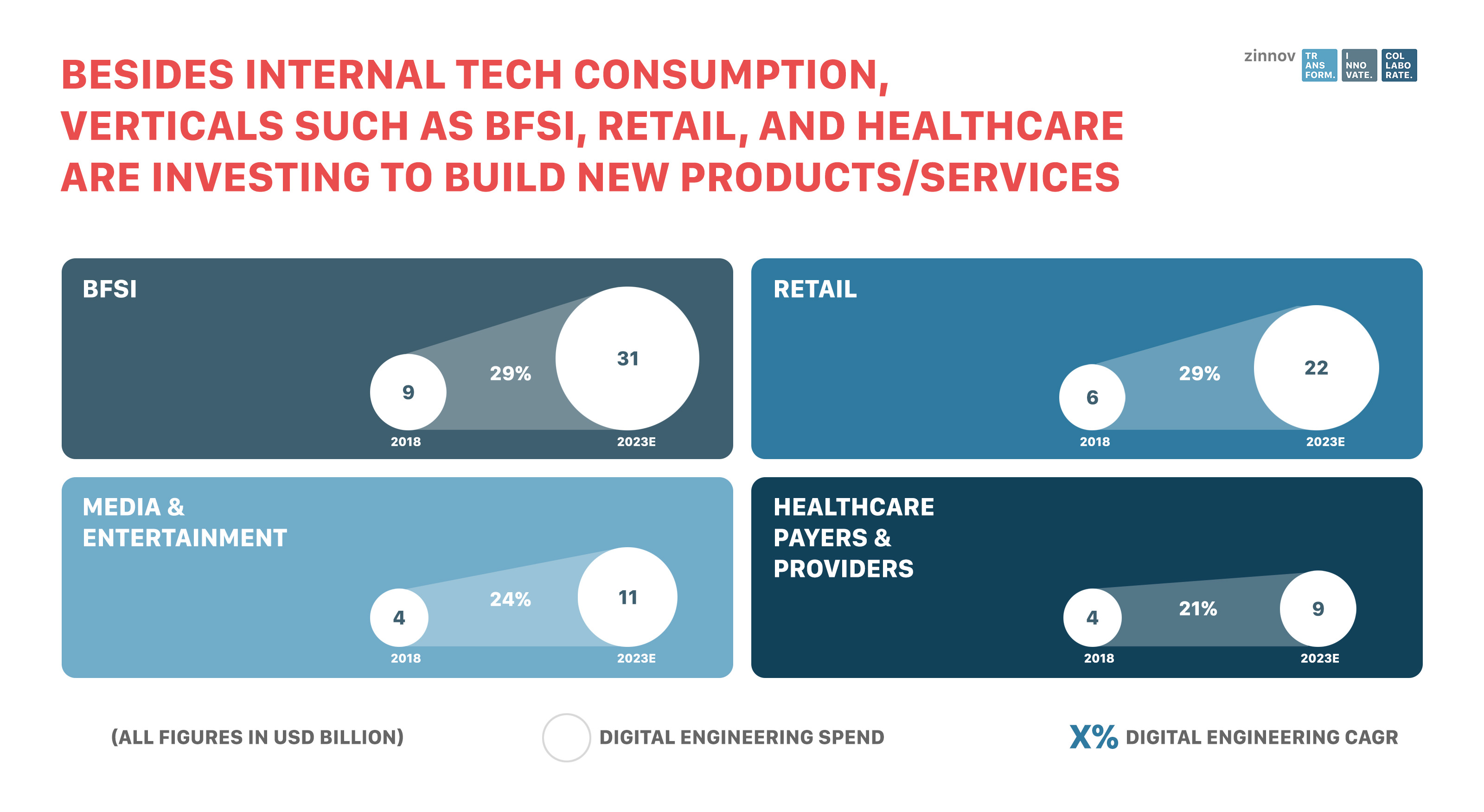 The impact of digital engineering is being felt across verticals. Non-core verticals such as Media & Technology (M&T), Banking & Financial Services/Insurance (BFSI), Retail are investing in digital technologies for not merely internal consumption but also to build new products and services to drive differentiation. Zinnov research suggests that BFSI and Retail companies are investing significantly in building digital engineering capabilities, and this will grow at a CAGR of 29% by 2023 to touch USD 31Bn and USD 22Bn. Similarly, digital engineering spend of M&T vertical will grow at a CAGR of 24% and Healthcare Payers & Providers vertical is expected to grow at 21%.
Companies in the BFSI space are making huge investments in payments technology, telematics-based insurance, robot advisory through AI and ML. On the other hand, Retail companies are enhancing customer experience by transforming in-store shopping experience through IoT, introducing smart shelves and connected products for monitoring and feedback. Media & Entertainment is another vertical that has been increasingly leveraging digital technologies like AI and ML to provide personalized viewing recommendations to users. M&T is also where intelligent platforms are enabling targeted advertising, thus morphing into the realm of hyper-personalization.
With digital taking over the world – in every sense of the word – companies can't afford to lag behind in investing in building and nurturing digital engineering capabilities. In fact, every company is now a digital entity. Although companies are raising their digital engineering spend considerably, skilled digital talent will be key to driving profitability in the long run. Strategic partnerships with Engineering Services Providers will be key for companies to not only augment their digital engineering investments but also to gain access to skilled talent.
The increased digital engineering spend opens up a plethora of opportunities for Service Providers. What strategies should SPs leverage to tap into these opportunities? Drop us a note at
info@zinnov.com
to learn more.