The healthcare ecosystem is undergoing a metamorphosis, thanks to a combination of factors like shifting spending patterns in the medical devices industry, a clear focus on digitalization, diversified talent footprint, and emphasis on ecosystem partnerships including collaborations with Tech Giants, start-ups, and Service Providers. These factors have not only brought forth the importance of digital technologies and the disruptions they have brought, but also how the healthcare industry is reinventing itself across the value chain.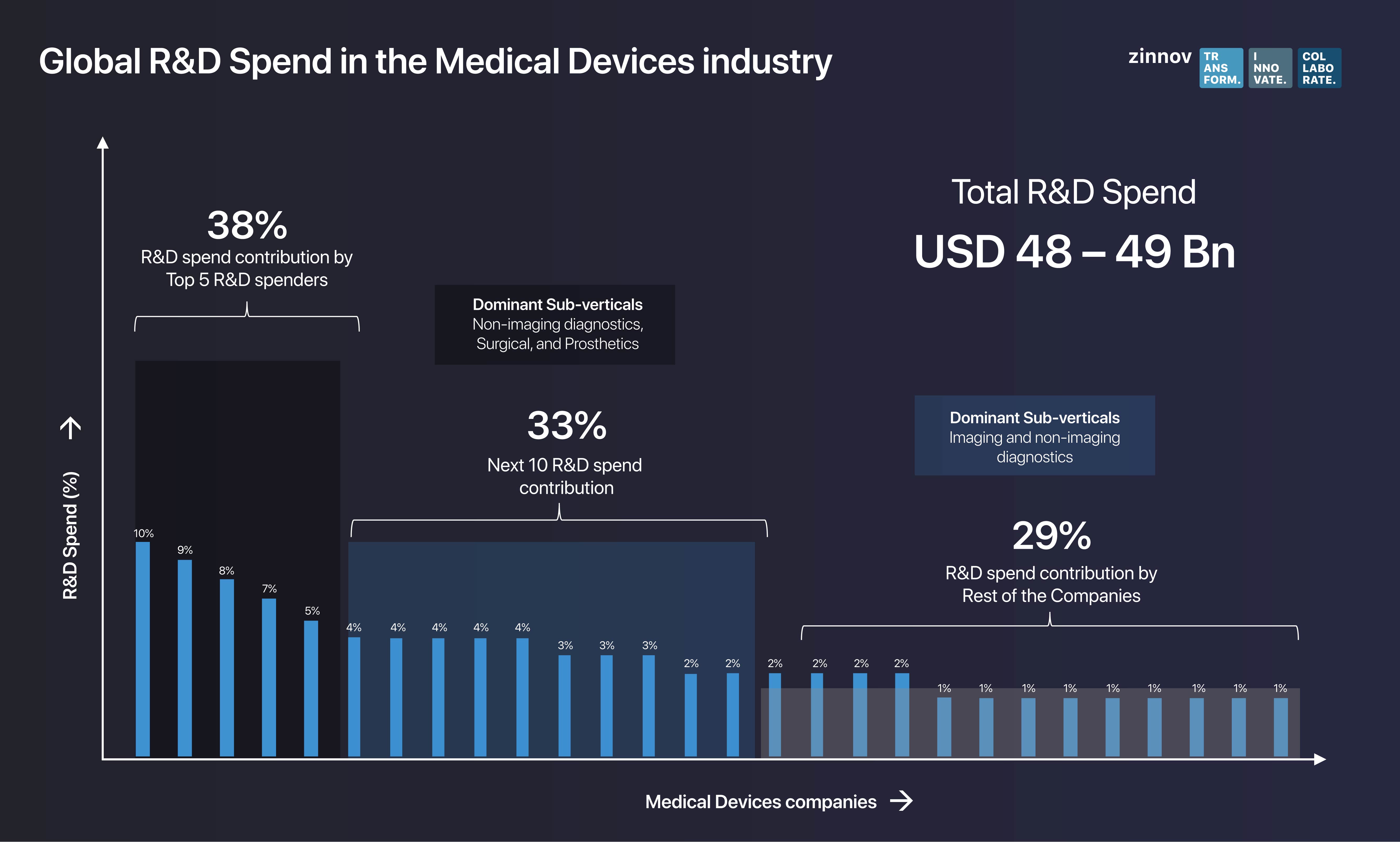 The total global R&D spend in the Medical Devices industry stands at USD 48-49 Bn in 2019, with the top 15 medical device Original Equipment Manufacturers (OEMs) contributing nearly three-fourths of it. Interestingly, the top 5 R&D spenders contribute 38% of the global R&D spend, with investments being directed mainly to sub-verticals such as non-imaging diagnostics, surgical, and prosthetics. Further, the next 10 R&D spenders contribute as much as 33% to the global R&D spend, while focusing their investments on imaging and non-imaging diagnostics. The numbers show that the global R&D spend is highly consolidated among the top 5 R&D spenders, with North America being the biggest spender, with 59% of the pie, followed by Europe at 34% and APAC, a mere 7%.
Talent is key
Skilled digital talent has become a prized commodity for any industry, including healthcare and medical device companies. But how are the medical device companies faring in the face of the ongoing digital talent war?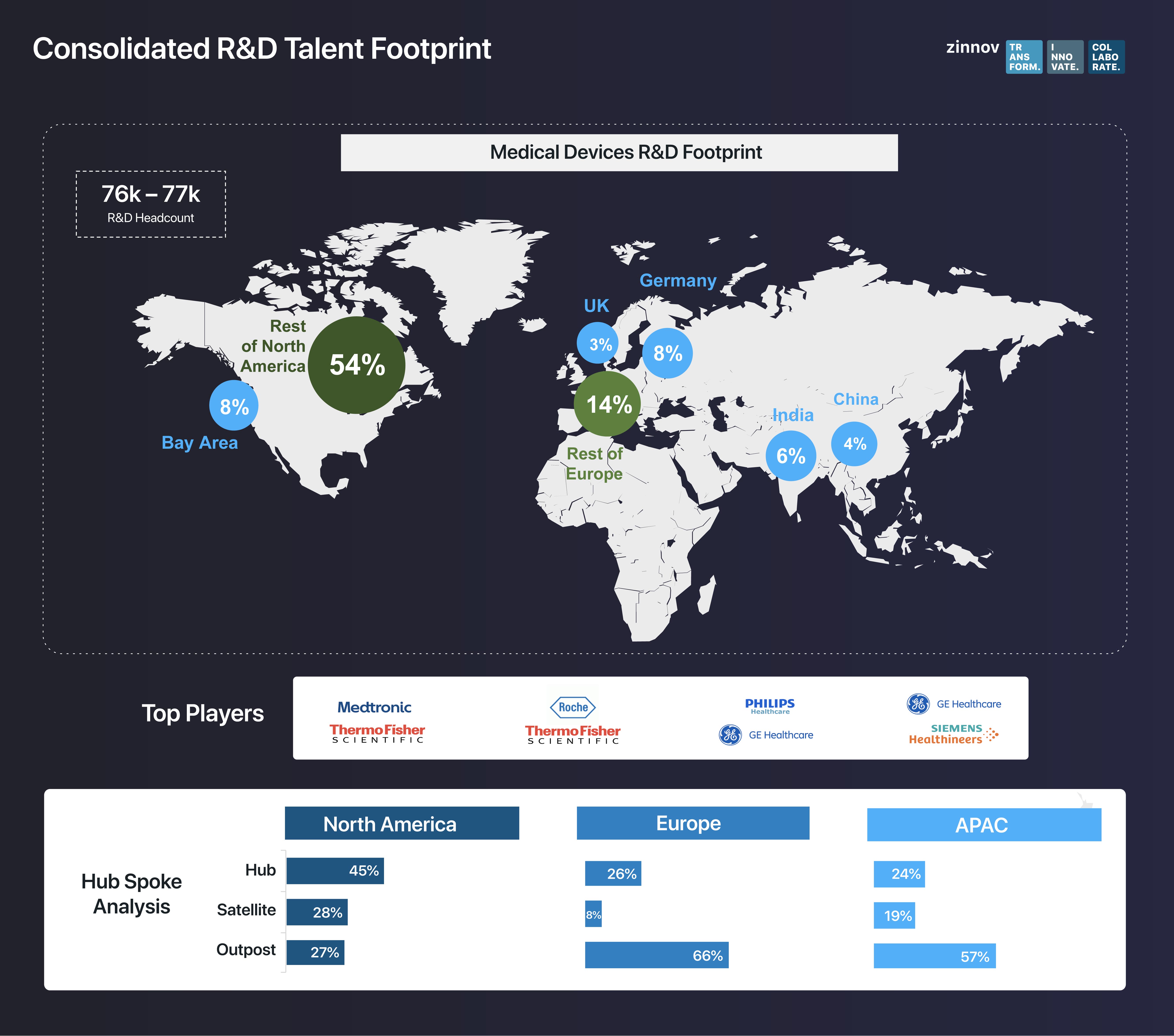 North America and Europe boast of the largest global engineering workforce, standing at a staggering ~90%. Going a step further, it is clear that the Medical Devices R&D is consolidated in the US, and is not very globalized. When Zinnov's Hub-Satellite-Outpost framework was applied to the R&D talent footprint of the medical device companies, we found that North America houses most talent hubs, indicating that the decision-making is still governed from the US. Besides the US, India and China are emerging as tech hotspots for medical device companies.
This shift has been witnessed over the last 3 years, with OEMs starting to expand R&D globally, with centers set up in India and the Bay Area. In fact, Thermo Fisher Scientific and GE Healthcare have opened software CoEs in the Bay Area. In Europe, the UK has seen a significant rise in medical device talent in the last 4 years. On the other hand, Global Capability Centers (GCCs) in India are being empowered and are forging strategic partnerships with Service Providers. Further, Bangalore and NCR have emerged as the two major hotspots in India for medical device investments. In China, companies like Fresenius, Medtronic, and Thermo Fisher Scientific have opened multiple R&D centers since 2009, Suzhou and Shanghai emerging as the two major hotspots.
When it comes to dedicated digital Centers of Excellence (CoEs), Bangalore and Bay Area have emerged as the prime hotspots, with significant growth in the software sub-segment. In the last 3 years alone, 20 digital CoEs have been set up by OEMs, which are expected to grow at a CAGR of ~11% growth going into 2022. In India, GE Healthcare and Philips have a stronghold of software talent thanks to their global centers in the country. Additionally, both these companies have health tech-focused start-up accelerators like five.eight, EdisonX, and HealthWorks, which are further fostering partnerships within the ecosystem.
The technology ecosystem has multiple players that medical device companies can potentially leverage through effective collaboration models. The most important players include Tech Giants, start-ups, and Service Providers.
1. Technology Giants:
Medical device OEMs are partnering with tech giants to gain access to off-the-shelf platforms for data collection, processing, and analytics. IBM Watson and Microsoft Azure are notable examples. Additionally, tech giants like Google, IBM, and Microsoft are heavily investing in medical devices to enable software-based use cases and disrupting traditional segments like Monitoring and Imaging Diagnostics.
Some of the use cases and the partnerships that have resulted in win-win scenarios for both medical OEMs and tech giants include –
Diabetes Care: Medtronic partnered with IBM Watson to combine the information that Medtronic technology gathers, with Watson's ability to examine it and discover new methods to treat diabetes.
Chronic Disease Diagnosis: The Medtronic Intellis implant pairs with a Samsung tablet that runs the app that communicates with and helps control the device.
Population Health Management: Siemens Healthineers is offering PHM solutions and services from IBM Watson Health. This helps in value-based care analytics and reporting as well as patient engagement.
Connected Health: Becton Dickinson partnered with Microsoft Azure to build physical products that can not only help patients but can also think about how those products can capture valuable data that provide insights into the delivery of care as well as on improving safety.
Point-of-Care (POC) Solutions: Thermo Fisher Scientific and Samsung have jointly developed, new POC solutions in areas such as detection of sepsis, cardiac problems, and women's health conditions, as well as therapeutic drug monitoring.
2. Start-ups:
Start-ups are disrupting the healthcare value chain to innovate on new value segments within deep domain modalities. In the last 4 years, 5 unicorns have been born across global locations. Most start-ups are targeting Artificial Intelligence and Analytics to attract investments from OEMs through end-to-end digital use case solutions.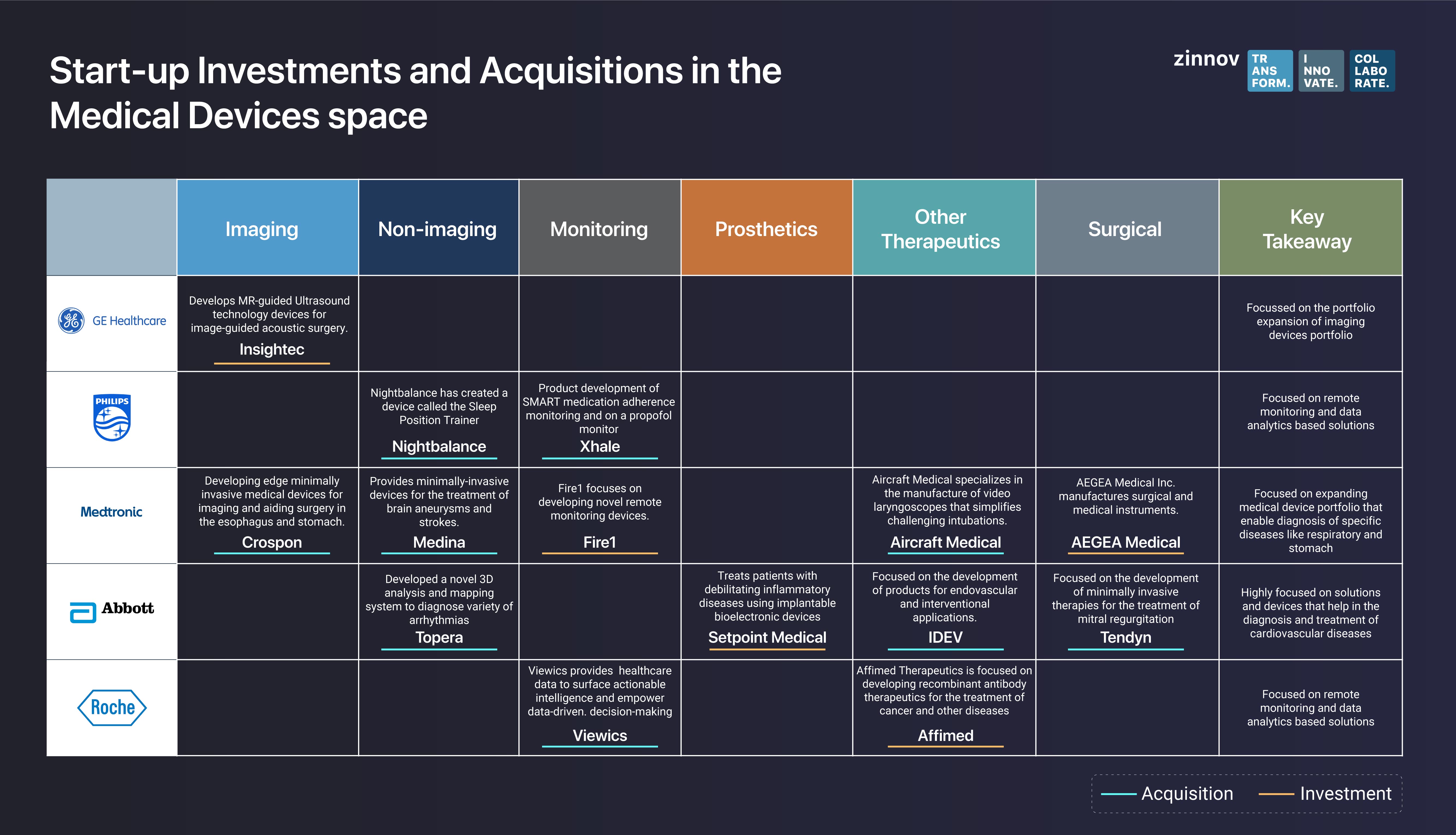 Also, start-ups that develop end-to-end use case solutions in monitoring and non-imaging devices are prime targets for investments. The following visual illustrates how medical device companies are investing and/or acquiring start-ups that build end-to-end solutions.
3. Service Providers:
Service Providers are developing test automation frameworks that can cater to the medical OEMs' need to reduce cost, improve efficiency, and reduce time to market. Data sanitization and data lake creation are the first level of expectations of medical OEMs from their service partners that help them generate insights and elevate towards AI solutions. Service Providers have a lot of opportunities to develop applications for individual use cases like monitoring, both in patient as well as clinical sides. Further, technology Service Providers with expertise in new-age technologies and no IP conflicts are emerging as mature digital partners to OEMs.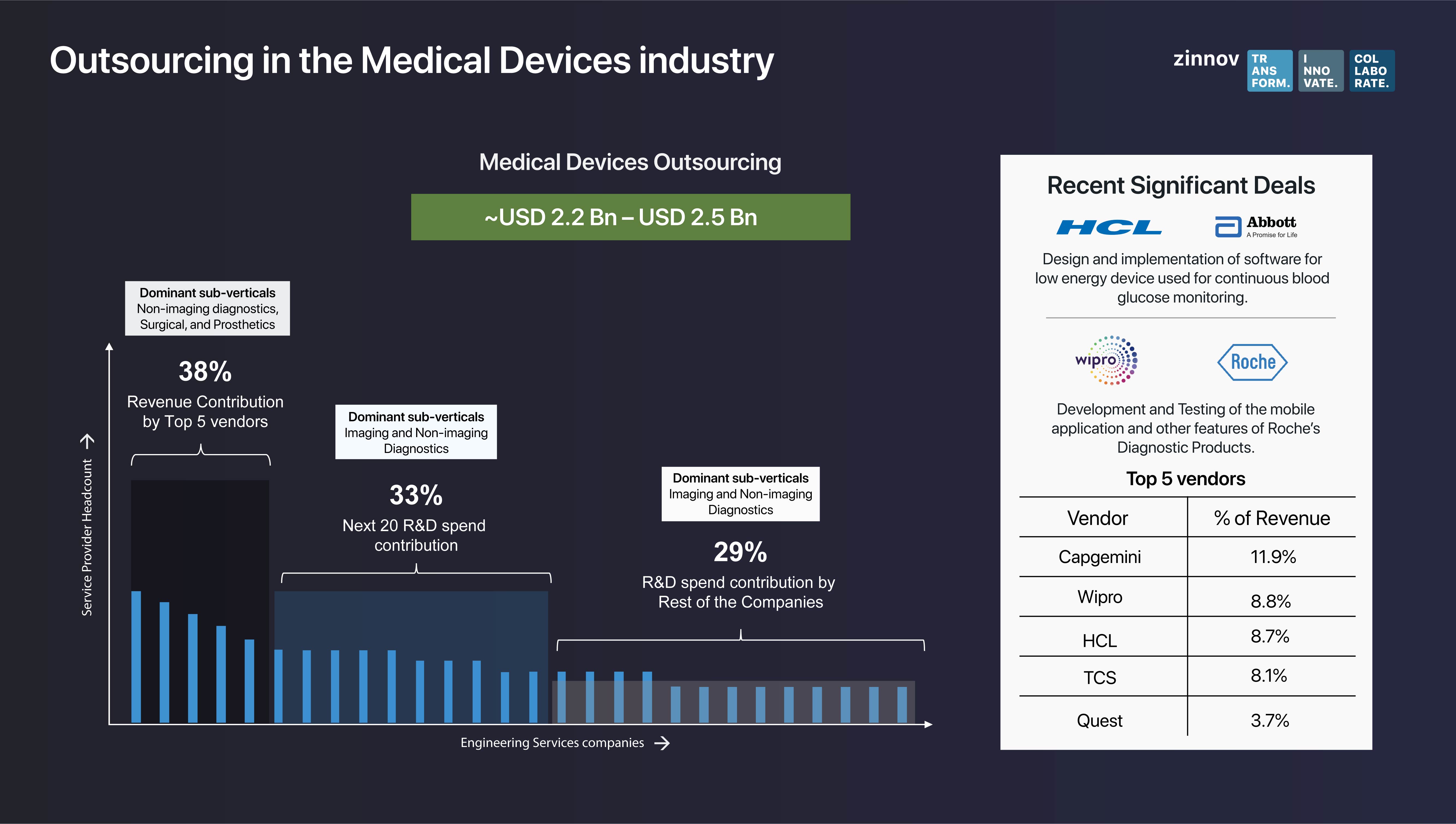 HCL struck a deal with Abbott to design and implement software for a low energy device used for continuous blood glucose monitoring. Roche partnered with Wipro for the development and testing of the mobile application and other features of Roche's diagnostic products. These recent significant deals are a testament to the fact that Service Providers are emerging as strategic and mature digital partners to medical device companies.
Medical Devices Industry – Towards a Digital Future
Though digitalization is sweeping across the medical devices industry and there is significant innovation happening in the ecosystem, the speed at which innovation is happening is not sufficient. Medical devices companies need to invest in acquiring and retaining the right kind of digital talent if they are to win at the digitalization game, by fostering partnerships and working proactively with other ecosystem players. Further, medical devices companies need to shift from the status quo of looking at their global centers as mere development centers and look at the opportunities that localization can potentially bring. Leveraging the local ecosystem to push forth the innovation agenda as well as the talent strategy will be the necessary shot in the arm for medical devices companies in their digitalization journeys.
How can medical devices companies accelerate their innovation roadmap? How can ecosystem collaborations help augment innovation in the medical devices industry? Drop us a note at info@zinnov.com to know more.