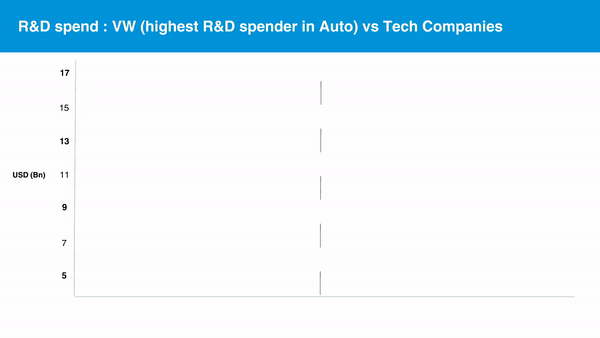 Tech giants have zipped past their auto counterparts in terms of R&D investment. Amazon is a poster child for this, with close to $20Bn in R&D spend every year, making the company one of the largest in the world, and its founder, one of the richest.
Large tech companies, on an average, spend around 20% of their revenue on R&D. But what about sub-billion-dollar companies? If you think their R&D intensity is less than the Googles and Amazons of the world – you are sorely mistaken! An analysis of the 50 major sub-billion-dollar companies shows that they spend more than 35% of the revenue on R&D.
Companies use R&D investments to create a moat against declining revenues. This pattern has been repeating itself, and is a convergence of three factors:
The emergence of multiple disruptive technologies
Declining revenues
Huge R&D investments
Access to new age technologies has made it a more level playing field, especially for smaller tech companies, and the need to react at a faster pace to this disruption has become even more vital.
Smaller Companies, Bigger Investments

We looked at 10 publicly traded SaaS companies to see their R&D spend patterns and how it affects their top line. Though SaaS models provide recurring revenues, the biggest line item eating up their margins is R&D costs.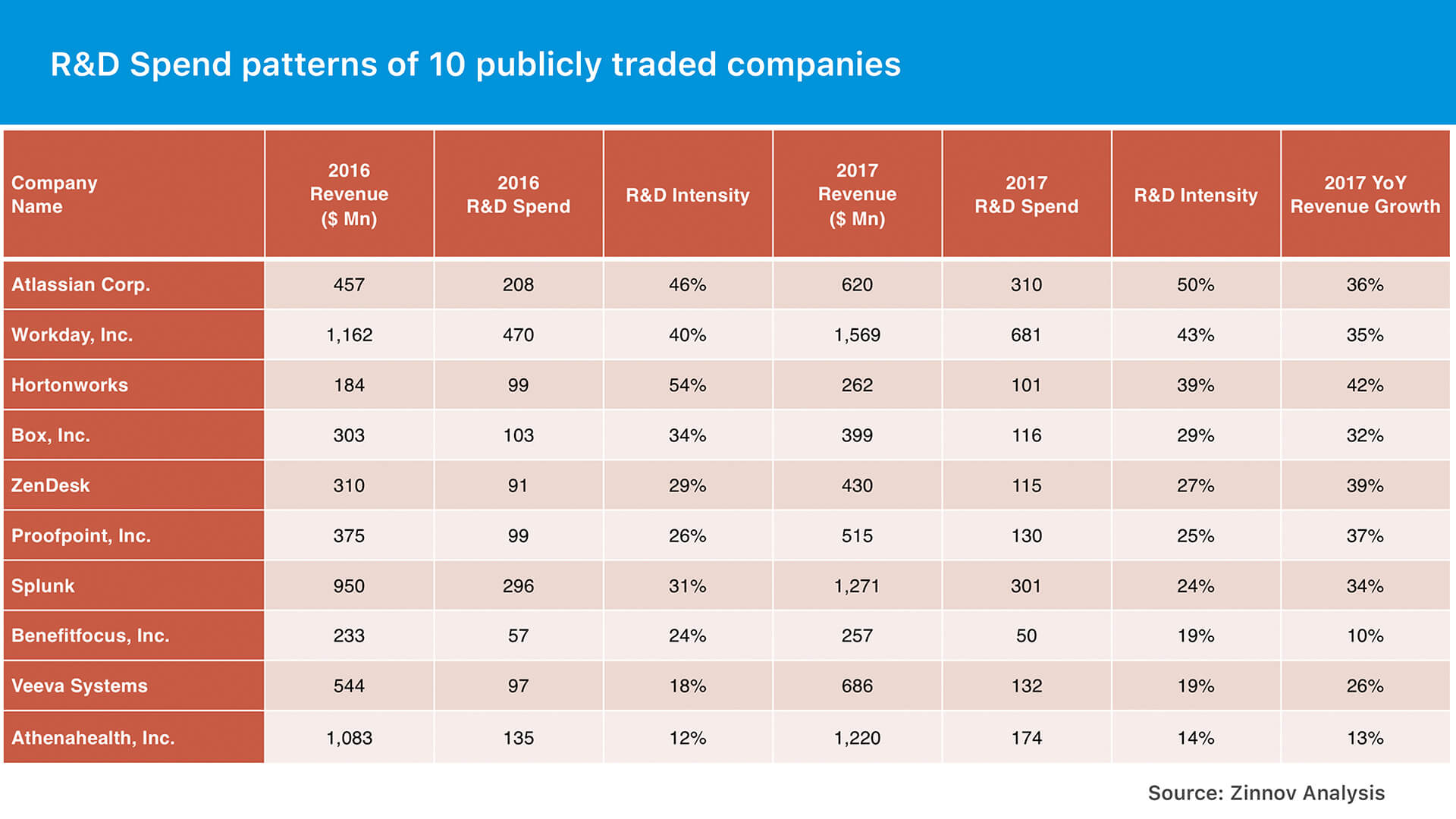 Key insights:
7 out of 10 companies spend more than 25% of their revenue on R&D
2016 R&D spend intensity and 2016-17 revenue growth show a positive correlation. The top 5 spenders grew their revenue by an average of 36% with an average 41% R&D intensity, while the remaining grew only by 25% with 22% R&D intensity
R&D spend intensity in any given year is agnostic to the revenue – the average revenue of the top 5 companies is ~$650 Mn, whereas the bottom 5 have upwards of ~$780Mn (2017)
The range is wide as well. Atlassian Corp. expends half of its revenue on R&D, whereas Athena spent just 14% in 2017. Surely, Athena grew only by 13% in revenue compared to 2016, whilst Atlassian grew three times as much, by 36%.
One of the primary outcomes of the lofty R&D investments is a strong growth in their revenues. However, the R&D dollars go into inputs such as attracting and retaining talent, continuous investment in cutting-edge technologies, initiatives to stay relevant in the market, drive innovation & IP, etc., to name a few. Out of these, the most critical and the most intensive investments are made in talent.
Smarter R&D Investments are The New Normal
Many companies still perform a majority of their R&D from their HQ location. Over the last decade, due to talent availability, CXOs were pressured to source talent from any location that promised high-quality R&D, no matter what the cost. In the process, their investments started eating into their profits.
For example, companies such as Atlassian, Workday, and Hortonworks, spend close to 50% of their revenues on R&D.
A careful analysis of emerging locations and digital talent hotspots shows that by 2020,
Over 50% of the engineering talent in tech companies, would be outside the HQ location
These would majorly be present in emerging locations such as India, China, and Eastern Europe
The growth in engineering talent in India, from 2016 to 2020, is expected to be 70%, while China, U.S., and Europe stand at the 40% mark.
It will not be a surprise if the above-mentioned numbers are achieved before 2020. Leaders today are being extremely smart in their spending, to ensure that they do not compromise on new-age talent while investing in their product roadmap. Companies are increasingly leveraging emerging locations such as Eastern Europe, India, Israel, and China, for their expansion, in terms of tapping the new-age talent. These locations have multiple advantages for companies to tap into:
The R&D talent at these locations is almost at par with some of the developed nations;
Companies gain market access in newer regions;
And finally, the cost of running operations and hiring the right talent is considerably lesser than in the HQ location.
Take, for example, VMware. It opened a small R&D center in Bulgaria in 2007 and scaled it to a 500+ member product development team by 2016. This center in Sofia manages end-to-end ownership of over 60% of products in a specific business group, which has helped VMware achieve an average cost arbitrage of 6x.
Another factor that has changed the R&D landscape is the new-age technology talent. Of the ML talent installed in top 500 R&D spenders, 76% is present in 17 tier-1 locations. Indian cities such as Bangalore and Hyderabad, have upwards of 4,500 ML talent, while China (Shanghai and Beijing) has over 7,500. However, that will not be true for long. By 2030, at least 8 tier-2 cities in India and 10 in China would become hotbeds for ML talent.
Recently, Eric Schmidt, former chairman of Alphabet, exclaimed that China will overtake the U.S. in AI talent by 2025. China also boasts the highest number of STEM graduates – 4.7 Mn, followed by India, at 2.6 Mn. On the other hand, U.S. has just over 500,000. These figures clearly show the tectonic shift in global talent hotspots and the reasons why most tech companies are moving east in order to optimize their R&D spend. It's not just cost arbitrage, but a smarter, innovative way to do business.
Talent – The Big Game Changer

Organizations' focus is not just on talent or costs, but also on being in a suitable ecosystem. According to a study conducted by Zinnov, India and China are catching up with Bay Area in terms of the number of tech start-ups. The study also shows that India and Israel have the most innovative ecosystems as compared to other emerging locations. This study is mostly based on the presence of tech start-ups and top-ranked universities that companies collaborate with. Tech giant Google has partnered with ETH Zurich for research in areas of information security, computer vision, and distributed systems. Google also hired heavily from this university. Similarly, Samsung in India has collaborated with BITS Pilani to upskill its employees in newer technologies such as AI, ML, and Cloud Computing. Such collaborations are just the tip of the iceberg when it comes to the smarter, innovative ways that leaders and companies adopt to secure the right talent.
When it comes to securing the right talent, cost arbitrage was relegated to the background, which isn't sustainable in the long run. However, the smarter way to achieving that while establishing a sustainable system in place is by decidedly looking East. With newer technologies still in their nascent stage, the talent around them is nascent as well. Leaving behind the traditional way of operating, companies need to optimize their costs by tapping into these technologies of tomorrow and the changes that are a direct consequence of the same to make the greatest business impact possible.
Having assisted over 200 global customers, Zinnov has the expertise to assist organizations to optimize their R&D spend by tapping into emerging locations and talent hotspots. Right from identifying global talent hotspots to sourcing the best talent and devising strategies to retain this talent, Zinnov helps organizations across the value chain of R&D optimization.