Top-skilled talent is one of the key driving factors of an organization's success – because it's the employees who generate value through their work. And since the onset of the COVID-19 pandemic, accessing top talent may have just gotten easier with remote/hybrid working models in play, even in relatively obscure locations such as Bulgaria. Hence, the exploration of global locations is not just critical, but an imperative for organizations to access the best global talent and de-risk business. And one of the best ways to access global talent is through globalization. We believe one of the key talent acquisition strategies that has worked for organizations – both large and small – is to look beyond the obvious destinations like Canada, India, Mexico, and Poland. This means identifying and exploring newer geographies beyond the popular Center of Excellence (COE) hubs to bridge the chasm between demand and supply of skilled engineering R&D and technology talent.
Zinnov's Framework
In our latest COE Hotspots of the World report, we analyzed 15 countries from across North America, Latin America (LATAM), Eastern and Central Europe, and Asia Pacific (APAC) across 4 key dimensions of talent availability, software engineering ecosystem maturity, ease of doing business, and cost analysis. We evaluated each location's potential to build and house full COE teams, comprised of software product engineering roles. The countries evaluated include India, China, Philippines, Canada, Brazil, Mexico, Lithuania, Estonia, Poland, Bulgaria, Belarus, Romania, and Czechia, besides the emerging talent hotspots – Vietnam and Costa Rica, with US as the baseline.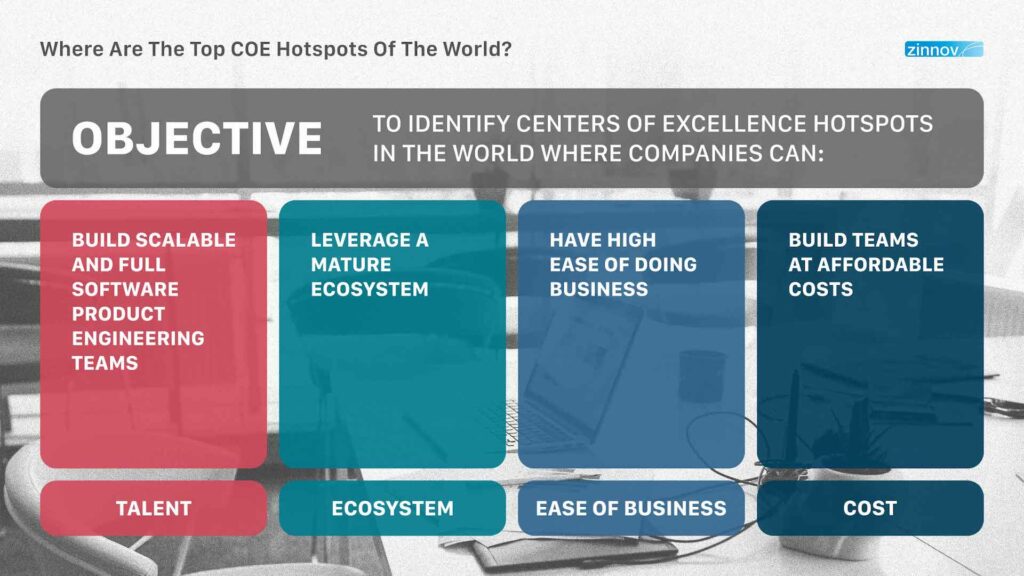 Here we explore the salient aspects that make Bulgaria one of the go-to destinations for setting up COEs.
Why Bulgaria
Home to nearly 7 Mn people, Bulgaria boasts a 98% literacy level and a total experienced workforce of more than 1 Mn individuals. The fresh STEM talent accounts for 10.5K individuals per year on average. In essence, 80% of the working age population already holds at least secondary or tertiary higher education. Further, verticals such as Enterprise SaaS, e-Commerce, EdTech, FinTech, and HealthTech are the top employers in Bulgaria, in recent times.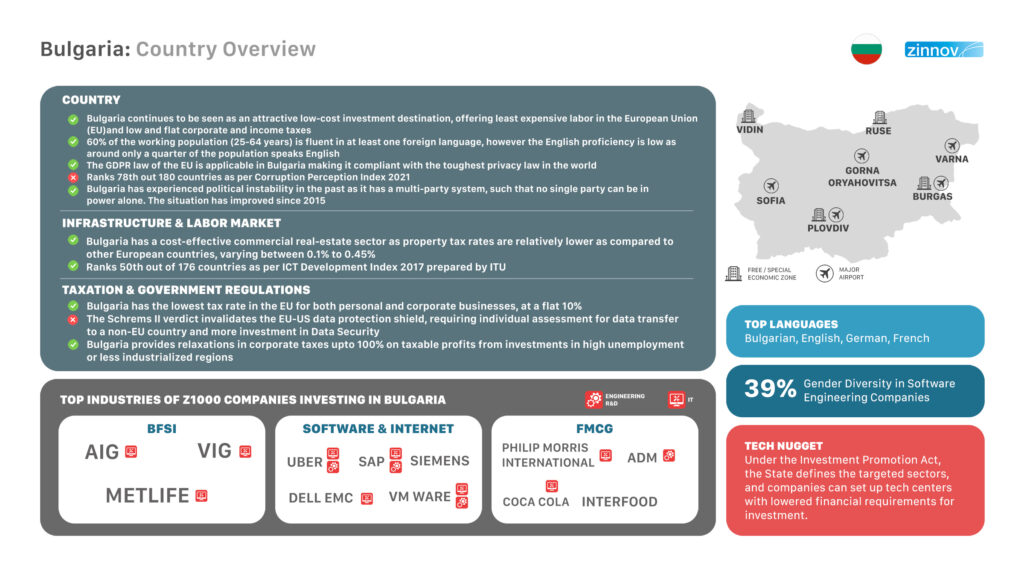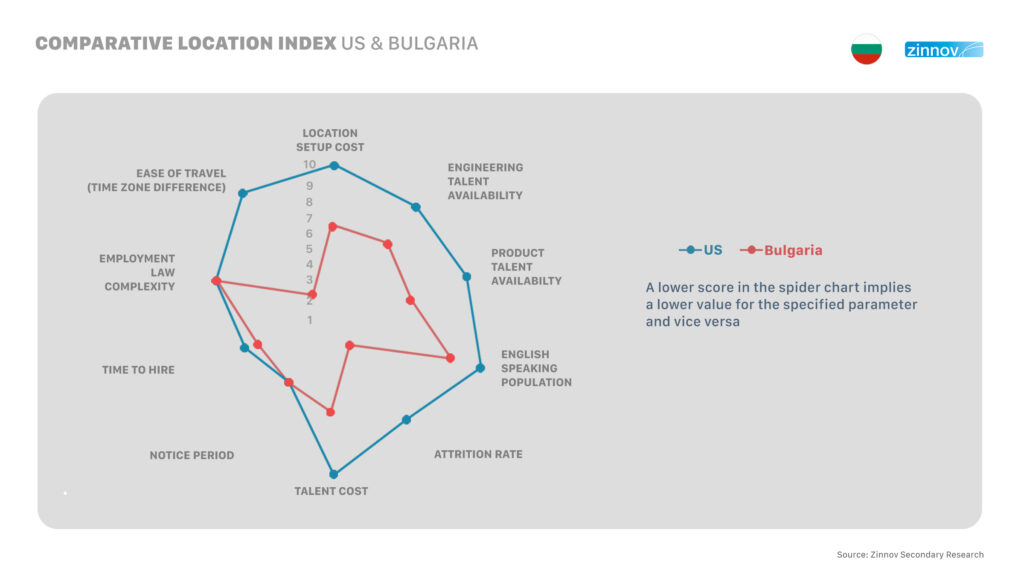 a. COVID-19 Impact
The country has seen a massive uptick in the number of remote working jobs post the pandemic, with nearly a 15% increase in the overall software sector employees. In addition, despite a 5% decrease in the Bulgarian economy, there has been a 10% y-o-y growth in software solutions from the country. In terms of digitalization, ~60% of services firms have adopted digital technologies with a major focus on Big Data and AI. These recent market trends demonstrate Bulgaria's high technology prowess in terms of talent and infrastructure to augment new innovation.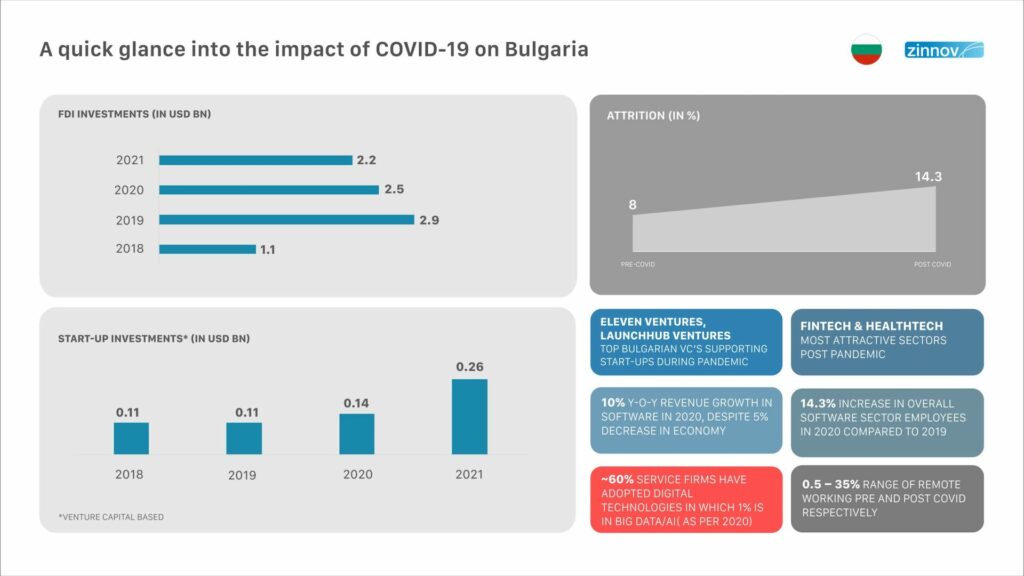 b. Bulgaria's Technology Talent Ecosystem
When it comes to certified IT specialists per capita, Bulgaria ranks 3rd in Europe and 10th on a global scale. This showcases the availability of digitally-skilled talent spearheading technology solutions at a larger scale. However, the downside of this availability of top talent is the rise in Bulgaria's attrition rate, which currently stands at ~14% annually. In this demand market, companies are going all in to retain skilled technology talent, like providing remote/hybrid roles, competitive compensation, and benefits, like increasing insurance coverage, making leaves and working hours more flexible, improving employee care and support policies like mental wellness programs, being more focused on Inclusion & Diversity, and hosting more growth and development sessions.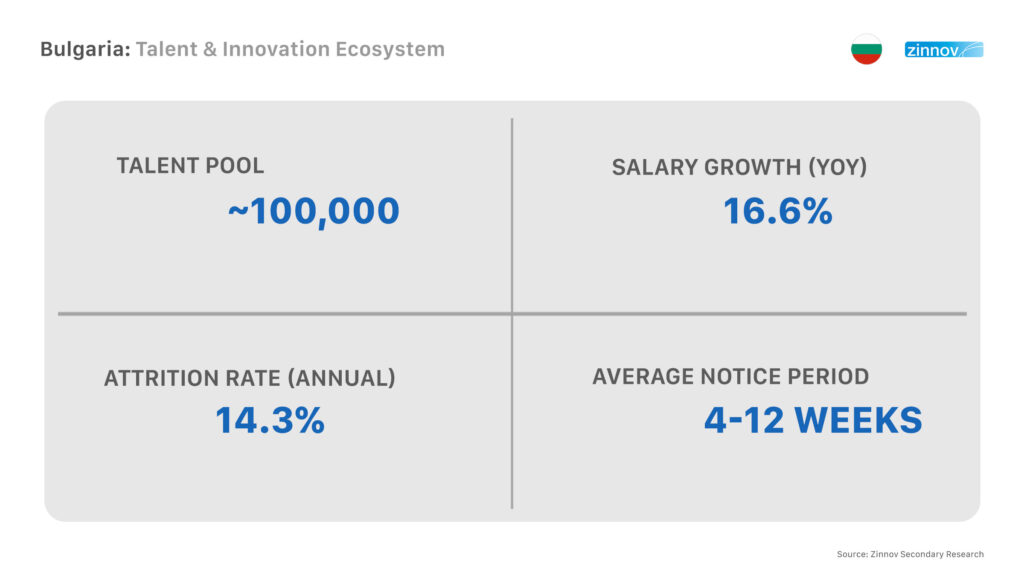 c. Large Presence of Global Companies
There are multiple global companies that have their software engineering centers in Bulgaria, majorly in the 3 primary hubs — Sofia, Plovdiv, and Varna. Though there are multiple examples to state, a few prominent ones are:
VMware's Global Development center which was set up in 2007. It is the largest R&D site for VMware in EMEA (Europe, Middle East, and Africa) and employs 1300+ people.
SAP Labs Technology center, which is helping build the company's business technology platform. More than 1100 employees work on Lifecycle Management, User Interface, and Experience Development across SAP's broader portfolio of products.
IBM, Bosch, Atos, HP, Software AG also have their R&D centers in Bulgaria, employing more than 2000 people collectively.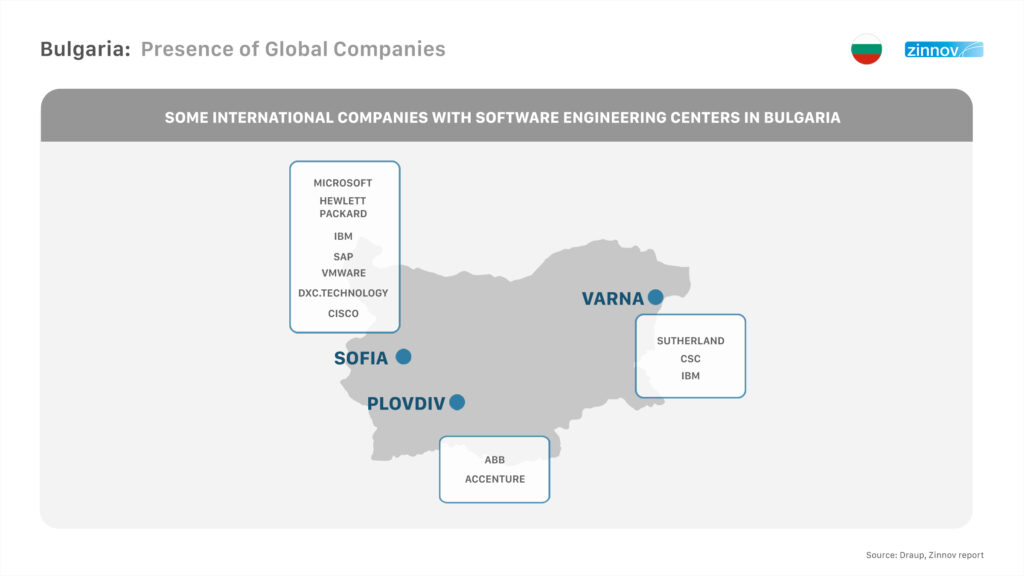 d. A Dynamic Start-up Ecosystem
The talent in Bulgaria is highly technology inclined. In the past couple of years, despite what the pandemic has wrought, 190+ technology start-ups have emerged from verticals such as Enterprise SaaS, Health, Transport Tech, EdTech, Food Tech, e-Commerce, and Retail, thus ensuring a pipeline of diverse talent skilled in a plethora of technologies. The Bulgarian start-up ecosystem has also been successful in getting investments from global VCs, with many a start-up receiving significant funding. For instance, Ondo, a platform providing Automation solutions for greenhouse gases and open fields, raised a funding of USD 1.4 Mn, as of 2021.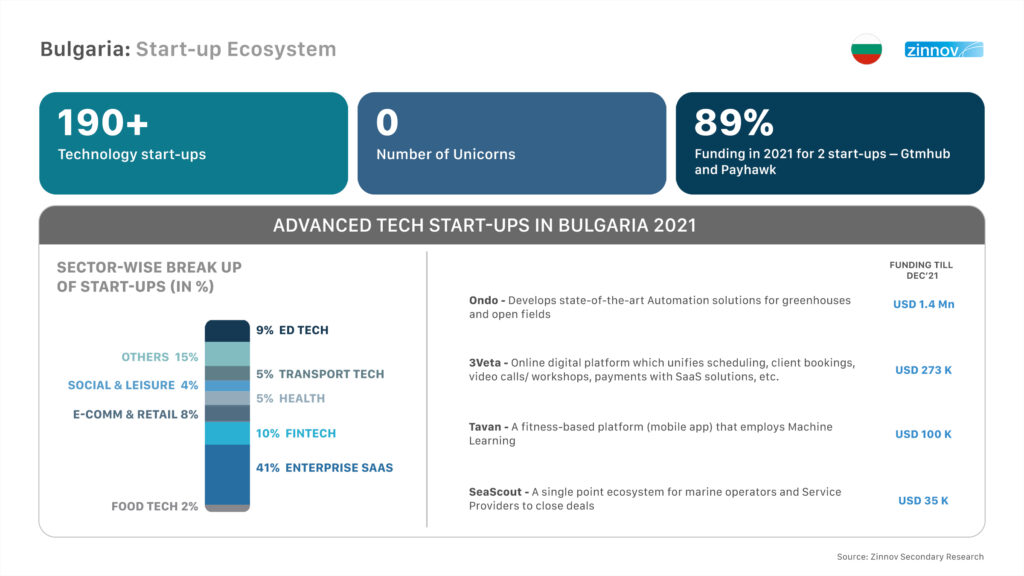 e. Robust Academia Collaborations
The Bulgarian government is trying to open up better career opportunities for its students. Hence, there is a push from the government for higher education institutions to tie-up with multiple MNCs like Microsoft, Siemens, Cisco, Ericsson, etc. The idea is to bolster research, and work towards arriving at innovative solutions to not only gain hands-on experience, but also combat the critical shortage of tech talent in the labor market. For instance, the Technical University of Sofia has a research focus on SmartGrid Technologies, Computer Visualization, and Graphic Design. Likewise, the Trakia University houses a research center focusing on Computer & Information Security. In addition, Bulgaria has 2 universities featuring in the top 350 Universities of EECA — the Sofia University, St. Kliment Ohridski, and the American University. Across the board, there is a high focus in Bulgaria for universities to enable students to stay up-to-date with the industry trends and align the course curriculum, and for educational institutions and the private sector to work together to give budding niche skilled digital talent better job opportunities.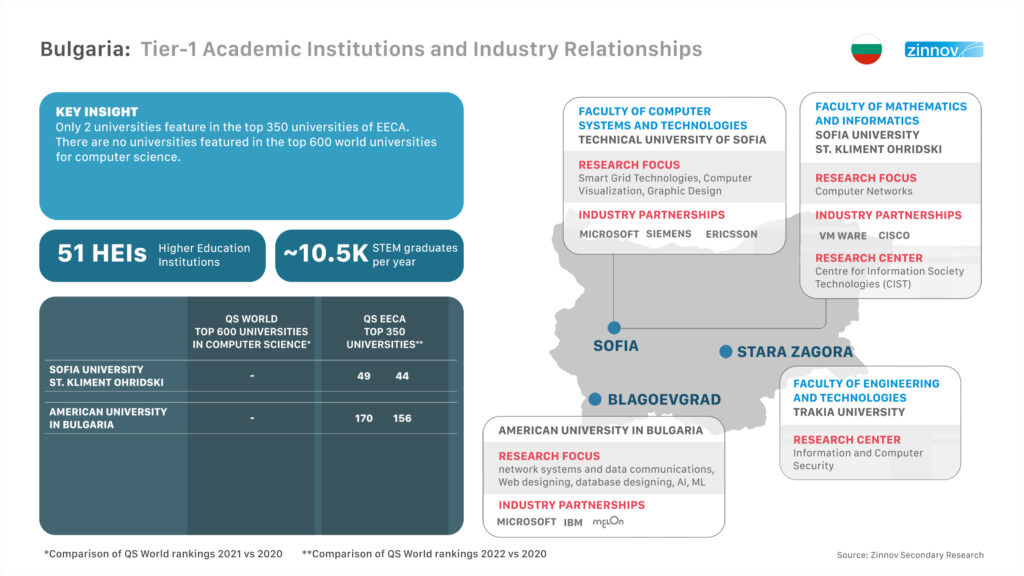 The Bulgaria Imperative
Bulgaria brings together a great combination of technology talent – mostly home-grown or from neighboring regions, a dynamic set of technology universities, a vast pool of tech start-ups, existing global centers of many established MNCs, robust academia collaborations, among other things. This combination makes Bulgaria one of the most-desired talent hotspots in Eastern Europe, for companies looking to expand their footprint and access skilled talent. It is also a cost-efficient location with multiple business-friendly laws, income tax rebate options in terms of real estate. Leaders on the lookout for ways to expand their footprint in Bulgaria can expect increased innovation from a technology perspective, with highly skilled local talent. Strategic steps need to be taken at the earliest to beat competition and achieve the desired business goals successfully.
Looking to access the best technology talent and accelerate innovation? Then globalizing your operations holds a lot of potential. To know more about leveraging globalization as an approach to access top talent, write to us at
info@zinnov.com
.