Businesses in the new normal, and especially in Industry 4.0, need dynamic partner ecosystems to ensure long-term success. And globalization is one effective approach to mitigating talent crisis, meeting business goals, and accelerating digital transformation. While there are many countries that offer a value-driving business ecosystem, Costa Rica's proximity to the US, overlapping time zones, technology dominance, and business-friendly laws, to name a few, make it a powerful globalization hotspot to set up Centers of Excellence (COEs).
Why Costa Rica?
We are amid the fourth industrial revolution, with new technologies at the fulcrum of the movement increasing the efficiency of production. With the increased integration of digital technologies, it's important to harness and leverage their potential. It requires expertise, innovation, a resilient mindset, and strategic partnerships outside the headquarters or in a new location to ensure this holistic change. A talent pool that can drive the organization's vision and purpose, affordable costing, ease of doing business, and technology prowess are a few of the prominent determinants to satisfy the transformation agenda.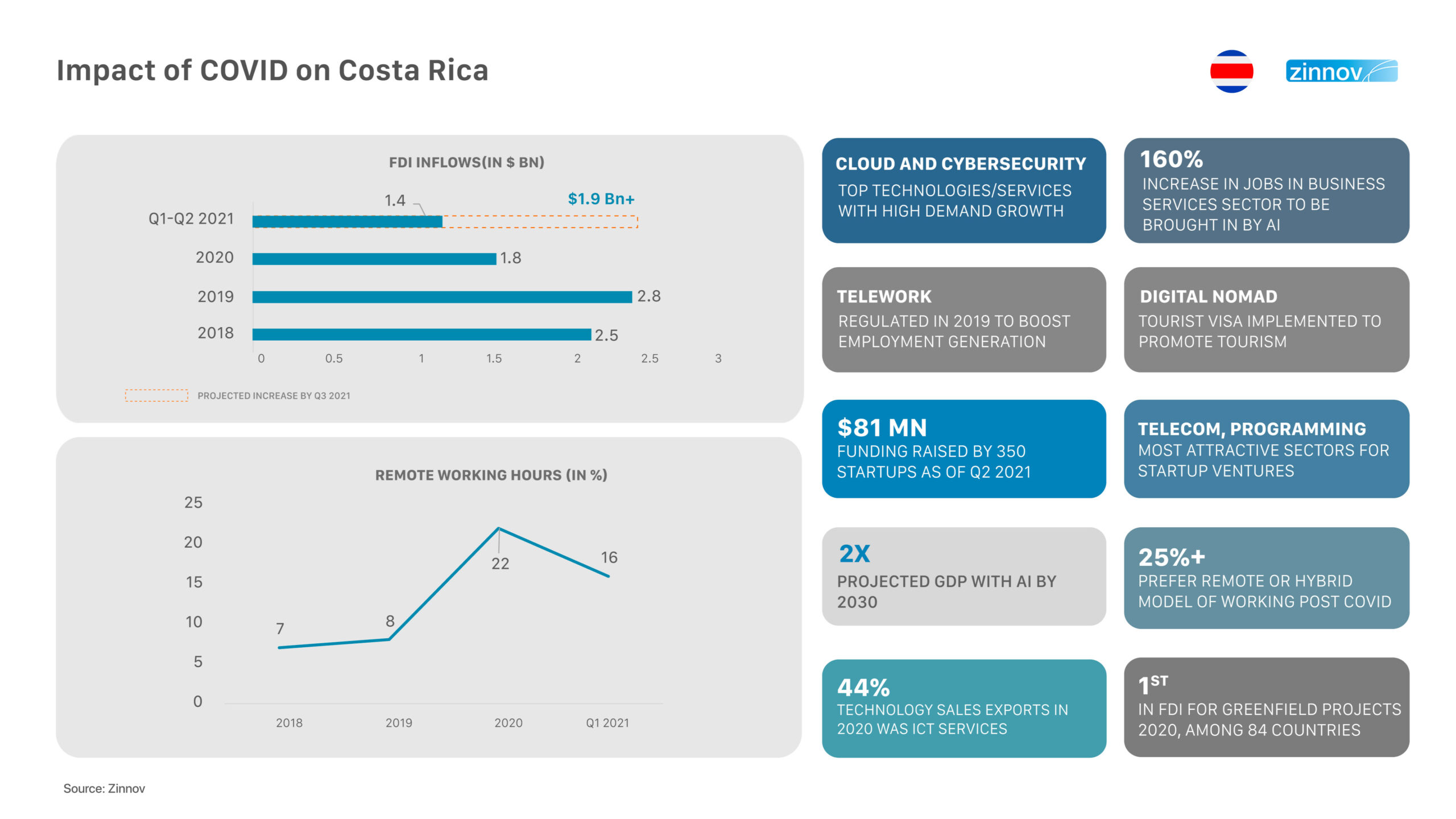 Costa Rica has established itself as a technology innovation hub. Today, there are 300+ organizations offering advanced technology solutions, ~50 of Fortune 500 companies with fully operational shops, and 400+ tech start-ups demonstrating Costa Rica's business value.
Let's take a closer look.
1. Talent pool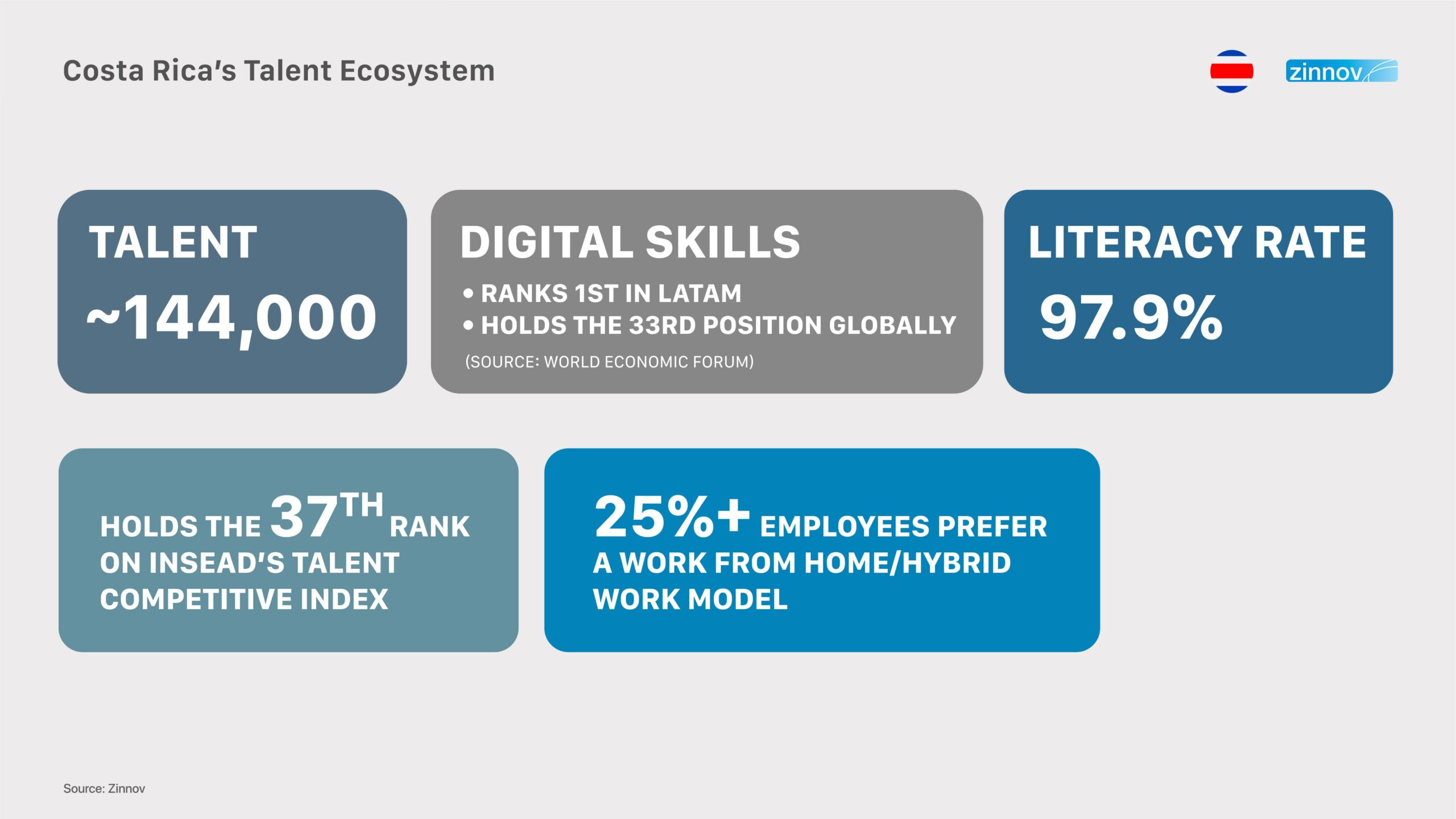 In the age of digital transformation, the available talent pool in Costa Rica has widened immensely, adding up to ~144,000. The country has a highly-skilled, bilingual workforce that helps with real cultural synergies. Business leaders who seek long-term, high-value relationships may invest in Costa Rica to create new services and products with the support of a thriving technology ecosystem. When it comes to digital skills, the country ranks 1st in LATAM and holds the 33rd position globally as per the World Economic Forum, 2019. Overall, the literacy rate stands at 97.9% for individuals beyond the age of 15. Furthermore, the country holds the 37th rank on INSEAD's Talent Competitive Index 2020. With robust internet connectivity and growth of remote opportunities in the country, 25%+ employees prefer a complete work from home/hybrid model of working, post COVID-19.
While high-quality talent is available in Costa Rica, scaling beyond 50 FTEs (full-time equivalents) per year might be a challenge, depending upon the area of specialization and experience.
2. Presence of global companies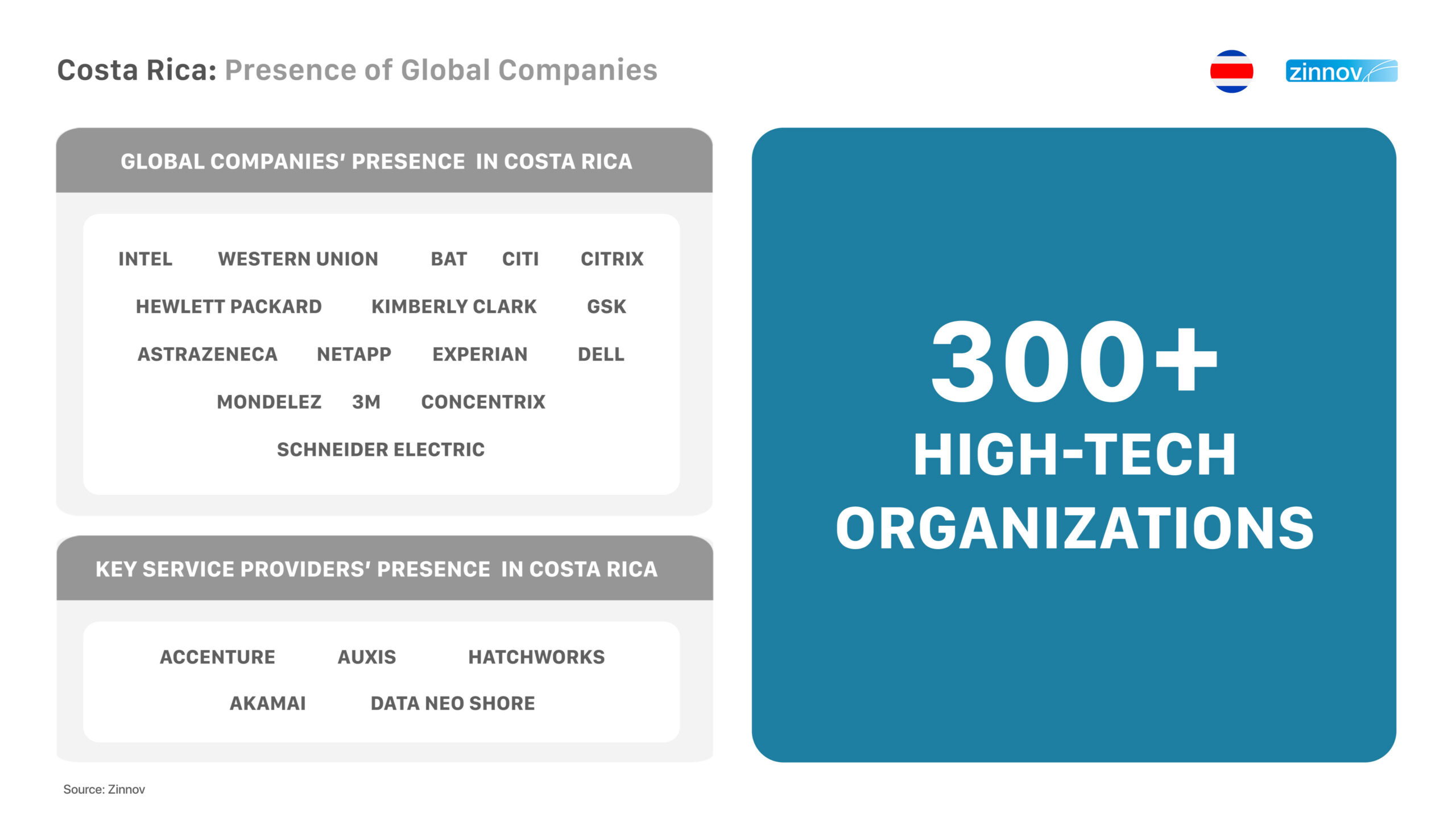 There are 300+ high-tech organizations in Costa Rica with Software, Cloud, and Digital Marketing becoming the fastest growing verticals in the past 2-3 years. As of 2020, there were 22,000+ jobs hiring for digital talent. Accenture, Auxis, and HatchWorks are a few prominent Service Providers who operate out of the country. Costa Rica has also positioned 39th in the US News & World Report on 'Best Countries to invest in 2019.' Another case in point is Western Union which has leveraged the strong professional services talent pool of Costa Rica. The company established a regional center in the country in 1998, with 1300 employees being part of their GCoE. They further scaled to 10 Western Union sites, and serve the Americas, Europe, Middle East, and Africa, in 10 different languages. In essence, Costa Rica has a mature business ecosystem, that can help generate exponential value as a partner, with talent available across domains.
3. Start-up Ecosystem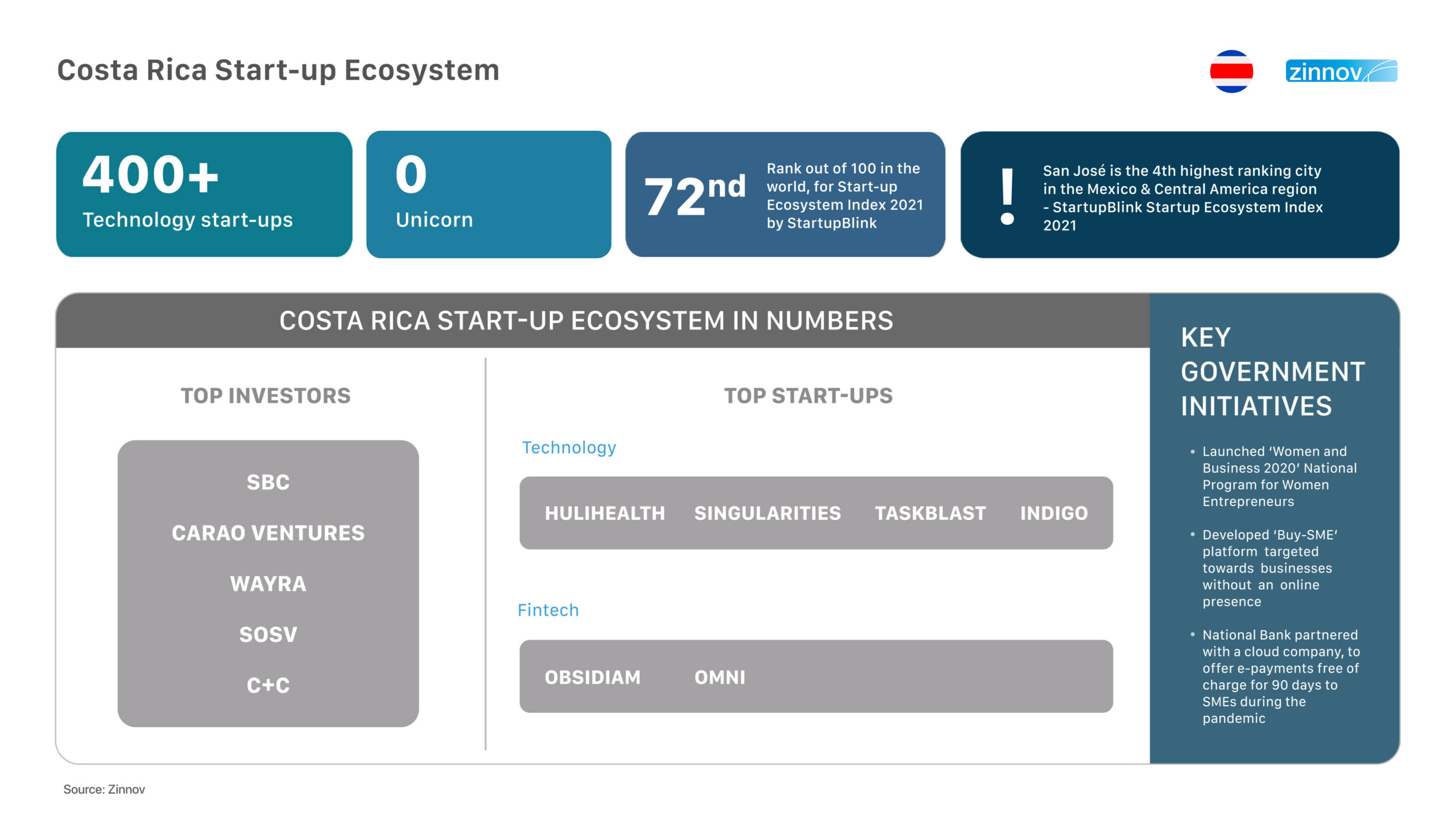 The country has 400+ technology start-ups, with San Jose being the 4th highest-ranking city in Mexico and Central America. Costa Rica also holds the 72nd position, out of 100 across the world as per the StartupBlink Startup Ecosystem Index 2021. In terms of government initiatives, a few notable examples are — the launch of "Women and Business 2020," a national program for women entrepreneurs, the development of "Buy-SME" platform targeted toward businesses without an online presence, and the National Bank partnering with a Cloud company to offer e-payments free of charge for 90 days to SMEs during the pandemic, among others.
4. Cost
In terms of salary structure, there are components of social security, health, maternity, pension, and an additional 1-month salary (13th month) which employers are expected to provide.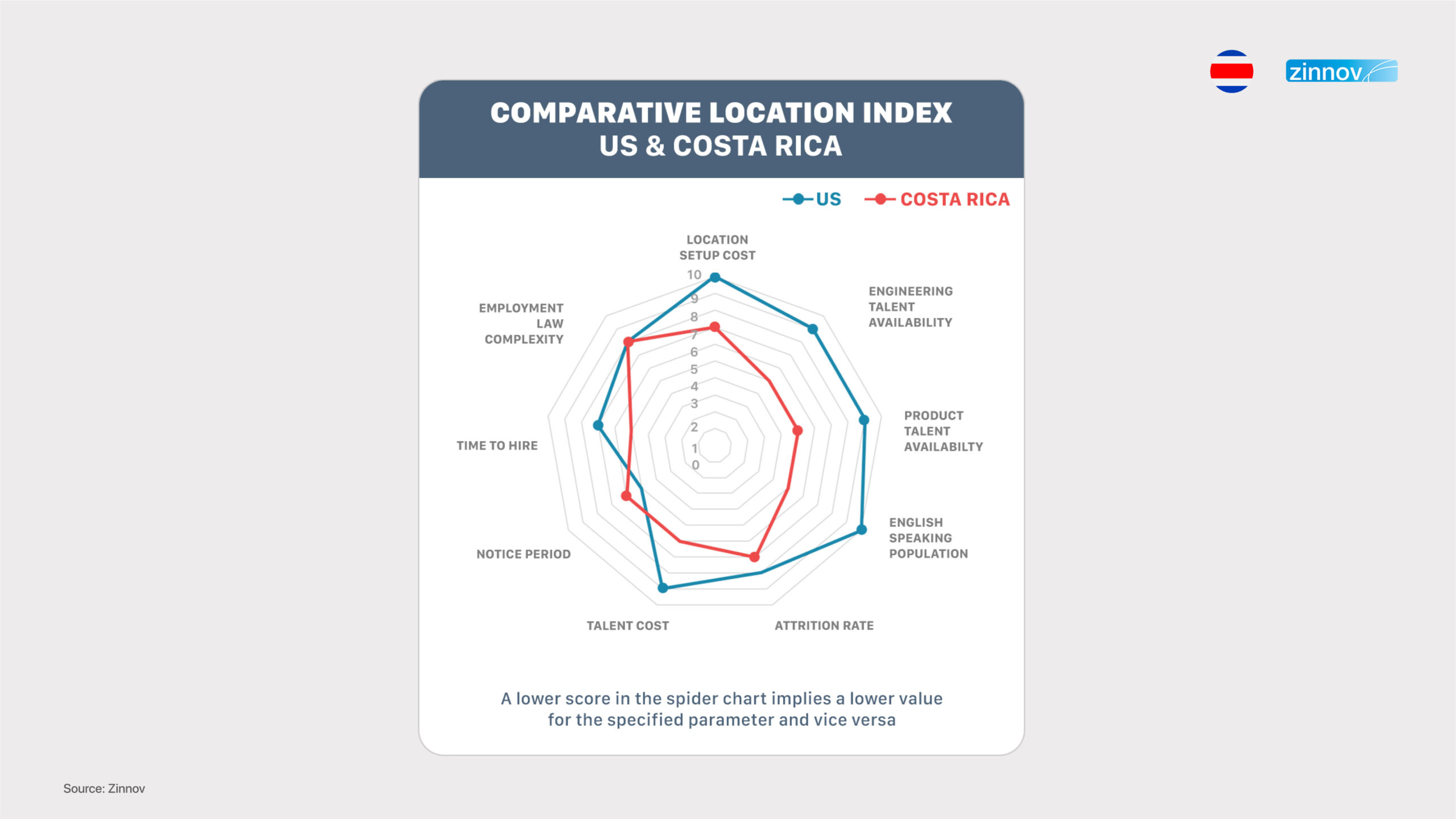 5. Ease of Doing Business
• Language
English, Spanish, Portuguese, French, and German are the common languages spoken in the country. Organizations that set up centers in the country, can communicate with their teams hassle-free, with less scope for ambiguity.
• Labor laws
Costa Rican employee laws are more employee-favoring. Further, the country ranks 2nd in the Pay to Productivity ratio, as per the World Economic Forum. A few cases in point are — severance can rise up to 20 days for 13+ years of service, and 7 days for 3-6 months of service. There is also an employer-sponsored workers' association in every organization, which operates as a credit union and provides multiple employee benefits. Further, the notice period is stipulated by the law and depends on the duration of the employee in the organization. For instance, it's 1 day, if the duration is less than 3 months; and up to a maximum of 30+ days, if the service period is 12+ months.
• Tax & Government regulations
For large corporations, the standard income tax rate is 30%. For smaller or micro-businesses, the tax rates vary from 5-20 %. Under the free trade zone, the income tax levied is only 15%, with a waiver of 50%. In fact, organizations are also given a 13% waiver on VAT — import, export, excise, and remittance repatriation.
The factors mentioned above are a few prominent facts that helm Costa Rica as a technology innovation hub. It has a competitive talent pool, business-friendly laws, a mature tech ecosystem, and the likes of multiple global corporations. Business leaders who have new center setups and expansion on their agenda can most definitely look at Costa Rica as a lucrative and value-generating location that can help bolster long-term success for the organization.
It's imperative for organizations to have deep-rooted awareness of competitive talent, ecosystem maturity, and costs when outlining a strategy to expand their footprint. Drop a note at
info@zinnov.com
to speak to our consultants and know more.