"We give people products they do not even know they want."

– Edwin Land, Founder of Polaroid
With 535 patents to his name, Edwin Land is best remembered as the inventor of the instant camera, and one of the greatest inventors and innovators of the 20th century. Even though Land was an extraordinary innovator, he failed to translate his thinking into a culture of innovation in his company that eventually led to his team being unreceptive to the outside world and led to Polaroid's bankruptcy.
Any company that stops focusing on innovation happening outside its perimeter will struggle to cope with change, even a GCC (Global Capability Center). There are 1000+ GCCs today in India alone, and while the GCC ecosystem has flourished, the growth of most companies has been linear. The reason, in most cases, is that centers have grown as an extension of their headquarters' vision, and focus mostly on access to talent and cost, with little/limited focus on innovation.
The Indian Ecosystem – Yesterday and Today
A decade ago, the technology ecosystem in India was nascent, with only a handful of companies/start-ups trying to build new products and focused on innovation. Most of the talent was engaged with software services companies, and there was a dearth of mentors, investors, and customers. making the building of new products in India, a struggle.
And Then Came the Start-ups…
Over the last 12 years, as the different technology levers matured, the GCC product ecosystem has grown, the talent has scaled, the start-up ecosystem, in parallel has mushroomed. Today, India is home to one of the largest start-up ecosystems in the world. With 7,700 start-ups launched between 2013 and 2018, a staggering 1200 start-ups were added into the ecosystem in 2018 alone. India has witnessed an unprecedented funding inflow which saw a 108% growth in 2018. Today, the excitement about Indian start-ups is palpable and there is a slew of global and local mentors, entrepreneurial veterans, venture capitalists, and customers who are excited about working with them.
The Indian start-up ecosystem is evolving in a multi-faceted manner. Start-ups have grown past the B2C product paradigm and are now maturing in the B2B product segment as well. B2B products are usually more technologically challenging and difficult to sell due to the multiple stakeholders involved in the sales cycle. But, to be able to identify problems at an enterprise-level and work towards solving them shows that start-ups in India are now intrinsically mature and are nurturing a strong innovation ecosystem. The presence of numerous B2B start-ups also signifies that the founders are confident, and the ecosystem and market are developed enough to accept and integrate the solutions that the start-ups have to offer.
The growth of India as a market has also lent itself well to the start-up story. India, today, is considered one of the fastest growing economies in the world and is witnessing one of the fastest GDP growths. In 2018, for the first time, India jumped 30 positions to become the top 100th country in terms of ease of doing business ranking in the World Bank Group's latest report, Doing Business 2018. The Indian ecosystem has evolved into a trifecta of rich talent, technology, and innovation.
And the Growth Story Continues …
The technology capacity and capabilities that start-ups are building is propelling the ecosystem forward. The Government's active intervention in start-up schemes and start-up funds are bolstering the technology ecosystem in India. Some examples include the Start-up India initiative, Make in India, Atal Innovation Mission (AIM), Stand up India, Fund of Funds, Tax exemptions policies, etc. Further, there are policies and initiatives that are focused on building future skills and establishing a well-rounded curriculum that will prepare and arm the next generation of technologists in India.
With all the necessary ingredients for innovation –start-ups, government policies, a thriving market, and the right talent pool adept in new technologies, one can't help but pose the question why aren't Indian GCCs not innovating enough?
GCCs Playing the Catch- up Game
GCCs today, stand at a precarious juncture, where their value articulation, needs to extend beyond a cost paradigm and be more focused on building new products with the enviable blend of talent, start-ups, and the market available in India. The need to rethink and realign their model to focus on innovation and explore the company's core areas of focus that could be possibly reinvented or relooked at. GCCs should also actively explore working with start-ups to augment their capabilities and propel innovation. The path to innovation will require a lot of extensibility, flexibility, and rigor from the GCCs, in addition to intrapreneurial leadership. They need to be fast in making the right moves and taking full advantage of the burgeoning ecosystem.
Polaroid 2.0
Edwin Land, despite being a great innovator, shut down naysayers and critics by gaining complete control over his projects. When a senior leader within Polaroid proposed the acquisition of a start-up, he was dismissed with a comment – "Polaroid doesn't sell what it didn't invent," reflecting the leadership's overconfidence in the company's ability to predict the future and create the best products. Polaroid failed because of flawed assumptions, and even though it was one of the companies that pioneered the digital camera, it ultimately went bankrupt because of its leadership's hubris and an inability to adapt to change.
We appear to be in a Polaroid 2.0 reality, where companies and their leadership are demonstrating the same hubris to innovation. GCCs are underestimating the pace of disruption and need to course correct ASAP!
As a first step towards innovation, three essential aspects that GCCs need to inculcate in their organizational DNA are: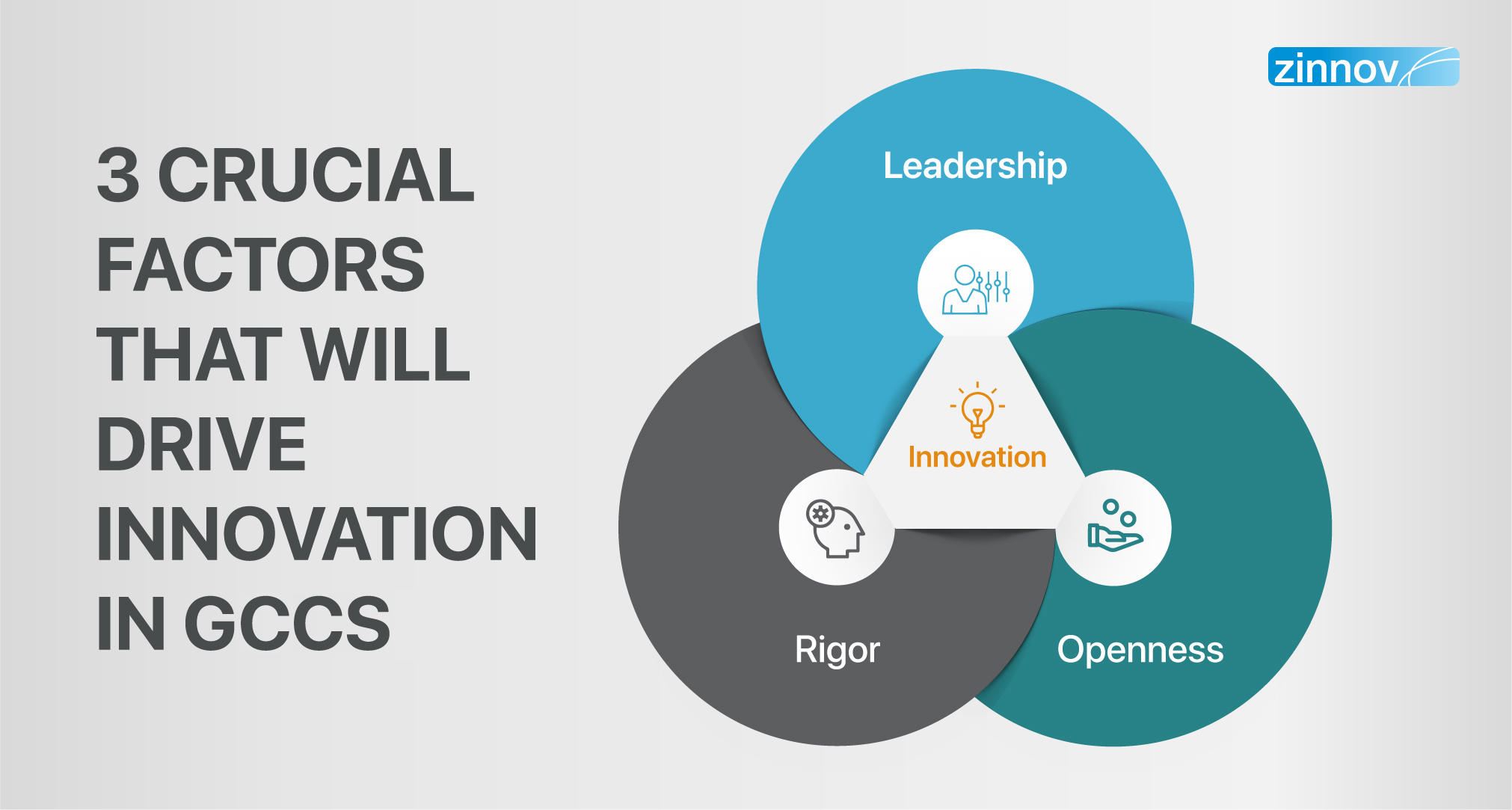 1. Openness: 'Lack of openness' is the summation of Polaroid's debacle. Edwin Land confined himself to his idea of innovation and shut the rest of the world out. Similarly, often GCCs are blindsided by their own innovation prowess, limited by their own narrow view of an l innovation mindset. Hence, as a first step, GCC's must continually strive to inculcate an 'open' innovation mindset within the workforce by motivating them to work on new products/ideas through internal innovation programs like hackathons, accelerators, etc.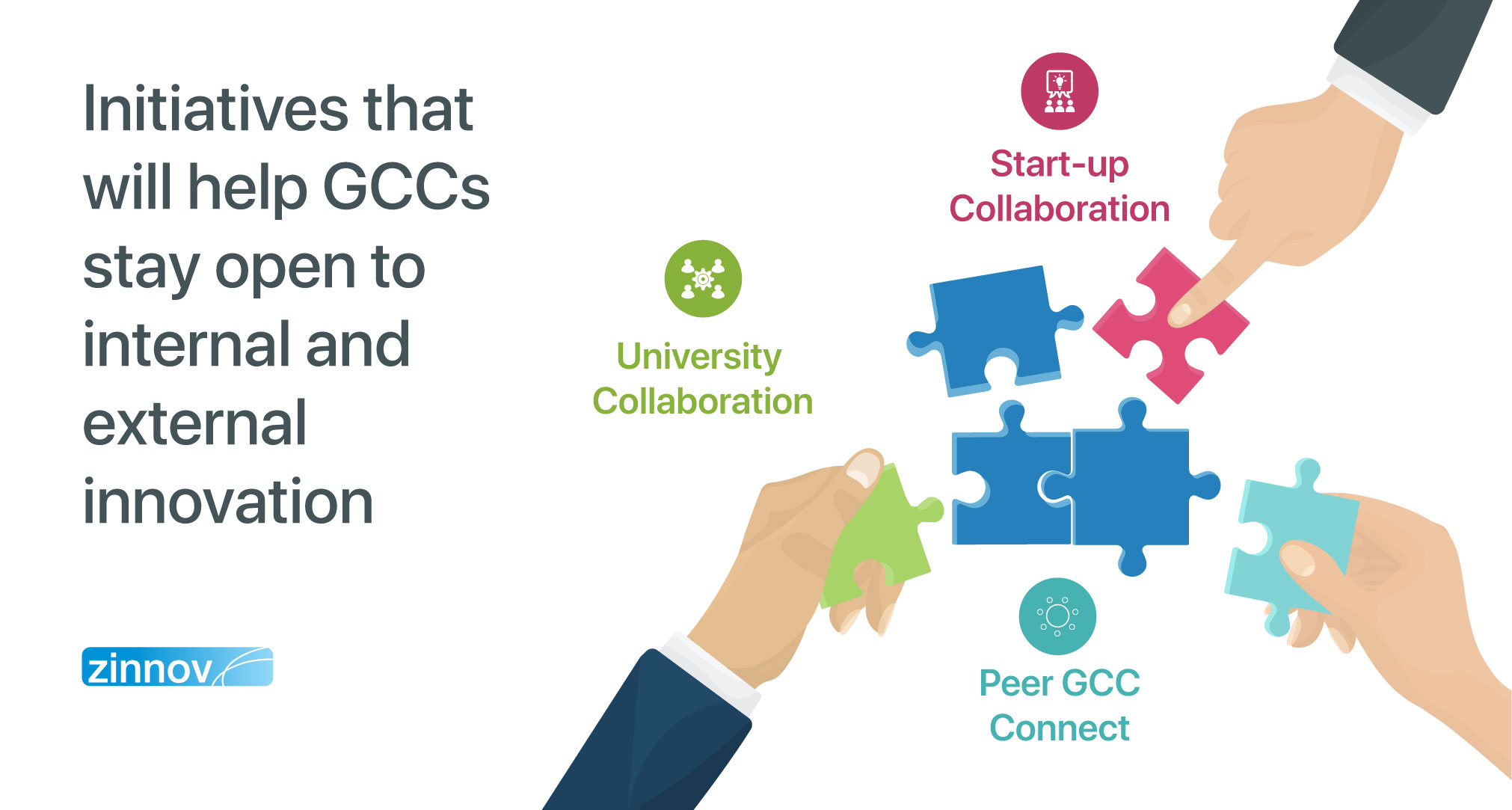 Start-up collaboration models like accelerators for co-innovation, platform partnership, and equity investment are also great channels to help the workforce understand and get access to the innovation happening in the start-up ecosystem. Collaboration with universities is another route that companies should leverage to gain access to the latest research, fresh talent, and innovative methodologies. Innovating through mutually beneficial collaborative programs with other GCCs in the ecosystem is another great way that companies are tapping into innovation across the spectrum.
2. Rigor: Meticulous planning, process, and evaluation are key to driving innovation rigor in any GCC. Rigor is not defined by just the initiatives that GCCs take to inculcate an innovation DNA in the organization, but the entire process and end-to-end program management of an initiative. This includes the defining processes, playbooks, and commitment of resources to enable internal and external innovation programs. Some examples of such a commitment include creating dedicated office space for ideation and cross BU collaborations, organizing patent programs, internal hackathons, and setting up internal accelerator programs that boost entrepreneurial culture, with a dedicated budget for running these initiatives.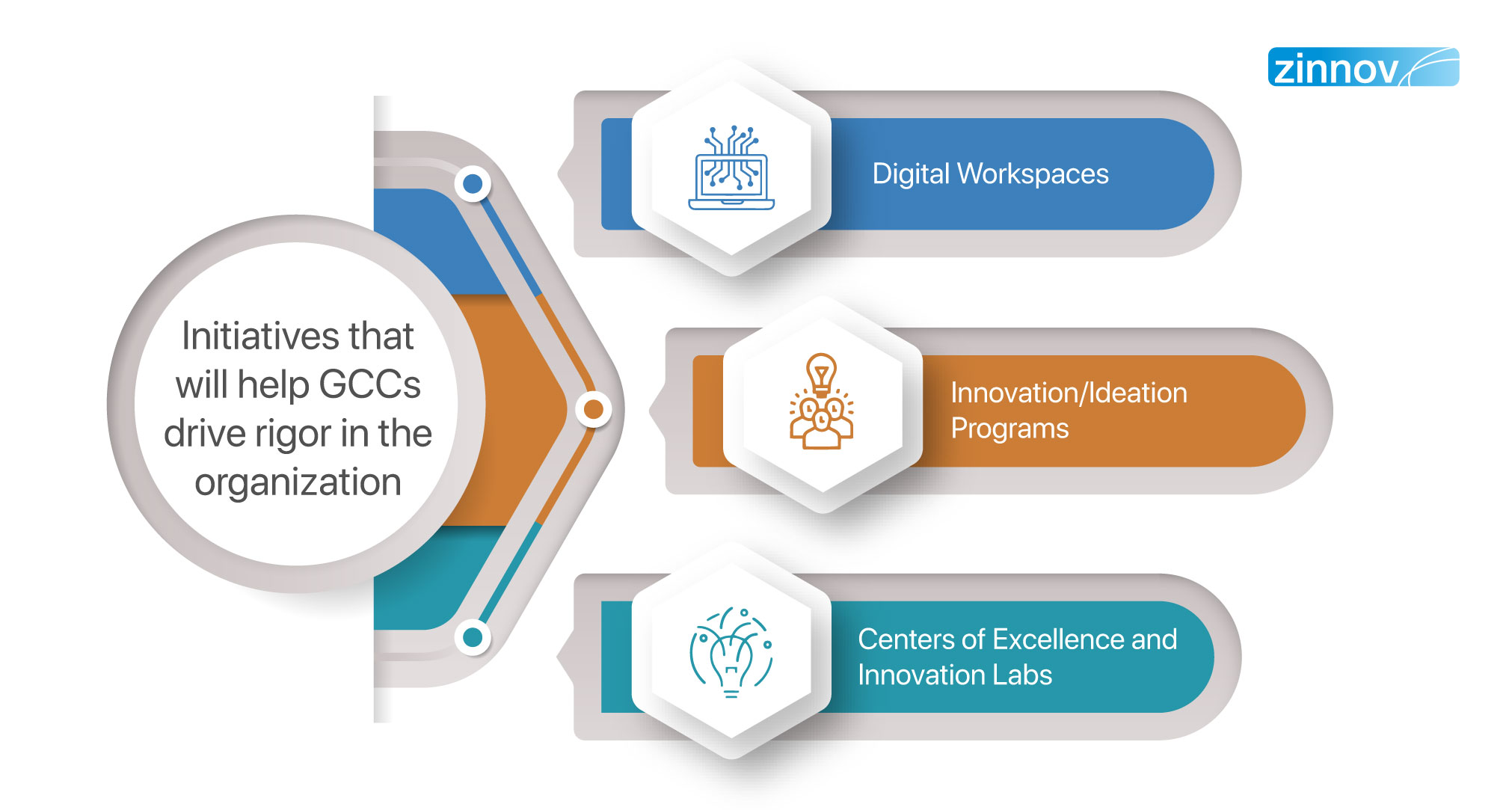 Taking concerted steps towards establishing a Digital Workspace has also demonstrated a positive correlation to innovation as it helps employees adapt and leverage new technologies. GCCs can also explore setting up Centers of Excellence (CoEs) to reinforce their commitment to innovation and in turn drive 'innovation' rigor within the organization. The most crucial aspect, however, is consistency. Consistency in management support, investment allocation, leadership focus, messaging, processes and definition of outcomes
3. Leadership: To transform and become more innovation-focused, GCCs need to focus on Intrapreneurial leadership competencies. In the current scenario, 40% of Country Managers have a dual responsibility, where leaders spend most of their time in fulfilling functional / engineering responsibilities. Hence, site level responsibilities usually don't go beyond tactical/operational issues. Transformational GCCs require Intrapreneurial leaders, who have the discipline to develop new opportunities using ecosystem influences as well as internal capabilities.
Intrapreneurs need to be thought leaders and relentlessly persistent. They must expand their spheres of influence and drive initiatives that propel innovation alongside with new product development. Every Country Manager today, either directly or with the assistance of a team, should play the role of a Chief Innovation Officer. As per Zinnov's analysis, it is estimated that 58% of MNC GCCs will need an Intrapreneur leader in the next 5 years. Considering that there are only 6% Intrapreneur GCC leaders right now, there is a huge gap that needs to be bridged and fast.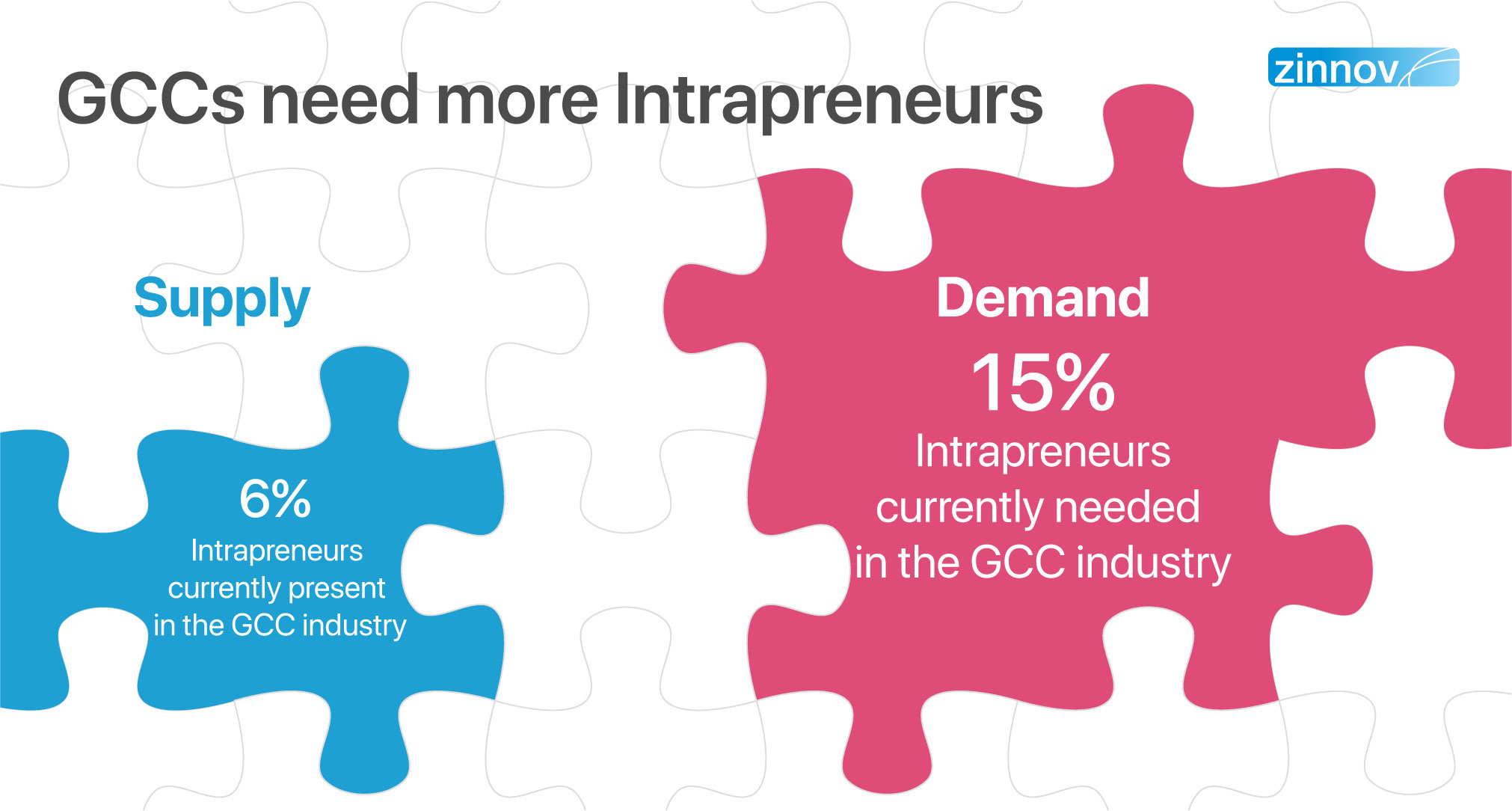 Innovation – not an option but an opportunity
GCCs have the opportunity to not just collaborate with the external ecosystem but also co-create /co-innovate products that could be embraced by or define the market. There are multiple sectors and enterprise customers in the Indian ecosystem, that are willing to consume the products built by Indian GCCs. To address this demand, GCCs should find the best partner, be it a start-up, university or a provider which will help them create the best product-market fit, in the least possible time.
A decade ago, the ability to draw the best of the breed start-ups from different parts of the world and being able to invite them to collaborate would have been inconceivable. But today, India's unique factors and the mature technology ecosystem together, place it in a position to collaborate successfully with global start-ups. As a first step, GCC leaders should transform the organizational culture and foster an innovation mindset. This mindset cannot be mandated; it has to be developed with deliberate steps. GCCs need to chart out a path that will help them pursue innovation, not an option, but as an opportunity.
Are you grappling to keep pace with the unprecedented pace of innovation? Are you looking to collaborate with start-ups effectively and deliver on your innovation investments? Then drop us a note at
info@zinnov.com