In the last 3 years, the medical devices industry has begun to experience and realize the benefits of Big Data Analytics, Artificial Intelligence, Augmented Reality and other advanced digital technologies. This has created unprecedented opportunities for these companies to grow their market share, be it through piggy-backing on technological advancements, or evolving consumer expectations, markets, innovative business models, and regulatory changes. This, coupled with the dynamic medical devices ecosystem, which has OEMs, start-ups, tech giants, and universities, play myriad yet significant roles in this accelerated growth.
The backbone (pun unintended) of the medical devices industry is the rapid advancements taking place in medical technologies. This is more meaningful because not long ago, the industry was struggling to implement and adopt advanced technologies apart from wrestling with a number of challenges. The paucity of talent, incomprehensible technical complexities, constantly changing regulations, and limited leadership mind-share on adopting the new technologies were just some of the impediments. To explain how recent this mindset shift has been, a mere decade ago, the integration of new and advanced technologies in the medical devices industry was few and far between as compared to other industries such as Telecom, Retail, and Automotive.
The reality still remains that the medical devices players still lag in adopting advanced technologies such as IoT, Big Data, Artificial Intelligence, Augmented Reality, and Robotics, and are struggling to tap into customer and business model-led opportunities. Only a handful of devices players such as Philips, GE Healthcare, and Siemens have built sizeable businesses around the same. These companies, having realized the strategic value, are foraying into partnerships, collaborations, and acquisitions to stay on the edge of this shift. The need has become more urgent as non-traditional players such as start-ups and the tech-mafia, i.e., Google, Amazon, Baidu, etc., are giving traditional medical devices companies stiff competition.
How Technology Will Pave The Road Ahead
The advancement of technologies has been the enabler of growth and innovation for many industries and is poised to do the same for medical devices industry as well, soon. However, this shift is still in its nascent stage and requires a lot of expertise in implementation.
The impact of advanced technologies can be seen majorly on 4 fronts, namely Consumers, Market, Business models, and Regulations.
1. Shifting Expectations And Behavior Of Consumers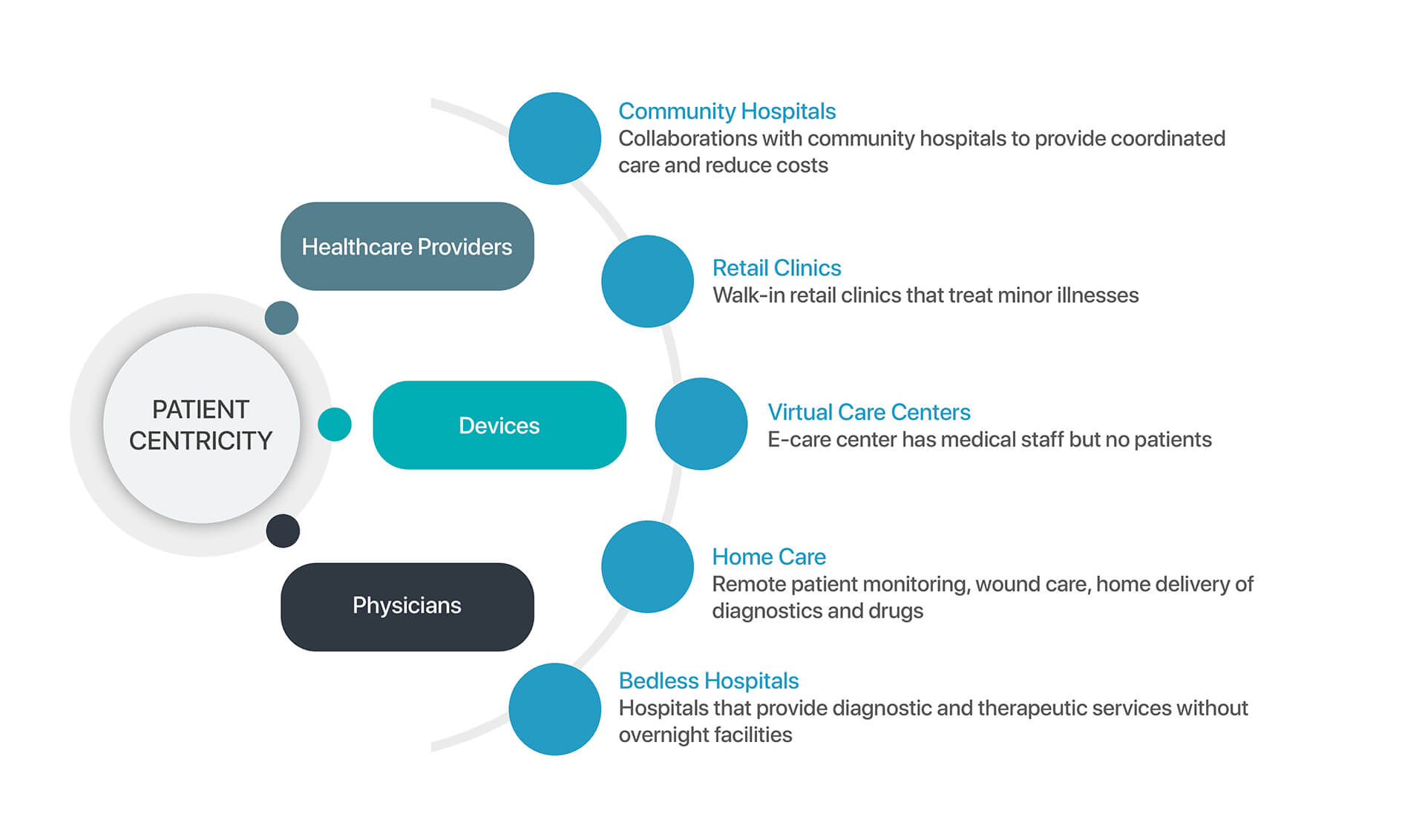 Traditionally, digital healthcare delivery was of low quality, expensive, and unavailable to the masses. Patients were dependent on physicians and healthcare providers for their health management. However, tech-savvy consumers of today are expecting a transformation in their healthcare experience through digital interventions. Patients have become increasingly aware, and their baseline expectations are that of digital services in the near future. This shift in consumer behavior is resulting in increased focus on patient-centric health care and has become a major driver for the adoption of advanced technologies among OEMs. Medical devices players are focusing on personalized healthcare solutions and devices to gain a bigger slice of the market.
2. The Market Is Expanding
R&D spending in the medical devices industry is expected to grow at a CAGR of 5.6% and reach $36.4B by 2021, largely attributable to investments in advanced technologies. An extensive rating done by us – Zinnov Zones ratings gives a comprehensive view of R&D spend across verticals. One thing that emerges clearly is that technology-driven products and solutions will be an immediate focus area for the OEMs to compete in the market of the future.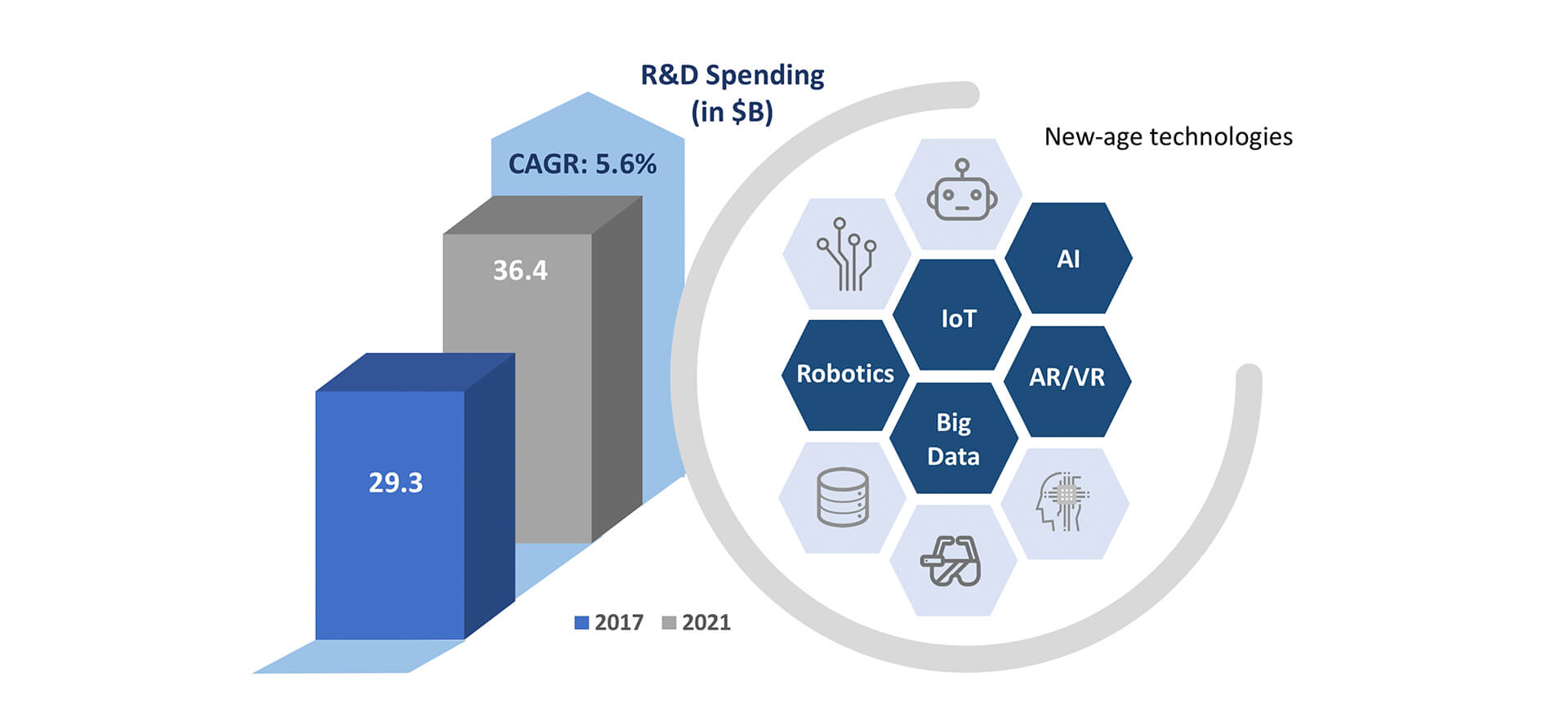 This has had a direct impact on the rapid growth of emerging markets. The major focus is on developing cost-effective and scalable healthcare solutions to cater to many patients. A fewer number of medical professionals, enablement of telemedicine, homecare, and remote monitoring services are driving healthcare providers to leverage IoT in emerging geographies. OEMs are increasingly leveraging their existing expertise along with developing new-age digital capabilities to cater to the fast-growing market in emerging geographies.
3. Business Model – Building New Frontiers
With increased connectivity between devices, physicians, and consumers, there is a demand for high quality, personalized, and patient-centric care. Today, the healthcare industry is witnessing a tectonic shift in business models, where volume-based fee-for-service models are shifting to new incentive models that focus on value-based metrics. Traditionally, OEMs have been able to compete with conventional business models without requiring much differentiation. However, a long-term strategy would necessitate OEMs to create innovative and sustainable business models that will lead to efficient healthcare delivery, reduced costs, and improved medical outcomes.
4. A Practical Guide To Regulations
Currently, there are terabytes of health-related data being generated, creating fundamental questions about patient privacy and safety. Regulatory authorities are still evaluating out the implications of new technologies on patient security and care, albeit incrementally. The reality is that data breaches not only cost a lot of money to the healthcare providers but also compromises patient safety as well. According to a report by Protenus, the year 2016 witnessed 450 data security breaches, compromising the safety of more than 27 million patient records in the US alone. The need to find a balance between advancements and to protect patient security and safety is, therefore, paramount.
The Lay of the 'Medical Devices' Land
Leaders becoming more proactive than reactive
With increasing competition, leaders in the medical devices industry are becoming more proactive than reactive, as far as developing innovative products and solutions are concerned.
The Big Three, the leaders, i.e., GE Healthcare, Philips Healthcare, and Siemens Healthineers are ahead in the game with their innovative and intelligent offerings.

The New Beacons of Growth and Innovation – Start-ups
The start-up ecosystem is capitalizing on technological shifts to develop innovative commercial products and services. Most start-ups are targeting Artificial Intelligence, Augmented Reality, and Analytics to enhance the patient experience, increase efficiency of devices, and improve clinical workflow. Some of the start-ups which have come up with innovative products and solutions are:
Catalia Health provides AI-powered patient engagement platform. Its AI-enabled personal healthcare robots, Mabu, supports patients living with chronic diseases.
Basil Leaf Technologies has created DxtER, an Artificial Intelligence-based mobile health assessment platform to monitor health and diagnose illnesses. The platform integrates learnings from analyzing medical data of actual patients with different medical conditions.
MedCrypt develops "security as a service" for connected medical devices. Its security software protects data from medical devices and provides remote, real-time monitoring of the devices.
Augmedics has developed ViZOR System, an augmented reality surgical visualization solution, enabling surgeons to investigate a patient's anatomy.
Touch Surgery creates video tutorials used by surgeons to practice surgical procedures on a mobile phone or tablet. The company is developing holographic surgery headsets using Microsoft HoloLens to enable live video feed of a professional surgeon describing the surgery procedure.
How Tech Mafias are Leveraging their Expertise to Disrupt Markets
The likes of Google, Microsoft, Amazon (Tech Mafia) are capitalizing on their native capability in new technologies and are disrupting conventional business models. They are rapidly expanding their presence through partnerships and acquisitions, as a result giving tough competition to incumbent medical devices OEMs.
Microsoft has launched "Microsoft Healthcare NeXT" program which aims to bring AI, Cloud Computing, and other new technologies into the healthcare space. The company has recently launched an AI-powered chatbot in partnership with Aurora Health Care to offer Aurora Digital Concierge for patients as part of this initiative.
Google has acquired a start-up called "DeepMind," focusing on fast analysis and diagnosis of imaging scans. Google also has many projects lined up in the healthcare space.
IBM is leveraging its "IBM Watson Health" and "IBM health cloud platform" to provide analytics-based services to clinical research institutes and multiple medical devices companies.
Apple has launched a platform known as "HealthKit" to collect and store healthcare and fitness data from different devices. Apple also launched open-source frameworks, ResearchKit, and CareKit for developers to create healthcare applications.
Why The Ecosystem is Becoming Key – OEMs are Developing University Relations
Medical devices OEMs and large technology companies are partnering with universities and academic institutions to jointly develop cutting-edge medical devices technologies. Some notable collaborations include:
GE Healthcare has partnered with the University of California San Francisco (UCSF) to develop a library of machine and deep learning algorithms that can be applied to speed up imaging diagnosis.
Philips, along with Radboud University Medical Center, developed a connected digital health prototype that enables diabetes patients to take care of themselves by tracking blood glucose levels, insulin use, and other parameters via a smartphone or a tablet.
Siemens Healthineers and the Fraunhofer Institute for Medical Image Computing MEVIS together are developing artificial intelligence software based on comprehensive databases to make diagnosis easier.
IBM and Cleveland Clinic Lerner College of Medicine of Case Western Reserve University are jointly developing WatsonPaths and Watson EMR Assistant which will analyze the patient's data and provide useful insights to the medical practitioner.
We believe that there is a large opportunity for medical devices OEMs as they redefine the traditional way of doing business. The impact of technology on consumers, market, business models, and regulations is undeniable and OEMs need to embrace the change and align their business strategy accordingly to sustain and remain profitable. We believe that this is anyone's game and those companies that successfully provide cost-effective, patient-centric, and personalized solutions, in accordance with consumer preferences, will stay ahead of this disruptive curve.
Our work in the Medical Devices space has given us an understanding of what distinguishes the leaders from the laggards. Early adopters and companies that have proactively built, bought or partnered with the ecosystem to bring out products and services have reaped maximum benefits. It is critical that this transformation strategy is addressed from a global perspective with the foundation of 4 key vectors: optimal locations, right portfolio of products, key ecosystem linkages, and right outsourcing models/partners to generate true value.
But medical devices companies need to keep in mind that one size does not fit all. Each company is unique as the technology adoption will depend on the different market segment, industry, geography, etc., that they are operating in. What has worked based on our experience is a methodical and templated approach towards a robust Transformation Strategy, which will enable companies to have a product innovation roadmap in line with the market demand.
To know more about capitalizing on the exciting paradigm shift in the medical devices industry, reach out to us at
info@zinnov.com