Public-listed Large Enterprises in India are undergoing a transformation, thanks to the massive digitalization wave sweeping across the sector. Digitalization is not only enabling Large Enterprises to achieve growth, but is also helping them attain scale while generating more employment. But how critical is outlining a digital transformation strategy in Large Enterprises?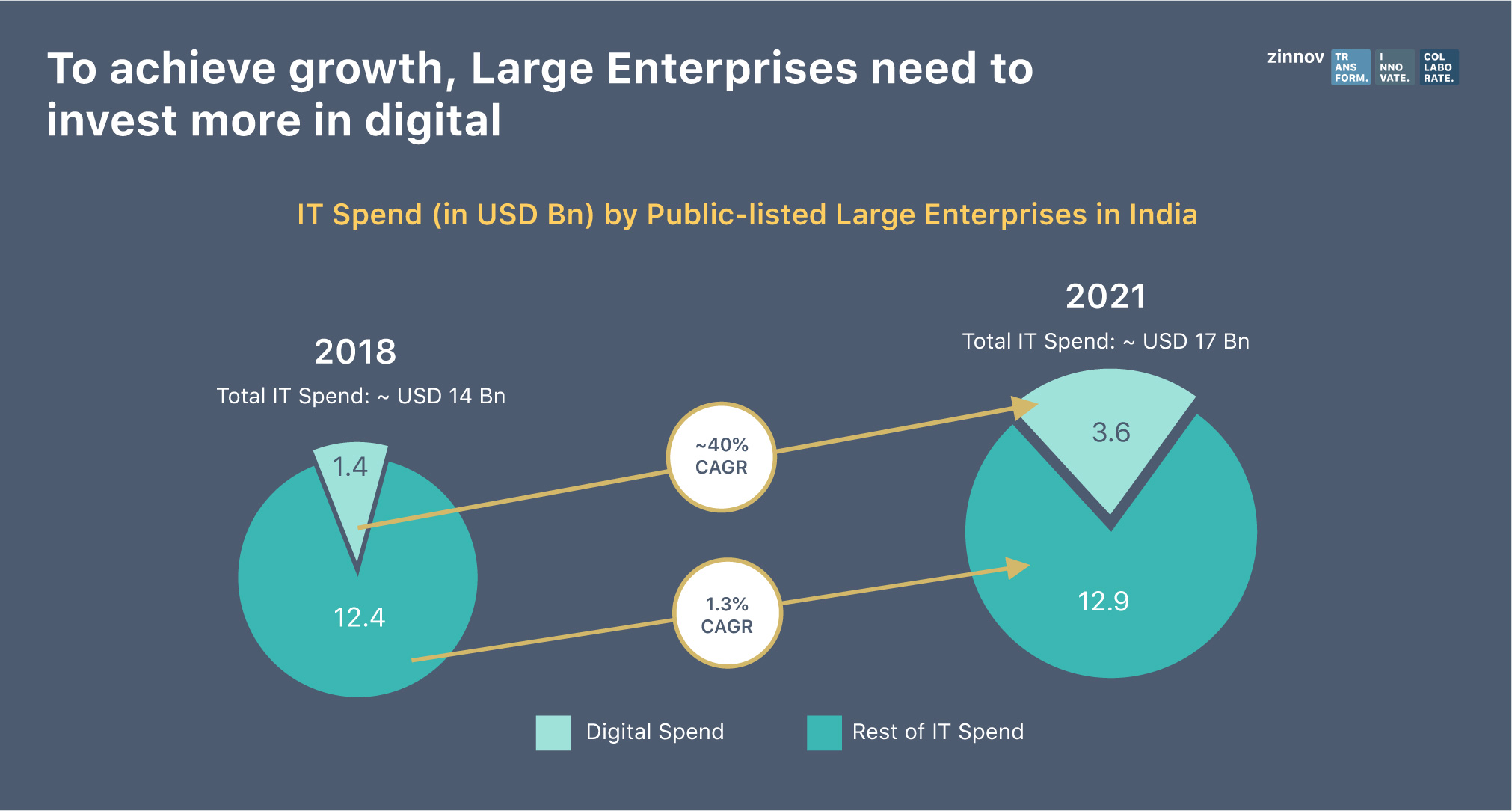 The numbers speak for themselves. In 2018 alone, the IT Spend by public-listed Large Enterprises in India was nearly USD 14Bn, of which USD 1.4Bn was their digital spend. By 2023, this digital spend is expected to grow at a CAGR of 40% to touch USD 3.6Bn, clearly indicating a strong focus on digital initiatives by Large Enterprises.
Digital Spend in Large Enterprises
Digital spend enables finding newer possibilities to maximize customer experiences and operational efficiencies. It also includes UI/UX Design, Predictive Analytics, Connected Systems, Artificial Intelligence (AI), Robotic Process Automation (RPA), Internet of Things (IOT), etc., and overhauling of the existing IT infrastructure to enable digital use cases and execute data-driven business processes.
In fact, Zinnov research suggests that by 2021, the digital spend in public-listed Large Enterprises is set to contribute ~20% to the overall IT spend across verticals. Currently, BFSI, Manufacturing, IT/ITeS, Retail/CPG, Telecom constitute nearly 80% of the overall market for digital spend. To achieve higher growth, technology teams of Large Enterprises need to focus on –
a) Multi-cloud strategies
b) Advanced technologies like AI/RPA/IOT including Edge/Blockchain
The following illustration provides a comparison of the current scenario versus the future outlook of Large Enterprises and unicorns' focus on advanced technologies. These technologies are being leveraged to enhance customer experience, acquire new customers, and create brand awareness.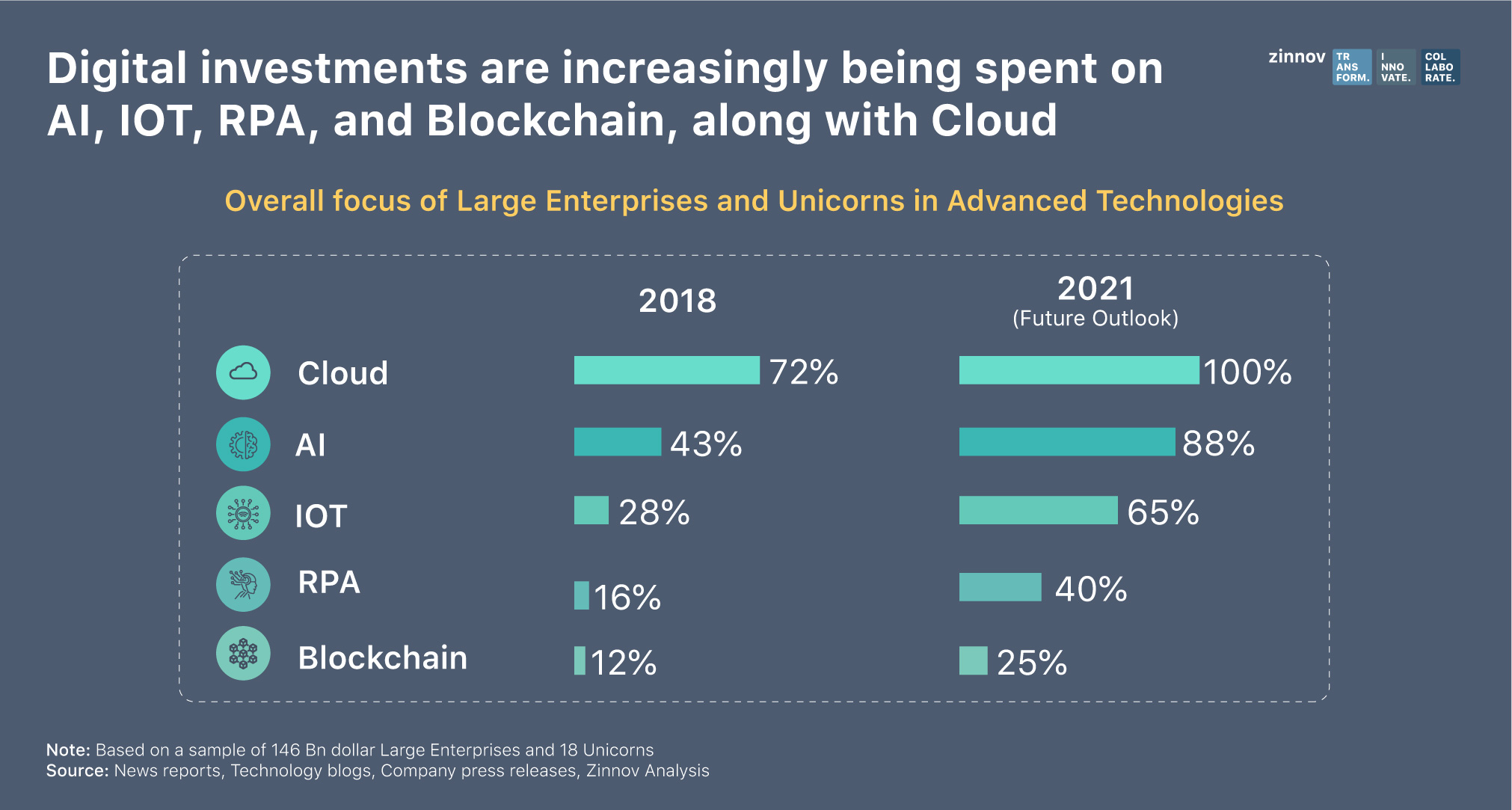 As the image illustrates, by 2021, 100% of the Large Enterprises' workloads will be on the cloud, with AI coming in a close second at 88% focus, followed by IOT at 65%. Large Enterprises are expected to adopt new-age digital technologies to augment their business growth as well as scale.
Playbook for Large Enterprises in India
While most Large Enterprises have been around for a long time in India, they haven't really focused on expanding their digital footprint. For Large Enterprises looking to diversify and increase their digital footprint in India, this four-step playbook will help them outline a comprehensive digital transformation strategy that aligns with their business vision.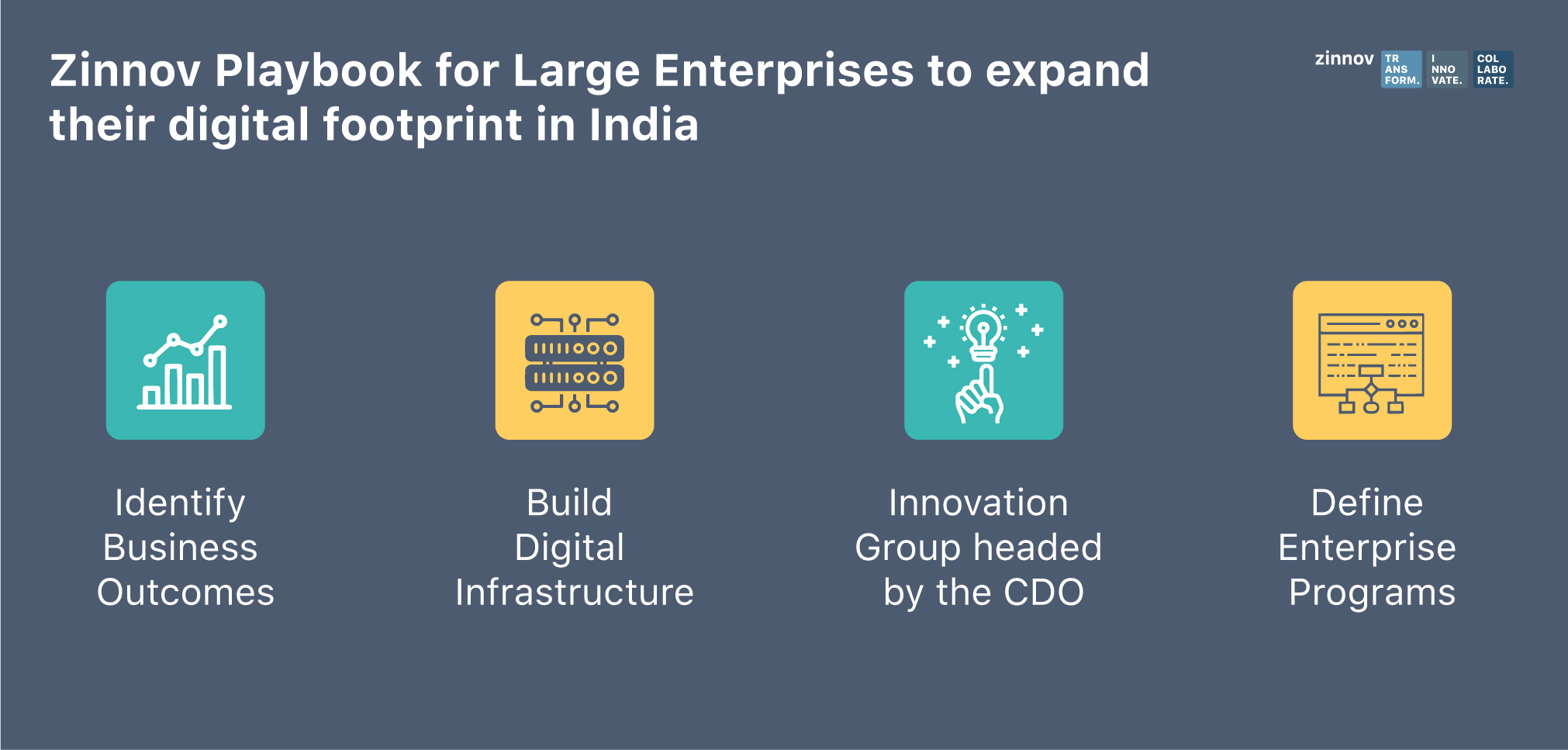 1. Identify business outcomes:
When outlining the company's digital vision, there is no one-size-fits-all solution. However, a few overarching outcomes need to be identified, such as –
a) alignment with industry and consumer trends
b) a direct impact on overall business goals
c) an overhaul of the organizational DNA
d) leveraging digital technologies
2. Build digital infrastructure:
Large Enterprises need to create digital infrastructure to drive their digital objectives. The key components include –
a) modernizing the underlying IT infrastructure through a combination of microservices and API-led architecture and a legacy modernization approach
b) digital initiatives leveraging modern technologies including AI, RPA, Blockchain, IOT, etc.
3. Innovation group led by CDO:
People and organization structure-related factors are critical to the success of digital initiatives of any company. Hence, Large Enterprises need to focus on leadership and organization structure by creating central innovation groups headed by the CDO/Head of Digital. The ownership structure for digital initiatives need to be laid out along with clear objectives and milestones to be achieved.
4. Define enterprise programs:
Large Enterprises need to run organizational programs such as corporate accelerators to co-innovate solutions with ecosystem players. Large Enterprises need to orchestrate start-up engagement and incubation, connect with academia through universities and research labs, and onboard technology vendors working in new-age digital technologies. Another avenue that Large Enterprises can explore is enterprise-wide programs to foster innovation.
Playbook for Tech Players to engage with Large Enterprises
To engage successfully with Large Enterprises, tech players need to undertake a few key initiatives –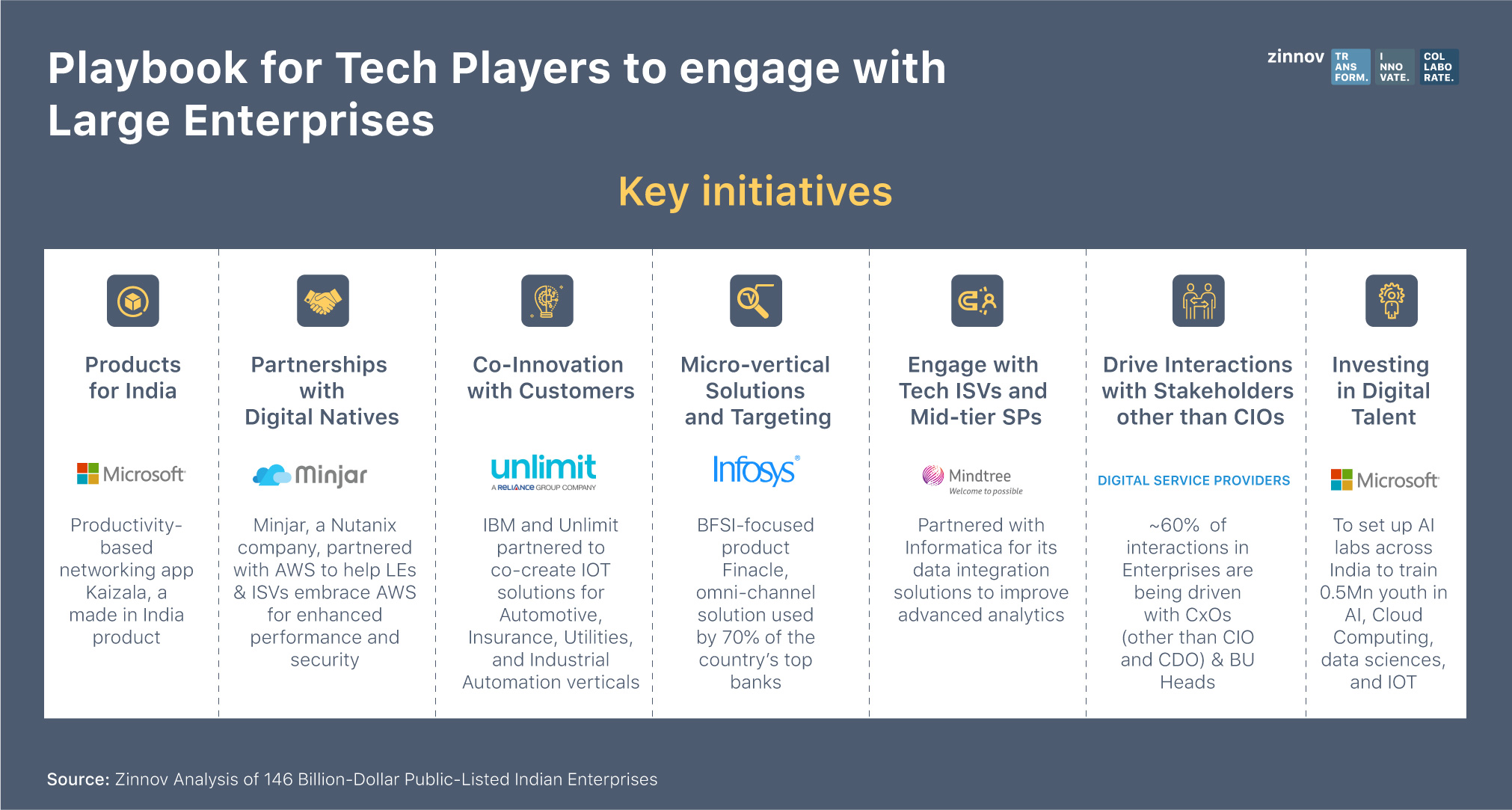 a) Products – tech players need to create custom-made solutions/products for the India market
b) Partnerships – incumbent tech players need to explore partnerships with digital natives
c) Co-innovation – tech players need to explore co-innovating products and solutions with end customers
d) Offerings – these tech players need to create vertical-specific offerings
e) Collaboration – tech players need to engage with tech ISVs, mid-tier Service Providers (SPs), and start-ups
f) C-suite Access – tech players need to explore distributed ownership of digital engagement where they don't just deal with CIOs but also with other CXOs and BU Heads
g) Talent – there is a need for tech players to invest in digital talent to strengthen their offerings for Indian market
Way forward for India to become a USD 4Tn economy
While the Large Enterprises and the tech players are bolstering their growth prospects through dedicated digital initiatives, the government of India has a crucial role to play as well. To boost growth and revenues for Large Enterprises and to propel India to become a USD 4Tn economy, some of the initiatives that can be undertaken by the government include –
a) Improve digital infrastructure:
Although India has over 30,000 WiFi hotspots, 8Mn more hotspots are required to meet the global average.
b) Create a digital dashboard:
Measuring and tracking key leading indicators, focusing on outcomes for digital adoption across key sectors are necessary.
c) Incentivize private participation:
Launch a policy framework and offer incentives for the development and roll-out of digital services by private players.
d) Enhance cybersecurity mechanism:
A centralized surveillance and security mechanism to monitor and safeguard India's cyber threats is essential.
e) Launch a platform to reskill existing labor:
There is a need for launching a Public-Private partnership (PPP) platform for reskilling 4Mn IT employees in new areas like AI, Big Data, Blockchain, RPA, etc.
If these recommendations are taken up by the Government of India, the potential impact it will have on the country's economy is huge. Widespread digitalization will help propel India's GDP to touch USD 4Tn by 2023.
Nearly 2Mn people are expected to work on advanced technologies in the next 4 years. With the increased focus on digitalization, about 80% of Large Enterprises will be expected to onboard a dedicated CDO/Head of Digital to enhance their digital journey by 2020. Further, there will be a significant rise in the number of billion-dollar Large Enterprises from ~146 to ~200 – a clear consequence of digitalization on the Indian economy. However, without concerted efforts from all the critical players – Large Enterprises, tech players, and the Government of India – this won't become a reality by FY2023.
*Any organization that has a headcount exceeding 1000 is considered to be a Large Enterprise.