As we enter 2020, it is clear that the year that went by was a technological roller-coaster. Right from disruptive technologies such as AI/ML, IOT, Blockchain, to 5G, AR/VR, there have been major strides in every segment. Newer use cases, path-breaking innovations, and massive investments – several such factors are playing a crucial role in propelling the ecosystem higher up the maturity curve. Amidst these unprecedented disruptions, there is one technology that is clearly setting the tone for the future of other technologies – IOT or the 'Internet of Things.'
As Brendan O'Brien, Chief Innovation Officer & Co-Founder, Aria Systems, said, "If you think that the internet changed your life, think again. The Internet of Things is about to change it all over again!"
With everyday devices like refrigerators, beds, watches, cars, doorbells, etc., increasingly becoming connected, one thing is certain – connectivity will be a major game-changer in the future technology use cases. Enterprise IOT adoption will enable this connectivity and hence is on every organization's radar.
Top 10 Technology Trends 2023 Report
For organizations that are already on the IOT bandwagon or are trying to hop on it, here are the six defining Enterprise IOT adoption trends for 2019, which point to the opportunities that they need to get hooked onto in 2020:
1. Digital Engineering is rapidly emerging as a huge IOT opportunity
Our research shows that the global Digital Engineering spend, which currently stands at USD 404 Bn is set to outstrip legacy Engineering R&D (ER&D) spend by 2025. With increasing focus on areas like product development velocity, product ownership experience, alternative revenue streams, new business models, and technology convergence, digital engineering is quickly emerging as an industry growth lever across verticals. Zinnov estimates that the overall Digital Engineering spend will grow by 19% YoY over the next five years, compared to the mere 1% YoY growth in Legacy ER&D spend over the same time period.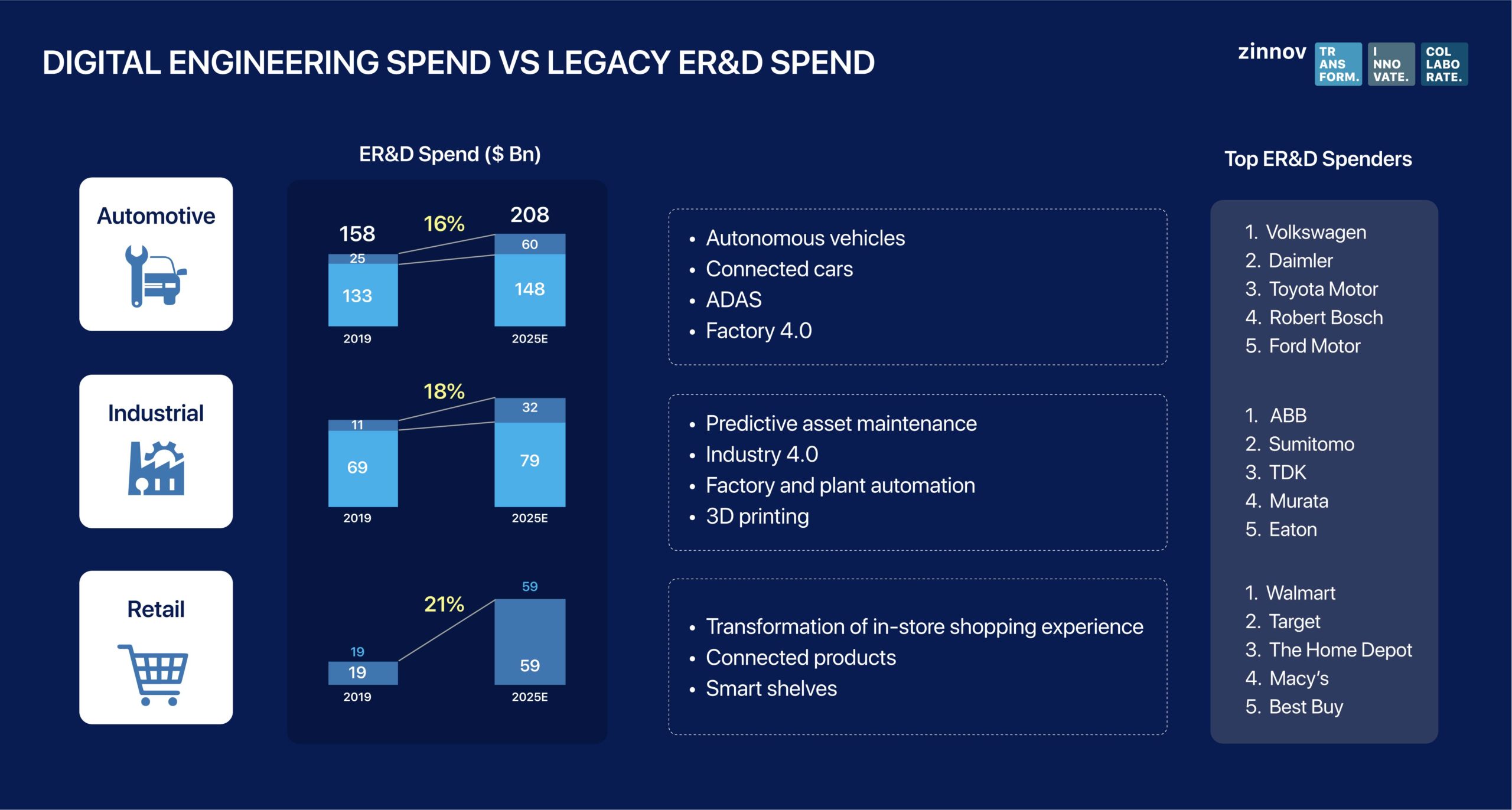 There is a huge IOT-led opportunity aligned with digital engineering within enterprises across different verticals. For instance, the Automotive industry is investing heavily in autonomous vehicles and connected cars and is expected to witness a 14% YoY growth in digital engineering spend. One of the verticals that will most likely show a precipitous rise in Digital Engineering spend is Retail. With use cases like smart shelves, connected products, and the transformation of the in-store customer shopping experience, Retail will see a 29% yearly rise in the Digital Engineering spend until 2023.
2. The convergence of technologies is unlocking the true value of Enterprise IOT adoption
The convergence of technologies is an inevitable phenomenon, and more so in scenarios around Enterprise IOT adoption. With IOT enabling various devices to be connected and gather data, technologies such as AI, AR/VR, and Blockchain, along with IOT, are unlocking newer use cases.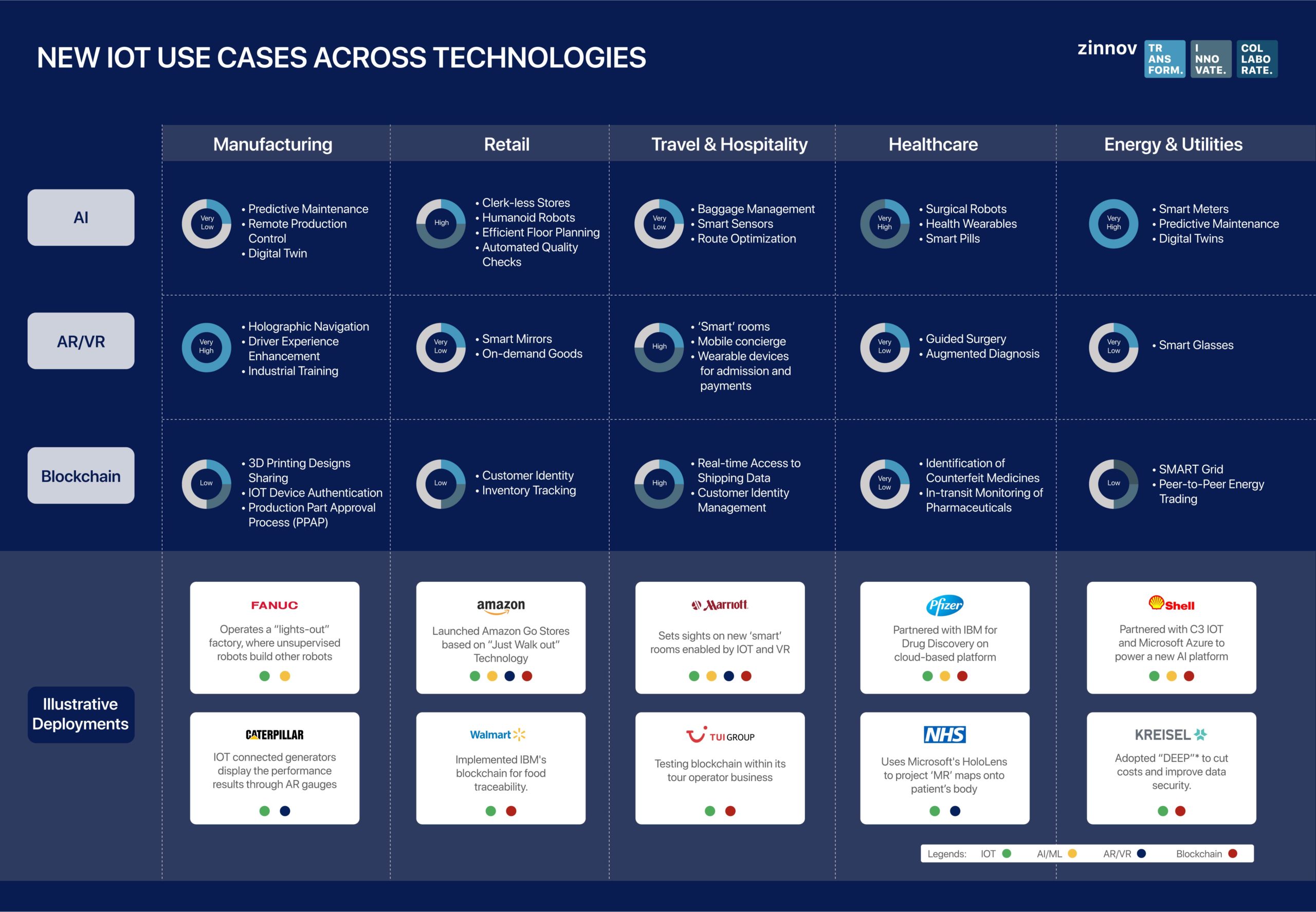 For instance, the convergence of AI and sensor technology in Retail has led to completely automated stores, propagated by Amazon as "Just Walk-out Technology." The combination of AR/VR and IOT is especially making its way into real-life use cases such as in the hospitality industry, where AR/VR and IOT together are enabling 'smart' rooms.
3. A wide variety of stakeholders are driving IOT programs
Enterprise IOT adoption programs are no longer the sole domain of the CTO, but any CXO could potentially drive IOT programs across functions, across organizations. Within most large organizations, technology initiatives are spread across different groups like IT, digital, and engineering. Even within these groups, there are various teams and sub-teams, and a number of stakeholders who are responsible for IOT programs.
For instance, in IT, it could be the Chief Information Officer or Chief Data and Analytics Officer, or even the Global Director of Innovation. A clear inference from this set of varied organizational stakeholders in driving IOT-led initiatives is how Enterprise IOT adoption is no longer limited to one particular business unit but is impacting several groups within an organization.
4. COEs are the 'way to go' for Enterprises in IOT
Setting up Centers of Excellence (COE) has always been a great way to focus on one particular technology/functional area and build capability around that. Hence, enterprises are taking the COE approach to accelerate their Enterprise IOT adoption programs. The fact that more than 40% of top Forbes organizations have set up IOT COEs is a testament to the fact that COEs are an effective way to drive IOT initiatives in an organization.
However, organizations often fail to chart a clear path for their COEs to scale and are limited in deriving the best outcomes from it. Below is a roadmap that organizations can follow to gain the maximum benefit from their COE.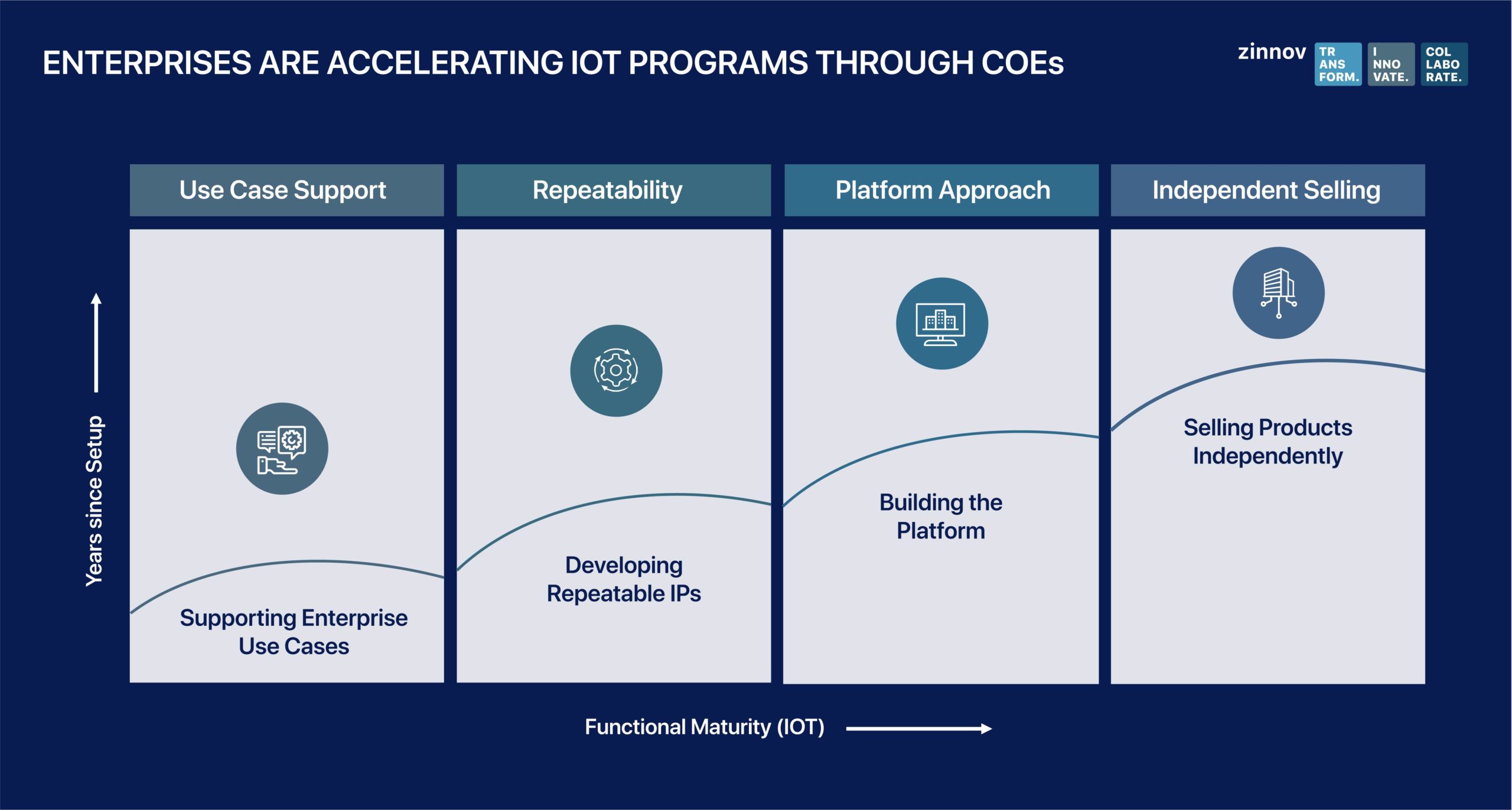 5. Organizations are going the DIY (Do-it-Yourself) Way
With deep domain requirements and given the in-house innovation agendas that a number of large organizations are driving, a significant number of enterprises are building proprietary IOT platforms and solutions. Enterprises are not just investing in IPs, but also commercializing these IOT platforms and use case-specific applications. For instance, Siemens' Mindsphere platform has connected over 1 million devices and systems from around the world. Similarly, Airbus' Skywise Connected Airplanes Platform is now being leveraged by over 80 airlines worldwide. Clearly, organizations are relying heavily on platforms to propel their Enterprise IOT adoption agenda.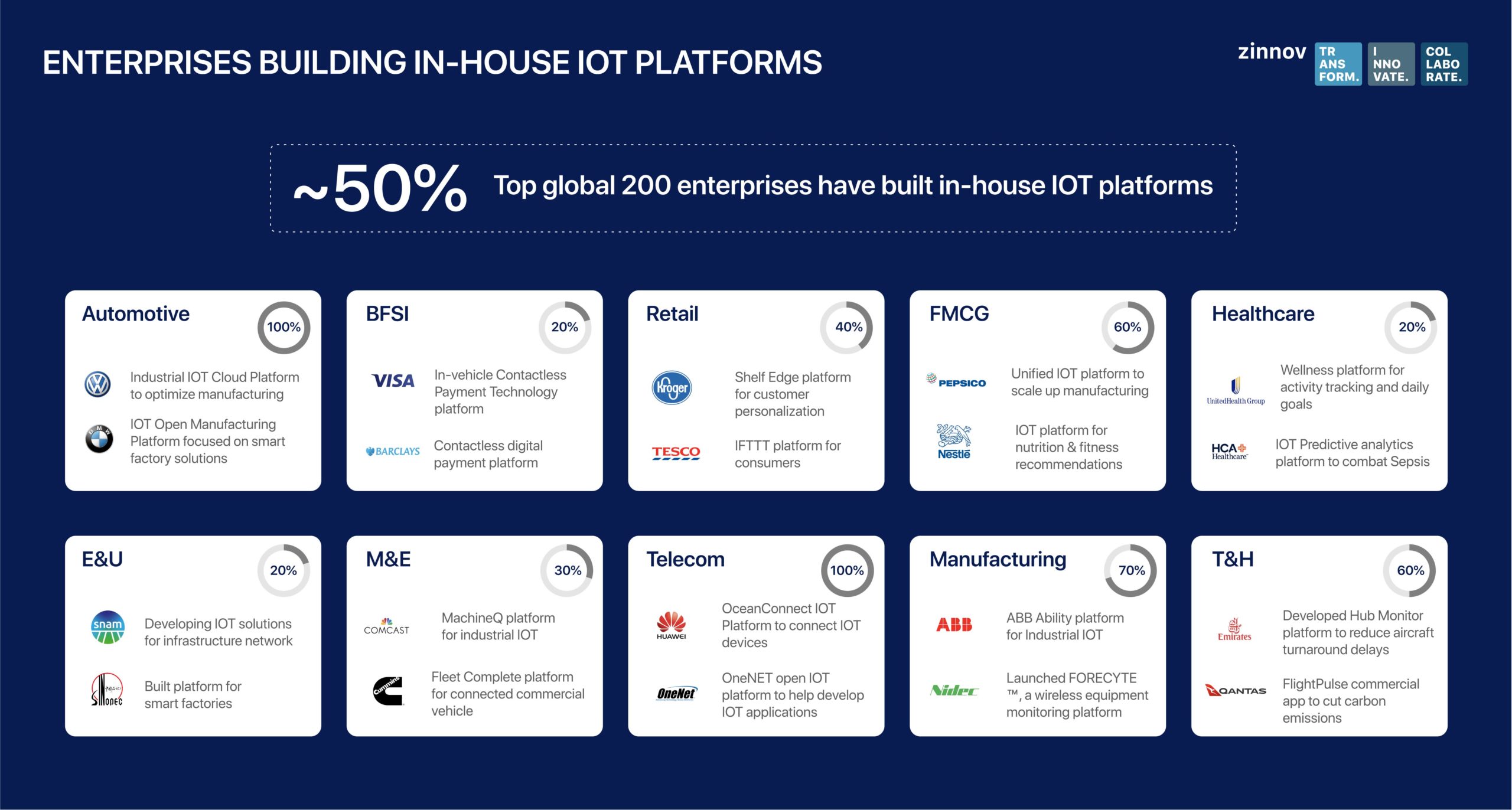 6. Enterprises and IOT Providers are gearing up for 5G
5G, with its high speed, superior connectivity, and low latency has made several organizations turn heads. However, enterprises are still in the experimenting phase. Several enterprises are building 5G-enabled IOT use cases. A case in point is ABB, which partnered with Ericsson to use 5G technology for manufacturing. Similarly, in healthcare, Imaginalis is leveraging 5G for advanced remote diagnosis and robot-assisted surgery. Telecom players are also making huge investments in enabling this convergence of 5G and IOT across use cases like connected products, connected vehicles, Industry 4.0, etc. Some of the Telecom providers are already providing 5G services in selected areas.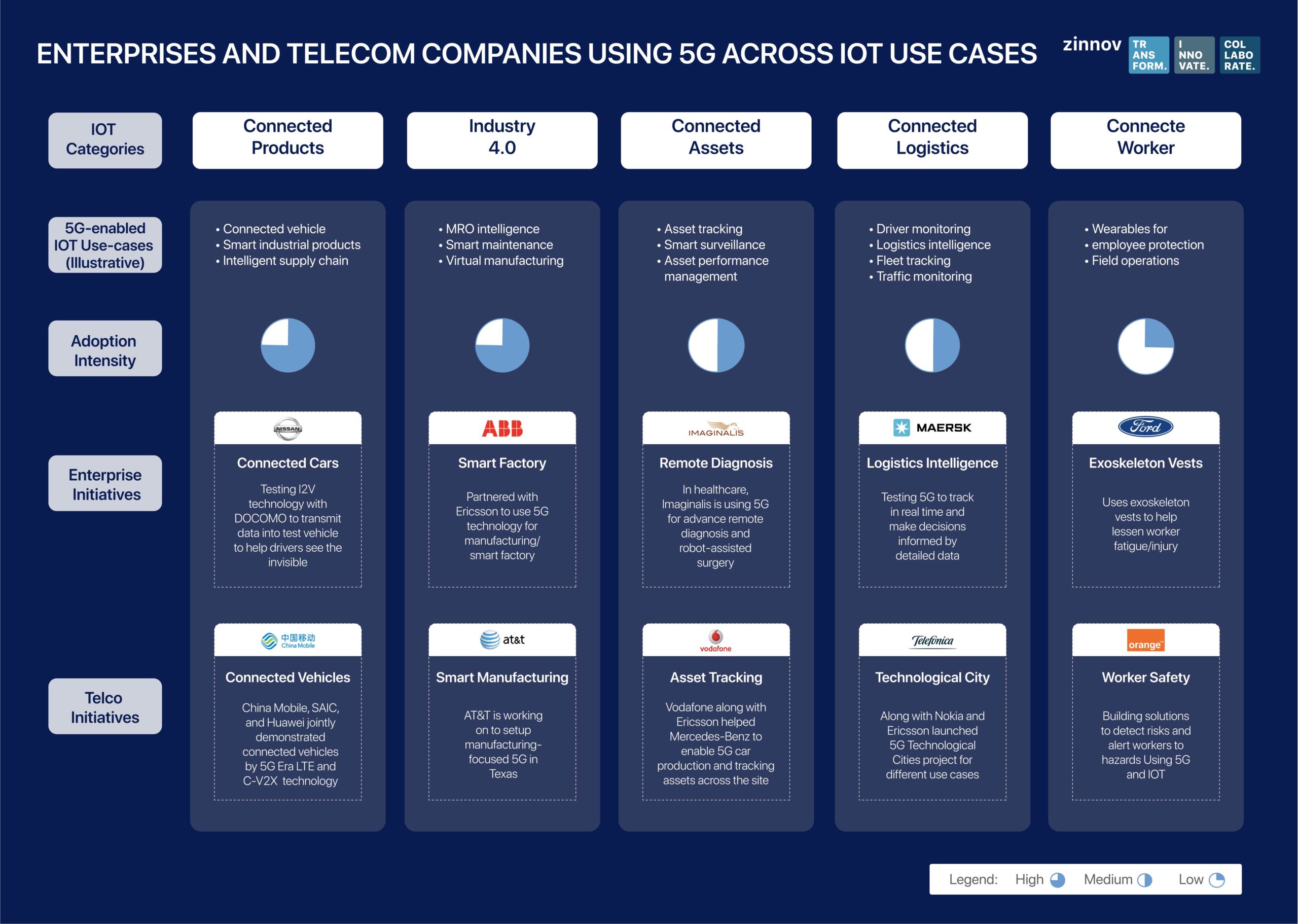 IOT Service Providers are also heavily investing in building 5G and IOT-enabled capabilities by building partnerships, making strategic acquisitions, and also by establishing their own COEs and Innovation Labs.
---
The 'IOT Bandwagon' is clearly becoming crowded as more and more organizations get on board. What will make your organization stand out of the lot and have that competitive advantage is the ability to foresee opportunities and to be able to tap into them proactively? At the same time, organizations need to overcome challenges around the understanding of the complex IOT supply ecosystem, strategy alignment, talent shortage, use case selection, and security. For this, it is important to assess the impending opportunities and formulate a robust strategy to capitalize on them and emerge as a disruptive IOT leader in the industry.
Afraid you will miss the IOT bandwagon? Don't know whether to build, buy, or partner for your IOT-led initiatives? Write to us at info@zinnov.com and get actionable insights on leveraging IOT and overcoming these impediments.