Large Enterprises* form the backbone of the Indian economy and contribute revenues equivalent to as much as 40% of the country's GDP. Till date, these enterprises have generated close to 7Mn direct jobs, which has grown at a rate of 7% year-on-year. Interestingly, 45% of these Large Enterprises are growing slower than India's GDP, despite India being one of the fastest-growing trillion-dollar economies in the world.
A combination of factors such as unicorns, digital natives, and technologically advanced global players eating into Indian Large Enterprises' revenues; digital disruptions wrought by the emergence of new-age technologies such as Artificial Intelligence (AI), Machine Learning (ML), Robotic Process Automation (RPA), Internet of Things (IOT), etc.; and lower than needed investments into digital initiatives have caused this slower growth.
Download The Report
Digital Transformation (DT) 2.0 And Its Impact on Business
Download Here
Digitalization and Indian Large Enterprises
India took 60+ years since independence to become a USD 1Tn economy, while the next couple of trillion dollars were added in 7 years and 6 years respectively. This timeframe is further expected to shrink to 3 years, when India is expected to become a USD 4Tn economy by 2023. A combination of focused globalization, dedicated structural reforms, generous government spending, and widespread digitalization will help propel India to achieve this feat on the global stage. In fact, the Indian government is allocating nearly USD 100Bn to boost the physical as well as the digital infrastructure across the country.
Key segments driving business demand in India
The following key segments are currently driving business demand in India: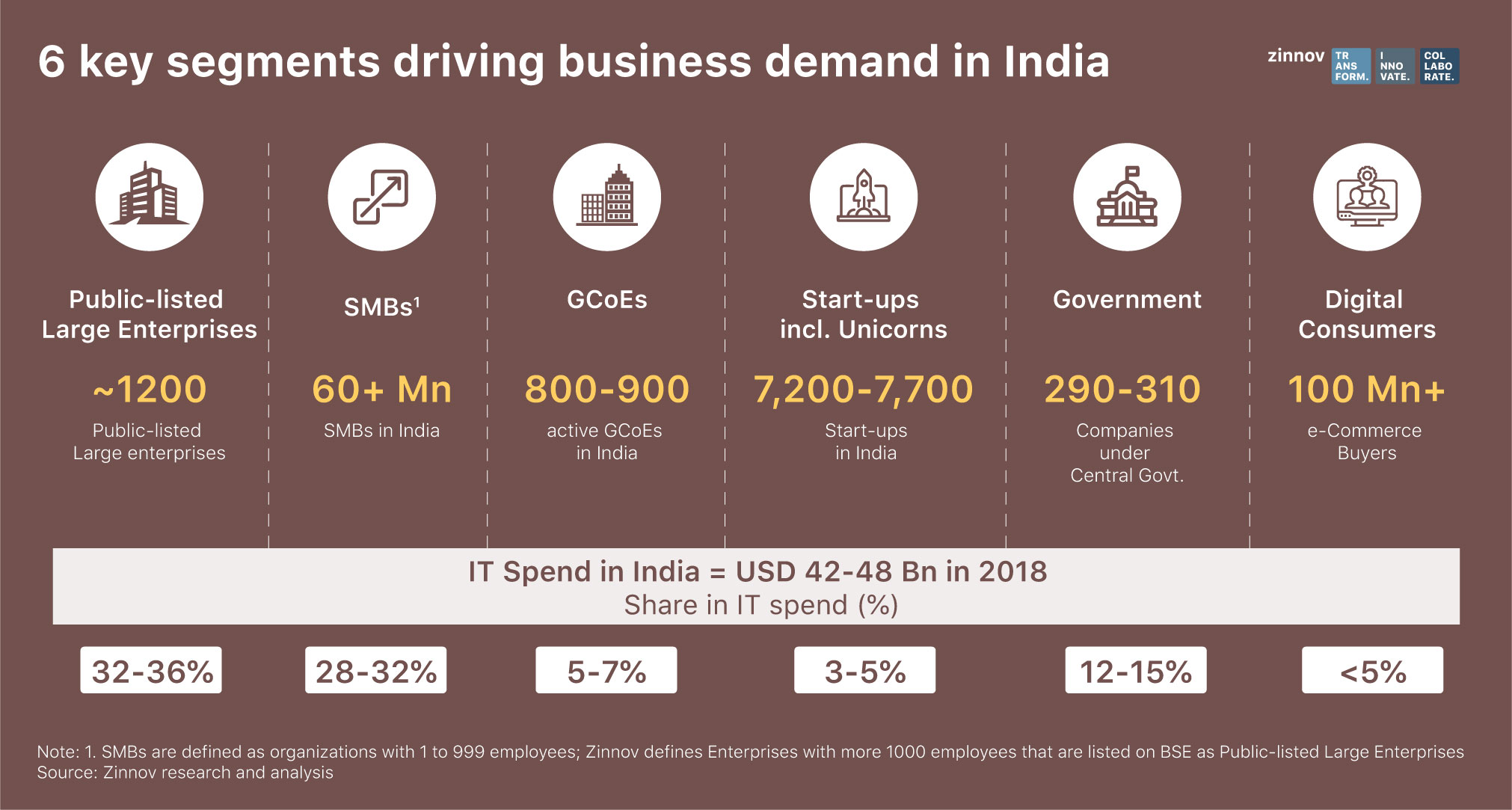 1. Public-listed Large Enterprises:
There are nearly 1200 Large Enterprises in India, which contribute close to 40% of India's GDP. In 2018, around 160 companies were listed on the BSE (Bombay Stock Exchange), of which 20 were Large Enterprises.
2. Small and Medium-sized Businesses (SMBs):
There are 60+Mn SMBs in the country, with more than 50% of them being technology-influenced.
3. Global Capability Centers (GCCs):
There are close to 1250 GCCs active in India, which have been set up by more than 900 MNCs. Among these, 40-45% belong to Global 2000 companies.
4. Start-ups including Unicorns:
India is home to about 7700 start-ups, making it the third-largest start-up ecosystem in the world and one of the most vibrant in the technology ecosystem. Unicorns, the start-ups with a valuation in excess of USD 1Bn, are also included in this mammoth number. Collectively, these start-ups provide employment to about 1.7 lakh people in the country.
5. Government:
There are over 300 companies under the Central Government. In 2018 alone, the government invested ~USD 500Mn in planned digital initiatives.
6. Digital Consumers:
Digital consumers are driving business demand thanks to increased Internet penetration and the proliferation of smartphones. Currently, India boasts of 100Mn+ e-commerce customers, who will spend an estimated USD 100Bn by 2020.
Suggest Read
Intelligent Automation Driving Government Digital Transformation
Read More
Public-listed Large Enterprises – the Backbone of Indian Economy
Of the 1200+ public-listed Large Enterprises in India, around 11% have their HQs in tier-2 and tier-3 cities such as Coimbatore, Vadodara, and Jaipur. These enterprises collectively bring in a revenue of USD 1.1Tn and house close to 7Mn talent, of which 1-2% is digitally skilled talent, capable of working on new-age digital technologies like AI, RPA, Blockchain, Cloud, etc.
Further, the billion-dollar Large Enterprises (companies with more than USD 1Bn in annual revenue), witnessed a growth of 10% year-on-year, while around 150 of these Large Enterprises have clocked in approximately USD 700Bn in revenue in 2018 alone. An interesting trend is that ~50% of these billion-dollar Large Enterprises have a Chief Digital Officer (CDO) or a Head of Digital, who focuses mainly on digital initiatives in the enterprise. Interestingly, of the total USD 42-48Bn IT spend in India in 2018, 32% was contributed by Large Enterprises alone.
Reasons for Slower Growth
Over 45% of these enterprises are witnessing a slower growth in annual revenue than India's GDP growth. Disruptors like unicorns, digital native start-ups, and technologically advanced global players are impacting incumbent Large Enterprises across traditional verticals such as Banking, Transport and Hospitality, Organized Retail, etc.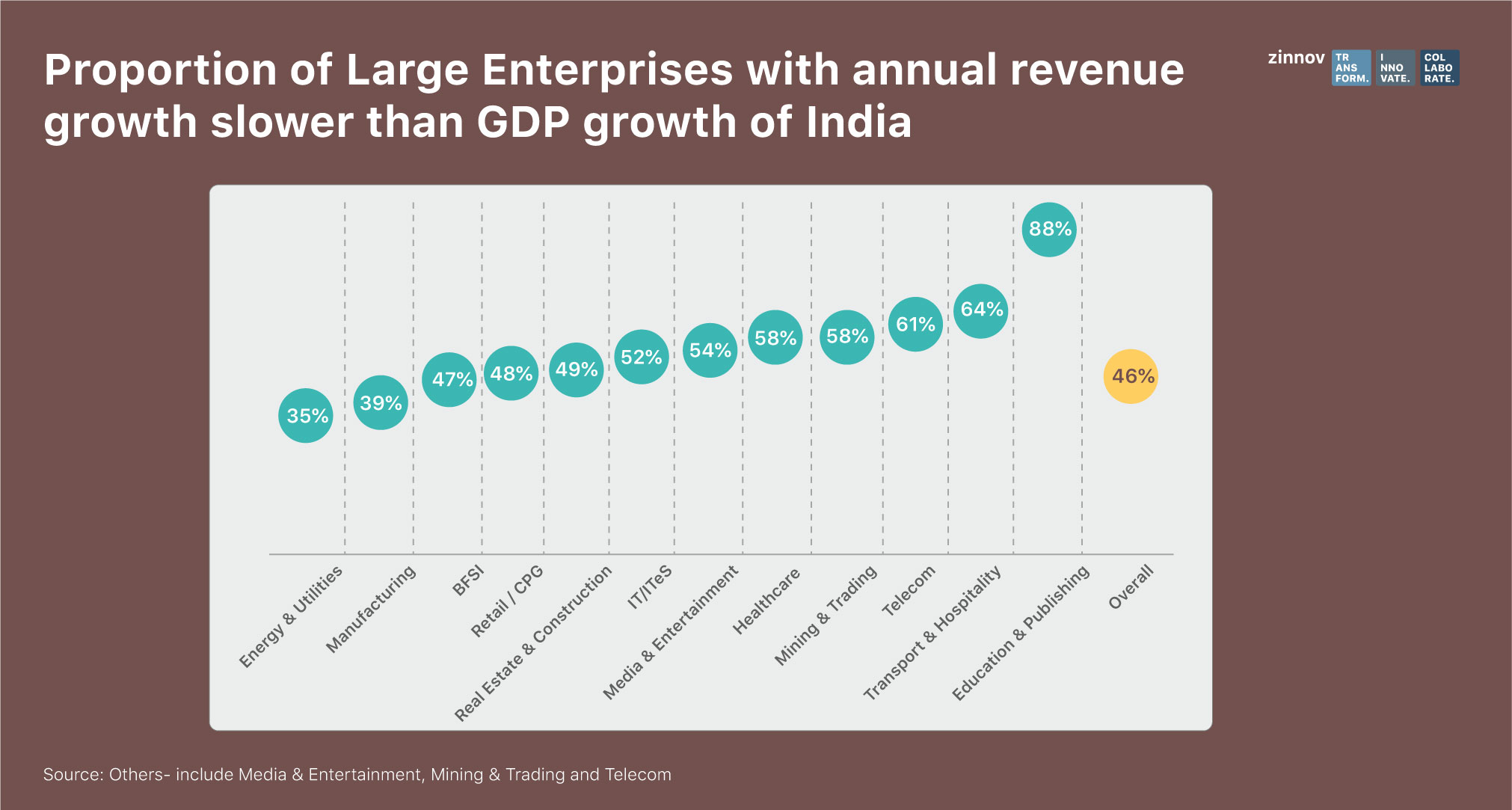 NPAs and low capital to risk-weighted assets ratio (CRAR) have led to slower growth in BFSI, followed by financial inclusions. In retail, restrictions on FDI and an inability to retain relevant talent are a few factors hampering growth.
Digital Native start-ups like Oyo, Paytm, have raised billions of dollars in funding, which they are investing in building digital infrastructure, hiring skilled digital talent, and creating awareness in the market.
Oyo is a case in point. Having raised in excess of USD 1.7Bn in funding, it has an inventory of more than 500,000 rooms worldwide, with plans to earn 90% of its revenue from the franchise model. Oyo has achieved this feat in a mere 6 years, propelling its current valuation to exceed that of India's top 4 listed hotel chains. Further, asset-light businesses like Uber, Airbnb, Ola have revolutionized their respective verticals by focusing on building robust platforms that bring together all the ecosystem players. In fact, the impact of digitalization on public-listed Large Enterprises is undeniable.
What is Driving Business Growth in Large Enterprises?
Digital has become a core focus area for Large Enterprises, especially in recent years. In fact, Zinnov research revealed a strong correlation between the digital spend and the business growth of Large Enterprises. Enterprises with a strong digital focus have witnessed higher business growth. Enterprises such as Reliance, HDFC, and even unicorns such as Swiggy, are great examples of companies that have derived significant business outcomes with their focused efforts on digital initiatives.
The digital natives and start-ups are putting pressure on the incumbents to invest aggressively in digital strategies for their very survival. Across verticals, enterprises are investing in cutting-edge digital use cases such as omnichannel experiences in Retail, connected cars in Automotive, blockchain in BFSI, drone surveillance in Telecom, AR/VR in Media & Technology, to name a few.
Case in point is Reliance Jio, a digital native Indian enterprise that achieved explosive growth in record time. Some of the key digital technology initiatives undertaken by Jio include an AI-based voice command feature, leveraging ML algorithms to hire high-impact talent, setting up of a dedicated research center and CoE for Big Data/Analytics.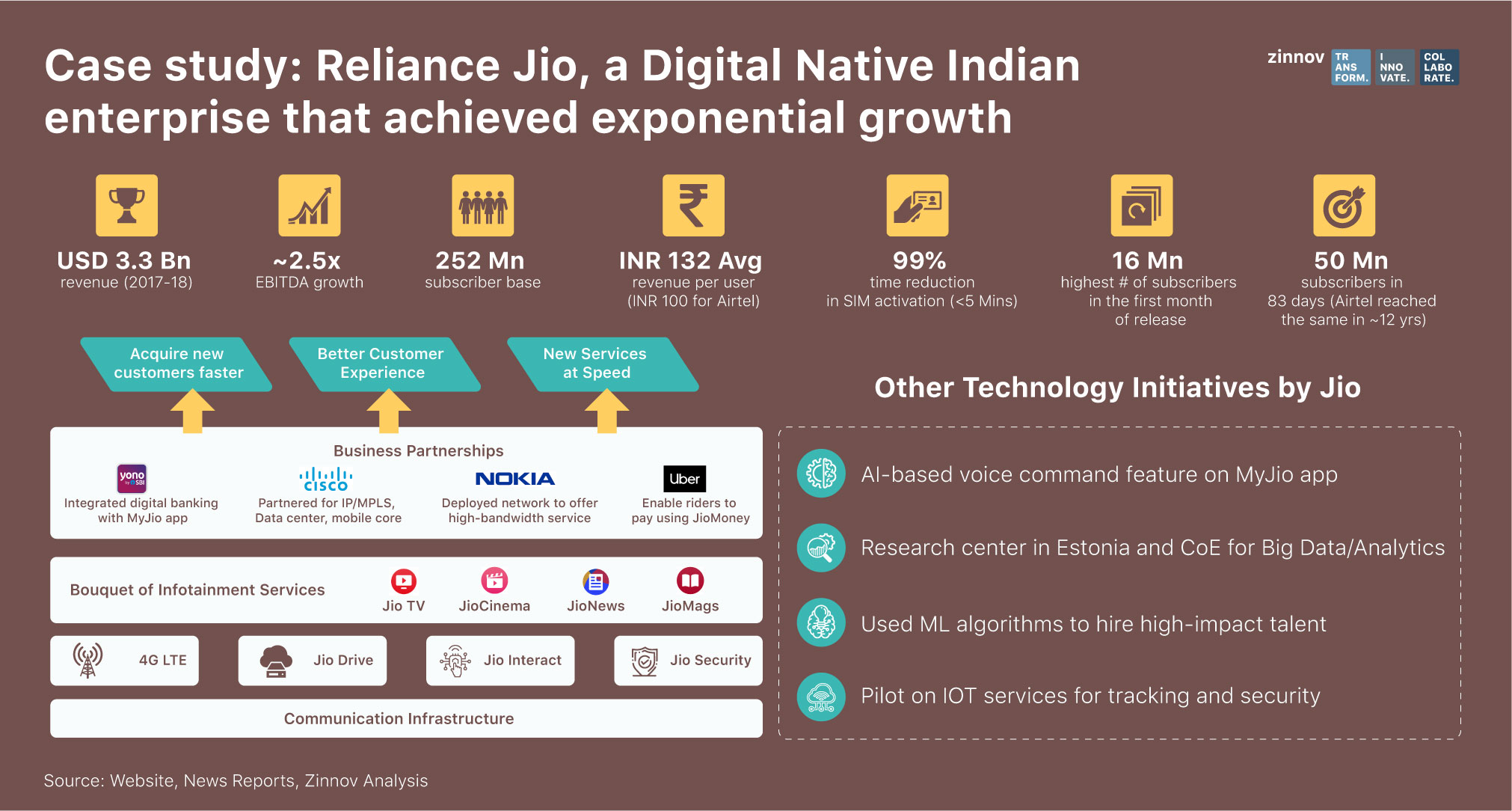 From forging strategic partnerships to offering a bouquet of new services, Jio is leaving no stone unturned to cement its place at the top. This has not only helped Jio acquire new customers faster and enhance customer experience, it has also significantly reduced the time-to-market of new services.
Impact of Digitalization on Large Enterprises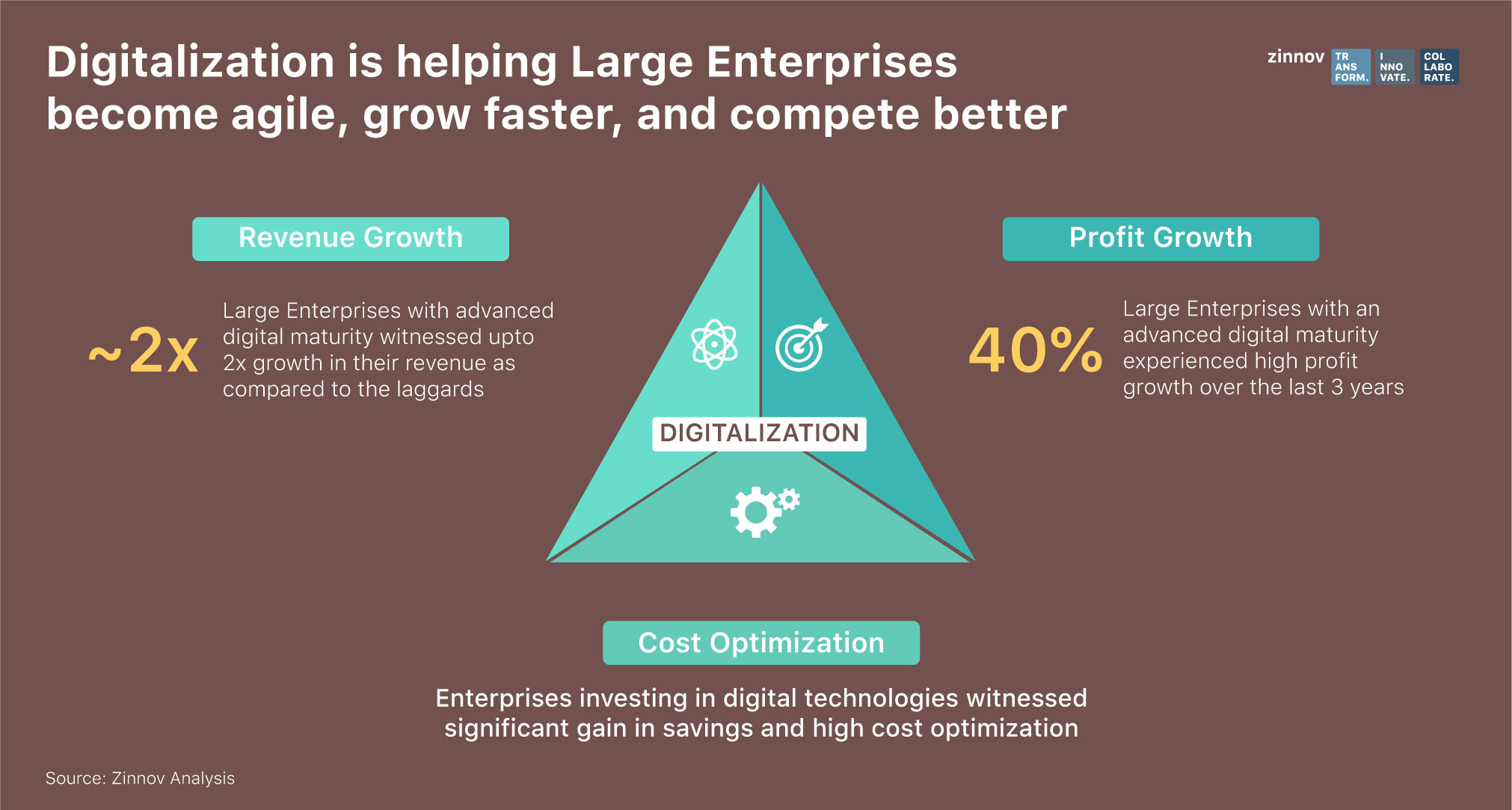 Digitalization is helping Large Enterprises become agile, grow faster, and compete better in the current volatile business environment. In fact, Large Enterprises that are investing in strategic digital initiatives are witnessing 2x growth in their revenue and 40% growth in their profits. Additionally, they are also witnessing a significant gain in savings through cost optimization. This aggressive growth will be sustainable only if enterprises invest more in digital.
Zinnov research suggests that the total IT spend by public-listed Large Enterprises in India was approximately USD 14Bn in 2018, of which USD 1.4Bn was spent on digital initiatives. However, over the next 3 years, this digital spend is estimated to grow at a CAGR of 40% to touch USD 3.6Bn by 2021, while the total IT spend will grow to touch USD 17Bn.
But what is the impact of digitalization on Large Enterprises? How can Large Enterprises capitalize on their digital initiatives to propel India to become a USD 4Tn economy by FY2023? Know more here.
*Any organization that has a headcount exceeding 1000 is considered to be a Large Enterprise.
To know more about the role that Large Enterprises are playing in driving India towards becoming a USD 4Tn economy in the next four years, drop us a note at info@zinnov.com.