The public sector has traditionally relied on paper-based processes that are time-consuming and prone to human error. To optimize time and overcome this problem, Digitization helps transform existing processes by building process efficiency, increasing customer satisfaction levels, and improving team collaborations, among other things. In essence, government digital transformation is being bolstered by Intelligent Automation, specifically Robotic Process Automation (RPA), which is enabling advanced accuracy and transparency in the public sector service delivery and performance.
Intelligent Automation Accelerating Government Digital Transformation In Public Sector Services
Modern technologies like RPA and Intelligent Document Processing (IDP) can help governments solve larger policy concerns such as financial aid disbursal and vaccine administration. They also help boost economic productivity and growth by helping governments track every change in their systems creating a new level of transparency.
A great case in point is the US Small Business Administration automating the disbursal of financial aid to citizens, in the wake of the pandemic in 2020. This step, reduced the time taken for Data Management by up to 90%, and were able to disburse more than 1 Mn loans worth upwards of USD 350 Bn.
INTELLIGENT AUTOMATION 2022
Powering The Enterprise Systems of Experience (SOX)
Download here
What are the core components of Intelligent Automation?
Within digitization, Intelligent Automation is a powerful tool that not only adds value for a government's employees but also for its citizens. It does this by: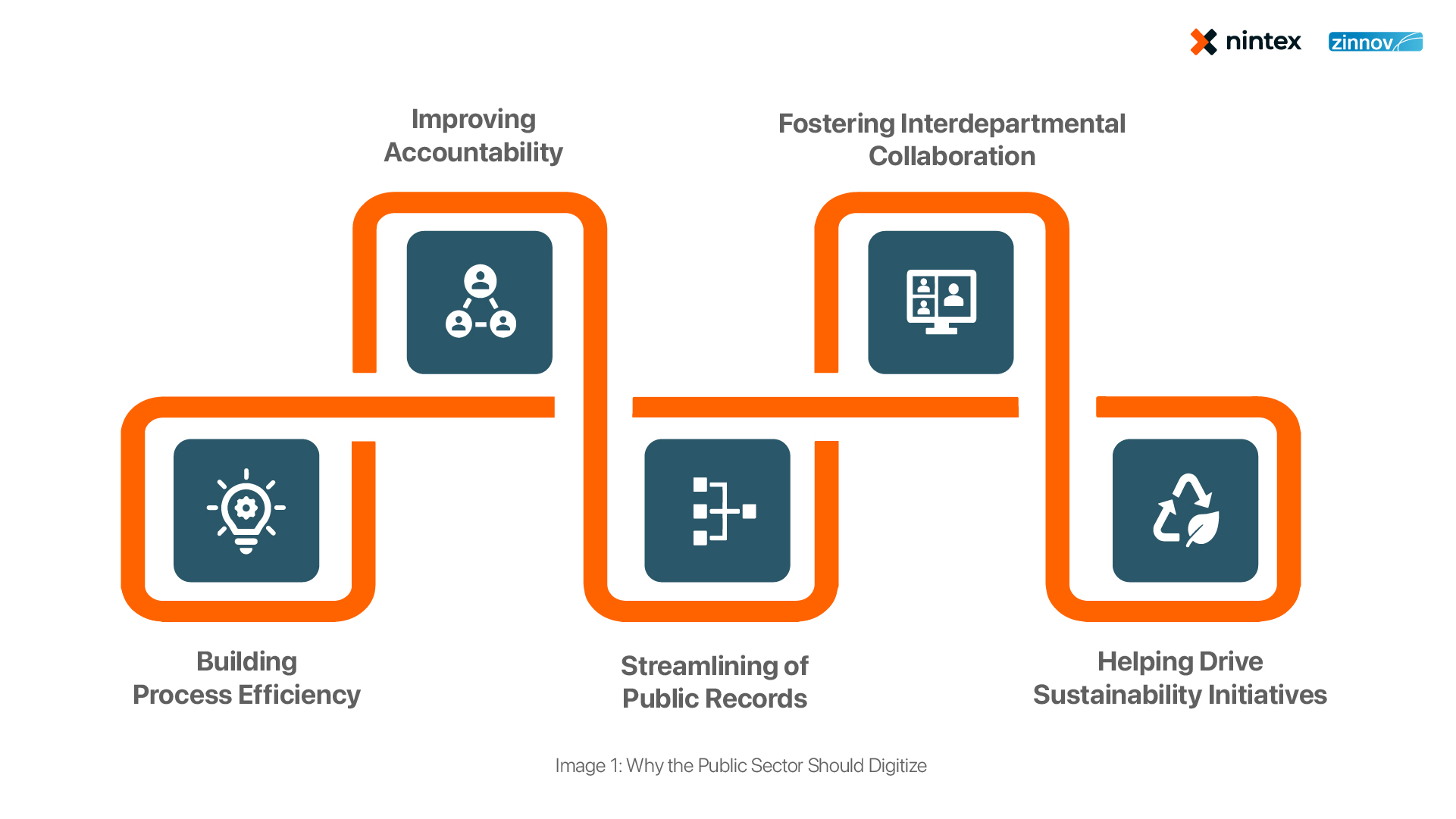 1. Improving Community Interaction and Employee Accountability
A government's top priority is to maintain high levels of accountability with the public and instill trust. For example, the Willoughby Council in Australia wanted to improve its interactions with the local community. The existing tools they used were time-consuming for the team and led to poor visibility and collaboration. Automation came to their rescue mapping 300 processes for them within just 11 months, significantly improving the citizen experience.
2. Building Operational Efficiency
Government agencies globally have been looking for ways to boost their overall efficiency and productivity. The San Francisco Municipal Transportation Agency (SFMTA) for example, responsible for ground transportation management, wanted to go paperless and improve levels of efficiency and productivity. By incorporating RPA, they automated 100+ workflows, including transit, checkout, communication, etc., and went entirely paper-free.
3. Streamlining of Public Records
When it comes to keeping records, the County Court of Victoria in Australia, used Intelligent Automation to manage its legal cases. The court has been able to automate process capture, as well as complete judicial orders, approvals, and audits. This has led to a 90% increase in their rate of processing court orders.
4. Helping Drive Sustainability Initiatives
Sustainability has been a key agenda for all governments across the globe since the Paris Climate Accords were signed in 2015. For instance, the Public Investment Fund in Saudi Arabia wanted to digitize 70-80% of their manual processes and used Low Code Automation to effectively transition to an entirely paperless environment. They not only successfully automated up to 450 workflows but can also be further scaled at a later stage as per the business requirement.
5. Fostering Interdepartmental Collaboration
The city of Garland in the US leveraged Intelligent Automation technology across its various departments to improve its business processes. The IT department built a No Code Process Automation solution available to all departments and a community of citizen developers within the 45 government agencies to serve the local community. This resulted in a saving of USD 4 Mn.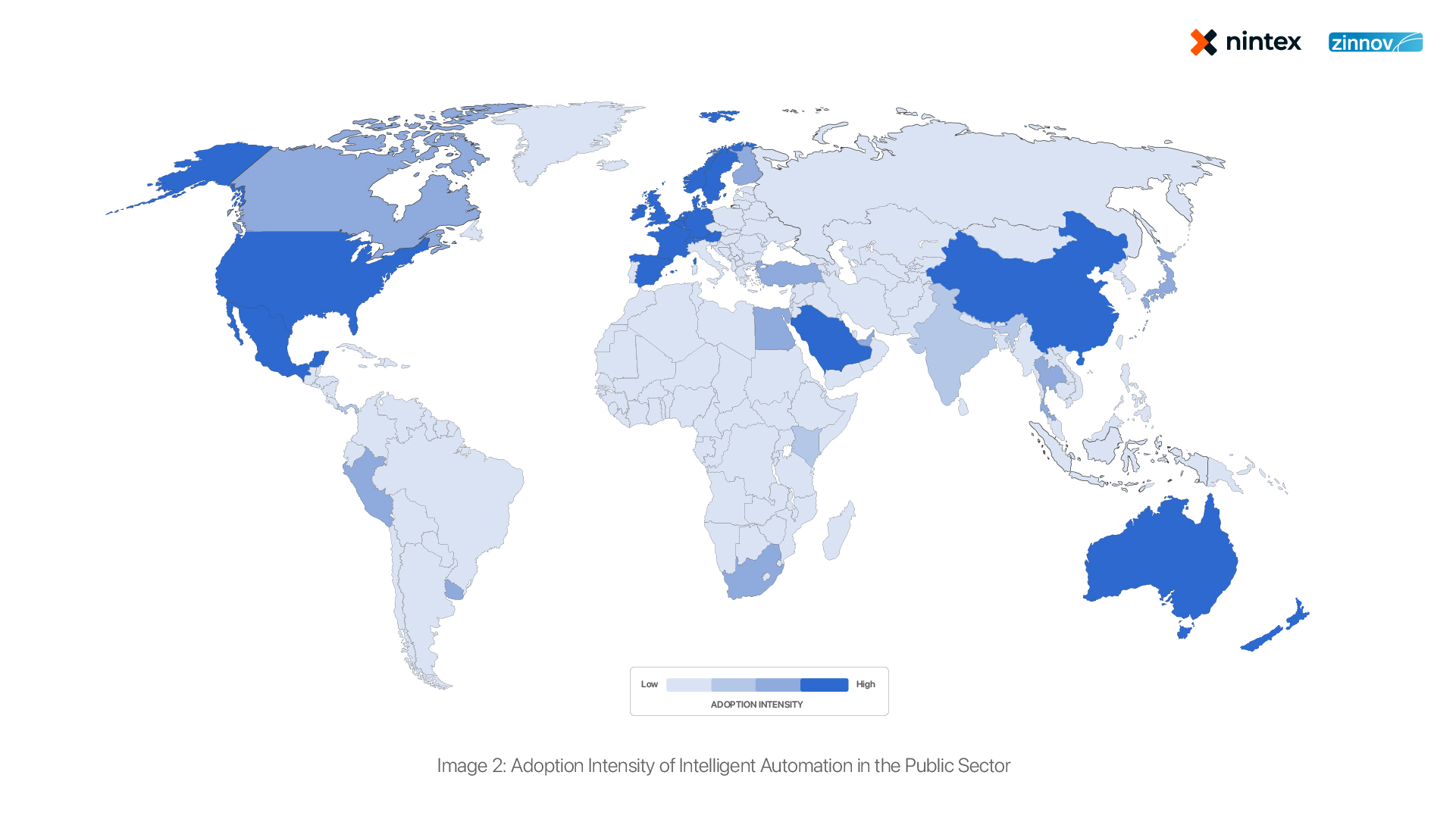 In Zinnov's analysis of 195 countries, the US public sector emerged as the most mature nation in terms of digitization. In addition, countries in Western Europe and Eastern Europe are also rapidly digitizing government bodies.
Almost 40% of countries across the world were pushed to leverage Automation during the COVID pandemic, to better manage the vaccine and aid administration, streamlining government administration functions.
In a further analysis of the top 50 economies of the world, we found that 62% of the global governments already had an Automation focus within their Public Services, with RPA being the most widely deployed technology. Multiple countries have also been experimenting with newer technologies such as IDP and Process Intelligence with nearly 10% of the 50 governments establishing an Automation-focused Center of Excellence (CoE).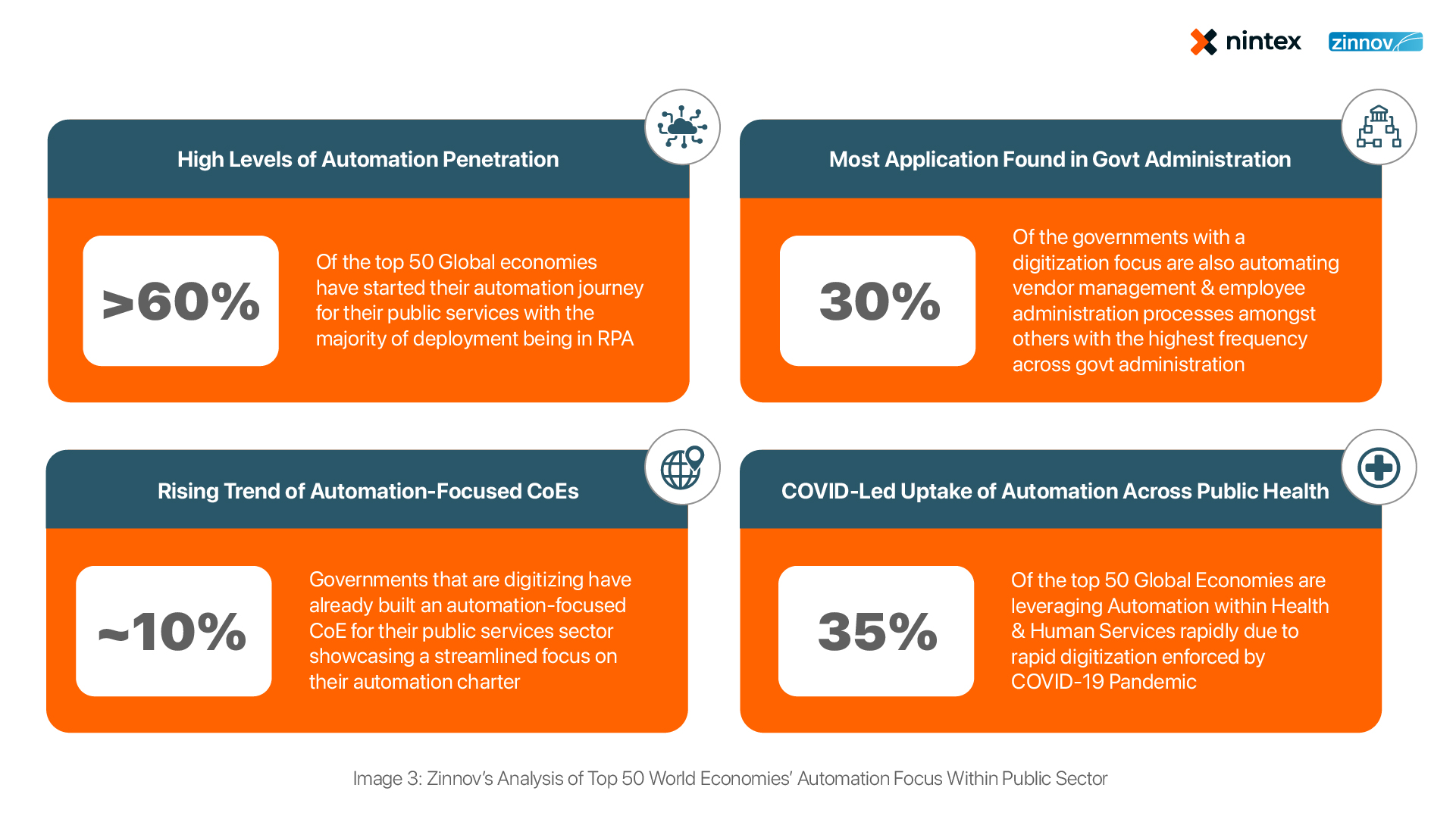 It's safe to say that digitization is finding high levels of applicability in a country's Government Administration, Health and Social Welfare, and Public Safety and Justice departments.
Overall, increased efficiency, citizen experience, and employee experience levels are the prominent goals driving the public sector.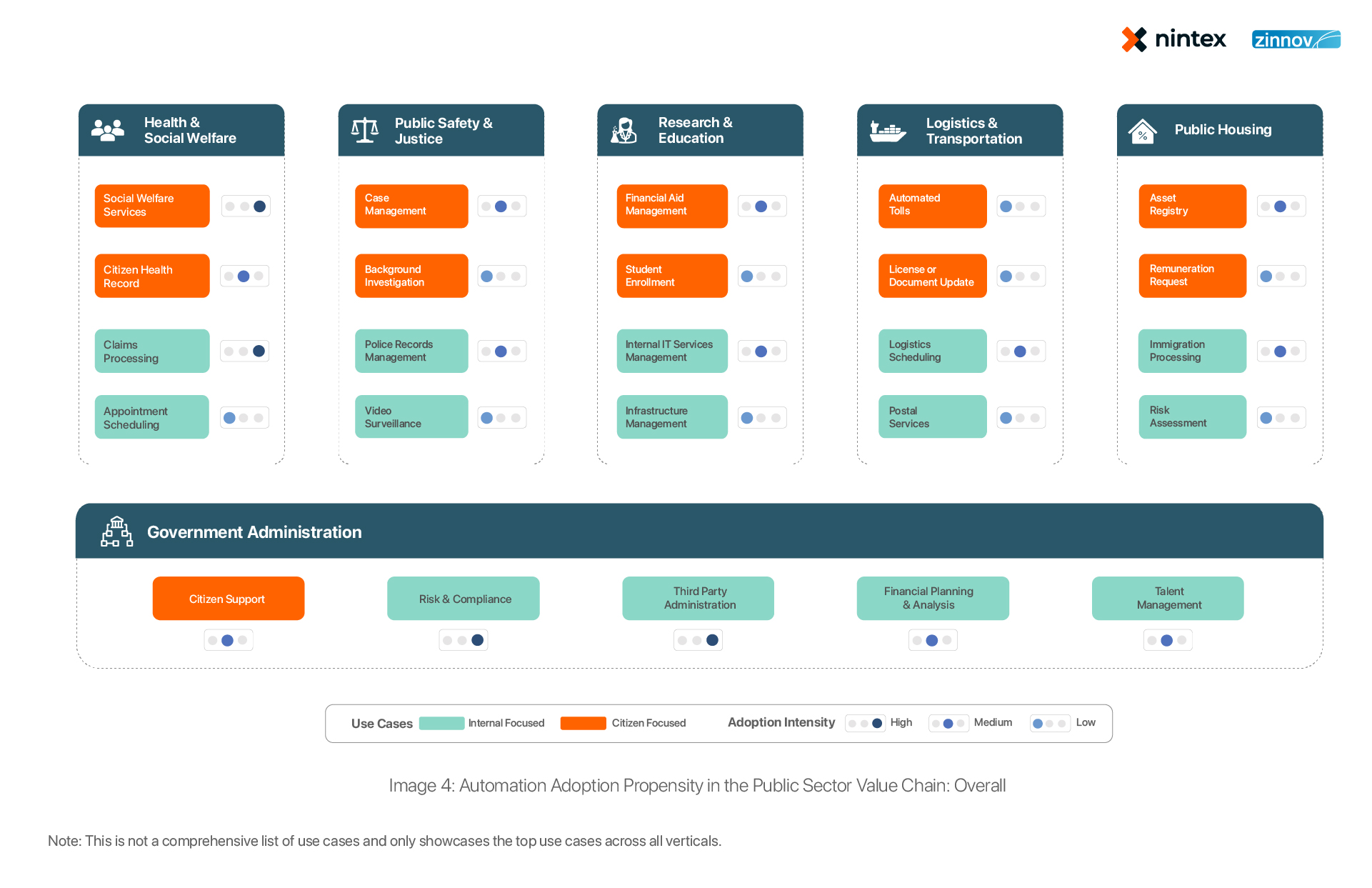 The COVID-19 pandemic prompted numerous governments such as Japan, Nigeria, and the Philippines to begin automating their social welfare services and citizen health records.
Today, more than 35% of governments have started automating processes within their Health and Social Welfare departments across the world.
Recognizing the need for automating health records and social welfare programs to better serve communities, Automation was leveraged in the following components to —
Disperse aid faster
Digitize recordkeeping
Increase constituent transparency
In essence, Robotic Process Automation is helping with managing, uploading, and updating health records.
Automation is also being explored within Public Safety and Justice. RPA allows police services and the justice departments of countries to collaborate and access data for quicker background investigations and improved case tracking and management. Along with IDP and other technologies like No Code Automation, it further enhances police records, educational infrastructure, and aid management.
Public Housing and Logistics, and Transportation departments have also been deploying Automation for managing asset registry, logistical scheduling, and tolling processes.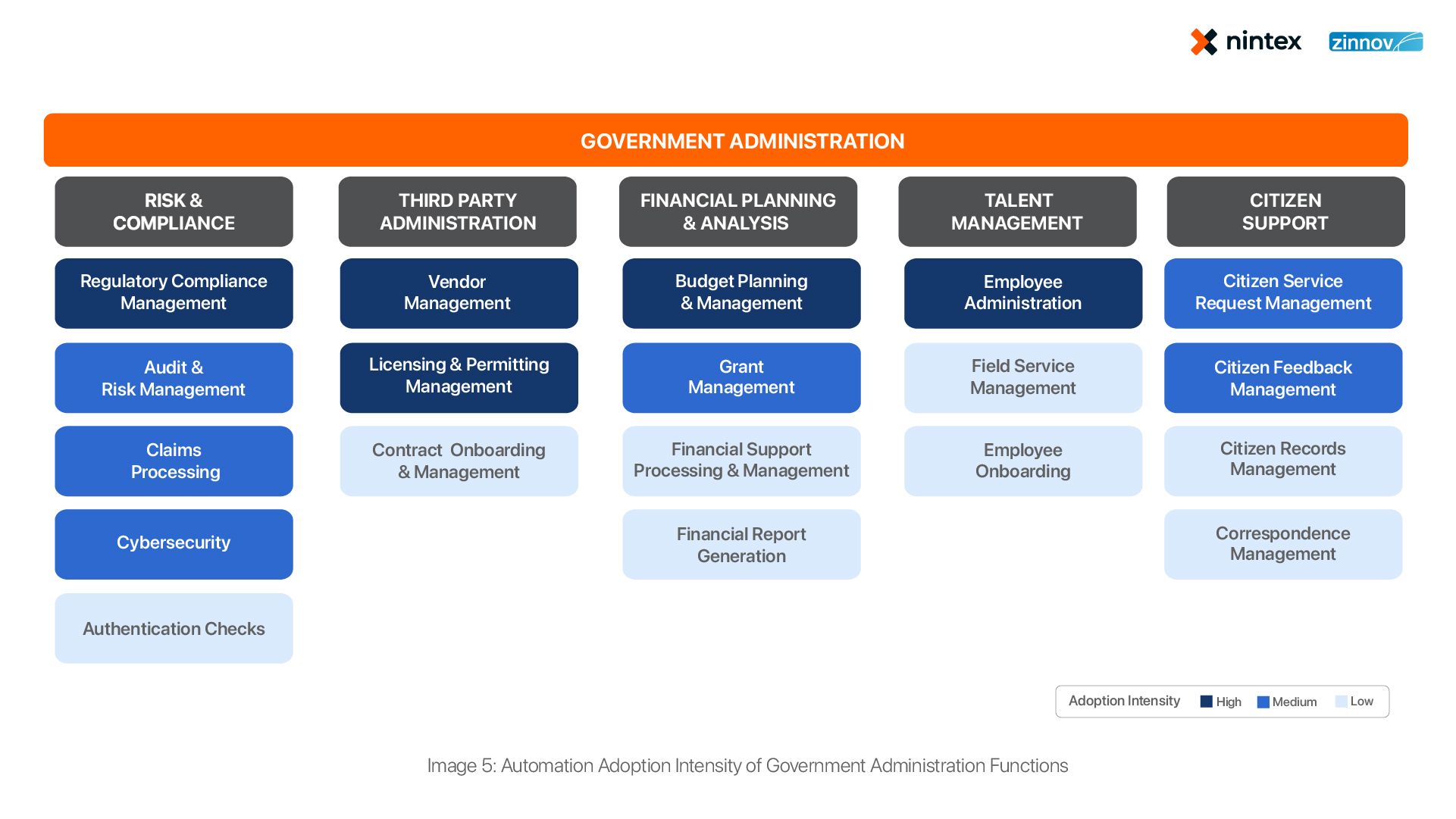 Further, the City Council of Geneva, Switzerland started using Workflow Automation in their Grant Management system and was able to increase their productivity by 75%. In Australia, the Liverpool City Council is saving up to ~USD 40,000 annually by automating its audit and risk management processes. Across the Tasman Sea Hawke's Bay Regional Council in New Zealand was able to save 200+ hours by automating its Citizen Records Management system.
The Public Sector use case framework is a great resource if you're looking for guidance on where to start. Vendor Management, Employee Administration, and Budget Planning and Management are the top three use cases. All three of these processes have medium-to-low complexity in terms of implementation, and yield improved experiences, in terms of the time-to-value for departments and citizen engagement experience.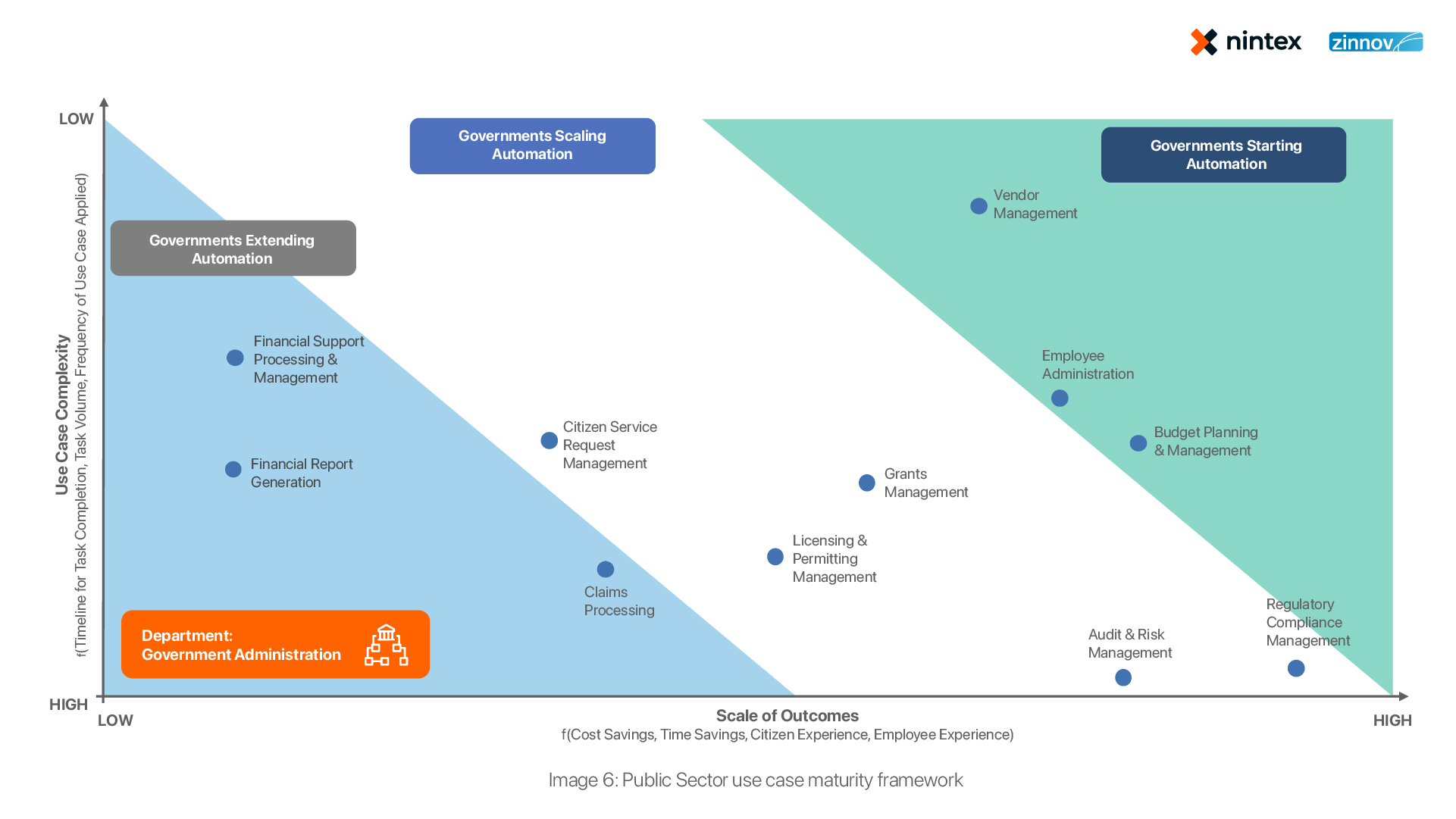 The Public Sector use case framework is a great resource if you're looking for guidance on where to start. Vendor Management, Employee Administration, and Budget Planning and Management are the top three use cases. All three of these processes have medium-to-low complexity in terms of implementation, and yield improved experiences, in terms of the time-to-value for departments and citizen engagement experience.
Vendor management is a less complex process, to begin with. Automation has been shown to reduce the scope of errors in transactions and make collaboration and engagement with vendors simpler.
Employee administration is another transformative opportunity. When employees work on simple systems with clear structures and procedures in place, the information is updated in real-time and is universally accessible by all teams. This improves inter-departmental collaboration and processes.
Automating Budget Planning and Management saves financial analysts time and frees up employees from repetitive and mundane tasks.
Government Digital Transformation: What Lies Ahead?
Today, the Intelligent Automation market in the public sector stands at around USD 2 Bn and is projected to grow at a rate of more than 50% CAGR over the next 5 years. Once public sector organizations get started with their digitization journeys — keeping Intelligent Automation at its core — it shall be an ideal solution for public service bodies looking to improve internal processes and build better relationships with communities and constituents across the world.
If you are looking to create a roadmap for Automation in your organization, contact our experts at
info@zinnov.com