The warning bells for climate change have been ringing for decades now. From droughts to floods, earthquakes to tsunamis — the frequency and magnitude of such natural disasters has seen a steep incline. The most alarming news is this rise is only set to further increase if humans do not timely intervene. Governments, international organizations, and citizen groups have come together to fight climate change by setting in place goals and interventions for reducing emissions. The Paris Agreement was one such major international treaty signed in 2015 by 196 countries to limit their greenhouse gas emissions and put efforts into reducing the global temperature increase to 2°C (3.6° F) above pre-industrial levels.
In a similar vein, enterprises have also been working according to interventions in place such as the Corporate Sustainability Due Diligence Directive (CSDDD) adopted by the European Commission in February 2022, the Sustainability Reporting Directive (CSRD) that operates in tandem with the CSDDD, and the U.S. Securities Exchange Commission Guidelines.
Enterprises are recognizing that growth is no longer possible, or rather, not sustainable if not achieved with environmental concerns in mind. They are cognizant of sustainability practices and are placing emphasis on incorporating them into their corporate agenda. Not only is it important because of regulatory and compliance reasons, but also lowers attrition rates, and attracts more customers and investors.
Strategically planning their sustainable practices also helps enterprises mitigate risks such as reputational damage in the future and unnecessary economic costs. It additionally helps them plan efficient usage of resources. Since resources already exist in scarce amounts, this is necessary step towards battling the ongoing climate crisis.
Employer Branding and Retention: Working for a bigger cause attracts and excites employees. If Sustainability is embedded into the corporate culture, it becomes a selling point​. 56% employees prefer working with companies that are dedicated to environmental conservation.
Private Equity Funding: Investors have embedded sustainable considerations into their strategies to achieve superior valuations and positive outcomes​. 84% investors are pursuing or considering pursuing sustainability integration in their investment process and decision making​.
Regulatory and Compliance: Enterprises need to be aligned with federal, state, and local regulations to protect the environment and ensure compliance with governing regulations. 48% respondents said they already had a comprehensive ESG policy and related compliance procedures in place.
Consumer Demand: Being sustainable creates new revenue; it attracts customers who care about a company's environmental footprint and green initiatives. 60% consumers rated Sustainability as an important purchase criterion.
Resource Limitations: Scarcity of resources over time will increase their costs making them more expensive. Enterprises need to protect and parallelly find an alternative to these resources. Water scarcity could displace over 700 million people by 2030.
Risk Mitigation: Incorporating a sustainability framework into business operations and processes can help safeguard a company's long-term success and mitigate risks such as economic costs and reputational damage. 33% respondents said their businesses are engaging with sustainable strategic planning.
There are several methods that enterprises have been adopting to increase their operational efficiency. We have classified these interventions into the following 5 categories: intelligent automation, green production and consumption, smart infrastructure, carbon offsetting, and supply chain modernization.
Intelligent Automation allows firms to create and use processes that minimize the negative environmental impact and achieve organizational sustainability goals. Green consumption is a form of sustainable consumption that allows present generations to utilise resources as per their needs while safeguarding the needs of future generations. Similarly, green production is reducing waste and emissions in the process of production. Smart infrastructure is an umbrella term for building smart cities – it includes smart mobility, smart economy, smart living, and smart governance. Carbon offsetting allows individuals or companies to invest in carbon offset projects locally or internationally to balance their carbon footprint and achieve net-zero emission goals. Supply chain modernization is strategically making enterprises' supply chains more resilient, refined, and cost effective.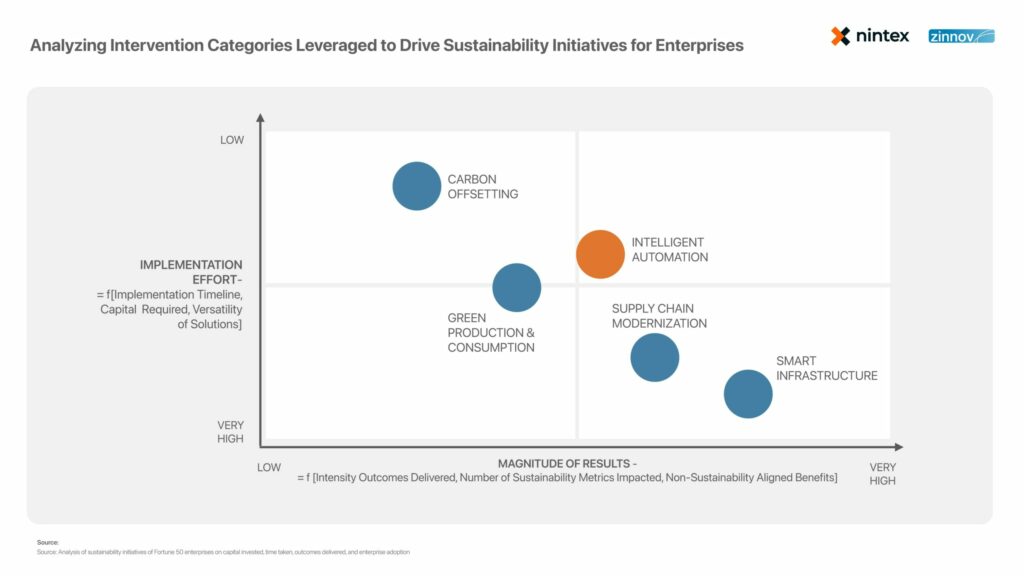 Amongst these, Intelligent Automation proves to be the most effective with respect to two metrics — implementation effort and the result magnitude. Implementation effort is a function of the timelines, capital investment, and the versatility of solutions offered. On the other hand, the magnitude of results is based on the intensity of the outcomes delivered, the number of sustainability metrics impacted by the intervention category, and the level of enterprise adoption. It proved to be the winner despite carbon offsetting being the easiest to implement, and smart infrastructure having the highest magnitude of results. This is because it is cost-effective and at a moderate level of implementation effort intensity while simultaneously delivering tangible results in a short period of time.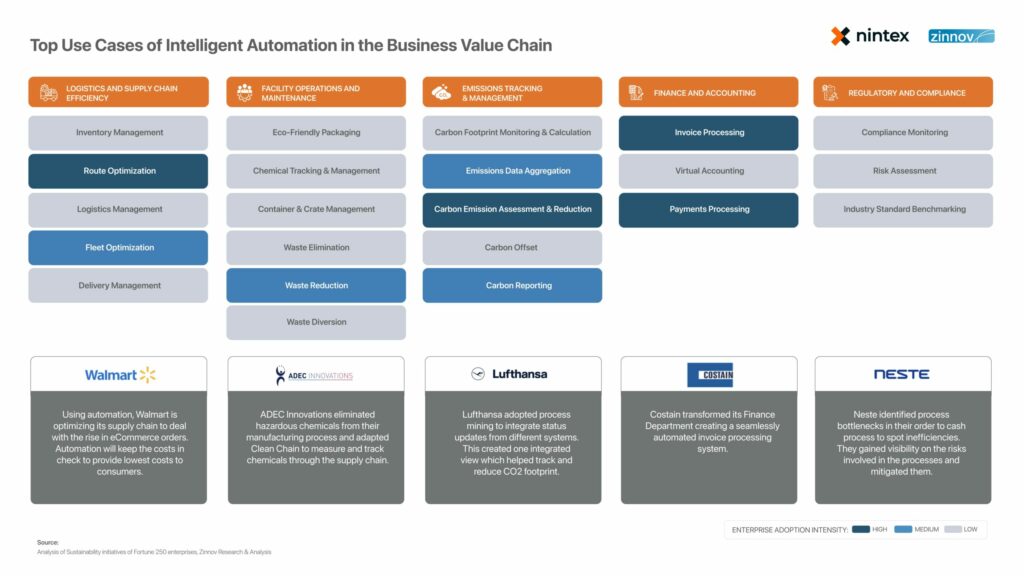 For enterprises to be able to unlock the true potential of intelligent automation in their business value chain, they must plan in a structured manner across the 3 levers of people, process, and technology. We look at all 3 levers with use cases for better understanding.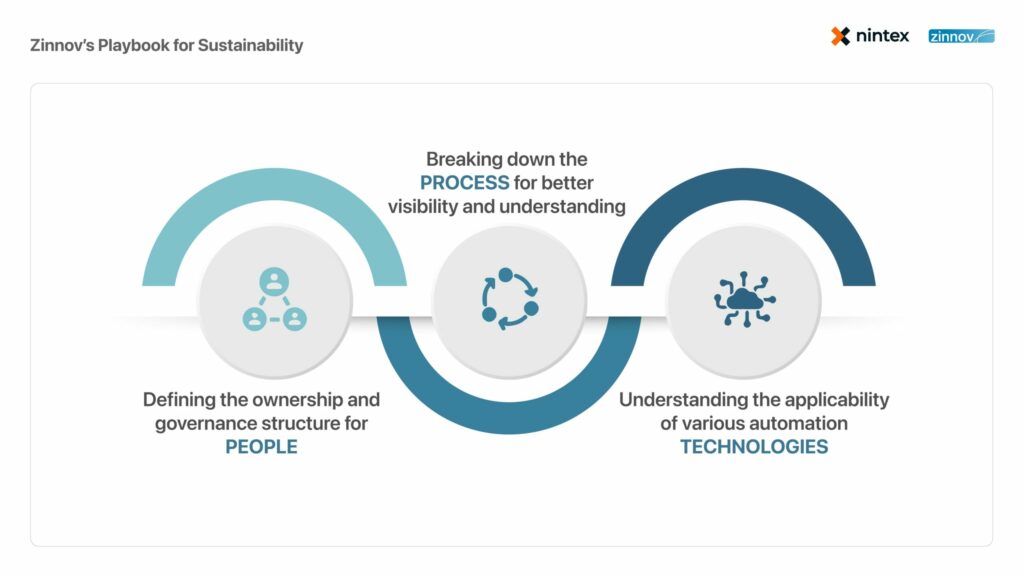 To conclude, we see how governments, institutions & enterprises have recognized the importance of adding sustainability to their charters following the rise in the effects of climate change globally. Enterprises specifically have realized that they can realize several positive outcomes by adopting sustainable practices such as lowering business risk, attracting better employees and investors, and complying with changing regulations. Further, we see that Intelligent Automation proves to be the most effective intervention for enterprises to use in embracing sustainability. This is accelerated by the already increasing demand of intelligent automation to automate business processes by several organizations globally.
To dive deeper into our playbook for sustainability, read our recently published whitepaper Helping Enterprises Realize Their Sustainability Goals Through Intelligent Automation.
To learn more about sustainable business growth, get in touch with us at
info@zinnov.com