Even as little as a decade ago, ownership of assets was at the heart of successful businesses. Even as recent as two decades ago, you would have needed deep pockets, a relationship with an Ambani or a Hilton, or hefty bank loans to become a hotel magnate with multiple properties across different locations and manage their day–to-day operations. Come 2015, and the sharing economy turned this model on its head. Today, strong businesses are leveraging under-utilized assets available in the market rather than owning everything themselves. Think of Airbnb and Uber, both of which leveraged the asset-light, sharing economy paradigm, which are larger than the largest group of hotels and cab companies by diversifying risk through diversified ownership.
As the world flattens even more, globalization models are evolving into asset-light, value-heavy paradigms, with co-working spaces, gig workforces, remote work, etc., taking center stage. Additionally, the speed and cost of establishing a global center has become asset-light and near frictionless. The option of setting up an entire Global Capability Center (GCC) in a best-suited location is not really feasible for a lot of organizations, especially the ones that might just be starting out. Recognizing the gap between need and affordability led to the birth of the Virtual Accelerator Model. With the pandemic moving entire workforces online, and enabling a completely virtual work environment, the possibility of hiring the best talent across time zones and having them work towards one vision is now easier than ever before.
A Virtual Accelerator is how an organization establishes processes, infrastructure, and business continuity mechanisms so that the center can be operated completely virtually. It works across business units (BUs) or product lines within a BU and has leading-edge knowledge or competencies in a specific domain. It is comprised of highly-skilled individuals and experts spread across locations, who disseminate knowledge in an organization and recommend best practices. In essence, a Virtual Accelerator leverages a distributed workforce in an optimal way to drive value for the company in a virtual setting.
The Inception
If necessity is the mother of innovation, feasibility is the midwife. The Virtual Accelerator became a necessity when we identified a gap between what companies wanted and what resources they had available to them. While eager to hire global talent, companies realized that they did not have the in-depth know-how, or bandwidth involved in building centers at various global locations from the ground up.
As the pandemic necessitated en masse remote working, it compelled leaders to explore completely virtual centers to leverage the best digitally skilled talent to meet the company's goals. Companies across verticals especially those in Software, Healthcare, Logistics, and Automotive, have realized the merits of exploring and setting up completely virtual centers.
The asset-light and value-heavy model have proven to be strategically optimal for companies in adapting to the current global situation. Not only this, but it also future-proofs businesses against the evolving new normal, where talent is at the core of creating long-term business value.
A Model for the Future
We at Zinnov believe that consulting does not end with suggestions – it, in fact, begins there. Working with the client through every step of their journey, assisting in strategy as well as implementation of various functions, and running the center end-to-end is of paramount importance. A successful Virtual Accelerator setup becomes a reality only when it is an ongoing value offering that the partner company provides an organization.
What makes the Virtual Accelerator Model the perfect choice?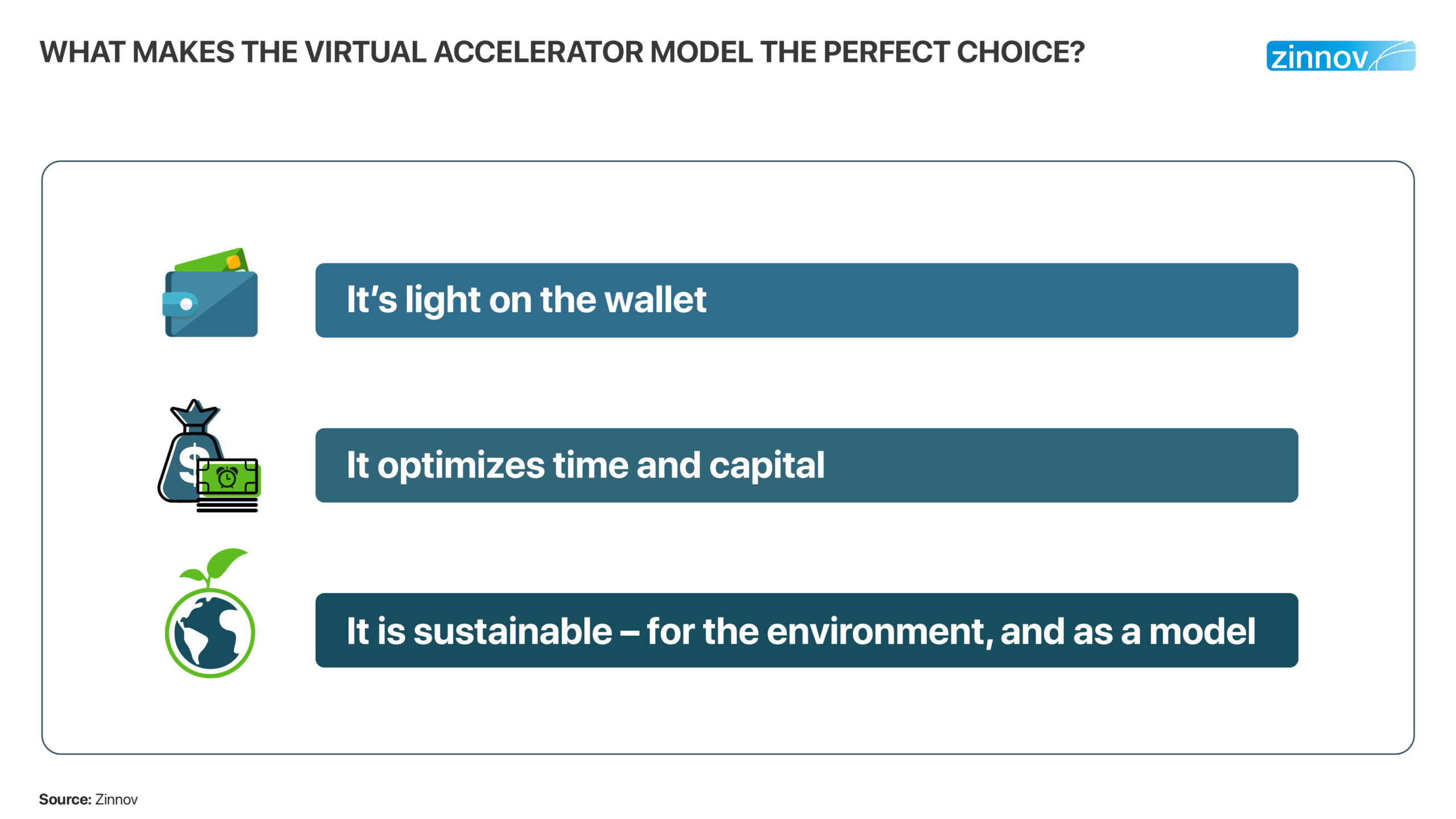 1. It is light on the wallet
According to an April 2020 Zinnov survey of Private Equity (PE) firms and PE-owned companies, a massive 96% revealed that they were prioritizing cost optimization during the COVID peak in the US. And this has only become more prominent in mid-2021, with the pandemic still raging.
The asset-lightness of the Virtual Accelerator model makes it extremely cost-effective, along with the other advantages it brings in. Moreover, the model helps solve for a trifecta of challenges that companies currently face – access to the best talent, irrespective of location; de-risk the business; and drive business continuity and innovation.
As the pace of vaccination increases, companies are embracing a hybrid work model in an otherwise unimaginable pace. In this model, companies choose to have plug-n-play workspaces where they pay-as-they-go for a few days of work. This not only ensures feasibility, but also that employees don't miss out on watercooler conversations, learning through osmosis, brainstorming sessions, and building a cohesive organizational culture.
2. It makes the best of time and capital
Another benefit of the Virtual Accelerator model is that it makes the best use of available resources. It offers financial benefits, while also optimizing both time and capital for the company. What is of utmost importance here is diligent planning and smart allocation of resources.
Companies that have adopted this model have been observed to mature faster – meaning, they have experienced higher profits in shorter durations. This can be due to a variety of factors such as the ability to expand faster and the opportunity to focus on building a diverse offer line-up or passive streams of income.
Now think in terms of human capital – when an organization has most of its workforce focused on running its business efficiently, it leaves no budget to add more people to the team. The Virtual Accelerator model helps solve this roadblock with its thesis of being value-heavy and asset-light. Businesses can hire experts as and when required, instead of having dedicated teams for roles that do not have continuous and/or permanent work in the team's functioning.
Here's a real-life case in point of how optimization of resource usage can be a game-changer for a business. A Zinnov client, who was concentrating on developing new products had its R&D function suffer due to a lack of resource allocations. The organization moved 40% of its R&D budget to a low-cost region like Bengaluru, which not only helped them keep costs low but also resulted in an added 30% capacity in the focus area – all within the period of a year.
3. It is sustainable
Time and again, the Virtual Accelerator model has proven to be not just efficient, but also sustainable for multiple reasons. Of course, there are obvious reasons like companies being able to reduce their carbon footprint with decreasing office infrastructure and removing daily commute from the employees' routines.
But one of the unapparent manifestations of a sustainable system is the positive impact it creates on the lives of its employees. While companies can hire from a larger, more diverse talent pool from around the world, the employees can enjoy the benefits of remote working such as better work-life balance and flexible schedules. Better focus, engagement, and ability to drive value creates happier and more productive employees – all of which are telltale signs of a system that is built to last.
Globalization is an integral factor that powers a sharing economy, which in turn facilitates the success of asset-light models. The asset-light and value-heavy model offers the perfect solution for organizations looking to expand their geographical footprint in a risk-free manner. The future is digital, inclusive, and sustainable – and businesses that understand this mantra cannot go wrong.
Want to know more about how Zinnov can help your business grow with Virtual Accelerators? Drop us a note at
info@zinnov.com
, and have your queries answered.