Introduction
Conferences, trade shows, showcases, et al. are different types of events that are staples of a company's business strategy to position their brands, disseminate knowledge and best practices, create a networking platform for industry experts and senior leaders, engage with customers in a meaningful way, and bring in potential leads. Though companies prefer to conduct events in-person, the ongoing COVID-19 situation has transformed the very contours of such sessions. With restrictions in place around travel, crowds, and overwhelming health concerns, they are increasingly moving online.
These unprecedented times have pivoted the very modalities of running events. With people's safety and health taking precedence, a digital event that can be attended from the comfort of one's home has become the go-to mode for putting up a conference for companies – big and small. A digital or a virtual conference can be a small-format, single session online event that features a webinar, a panel discussion, a fireside chat, etc., or a large-format, multi-session digital conference that features multiple keynote talks, fireside chats, and panel discussions.
Given the current constraints due to COVID-19, a digital event is the most optimized solution for all involved. However, with COVID-19 having accelerated remote work and access to pretty much every digital resource on the planet, digital events won't be a flash in the pan but a new reality of this decade. Hosting world-class digital events will become table stakes for companies looking to create differentiation.
This Zinnov whitepaper provides insights on successfully running digital events – both smaller-format as well as large-format sessions successfully – no matter the purpose of the event, drawing from its years of experience of running hundreds of events of every format annually, across the globe.
Why Host a Digital Event
In a post-COVID world, digital events will become the best way to host large crowds, where information, perspectives, and trends can be disseminated in a safe and easy manner, across the globe. Digital events are:
Location-agnostic: Digital events offer the flexibility of hosting them from any place, with audiences invited from across the world to attend. No matter the location the attendee is in, if the event theme is relevant for their work, they can merely register, attend, and gain insights and perspectives from leading practitioners and industry experts.
Economical: Hiring an arena or a convention hall can sometimes run into tens of thousands of dollars for just one day, not including venue insurance, food & beverages, accommodation for speakers, and travel and stay costs of the organizing team. All these aspects are non-existent in a digital event. This same capital can be channelized to procure the best network bandwidth and digital infrastructure to conduct and promote the digital session.
Scalable: A digital event is immensely scalable, accelerated by quick turnaround times from all stakeholders involved. At a fraction of the cost of running a conventional conference, a digital event can host up to 50,000 attendees per event. This not only ensures a wider event reach (the world is your oyster!) but also amplifies brand awareness.
Pandemic-resilient: Although plenty of events were canceled in the wake of COVID-19, a digital event is pandemic-resilient by nature. Extreme weather, unforeseen problems at the venue or a global pandemic won't cripple a digital event. A working laptop with good Internet connectivity is all that is needed to be a part of a digital event.
Eco-friendly: In these times of increasing focus on minimizing the carbon footprint, digital events are highly recommended because of their eco-friendly and sustainable nature. Digital events lessen the need for people to travel hundreds of miles to reach the venues, reduce food waste (if it is offered at the venue), lower electricity usage, reduce the printing of branding needs, to name a few. Accessing a digital event from the comfort of one's home can significantly lower the carbon footprint caused by conventional events.
The Value Chain of an In-person Event
To better understand how to run a successful digital event, it is important to study the value chain of a typical event (Figure 1).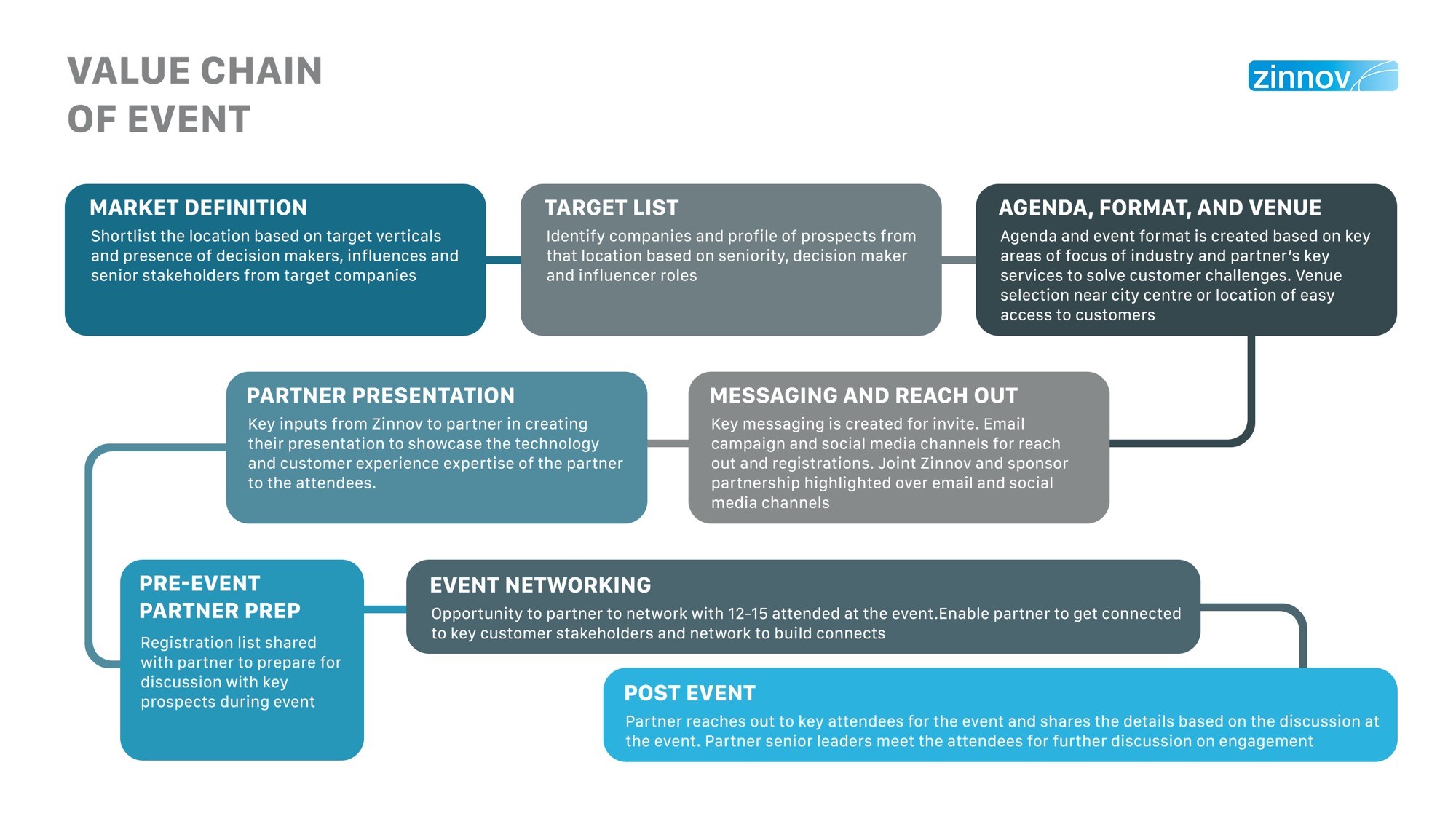 The Value Chain of a Digital Event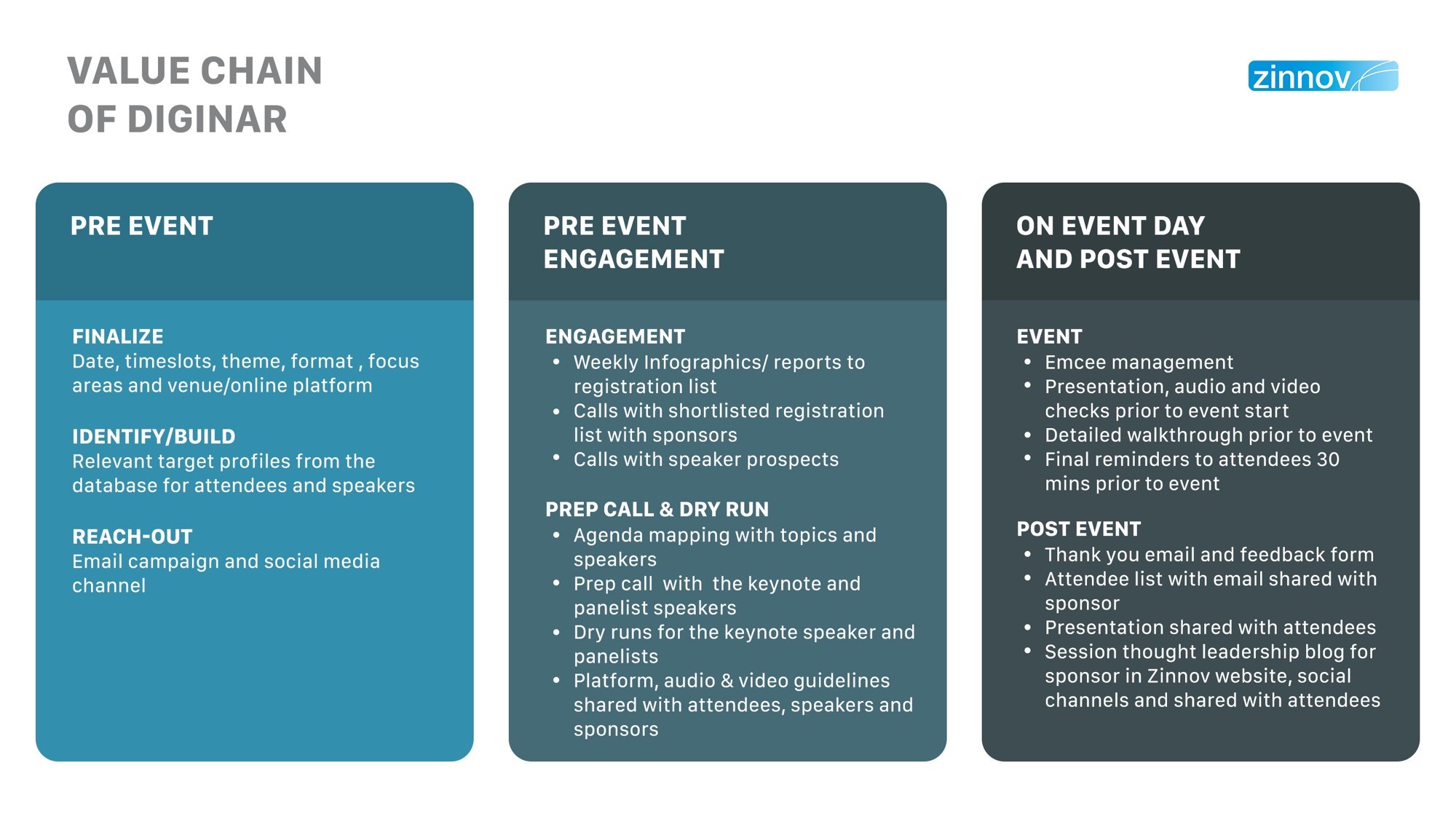 A typical digital event has fewer constraints than a conventional in-person event because the world is, quite literally, the host's oyster! Being location-agnostic, digital events open up a plethora of potential relevant audiences from around the world to reach out to. However, shortlisting the target profiles of attendees is a key step in the value chain of a digital event, which ensures value for all the stakeholders involved. Once the email and social media campaigns are kickstarted, sifting through the registrations to ensure registrant relevance becomes crucial.
Digital Event Partner – The Ace in the Hole
Working with a strategic partner to execute events is the ace in the hole that will set apart forward-thinking companies in the cluttered technology ecosystem. Zinnov has been at the forefront of organizing world-class thought leadership events across multiple formats – working sessions, roundtable events, C-level forums, conferences – for over a decade now. Zinnov's research and domain expertise of over two decades across technology organizations and verticals, combined with its experience of successfully running 100+ events in 2019 alone, positions it as a formidable leader.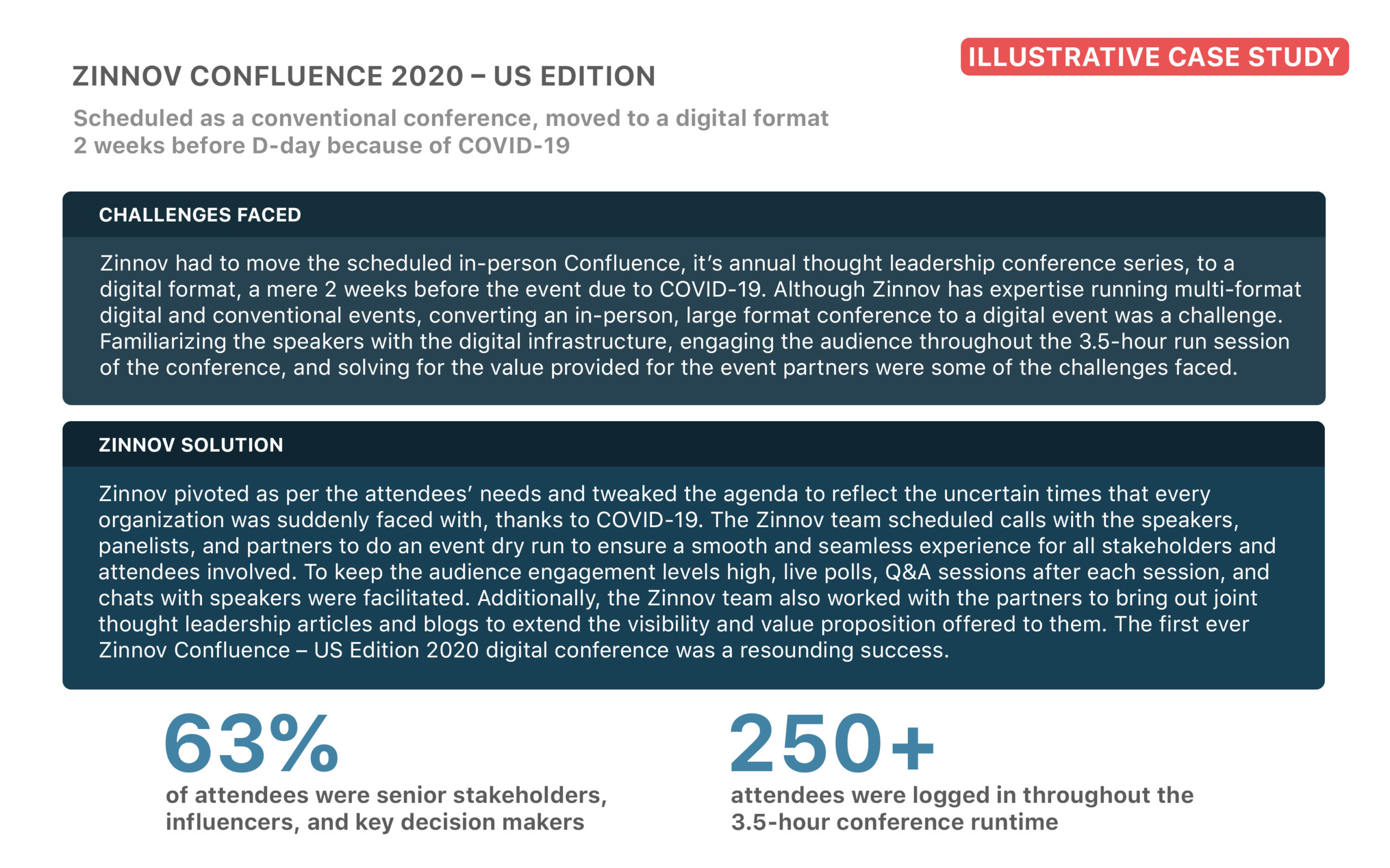 Zinnov has been instrumental in driving the technology narrative that defines the future of global companies. Zinnov's events are a perfect platform for participants from across industries and organizations to keep abreast of disruptive technology and leadership trends that will shape the ecosystem. For organizations that leverage Zinnov's expertise to run such events, this is a clearly defined go-to-market and lead generation strategy.
Zinnov ensures a smooth digital event by –
1. Technology Infrastructure
Running a digital event and providing a seamless experience for all the stakeholders involved hinges on the technology infrastructure leveraged. A robust technology infrastructure forms the crux of a digital event. It should have the capacity to host thousands of people at once, allow for easier content dissemination, have robust security features to ensure data privacy, and enable seamless attendee engagement, hosting multiple sessions, and virtual networking amongst the attendees, speakers, and hosts. Additionally, a strong Internet connection is a must.
However, there are certain risks involved in hosting a digital event such as low Internet bandwidth, network fluctuations depending on the geography, attendees and speakers logging in through older models of laptops, unforeseen electrical outages, to name a few.
To mitigate these risks, a back-up Internet connection through a dongle or a powerful enough mobile hotspot connection is a must. While network fluctuations and logins through older models of laptops aren't in the host's control, a set of guidelines outlining the steps to ensure a seamless experience goes a long way in winning the attendees' trust.
Going a step further, scheduling dry runs with each speaker and panelist two days prior to the event will not only ascertain that they are comfortable operating the technology infrastructure from their end but also avoids event day missteps and glitches. This will particularly come in handy when the speakers have presentations as part of their sessions so that there are no surprises on the day of the event.
2. Attendee Experience
The onus of ensuring a seamless experience for all attendees rests on the host's shoulders. From ascertaining the necessary technology infrastructure to attendee engagement before, during, and post the event, attendees should come away from the event with an immersive, insightful, and an incredible experience.
Engaging the event registrants is as important as getting the required number of attendees. In the week leading up to the event, weekly touchpoints through relevant infographics, reports, perspectives, etc., will ensure engagement with the registrants. Additionally, as a best practice, the host needs to outline a set of guidelines for the attendees that detail the steps, right from login details to troubleshooting steps to emergency contact details, and share them with all attendees to ensure a smooth event experience. Another essential element of attendee engagement prior to the event is to solicit questions that they would like the speakers to address during the sessions. This not only builds up anticipation but also ensures that the attendees log on for the event to listen to their questions being answered by a particular speaker(s).
What does audience engagement look like on the day of the event? Although there is a degree of impersonality when being a part of a digital event, it need not necessarily be that way. That's where interactive polls, interesting contests and quizzes, live Q&A sessions and chats to enable attendee-speaker interactions come into play. Though there is a certain degree of risk of attendee drop out during the event, the above-mentioned points help mitigate low attendee interest to some extent. Additionally, for the attendee queries that weren't answered by the speakers during the session, perhaps due to a shortage of time, it behooves the host to get the responses from the speakers and send them to the respective attendees.
Certain attendees might even drop out because of unforeseen power outages or some might have simply forgotten to log in on the day of the event. Hence, sending out the audio and/or video recordings of the event, along with key takeaways immediately after the event is done, holds the host in good stead. This also creates an open channel of communication between the host and the attendees for further engagement.
3. Speaker Experience
Any event is elevated from good to great by the quality of its speakers. In essence, speakers are a critical cog in the event wheel. Right from bringing onboard the speakers for the event to scheduling calls with other speakers (if they are part of a panel) to walking them through the agenda and the event flow during the dry run, the host has their work cut out for them. Besides these, a day prior to the event, the host needs to share a set of guidelines with all the speakers that detail the steps for a smooth event experience. This includes login details, basic hardware and software requirements, troubleshooting steps, and emergency contact details.
The host also needs to ensure that the speakers are engaged enough prior to the event by keeping them updated on any unforeseen, last-minute changes to the agenda or the speaker line-up. Additionally, the host should share all the questions gathered from the attendees, so that the speaker can prepare their responses and work them into their talks and presentations.
During the event, the dry run mentioned above will help speakers navigate through the technology infrastructure comfortably, without having to seek the host's help at the last minute. Not only will this ensure a seamless experience for the speakers, but for the attendees as well. And of course, the thank you notes to the speakers post the event creates an open communication channel for any future engagement.
4. Overall Event Experience
A digital event has the potential to become monotonous quicker than an in-person conventional event. Plus, there is the added distraction of surfing on the Internet if the sessions tend to become uninteresting. This is where the event format and the audience engagement strategy outlined above play a key role in breaking the monotony. Interspersing riveting keynote talks with fireside chats and panels with multiple speakers bringing in diverse perspectives is a great way to format a digital event. Additionally, the content relevance to the attendees as well as time management play a critical role in keeping attendee interest high. In fact, effective time management ensures a smooth event experience for all involved, without it having to spill over into people's schedules.
Further, post-event engagement in the form of feedback solicitation, access to audio and/or video recordings of the sessions, downloadable resources in the form of presentations (if any) and key takeaways from the sessions need to be made available to the attendees quickly, which will ensure continued engagement with the attendees.
Conclusion
Conducting an event takes a lot of expertise, coordination between the various stakeholders – both internal and external, physical and digital infrastructure capabilities, key speaker connects, access to relevant attendee databases, etc. This is especially true for an event that covers niche topics related to technology, horizontal functions, leadership, customer experience, etc. Not every organization that wants to conduct such an event can successfully run it. Hence, partnering with specific companies that have the needed expertise ensures not only smooth execution but also brings in the necessary depth and breadth to the event, thus creating value for all the stakeholders involved.
As the world swiftly and determinedly moves toward a reality where COVID-19 has affected every business, companies need to gear themselves to experience digital conferences, which will become seamless aspects of a new normal. Digital conferences with multi-format sessions, live Q&As, seamless digital experiences, should be the aim of organizations hosting them.
Want to partner with Zinnov to run a digital conference? Or have a query about Zinnov events? Drop us a note at
events@zinnov.com
.