Over the past decade or so, Indian global centers have redefined their narrative to one of value creation and breakthrough innovation, rather than of cost arbitrage by transforming and rewriting their center personas. Zinnov research reveals that India is currently home to Global Capability Centers (GCCs) of 1250+ MNCs, with a total installed talent base of a massive ~1Mn. This talent has grown exponentially over the last few years, to create a niche for itself as skilled tech talent. These factors collectively mark the beginning of GCC 3.0, the next phase of growth for global centers in India.
Zinnov-NASSCOM India GCC Trends
Quarterly Analysis Q4 2022
Download here
The following 5 GCC trends showcase why India continues to be the favored destination for global MNCs and start-ups alike to set up their centers.
1. The ER&D Dominance
India continues to be the top choice for global MNCs to set up their centers, thanks to a combination of factors such as skilled talent availability, access to Asia, a positive demographic dividend, an adaptive and diverse culture, to name a few. In fact, FY2019 witnessed the likes of Oppo, Vivo, Koch, and Atlassian setting up their GCCs in India. This keeps the rate of GCC establishment consistent at ~9% over the last two decades.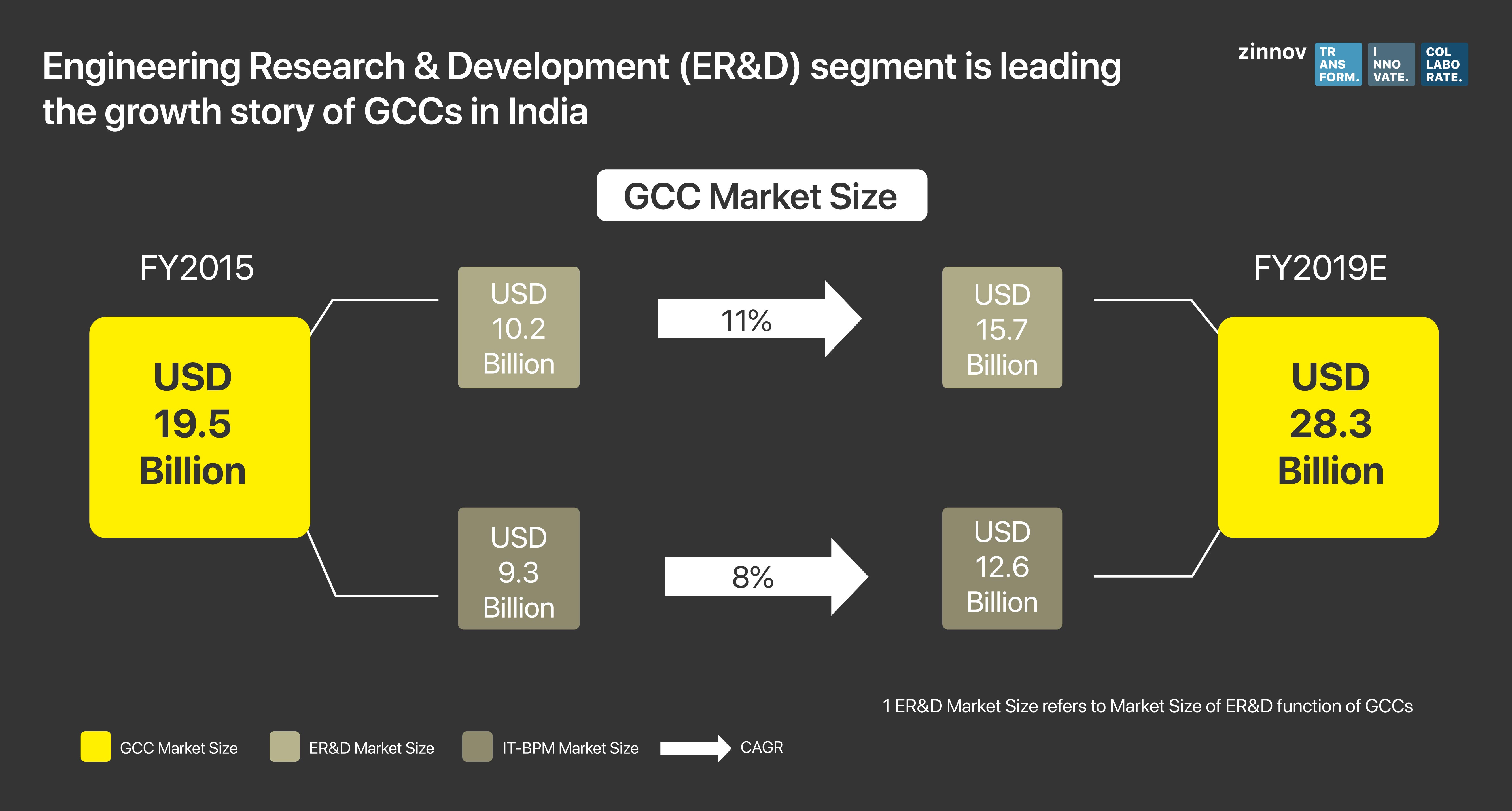 Engineering Research & Development (ER&D) is leading the growth story of GCCs in India. While the GCC market size has grown 8.4% in FY2019 alone, the GCC ER&D market size has clocked in ~11% growth thanks to the increasing focus on products and platforms, along with the rising penetration of digital and software across industries. In fact, over the next few years, ER&D will dominate the GCC market space, as companies increasingly focus on digital transformation and end-to-end ownership of global and local products from India.
2. The Location Power Play
Bangalore emerges as the top contender housing the lion's share of GCCs among all the metropolises in India. 100% of unicorns looking to set up their centers in India, prefer Bangalore as the destination of choice. Bangalore is the clear leader in attracting GCCs for most verticals, especially those involved in developing Hi-Tech solutions.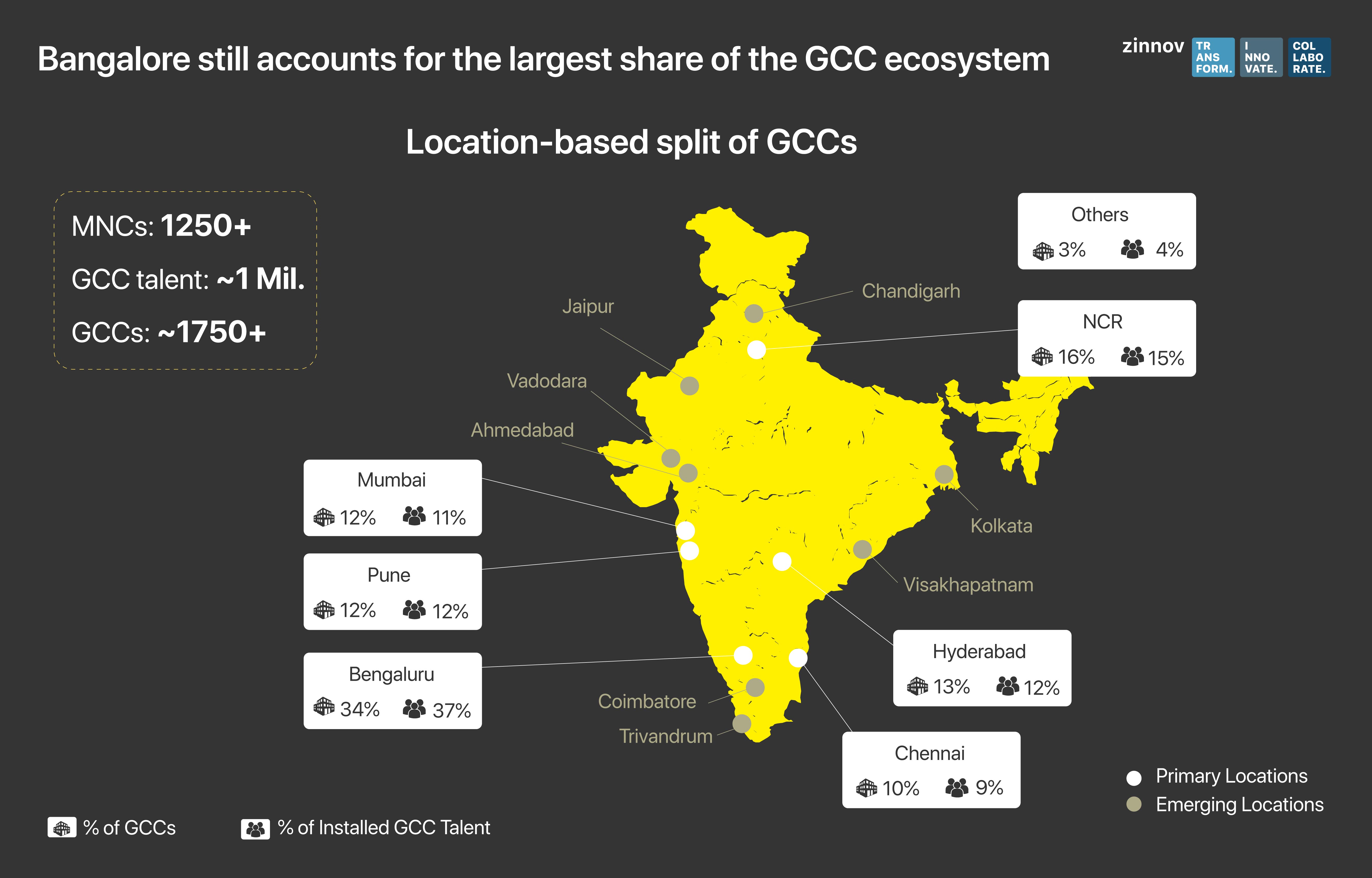 In the recent past, besides Bangalore, Hyderabad has seen a significant uptick, with many GCoEs being set up. Interestingly, Hyderabad has the second-highest proportion of MNCs in software and semiconductor verticals, emerging as the next Hi-Tech hub. NCR is a hub of most media & entertainment GCCs, with the presence of companies from software & Internet, electrical & electronics, as well as BFSI verticals. Pune, on the other hand, is a hub for core engineering verticals such as automotive, chemicals & materials, and industrial, but also houses many BFSI GCCs. Mumbai is home to the offshore arms of MNCs operating in the chemicals & materials vertical.
3. Dawn of the Tier-2 Cities
Besides Bangalore and other tier-1 cities, tier-2 locations like Coimbatore, Ahmedabad, Vadodara are being leveraged by Service Providers and GCCs alike, in search of skilled talent. Ahmedabad and Vadodara together are among the cities that are experiencing high traction due to growing prominence and rapidly improving infrastructure and connectivity. Vadodara has emerged as a key tier-2 location for MNCs to set up their R&D centers in verticals such as Chemicals, Industrial, and Software & Internet. Kolkata is another city that has, over the years, shed its image of a non-starter by attracting R&D centers in the software vertical, with increasing talent availability. In the South, Coimbatore is increasingly gaining prominence for varied industry verticals, thanks to the low cost of operations and improving ease of business.
4. India, the APAC Hub
Among the more than 1250 GCCs in India, North American MNCs retain the largest pool of centers. However, APAC-headquartered MNCs are steadily making their presence known thanks to the rapid growth they are experiencing. While ~70% of GCCs have their headquarters in the US, nearly 10% are based out of the APAC region. Our analysis shows that this trend will only continue over the next few years.
These APAC-headquartered MNCs are increasingly leveraging India for their digital initiatives. Japan and Singapore contribute to more than 64% of installed APAC-based GCCs in India. Further, more than 60% of the APAC-based GCCs are based out of China. This trend has emerged particularly starkly in the last three years. Digital Native GCCs are putting together diversified product engineering teams with data scientists, product managers, etc., in an attempt to adopt the microservices architecture. Some of the APAC-based MNCs include Hitachi, Grab, Huawei, etc.
5. Rise of Global Unicorns in India
India is not just attracting traditional companies, but unicorns as well. As of 2019, there are close to 8 global unicorns with centers in India. In fact, between 2015 and 2018, India has witnessed a 3x increase in unicorn GCCs. Some of these unicorns include US-headquartered Uber, Singapore-based Grab, New York-based UiPath, and Indonesian GoJek. Most of these unicorns that are setting up their centers are leveraging India's talent for platform engineering.
As the above trends demonstrate, India clearly continues to top the globalization chart. Our analysis shows that this will not abate in the near future, thanks to a combination of factors such as the steadily maturing of local ecosystems, increasing installed talent in tier-2 cities, evolving university landscape, dynamic start-up ecosystem, and proactive Government support for the development of local ecosystems.