"Focusing on the customer makes a company more resilient," said entrepreneur and e-Commerce mogul Jeff Bezos, and rightly so. Customer-centric strategies play an important role while implementing a successful digital transformation framework. Digital advancements and rapidly changing consumer behaviors, are driving major shifts in the market.
Today, as digital transformation efforts are on the rise across all industries, firms are realizing that poorly designed digital experiences and inconsistent customer touch points can have a negative impact on the success of a business. Creating a differentiated experience is crucial to attracting new customers and thus, generating recurring revenues and greater profits. Every department needs to set their respective targets in order to fulfill the firm's CX strategy.
Historically, enterprise spends across information technology, marketing, and design & development operated within their individual bubbles whereby different players addressed specific wallets within organizations. As the B2B, B2C, and D2C businesses expedite their digitalization investments in new-age technologies, newer areas of cross spending have been created within organizations.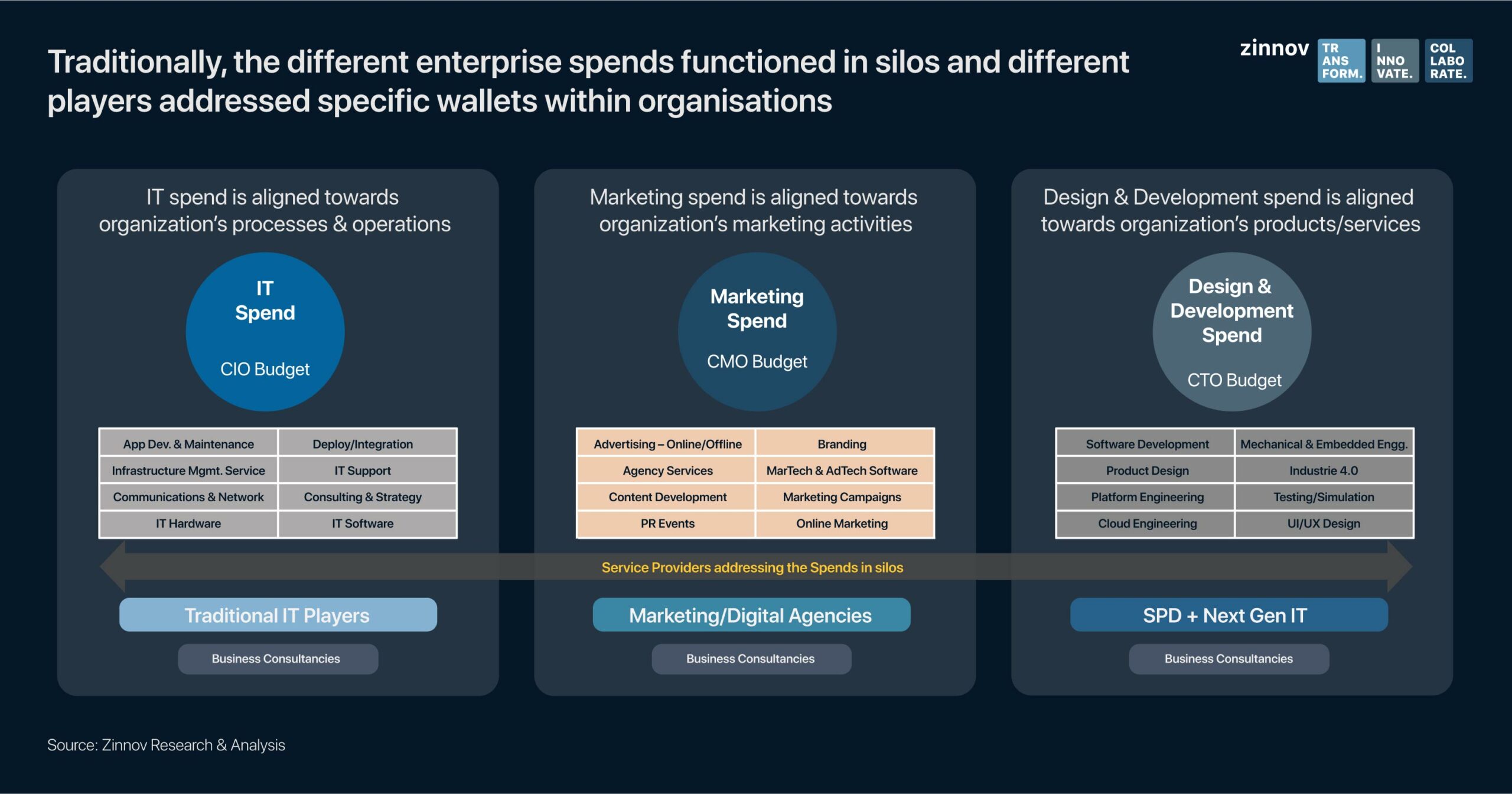 Changing Industry Dynamics
In today's customer-driven world, building products and platforms with the latest technologies is not enough. It is important to design user-friendly websites and mobile apps with automated experience and superior omni-channel presence. It is imperative for customer-focused business units such as marketing, sales, and customer service to interact with technology-focused business units such as design, software development, and engineering.
PE INVESTMENTS IN TECHNOLOGY SERVICES
Read The 2023 Report
CLICK HERE
This interdependence of different functions has led to a convergence in spends which in turn has created newer digital markets, thereby, forcing service providers to address these markets through a different lens. The traditional players who catered to different segments of the market have slowly started building their capabilities across different stacks to become end-to-end players. Service Providers don't just want a small chunk of the bigger pie but the entire pie in itself.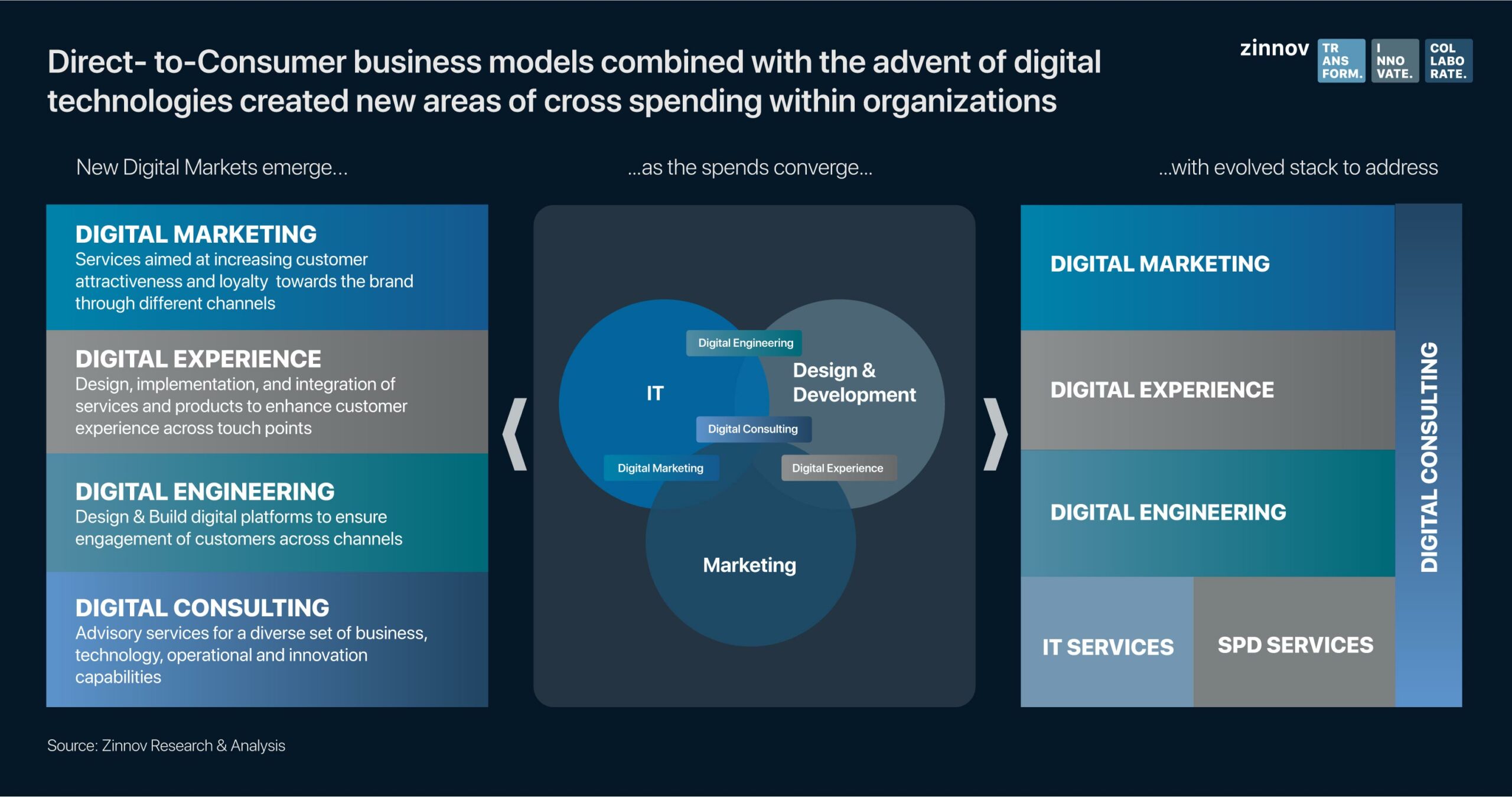 Every Service Provider is in the race to become a 'Transformation' partner, a one-stop-shop for enterprises' digital needs. This heavily fragmented industry is now consolidating where we've seen IT giants, marketing agencies, business consultancies, and software development firms building capabilities across the digital spectrum to offer holistic services ranging from engineering and design to data, content, and creativity, as well as advisory services. To help brands increase customer acquisition, loyalty and engagement, a number of firms have come in play to deliver exceptional experiences.
Traditional IT players like Accenture and TCS were largely addressing CIO/CTO budgets back in the day. This has changed in the past few years as large players are slowly converging by acquiring assets to boost their digital capabilities and providing end-to-end services including engineering, experience, and marketing related activities. IT giants Accenture and TCS have positioned themselves as full-service players through their dedicated Accenture Interactive and TCS Interactive businesses respectively. Even business consultancies like Deloitte have expanded into the customer-centric design space by setting up Deloitte Digital.
Another example of this trend of CX excellence has been the acquisition of global CX-design house, PK by a BPO firm Concentrix. This acquisition helps Concentrix build a dedicated CX-practice as part of their growth strategy of investing in digital transformation. 2021 also witnessed the acquisition of software engineering firm, DTI Digital, by WPP. This acquisition supports WPP's growth strategies defined at the end of 2020 that includes building their presence in experience and technology.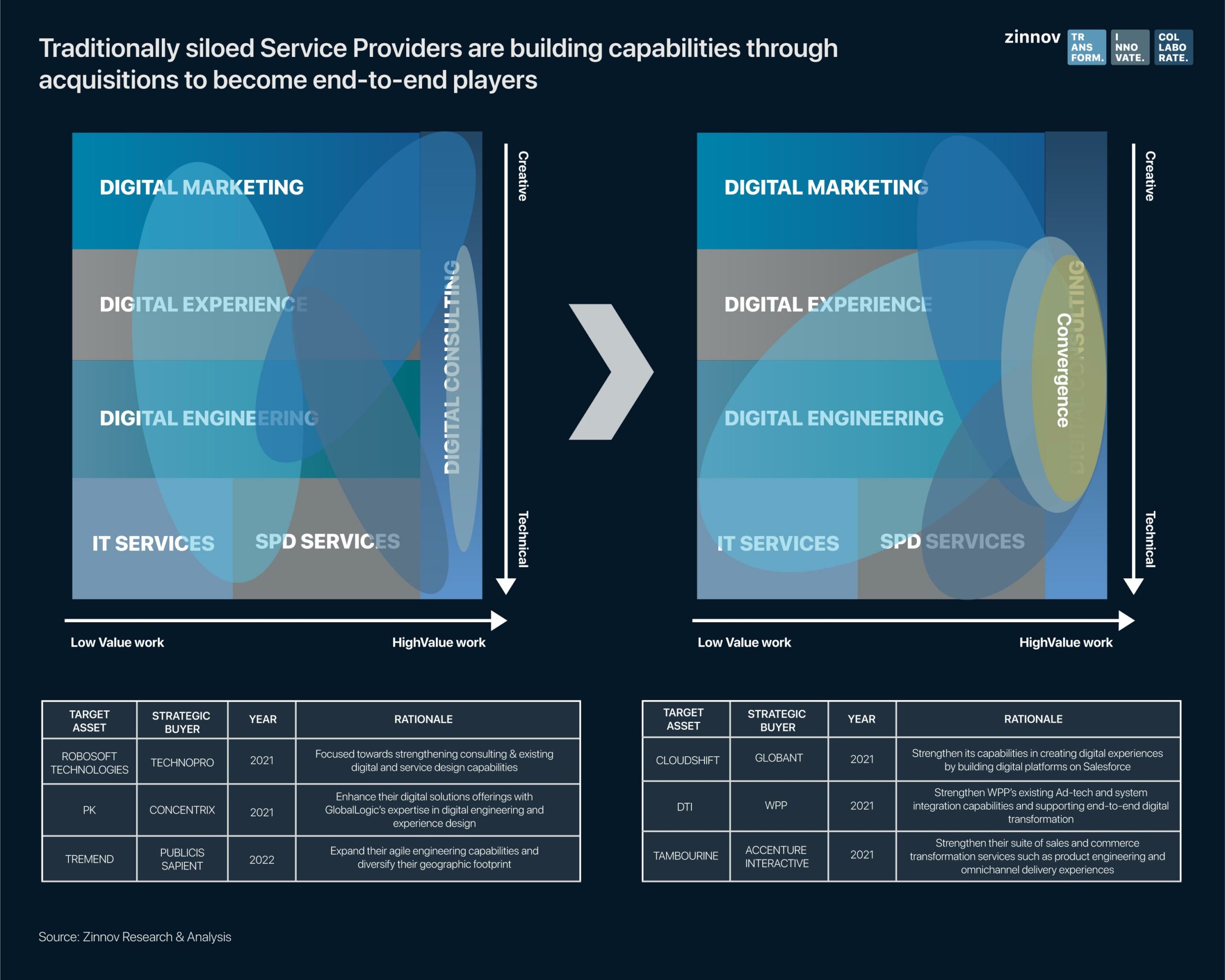 Adopting the Culture of Customer-Obsession
Zinnov's in-depth analysis of the digital experience firm Valtech as the sole commercial due diligence advisor to BC Partners has helped us identify the key technologies and processes adopted by some of the successful experience-driven firms.
1. Digital Experience in the Age of Data & AI
With the enormous amount of data available in the modern world, Artificial Intelligence and Machine Learning make it easier to gather, analyze, and study behavioral data to create hyper-personalized experiences.
2. Human-Centric Design Strategy in Play
Human-centric design is an art in itself and one of the most crucial tools in the CX playbook. UX and human-centered design help add value through combination of strong strategic insight and engineering excellence.
3. Futuristic Ways of Designing in Mixed Reality
Immersive technologies are an integral part of exceptional CX and have been helping Service Providers create user-friendly customer journeys with a much more realistic approach. Experience-driven firms are helping their clientele build customer loyalty by developing virtual creations of their products and services to offer a physical-like experience in a virtual environment.
4. Agile Methodology for CX/UX
It is imperative to encircle all the design-strategies, customer centric-solutions, and digital capabilities through an agile approach. Agile practices help cross-functional teams perform better as they bring stakeholders from different business units into one team, offering more transparency.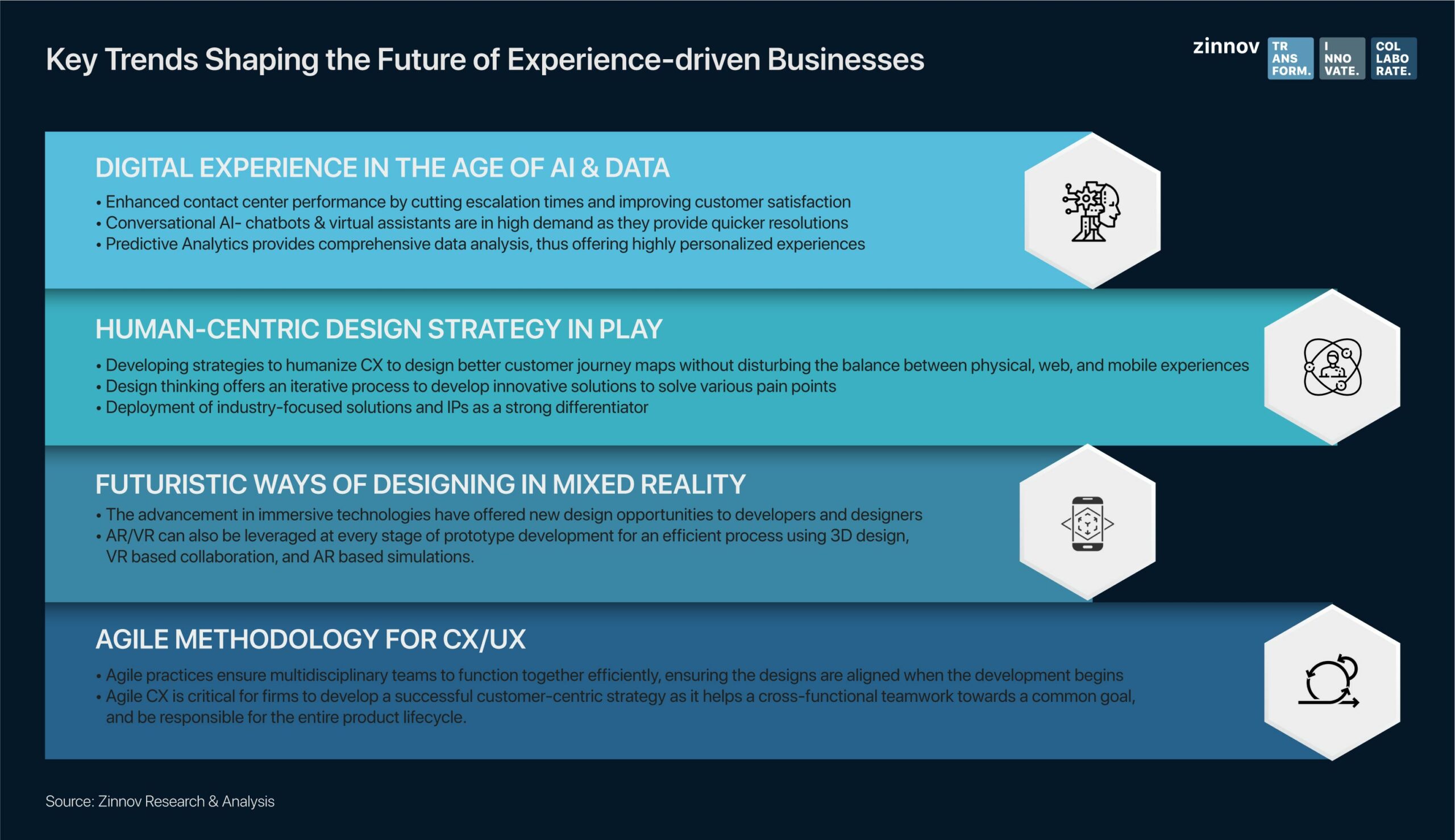 Rising Investments by PE in Experience-driven Service Providers
In modern times, UX/CX is an important differentiator and one of the most important value creation levers. This growing importance of customer-centricity has been noticed by private equity investors as well, who have been investing heavily in firms that cater to the experience segment. Investors are looking at this heavily fragmented market to poach design firms so as to help their portfolio companies build their own strategy and design arm.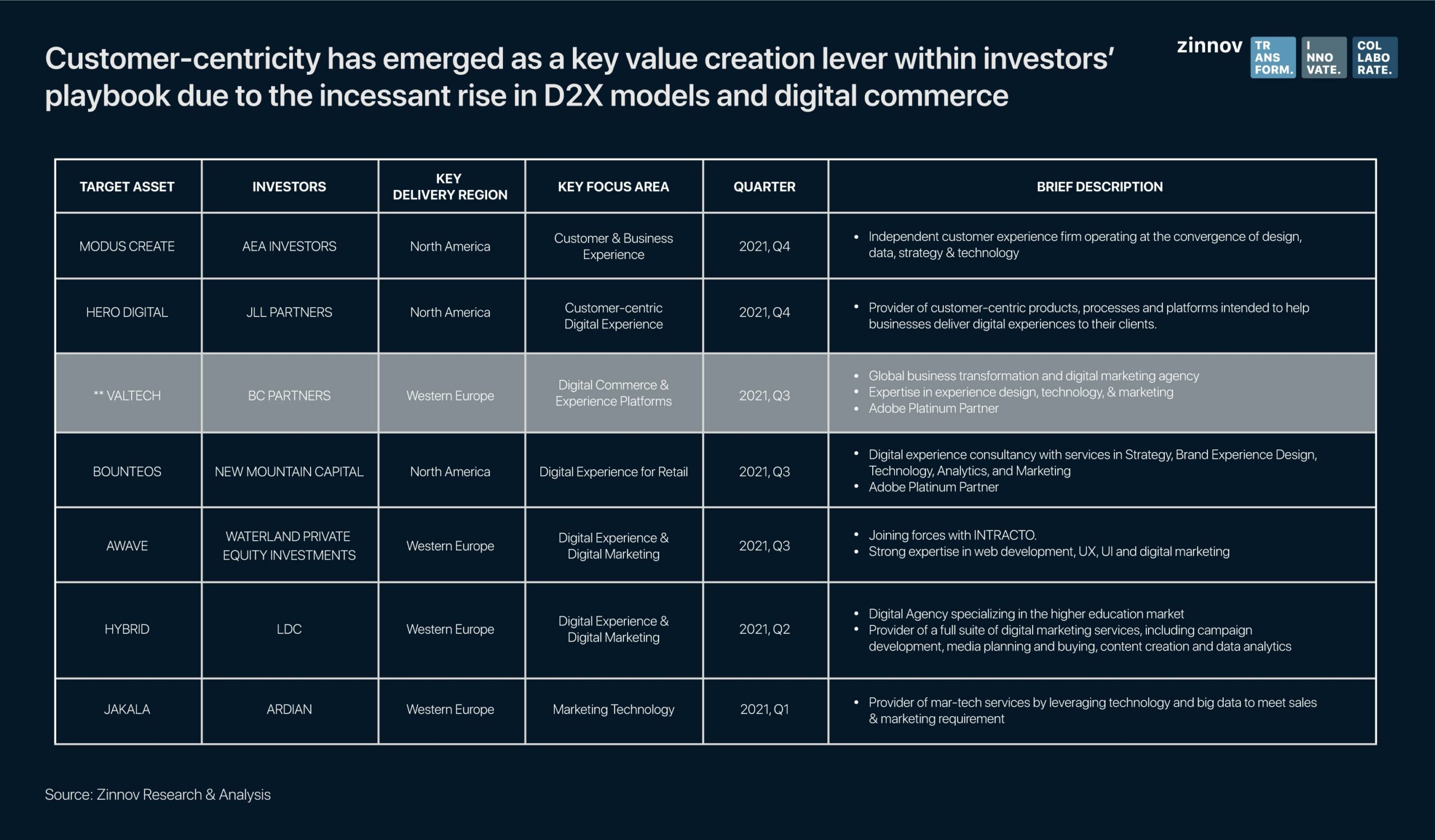 Zinnov analyzed 200+ PE deals in the digital/engineering space and we noticed that around 11% of those constituted of firms focused on providing customer-friendly design and digital marketing activities. Another 10% of the deals included Digital Service providers with an in-house experience strategy and design team.
Digital Service Providers with an experience strategy in play have been gaining greater attention from investors – strategic and PE alike, and generating higher returns. The experience market is fundamentally a good market to invest in as it is expected to continue growing from a spend as well as outsourcing perspective. This fragmented digital experience market has a huge pool of players for investors to pick from – ranging from marketing agencies to digital engineering firms.
Looking to invest in the Digital Experience services space or explore M&A opportunities for your current portfolio companies? Drop us a note at
info@zinnov.com
to get in touch with our experts!