It is interesting to see how globalization has made natural and political boundaries irrelevant. Inter-economy process integrations, people interactions, and inter-government co-operations have become indispensable for economic growth, social stability, and environmental balance. It has also, however, precipitated a single point failure system. Epicenters of disasters have no relevance in today's context. For, they escalate and encompass the whole world even before we can think of an action.
COVID-19 is one such event that has brought the world to a standstill. It has brought us to a juncture from where nothing seems certain. International Monetary Fund has warned of a recession that might be worse than the 2008 global financial crisis. An optimistic view is that the global economy will take a 1% hit – however it is too early to say as we are still dealing with the uncertainties.
If you picture the contemporary situation, factories are closed, supply-chain networks are stalled, and offices are closed. But some enterprises that thought ahead of time are still operating at the desired throttle and, therefore, are least affected.
Zinnov conducted a deep-dive analysis to understand the impact of COVID-19 in some key industries/sub-industries and the role of technology in the fight against COVID-19. We realized that the industries/sub-industries that are globalized and digitally-enabled for remote workforce operations are best positioned to combat the effects of COVID-19.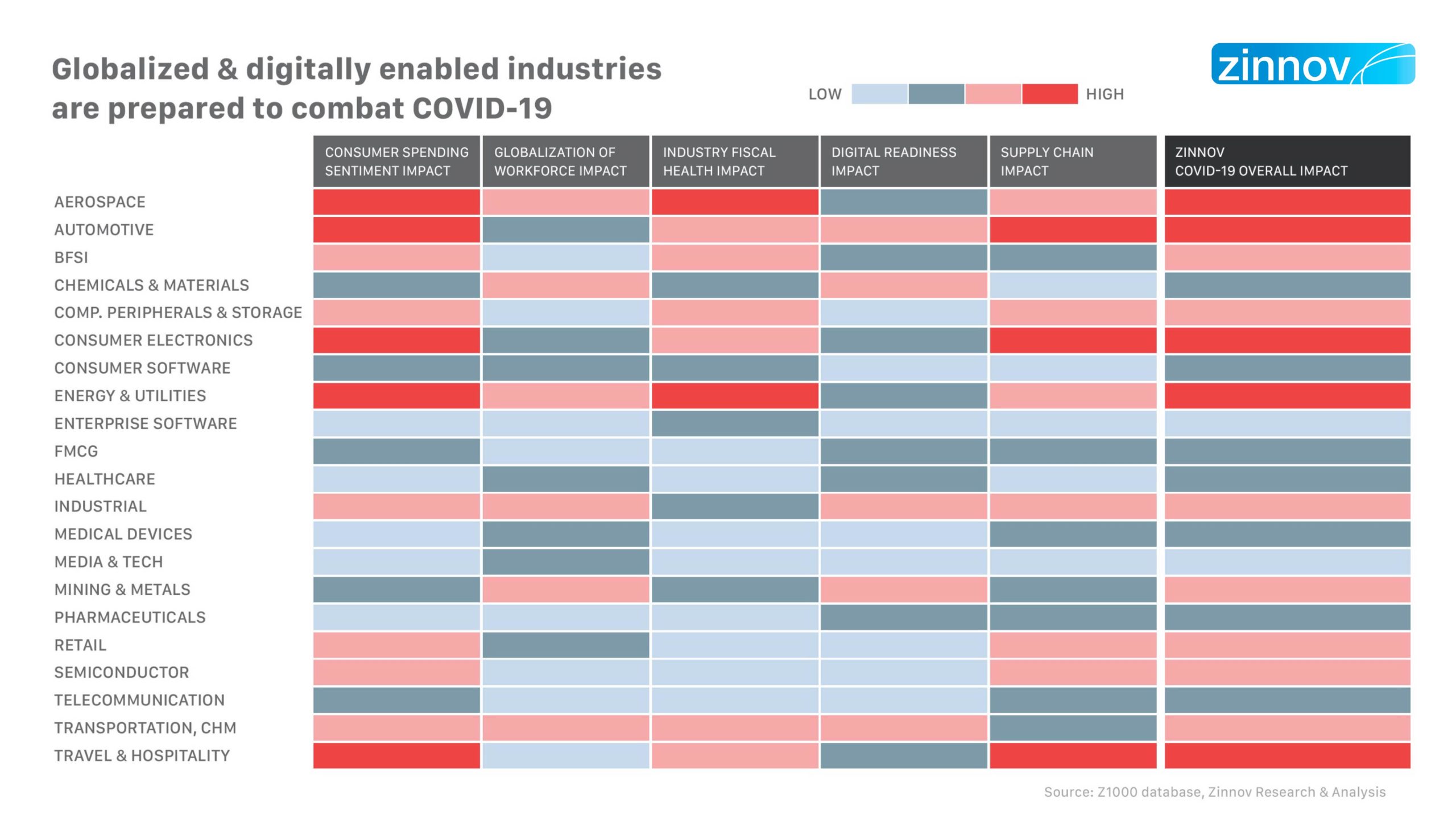 So, what actually was the weakest link that culminated in the extreme?
Clearly, our dependence on human mobility for businesses.
Rethinking Business Mobility with Digital Technologies
Let's say, we get to the other side of the COVID-19 situation and get back to 'Normal'; but, what about similar events that might occur in the future? Are we prepared?
It is clear that the next wave of innovation will be to reduce dependency on mobility for business continuity in the face of adversity. Not that the world had not been thinking and innovating in this area already, the perspective, however, will now change. There will be a shift from cost-saving, productivity, experience, etc. to continuity. The idea of continuity is powerful and will accelerate the speed of innovation.
To instantiate, think of a connected factory that can be remotely operated through a cloud-based console that gets feeds from sensors and connected machines. An operator sitting in home logs-in the console gives necessary instructions to the machines and, for movements, to robots. Products could continuously be produced and stocked. An online order can be processed automatically with the help of RFID and sensor-based conveyer belt that will direct the products to the loading dock wherein autonomous tracks can position themselves and products can be loaded by mechanical robots. On the way, the RFID-based toll bridge would auto deduct the toll fee and connected trucks can also accomplish cross-docking for delivery optimization. The product can then be dispatched to consumers by unmanned drones leveraging GPS.
In this scenario, we see how a host of undercurrent new technologies such as IOT, RPA, AI/ML, Robotics, Cloud, Edge Computing, Drones, and autonomous vehicles, if given the right thrust, can disrupt the way we work today and potentially (almost) disintermediate human physical presence. This year and in the near future, these technology interventions will be in the Industries' crosshair more than ever.
While the above-discussed scenario would not become reality at the wave of a magical wand, the cutting-edge technologies would eventually reach a level wherein human dependence for mobility might not just be as critical. The role of technology in the fight against COVID-19 will be key in the post-COVID world.
8 Digital Trends that will define the Post Pandemic world
We have summarized some of the key trends that would pick momentum as a response to the COVID-19 crisis:
1. Rapid Adoption of IOT and Edge Computing
The ability to capture micro-interactions and respond to changes as quickly as a human can make the IOT and Edge Computing duo an ultimate choice in manufacturing, supply chain, water & energy distribution, surveillance, etc. It would not just cut the cost by the virtue of the reduction in human effort, the duo, as experienced from the COVID-19 crisis, would enable business continuity without human physical presence. The global IOT market is expected to grow from USD 167 Bn in 2019 to USD 450 Bn in 2024 growing at CAGR 21%.
2. Increase in Lithium-ion battery Adoption
The Lithium-ion Battery (LIB) has been a great success in the past years and is poised to electrify the autonomous vehicle, IOT, Mechanical Robotics, and the Unmanned Drones. The LIB market is expected to grow to ~USD 28.7 Bn by 2025. A dozen of leading players in the energy sector have announced their plans to manufacture LIBs in India. For e.g. Exide, Amara Raja, Exicom, Coslight, and Samsung. A spur in joint ventures and strategic collaborations is expected to begin production of Li-Ion Cells & Batteries to reduce the cost and gain competitive advantage.
3. Quick Turnaround of Policies for Commercialization of Drones
Drones have already been successfully tested to disintermediate human intervention in various fields including but not limited to
Last-mile delivery processes
Delivery of life-saving drugs in arduous terrains
Explorations in mining industries
Surveillance and monitoring
Seeding and spraying fertilizers in Agriculture
Search and rescue operations
The policies around the commercialization of drones have been in development in many economies, which, in response to COVID-19, is likely to take priority and put on the fast track. The development and adoption of new generation drones i.e., AI, ML, Cloud, IOT, and Cloud-powered drones, would spike from the current CAGR 56.5%.
The investments and adoption of drones across industries can act as a major contributor in the business continuity wave – the need for businesses to eliminate the dependence on human-based mobility.
4. Cloud will be the Key Pillar of Business Continuity
Cloud computing, in the coming years, would become indispensable. Companies that have taken the maximum hit due to COVID-19 are the ones that had not leveraged cloud for customers' interactions, workforce collaborations, and operational fluidity. Leaders have started to recognize the incontestable values that cloud can drive for the continuity of a business. We believe that there will be a steep surge in Hybrid and Multi-cloud adoption across the industries. The next few years will be the most defining period for the cloud. The cloud market is expected to grow at CAGR 20%.
5. Hyper Intelligent Automation will be a New Normal
RPA has become all the more quintessential for all customer-facing enterprises and companies. From Chatbots to conversational AIs, RPA is now at the frontline of customer interactions. From HR and Finance Accounting to IT operations and supply chain, most of the business functions are set to adopt RPA rapidly. It is estimated that the RPA market will grow at CAGR 37% to become a USD 7-8 Bn market by 2022.
6. Autonomous Vehicles will enter the Market Faster than Expected
The NAVYA self-driving EVs are already transporting coronavirus test samples from Jacksonville, Florida, which is the testing site, to nearby Mayo clinic, which is the processing location. It is at present, helping to comply with social distancing directives, however in the future, as the technology matures, autonomous vehicles would dramatically reduce the human touchpoints in deliveries and movements.
7. Robots will Take the Job Floor
Worker robots would extend its limit, from doing simple mundane routine jobs to more intelligent responsive jobs. AI, ML, IOT, and Cloud-backed mechanical robots would take the job floors and would perform a mundane job of moving an object, loading a truck to highly complex intuitive work such as operating a factory based on the inputs from the responses from sensors employed in a connected factory. Human intervention would be limited to distant monitoring through cloud console and camera. Interestingly, in the time of social distancing, doctors in Providence Regional Medical Center in Everett, Washington, have successfully used robots to treat COVID-19 patients by sitting outside and remote monitoring. It is also reported that robots are being used for cooking and serving food to COVID-19 patients.
8. The Rise of Human Cloud
It is relatively a new trend wherein the concept of cloud would extend further, from storage, compute and connectivity, to the workforce. The human cloud service providers would provide resources on demand with the flexibility to scale-up/down just as one does in public cloud services. The benefit a company would harness would be from the reduction of fixed costs. The redundancy that the companies saw in terms of FTE utilization, during COVID-19, would be handled well, in the future, by minimizing the FTEs and making use of human cloud extensively.
The Role of Technology in the fight against COVID-19 will be key
The current situation with the global pandemic is unlike any other crisis that companies have seen in recent times. This has compelled executives and leaders to break out of their conventional strategic mindsets and rethink their response to the challenges. The role of technology in the fight against COVID19 will be crucial and innovation will clearly be at the forefront of this transformation. With digital technologies, companies can empower themselves to act rather than react to such situations in the future.
To stay ahead of the crisis and keep abreast of digital technology trends reshaping businesses, write to us at
info@zinnov.com